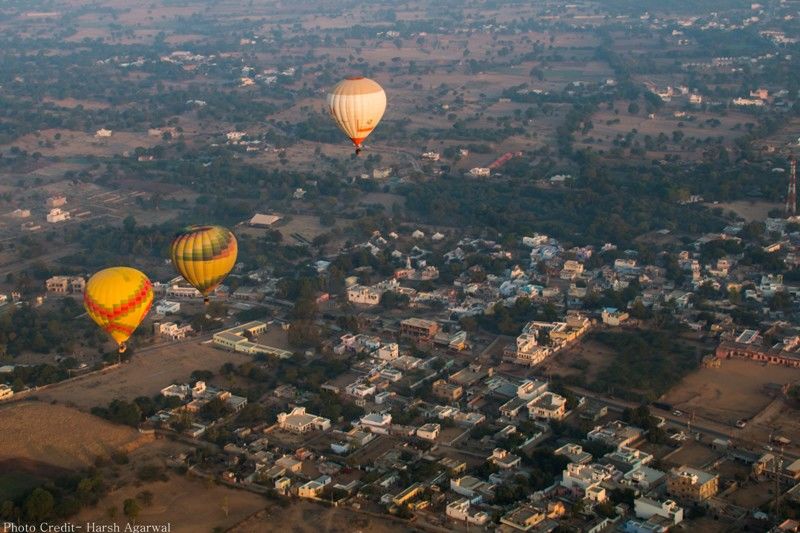 Hot Air Ballooning at Pushkar Fair, Rajasthan
Pushkar Mela is by far the biggest & undoubtedly the most popular fair in Rajasthan. Its been traditionally a potpourri of various cultural, religious & trading activities retaining its old world magnificence & offering a captivating experience to tourists.
Over the years, few very exciting "touristy" activities have come up in Pushkar, namely customized camel & jeep safari's. Service providers are mostly professionally managed outfits and do manage to provide a wider perspective about the Pushkar hinterland to visiting tourists.
The "must do" activity however is take a flight on board a hot air balloon.
Yes, you read that right!! Pushkar Mela is the only festival of its kind which gives you an opportunity to fly aboard a hot air balloon. Pushkar has in fact also hosted two international hot air balloon festivals in 2013/14 attended and flown by pilots from various countries.
Curated and managed by Jaipur based "Sky Waltz Balloon Safari" which is India's first and largest commercial hot air ballooning company offers daily sunrise and afternoon flights on all seven days of the fair.
The unique topography of the Pushkar countryside, vast fields, undulating sandy hillocks, hordes of camel and cattle, the distant view of the grand lake surrounded by numerous old temples, the rural children running below waving upwards in unabashed happiness makes up for a truly memorable experience.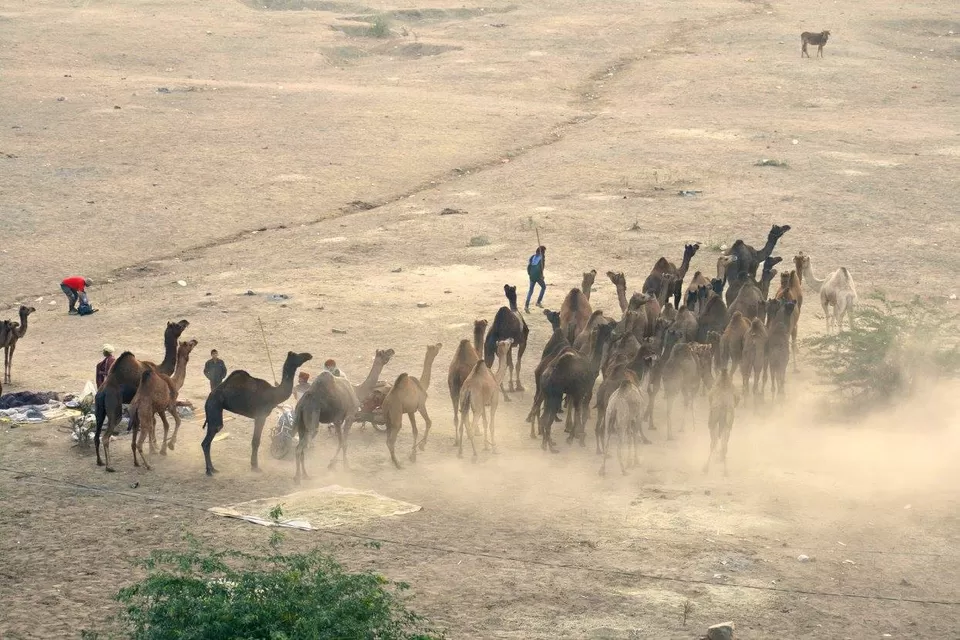 The entire "journey" lasts approximately two hours from the beginning when the professional ground crew picks us up from our hotel and takes us to the take off point which on our day happens to be the Pushkar stadium. (We are informed there are multiple take off points and a thorough check is done by the pilots and a call is then taken on the most suitable point dependent upon optimum weather and wind conditions)
Dawn is just about breaking out and there is feverish activity, where the ground crew is busy rolling out the "envelopes" for the cold inflation to begin. Cold inflation means pumping in cold air (existing outside temperature) through a fan into the mouth of the balloon envelope. This fills in adequate air which is then heated up by firing long flares into the semi-filled reclining balloon envelope. Slowly and surely the massive balloon starts tilting up taking its huge round shape and with a bit of a nudge the basket stands upright attached to the helm ready to take on board us and a few other passengers.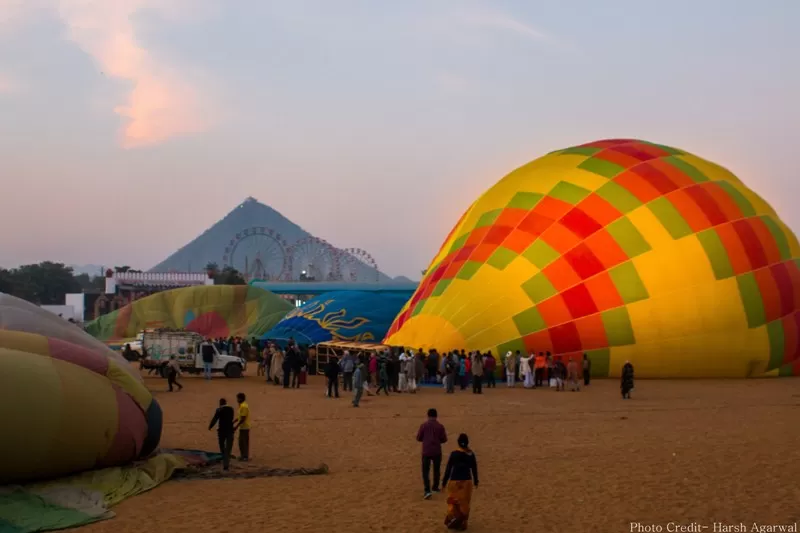 The ground crew calls out to us and we line up before a portable ladder to help us climb into our basket. We also spot our pilot doing his flight checks on the various sophisticated looking equipment and firing flares into the balloon, keeping the air inside adequately warmed up to keep the balloon steady and upright.
We all board gingerly and as we take our assigned position in the basket, we are greeted by a very warm hello by our pilot (Spanish by nationality but working with Sky Waltz for many years now) who takes us through the flight briefing which subsequently manages to bring down my self admittedly first time nervousness.
Briefing over, its now take-off time. Final ayes are exchanged between the captain of our ship and and the ground crew, the loud whoosh of the flares increases in length and duration, the safety ropes are let go and I see the ground slowly go by. As we glide up I look around and catch the most amazing sunrise I have seen in a long time. The other balloons too have all taken off and visible in the distance at various heights. In ballooning, the flight path or route is dependent upon the wind direction while the pilots are in total control over ascent and descent and rotation of their respective ships. In fact we were skimming over tree tops in the rural countryside exchanging waves with the locals and shortly we were hundreds of feet up soaking in the all round views of Pushkar town and its countryside.
The flight lasted approximately sixty minutes. Our pilot spotted a good place for a landing and having exchanged location co-ordinates with the ground crew below who had been following us in their retrieval vehicles, made the most extraordinary soft landing. The ground crew had in the meantime harnessed all the safety ropes and steadied the basket for our d-boarding.
After the customary photo-ops and bidding goodbye to our friendly pilot, we were escorted by the crew to our waiting vehicles to be dropped back to our hotel.
All in all a truly great experience and thanks to Sky Waltz for a very professionally managed international product.
Few noteworthy things:
1)Balloon flights are dependent upon the weather and last minute cancellations are a possibility.
2)Kids below five years are not permitted (Children categorized between 5 to 12 Yrs)
3)While there is no upper age limit it is better to be in a reasonable state of healthfulness with no critical illnesses
4)Consumption of alcohol on board or prior to flight is not permitted
5)Experience time is approximately two hours including flight, pick up and drop
6)Book well in advance as there is a limited capacity and there is always a huge rush