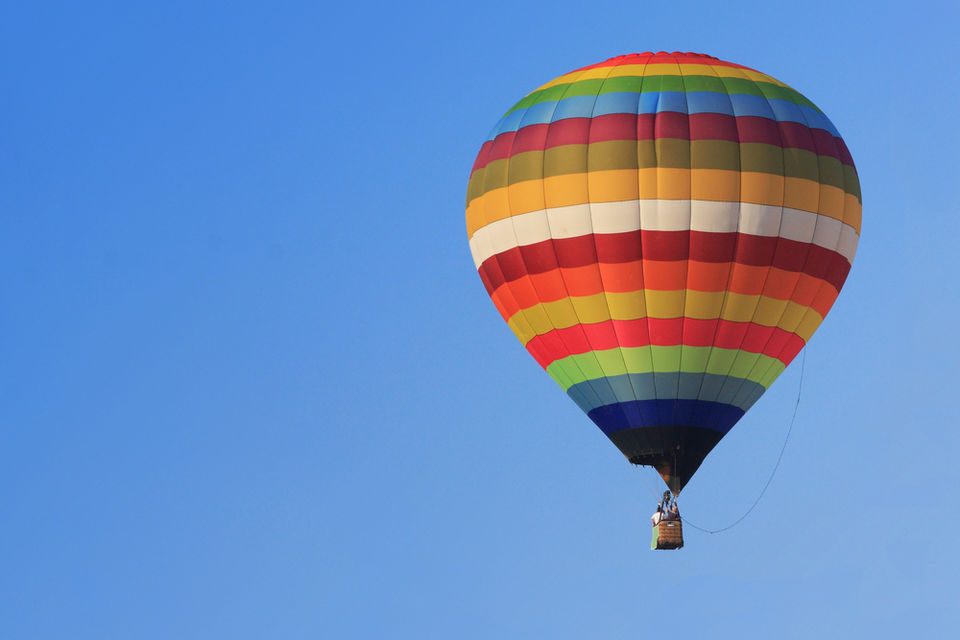 Hot air balloons are a man-made wonder – simply hop into these floating baskets, get a bird's eye view of the world and get amazed by nature's glory. Very few might know but India has many destinations that offer hot air balloon rides over some of the most stunning landscapes in the country. Here is a list of places from where you can board these balloons and soak in the views:
Hot air ballooning is one of the top things to try in Pushkar. The dessert city is well known for its annual mela and buzzing backpacker culture. Book yourself a hot air balloon ride and make your trip to Pushkar a memorable one. Witness vast spreads of golden sand dunes, hoards of camels from up above and watch the sun paint a picture unlike any other.
For Booking: Skywaltz
Cost: Rs. 6,000 to 12,000 per person
Duration: 1 hour
Jaipur is another destination in Rajasthan ideal for hot air ballooning. Book yourself a ride and enjoy the beautiful skyline of the 'Pink City' as you ride over royal palaces, havelis and historic forts. The cost of one ride per person can range from Rs 6000 to Rs 12000.
For Booking: Skywaltz
Cost: Rs. 6,000 to 12,000 per person
Duration: 1 hour
Imagine standing 500m above the ground and experiencing the serene sunrise with the magnificent Taj Mahal in the backdrop – sounds straight out of a dream, doesn't it? You'll be surprised to know that one can also go for hot air balloon rides in the historical city of Agra! Since the leisure activity is organised by the government, Agra also happens to be one of the cheapest places for a ride. And the view of course, is unmatched.
For Booking: Taj Mahal Official Website
Cost: Rs. 500 to 750 per person
Duration: 15 - 20 minutes
Manali is a popular tourist hill town nestled in the lap of the Himalayas, making it a top spot to go hot air ballooning. Fly over misty clouds, snow capped mountains and painted landscapes as you feel the chilly Himalayan winds against your face. What sets Manali apart from all the other places in this list that the balloons here are attached to a rope due to safety reasons.
For Booking: Ashtvinayak Travels
Cost: Rs. 700 to 1000 per person
Duration: 15 - 20 minutes
Kamshet, another well-known destination for hot air ballooning, is a great option for enthusiasts staying in Mumbai. The riding spot is strategically located in Kamshet near Lonavala, which means once you are at the given altitude, you will be able to see lush greenery as well as the beautiful waterfalls of Lonavala.
For Booking: Adventure Nation
Cost: Rs. 6,000 to 12,000 per person
Duration: 1 hour
Delhi is among the very few metro cities in India where one can try hot air balloon rides. The ride promises a unique, bird's eyes view of the city. Spend your time watching the busy streets of Delhi and its many historical structures, which look even more enthralling from the top.
For Booking: Rock Sport
Cost: Rs. 9,000 to 13,000 per person
Duration: 1 hour
Done with the beaches and bars of Goa? Put hot air ballooning on your bucket list right away! With endless oceans and pristine sunsets to gaze at, no amount of time will be enough for ballooning in Goa.
For Booking: Tiger Balloon Safaris
Cost: Rs. 14,000 per person
Duration: 1 hour
Know of any other place that deserves a spot on this list? Click here to share your magical travel tales with the Tripoto Community right away!
Get travel inspiration from us daily! Save and send a message at 9599147110 on Whatsapp to start.