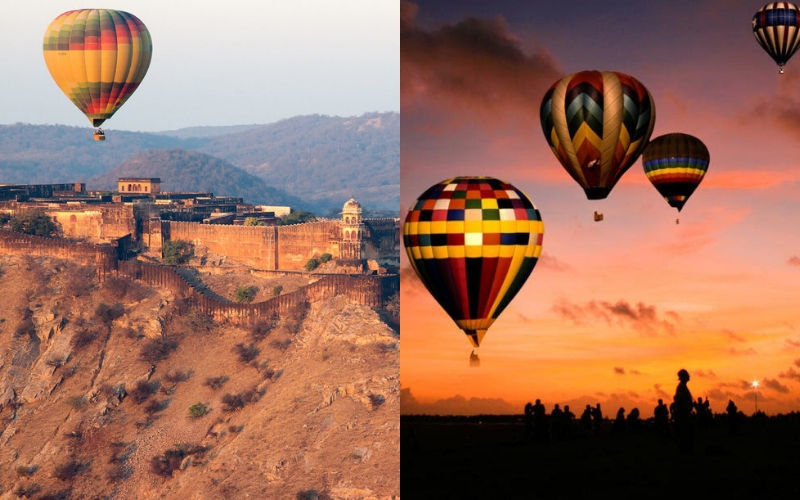 If you've have always been fascinated by the colourful hot air balloons soaring in the sky but can't afford to travel to Cappadocia Turkey or other expensive European destinations, this is just perfect for you!
Here's something you should know - There are crazy amazing Hot-air balloon rides happening in Rajasthan!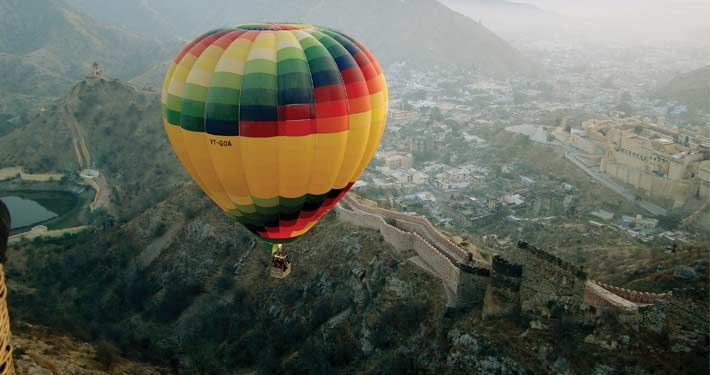 You can propose to your partner, get a pre-wedding shoot, click Insta-worthy photographs or just admire the awe-inspiring topography of our country.
When it comes to exploring the beautiful landscape of Rajasthan, a hot air balloon ride is one of the best options.
Sky Waltz is India's first fully licensed and approved Hot Air Balloon company and they conduct breath-taking Hot Air Balloon flights over Rajasthan's stunning terrain.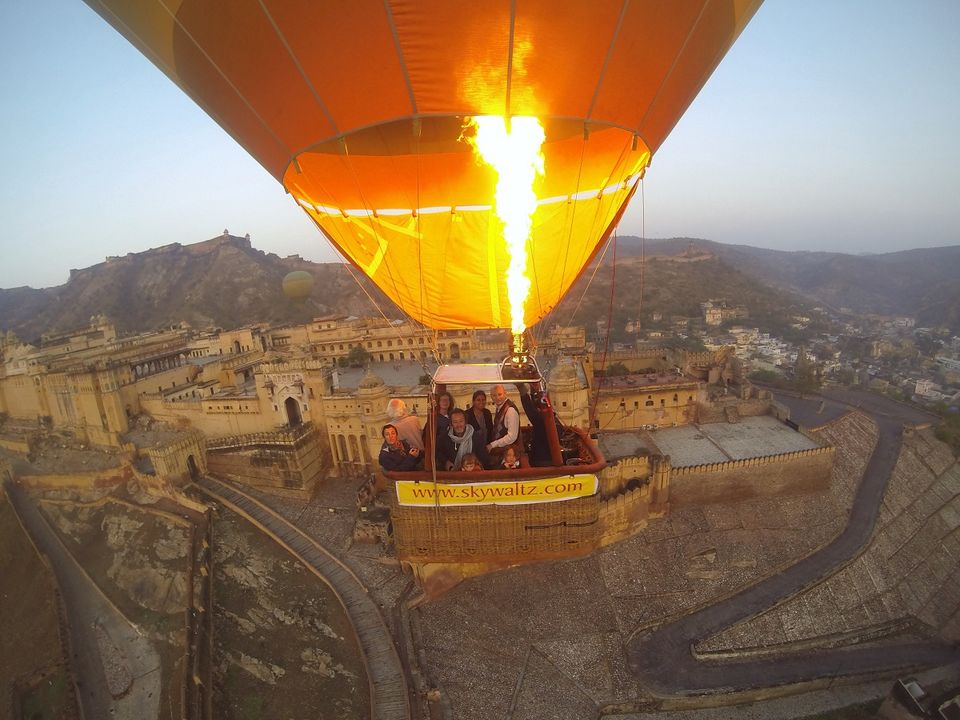 Soar above the vibrant Pushkar festival and treat yourself to breath-taking views, enjoy the beauty of India's 'Pink City' marvel at the fusion of colors, flavors, sounds and culture as you take in magnificent forts, palaces and bewitching architecture that Jaipur is known for. Satiate the thrill-seeker in you with an adrenaline-rushing flight above the Tiger's residence in Ranthambore.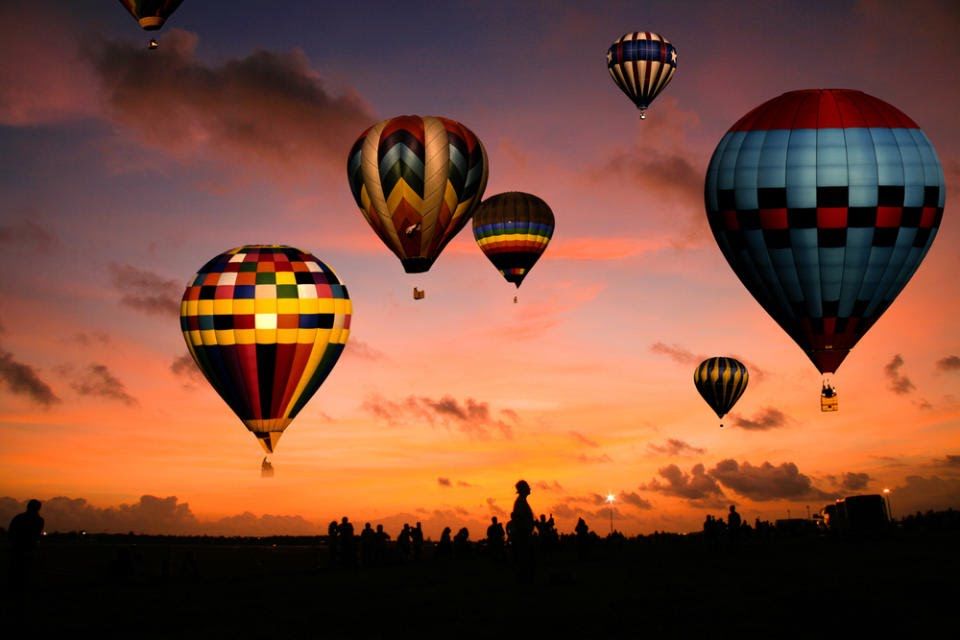 Fly Over The Pushkar Fair
Drift away to a height of 1,200 feet above the Pushkar fair, witness the throngs of people, camels and the exotic panorama of the place, flying gently over the vast encampment on the dunes, drifting over the holy lake, high temples, and architectural wonders. This is definitely the most exhilarating way to see Pushkar!
Duration: The whole experience takes about 3 hours, and the time in the air is close to an hour.
Capacity: A standard flight would have 4 - 8 persons.
Price: 12,000 INR per person. (Rates might change from 23 Dec. 2017 to 5 Jan. 2018 and during the festive season or Pushkar fair.)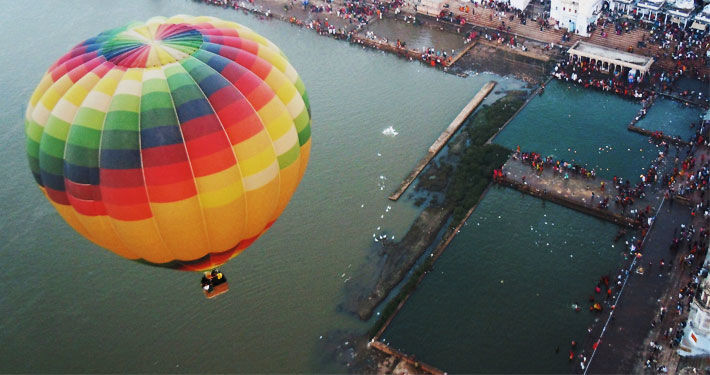 Inclusions:
The cost includes pick up and drop from your hotel or local accommodation, tea-coffee light snacks, certificate of flying.
Pushkar fair Dates: 4th November 2019 - 12th November 2019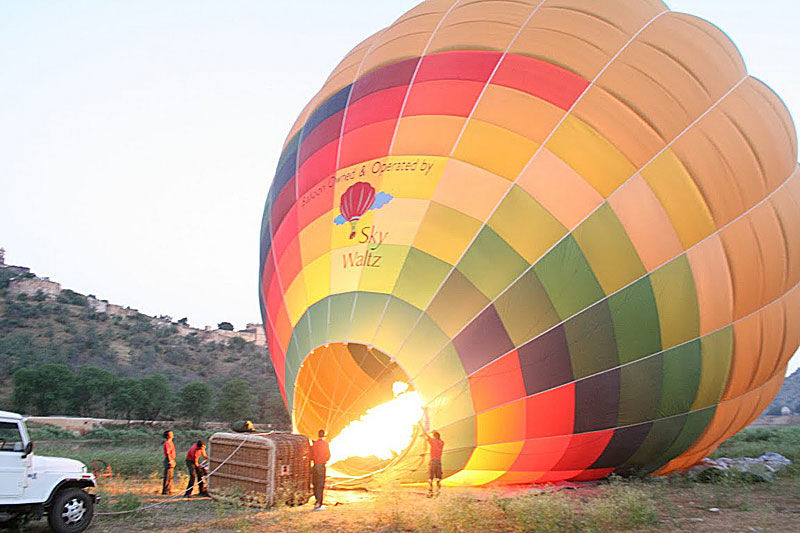 Balloon flight timings:

Sep- Nov : 6:15 AM and 4:30 PM
Dec – March: 6:45 AM and 3:30 PM
April – June: 5:45 AM only.
You can book this balloon ride here and here.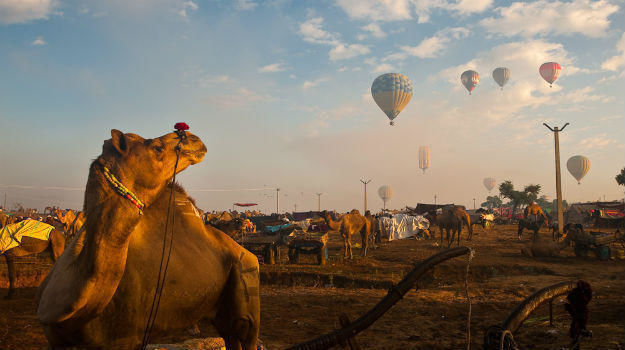 Hot-Air Ballooning In The Pink City Of Jaipur
Drift along to witness the waterside manors, majestic palaces, pink walls and dessert silhouettes of Jaipur in bright fairy tale-like hot air balloons.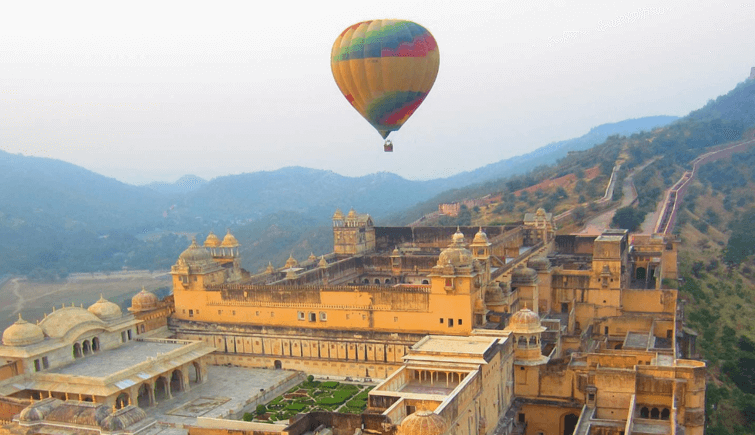 Jal Mahal, Amber Fort, Shiv Vilas, and Delhi-Jaipur Road are some places from where you can take this flight.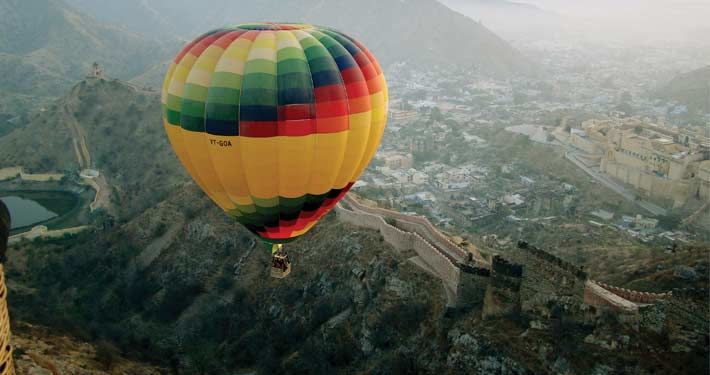 Duration: Flight time is approximately 60 minutes.
Capacity: Generally, anywhere from 4 to 8 fliers are flown in a single ride.
Price: 8,500 INR per person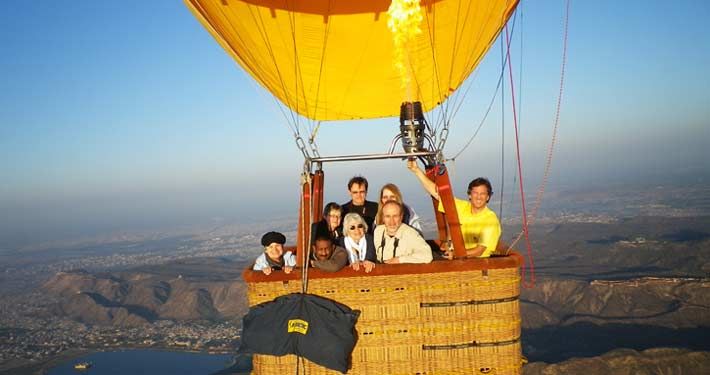 Inclusions:
The cost includes pick up and drop from your hotel or local accommodation, tea-coffee light snacks, certificate of flying.
Balloon Flight Timings:
The rides are usually arranged two hours before the sun rises and two hours before it sets. These times are ideal for the activity as winds are at their weakest, allowing for smooth rides.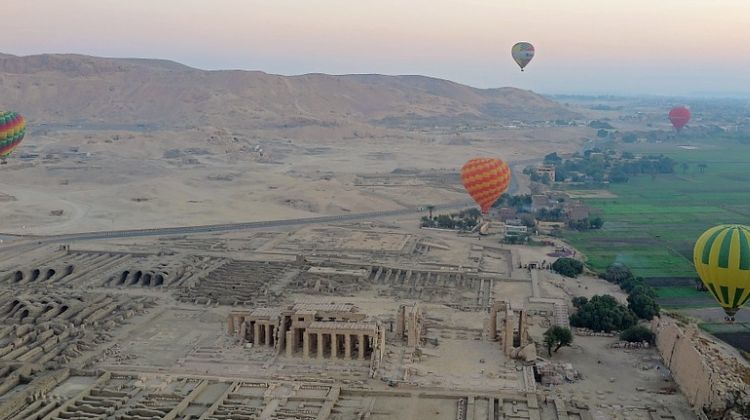 Morning flights: 1st September – 30th April
Evening flights: 1st November – 28th February
You can book a balloon ride here.
Hot Air Balloon Safari In Ranthambore
Feel a strong adrenaline rush, move over the jeep safaris, try soaring through the skies of Ranthambore.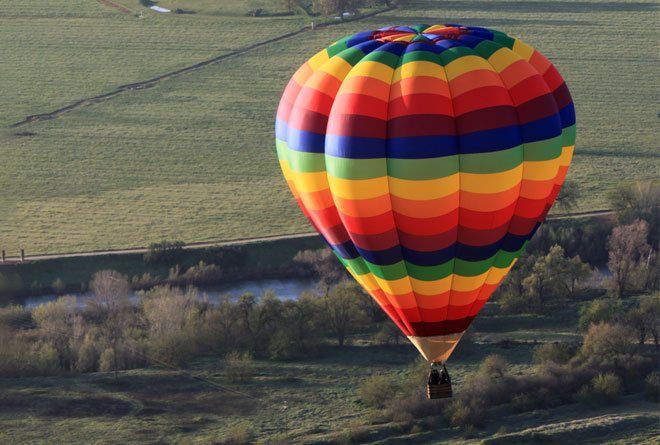 From national parks, colorful settlements, sprawling desserts and sturdy hills to dense jungles. From the minute you clamber into the basket below, to fly over Ranthambore, you'll feel the excitement kicking in.
Duration: It is usually 45-60 minutes, and you'll rise to a height of about 2000-4000 feet, depending on the weather.
But the pre-flight preparation takes time, as does the landing. Do plan for about 4-5 hours for the entire hot air ballooning in Ranthambore adventure.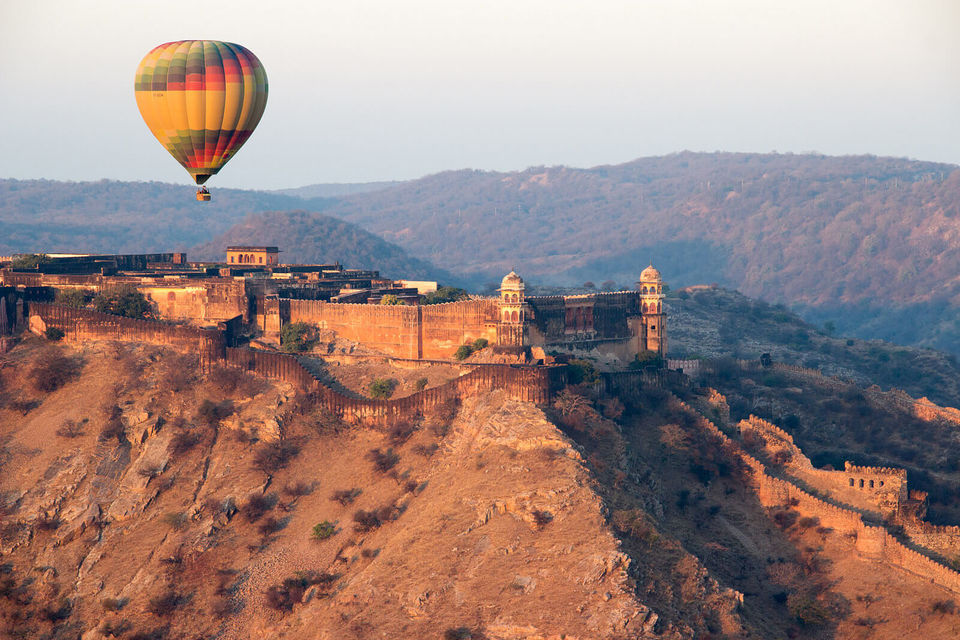 Capacity: 20 seats
Price: 12,000 INR per person
Inclusions:
It includes pick up and drop service from your hotel or local accommodation, tea-coffee, refreshments and a certificate of flying.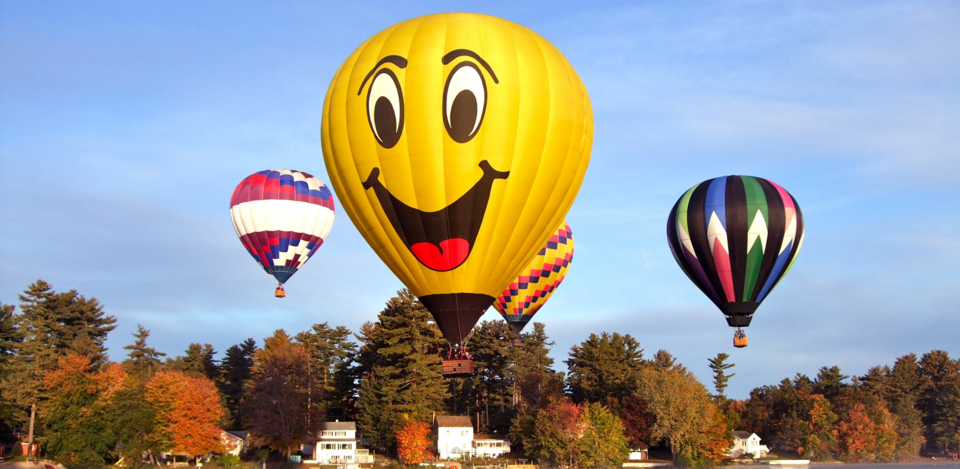 Balloon Flight timings:
Sep-Nov 6:15 am 4 pm
Dec-March 6:45 am 3:30 pm
April-June 5:45 am No Flights
You can book this balloon ride here.
TIP: The winter months are the best time to go hot air ballooning in Rajasthan. The winds are at their best during this time and the hovering mist over the forests and hills transforms the landscape into a scenic delight!