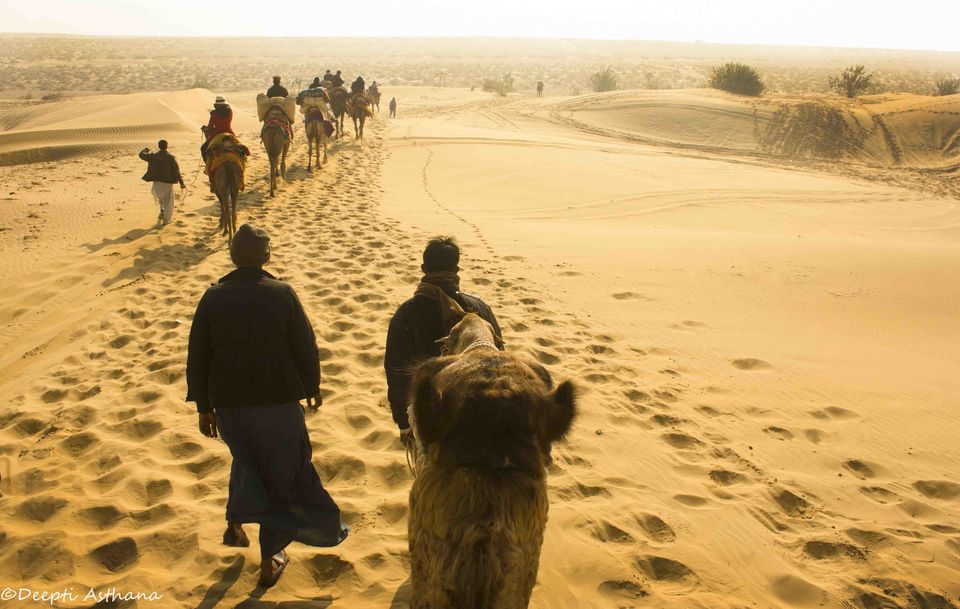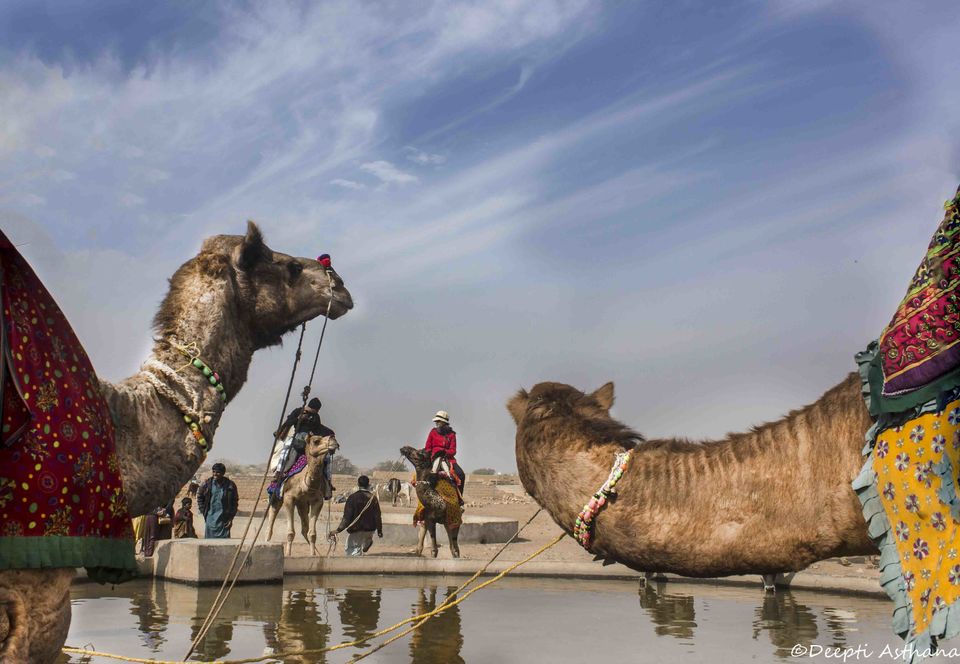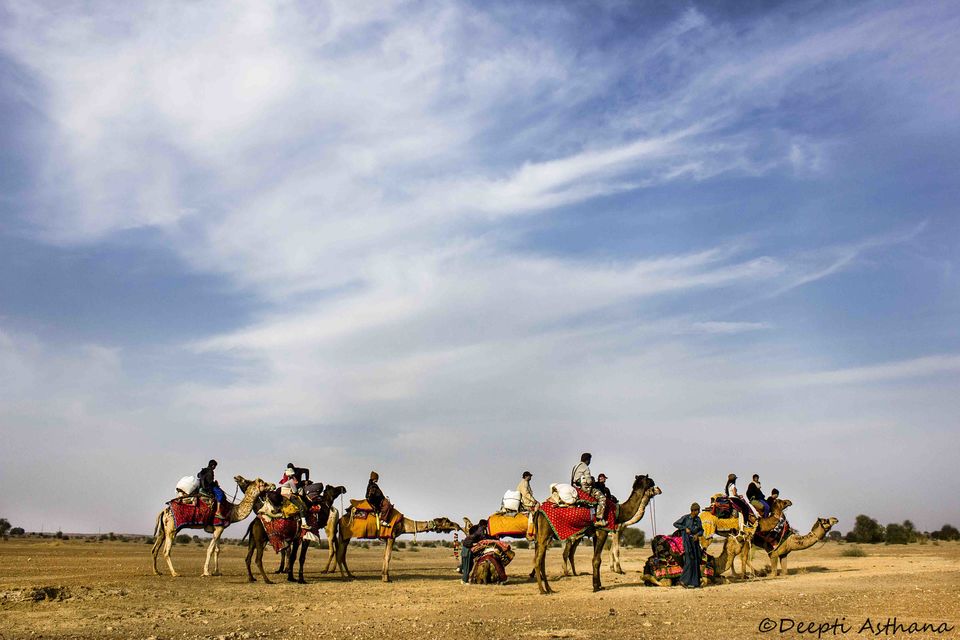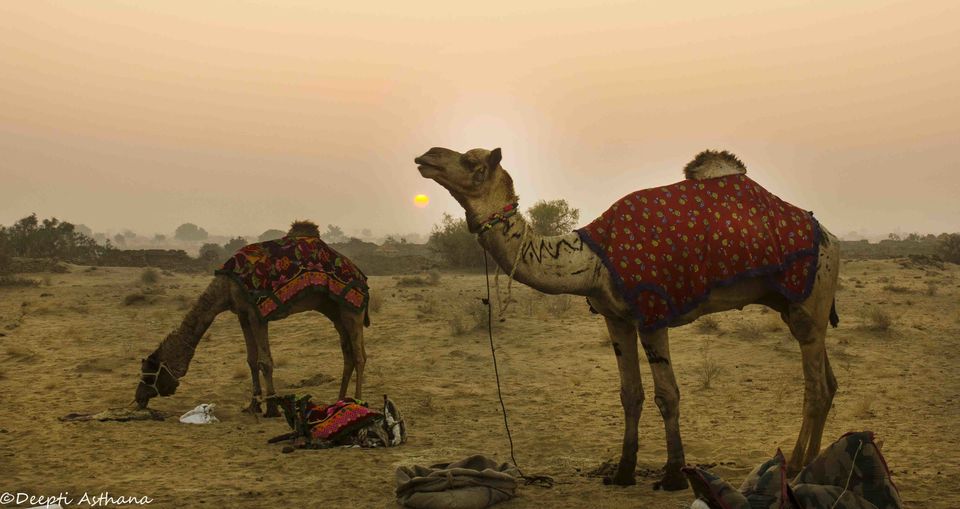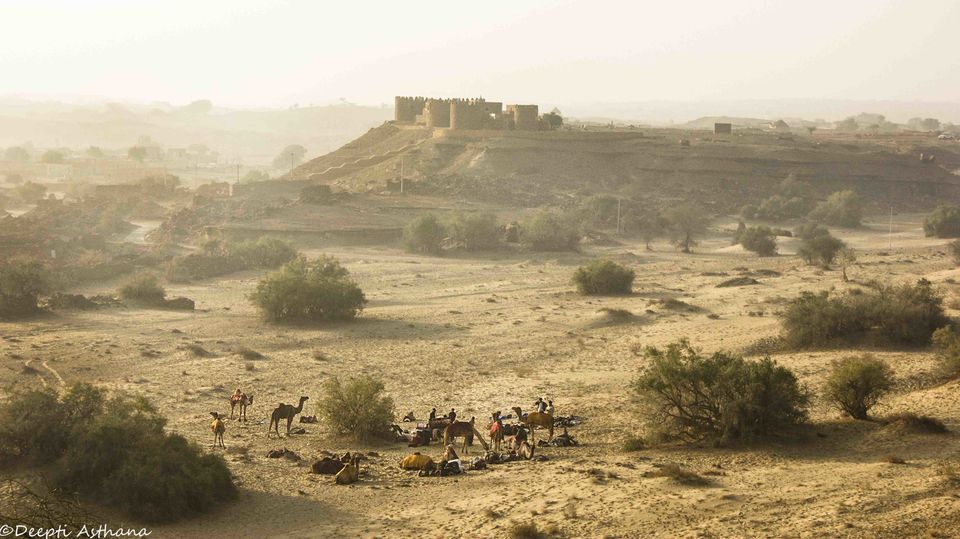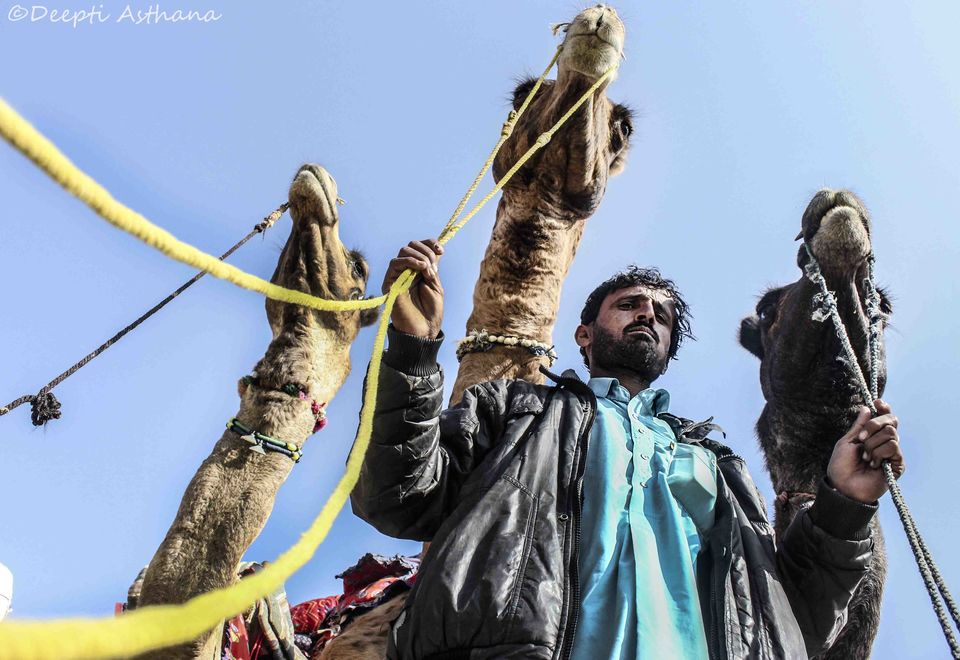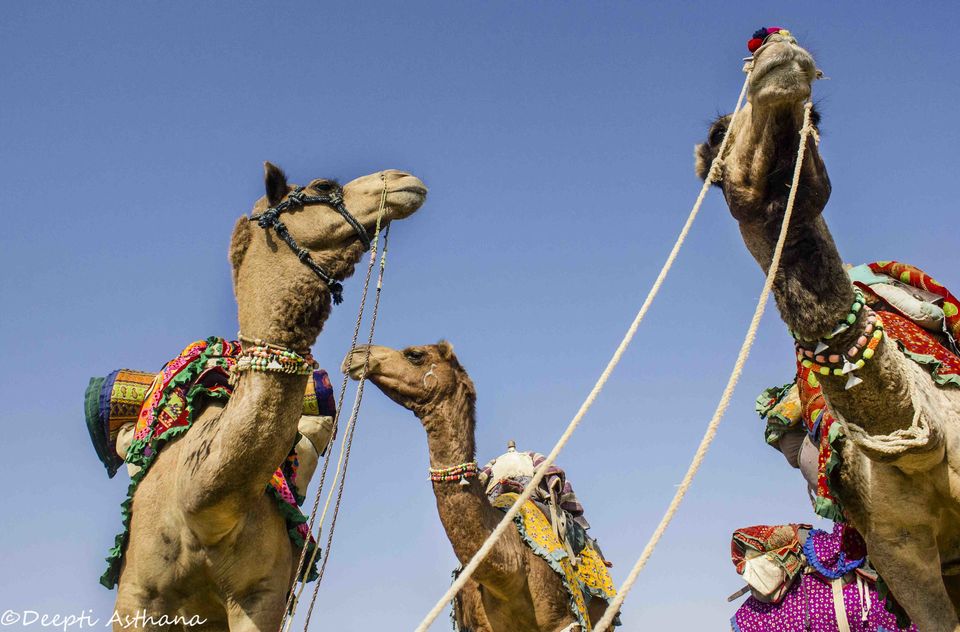 Everyone I know had warned me that I wouldn't like it. The exaggerated motions of a camel, the jerks at the start and end of every lap and the pain once the travel is over. But the idea of spending a night beneath the starry sky and on the sand bed was compelling enough. To experience my first desert safari I was off to Rajasthan, India. After passing the colorful villages on the jeep, we finally reached one of the last villages from where the desert started. Feeling chilled in an early winter morning at around 4 am, I was eagerly waiting for the camels to arrive. And soon, there was the group of camels approaching in shy and slow steps. Eating boiled eggs and masala tea for breakfast, I was thinking which one to choose. After comparing many traits I chose the one which was shorter, quieter and the most colorful one. It wasn't an easy choice.
The blue sky above the layer of gold sand, the bells were tinkling as the camels started taking big steps. My whole body moved with it and it felt as we were off to do a rhythmic dance. Soon after covering a few kilometers I understood, this is going to be a long day. My neck was cracking out of motion, the wide spread legs were paining as well. In a lovely company of camel named 'Shahrukh' a namesake of the Bollywood superstar, I was curious, excited to experience it all. I used to laugh hard as every time the care-taker scolded 'Shahrukh', I imagined the real Sharukh is being scolded. In India Bollywood is an inseparable part of our lives, no matter how deserted the place is. Shahrukh was lovely and decorated with tattoos, colorful clothing, jewelry and beads. He actually had an attitude of a superstar. I occasionally used to pat him to ensure he remained happy with me.
Shahrukh was slow and ate whenever he was given the chance. He was a bit smelly and I was thinking if there are any deodorants for camel as well. Every hour we could only cover a distance of 10 kms or so and then I was yearning for a break. There was no cola, just the plain water. Thankfully camels can store a lot of it in their body. The day was tough, long and dry. But the place was so surreal like a movie. I usually like greenery, mountains or rains. But this was dry, the plants had thorns, the lizards were big, the landscape was vast and there was no sign of any human life. This was a different side of nature and I seemed to enjoy the simplicity of it. There were no complex mountain trails or twists and turns of a river. There were minimalistic patterns on the sand, and the wind kept changing the sand sketches. The camels pass by leaving their foot prints behind. Walking was difficult for me; the feet felt heavy as I walked. But I enjoyed rolling on the sand and being covered in it, I felt being part of the whole arrangement. Tired and thirsty, we stopped under the shade to cook our food. It was a simple food from the instant kitchen. The desert dwellers use sand for everything, to sleep, to cook, to build, to be dirty and to cleanup. The thick hot bread with a super spicy curry, which was all I needed to continue my journey. Shahrukh ate small branches, leaves which he could find on the way.
Soon the sun was down and everything was fiery orange. It was huge in size, as big as I have ever seen. And I could see my long shadow moving along with Shahrukh's shadow. But his shadow was much more beautiful than mine. The sand turned into gold and I felt a lot richer. It was one of the most magical sunsets. There was no option of riding in the night, it was too dark and I couldn't imagine holding a lantern to show Shahrukh the way forward. We stopped near a deserted village, which had a very interesting story which deserves another post for sure.
There were no ghost's stories around but there was apparently an evil curse which made people who stayed here with the intention of settling down diseased. I knew I was safe, as I wasn't thinking of settling down either unlike lots of other places. I just wanted to feel the place it to the fullest, the eerie feeling of spending a night here! There were camels all around sleeping and I hoped that they would protect us from evil curse. There was no camp, or no shade, just the sky and sand; and in between my eyes wide open to realize if this was for real. Did I actually ride a camel to reach here? Was I actually in a desert lying in the landscape which had no beginning and no end? I closed my eyes to see no dreams being somewhere majestic, as it was all real that night. It was such a peaceful sleep, taking the warmth from firewood, inhaling the fresh air around and the sky lit up bright by the millions of stars. I hope Shahrukh enjoyed my company as well.
If you need any assistance in organizing trip, talk to this very genuine and needy guy named Daniel 09828766837 who would be your guide and camel provider. He is in this business for 15 years or more.
You may find more related articles and pictures on datravelography.com