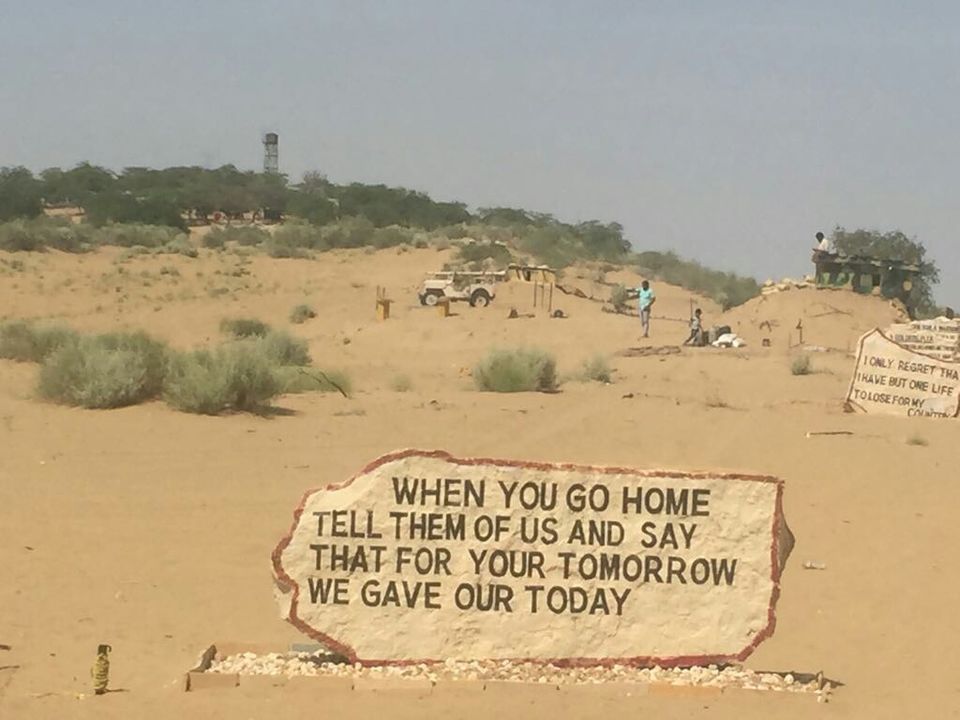 What humbles you is the realisation that your deeds are small compared to the others, especially those whose profession demands sacrifice of lives & they do it based on personal choice. Longewala war post did this to us. We drove through 130 kms inside the desert through scorching heat with nothing but sand & shrubs to the Longewala war post & museum.
The war of 71 is quite well known. J.P. Dutta has immortalised the events & characters on celluloid in his award winning movie Border. However, we heard the account from Army personnel which was very similar to the movie. The  post also has a museum that shows a 15 mins movie, a montage of scenes from Border movie, news clippings of Doordarshan,  message from Major Kuldeep Singh & voiced over by Kabir Bedi. Followed by the movie the next room houses the museum displaying the artefacts like some arms & ammunition, photographs of the martyrs & some paraphernalia of the war. Outside, there are scattered tankers of the enemy & their canons. The border is 15 kms from this spot & requires a prior permit & not easily given. Even when driving out, we had to show our photo ids & provide full details. What is humbling is the way the army jawans speak to you & the pride they take in guarding the nation. The climatic conditions are adverse & they live there happily spending sleepless nights so that we can have a good night's sleep.
The spot also has a cafe called Border cafe that offers a tasty samosa @ 10 bucks, maggi & cold drinks on mrp. There's no profit that they are trying to make. The roads across the desert to the border is maintained by BSF & is in great condition.
The drive back to Jaisalmer was spent in contemplation by both me & my husband, reflecting on the hardships of our lives that seemed so trivial.
Regarding the 71 war, my fellow readers can refer to the following article -
http://m.indiatimes.com/culture/who-we-are/the-greatest-underdog-story-ever-told-the-battle-of-longewala-indopak-war-1971_-233975.html
Salute!!