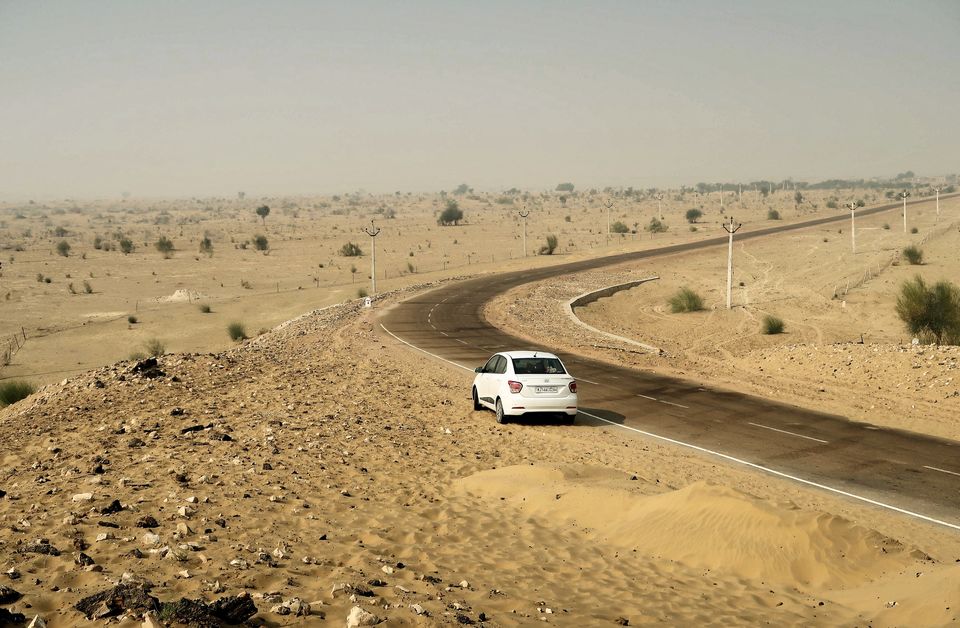 Next day, we woke up around 8 AM in the morning and got ready by 10 AM. We had our breakfast in the nearby market. Of all, the pyaz kachoris were mouth watering. Each one of us ate at least 2 of them. Indeed, pyaz kachoris in this part of Rajasthan are famous. You can see Jodhpur Kachori Vala in literally every street of Jaipur. We were ready to go by 11 AM.
The drive to Longewala was an experience in itself. The view of vast barren lands covered timid sand dunes, and smooth roads managed by BRO - it was a delight for a driving enthusiast like me. The roller coaster ride of going up the steep inclines on the road and speeding down even steeper ones was so much fun. We were shouting "Whooo" every now and then. We had a short stop in one of the dunes to get our hands dirty with the sand. It was a windy morning and the air was perfectly warm to give a peaceful feeling.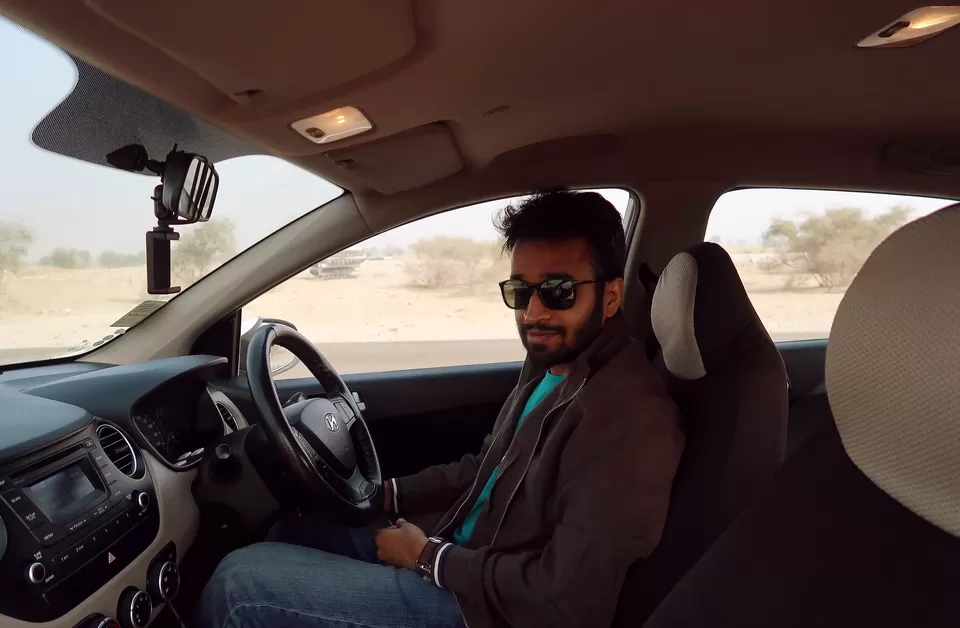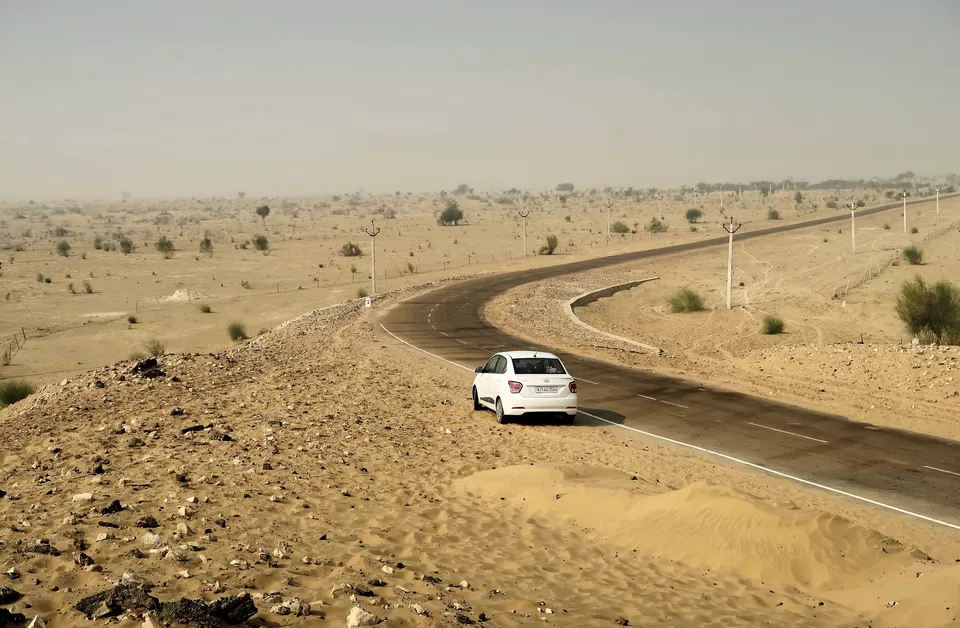 We reached Longewala by 1.15 PM. It is a war memorial which has at display the Pakistani tanks and guns that were captured during the 1971 Indo-Pak war. There are a lot of inspirational quotes written everywhere. We also saw a short documentary on the war as it happened and how bravely our soldiers fought an army 30x bigger than them. We felt so patriotic at that place. Longewala is indeed a place to visit and to feel the sacrifices our soldiers make to keep us safe.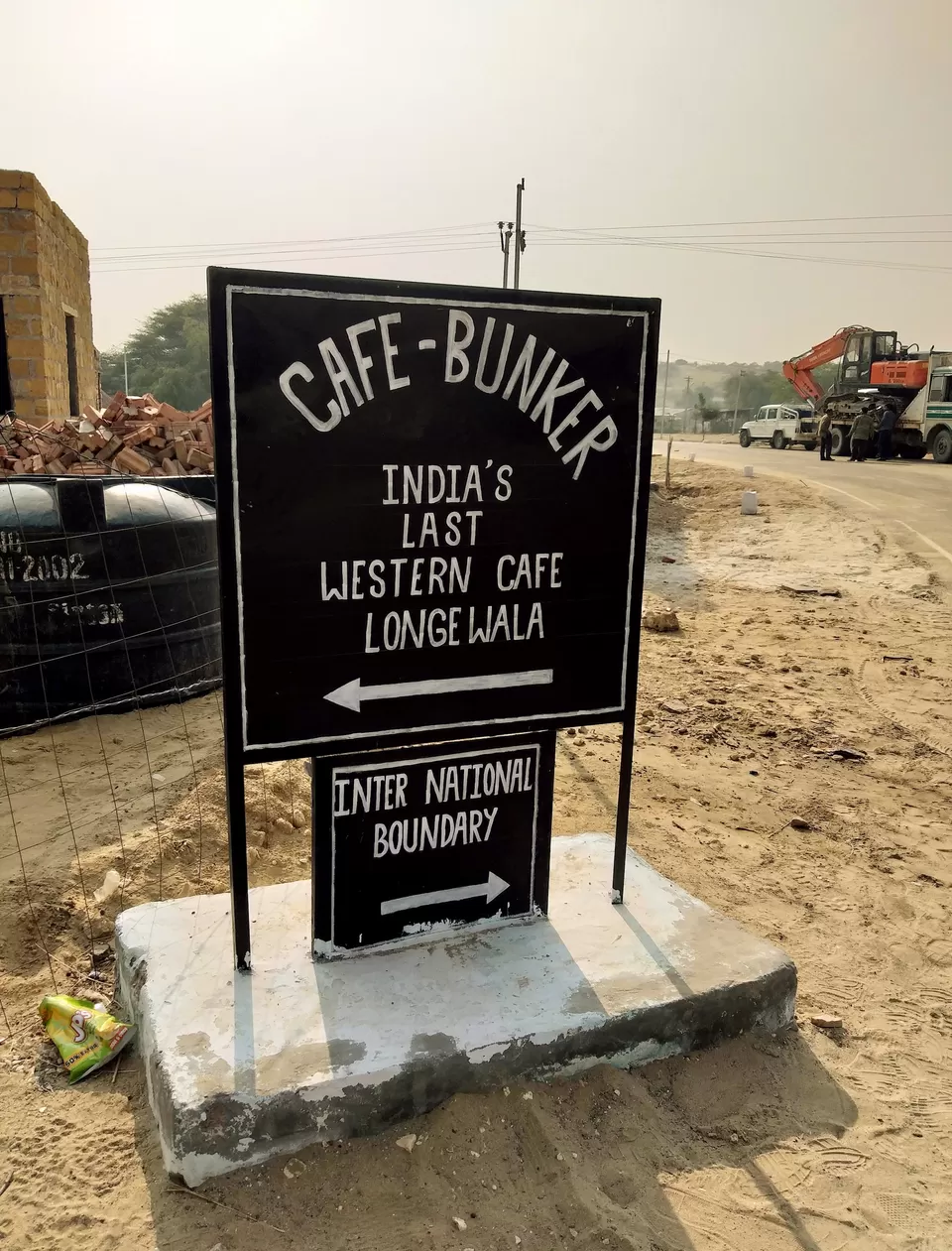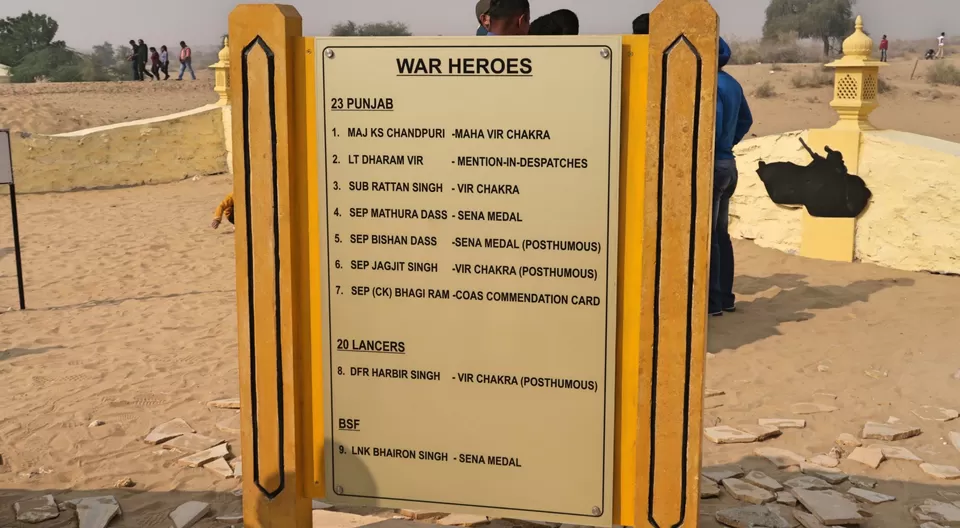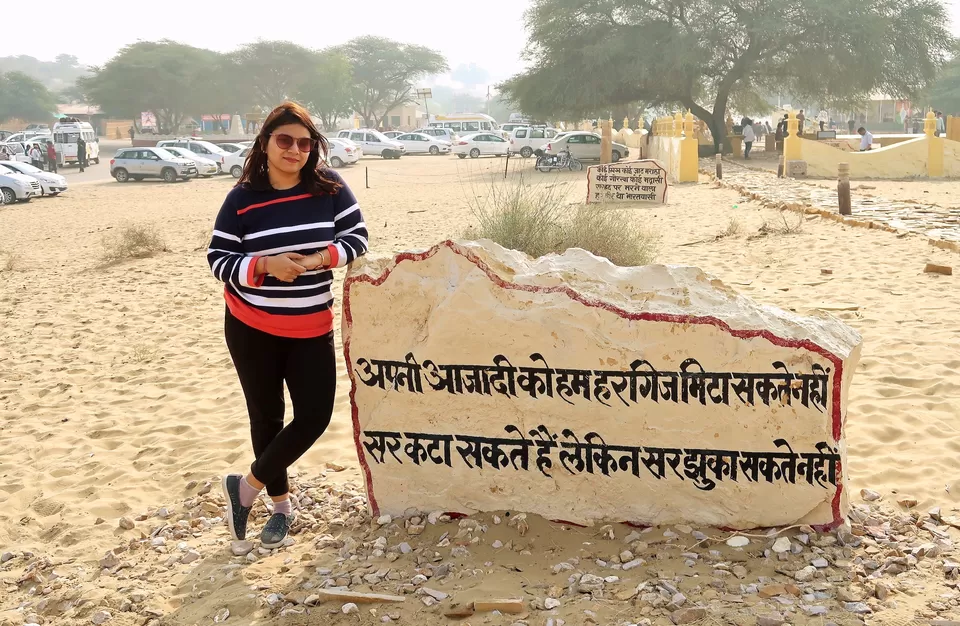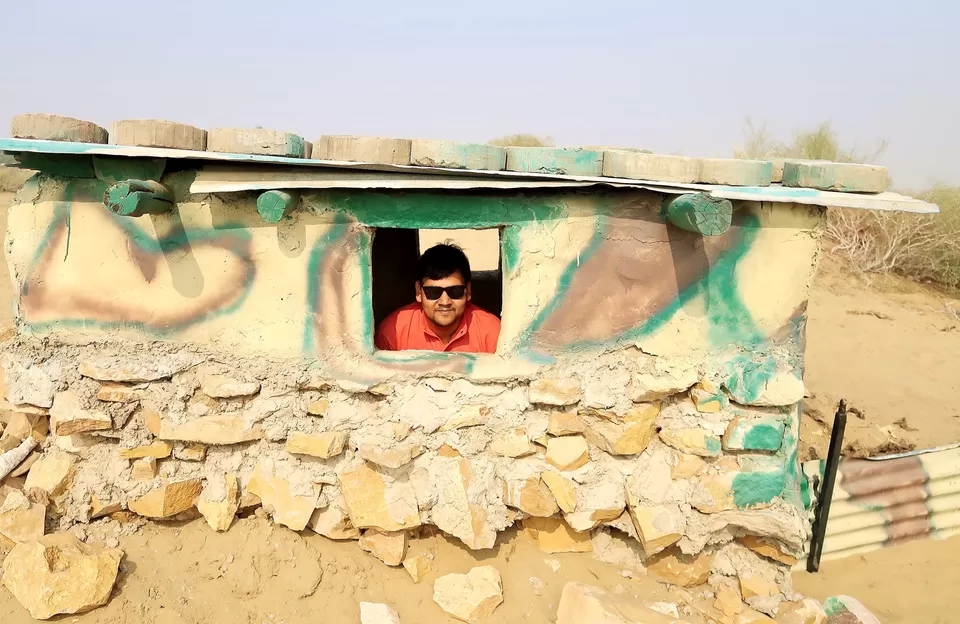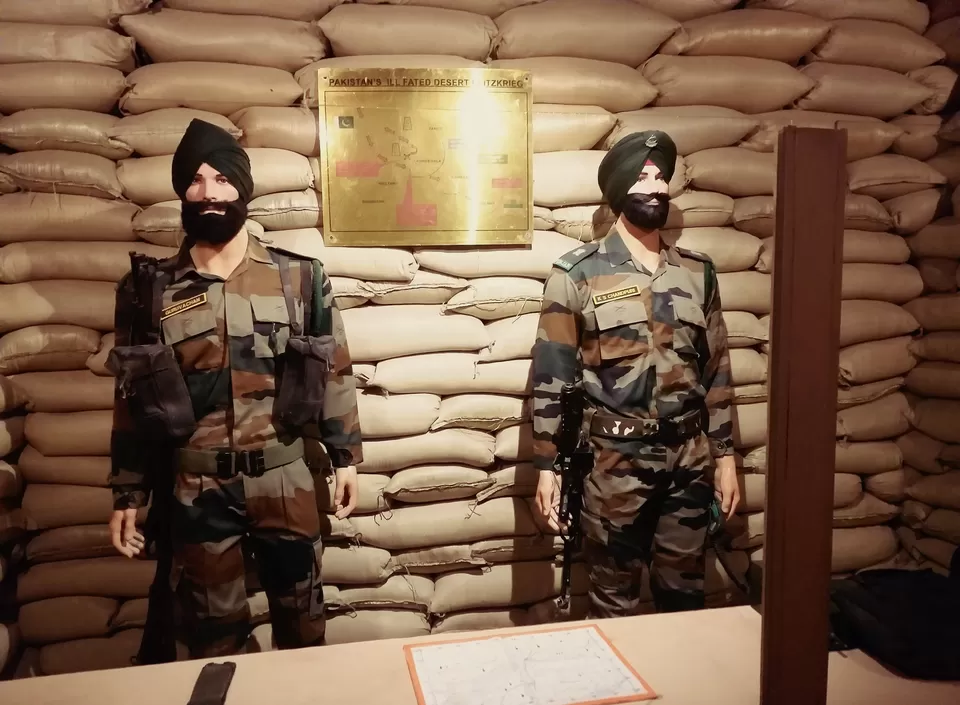 After spending some good time at the place, we left for Tanot Mata Mandir which is another 50-60 kms from there. Mandir is managed by BSF. We worshipped Tanot Mata and talked about the story associated with the temple (which you can read online).
At the template gate, there was an unusual buzz going around under a small shade. Inquiring there we found that it was regarding permission to visit India Pakistan border. Sadly, we came to know that we required to have permission from Jaisalmer headquarters. I had given up but my brother-in-law stood there helplessly trying to think of a way to get the permission.
Looking at his dejected face, a soldier came and asked us if we wanted to go. He nodded immediately. The soldier took his ID card and gave us permission to go. I couldn't believe and ran immediately to the car and came back racing it. Apparently, the border entry closes at around 4.15 PM and it was 4.05 PM and they were allowing the last batch of visitors. We just made it in time.
The border is another 10-15 kms from there. If you visit Jaisalmer, it is a place not to miss. Get permission before you visit here as you might not be as lucky as we were. We could see the border-fence in front of us and Pakistan on the other side. There were a couple of soldiers there who were very friendly. They were patiently answering people's random questions. We got to know a lot about how security is managed at the border. It was an experience of a lifetime!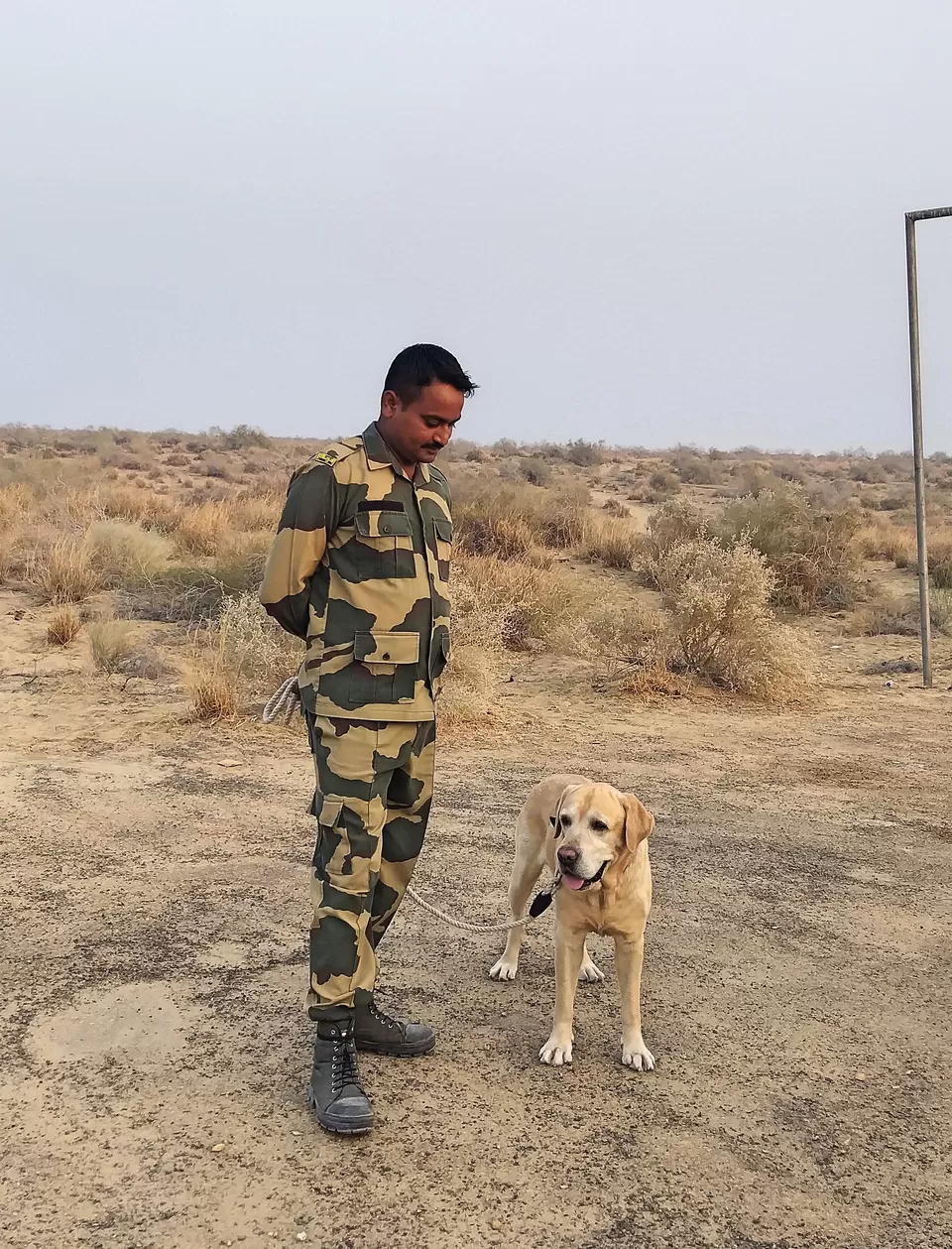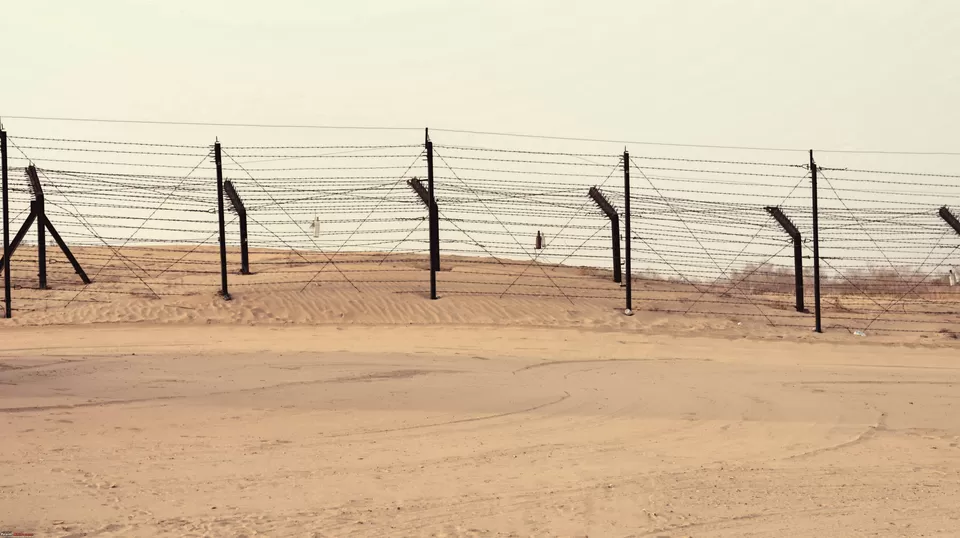 We returned at around 6 PM. The sun had set. We were at the Mandir again where we stopped to attend nature's call. We were going to leave straightaway after that when my wife said that evening Aarti in the mandir was really great and should be watched. We, being not that into praying, we're not much interested. But, she insisted so we had to go (married members would understand). Surprisingly, I was glad we did. The Aarti was the best one we had ever seen in a temple. The BSF Jawaans pray to her with so much energy! We sat there for a good half an hour before leaving. If you visit here, do not miss the Aarti. It starts at around 6:30 PM.
We returned to Jaisalmer by 9 PM and had some authentic Rajasthani food at Thakur Ji Restaurant. Being a Rajasthani, I can say that the food was amazing. We had daal bati, gatte ki sabji and bajre ki roti. My mouth is watering as I write this.
We returned to our hotel and were in bed by 12 AM (I think).
Vlogs
This day is divided into two videos. Please, watch both of them:
Part 1 - Longewala Post | India Pakistan War | Jaisalmer