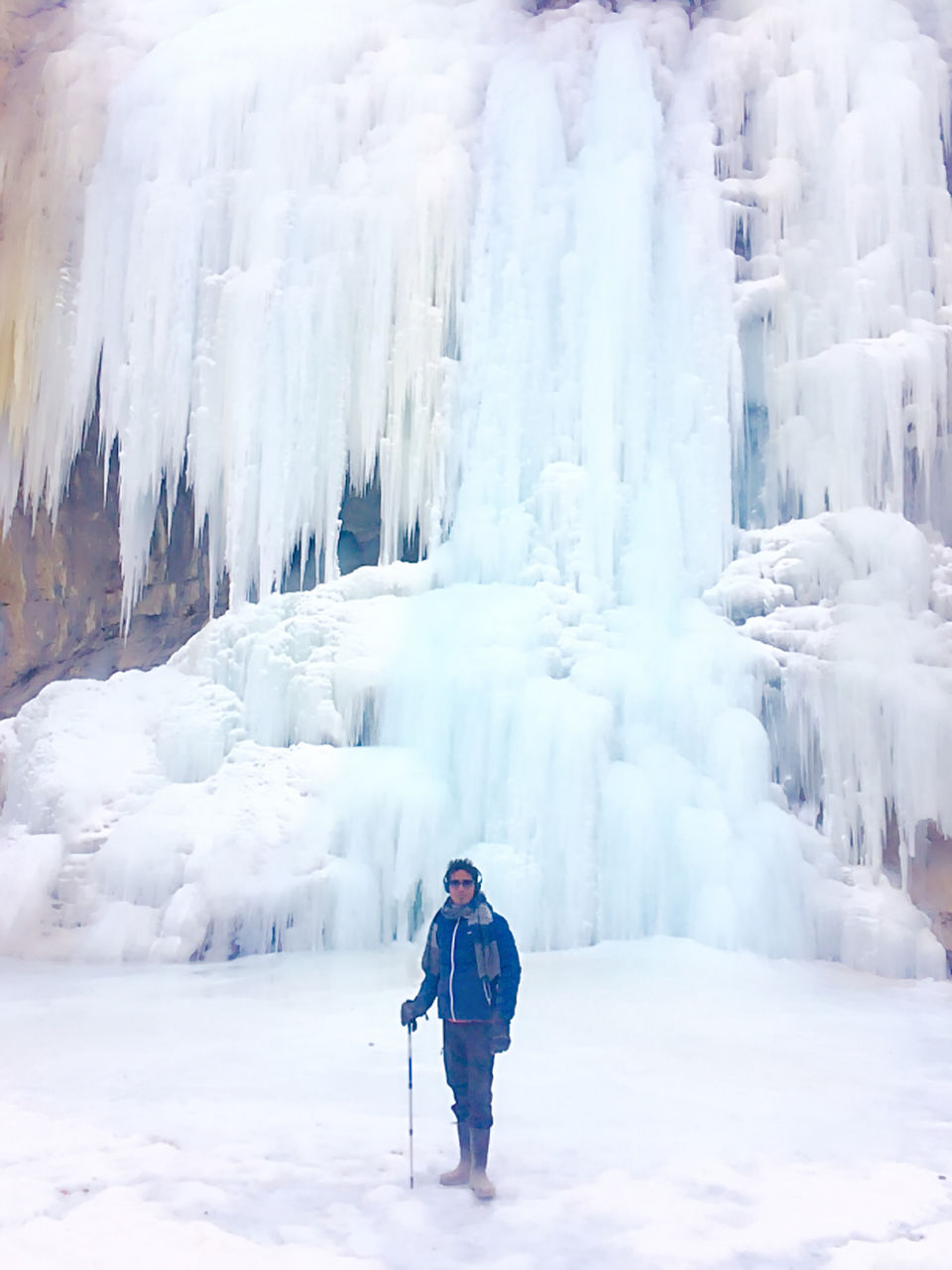 It has been more than a couple of weeks now.But even now In the silence of the nights, I can feel the sensation of those 30 odd seconds; I can still feel water freezing into snow in my boots; I can still remember how I can feel no sensation of cold even when i got naked in open at -20 degrees to change wet clothes.
Overall I can clearly remember what and how i felt as the guide took those careful 11 steps towards me that afternoon when i was 1/3rd submerged in water, 1/3rd in ice and was struggling to keep 1/3rd of myself above the ice.
I know I have survived the fall in the fast flowing, and chilling cold Zanskar river but "What ifs" keep haunting me at night.
Now, Let us begin from the starting:
So, What is Chadar Trek?
In Zanskar region, in winter months temperature falls to as low as minus 30 degrees in winter, in such climate, the river Zanskar on the surface freezes and becomes ice. Beneath the ice, the river trickles, flows, gushes, but the surface is hard in most parts and is known as Chadar, or layer of ice. The locals have used it for time infinite to travel for livelihood. But, Chadar Trek is the madness, souls like us do, walk on the ice in a temperature range of minus 15 to minus 25 to reach "The frozen waterfall"; in name of adventure.
If there is a proper chadar prepared, which means the river gets frozen nicely it is a 70km overall trek, else it is 70km plus a number of small nd medium steep hill treks. In our case, it was the second.
The difficulty level in terms of technicality is medium, but the harsh climate and the continuous attention one needs to give at each step makes it one among the top most difficult treks of India.
You walk on the ice, climb steep mountains when ice is not well prepared, fall and skid on ice, spend nights in freezing cold temperature in tents. If that showcases, the difficulty and harshness of Chadar, one cannot forget the beauty of never ending infinite Ice, the beauty at times that you get confused whether there is a river below the surface or not. Add to it the small frozen waterfalls every now and then which you see and finally, the might frozen waterfall.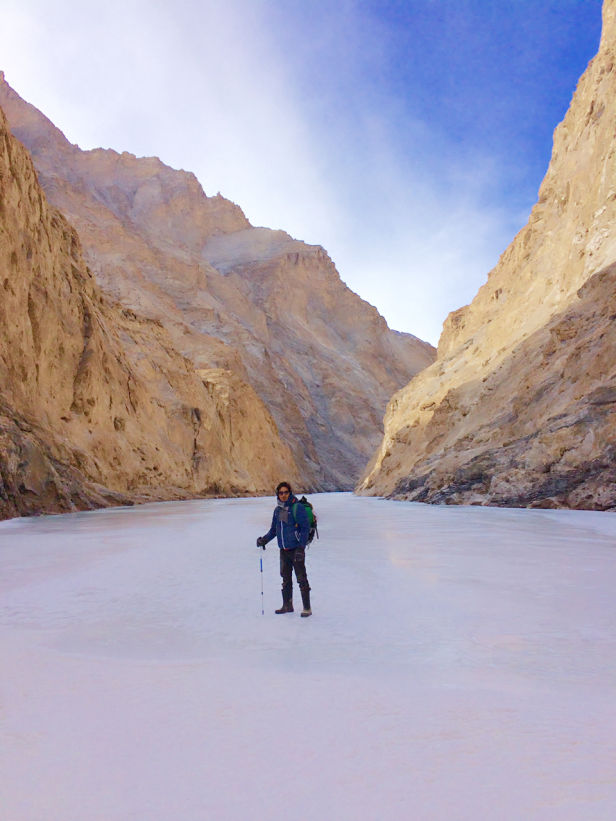 The unending, infinite Ice !! I am standing in a river, who can tell ????
How to prepare for Chadar trek?
Chadar can't be your first trek. My advice is to do a few moderate or difficult treks before Chadar.Also, as far as fitness is considered, effectively you cover 70kms in 5 days, rest two days are small ones, so you should be able to walk easily 10kms any day, that i believe should be the starting and only criteria.
Good pointer, since there is no altitude gain, so very less chance of AMS. What to wear and not to wear, your guide will tell a lot. My advice is to wear layers, everywhere, but at the end remember you are at minus 20 degrees so you will feel cold. Embrace it.
While packing, just remember, have a complete set of clothes ready, as in case you fall, you would need to change everything. Next, wear all quick dry and water resistant on top, as you will have small falls on the ice chadar every now and then. This includes even your gloves.
As far as trekking group is considered, we went in a group of 7 people and must say it was awesome, thanks to http://www.roadsandjourneys.com/ for the small group size, i will say it was apt. The landscape do not change a lot in Chadar trek, sorry to disappoint you but it hardly changes,
The landscape does not change a lot in Chadar trek, sorry to disappoint you but it hardly changes so be ready to feel bored at times. Unlike other treks, it remains the same from day 1 to day 7, with slight changes in light and in snow capping of mountains. So, will suggest carrying playing cards and games.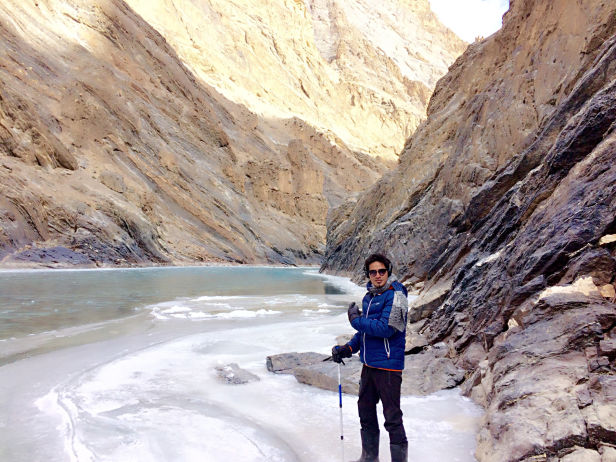 Jokes aside, it is never boring, with narrow ice lanes to walk !!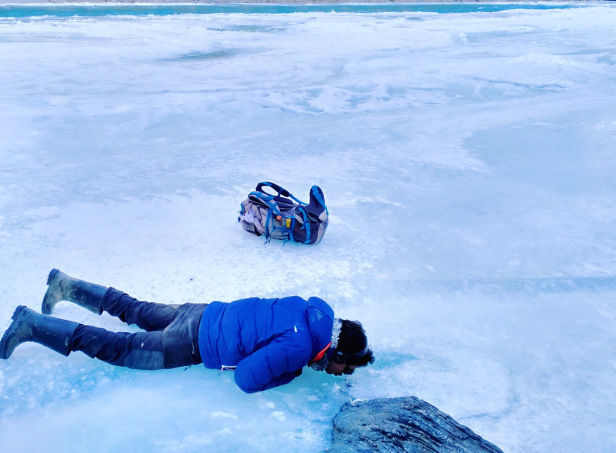 One can always add more adventure: Drinking water directly from the river, it was tasty !!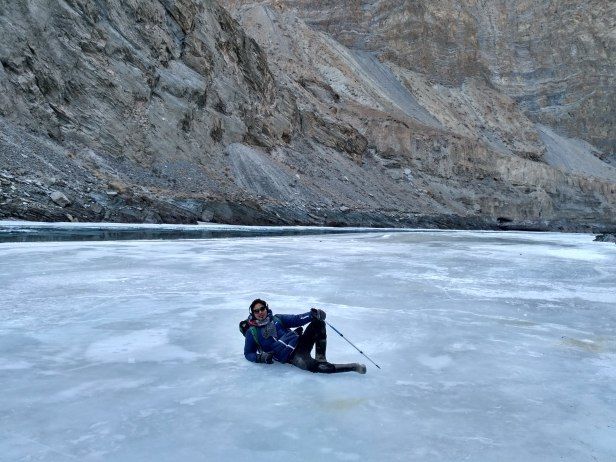 Or one can pose too !! After all, you get used to the minus temperatures !!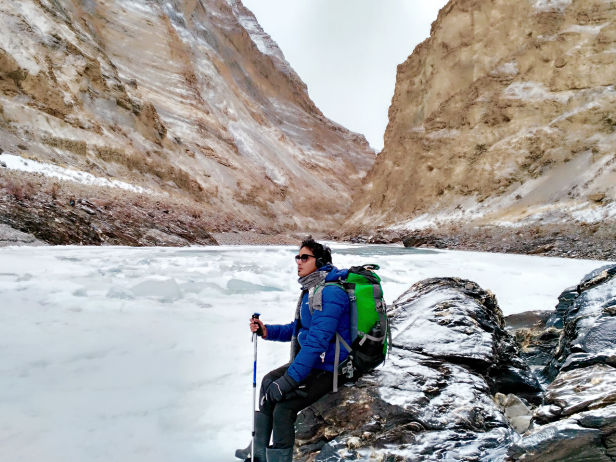 Or sit & ponder about life !!
Now coming to the critical question: Is Chadar Risky?
Yes, it is risky. At such harsh climate, walking on a river which is fastly moving, has to be dangerous, but then you had that adrenalin in you then only you came here. So, embrace it in your heart, that Chadar is going to be risky, you are going to regret your decision to come for this trek. But at the end glory will be yours.
Now, the pointer is can we reduce the risk?
Any place where mountains, snow, and river, all three are simultaneously involved, their luck plays a great role, but we can definitely try to reduce chances of mishaps.
So, just like any trek, basic rule here also is to stick to what guide says in any scenario. My mishap would have been much smaller in case I would have listened to the guide, I must accept.
In Chadar, there are a lot of porters moving with sleds, so while walking the guide told us to focus on two things: To look for the second layer beneath the top layer of ice and look for sled marks. He even added, never to trust white colored ice/snow. In the end, he added in case you fall, wait for me.
I listened to the sled marks and double layer pointer very carefully and walked consciously while enjoying the nature. In fact, my count of small falls on Chadar was the lowest among my group. I had fallen only thrice in the first 4 days of the trek.
In fact, my count of small falls on Chadar was the lowest among my group. I had fallen only thrice in the first 4 days of the trek. So, either I was lucky or I was following the instructions of the guide.
Now, came the unfortunate part of the trek: the near death experience!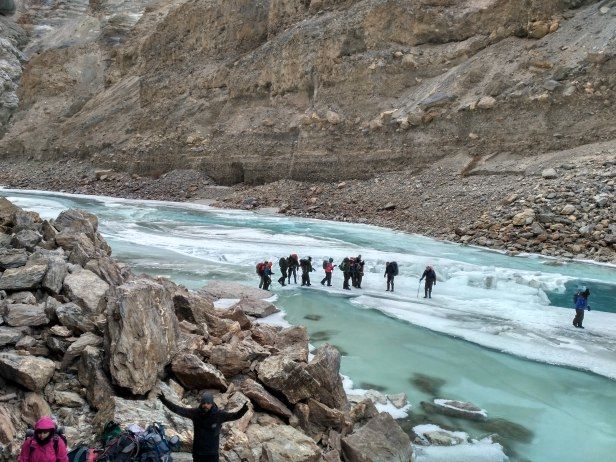 The place where you can see people walking is the place of the accident !! Our team is upon the mountains still. Can never forget this place !!
Here, we had just climbed down a steep hill, the ice was not at all formed, but there was no option but to walk on semi-formed ice on the turn. I was more than confident that it was doable. The guide went ahead and i followed.
After a few steps, I realized it is going to be risky, so i held the hands of on of the porters. I kept moving ahead as i could see both the sled marks and the second layer. The water closeby was fast and flowing with power. Then, all of a sudden both me and the porter was half under the ice. The layer of ice below us had broken in one go.
The local guide was roughly 11 steps away from me, I made noise, and one fellow trekker and a good friend also saw and she made a much larger noise. Now both the local guide and the trek lead were active, but that was not an easy stretch, so I knew it will take minimum 30 secs for either of them to come to my rescue. By that time I was still not in touch of the river water, I was on the second layer of ice. Safe !
But, cold was taking over me and I thought I can come out, so I tried coming out to self, and in that process broke the layer of ice below me. Now my legs, till slightly above the knees were in the water, and my body till chest was under ice.
The local guide was 8 steps away. I had faith that he will come.
I decided to keep holding the sides strongly, and not to make any movement to disturb the ice leading to the hole becoming larger. The next moment i knew he was there, asking me calmly to give my hand to him.
Next, I remember my trek lead was close to me, furiously removing my boots which were full of "fresh ice"! He did an amazing lightning speed work in getting my clothes changed. That day, i have increased my number of bottom layers to three, reducing my net spare layers to one. My friends came to my rescue, and soon i have covered once again. My cook who was close by offered me "Bidi", nothing tasted or felt more soothing than that to me in that moment.
So, that's my story of survival. But ask me again, was Chadar worth it?
Yes, it was.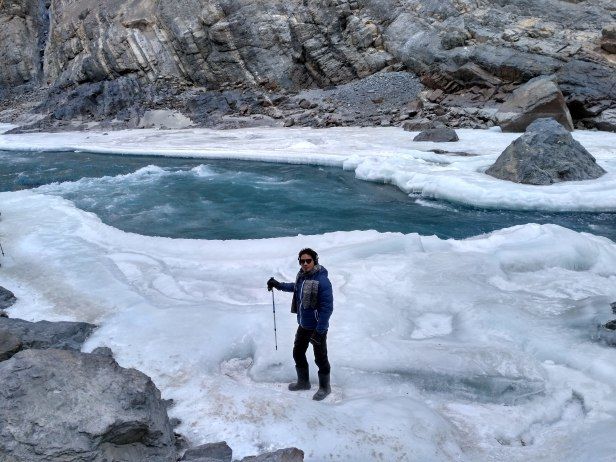 When you are no more afraid of stretches like these !!
Chadar was worth the risk, it is an experience of the lifetime, and can recommend it to every adventure junkie, with just one pointer: listen to the local guide and trek lead, and trust them.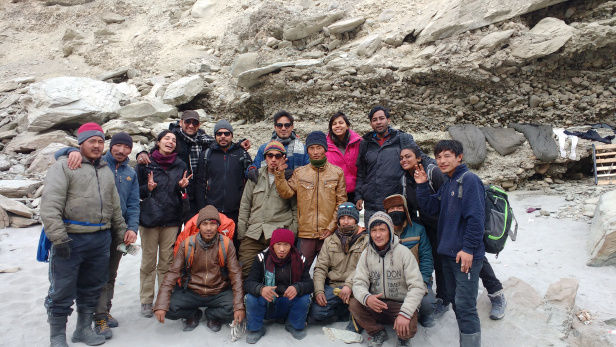 The entire team in a pic taken post the trek on last day by team lead, Taarak from http://www.roadsandjourneys.com/ . Thanks, Taarak and the team !!