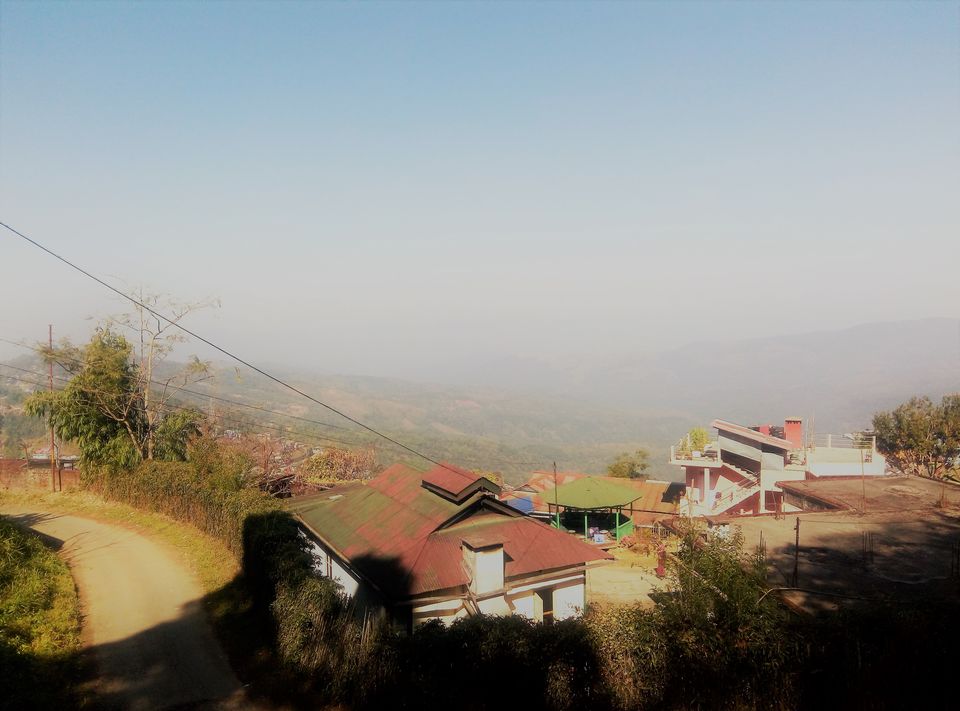 I always looked for jobs which allowed me to travel. And the lucky that I am (touché) I have managed to be in jobs that allows me to travel.
Before I stepped into motherhood I had a job which allowed me to travel extensively across North East and the icing on the cake were the cosmetics and personal care goods I was dealing with.
And nine years later (in between taking a break to raise a child, two more jobs) I have again landed in a job where the travel bug in me is back.
So as the head of North East in my current job, my first stop is Mokokchung in Nagaland.
As I started packing, I looked up the weather forecast in Yahoo and it reflected 10 degs as max and 2 degs as min temperature. Already in shivers, I pulled out the warmest and the heaviest jacket from the closet to begin with.
This would be my maiden visit to Mokokchung. Tickets done, hotel booked, I boarded the Shatabdi Express from Guwahati to Mariani. By Guwahati standards too, it was cold, dark and foggy and seemed the whole world was fast asleep as I stepped out of my home.
It took roughly six hours to reach Mariani, a small town in Jorhat district. To my dismay there were no cabs to Mokokchung at that time. As a stroke of good luck I met a family who were headed to Mokokchung and I paid them my share and hitch hiked with them.
The shared Sumo ride was a good one. The Sumo was dusty. I took the front seat with the driver. We passed by the lush green tea estates on the outer fringes of Jorhat and were finally in Nagaland. The driver halted and asked us to show our inner line permits at the check gate. As I walked towards the check point, I could hear Hotel California being played faintly. There were two cops in the counter. Both were busy playing Candy Crush while crooning to the famous Eagles number. Some things only happen in North East India!
And from then on I started my bumpiest ever road trip. I wonder if there were any roads to begin with. The road zig-zagged the craters. The winds got colder, houses prettier and fog thicker.
We took a pit stop midway at New Camp. The place was lined with a few tea stalls and tiny grocery shops. I bought a packet of biscuits and sipped the milkiest cup of tea. The stopover was for about ten minutes. It was already dark and the wind was hitting hard. We got into the car for the final leg of our ride.
I do not recall much of it as I snoozed right after. I don't even know if I snored. I opened my eyes when the car took a sharp left turn and infront of me was Mokokchung. It looked like as if the stars had fallen on the hills. The hill was glittering like diamonds and it was the most amazing sight. I almost felt I was on a high and was hallucinating.
As we reached the town the car halted and asked everyone to take their respective luggagages.
"Is that it", I asked the driver.
"Yes", he said affirmatively.
"But you have to drop me to my hotel. If not the hotel then at least to the main town area", I told him.
I called up the hotel to ask exactly where it was located. They directed me well.
I told the driver the address and said "I will pay you another hundred bucks extra. Take me to the hotel".
""Madam, your hotel is a walking distance. Just keep walking straight, you will reach a police point. That is where your hotel is located".
I believed him like a fool and started walking,, pulling my heavy trolley bag and the laptop bag on my shoulders.
I kept walking to the police point and there was no signs of my hotel. It was getting colder and the streets were empty. It felt like midnight. I just looked up my watch to see the time. I was just 5:50 p.m.
I asked a passer by about the hotel and he pointed towards the right and said "keep walking that side".
"Can I get a taxi now?", inquired.
"Ma'am, its too late. See.. even the shops are shutting down. You wont get a taxi now."
I looked towards where the gentleman was pointing. The road was an uphill walk. With a heavy breath I begun my track. And I must tell you… it wasn't the most amazing thing to experience on earth. After walking which seemed like ages, I reached the town hall. I called the hotel again and told them I was near Town Hall. They were surprized to hear that I had walked that much distance.
I kept walking further asking another man for directions (just to know whether I was on the right track or not) when I saw a Maruti Van approaching me. A girl stepped out from the co-driver seat and said, "I am from Whispering Winds. Did you call up asking for directions?"
I cannot fathom how grateful I will always be for their gesture.
I was starving like a pig. I had a very early grub. Slowly the chill was settling in my system. I could feel my bones freezing. Fingers became numb the moment I took them out of pockets to receive calls (whatever few calls I could manage to answer).
I asked at the reception to give me a room heater. I pulled the heater as close as I could manage to my bed. It was 8:45 pm when I decided to shut eye.
I could hear faintly, happy voices singing Ronan Keating, Extreme, Scorpions ballads as well as guitars strumming too.
Day one ended on a tired yet adventurous note.