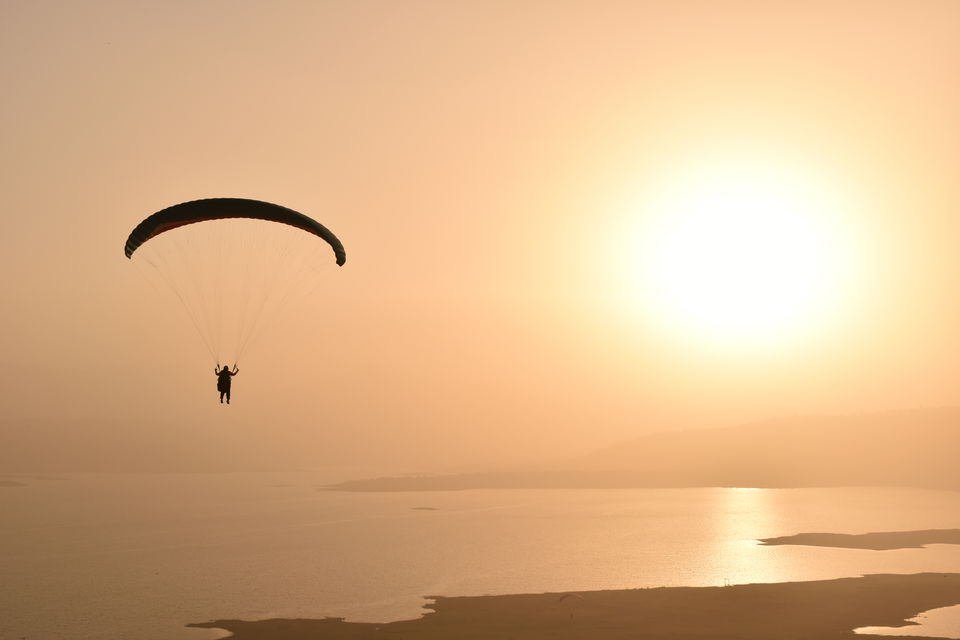 When the noise of the city haunts you and you can hardly listen to your own thoughts that's where a weekend getaway comes to your rescue. A short drive of around 45 kms from Pune lies this abode of beauty amidst the mountains and clear blue sky. Kamshet is all about the narrow hilly roads, greenery and a small town which will remind you of the beauty of simplicity.If you are a hill person ,this should be your top choice . Kamshet is mainly known for its joy of paragliding . I had subscribed to Temple Pilots Paragliding which is a center of excellence offering various packages to its customers to enjoy the ecstasy of paraliding. Its a training institute specialised in paragliding offering courses for beginners, club pilots and even joy rides for those who want to have a one time experience. They offer internationally acclaimed paragliding courses whose duration can be from 3 days to a week depending on the course one opts for.
Gliding smoothly through the clear sky...i paved my way from across the mountains to the sea beneath. I felt nothing less than a bird and it had Euphoria. The beauty of nature will consume you and you would never want to come back. The safety measures are well taken of , so one can plunge in and experience the rush.
It took us around 15 mins to complete the flight and those 15 mins has given me a memory of a lifetime.
For people who want to combine adventure with a dose of scenic view, this is a perfect package of joy :) Go fly!
Kamshet is a perfect getaway for people who love to share a relationship with Nature.The beautiful view surrounding the mountains with the sun shining from behind its cover can take your breadth away.The clear fresh air can echo your thoughts and almost hypnotise you with Natural Beauty.Around 45kms away from Pune..this is the best trip to take for a perfect weekend getaway.
Frequent searches leading to this page:-
tourist places in south maharashtra, tourist places to visit in maharashtra, best tourist places in maharashtra in summer, tourist places in and around mumbai, information about tourist places in maharashtra