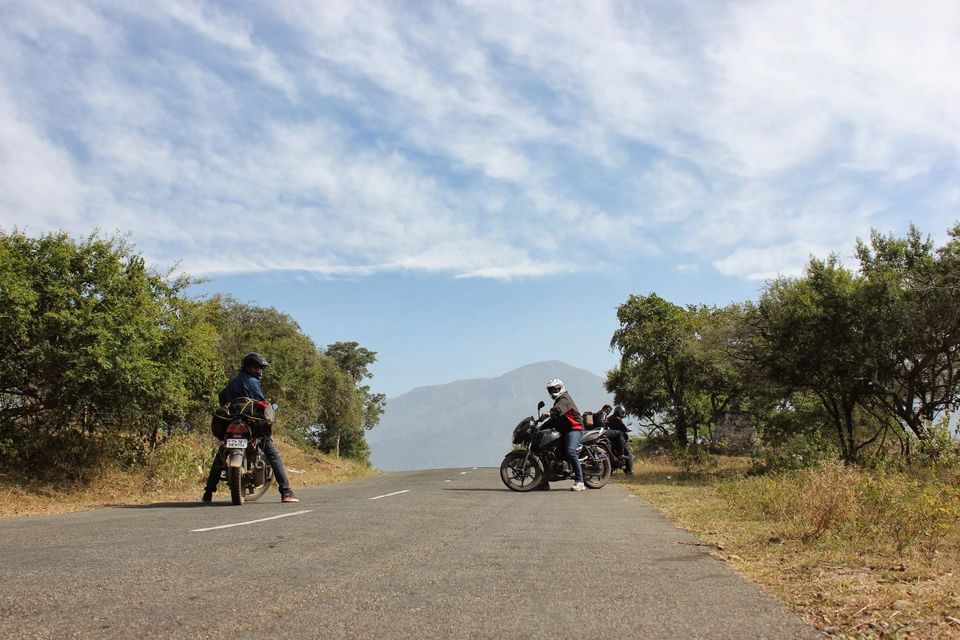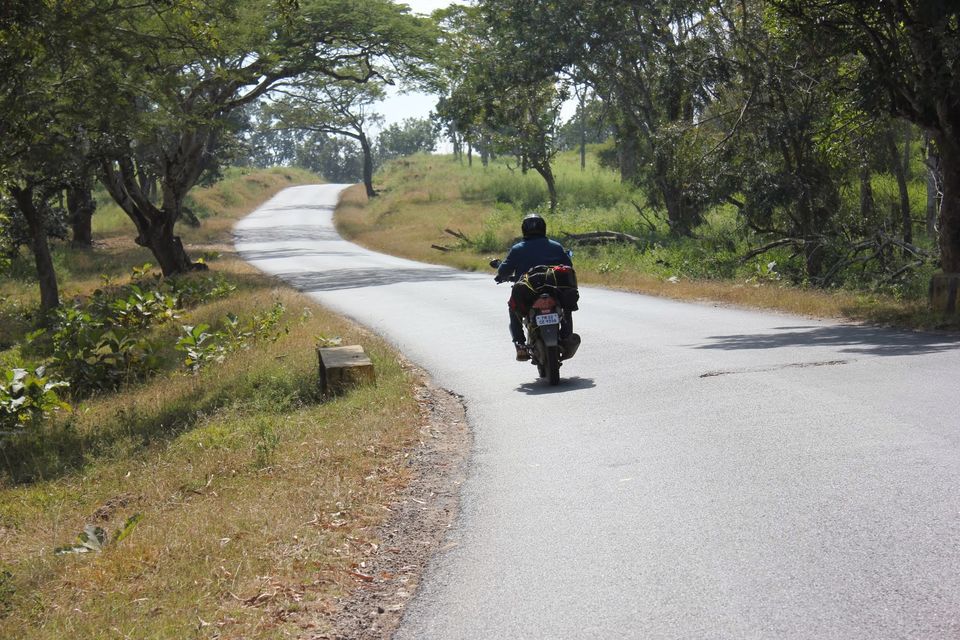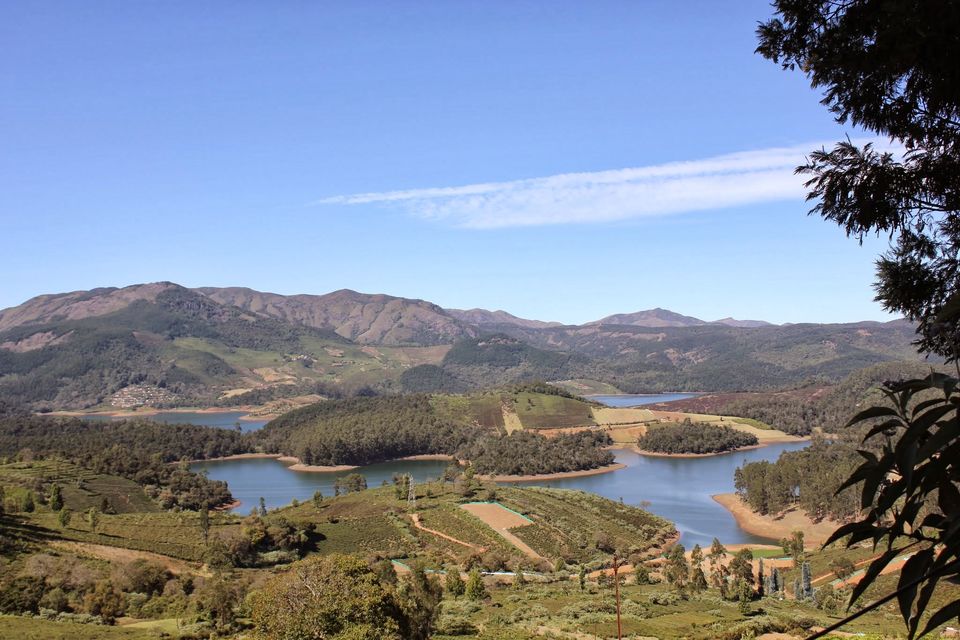 There wasn't any detailed plan. But, we set off towards Karnataka from Chennai. 5 of us, for 4 days, on 3 bikes, covering 2 states, with 1 goal - BIKE RIDE. On two Honda Unicorns and one Bajaj Pulsar, on 25th morning by around 6 with heavier than expected back packs. The short-term plan was to be at Ambur for lunch. Those famous 'Star biryanis' were to be tasted. (One would reach Ambur a little early for lunch. Krishnagiri (A2B) is the best and favourite lunch spot for CHN-BLORE travellers; now there are many other options available like Saravana Bhavan, Murugan Idly -both near vellore). Breaking fast at Sriperambudur with dosa/masala dosa unknowing that it would end up as the staple diet for the entire tour, we reached Ambur for an early lunch. Star Biryani wasn't as great as publicized (over-rated probably).
With early lunch we also halted again at A2B, Krishnagiri. (The point was to enjoy the ride and keeping the tummies happy was one way of doing that). We also fuelled the bike, took enough rest, but it was getting boring riding in the sleepy highway. What lay ahead was not expected.
Not many would take the tiring, single vehicle path from Hosur through Jowlagiri Reserve Forest to reach Malavalli that is about 40 km from Mysore. We did. (For those that are planning to have a car ride through that route, DON'T. For every others who want an off-road biking experience, you got the perfect road.) The ultra-heavy back packs we had with us made the ride a very painful one you-know-where. And so we huffed-puffed ourselves and our bikes to reach Malavalli at 7:30 pm. It was dark already with no street light. (Malavalli is a small town and doesn't have more than 2 hotels.. don't plan to stay there)
We immediately pre-booked a home-stay at Mysore (suggest pre-booking) and set off through what seemed like a forest. All we wanted to do after checking in was crash into bed - facing down - of course!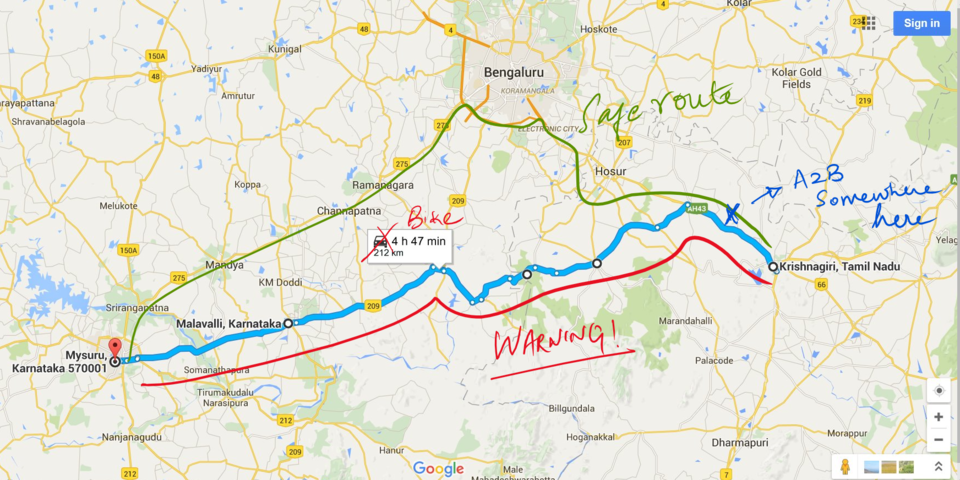 After much discussion, we decided on the route to take the next day. We tied one of rucksack to one of the bikes. (Learnt that the hard way). We set off from the room at around 8 to Ooty through Bandipur. We broke fast at Idly Junction restaurant - a well setup ambiance with option of unlimited buffet breakfast. Later, lubricated ourselves and bike at a CCD between Nanjangod and Bandipur. Bandipur Tiger Reserve in the Ka side and Mudumalai Tiger Reserve in the TN side was a peaceful ride. The road was just amazing. A trek into the forest was what we missed out to do. Bandipur has a jungle safari, where one can most often spot tigers and elephants.
It suddenly started feeling cold as we climbed up Masinagudi en-route to Ooty. We hadn't even decided as to where we were going to stay. Late lunch at a restaurant in the Ooty-Conoor road in town with servers waiting for us to finish our meal to have theirs. With some food inside us we decided to call it enough riding for the day and went lodge hunting. It was holiday time and all of the possible tourists had decided to halt only at Ooty (suggest prebooking, again). Finally with the help of a person overhearing us talk, we got ourselves into a room which felt warm and cozy for the every-minute-dropping-temperature. We made arrangements in the 4 person room to fit the five of us and only just then one of us spotted the ice in the roof. There were a few leakages in the roof and the water had frozen while dripping down, I must say for the below-25-degree-starved people from Chennai, it was an amazing thing to see. We set off to go around the place daring ourselves to the near 0 temperature, we roamed around and had our dinner - of course the staple diet of dosa !! Back to the room shivering and in no time slept off.
Day 3 was quite an experience. We set off early next morning to our next destination Coimbatore/Palakkad/Salem- one of the three. The bikes needed a little extra kicking and tuning before we could get them in to normalcy. Thanks again to the temperature there. The Emerald lake at Ooty was a scene and we missed the avalanche ride because of the crowd. To feed our hunger, with a little persuasion, we went about 2 km inside of the avalanche ride and spotted a Sambar Deer. After seeing the crowd there, wasting no more time there at avalanche (later realized it would have been worth the wait), we were back in our route to Coimbatore via Kundah.
The bike ride with view of Silent Valley National Park was bliss. It was mostly a downward slope and the bikes were often idling or off in the course of the ride. Silent valley was indeed silent and for a bunch of guys from metro city, it was an absolutely peaceful experience. Enter the best part of the ride. We knew we would be crossing the 43 hair pin bends of the route from Kundah down to Coimbatore. What we did not know was that there would be numerous other hair pin bends that the Government and google forgot to count. The way from Mulli to Coimbatore through a Nilgiri Eastern Slope reserve forest manned by sleepy guards had nobody other than our three bikes. The road was dotted with huge crests which were probably made by angry elephants running around. We confirmed the crests to be elephant made ones when one of the guards told us a story of a wild elephant roaming around that place the previous day. Thrilled by the possibility of encountering a wild elephant, we were even excited to ride through the way. In fact any possibility of staying over night in that place would have been quite an experience.Well.. Mr. Angry Elephant, another day.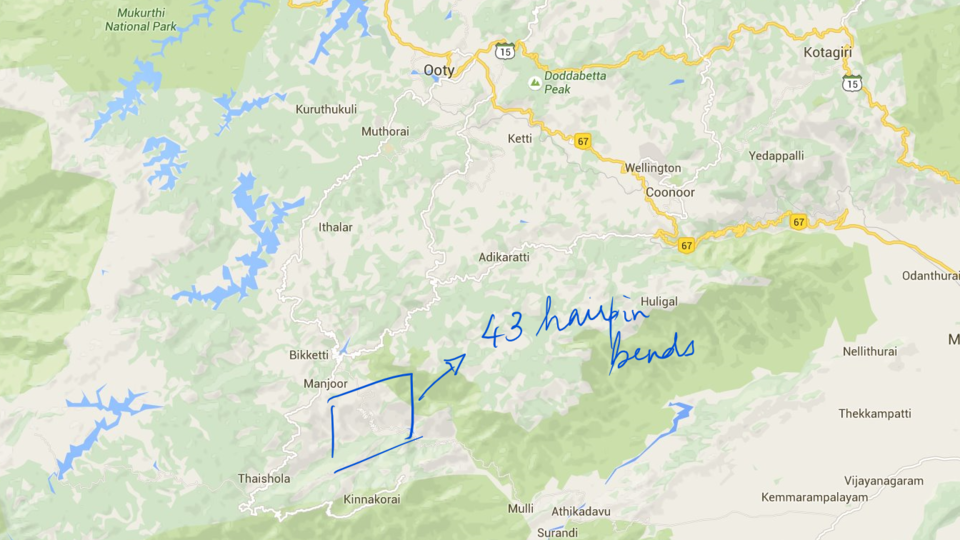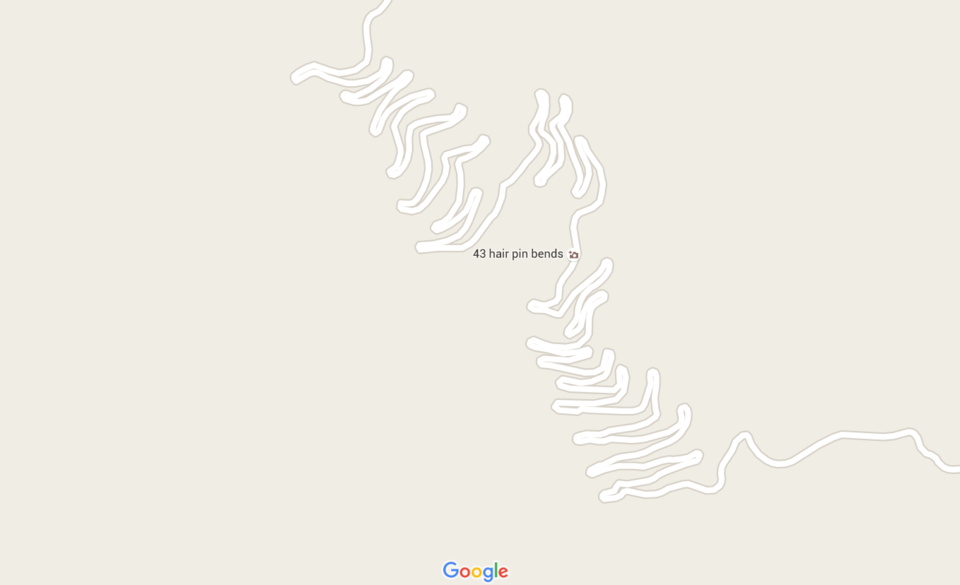 The ride from Avinashi to Salem in NH47 was in NFS. The traffic mode was on plus we were running out of time for our 7:30 PM curfew. The newly laid road was straight and just amazing even with all the heavy vehicle traffic. It was getting darker. Adrenaline rushed, the speed limit we set to ourselves was crossed, yet we reached Salem a little late than expected and immediately set out for lodge hunting. We ended up at comfortable hotel. Not sure if it was the adrenaline still doing its work or the bile that was waiting to digest some food, we immediately set off for dinner at a thattu kada -a road side food experience.
The ride from Salem to Chennai the next morning in NH68 till Ulundurpet and continuing in NH45 was just OK to the standards. But the travel was at ease because of the stunning roads surrounded by beautiful picturesque and pretty decent weather in NH68. This was the time we were silently waiting for the trip meter reading. 997... 998... 999.... aaand... 000 (not 1000) UUGGHH..!! Total disappointment. Now, since the ride was getting boring with no altitude change, we had one thing in mind - reach Chennai as early as possible and go crash in bed. And we did exactly that.
After a 1230 Km ride in 3 and a half days, we were back at our starting point. The first lap was done. We instantly agreed to do more of this in future. We would.