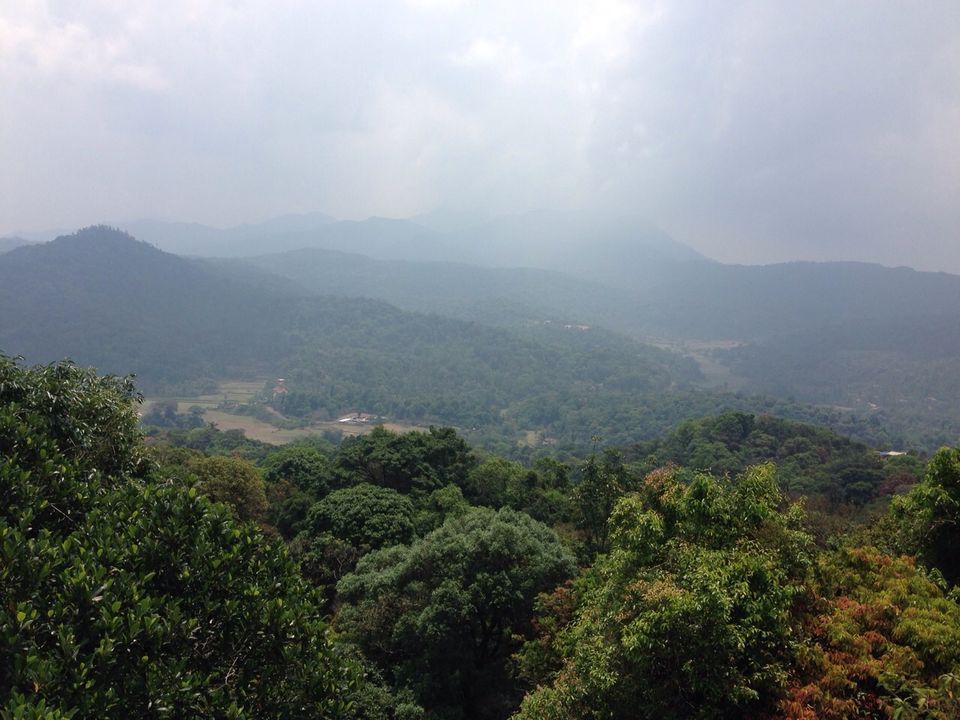 Coorg was always on my list. When we were to decide a place for my friend's birthday, I convinced them to go for my choice. (Yes, I'm good at this). So I fly from Mumbai around 11.30p.m to Bangalore to meet my other two friends who came from Delhi and Hyderabad. Since I reached late, we had to celebrate my friend's birthday at CCD. We've booked a car from Zoomcar a week before so the guy came and picked us up at 1a.m. We did not waste a minute, finished all the documentation and hit the road around 2a.m. Bangalore to Coorg is 260 odd kms. So it was not an easy ride since we all worked the whole day and slept for a minimal amount in the flight. Still, Bollywood and Tollywood songs allowed us to stay awake :D
We reached Ponnampet around 6a.m. I've booked a vintage house which was hosted by Sudhin through AirBnb. It's an amazing place for a group of friends. Though it seemed huge for three of us. Our host gave us a written map of places we could cover for that day with a recommendation letter to visit Tata Tea Estate. We started around 9a.m. The tea estate looked very beautiful. Words cannot describe the feeling when you are surrounded by tea plantations. Then without wasting any time, we started to Iruppu Waterfalls. A small and a very easy trek up to the waterfalls. There is passage of water to your right which looked beautiful and is every photographer's fantasy. It was little sunny owing to the fact that it is mid March. We quickly finished our lunch and started to the national park. We reached there by 4.05 and the safari was about to start and there was no place for us. So after a lot of cribbing and throwing tantrums, we fell asleep in the car. We took the 5'o clock safari. It was like every normal safari ride, we saw deer (a lot of them in fact), bison, sambar etc. But the best part was saved for the last 15 minutes. On our way back, there was a huge pond and on the opposite side a bison stood. The driver stopped so that we could take pictures and as the engine started, one of the tourist shouted "Tiger! Tiger!". Everybody was alert now. Total chaos for a minute and everybody was trying to find that creature. After a minute of careful observation, we find a tiny little head hiding behind the bushes and staring at its next prey. We waited for some action. The bison started walking towards the forest and the tiger followed it without getting noticed. Again 5 minutes of waiting. Nothing happened so the driver started the bus and suddenly we saw two animals running. You guessed it wrong! It's the Bison which was running after the tiger and tiger was trying to save his life. What a change of events. That's how life is, right?
After this amazing adventure, we went back to Ponnampet. Our host showed pictures of various festivals celebrated in Coorg, told us about their culture, showed guns which are preserved as their custom. After having an amazing dinner, we went back to sleep.
The second day was tiring since we had so many places to visit and so less time. As our host recommended, we went to Madikeri - Coorg's headquarters. The route had amazing views. My friend enjoyed driving. Though for people like me who have travel sickness might find it difficult but manageable. We visited TalaCauvery, first tip here is "Wear full clothes". Since I was wearing capris, I was asked to cover my legs with Dhoti. Did seem a little embarrassing but was fun while taking pictures :D. It's the place that is considered to be the source of river Kaveri. The next stop was Raja's seat which is just a park and has a view point. You could miss this if you are on a tight schedule. One my way back to Bangalore, we've visited the Tibetan Monastery. It was a must visit in my itenary since I believe in Buddhism. 40 feet golden Buddhas is the main attraction. We reached Bangalore by 11.30p.m.
Coorg is called the Scotland of India for a reason. Check that out by yourself!Be safe! Happy travelling :)
Frequent searches leading to this page:-
coorg itinerary for 7 days, 02 nights coorg itinerary, coorg itinerary for 7 days, coorg tour packages from chennai for 3 days, coorg tour packages for couple