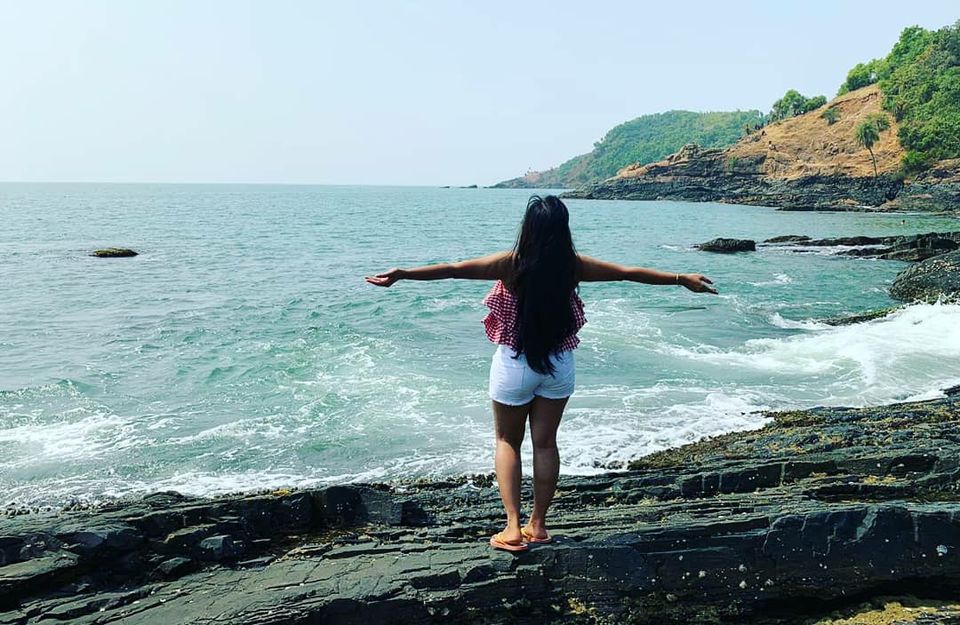 Gokarna is the new Beach Escape ! And why ?
The exquisite, private kinda beaches, less crowd and peaceful as the place is , it calls for more tourists from around the country and abroad.
Gokarna is a beach village in Karnataka, accessible easily from both North and South India.
If you plan to reach Gokarna,
1. You can either fly to Bangalore and take an overnight bus to Gokarna, which would be 6-7 hours commute.
2. Fly to Goa, and board a train early at 5am and within 2 hours, you arrive at Gokarna.
Or you may also consider cabs/buses from Goa to Gokarna , which would be a 3 hours drive.
3. One more option from Hyderabad is to take a bus until Hubli/Ankola(nearby places) and then board a cab/local bus to Gokarna.
I had opted for Option 2 though !
I had booked an Oyo in Gokarna. My plan was last minute and all the resorts had hiked the prices pretty much !
I booked the only Oyo in the area for me and my friends; and turned out, it was a good idea ! The food and hospitality was quite impressive for the small town.
Now, let's explore Gokarna more ! Come on with me !
First , I had some Chai and breakfast at my hotel and headed towards Belekan beach.
The series of beaches Gokarna engulfs are Belekan Beach, Small Hell Beach, Half Moon Beach, Om Beach , Gokarna Beach , etc.
You either start from Om Beach and trek towards Belekan Beach or vice-versa.
1. Belekan Beach
We started the trek from Belekan beach.
It's a rather silent beach with cliff on one side and far-off mountains on the other.
A rather rocky shore gives it a rugged vibe.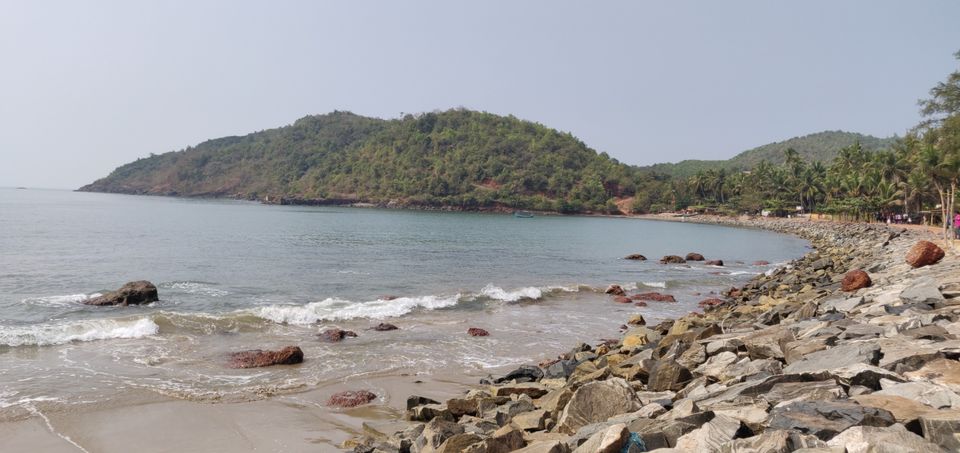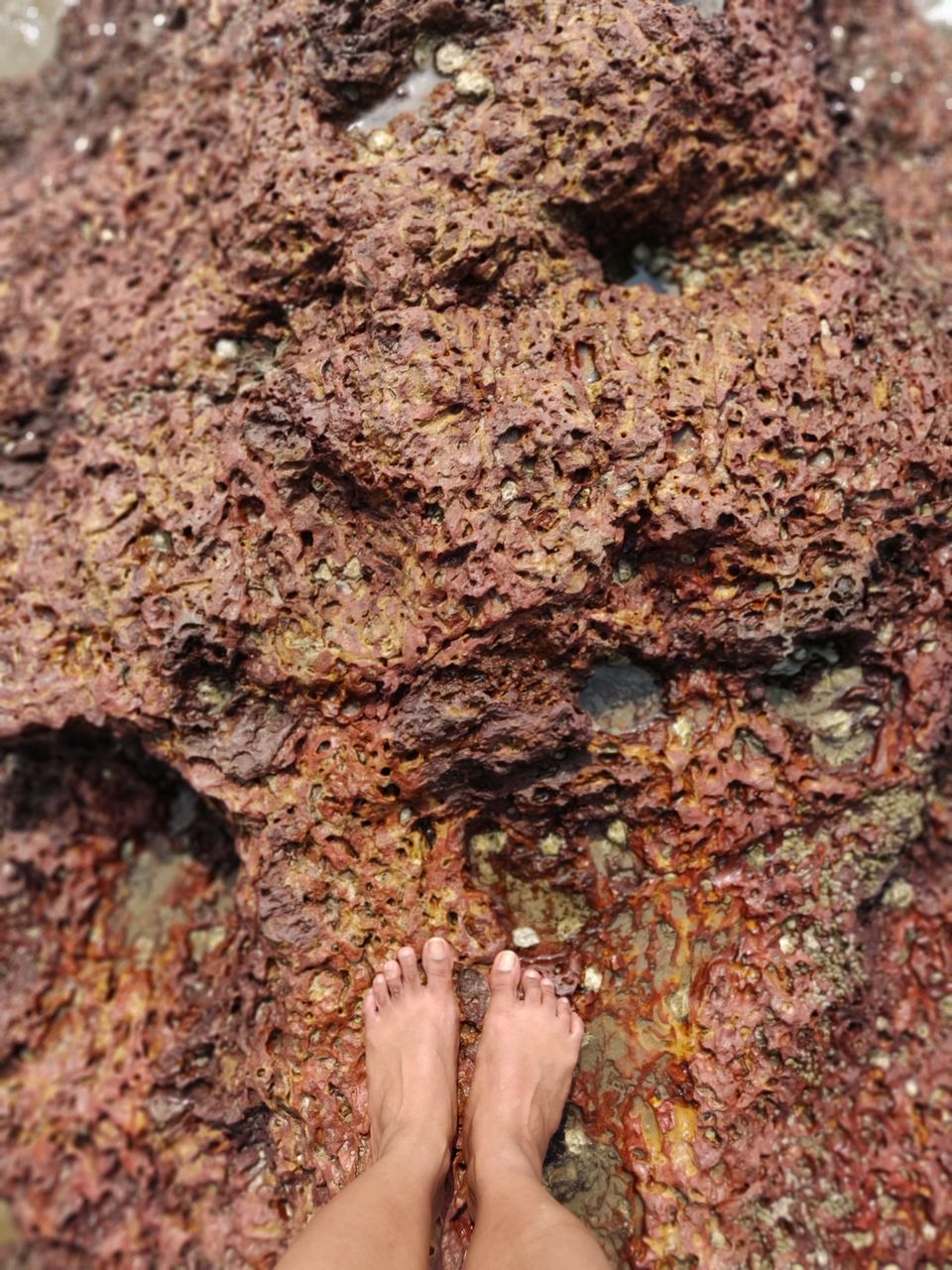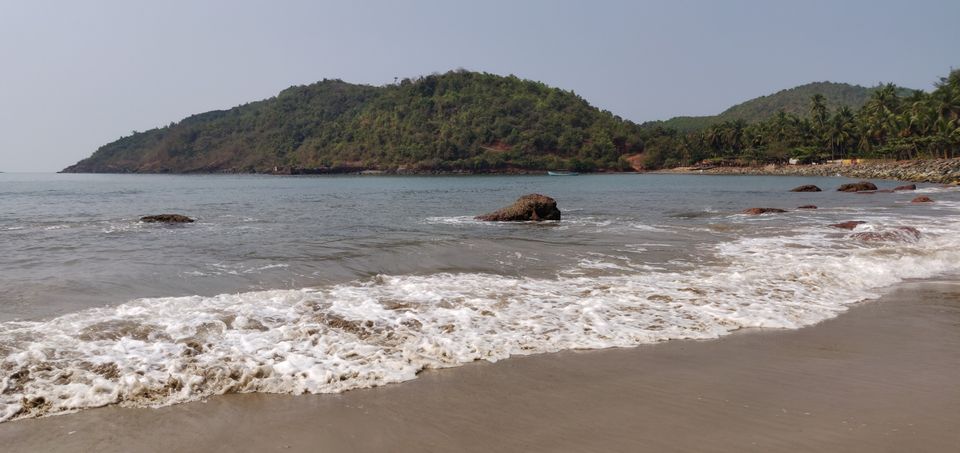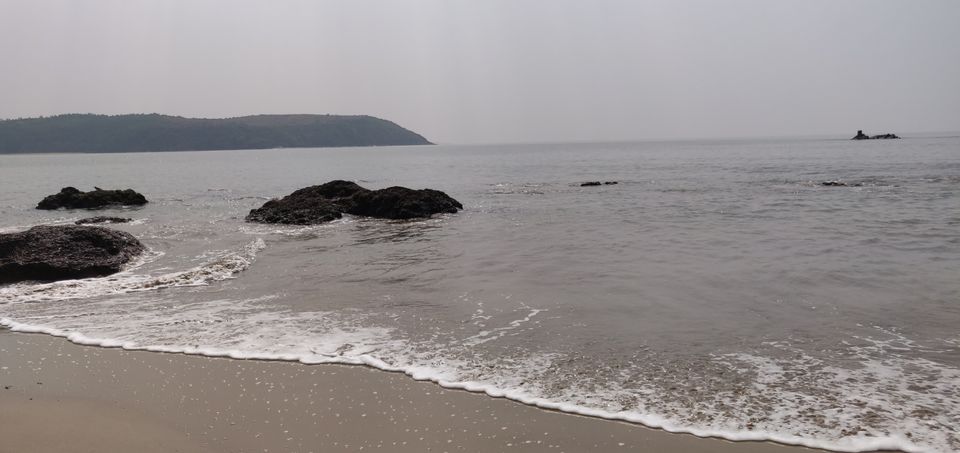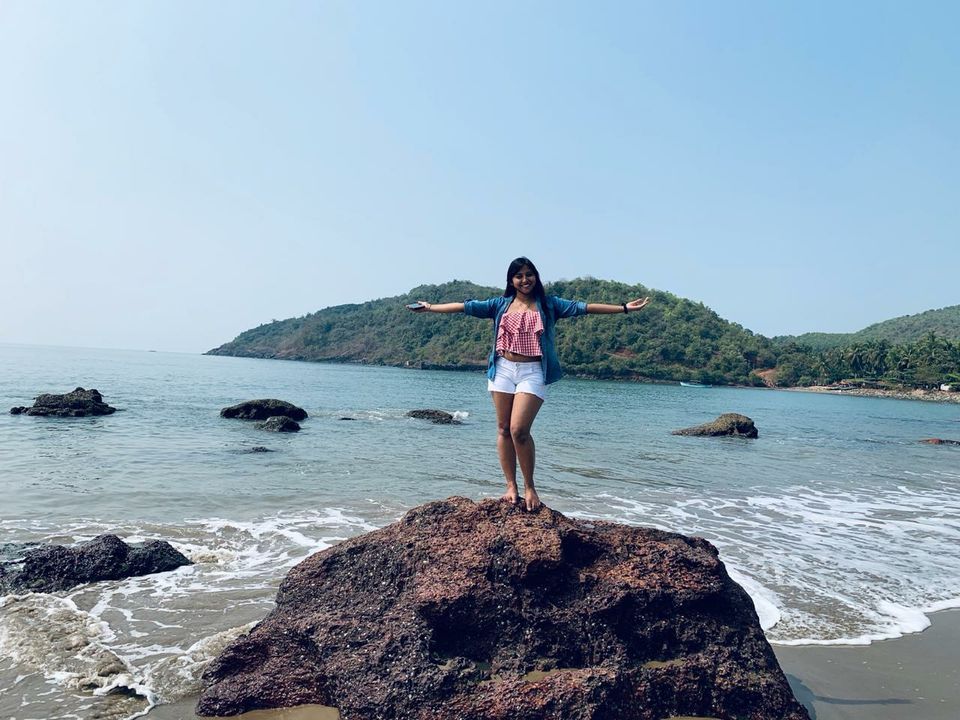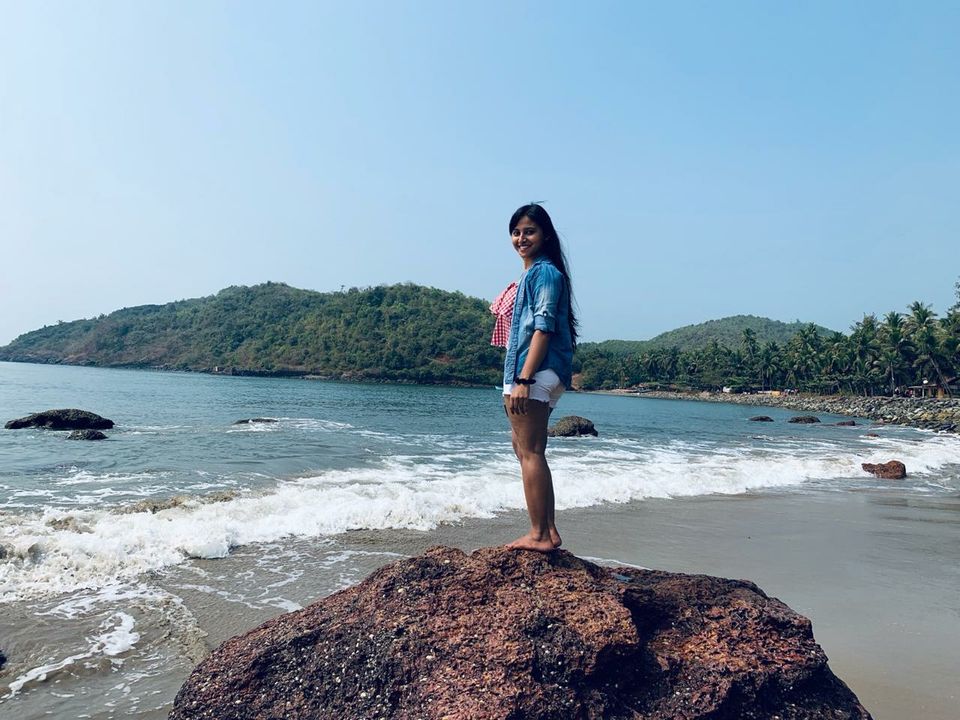 2. Small Hell Beach
Pretty hot and humid as it was, we stopped by a tiny shop to have some lemonade and beer !
Recharged, we started off the trek and climbing the hills was fun. The trail for the trek is pretty clear and we followed it .
We're greeted by few monkeys on our way !
And we kept walking and walking and walking until we reach this view point at the midst of the trek.
It was fabulous to see the beach and to realize I am gonna reach there in few minutes.
We continued the trek downwards and could immediately get the vibes of a private beach.
There were few people. All lost in their own worlds !
A group of few peeps we're enjoying the cool waters with the scorching sun.
Few People from Russia whom we spoke to where vaccaying , lying on swings, with few magazines and beers ! Set for the day !
Local people at a corner there, were selling food and coconuts.
It felt so relaxing !
I wanted to just lie down there until the evening dawns !
The rocks on either side and clear blue waters added to the private beach kinda feeling !
We rested for some time , absorbed the beachy vibes and moved on towards the Half Moon Beach !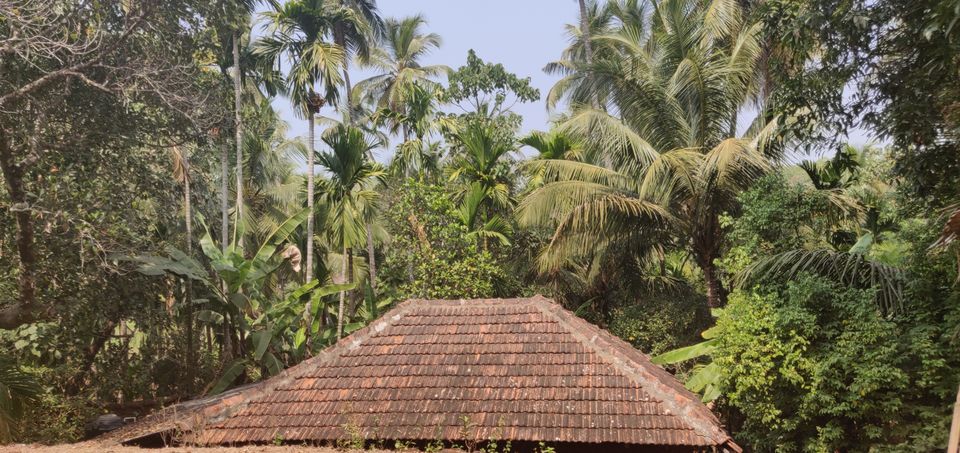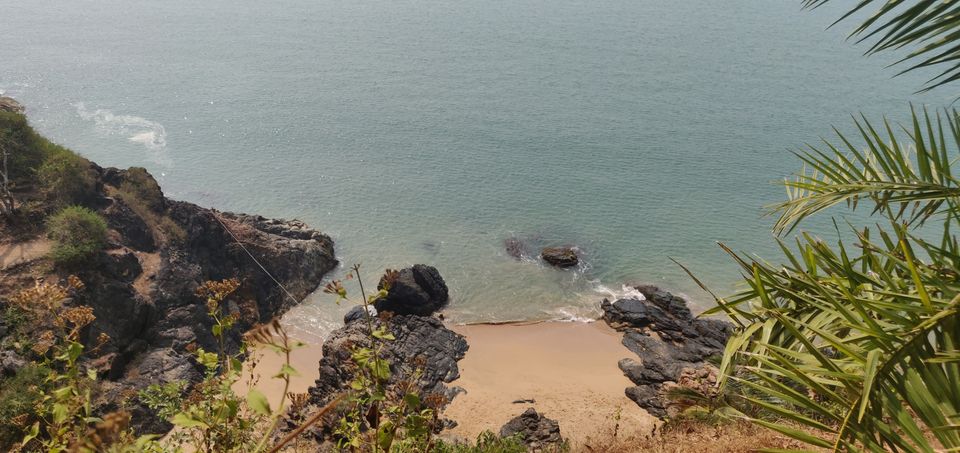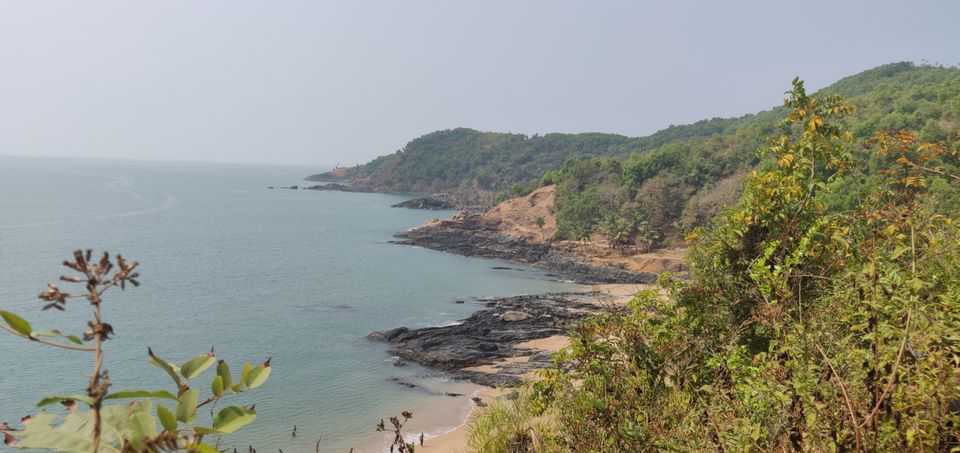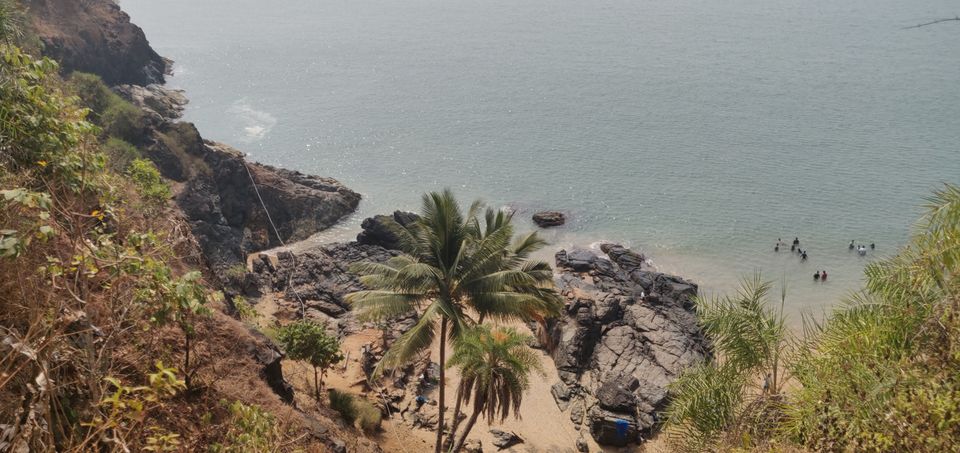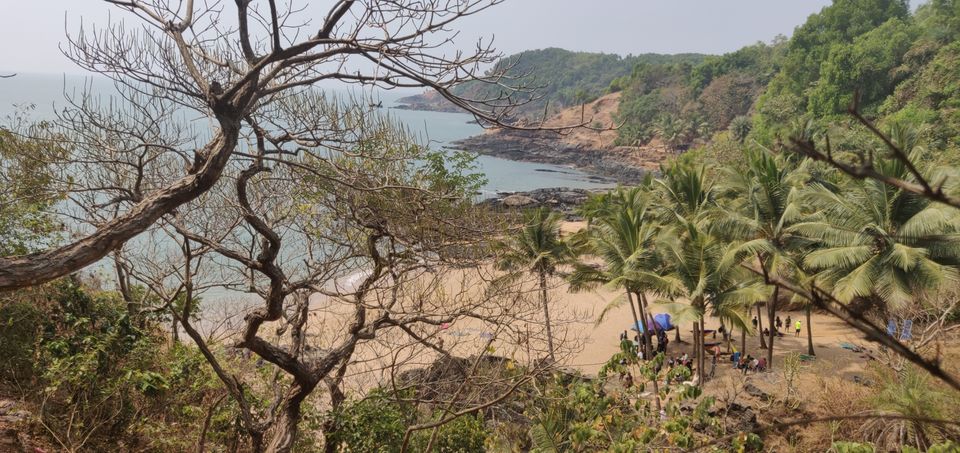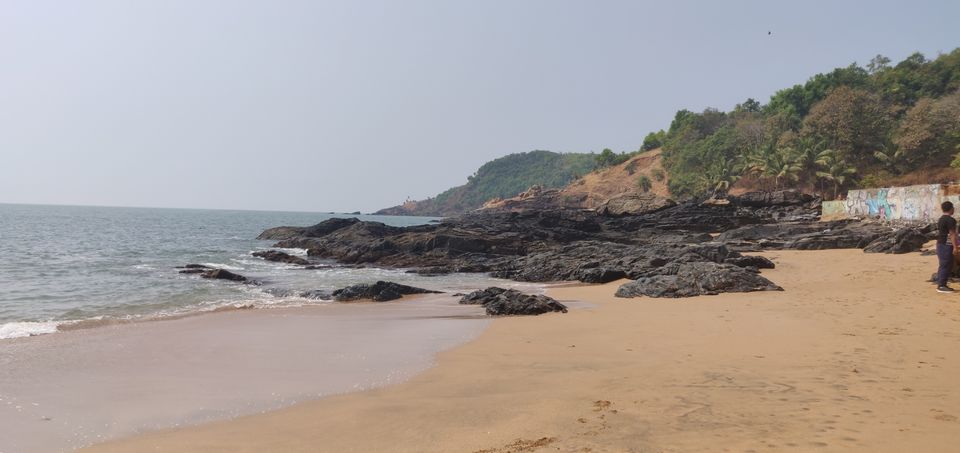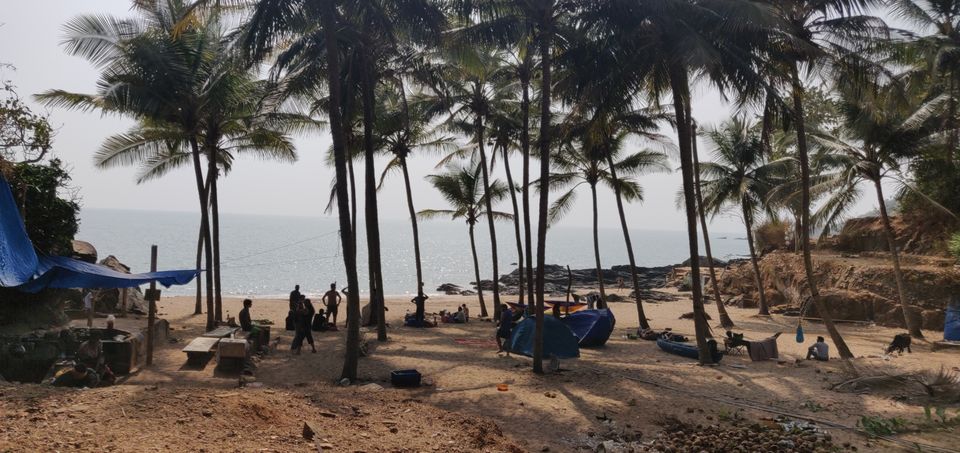 3. Half Moon Beach
Half Moon Beach is one of the most beautiful beaches in the stretch.
The rocks and cliffs form it's boundaries and it gives you that perfect Private Beach for a vacation you have craved for in some time.
Just take some swing/mat to lie down , food and drinks if you wish to, and chill ! Absolute chill at the beach !
My personal favorite though !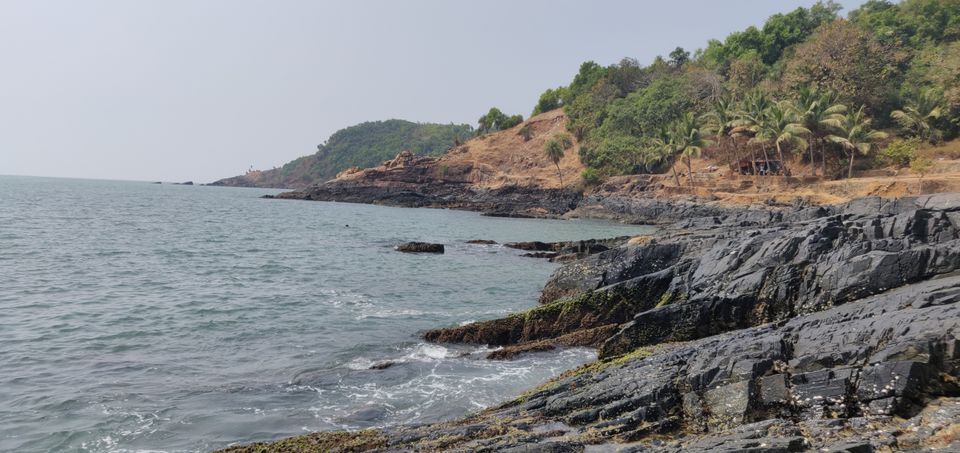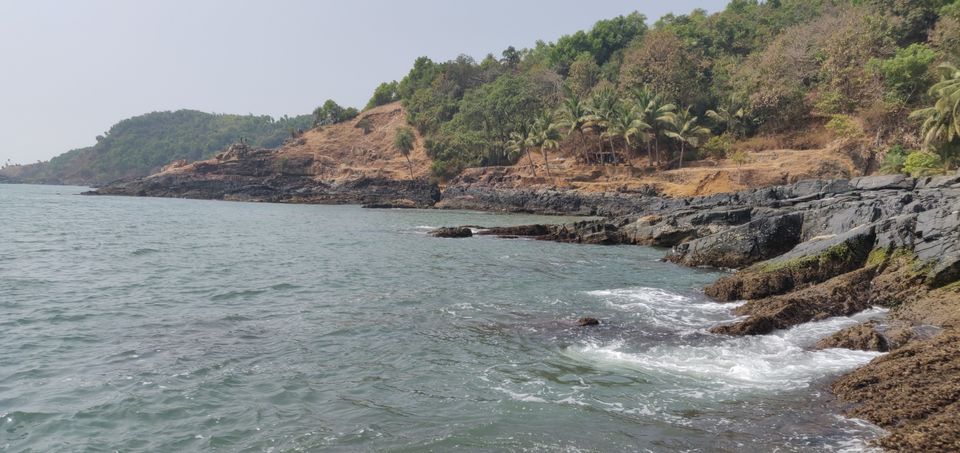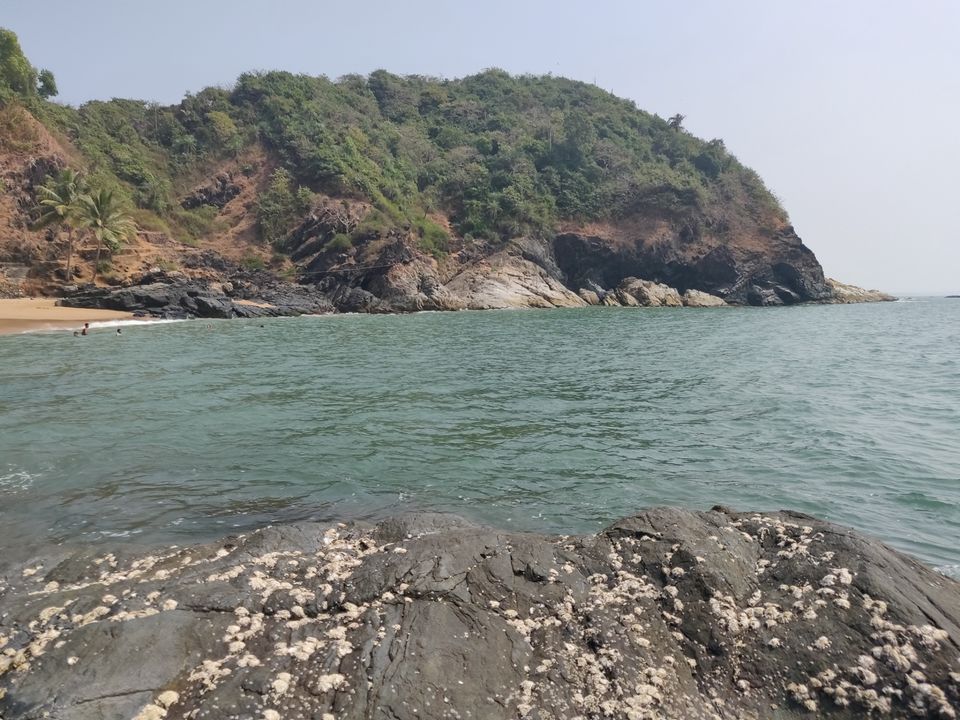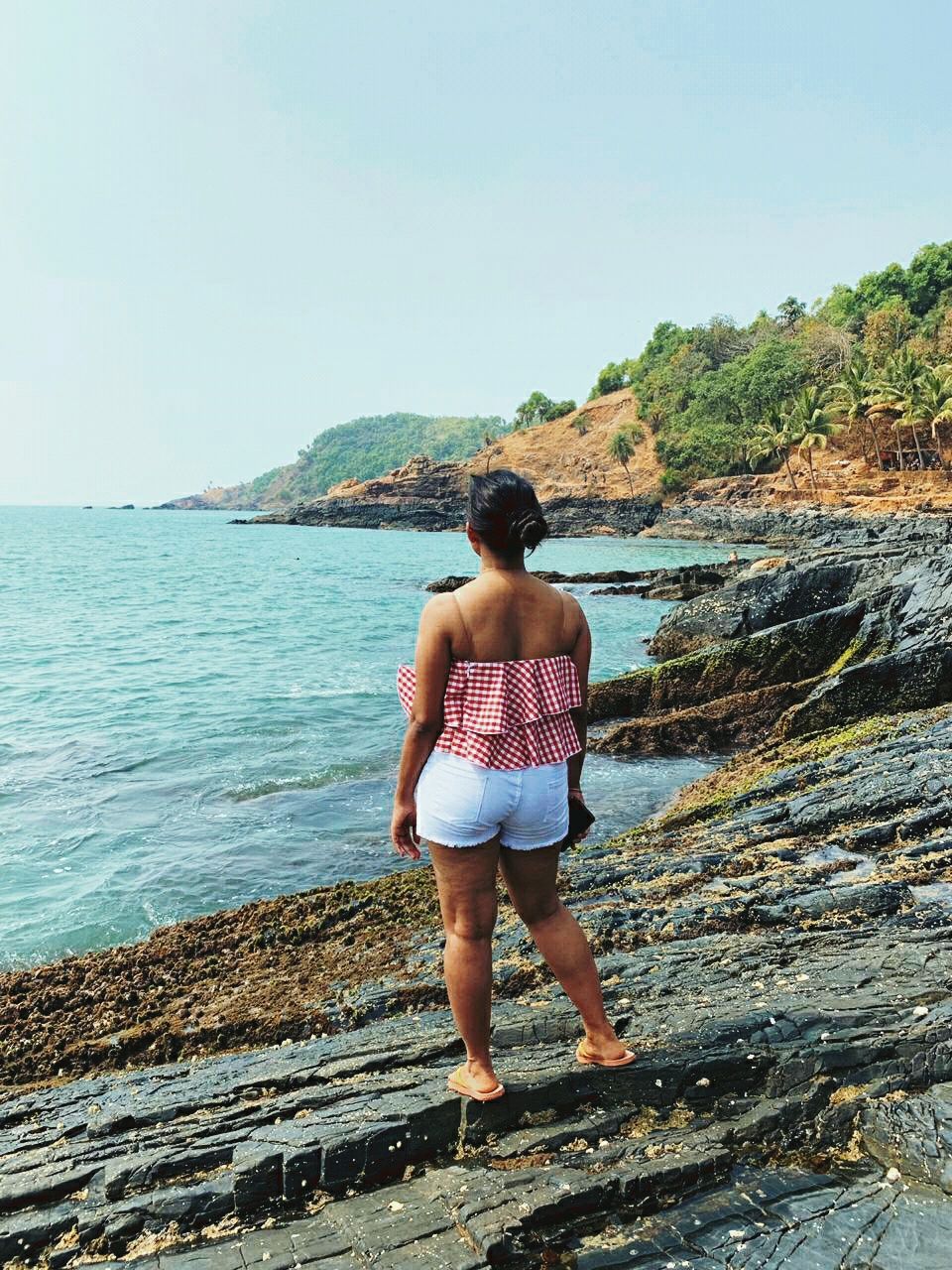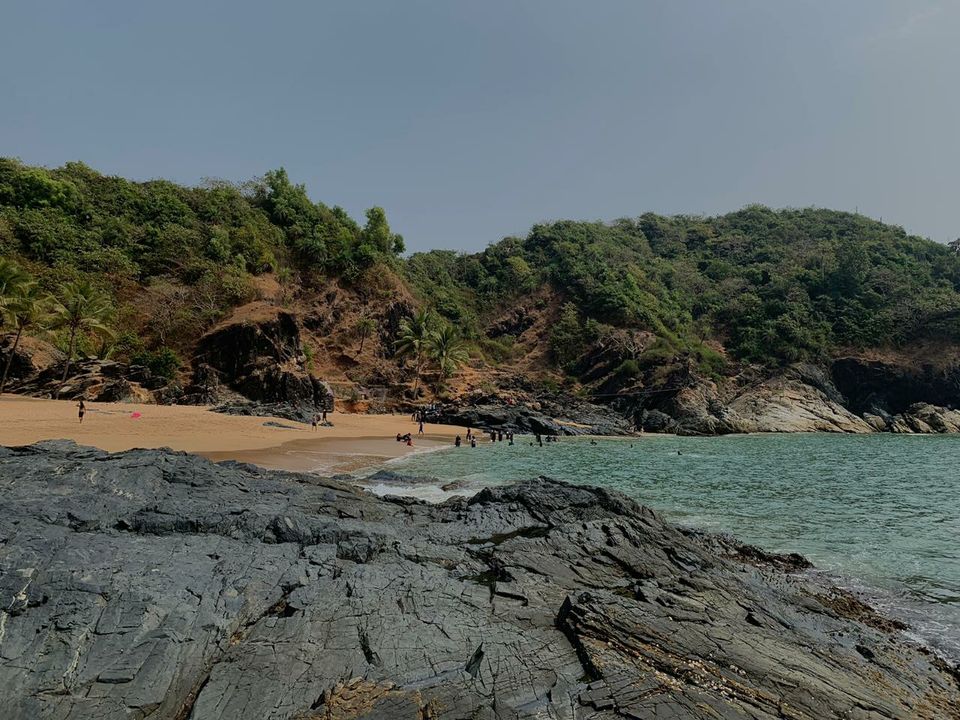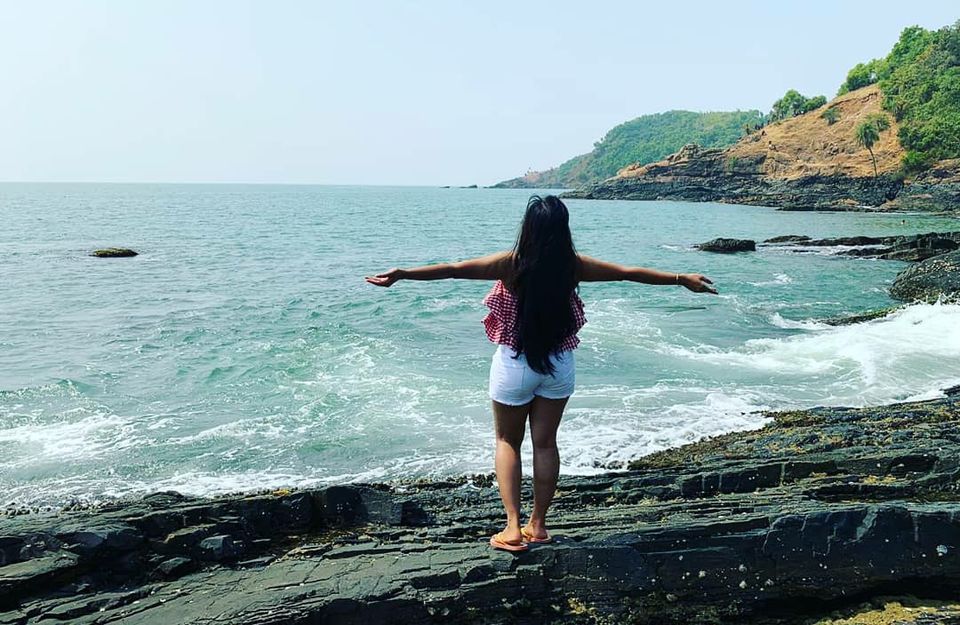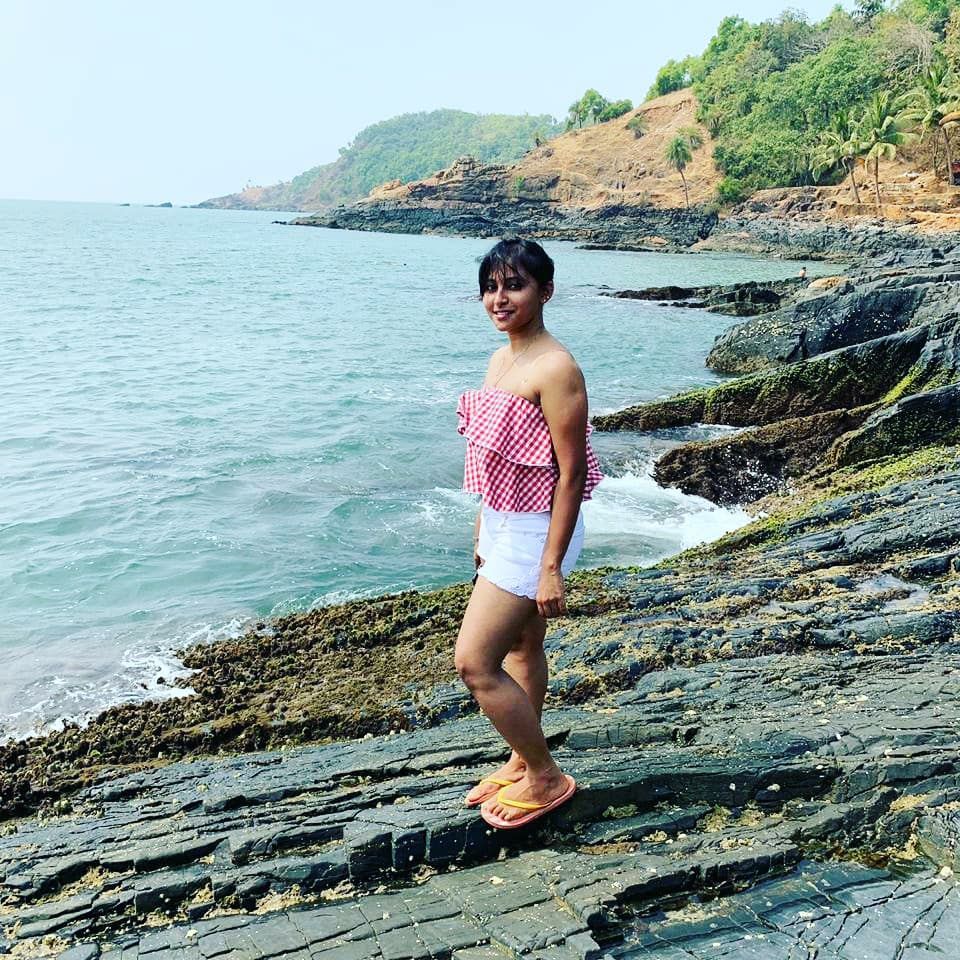 4. Om Beach
So if you are not tired and can walk a little further through the hills , you arrive at the Om Beach !
Om Beach is by far more popular among tourists , as it's where the trek starts/ends and is accessible by road unlike Half moon which has to be trekked.
Om Beach gets its name from the shape of the shore(letter Om🕉️) and is a very pleasant beach with trees and shade on one edge and rocks in the middle of the beach giving a picturesque view .
We strolled along for quite some time and got some lovely pictures until it was already evening !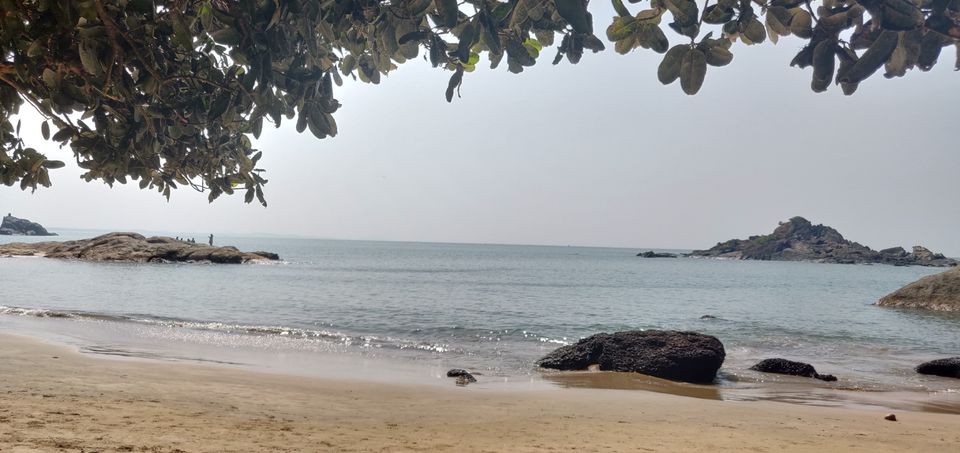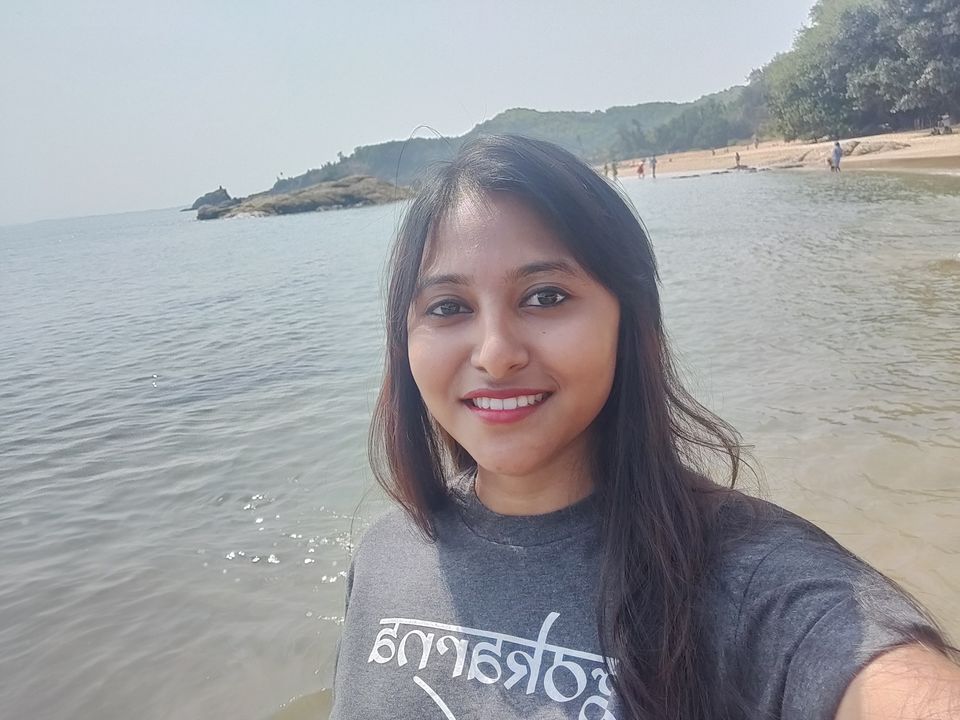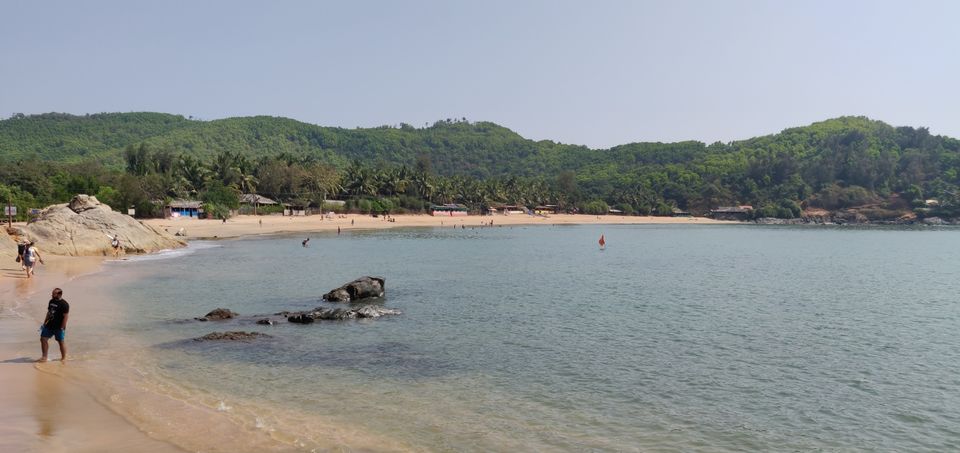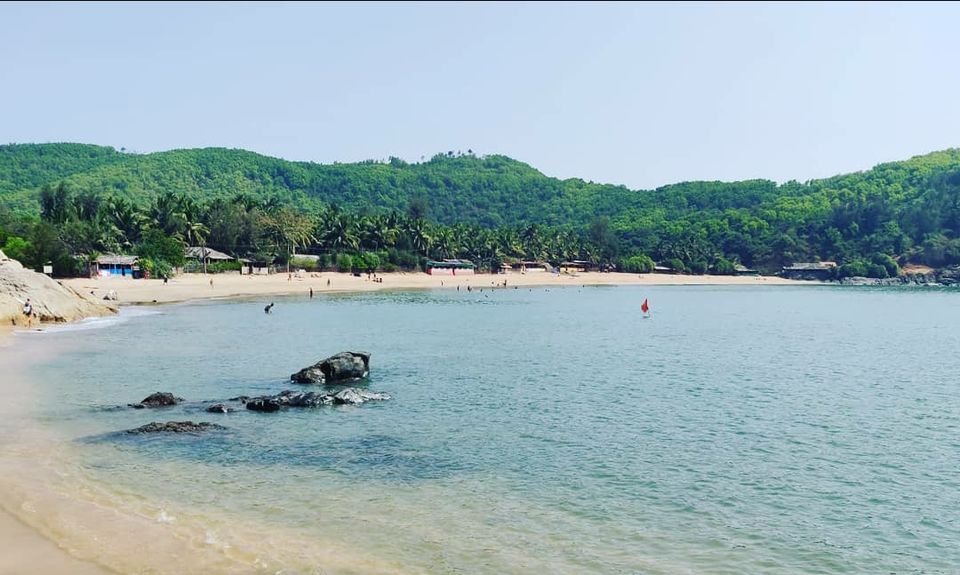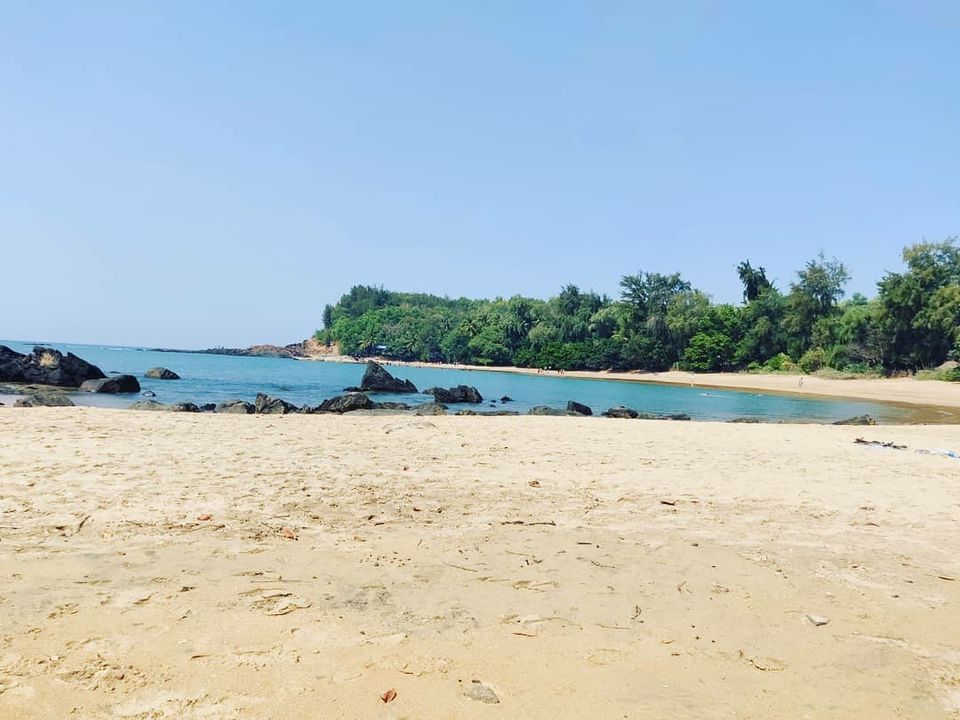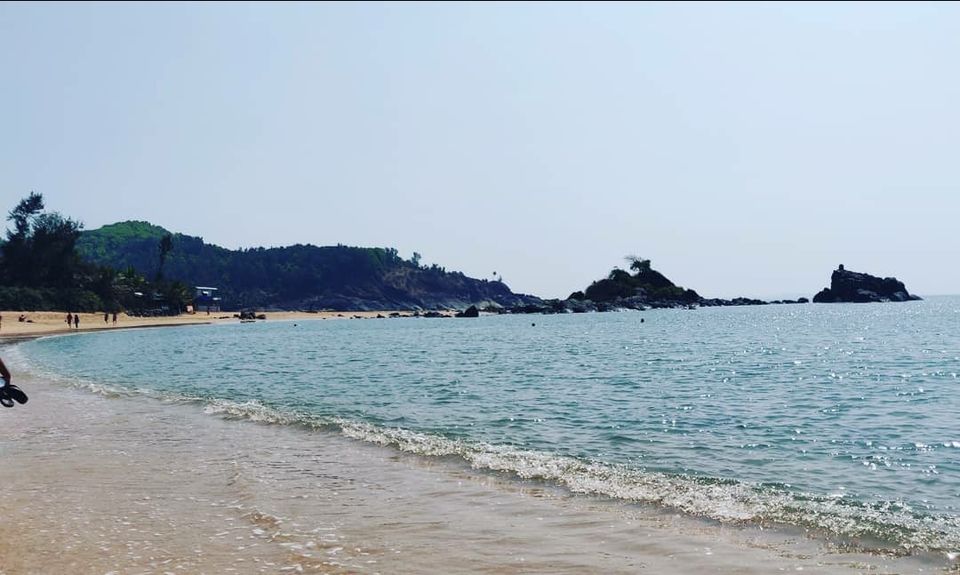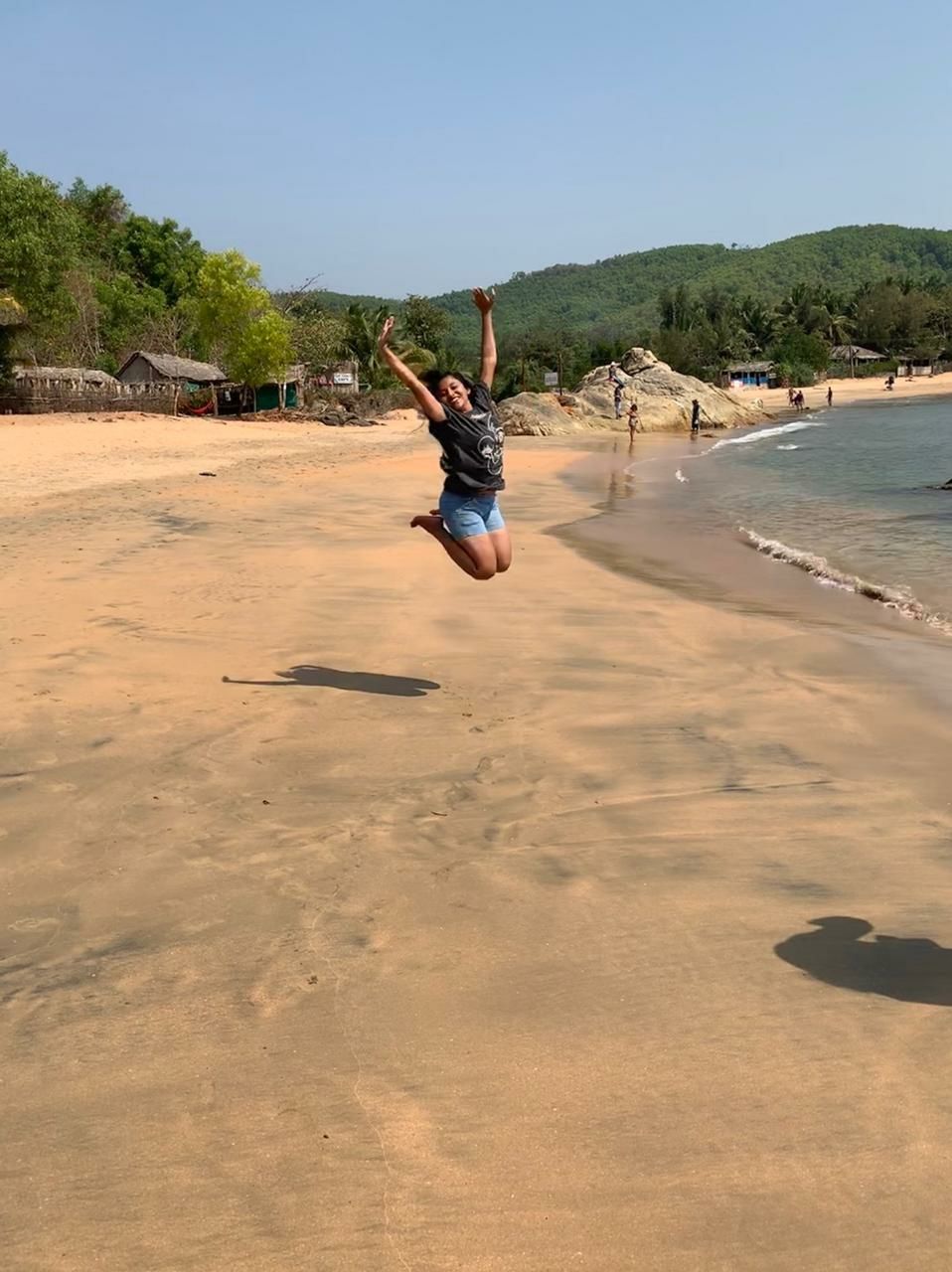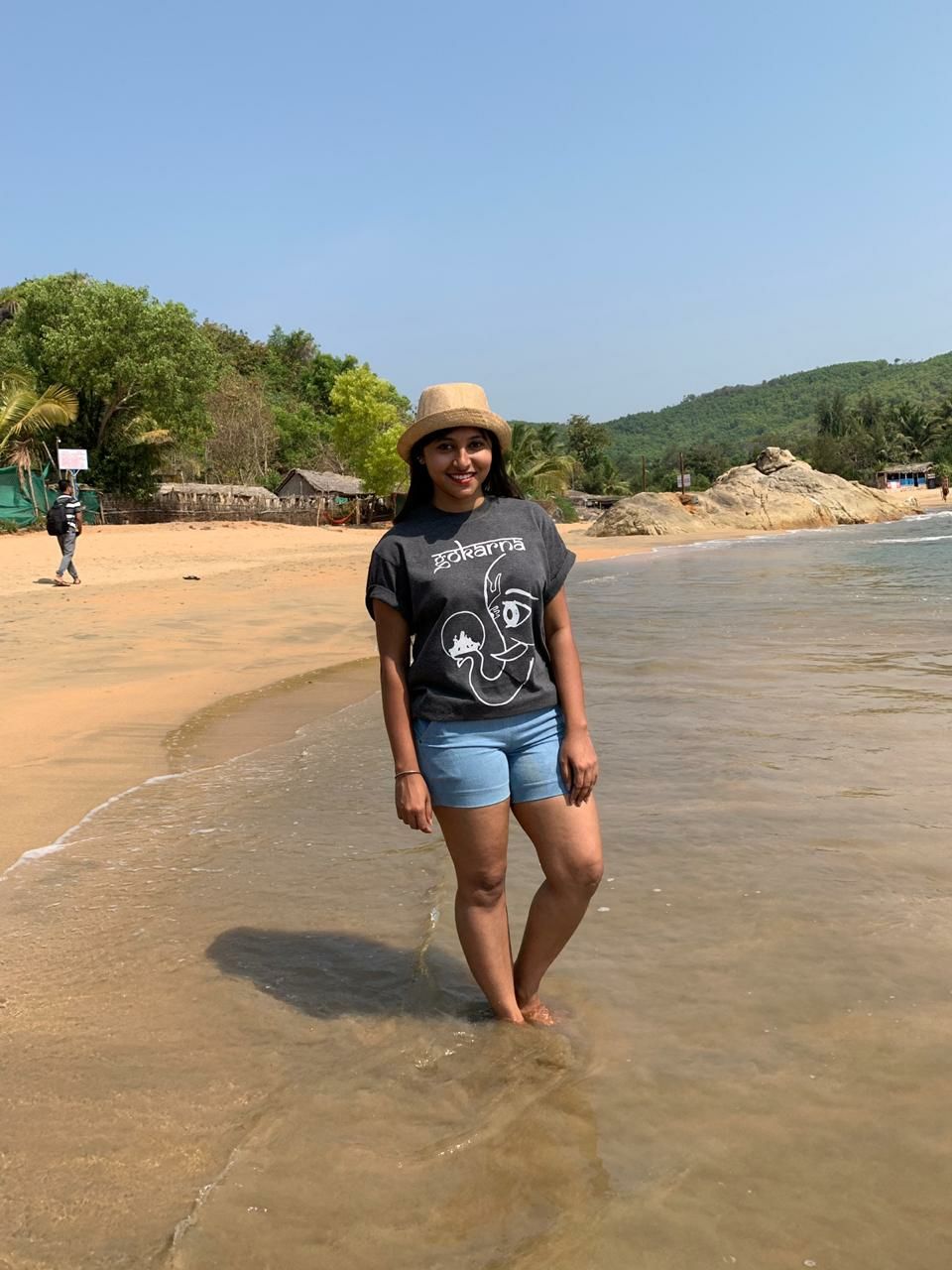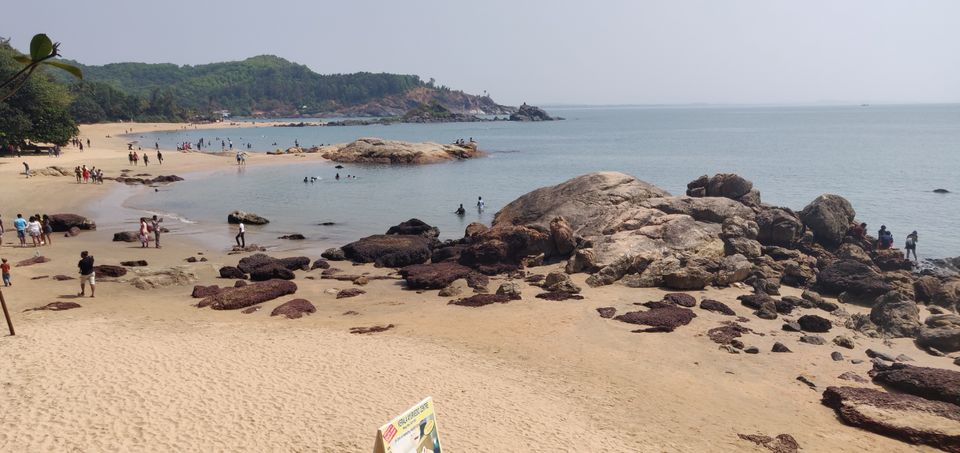 4. Namaste Cafe
Namaste Cafe at Om Beach is a respite from the hot sun and a place to view the beautiful shore from a height. It felt so soothing to grab some drinks and food and enjoy the view of the Om beach.
Namaste Cafe also offers amazing sea food and if you are at Om beach and have some time, do try out Namaste Cafe.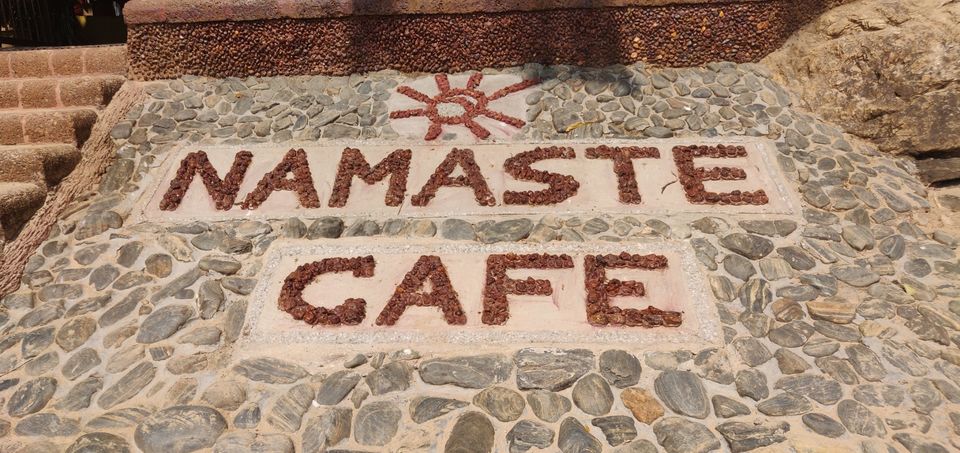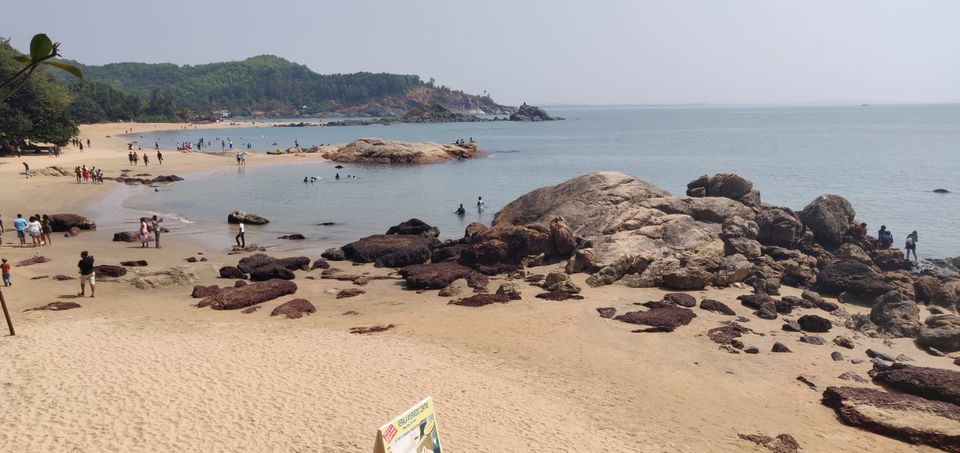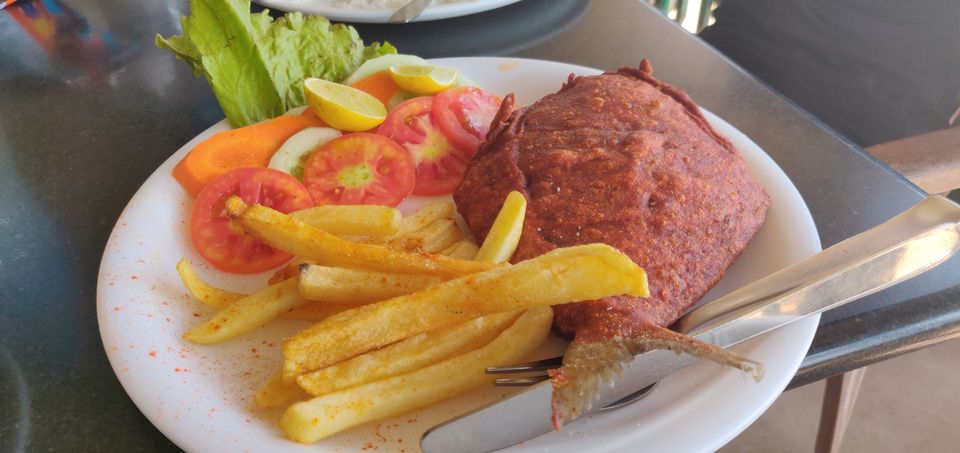 After a day long trek , it was time for some rest .
Thanks to Oyo for the good food. We had rented out bikes which served for the good.
In the evening, we just drove down to see the market area and had food and sleep back in hotel.
Early in the morning !
The place where I had stayed was quite near to the market area.
I and my friend just walked down the silent roads sipping Chai and we reached a temple at the junction. After some prayers , we proceeded for shopping.
We got few "Gokarna" imprinted T-shirts  for just 200 bucks (after lot of bargaining though) and fee other souvenirs. Gokarna is also known for a variety of spices and handicraft items.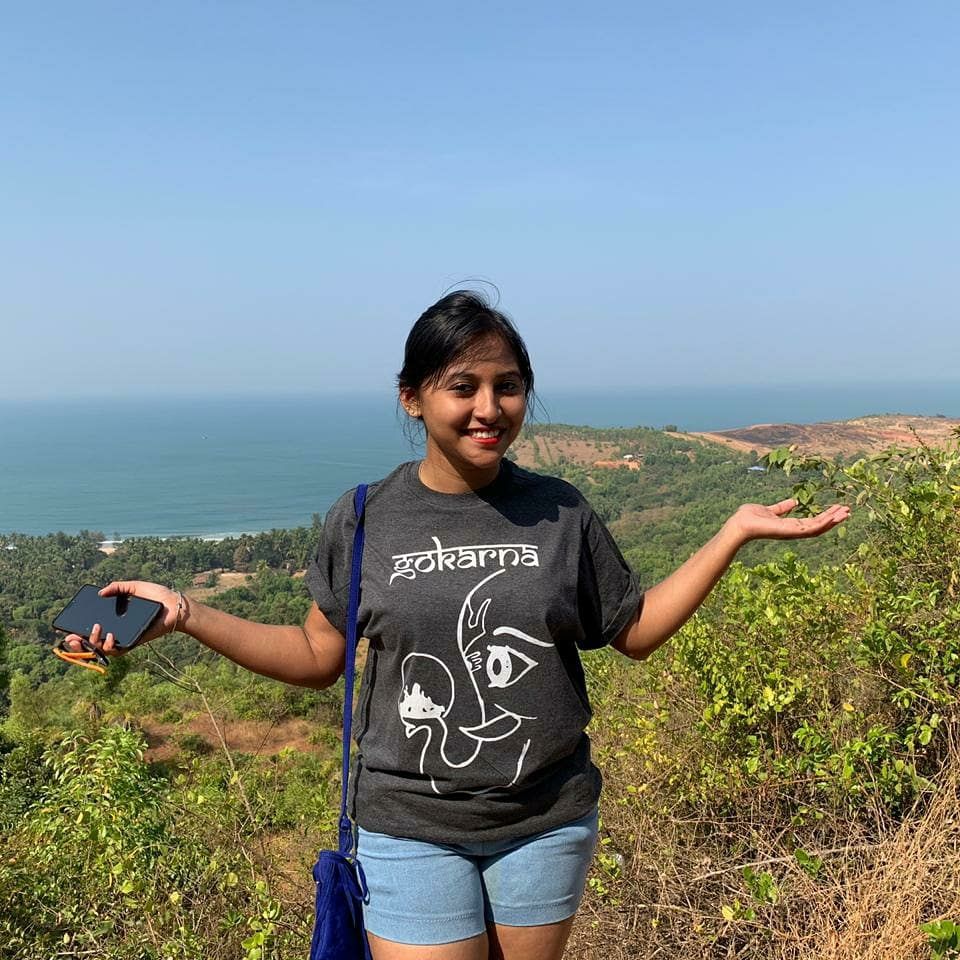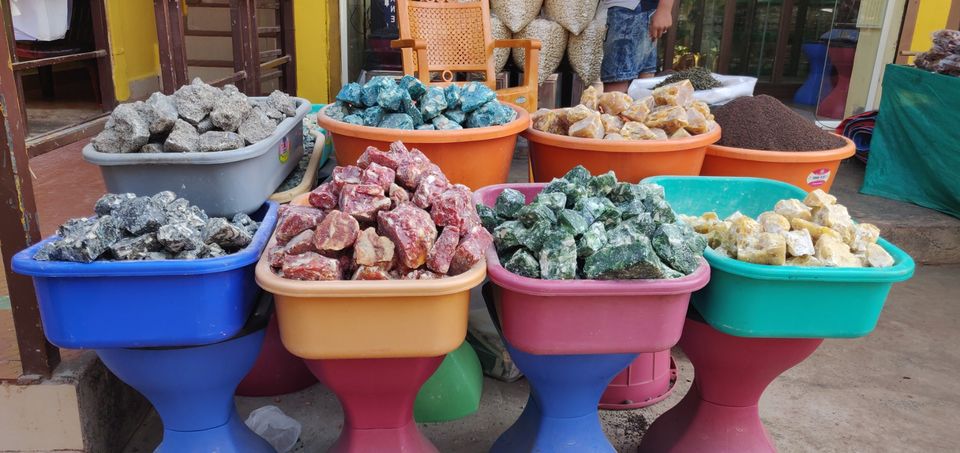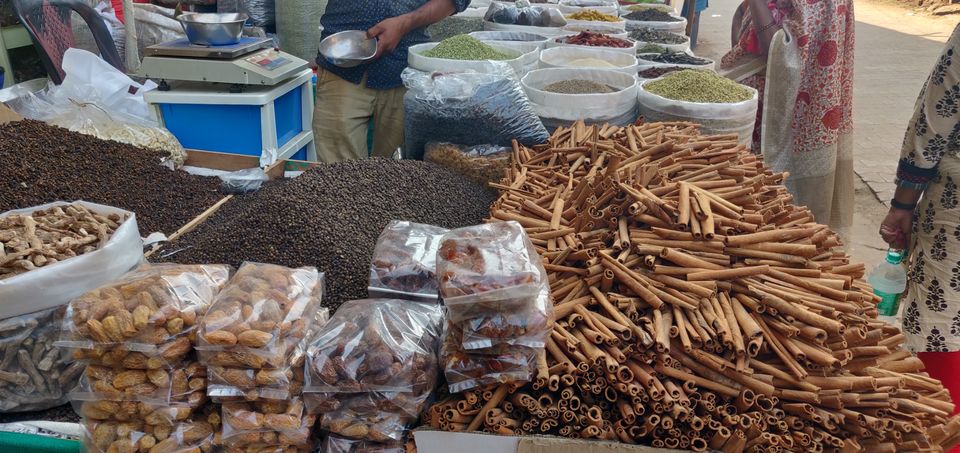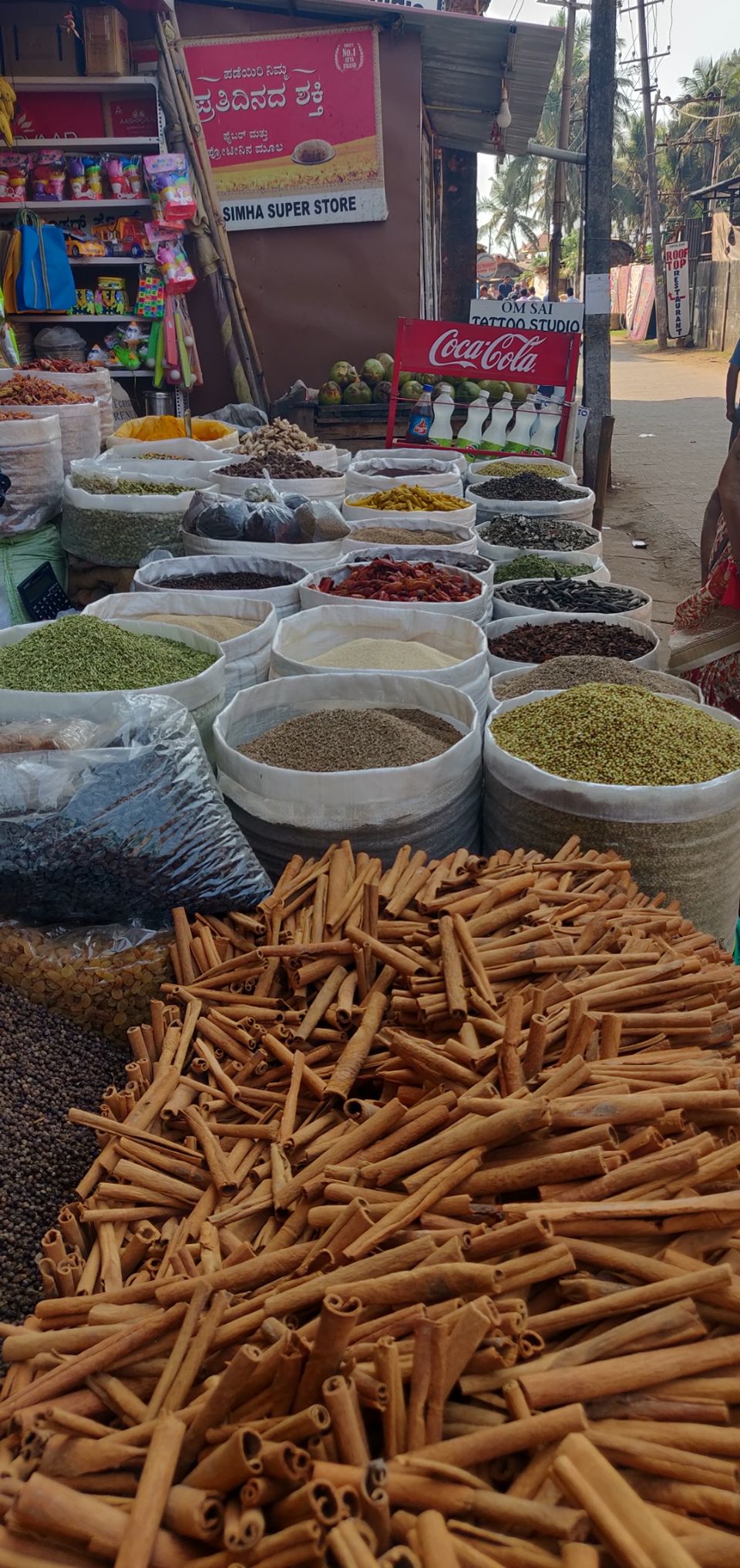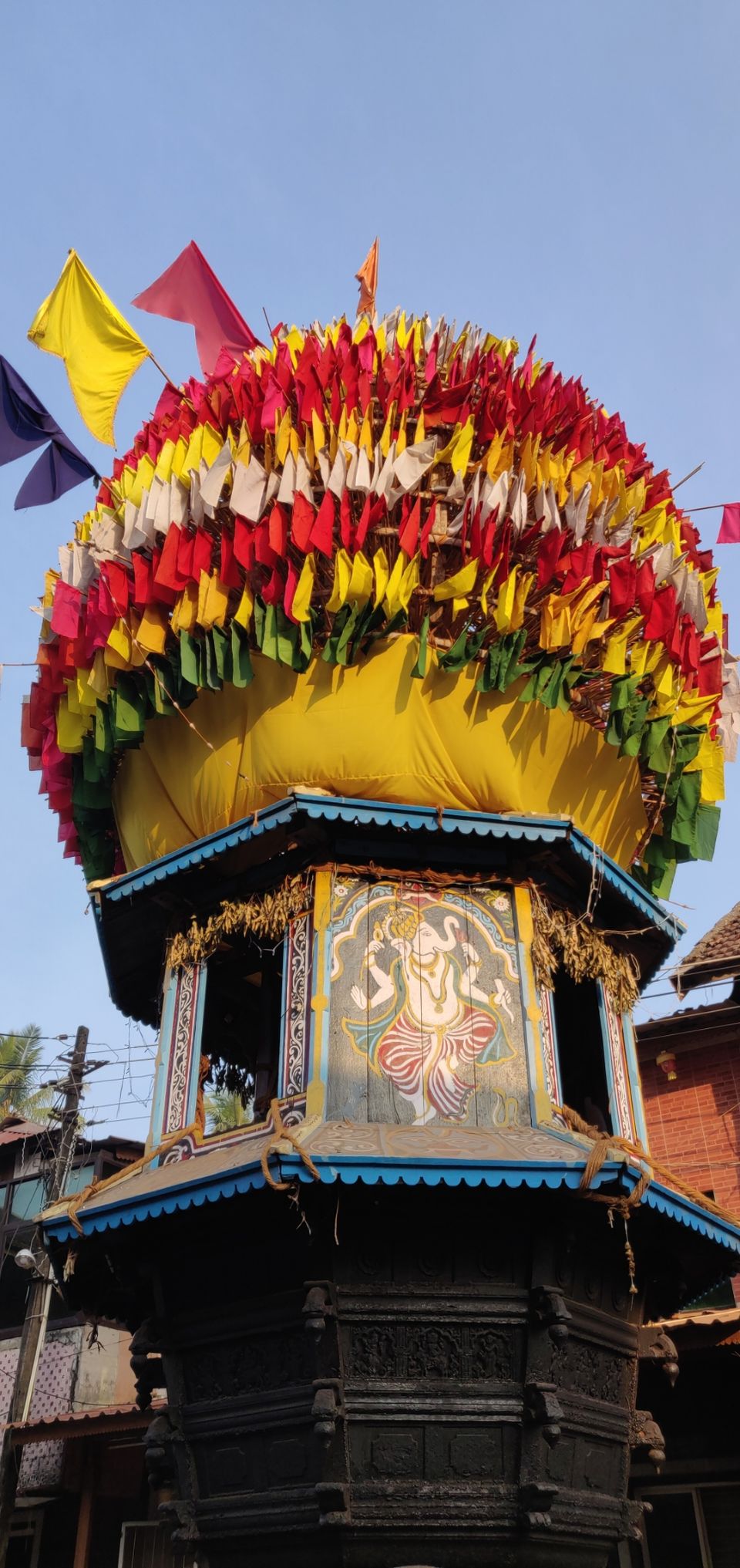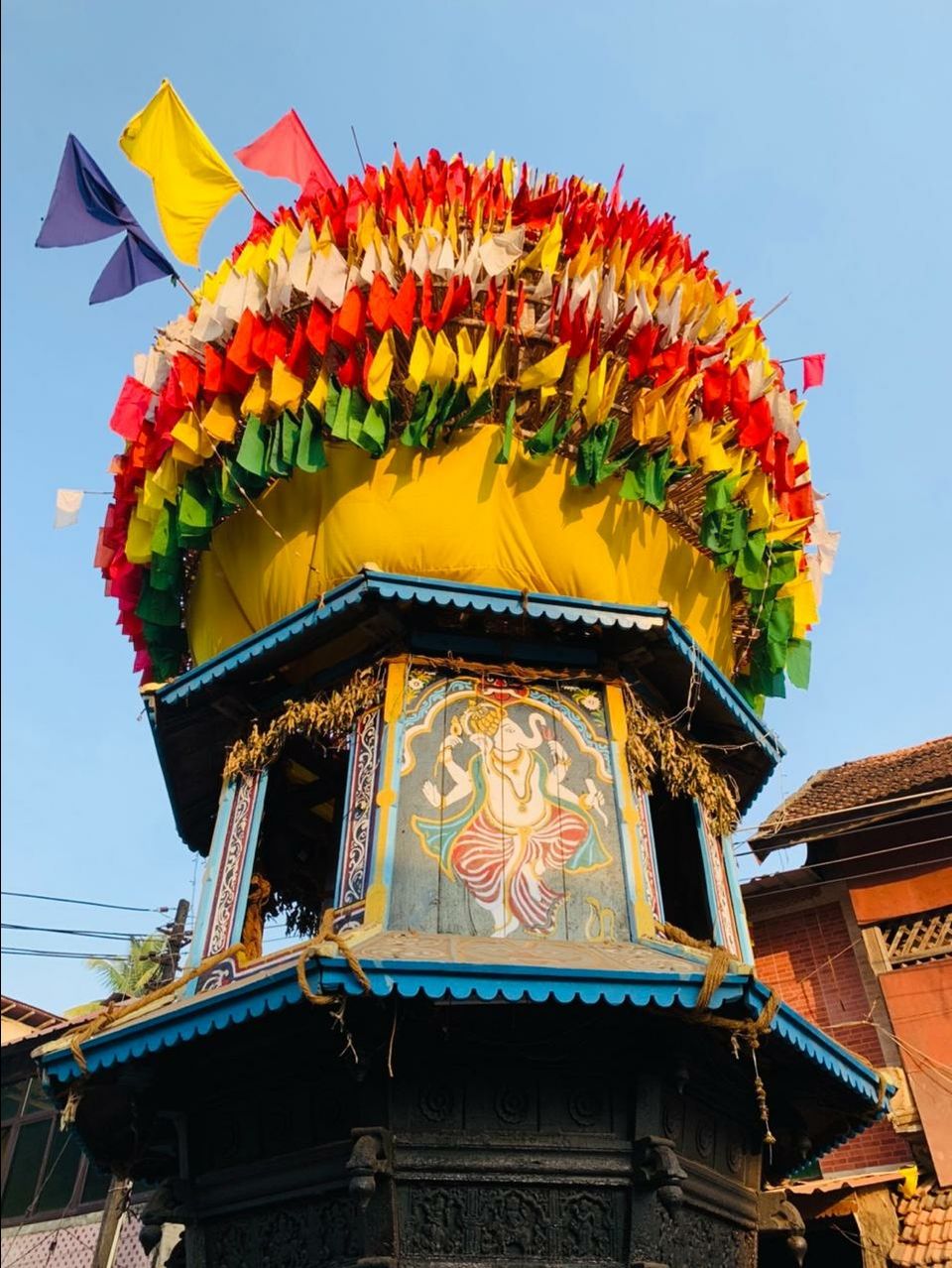 Gokarna Beach
Gokarna Beach is one of the famous beaches which is quite populated due to it's easy accessibility.
The sunset here was beautiful and soothing.
We spent some time here and proceeded for the Mirjan fort !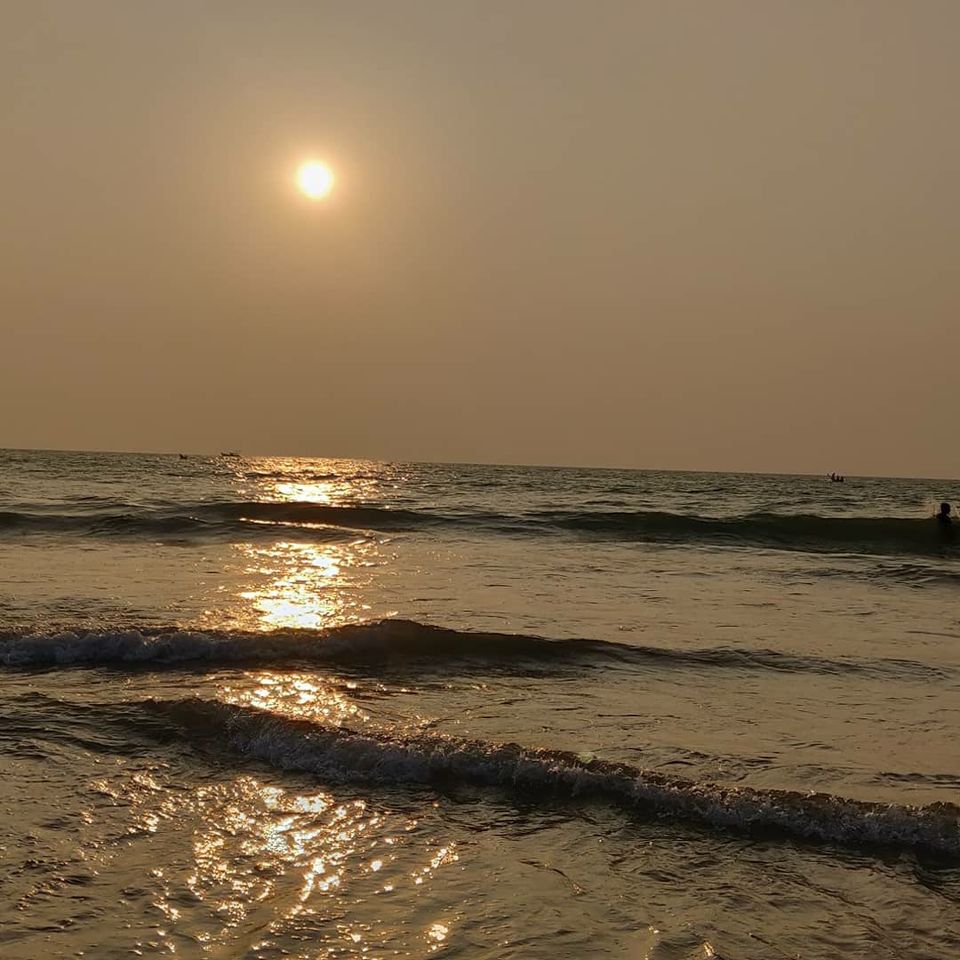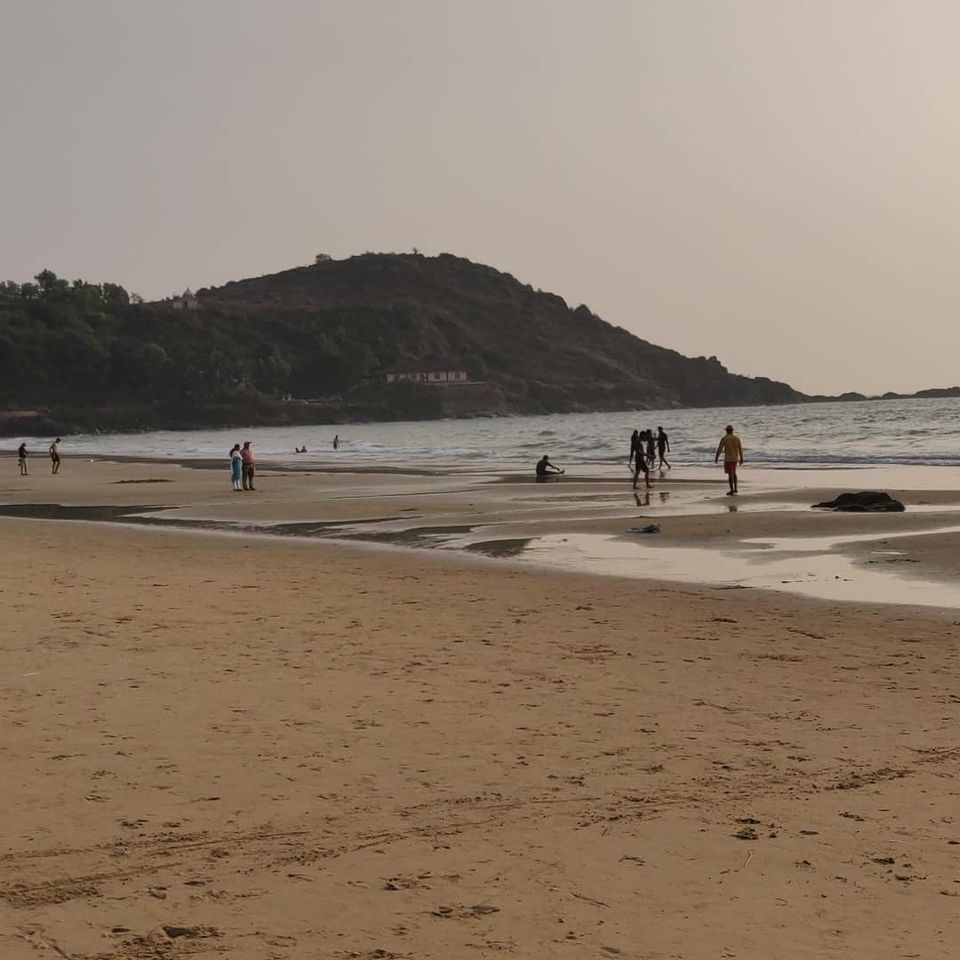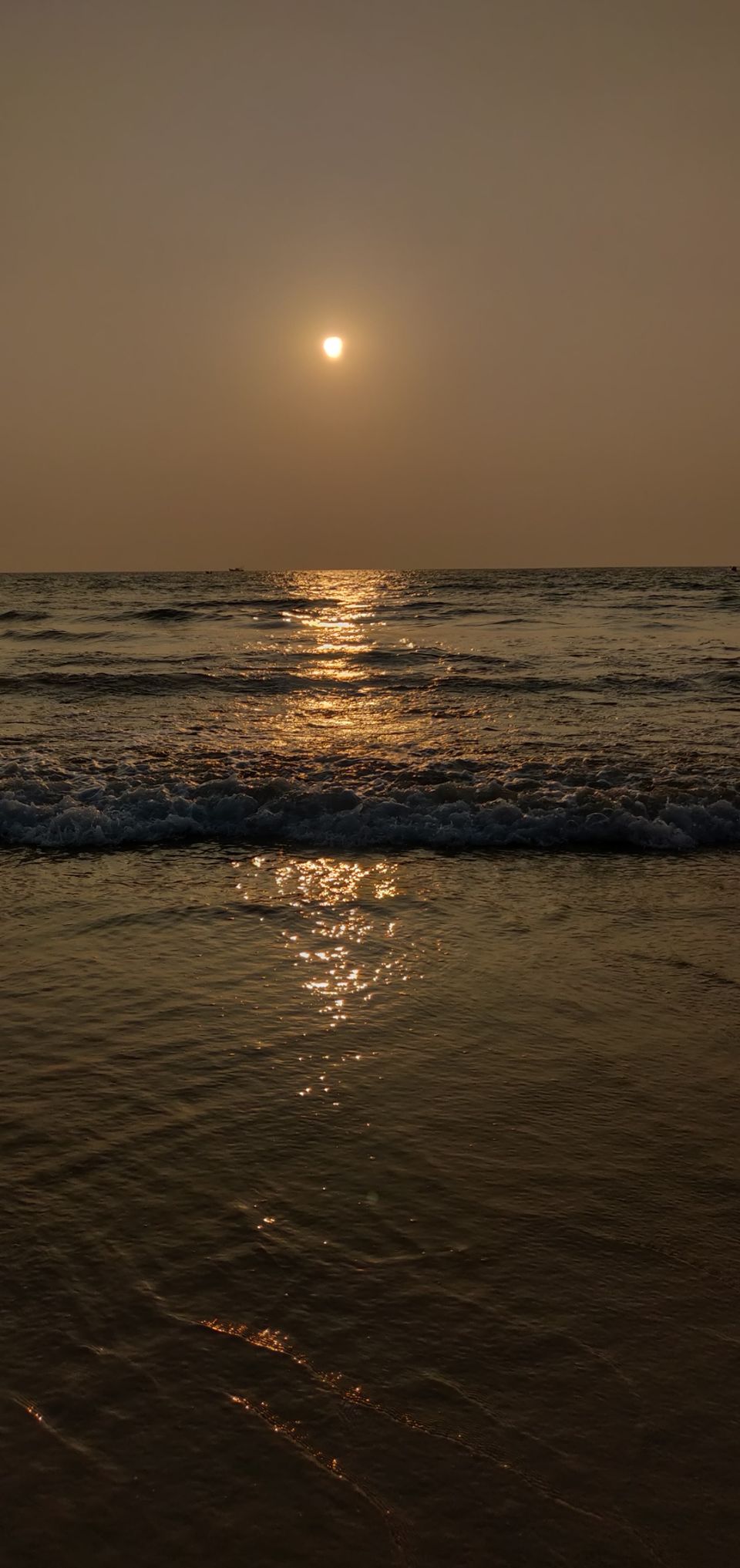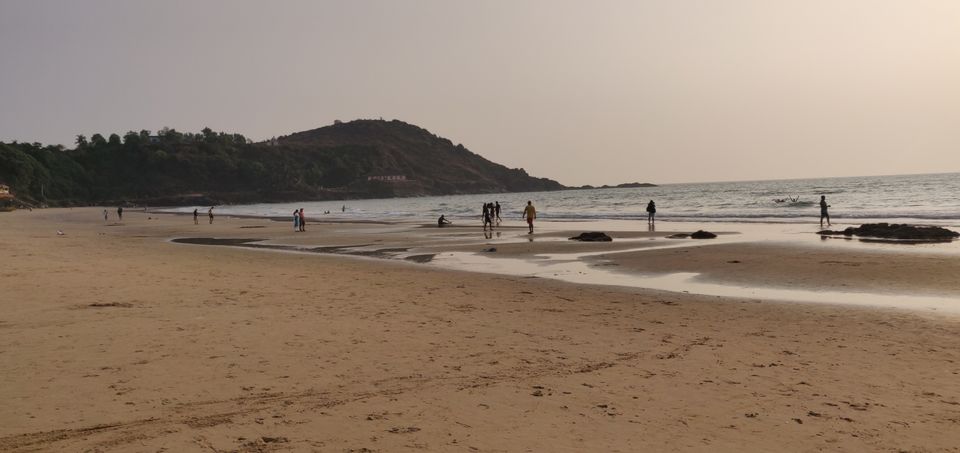 Mirjan Fort
From Gokarna Beach, we proceeded towards Mirjan Fort , which is roughly 26km from Gokarna Beach.
Thanks  to the bikes, we could use as per our pace and planning !
It was a long ride and quite sunny. But the fort was beautiful and we didn't regret.
Back to hotel , our Gokarna trip had ended.
We packed our bags and moved on to the bus stop.
This marks end of my Gokarna trip . But, I can never forget the beautiful, silent beaches of Gokarna and would love visiting again.
Just that the beaches loved me back equally and tanned me a lot more ! The tanning will always go away, but the experience stays forever !
I hope, next time you plan a trip to Gokarna, do plan in winters and carry enough sunscreen ! I am sure you will have gala time admiring the beaches !
Until then, Cheers !