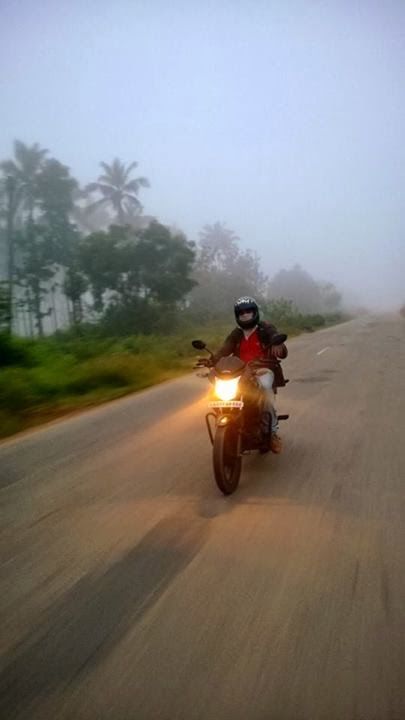 Places around Kaivara and Kailashagiri are covered in a pretty decent half a day ride by 4 of us with 3 bikes!! Me and 2 of my friends started at 4:00 A.M from Electronic city and 1 more rider joined us at Silk board. Picked the Hoskote Highway from Marathahalli which was fully covered with fog at that time. After riding 30 kms at an average 70kph, took a left turn and rode 40 km which lead us to the Kaivara.
Planned for a bike ride to Kaivara, but to reach the temple on the hill top you need to trek 1.5 km uphill :-) came to know that, only when we reached that place. 2 of us took the odd road (rock climbing) and 2 of us preferred the stairs. Got some company of many monkey families and 2 dogs following us all the way. It was a good place to spend half a day. When we got down, had a good break fast in hotels available there and then visited a temple in that village.
We then headed to Kailashagiri, 9kms from Kaivara, which has a monolith rock caved inside to form small rooms with some idols inside. We were the only riders on that short ghat road where we could sit in middle of the road and click pictures. The place is still in the carving or beginning stage and I am sure its going to be a great holy spot in 10 years.
Started our ride back around 11:30 A.M and reached Bangalore by 1:00 P.M, with total distance covered around 180 kms. The road is good and the place is not well known yet. We were the only foreigners in that village at that time!!