Ramanagara is a quaint little town, only an hour's drive away from Bangalore. This place became iconic after the release of the Bollywood cult classic, Sholay. The rate at which fans flocked to the location following the release of the film, makes it impossible not to draw parallels with today's trend of enthusiastic Game of Thrones fans - the TV series that has become a global phenomenon - visiting in hoards countries like Croatia, Spain and Ireland where the show is known to have been shot. Known as Shamserabad during Tipu Sultan's era, renamed as Closepet during the British Raj, Ramanagara hills is now known as Silk City. It is one of the largest silk cocoon markets in all of Asia and the place where the finest Mysore silk is produced.
Things to see and experience in Ramanagara hills-
Start from Bangalore today and reach Ramanagara hills. Spend the day visiting the silk trail in this town. The primary occupation in Ramanagara is sericulture, the art of rearing silkworms for the production of silk and is the predominant way to earn a living here. In fact, the silk from Ramanagar is a major input for the world famous Mysore silk sarees. Did you know that Ramnagar is the world's largest silk cocoon market? As many as 50 tonnes of silk cocoons are traded here every day. The fascinating sight of hundreds of trays holding fluffy cocoons, examined by buyers for their breed, grade and quality, is simply unmatched.
Go a little beyond the market into the dusty by-lanes, and you will see first hand, the process used by small manufacturers to convert cocoons to fine silk threads. The cocoons are boiled and then deft hands extract long fibres on to spinning wheels.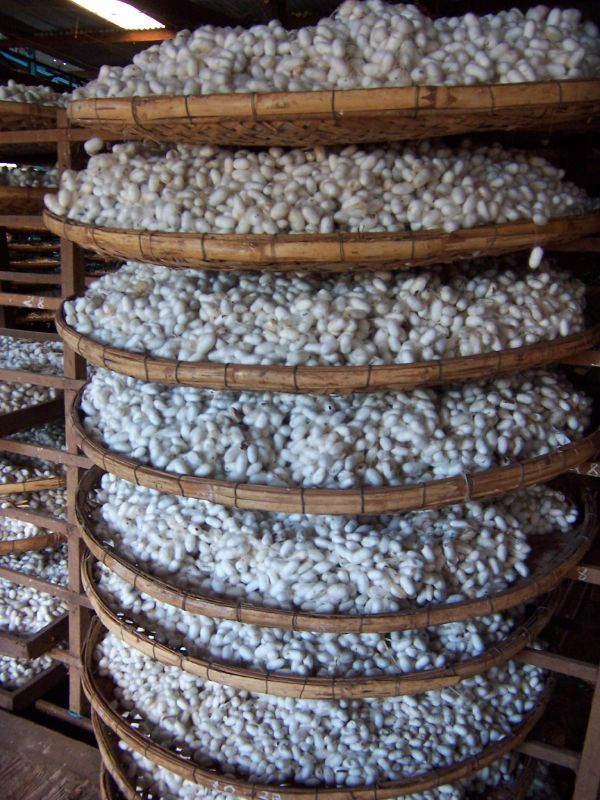 Start your day early today with a visit to Ramadevara Betta Vulture Sanctuary. Home to about 20 of the critically endangered long-billed vulture, this area was made into a sanctuary in 2012 when the species was on the verge of extinction. These birds are perfectly camouflaged in the hilly terrain making it rather difficult to stumble upon them. The best way to spot them is early in the morning. You may also find yellow-throated bulbuls, sloth bears, and a variety of eagles including the stunning Eurasian eagle-owl.
Timings: 9am - 5pm, All days.
Cost: Rs. 25 per adult, Rs. 10 per child and Rs. 100 for Non-Indian nationals.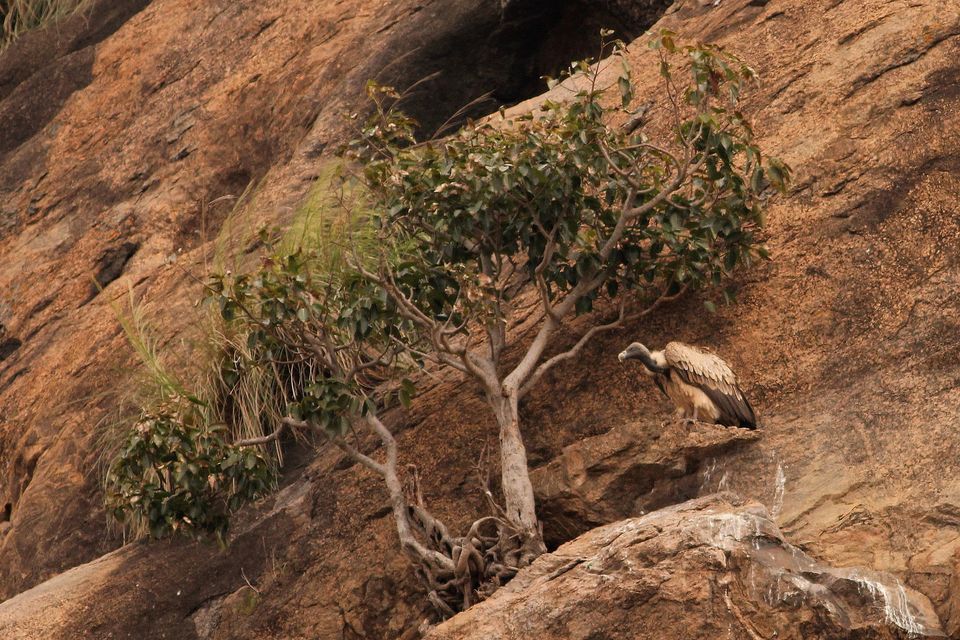 Wind up the day with a stop at Janapada Loka Folk Arts museum which provides an insight into Karnataka's rural culture. The museum has over 5,000 artefacts related to cooking, farming and animal husbandry - stoves, grinders, and animal traps. The puppets, masks and dolls of traditional dance and art forms of Karnataka, like Yakshagana, showcase the state's rich cultural history. The best part: guides here are not only knowledgeable but eminent folk artists themselves.
Timings: 9am - 5pm. Tuesdays closed.
Cost: Rs. 20 per adult, Rs. 10 per child.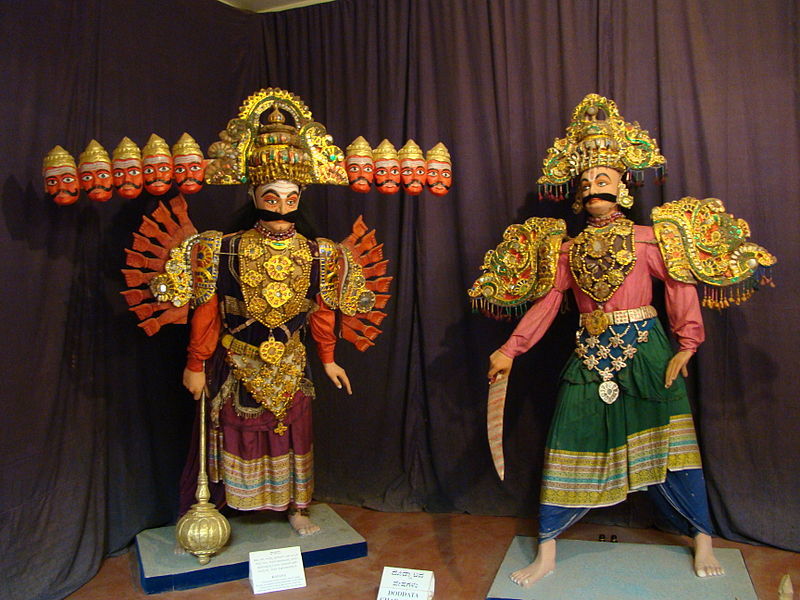 Ramadevara Hill is the most popular structure in the area because this was the exact location where Sholay was shot. It is also a place of great historic and religious importance. On top of the hill are two temples, Ramadevara and Rameshwar. According to legend, the former was built by Sugreeva when Lord Rama helped him defeat demon Sukasura. There is also a natural lake called Rama Tirtha.
There are about 400 steps to the top. There is also a trekking route but it's difficult and advised to be scaled by people with some experience in trekking. Once you reach the top, the view is spectacular.
Timings: It is suggested that you go there early in the morning because as the day progresses, the sun becomes unforgivable.
Cost: There is a parking at the base of the hill that costs Rs. 25. The counter opens at 9am but you can pay for parking while leaving.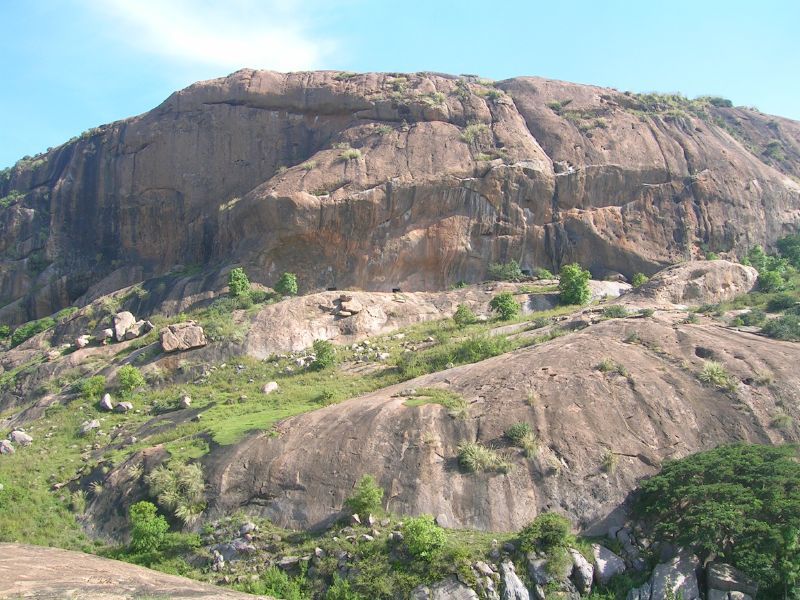 After you've climbed the popular Ramadevara Betta Hill, proceed to explore more adventurous hot spots. Ramanagara hills are a great escape from the chaotic concrete jungle that we live in. The wide open spaces and hilly landscapes make for a refreshing change compared to the pollution of cities. Yatirajagiri, Shivaramagiri, Somagiri, Revannasiddeshwara Betta, Krishnagiri, Sidilakallu Betta and Jalasiddeshawara Betta are the seven other major hills in Ramanagara.
The Ramangara hills is also one of the oldest climbing sites in India with climbers undertaking technical ascents in these hills since the 1960's. Some of the best climbs are on the Wanakkal Wall, the Rainbow Wall, and the Anna-Thamma.
You can either get in touch with official agencies guaranteeing full trekking and rock-climbing experiences, or get your own equipment and start your own ascent. But be sure that the hills you scale don't fall in the restricted area (the hills that are inside the Vulture Sanctuary and therefore restricted). Another thing to note is that you will need professional equipment to scale many of these hills.
Timings: There are no specific timings for climbing but it may be a safer option to do so during daylight, as many of the boulders are ancient and steep.
Cost: You can take an organised activity package and the cost will be covered in it. The expenditure is generally between Rs. 1,200 - Rs. 1,500 per person.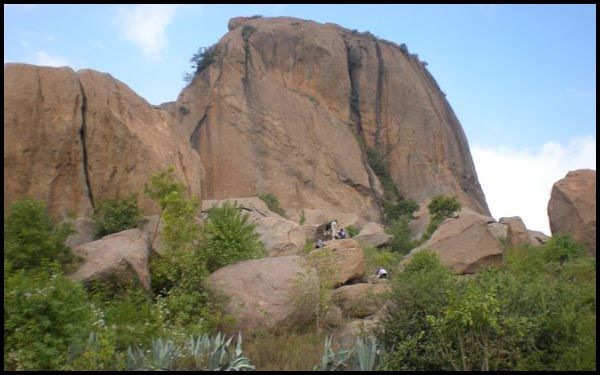 How To Reach
Ramanagara is only 50km southwest of Bangalore.
By Air: Bangalore in the nearest International Airport. From the airport it is about 90km and takes around two hours to reach.
By Road: It's only 50km by road from Bangalore. Government and private buses regularly ply tourists and locals between Ramanagara, Bangalore and Mysore. Taxis and rental cars are also readily available. If you wish to drive down, it's located on the Bangalore-Mysore highway, NH 275.
By Rail: There are regular trains from Bangalore and Mysore to Ramanagara. Autos and taxis are easily available from the railway station to the city centre.
Best Time To Visit
September to December is the best time to visit if you wish to do rock-climbing and trekking. However, if you are there to know more about the silk trade, any time of the year is great.
Have you been to Ramanagara hills? Write all about it here and help other travellers plan their next getaway!
Frequent Searches Leading To This Page:-
ramanagara hills bangalore, ramanagara hill stations bangalore, ramanagara hill stations bangalore, ramanagara hill tour package, weekend getaways from bangalore