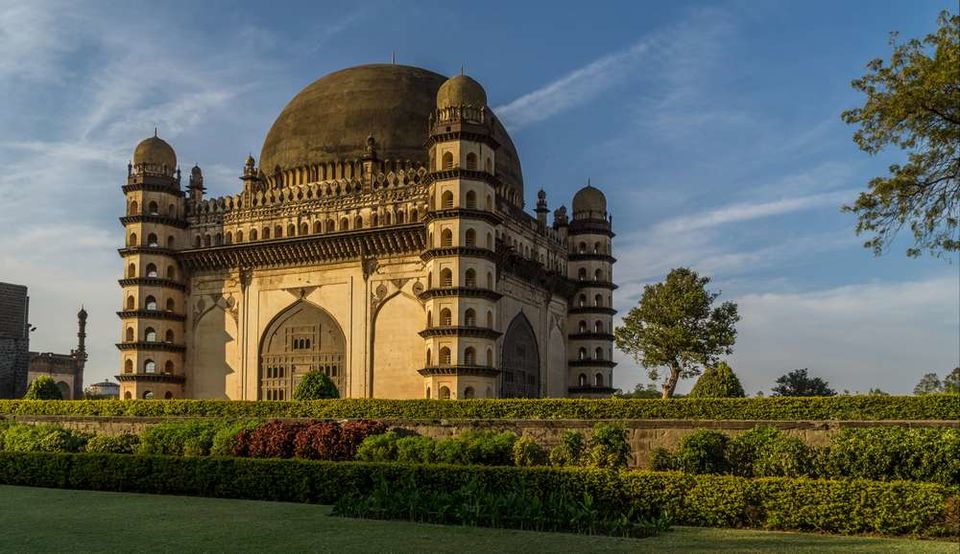 I recently went to Jhamkandi, a place in North Karnataka as we heard of a friend of mom's who had been doing some work to help a village called Kalhalli there. We took a bus from Bangalore and reached Kalhalli the next morning. An uncle came, picked us up and we were home by around 8. All this located in between farmland. It was peaceful.
We spent the day exploring the place, their meditation hall, peacocks dancing, cows being taken to graze and then milked, kids, playing in a cycle and listening to stories being told by elders and never really even asking for the TV to be switched on. It was such a change when compared to the city life/kids where we get bored so easily and need our phones/TV for entertainment!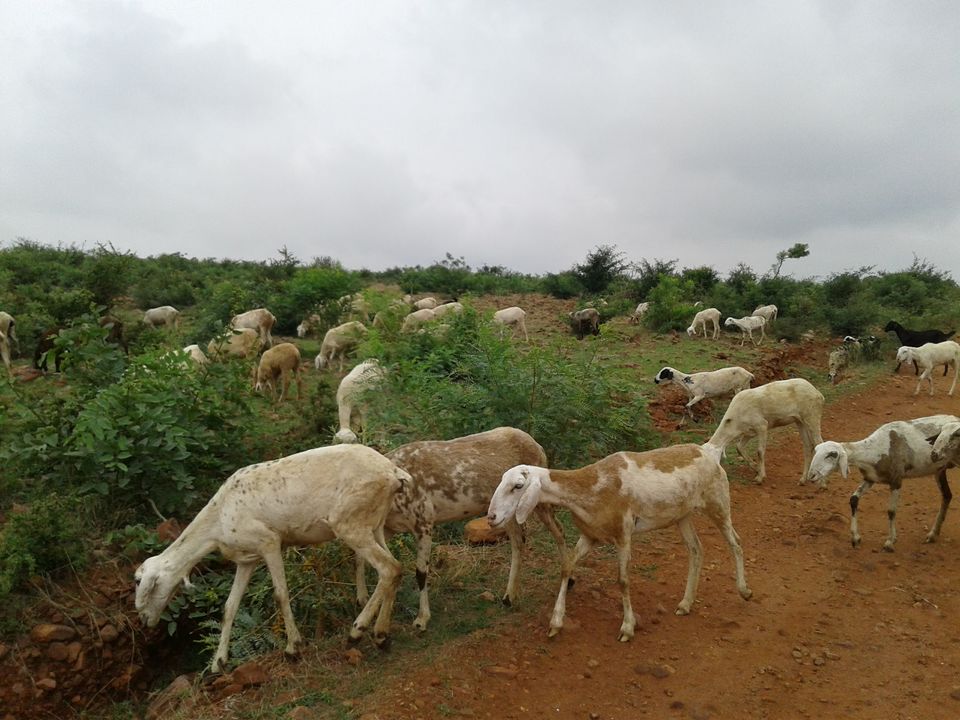 Gol Gumbaz is massive!! Just the dome, the scale, their construction, their symmetry. It is beautiful. Though with all the tourist now, and people screaming on top of their voices to hear the echo instead of whispering it can easily be the location to shoot a horror movie. To think back then they worked out how to make a whisper be heard metres away, and figure out how to have that massive dome set up with perfect symmetry. I was in awe.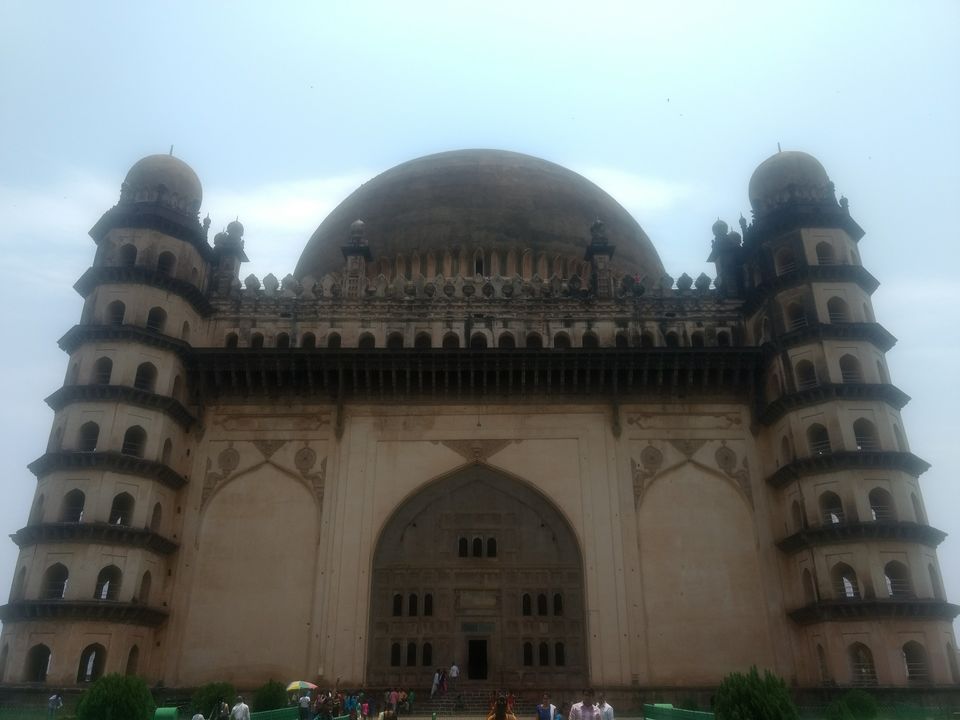 Then we left to visit Bara Kaman, which google maps lead us to the entrance of, only to find out that it was a street so narrow with vendors sitting on either side of the road and no parking space. Can't blame google fully, but after somehow maneuvering through those narrow roads and ending up behind the monument with still no place to park, we asked some guy and he told us that we had to park away on the main road and walk the rest of the distance. We did so and walked. The sun was blazing hot and draining all the energy.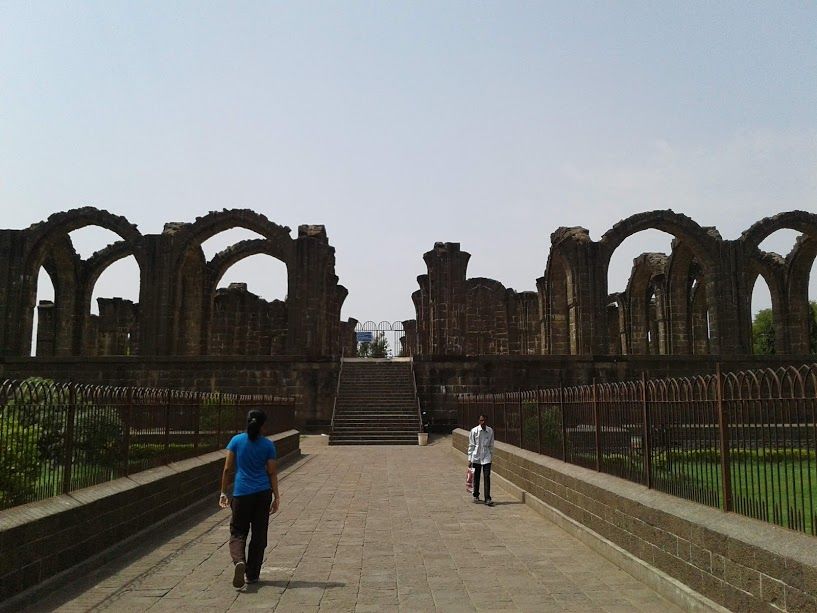 Tired we then decided to visit one last spot, the Bijapur Fort which according to Google was close by. We trusted the maps and ended up in front of a wedding hall! We drove back, parked our car and asked a few people showing them the photo google showed us only to be told it is Ibhriham Roza and they showed us where we should go to reach this. Again with the help of Google, we ended up behind the monument and the roads were just not navigable, and so instead of turning around we parked our car and decided to walk. Which is when we finally arrived at the beauty.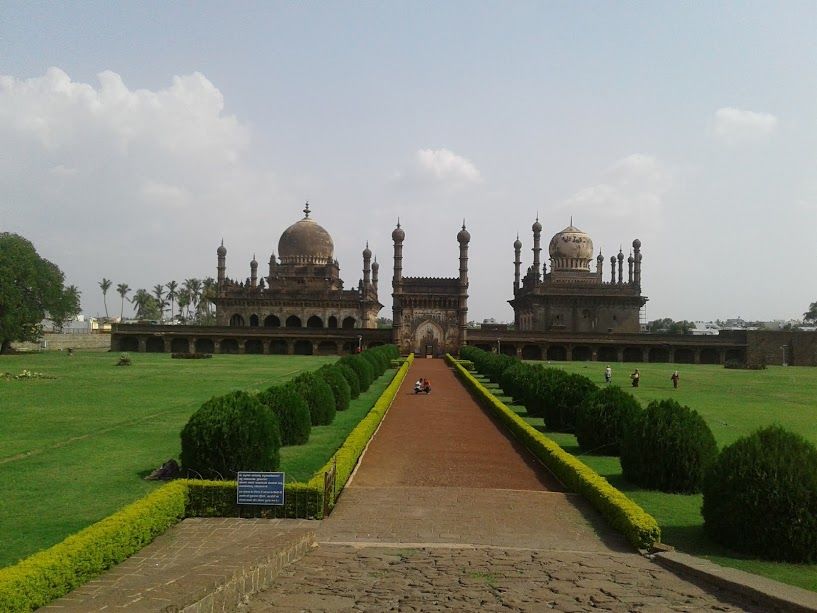 Ibhriham Roza which is again a mausoleum is simply mesmerizing with its green gardens, arched basements and towering minarets. And the best part is, this place isn't on the tourist list and not many people were around. So, we could sit under the wide arches and relax. It has some beautiful Islamic carvings near the doors which add to the beauty of this place. We sat here till 4 and then decided to head back home.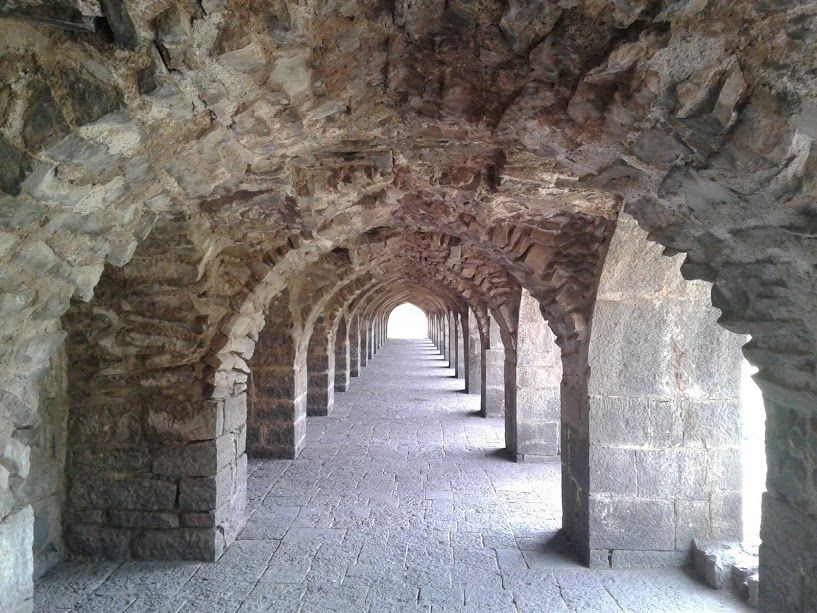 Badami Caves- Today we had hired a driver, so he took us straight to the caves, which though are beautiful aren't that impressive after having seen the Ajanta Ellora Caves. There are 4 caves, carved simplistically into the huge rocks. After going through all the caves, we could see a temple from top on the other side of the lake by the caves and decided to go there.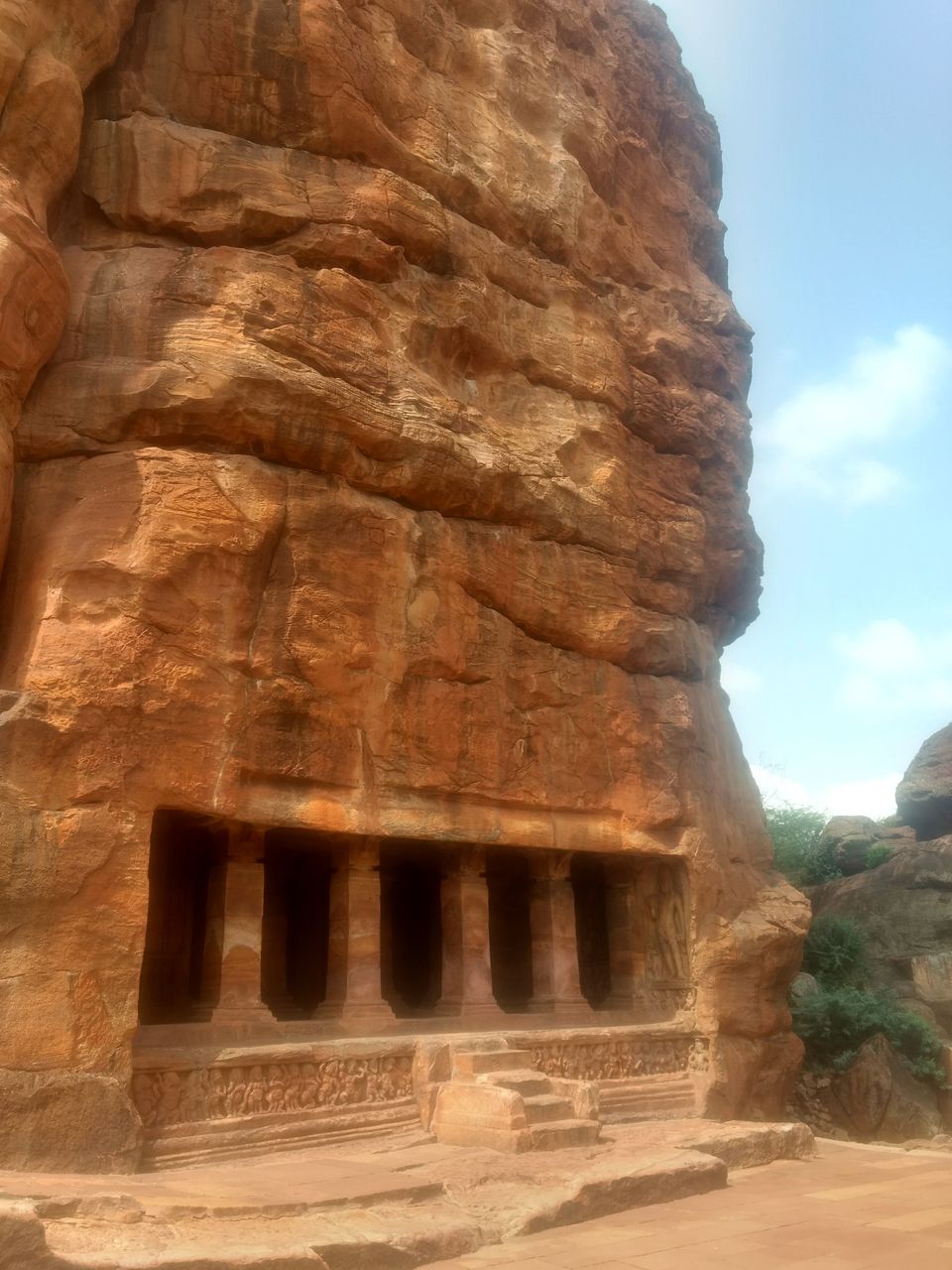 We then went to Patadakkal. This hoses a collection of temples, which now are slowly corroding away. They look beautiful and I am sure I would've enjoyed it much more had I got there in the evening without the sun soaring right above our heads. We had a cup of curd in the mud cups which are famous here. Some of the temples no longer have idols in them but are all still maintained well by the ASI.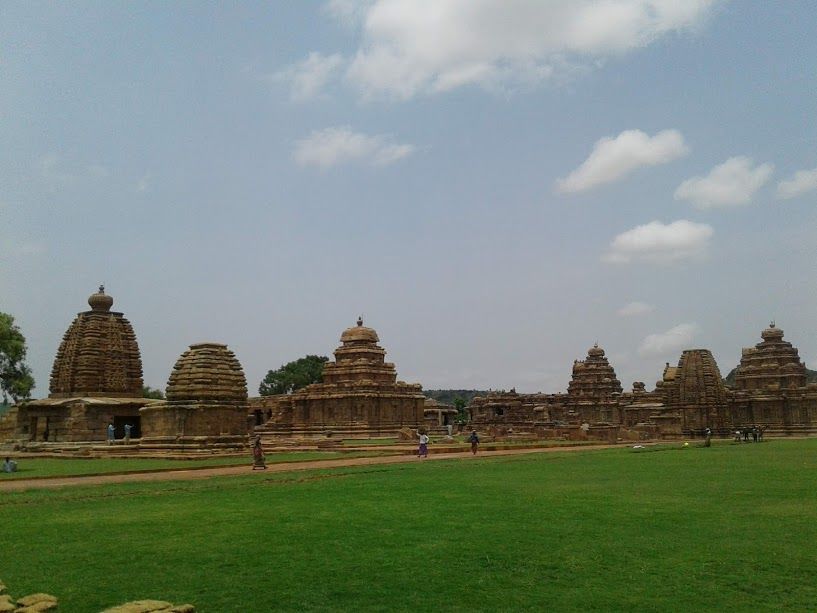 Then we finally went to Aihole, which again has a collection of temples and tank. The temples here are of various sizes and styles indicating that they were trying out how to build/ develop a particular form. It feels amazing to sit in one of those stone structures and feel the cool breeze but the minute you step out the sun blazes on your head and you feel the heat. The difference architecture makes in amazing.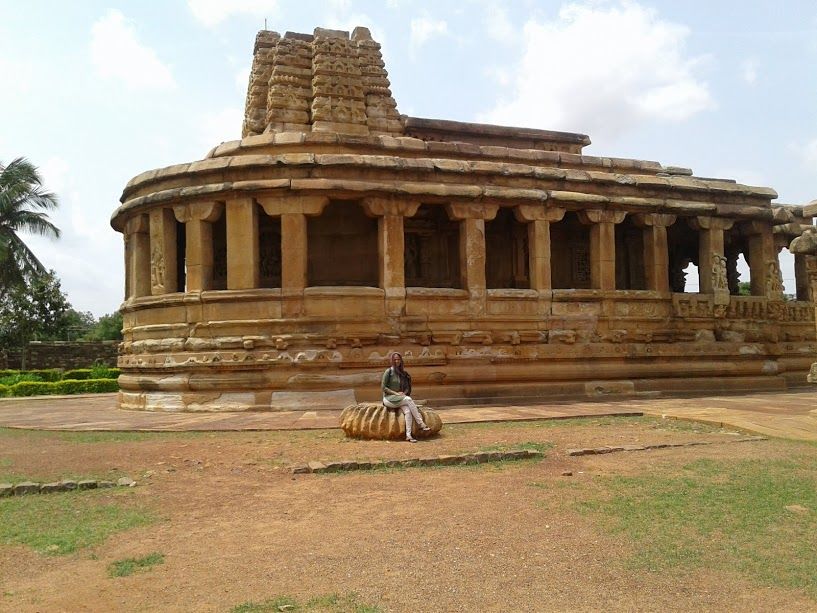 We then decided to head back home but took a stop at Kudala Sangam, which happens to be the point where three rivers merge and also where the body of Basavanna. His samadhi is here, in the river so they have built a structure which takes you down to the base of the river (near its banks) to a meditation room. When we were here it started raining and you realise how weak you are in front of nature. We could feel the wind push us away when we standing on the tower top. After waiting for it to calm down we left and finally by 8 in the night we were back home.
The final morning we just walked around in our village, explored their hills and valleys, drove to Jhamkandi, did some local shopping, visited the local palace and by 6 in the evening we were on our bus back.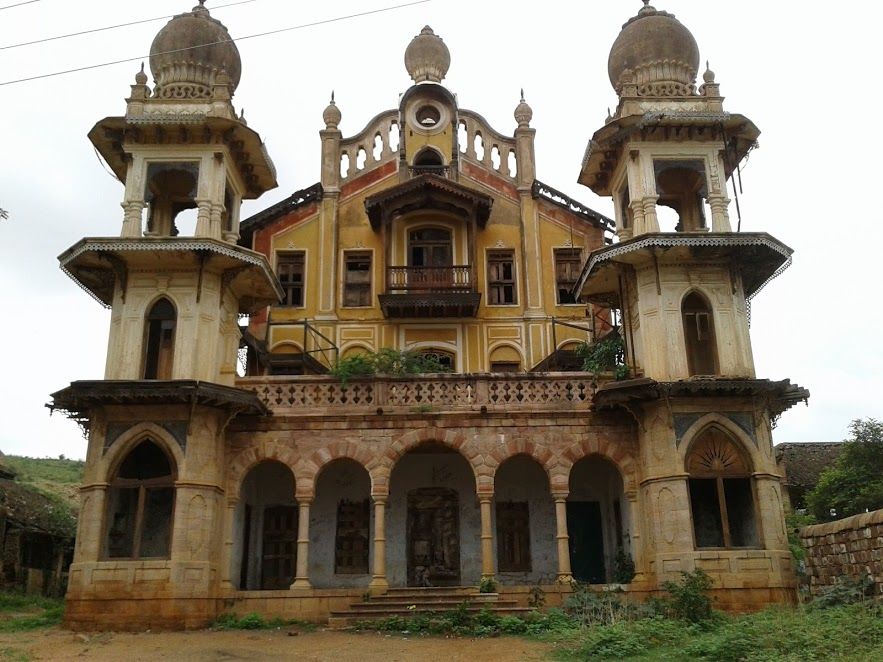 The next morning we decided to take their car and go to Bijapur/Vijayapur. It was a hot morning and the two of us drove from their village to Gol Gumbaz with the help of google maps and after a lot of struggle we arrived.
Bara Kaman is a monument in ruins but with beautiful stone arches most of which are in ruins forming the roof. There are no fillings, slab but just the arches remain. They are worth seeing, but in the evenings when the weather is more pleasant. This was just draining all our energy off!
Once back home, after a story listening session, a wonderful dinner, we were off to sleep as we decided to get up early and go to the famous Badami Caves the next morning.
The Bhootnastheswar temple. They looked very beautiful from afar, but as we came close, it was simple. But again, as not many tourist come here it had its own charm. Though the blazing sun above our heads kept draining all the charm out of us/ the pace.
Village life is definitely something else. Everybody should experience it, the storytelling, the generosity, the food, the milking of cows!
Frequent Searches Leading To This Page:-
tourist places in karnataka, Tourism in Karnataka, tourist attraction in karnataka, tourist places in karnataka hill stations, beach places in karnataka