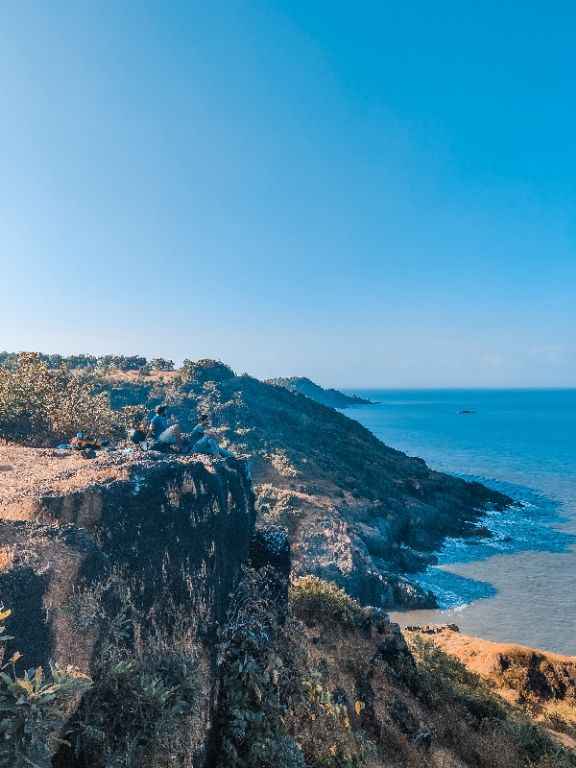 Yes, the Paradise of the Seas, which we all wanted to experience once in a lifetime! nothing else that drove me to come here rather than Woods and beaches. Ah, what a fantastic combination.
Let me share my experience first.
We set off on a Thursday night
From Thalassery to Gokarna Road there is only 1 train available Poorna express which is at 3:55 it is only available on Tuesdays. but every night at 7:40 there is a train to Kumta station which is 33km before Gokarna so we bought a double ticket for rs 135 for Netravathi Express !!
There was no rush. it might be because of Thursday or else it would be a heavy rush! the train arrived at Kumta at 3:30 am. Just a 10-minute walk from the railway station, we got to kumta bus station. There was a hotel in front of bus station named Hotel Kumta Grand . porota was priced 45 per plate but Due to hunger, we couldn't think of another option before we eat we asked if it is Fresh, he said it was ready-made by hearing that only understood we made a huge mistake. 90rs got just wasted. couldn't even finish the whole meal ( if you are really hungry also don't eat from any of the hotels there )
, but due to bad hunger, we found a shop which chips were hung. bought two chips and ate it and got a little relief
I went there and learned a lesson. If you go places where you are not around, you need to eat chips and change your appetite. especially in Karnataka. It is best to buy these chips from the shop itself which is made
The tea staller had said that the bus for Gokarna would arrive at 5 am.we were waiting for the bus in front of the stand. about to be 05:05 bus arrived small and colorful bus and Tickets cost ₹ 32 per person, got down at the Gokarna bus stand. When we Googled, it has only 2 km walk towards the beach we decided to walk which is better than wasting money on rickshaws we started walking we passed through remote area which could experience a lot of different views. It is a place where only Brahminites live who follow their customs. even their dressing could get feel about the old times, I even felt like Gokarna is a place where you would get a vintage feel.
Somewhere along the way we finally reached Gokarna beach. I couldn't see much views but at the end of the beach, I saw the hill and the beach together. Oh my god, it was a beautiful view ! you Must Visit Gokarna Beach. If you want to experience the temples and rituals start from Gokarna beach or else it is best to start the trek from the kudle beach We got a short way from the end at Gokarna Beach to kudle beach. That is saved about 3km of walking distance.
Kudle beach is the starting point of 4 beaches, a beautiful beach where you can take some good photos. we had a dog following us and didn't even leave us when we dive into the sea.so please be careful about that. We started walking from there it was hot so we would sit back in the shade and rest for a while. On the way, we got to meet two foreigners. Edwin and Edwaniya. Thamiz who came with me speak English as nicely as they do. A brother and sister who is roaming around the world together. So we had tea with them and sat there for half an hour shared different experiences each other
Om beach - an awesome beach inside the jungle .. I got a glimpse while walking through the forest. The biggest view I have ever seen in my life even a photo cannot explain that view which you should experience form your own eyes. The beach is called Om Beach because it looks like an ohm from the aerial view. Om Beach has good depth so you can't get down in the beach
Half-moon beach - A short drive through the jungle. A fun trekking spot !! Walking to Half Moon is an experience you will never forget. Just google it and go. Arriving at Half Moon Beach at 12:00!! This is where most foreigners tent and those who come without a tent could also stay. The only problem is that there is no water !! And it is kinda expensive for food. so we just ate chips
Paradise Beach - the last beach from these beaches! Paradise Beach is the perfect place to hit the tent at night This is where people stay who overseas migrate. but all are beautiful beaches If you are coming for a day then take some rest here and go home at 9:42 pm there is a Mangala Lakshadweep Express train!
If not, it's only 2 hours to Goa! from Gokarna road railway station there is a train named Malsyagandha express at 6:40 pm daily. Then there is no need to dry the way from paradise beach! Ask anyone from there the way to Balkan beach. From there, you can take a bus to Gokarna, which is about 3 km away. If you get down at a stop before reaching Gokarna, you can take a bus to Kumta. Or get it from Gokarna!