Sharing something I love with someone special?
Where do I sign up?
Boudha Stupa is probably one of the most beautiful structures I've seen through many years of travel. The behemoth is a Unesco World Heritage Site as well as one of the top things to see in Kathmandu; probably even Nepal. I had watched Mark Weins' vlog about it and promised myself to see it.
The first time I saw it I was almost tricked into paying a fee to enter the free site but sweet-talked my way out of it in broken Nepalese. I saw it in broad daylight and even though it was extremely crowded, I was a fan. The best things about Stupas and Gompas are their sizes and how you needn't enter them to be overwhelmed with energy. I don't have to take off my shoes, wash my hands and legs, wait in line to see what's inside and (in some cases) be prohibited from filming. In places like these, there is no accessible inside!
After a horrific case of waiting a long time for a taxi and getting sunburnt during, we crawled back to our air conditioned haven, our hotel. The sun was blasting and there was no way either of us had the energy to do any of the sightseeing we'd planned in the afternoon.
A sweet nap and a buff-ey lunch later, we found ourselves cursing each other for being absolute sloths. I had promised The Other Tourist that Boudha was worth seeing and he'd fall in love with it, immediately.
Willing to move to catch the sunset, we raced through the streets of Thamel to hail a cab to Boudha Stupa. It was fast paced but by the time we reached, the sun had already crossed the finish line. Nevertheless, we walked through the entrance (no trickery this time!) and began exploring. Twilight was upon us and the whole place seemed like a carnival of lights! Shops were opening and closing and the energy of the place had shifted from a drab sunny day to a cool evening cheer. It was beautiful! The Stupa looked like it had come alive, seemingly vaster and taller than before with the prayer flags dancing in the wind and the music of harlequin lights.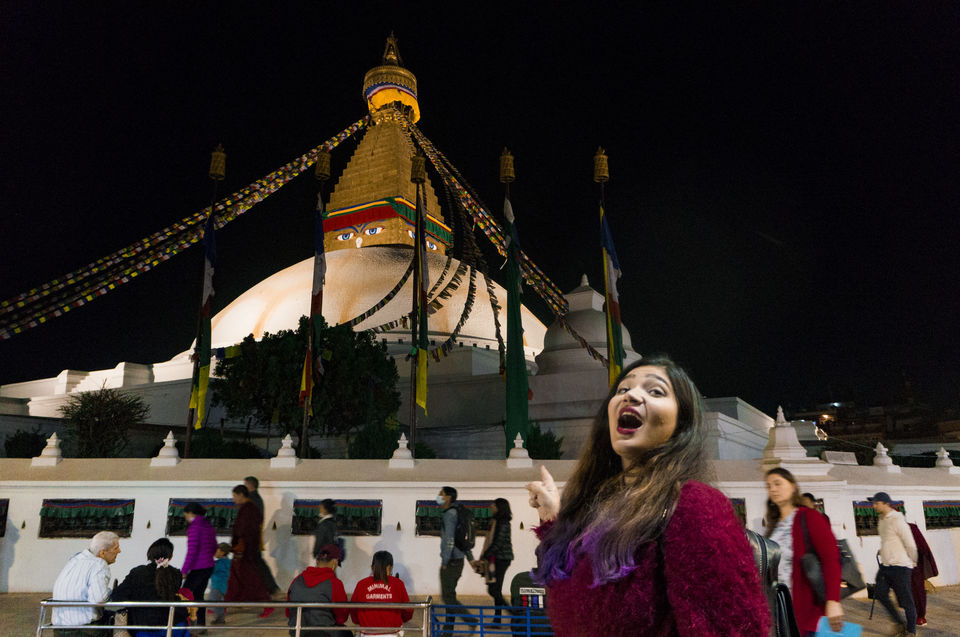 After walking around the Stupa for a little while, we made a pit stop at Mochiko Cafe. It was a quaint little coffee shop that offered tiny tables, free wi-fi and an assortment of caffeinated drinks. The Hazelnut Latte is the absolute best thing to have there! Data is really expensive in Nepal so cafes with Wi-Fi are a somewhat hot commodity. It felt like nothing had changed at all since my last visit here. The staff were just as sweet and the coffee was just as brilliant.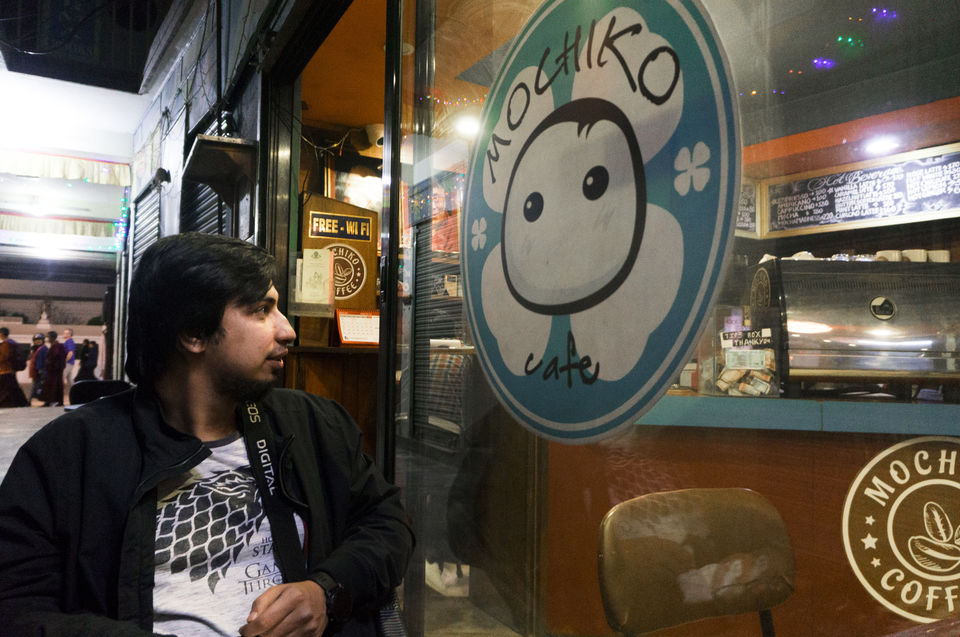 You can find just about anything in the shops around the Stupa! From homemade sweets to exquisite wall hangings and paintings. Of course, theres also a Buddha Vape Shop (I don't know why that cracks me up) and a number of cafes and restaurants serving up good food with an even better view. If you feel like shopping or picking up a few souvenirs, you can find a good amount of jewellery, gift items and such around the Stupa as well as the area outside. It's much more economical to shop in places like Boudhanath than Thamel simply because Thamel is a tourist hub and is quite over-priced or haggle-friendly.
Okay, back to the experience.
With a renewed energy, thanks to the caffeine, we walked around a little more, taking pictures, making videos and doing generally Touristy things.
Shortly, we heard these beautiful incantations and like moths to a flame, we gravitated toward the alien yet ethereal sound. A monk was in prayer, surrounded by Japanese tourists who were as dumbfounded as we were. I only know that they were Japanese because of the endless amounts of anime I've seen and could recognise some of the words they said. The prayer itself was so entrancing, it almost looked like the monk was hovering over the hundreds of 'diyas' (tiny lamps or candles) that were placed in front of him. We stood there for many minutes and couldn't help but feel the power of the blessings that enveloped the air around us.
And like a snap, the chant was over but the vibrations still resonated. Some still inside of us.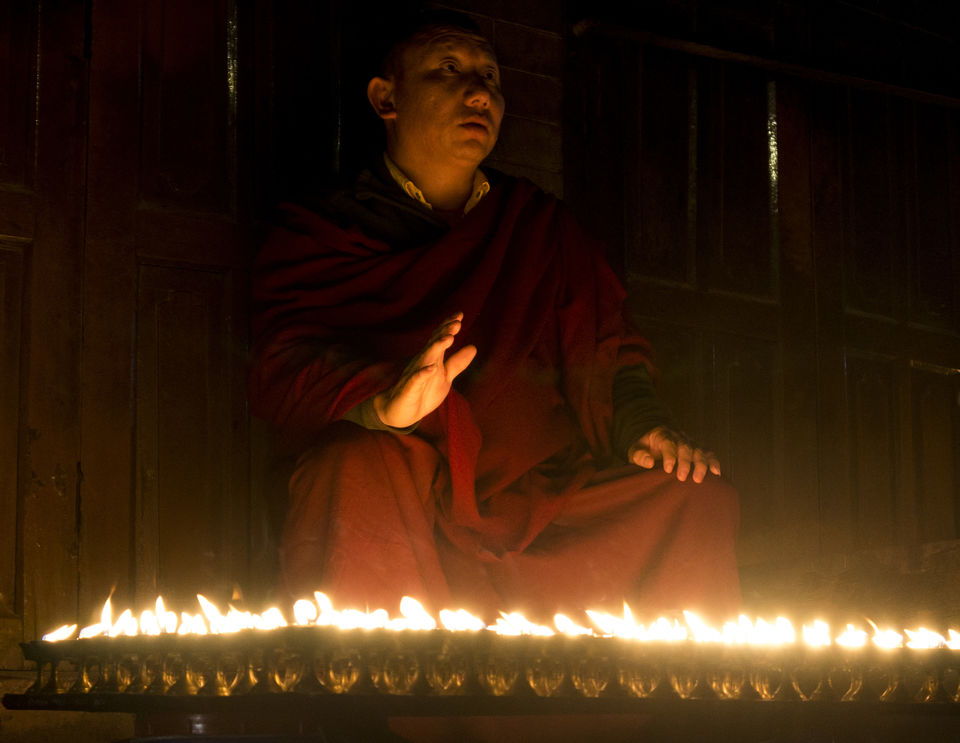 We left for our favourite cafe for some dinner and Gorkha, the next day's adventures lined up in our minds.
Boudha Stupa will always be special to us. There's something inexplicable about the kind of beauty it holds, in its simplicity.
Until next time!
Travel Tips:
• It's fairly easy to find cabs to and from Boudha, you can find all kinds of public transport right outside the main entrance.
• There is no entrance fee for the Stupa, it's absolutely free so don't get tricked?
• If you're visiting during the day, in summer, make sure to carry all kinds of 'weapons' to shield you from the sun. Not real weapons, please no.
• It's absolutely beautiful in the evening so if you feel like taking a stroll, take a stroll around the Stupa.
• There's a number of guesthouses, hotels and homestay facilities inside the premises that you can stay at. They're pretty inexpensive and give you a view no hotel in Kathmandu can.
The shops close earlier than most places in Thamel so it's better to schedule a visit before 8 pm.

Frequent Searches Leading To This Page:-
Images of Boudha Stupa in Kathmandu, picture of swayambhunath stupa, boudhanath stupa facts, who built boudhanath stupa