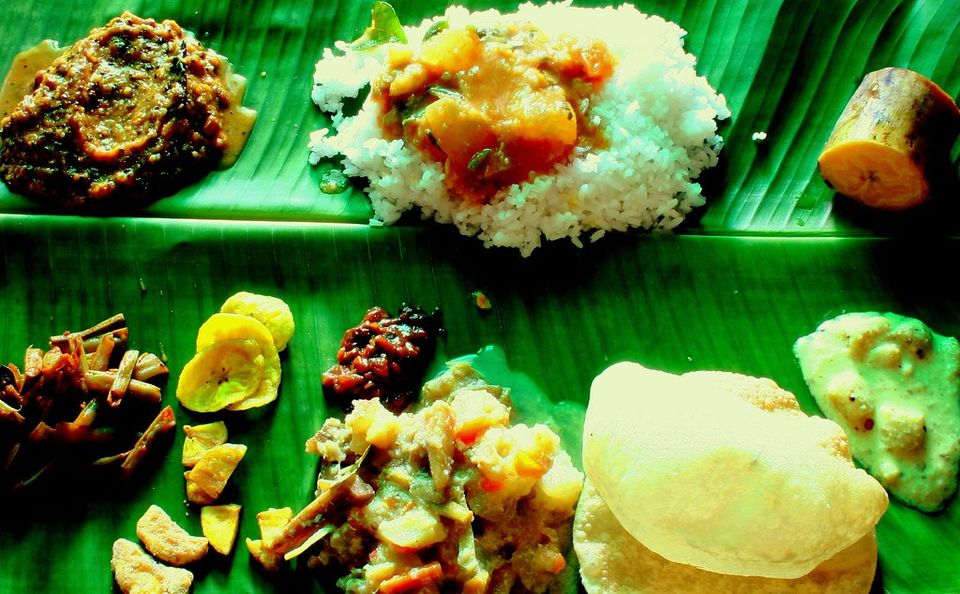 Bring out the enormous banana leaves and get ready to relish some of the best loved meals of Kerala as the country prepares to celebrate Onam 2020. The 10-day harvest festival begins on 22 August and ends on 2 September. It is one of Kerala's biggest festivals that also celebrates the popular legend of King Mahabali who sacrificed his life for his subjects. Apart from the stunning flower decorations and power-packed boat races, the highlight of the festival is an elaborate meal called the Onam Sadhya or Onam. This sadhya traditionally comprises of 26 or more vegetarian dishes and is served on a banana leaf. Onam Sadhya is best enjoyed without any cutlery and is usually eaten while sitting on the floor.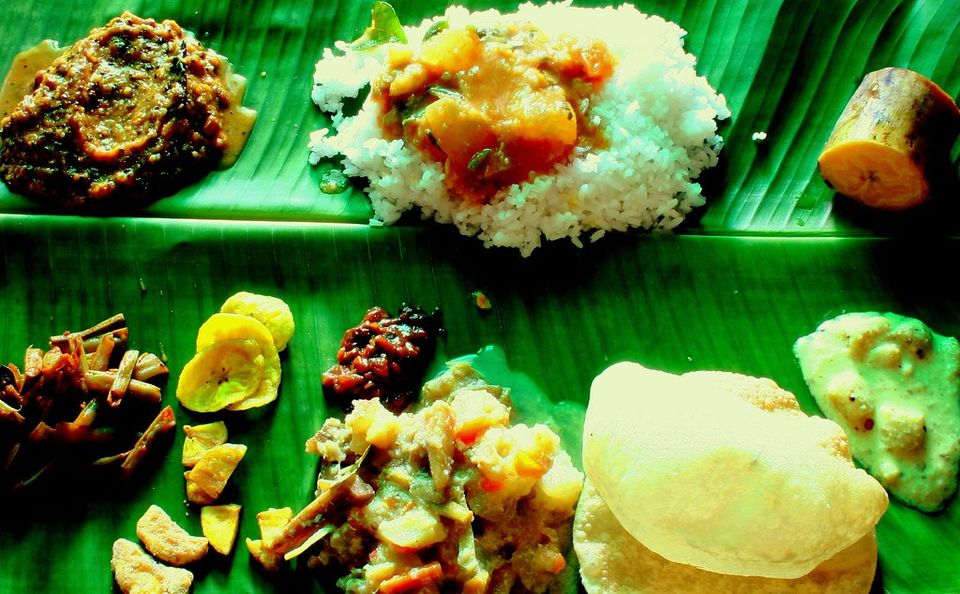 So if you are in the mood to celebrate Onam with some mind-blowing dishes, here is a small list to help you have gastronomical heaven in your mouth. Let's dig in -
1. Upperi aka Banana Chips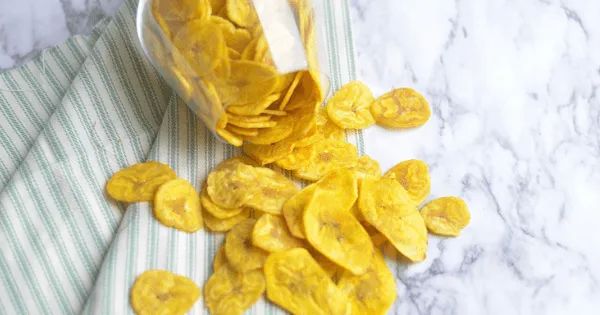 You start with one, you won't stop munching. Everyone loves banana chips! A good handful is served at the very beginning followed by 25 other dishes. Grab yourself another handful while you wait for more dishes to arrive.
2. Sharkara Varatti or Sweet Banana Chips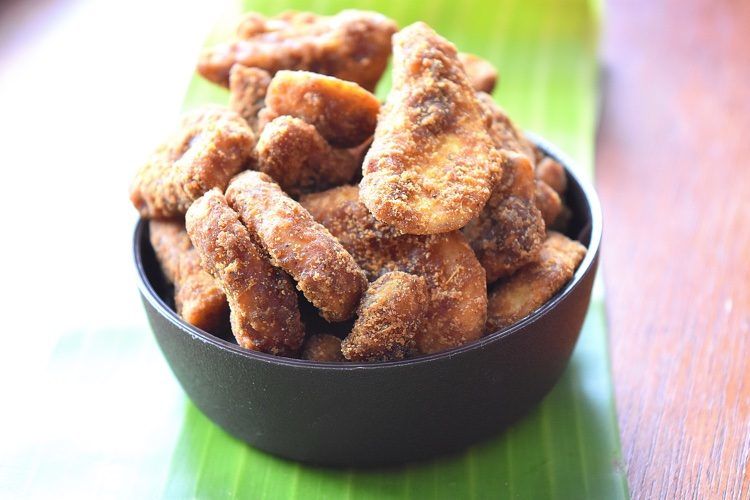 Made of jaggery, these banana chips taste heavenly and would leave you wanting for more.
3. Mango Curry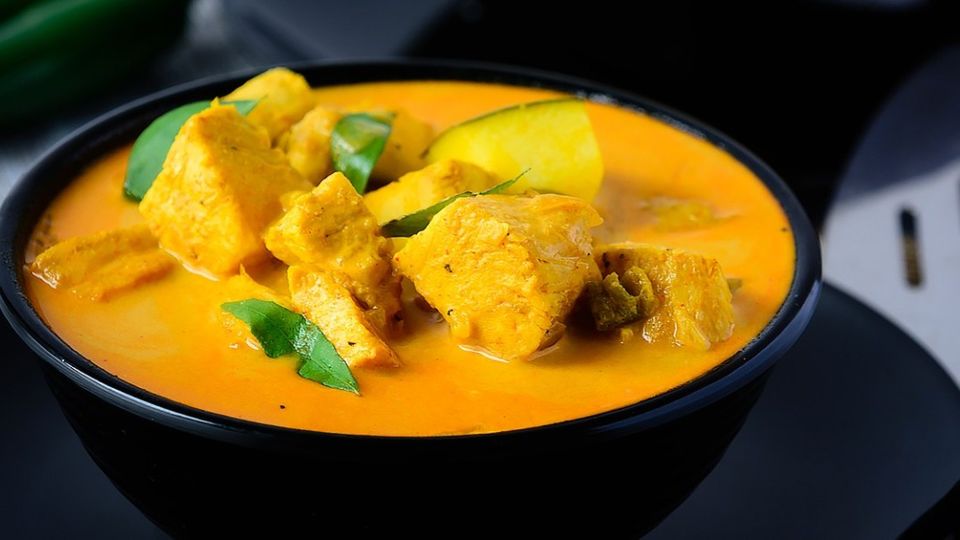 The good ol mango pickle to give your tongue a tangy taste of some amazing spices with all the good food you are about to devour.
4. Naranga Curry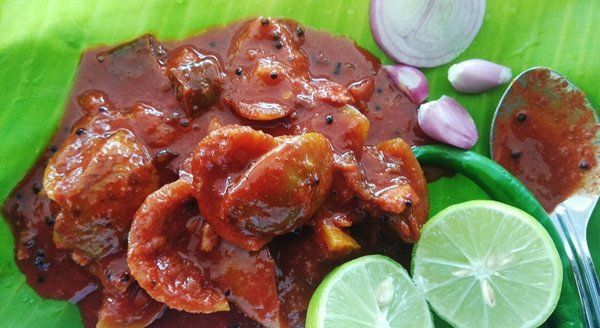 Any onam sadhya will have two types of pickles for sure. This sour lemon pickle goes so well with rice and rasam that you would happily give up meat for this dish.
5. Ellisheri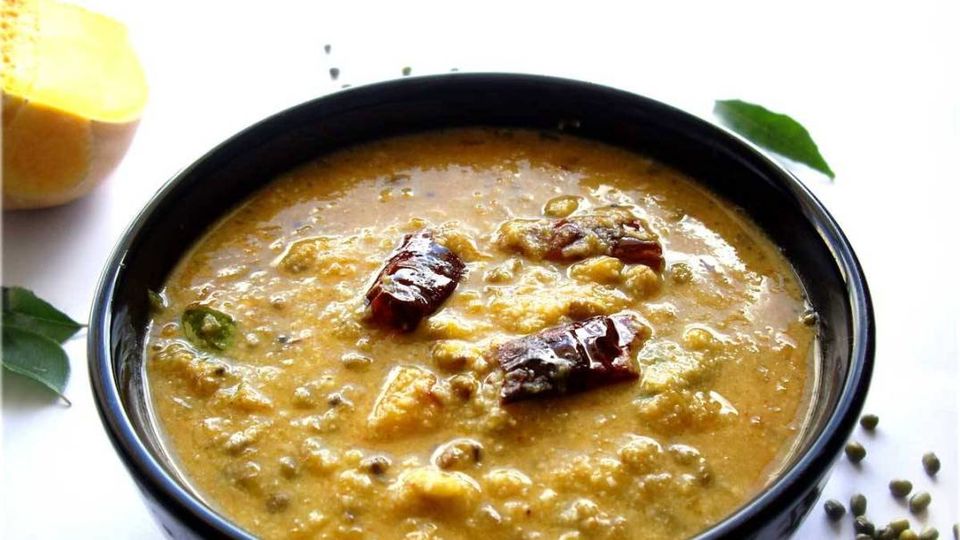 Who knew pumpkin could taste so good! This yummy dish is made of pumpkin, red beans and is decorated with a mountain of grated coconut on it.
6. Pulissery
Made with curd and cooked in healthy vegetables, Pulissery is topped with a generous amount of coconut for you and tastes divine when eaten with steamed rice.
7. Kaalan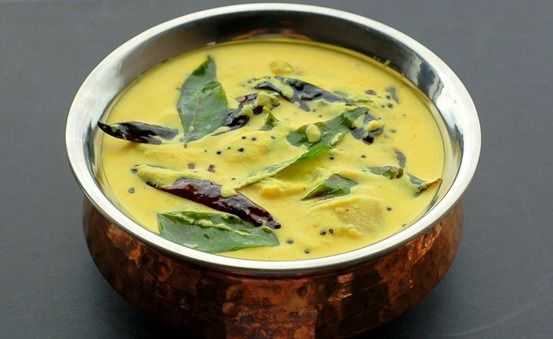 Some nice yoghurt, yam or raw banana, and here your Kaalan is ready. Of course, don't forget to treat yourself to a wholesome garnishing of grated coconut.
8. Olan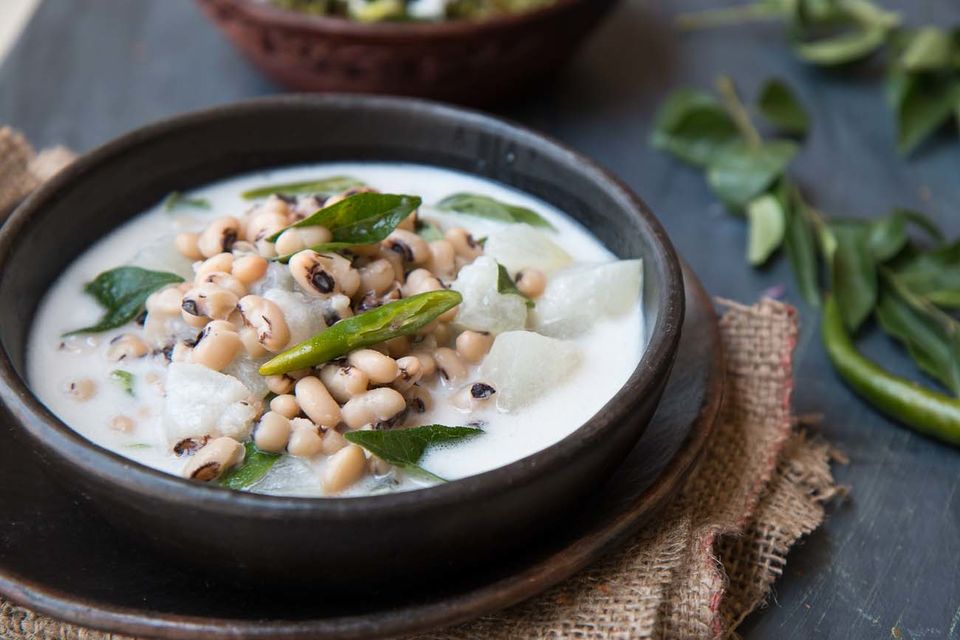 Coconut milk makes everything taste better. The authentic hand-pressed coconut milk is splashed in red beans and ash gourd for the best taste. This surely is one of the top dishes of Onam.
9. Pachadi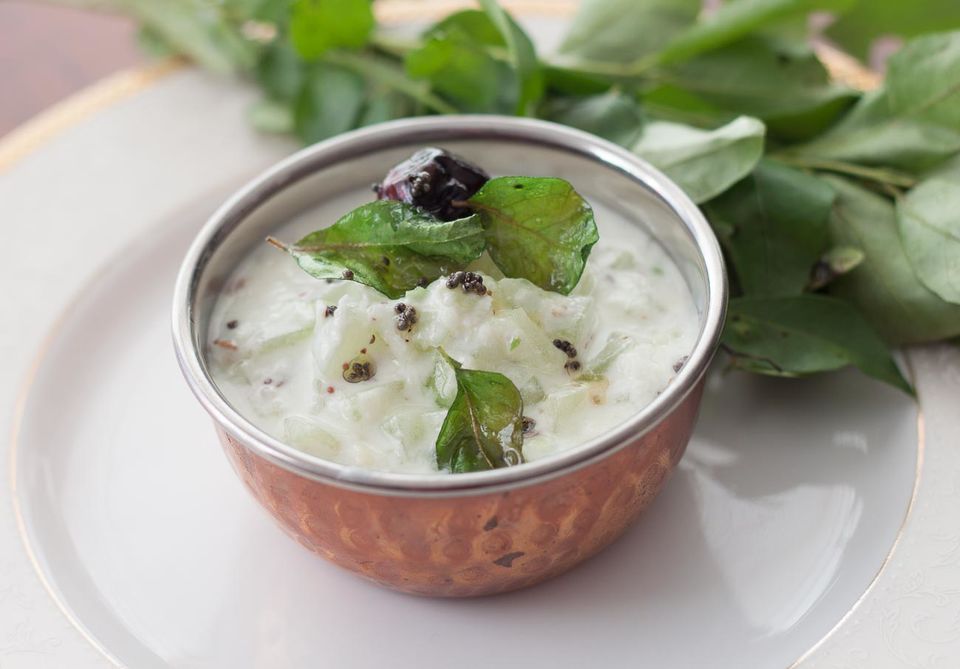 Cooked with grated coconut, yogurt and pineapple; you don't want to miss out on this star dish.
This is an irreplaceable dish. Inji curry is ginger, tamarind and jaggery mashed into a paste. This is the first thing that is prepared during Onam.
11. Chor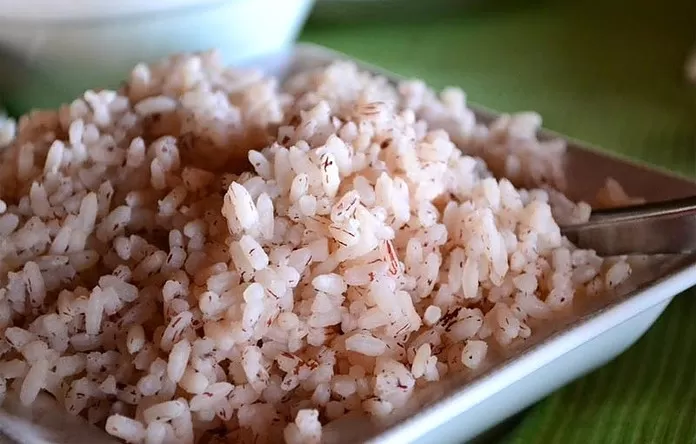 This is red rice which may look like plain rice to you, but missing out on this would be a serious crime. Taste it and you would know why!
12. Parripu Curry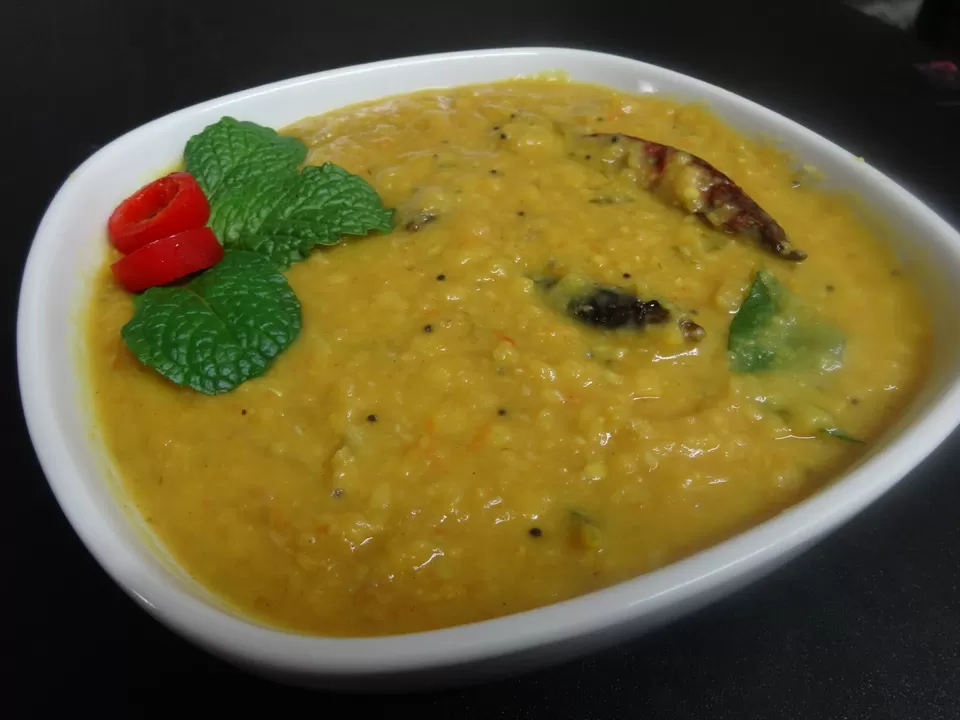 Try this heavenly delight made with good ol moong dal, red chilly powder and black sesame seeds. Top it with some ghee and you can thank us later.
13. Sambhar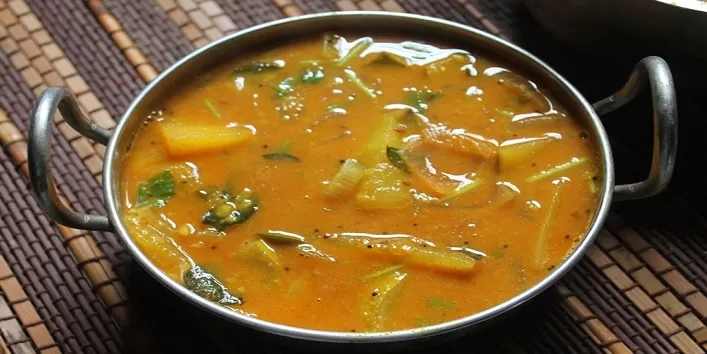 Made with every possible vegetable grown on earth, sambhar is an essential dish in all of South India and Onam certainly is incomplete without some nice piping hot sambhar. Have this wonderful dish with some rice and pickle.
14. Khichdi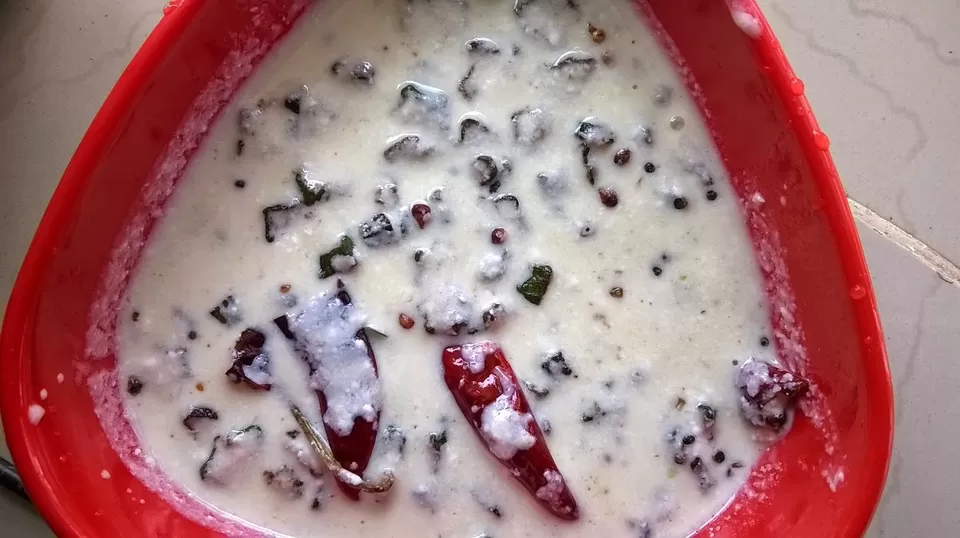 Made in spicy yogurt and vegetables for a finer taste. From cucumber to okra, everything goes into making this dish. Pour it over your rice and find yourself shamelessly licking your fingers!
15. Pappadam
With half of India obsessed with papad, it is safe to conclude that it really goes well with all types of Indian dishes. These papads are made with rice flour and are so light that you would not stop at one. You will need many of these with your meals for sure.
Let the feast begin! A very happy Onam to all families celebrating Onam in India and abroad.