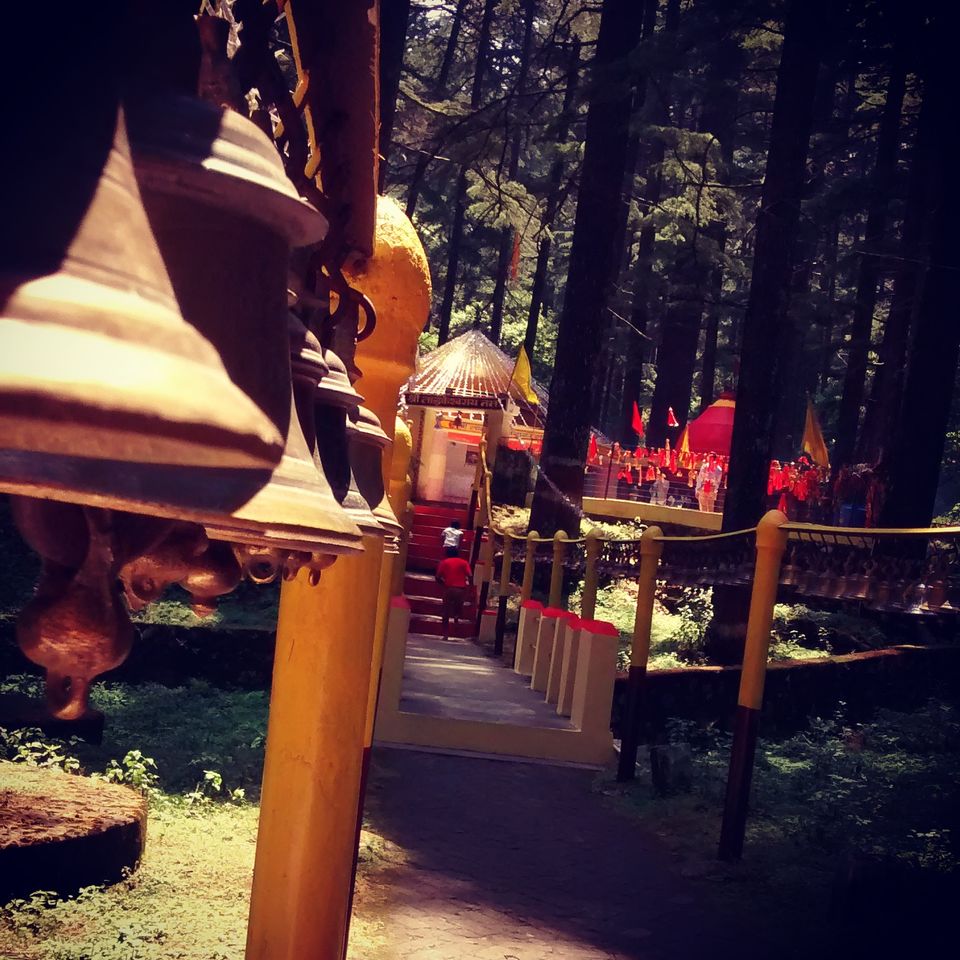 Sometimes some temples are worth a visit, not for spirituality but for the eccentric tranquility it offers..
For me, visiting temples is close to never on my to-do list, but what changed my mind was the persistence of the locals and people I knew who had been there already. So, me and my friends managed to squeeze in a visit to this place on our already tight schedule. Located at about 40 Kms from Lansdowne, Uttrakhand, Tarkeshwar temple is a must visit.
After a good heavy breakfast in Lansdowne, somewhere around 11 AM we started off for Tarkeshwar Temple with not much of an excitement. It was an hour long drive from the place we were staying at. I love mountains and travelling on road in Mountains because of the mesmerizing views offered. With windows down, good music and happy stomach we set forth. One of the best thing about road trip is that you can stop wherever and whenever you want, and this happens alot. So while we were en route the temple, we came across a small blue coloured hut set in a cozy corner of the mountain, surrounded by trees and having an inviting look. The hut had a proper trail leading to it and giving into curious human nature, we four friends decided to stop the car and see what is the deal with this beautifully located hut (thinking maybe its a small tea selling point run by some old lady or a house of a local who could guide us towards the temple and end our curiosity on whether it is worth a visit or not). But our curiosity came to a tumbling end once we reached that hut.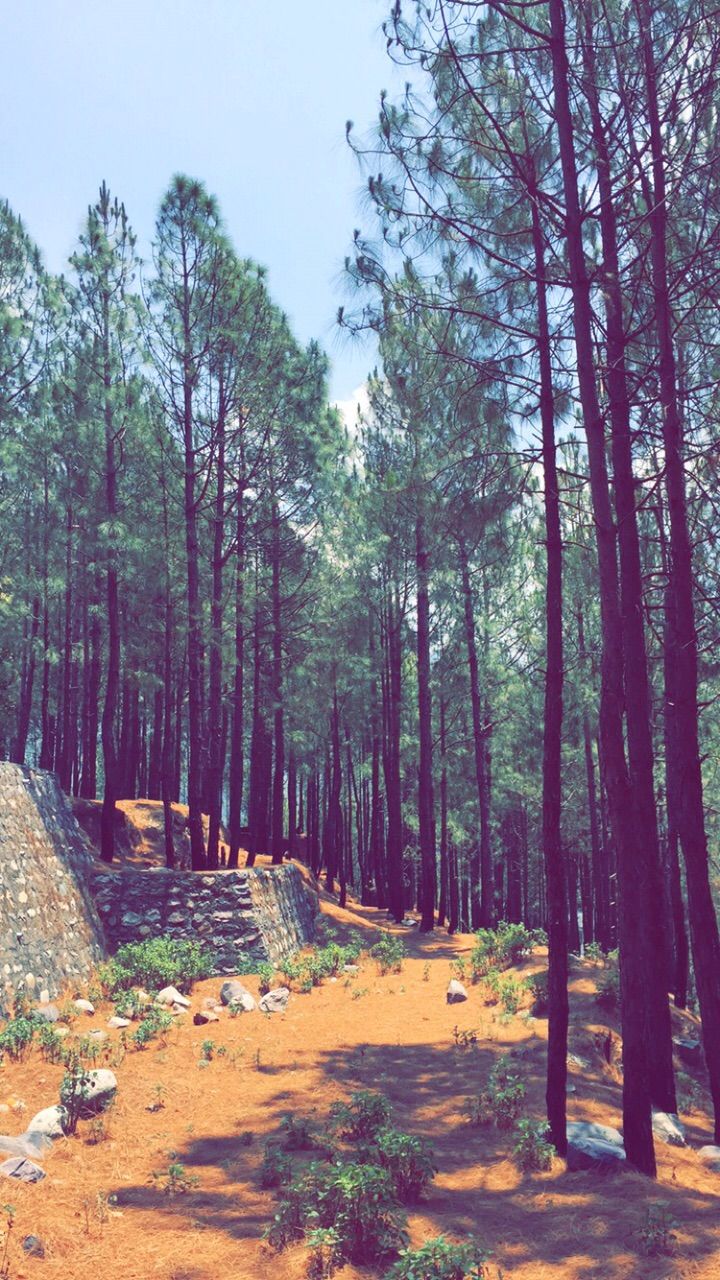 The trail leading to the small hut.....
Once we reached that hut and trespassed our way into it, what we saw was that the place was full of animal skeletons and had a pretty spooky feeling to it. So without giving much consideration to the horror that place provided us, we friends decided to.....take pictures and pick up the skulls and act all archaeological with it (so much for all the horror shows and movies we've grown up watching). It was fun and something weirdly different, yes I agree that this kind of behavior is not supported.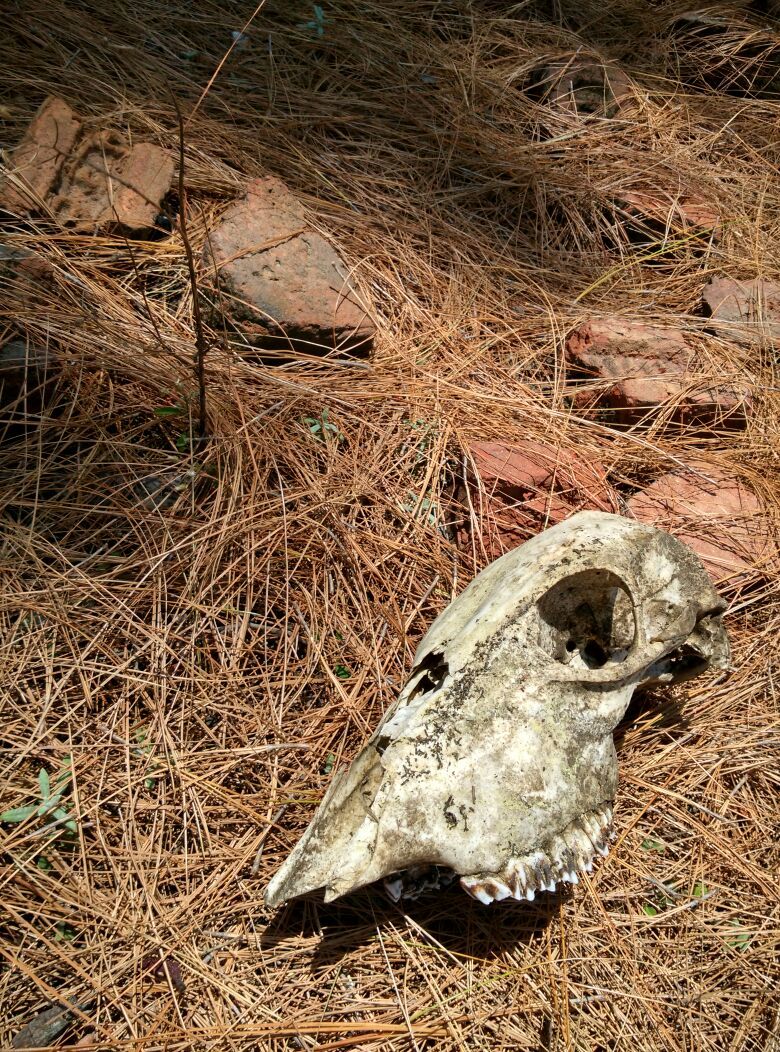 Remember, dental health is of extreme importance *uhem*
Anyhow, so after spending some time goofing around we continued our way towards the temple. A little more than an hour long drive and snatching a good parking spot, we started our trek towards the Tarkeshwar Temple.
Yes, you have to undergo a small 10 minutes trek to reach to the place once you have parked your vehicle. We reached in 20 or so minutes, not because we are lousy when it comes to walking but because our's is a curious group. The sign clearly says to go towards right for the temple and we got somewhat inquisitive as to what is in the left direction. So after walking aimlessly towards the left direction of the trek we reached an end point with nowhere to go. Disappointed, we walked our way back to the temple direction (happens!).
While walking towards the direction of the temple, you will come across quite a group of devotees, with offerings in their hands (no not goats or cows sort of offerings but a basket with a coconut, some red sindoor, fruits, money etc.). Among all those devotees we felt like imbeciles, but honestly who cares.
Tarkeshwar temple is devoted to Lord shiva and there are two theories which revolve around it. One being that it was the place where Goddess Parvati prayed to get Lord Shiva and other being that this was the place where demon Tarkasur meditated and worshiped Lord Shiva. So, legends will be legends and whatever be the real story behind this place, it all doesn't matter once you enter it. A huge landscape with feathery emerald coloured fronds set like a blanket, place filled with thousands of Deodar trees and amidst it all is a small temple surrounded by hundreds of bells piercing the silence in an appeasing manner. This is my imprinted memory of Tarkeshwar Temple from the moment I entered it.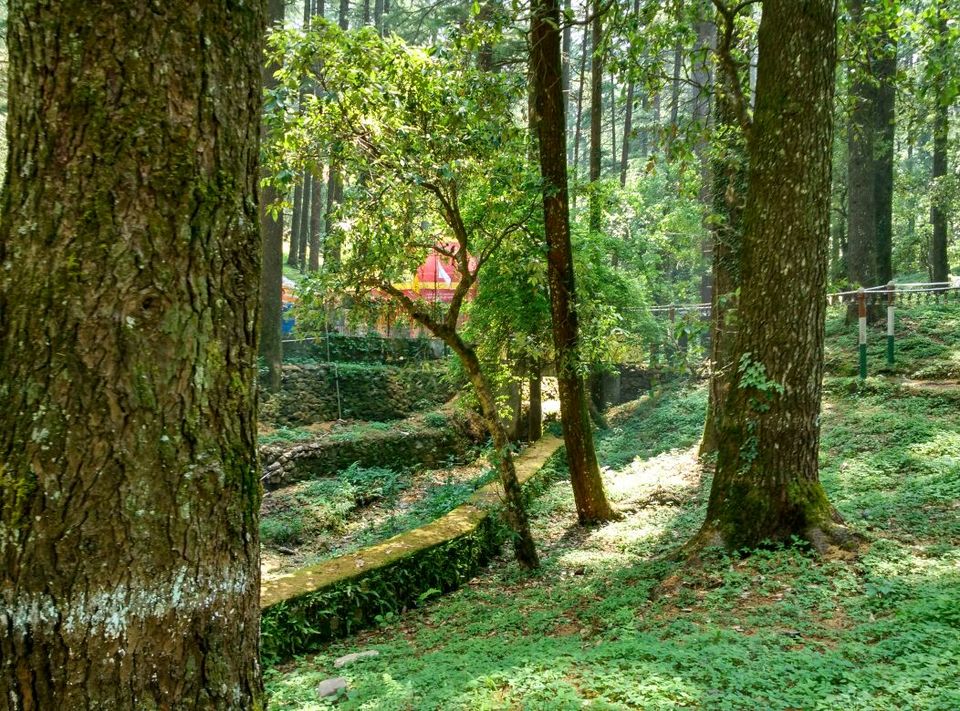 The small mandir in middle of the forest...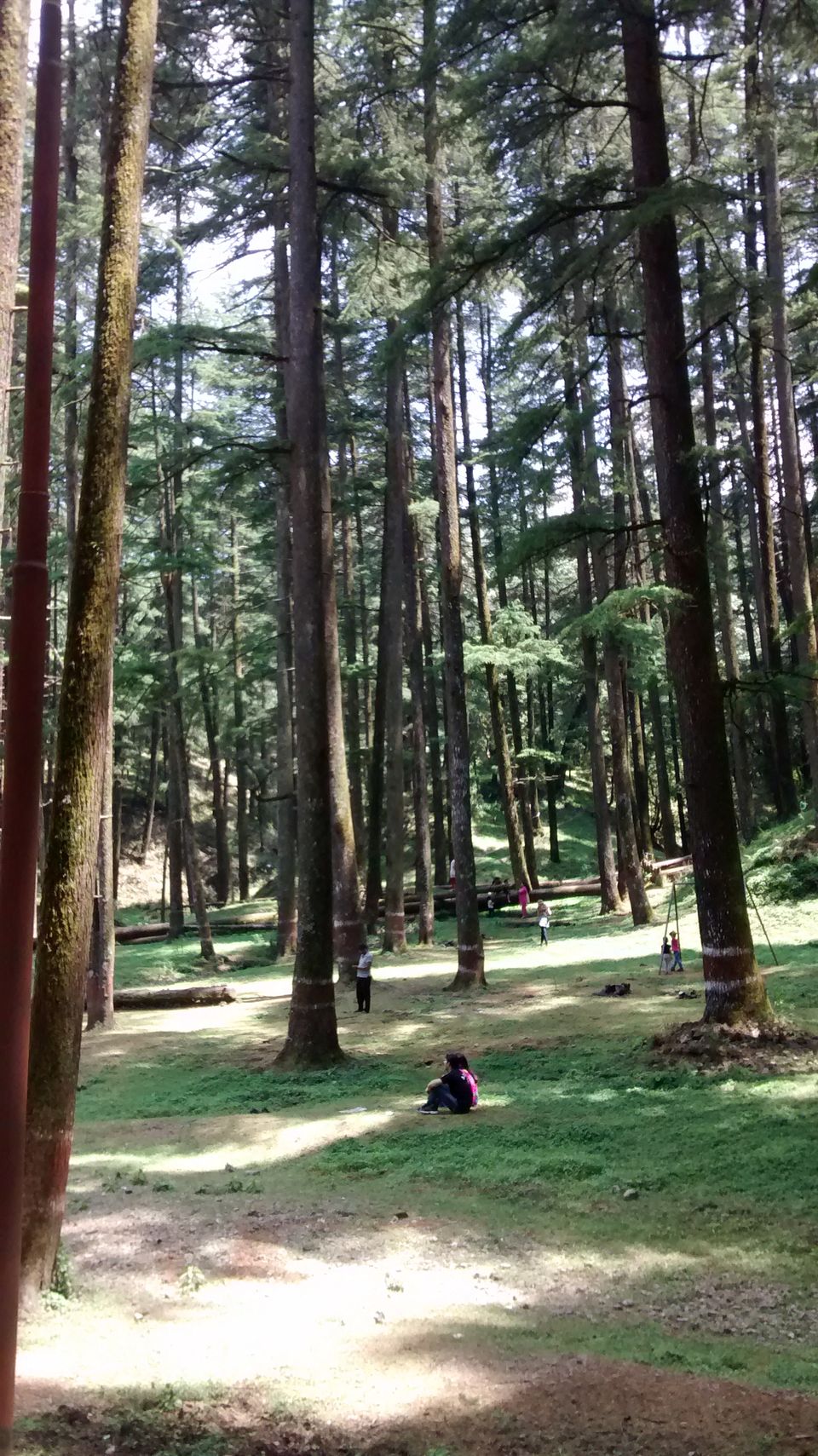 Huge Deodar trees all around..
The place is beautiful, the temple forms a small part of the place. It has an Ashram also where the prasaad is provided. Some old trees which must have fallen down due to bad weather or any other reason, were very particularly put and formed as a bench for sitting...well thought on part of the authorities.
The temple is encircled by bells and giving into the fact that the temple is located at a height and in middle of a forest, light winds flurry around all the time therefore wafting the bells and making a calming sound...it all is just beautiful not only for the ears and eyes but for the mind as well. There is a Lord shiva idol doing Tandava which is worshiped in the main temple. There is also a pit full of small trishools indicating the power of Lord Shiva.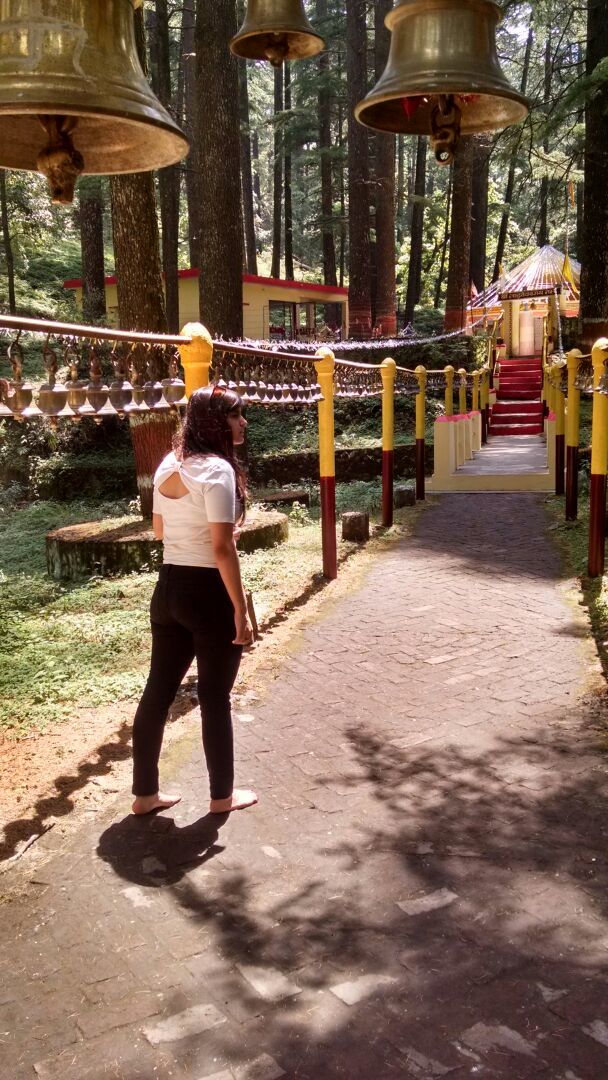 Bells all around..
This temple is not like other temples where you will find long queue of people waiting to get their chance to worship their idol, this is a temple where the atmosphere is so tranquil that it forms as a perfect place for meditation, for serenity and for appreciating the blessings of nature...
Therefore, I will not call this place a temple...for me it was like an enchanting forest with music all around.