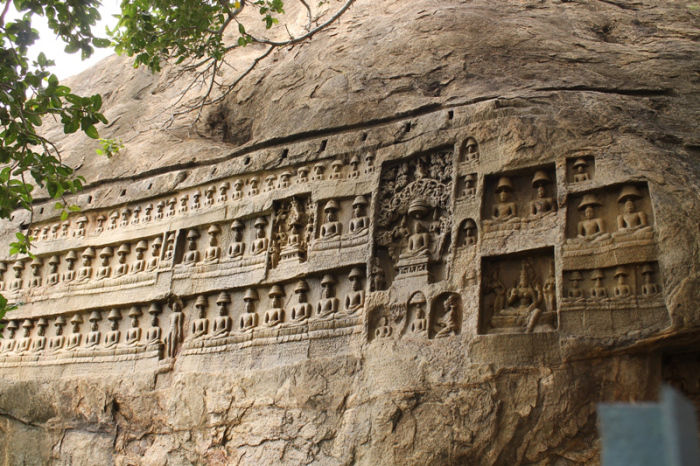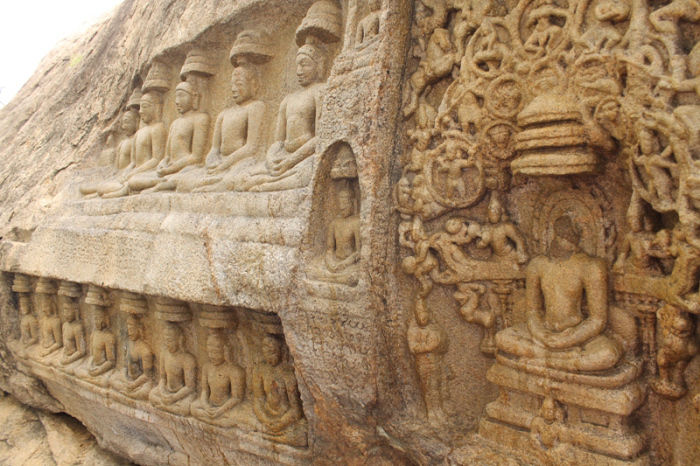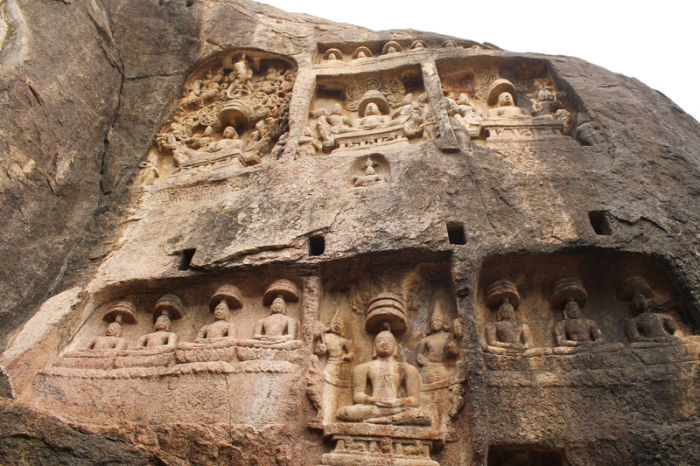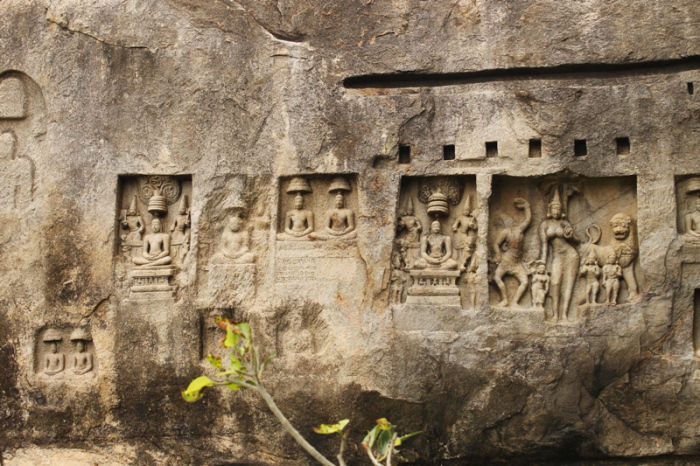 In all my travels, never once did I hear about the prominence of Jainism many centuries earlier in Tamil Nadu. I am aware of the extent to which it had spread in Karnataka since I visited Shravanabelagola and heard about Karkala, Moodabidre, Dharmasthala and Gommatagiri. But, to my knowledge Jainism in Tamil Nadu never existed—that was until I made a trip to Madurai.
The origin of Jain philosophy in Tamil Nadu is a much debated topic among literary scholars. Mr.Nagendran Natarajan, Head of History department at Vivekananda College, Madurai— whom I had the privilege of meeting—however feels that Jainism was introduced in Tamil Nadu after the end of Sangam period. To support his theory, some Jain inscriptions on centuries-old rocks around Madurai date back to 4th century AD.
"The 2000-year-old rock carvings at various sites in Madurai and Kalughumalai are rich archaeological source of information for history of Tamil Nadu," he told me.
Having heard so much, my host and I decided to see the intriguing evidences for ourselves. 120 km from Madurai reaching Kalugumalai on a pleasant day was not difficult, but climbing 600 ft above the town was. The steps straight up lead to a small shrine housing a Ganesha idol. Confused, we retraced our steps and mid-way turned right only to find another temple, one that of Lord Murugan. Right then, what we almost missed was, the centuries-old Jain relief sculptures well hidden behind temple walls.
On taking a closer look, I noticed series of sculptures—of Jain deities on unimaginably huge boulders. They exhibited great detail and most of the sculptures have remained unscathed bearing the brutality of extreme weather over many centuries (also owing to the fact that rock formations at the top of the hillock has remained unaltered) There were approximately 150 relief sculptures and as per records they are dated as 768-800 AD. Some interesting sculptures were—independent Jinas on lion throne with fly-whisk attendants, standing devotees, triple chattra, halo and a tree, statue of Gomateswara with vines encircling his legs and statue of Jina Parasvanatha.
A board by the Department of Archaeology explains that most of the sculptures were commissioned works of patrons.  It is speculated that they traveled long distances to complete the commissioned works here, making Kalugumalai an important Jain site for Jain communities in Tamil Nadu. According to it, the sculptures and epigraphs at Kalugumalai are assigned to the reign of Pandya Parantaka Nedunjadaiyan.
Another interesting part is how some sites in Madurai—Mangulam, Kizalavalavu, Puliakulam, Anamalai still bears witness to Jain ascetics' harsh way of life. After walking for hours I was treated to the sight of carved out, polished boulders that were used as sleeping places, shallow pond that collected rain water for drinking, hole on the rock surface that aided in grinding medicinal leaves when necessary, and rock cuts that prevented rain water from entering their living spaces. According to Nagendran Natarajan, patrons who sought blessings of ascetics assisted them in making their abode suitable for living. To be noted—every work undertaken had the patron's name inscribed right next to it.
At the end of four days, having toured much of the Jain sites in Madurai, it is to me not only a temple city and a birder's paradise, but it is a city with overwhelming historical wealth. I am convinced that Madurai and Kalugumalai undisputedly deserves its rightful place at the top of any travelers list.