Mumbai so-called Maya Nagri & the financial capital of India, prominent for Bollywood stars & local trains. Where the thought of crowded local trains makes nervous system stop responding, the love for Hindi cinema propels.
Beep Beep!!! As usual, I was about to delete the message in my inbox. But the word "free, "discount" works wonders with woman's brain I think, which made me read the message. The promotional offer was from ND's Studios. The offer said that the prices slashed down to 80%, so, I & my husband made spontaneous plan to make a visit.
#TravelLikeAPro: Subscribing your contact number & email id for offers can work out to be very lucrative sometimes.
A film studio built by famous art director Nitin Desai. This Bollywood theme park was only meant for the shooting of commercials, TV series, movies. But in Feb 2018 they opened their doors for all the film fans.
WHAT TO SEE
The Bollywood theme park by Nitin Desai is spread over huge turf. Located near Karjat & equidistant from Mumbai & Pune is one of the latest attraction for travelers as well as for the Bollywood fans who are in search for a weekend outing.
From the entrance, you will be taken swiftly through the sophisticated box office windows than through the rustic feel of the village & then experiencing the royalty of the palaces.
FILMY DEEWAR
The feel of the melodrama starts as soon as you enter the BOX OFFICE. Yes, that's the point where you buy your tickets. Greeted by the character you will be assisted to the Filmy deewar. This wall represents the movies since the era when films in India was started.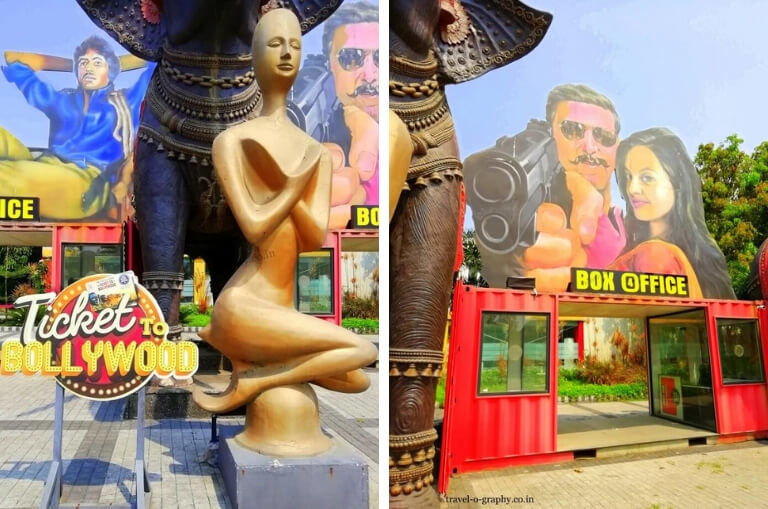 #TravelLikeAPro: There are around 360 movie banner painted on the Fimly Deewar dedicating to the 100 years of glory of Cinema.
For kids, there's a play area too, THE DINO PARK.
TIMES SQUARE
Moving ahead is the Times Square. This square is more of Connaught Place than the times square itself.
Moreover, it has a JAIL THEME RESTAURANT, few shops & green room. The square also has a replica of the famous CMST station.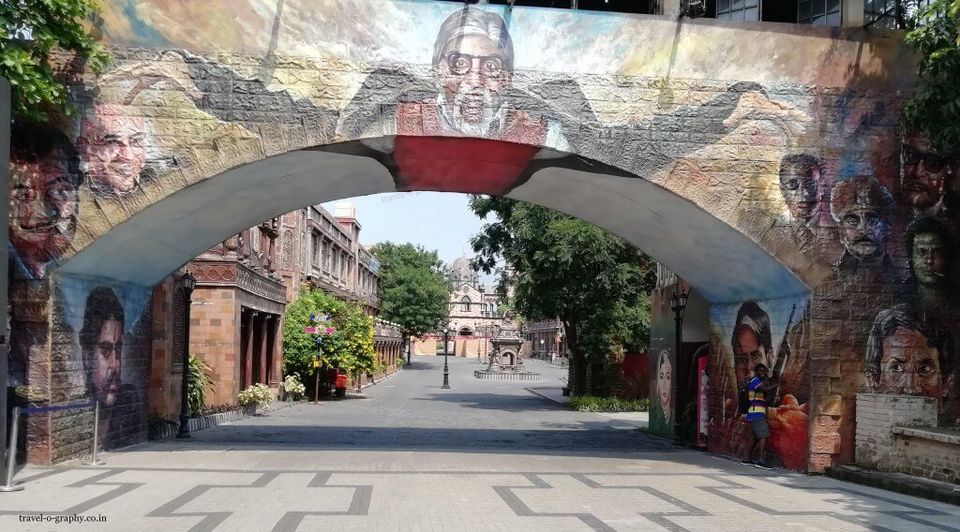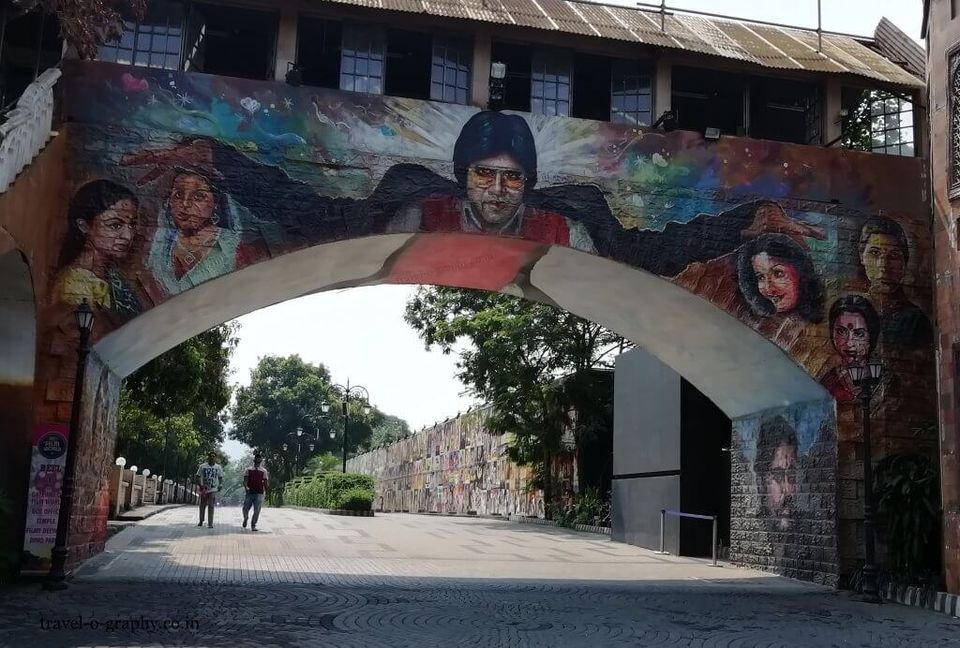 #TravelLikeAPro: You can get a makeover with the look & attire of the star that you adore.
CHOR BAZAAR
A lane where you find all the antique stuff as you do in the real Chor Bazaar. All these items are been used in the movies. You also have an option of buying these items too.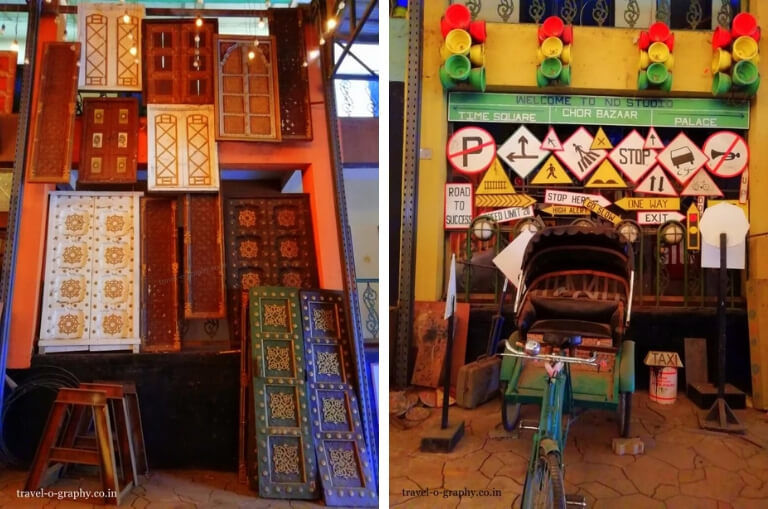 DEEWAN-E-AAM
This massive set of Agra fort was seen in the movie Jodha Akbar. You will be awed by the Antique doli's, swords & variety of shields. Embrace yourself in the times of ancient India in Deewan-e-Aam.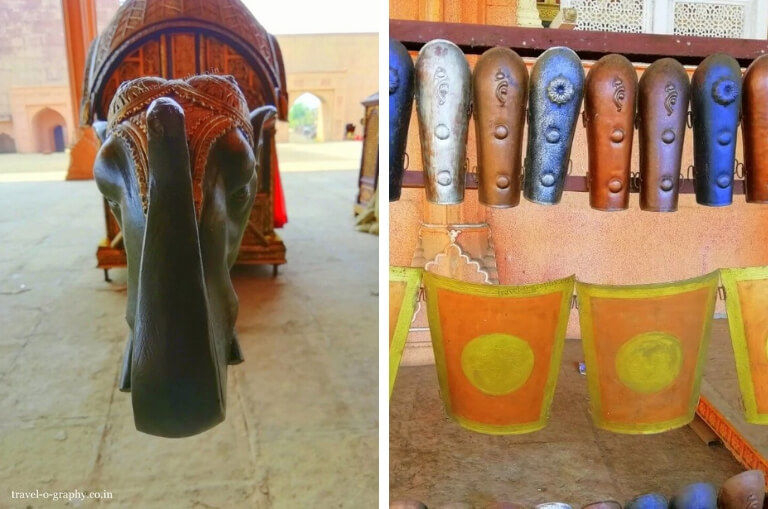 SHEESH MAHAL
Remember a room full of mirrors & the dance of Anarkali? The same concept but for a different movie (Prem ratan dhan payo), is installed here. Everything is magical at Sheesh Mahal, the rotating doors, mirror motif peacocks, the side table, the bed. From ceiling to the floor you just see yourself reflecting in the mirror.
THE VILLAGE
What to expect here?
1) Muddy road
2) Few houses
3) A temple
4) A lake
It is named as Mera gaon Mera Desh.
SAMRAT ASHOKA
Unveiling the aeon of Maurya empire. This magnificent set is mind blowing with huge ceiling, Shahi darbar, their bedroom & the living room.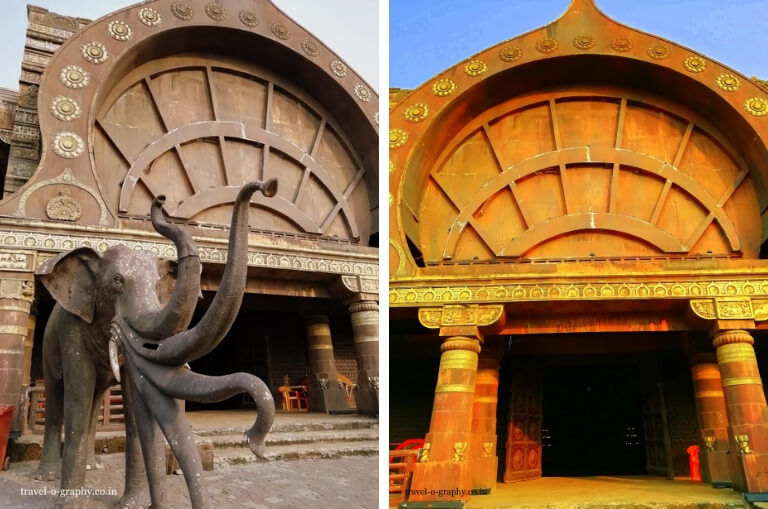 ROYAL PALACE
Royal Living ( of course, temporary ????) is here. A replica of the lattice work & havelis of Rajasthan also has huge lawn.
THE BOLLYWOOD SHOW
If you are a real fan of bollywood you will enjoy this show thoroughly. This gigantic stage is used for the performance of the best musical show of this age. With numerous excellent artist working backstage to make the performance on the stage worth it & entertaining, APPLAUD is what they need.
Live your Filmy Khwahishey.
GADH KILLA
A facsimile of the fort of Raigad. The home town of Chhatrapati Shivaji Maharaj where his coronation ceremony took place is worth visiting.
EATERY
Within the vicinity, there are 3 restaurant.
JAIL KHANA: A restaurant with the theme of a Jail.
RETRO CAFE: A cabaret stage with dim light decor makes the ambiance perfect for 70's era. Dine here to relive those nostalgic moments.
KHAU GALLI: It's the same that we see in most of the suburbs & towns in Mumbai. An alley with food stalls!! You have variety of spread to choose from. The only drawback I found here was it was very hot & with less ventilation.
#TravelLikeAPro: Walking shoes will be preferred.
STAY
Along with different sets, they do have provision for stay, consisting of 6 chalets & 150 room for the crew. Also, they are planning to come up with a hotel for increasing number of Bollywood fans visiting here daily. Apart from this you can very well opt for properties near KARJAT & KHOPOLI.
MODES OF TRANSPORT
NEAREST STATION (Local): Karjat
You can opt for rickshaw or taxi from the station to the studios.
DISTANCE FROM MAJOR CITIES
Distance from Mumbai: 120 kms
Distance from Pune: 102 kms
Distance from Nashik: 190 kms
DETAILS & LINKS
Official website: http://ndsfilmworld.com/
App: ND's Film World
Customer Care: 1800 266 55 99
Visiting hours: 11 am to 6 pm
TRAVEL TIPS
1) These sets were open when I visited here in the Oct 2018. The same sets mentioned may or may not be available as they get dismantled if they have an order of new one. Hence you may explore a new construction when you visit there.
2) While touring around we found few electric vans for the convenience of the passengers. Avail these service & ask them to take you at the end of the Theme park. Start exploring from the last set & gradually ending your day & theme park at the entrance, with this you will waste less energy.
3) For most of the sets, there are representative who will take you around & run you through the history of the set.
#TravelLikeAPro: Need a vacation for long weekends but don't want travel far? Here is a plan chalked out for you...
Opt for a near in Karjat/ Khopoli & commence excursion.
Day 1: ND Studios
Day 2: Imagica Wet Park / Dry Park
Day 3: Back home.
TOTAL EXPENSES
Entry fees is ₹ 999/-Per person. I was lucky enough to grab their Happy Saturday offer of 199/- per person. So including traveling & food we spent a total of ₹ 1500/- Per couple.
Which set would you like to visit ASAP? Comment & let us know.
HAPPY TRAVELLING !!!
Frequent Searches Leading To This Page:-
weekend holiday near mumbai, weekend trip from mumbai, weekend holidays from mumbai, 2 day trip near mumbai, weekend getaways from mumbai