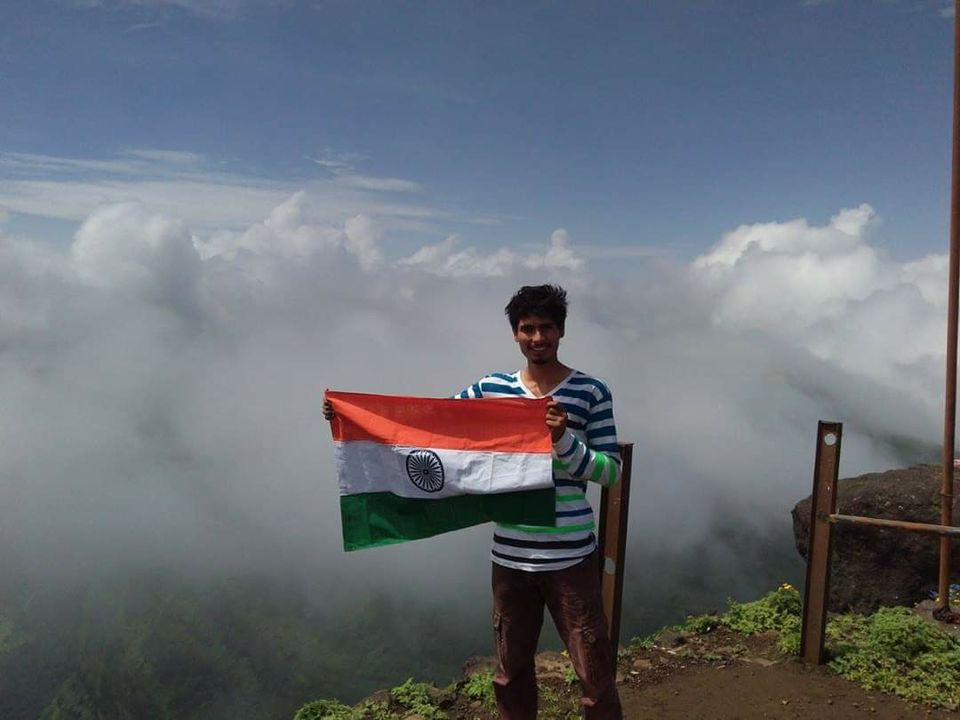 "When we travel in group _ there is a feeling of worry
When we travel alone _ there is a feeling of learning and enjoy"
How I reached -
7:40P.M.
I left my office and get train for C.S.T. I planned to trek highest point of Maharashtra & first time I am going only with myself. I have different kind of feeling between Belapur to C.S.T. journey like_ I am entering in new world and life/behavior may be change after this. I wanted to talk with my mother but couldn't connected.
I reached to C.S.T. faced 10-20minute queue get ticket for Igatpuri. It was 9:30's train Kolkata Mail.
Crowd was good and most people were Bihari & Marathi. I get seat and started to observe others. I am dame sure I will definitely enjoy my journey. There was a group of 8-9 boys, they were not giving space to others to sit. I interfered and help a person to set there. A boy of their group argued & laugh on me. He was over reacting on everything.
After some time 2 Hinjra were in and started to beg forcefully, their language was so abusive and they can hit if you refuse to give money, that same boy refused and one of them slapped on his face and his group does nothing. This is totally 'Dadagiri' they have a big gang and in short_people are not safe in trains.
Here, I alighted at Igatpuri 12:28A.M. CHAI_CHAI, PANI VADAPAV – I was hearing these words continuously from C.S.T. to here.
(Ideol place to stay at night)-
I started to see place for food and stay on station. A watchman suggested me to stay in waiting room which is free of cost. I moved there were 4 RPF officers who were waiting for their train. I eat biscuit then write my dairy _ "I wrote about how a person's behavior influence by other people and thinking level." It was 2AM and I felt I should sleep. I wear my jacket and sleep on chair. Then I woke up 6:37AM and first I put my mobile on charging, get fresh and left the room at 7 o'clock , I get a cup of tea & biscuit.
I moved to bus stop eat Misalpav here and after 5min. I get in bus for Bari village. It was a little bit of beautiful side of Mumbai-Puna highway then approach road, beautiful hills on both sides. Main stop between Igatpuri to Bari is Goti village.
Hikking begins -
At 8:43AM (sep11) I alighted at Bari & my trek begins from here. A little long road is directly took you to village. It was a small village, different structure houses, looks pretty. Everything was looking beautiful here because there is over lust of greenery. After crossing the village, I seen small stalls of tea & lemon water. There were many groups came today. As I climbed more I seen pretty scenery of nature which I had never seen before. I also clicked pictures with my phone a lot and I know – some pics will going look superb.
I didn't stop anywhere, it was a simple way, including some iron stairs to climb. I reached on top at 10:34AM. Once , I wondered that it is highest point of Maharashtra also known as 'Everest of Maharashtra (height 5400fit) and I climbed it in just 1hour51minute. It was an awesome feeling. There is a small temple of god name –Kalsubai. People were singing there their religious song which is simply tuning good. I was shouting there, dancing, singing with them. Then I sat down on edge of rock . I picked out my dairy _ noted down that moment & that feeling.
Imagine it _ "A boy with his bag and removed shoes aside, set on a rock in white clouds and cold air, writing something".
It was best feeling I ever feel,there is smell of nature. I eat food, talked with other trekkers there. I stayed there for approx 1hour. It was 11:30AM and I started to return down. I met some trekker again who were climbing.
1:08PM I was down in Bari again.
Other nearby place to explore -
Now have plane to visit Sendi village to see Bhanderdara Lake & Dam. I was waiting for sharing jeep and excited to travel on roof of vehicle here, it came and I set on roof & click pictures. A smile was fixed on my face till Shendi. Instantly I sing a song "Raho – pe – nikle" It was an awesome experience gives me lots of pleasure. & I said to myself – "I would prefer to travel alone rather then in group". I alighted to Shendi 2:00PM. I explore the local market which is setle down on road. I asked for way to Dam, and reached there, but first I want to charge my phone. I moved to a shop and order for a tea and asked them to charge my mobile. I eat biscuit and chooda with tea. It was enough for my tummy. I also got sleep for a time on chair. Then go to lake, I already asked to that shopkeeper– 'Is it allowed to swim in lake?' He told me –'no, it is not allowed'. I said –'OKh!' with a big breath and searched a place to swim, little far from there, where no one could see me. I removed my clothes and jumped in water, it is approx 200fit deep, I was near bank and dived 3-4 time, tried to keep my body deep inside as I could. Then relaxly set on the rock to see the view.
Picturize – 'blue water all around you, soft sound of water when it collapse to bank and return continually. On other side of lake it is a green hill covered with clouds' oooh… what a seen it was, I keep watching this seen.
Then move to get my mobile and later, by mistake I jumped over from a wall and entered in no entry area. Two officers were there called and asked me –' from where did you entered and what you are doing here?' I replied – 'I am here to see the Dam, but don't know –it is a restricted area and just to save my time I choose to jump from there instead to enter from gate. But I really don't know about restriction'. Thanks, that they didn't hit me and all matter get soled easily. & the big thing is I was not afraid.
Return ~
Its time to return. I have to go Warngoshi phata because I thought I will get bus more early for Kasara from there. At 3:50PM I get a local vegetable tempo, I set backside with other passengers. I asked them about there work, and I like to see myself that I am able to communicate in local language. I also clicked photos with them. 4:16PM I was at Warngaon phata & I was wrong I had to wait for approx 2 hour for bus. I was waiting but didn't get bore, I was enjoying it silently, peacefully by sitting on chair. I got my bus at 6:00PM and purchased ticket for Kasara, get seat after 10minute and sleep. It was last stop Kasara, I alighted and get in train for Kurla 8:15PM. Again sleep, then changed train for Belapur from C.S.T.
I alighted at C.B.D station on 11:36PM and reached to my room on 11:59PM what a timing, what a journey – in one word "Awesome".
Thank you