This day's target : Borli to Anjarle ~ 90kms crossing Shrivardhan, Harihareshwar and Kelshi
With these mileage targets and places to stop by, it was prudent to start with first ray of the sun. Day began at 6.30 am (sharp).
Don't miss the story on Humans of Konkan in trailing pictures.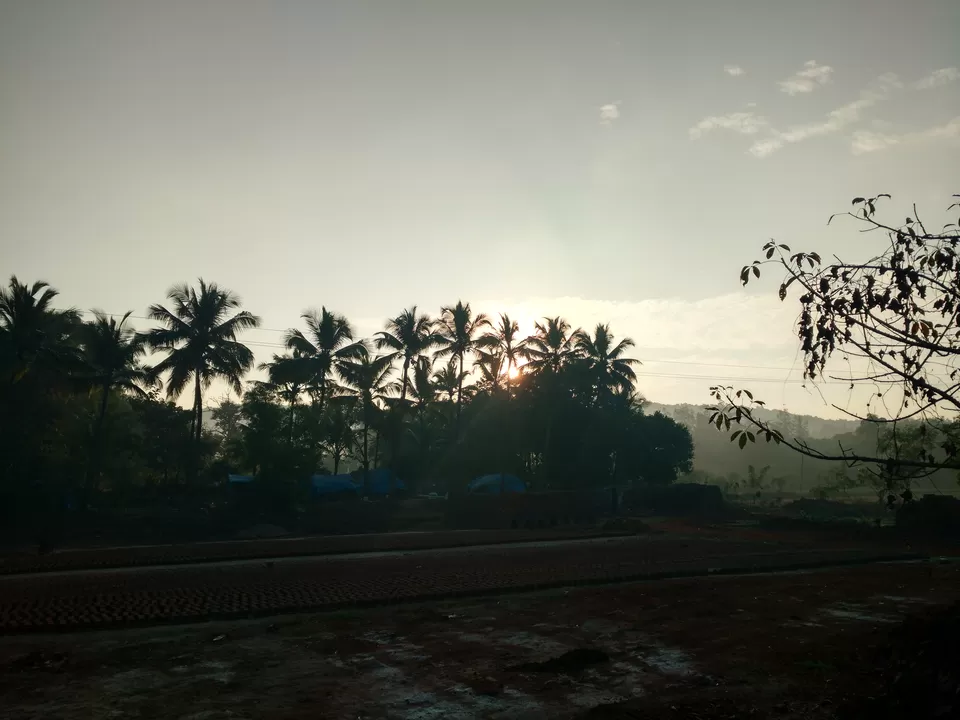 Morning ride is the best part of cycling with beautiful sunrise, deserted roads and cool breeze
Road less travelled. Travelling through interiors is mesmerizing
The Godfather and Captain America were kind enough to keep the company for an hour. Constant chatter and barrage of questions kept me engaged
Gearing up for a short sail from Bagmandla to Bankhot. Third ferry ride in two days.
Out for an afternoon boat ride and some sun
Original plan was to ride from Bankot to South of Velas (10 kms) and hop on boat to ride across Kelshi (left picture)
12 noon: As I got off the ferry at Bankhot, few locals informed that boat ride at South of Velas to Kelshi has been discontinued. This meant an additional ride of 15 kms (right picture)
12 noon to 3.30 pm was the worst time to ride with brutal sun and extreme humidity. Adding to woes, this route had limited green cover and landscape is barren. This meant an additional hour and half on the saddle.
No matter how stressful the day has been, there is nothing children can't defuse and destress.
Few kids of Bankhot suggested a round of cricket match, an offer I certainly couldn't refuse.
Few shutterbugs were quick to grab my phone to try their hand. Must admit some really nice pictures capturing the intensity of the game.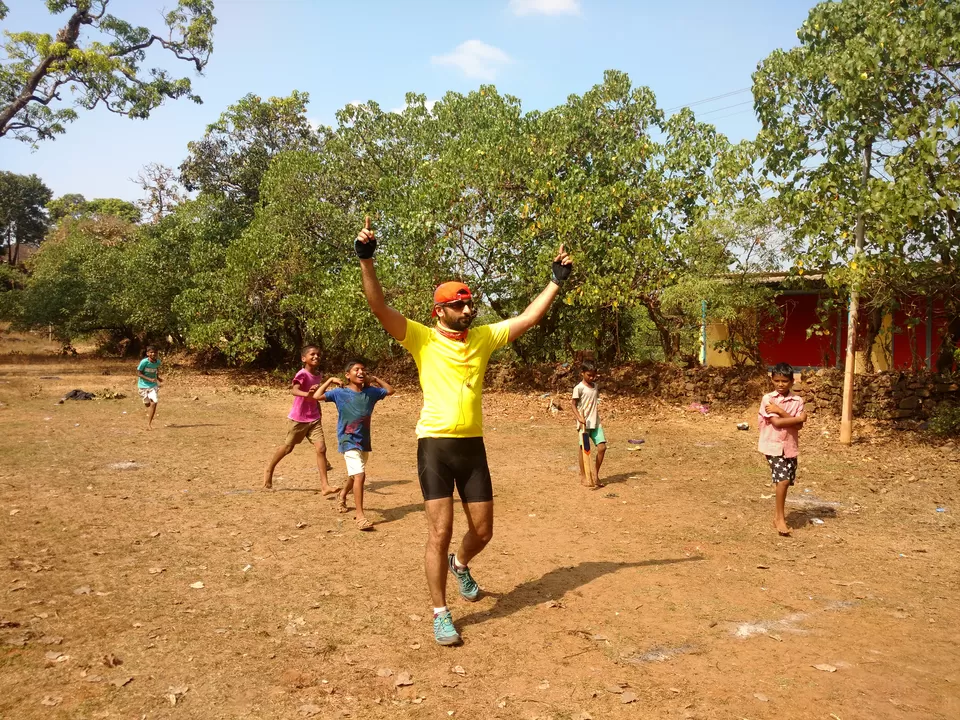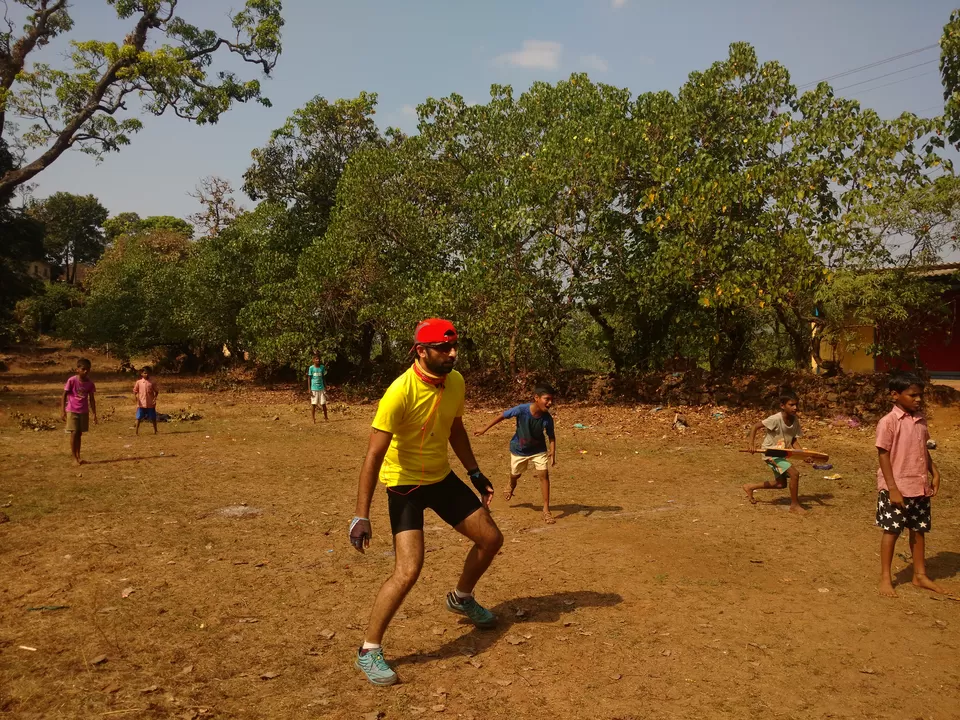 A negotiation on a run out which quickly turned into a heated debate and lead to a brawl between two boys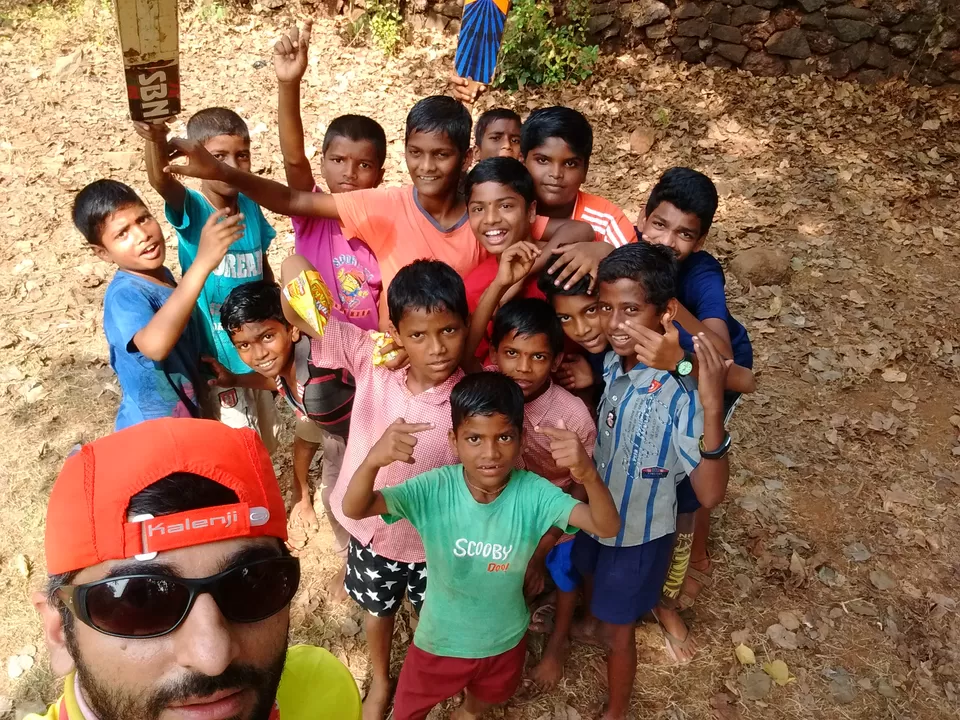 Parting selfie – don't miss the Scooby Doo, our very own R Ashwin. He managed 4 wickets out of 6 and turned tables.
A secluded beachfront after Anjarle.
Ship building in progress at Harnai village. Harnai is major fishing town. Every evening fresh catch is auctioned starting at 4.30 pm, it's a tourist attraction. These are further transported to Dapoli, Pune and other major towns.
Four forts are close to this village : Harnai, Kanakdurg, Fattegad and Suvranadurg Fort. Very little is known about first three and Fattegad is pretty much non-existent.
Seen in the picture is Harnai fort
Towards left is Harnai Fort and right is Suvarnadurg Fort.
Suvrnadurg is a sea fort. The fort has been built on a rocky isle.
According to some historians, this fort belongs to the Shilahar dynasty. While others believe that Adilshah had built this fort in the 16th century. In the year 1660 AD Shivaji Maharaj conquered it and after annexing it to his vast kingdom, he restructured and strengthened the fort. He also placed a permanent naval fleet at this fort. Later, Kanhoji Angre managed this fleet and with its help gained control over the western shores. After Kanhoji's untimely death in 1729, Tulaji Angre further strengthened this fleet. Tulaji did not cooperate with the Peshwas in 1755. Peshwas with the backing of the modern British fleet defeated Tulaji Angre and gained control of all the forts under his command. In lieu of this favor, the Britishers retained the fort of Bankot as payment for their services and handed over Suvarnadurg to the Peshwas. In 1802 Bajirao Peshwa II had taken asylum in this fort. The British conquered it in 1818.
Source: The Sahyadri Companion
This picture has an interesting story to tell.
Humans of Konkan are extremely kind and compassionate. Here is one more example. As I rode into Harnai village, met a stranger Muazzam (guy on the right). Enquired about homestays and within next few seconds gentleman was on the roll. He took me around to few plausible options, selected the best one, negotiated profoundly the best price for stay & food (all-inclusive Rs. 500), rushed to local market, got evening snacks & juice and insisted on buying fish for evening dinner. And it didn't end there, he enquired everyday about my whereabouts and safety till I reached Goa. All this for no monetary gain / motive
Who the hell does that for a stranger! Speechless
Night's rest was at a quaint home overlooking the ocean. Owner, local fisherman was a fantastic host and served delicious fish biryani.
Down 215 kms in 2 days, day ended on a somber note. My hands and legs were cramping due to severe dehydration, nausea, chaffed and loneliness crept in. Unable to handle it I decided to call off the trip. With the break of dawn I decided to ride to Dapoli (15 kms away) and hop on a state bus, head either to Mumbai or Goa.
Do drop in your comments, likes / dislikes
#solocycling #cyclethekonkan #konkancoast #kokan #solotravel #maharashtra #goa #goarivermarathon #adventure #marathon #yolo #travelsolo #travel #murud #janjira #murudjanjira #kashid #revdanda #mandwa #alibaug #kihim #mumbai #gatewayofindia #cycle2work #konkan #forts #ahmedganjpalace #navyday #bankot #bagmandla #harnai #suvrnadurg #harnaifort #harnaibeach #anjarlebeach #diveagar #harihareshwar #shrivardhan
www.bikatadventures.com