Monsoon!!! Finally the most favourite season for trekkers has arrived. My heart started to wander around the beautiful landscapes of the Western Ghats. I was day dreaming about the places, and suddenly my brain woke me up, by putting the end card to the movie that is being played in my head. So now I have to plan for a trek immediately. Speaking of this, I have to say Mobiles have completely changed the way we live our lives. Everything is just a tap away from our fingers. OK, so why am I talking about Mobiles?? Aren't we supposed to plan for a trek?? So let's continue, the immediate thing which I have done is open my mobile, log in to meet up. There you go, we have an event already planned for Jun, 24. So now you must be knowing why I spoke about mobiles :p
I have booked my slot for the event, and was waiting for the day to come. Once am done with this, I asked one of my friends about his plans for the weekend. He said, nothing much, we have the forecast showing some rains in the coming week, so not planning any where, just enjoy the rain from my balcony with a coffee in my hand. So I thought, if you say looking at the rain with a coffee in your hand is an amazing experience. Then what you call about getting drenched in rain, with a travel bag on your back surrounded by dense forest, mountains, and waterfalls of course. Drinking a coffee in this place, would be a magical experience. And then I thought everyone has their own ways of enjoying life.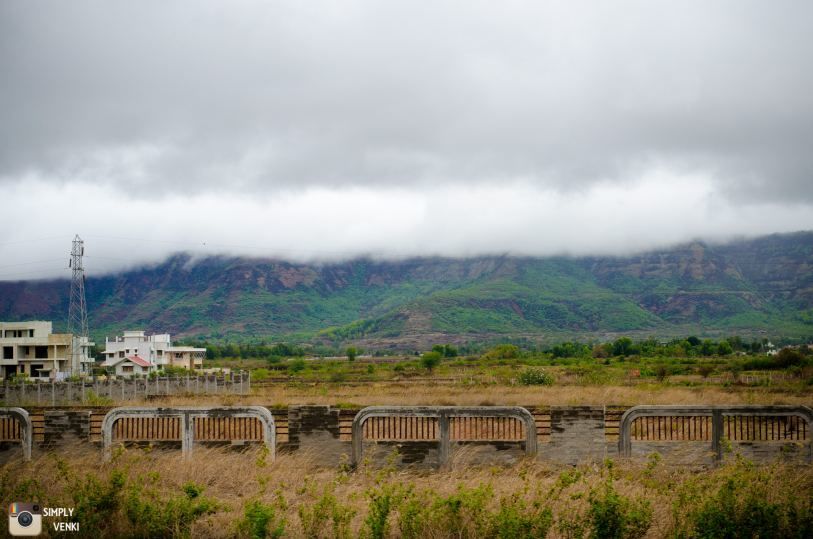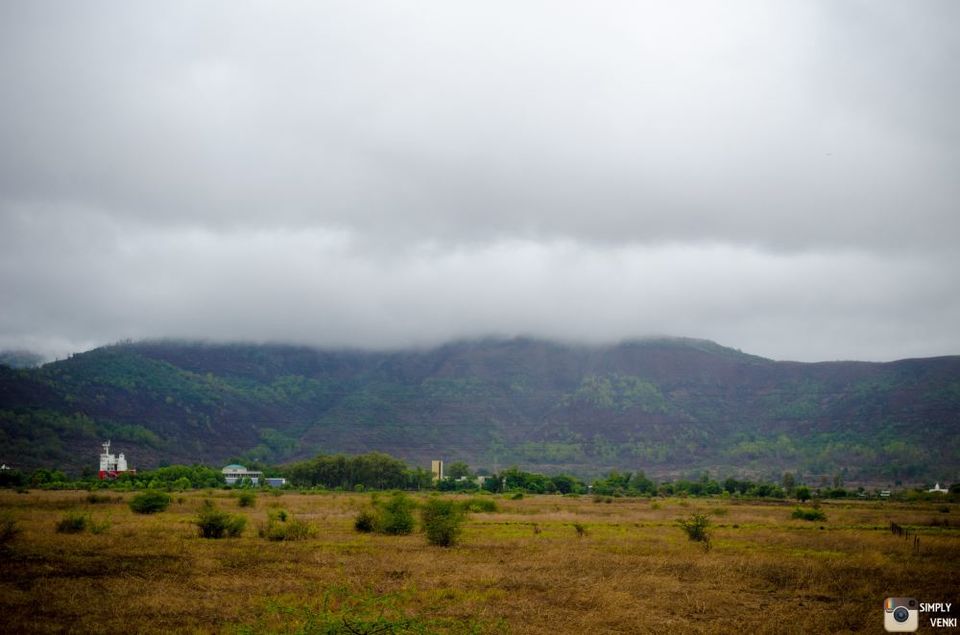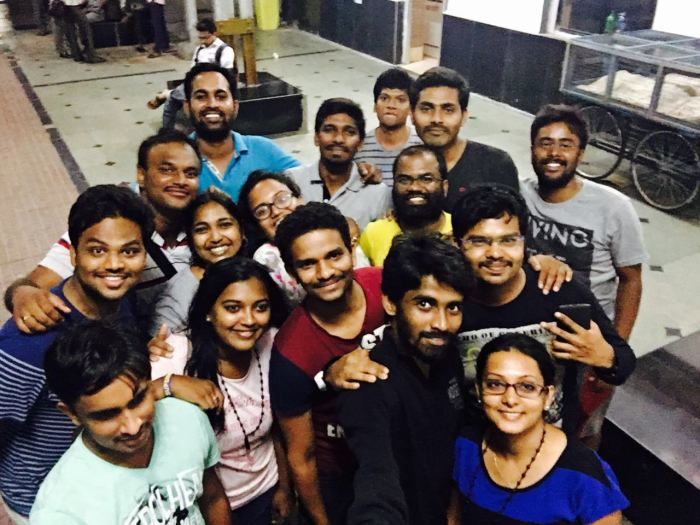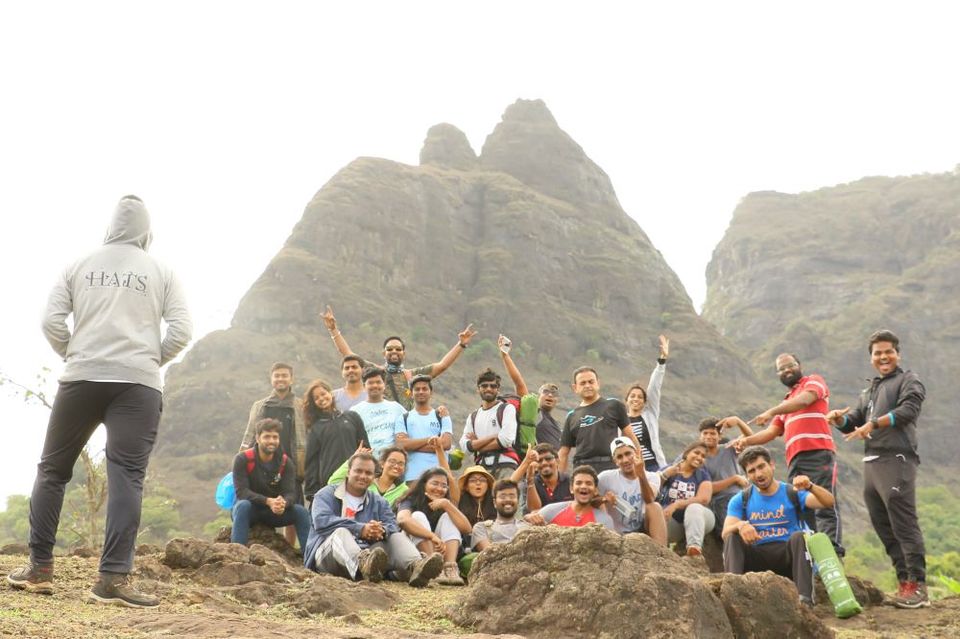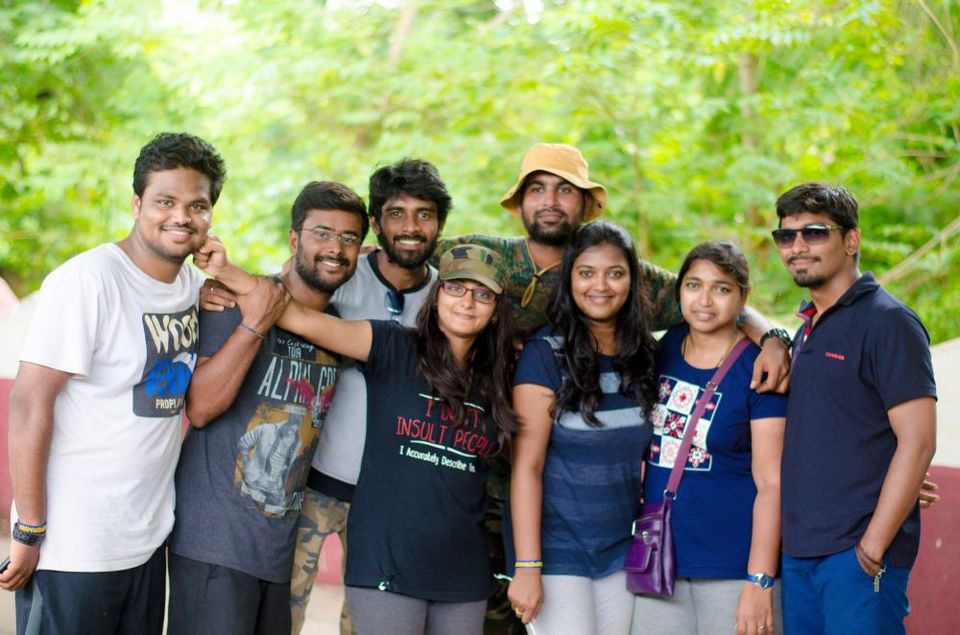 It's almost weekend and my legs started getting restless, that means it's time to get out and explore the great Western Ghats! So I stepped out from my office and reached my room, and started packing things, if you have ready my previous article(
Gokarna Diaries
) then you must have known about my most important item to pack. In the next one hour I reached the railway station, from where we will begin our journey. Did I mention the place where we were going to?? Guess NO, I forgot that out of excitement. It's Kalavantin Durg!!!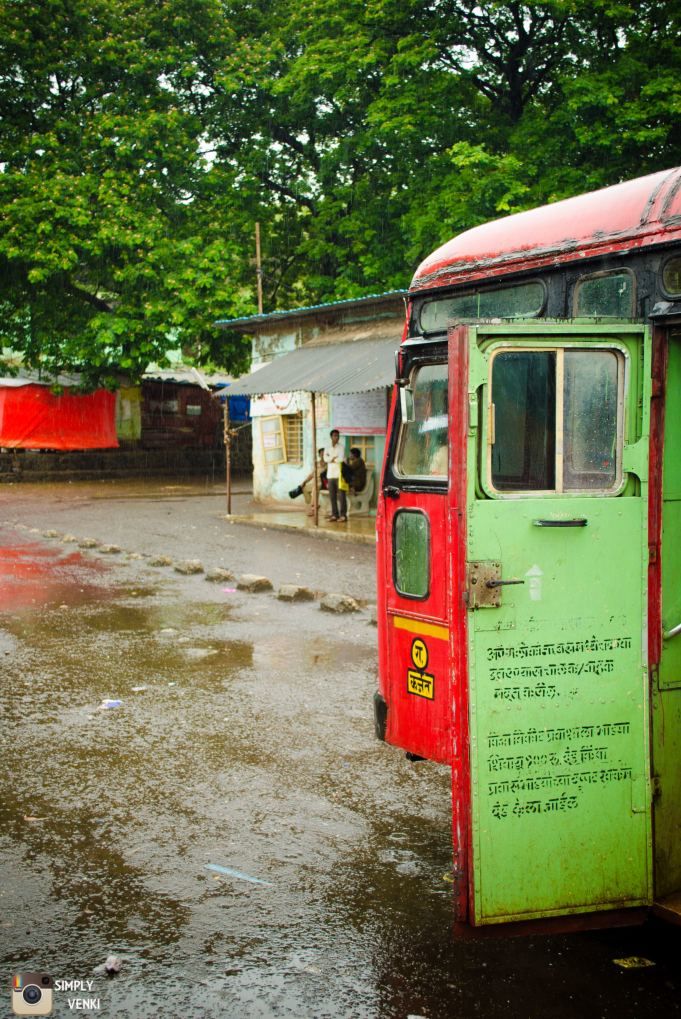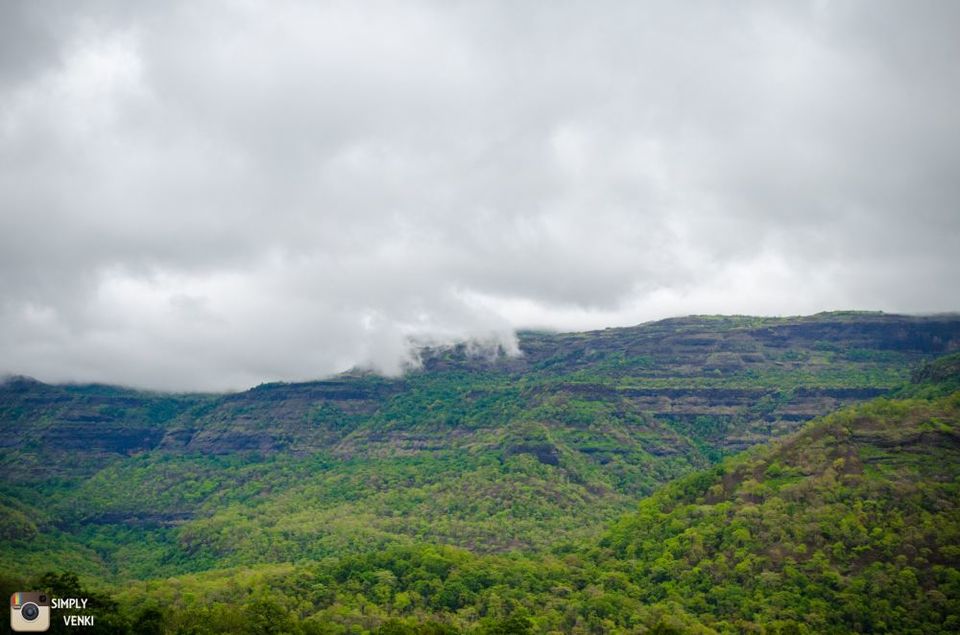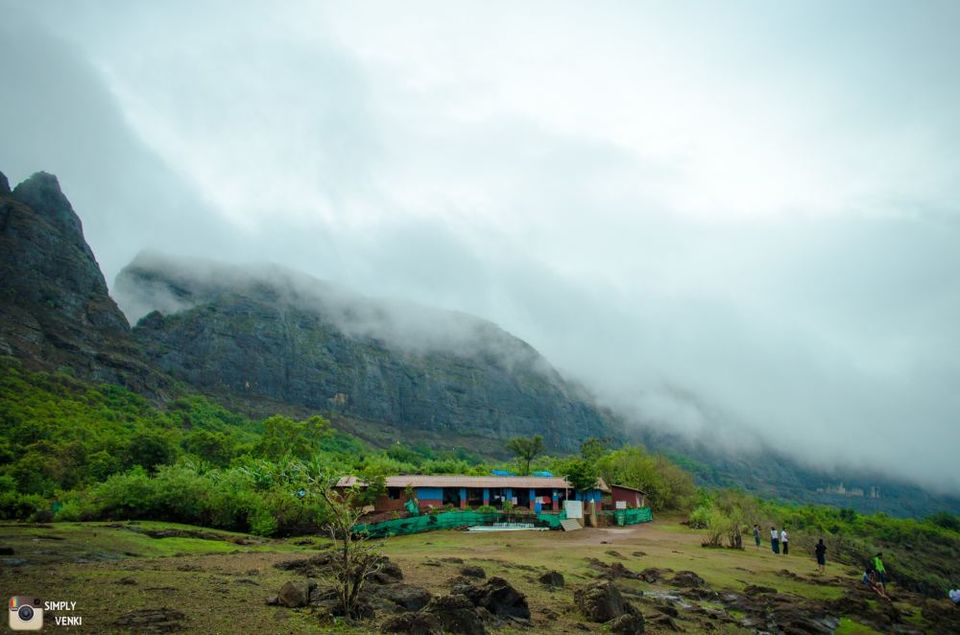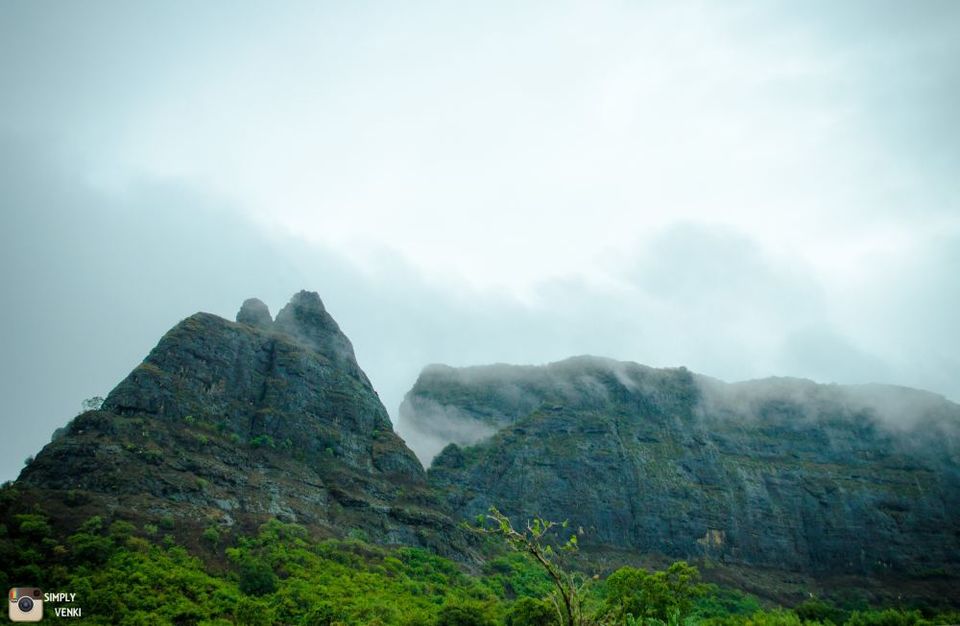 Prabalgad Fort, also known as Kalavantin Durg (Kalavantin's Fort), is located between Matheran and Panvel in the Indian state of Maharashtra, at an elevation of 2,300 feet in the Western Ghats. At a height of 2300 feet, Kalavantin Durg is yet another high peak in Maharashtra that beckons enthusiastic trekkers. It's an uphill climb and takes around three and a half hours for one to scale and reach the peak. Making your way, through a road which runs a little away from the base village Thakurwadi you begin with the snaky road that leaps and bounds and leads you to the peak. Now you may ask me, what's the fun in climbing it? The real excitement is in the dense forest, lush green mountains, slippery rocks littered with several waterfalls. Every step you take, you can listen to the tune of the birds chirping, water falling and the energetic voices of the fellow trekkers.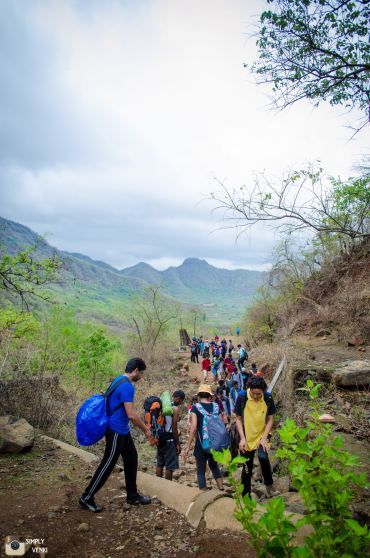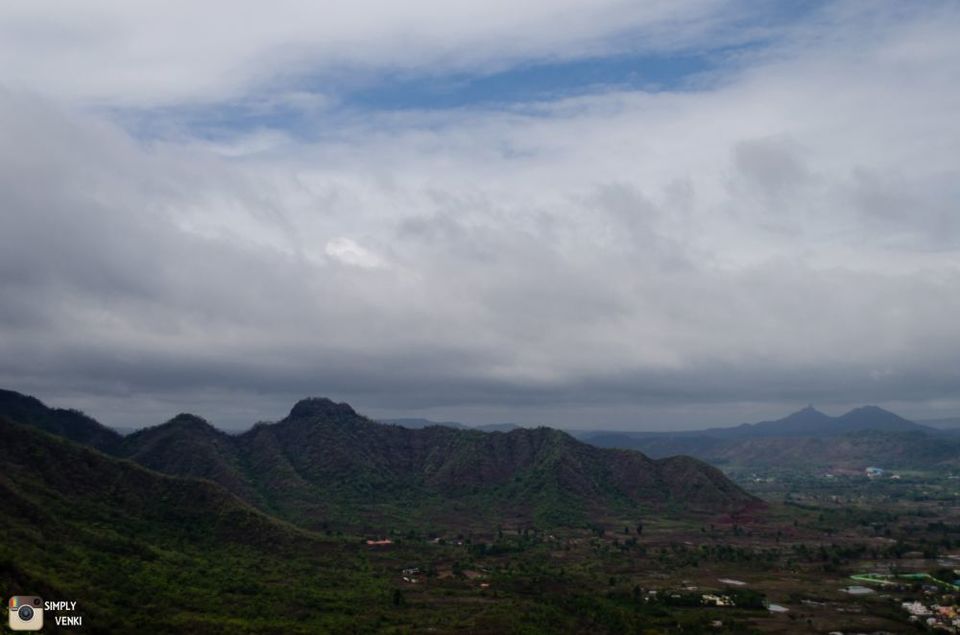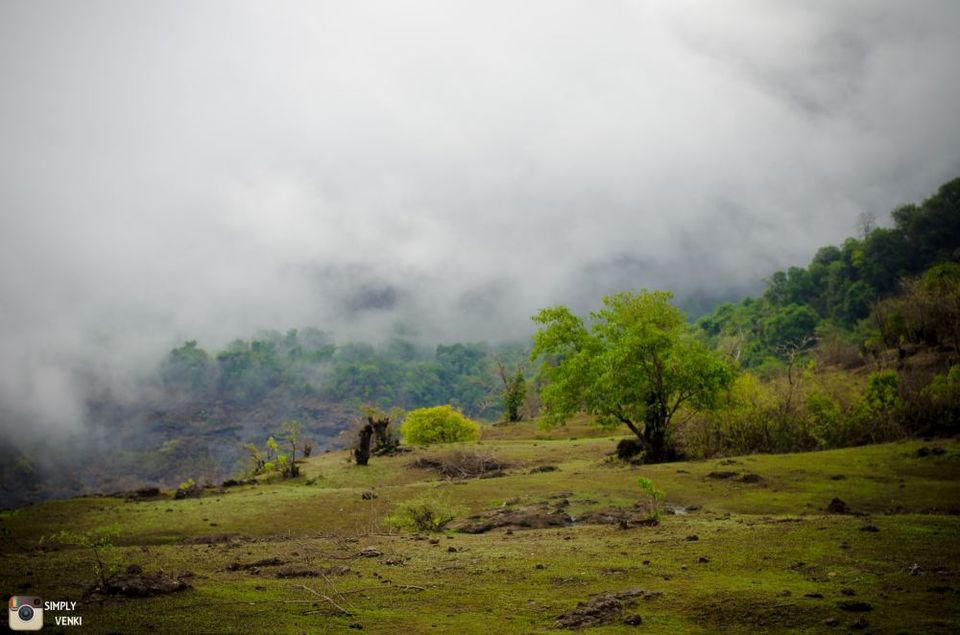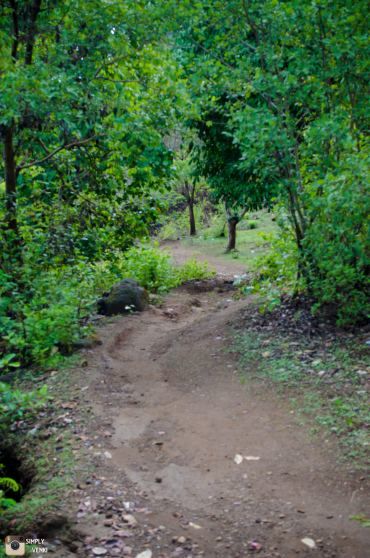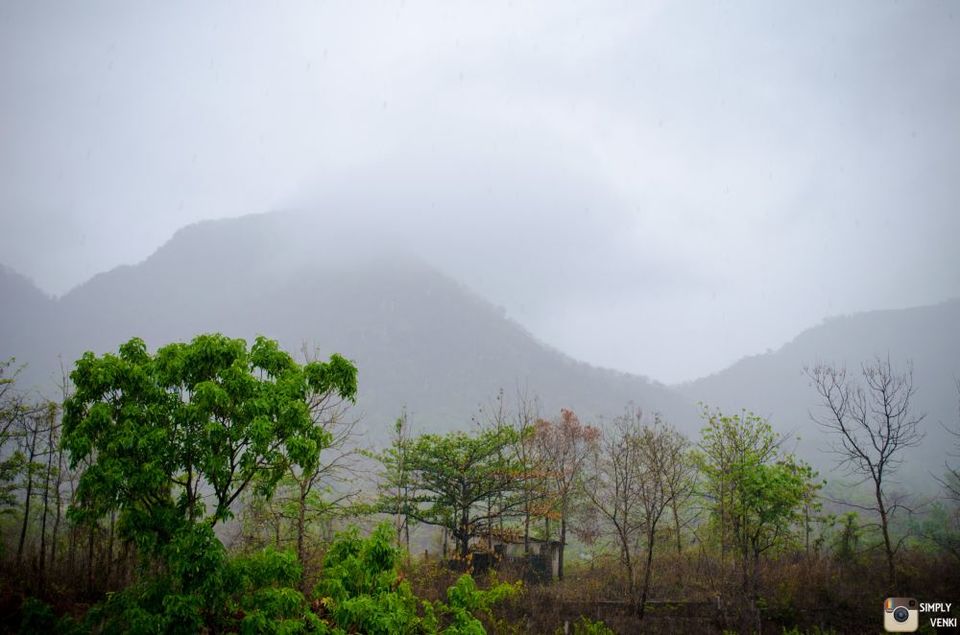 Everyone started reaching the station, we were total 26 members and everyone reached on time. Now you may ask me a question here, do you know all the people you are travelling with? I say NO. I had few friends from my previous trek and the remaining ones were all Strangers!! Travelling with strangers has its own advantages, you get to meet a lot of new people from varied backgrounds, you forge a lot of new friendships, and you meet lot of inspiring people who fill your life with so much of positivity. With 26 people around, you can imagine the magnitude of noise which we will be making. We boarded the Mumbai Express and started settling, we divided into three groups, as everyone can't accommodate in a single cabin. As expected there was a lot of noise and we were in full flow, almost 3 hours passed chit chatting, and our organisers have started warning us about the noise levels. Most of the people in the compartment started sleeping but we were in no mood, to take a nap that soon. So we continued our gossips for 2 more hours, before going to bed.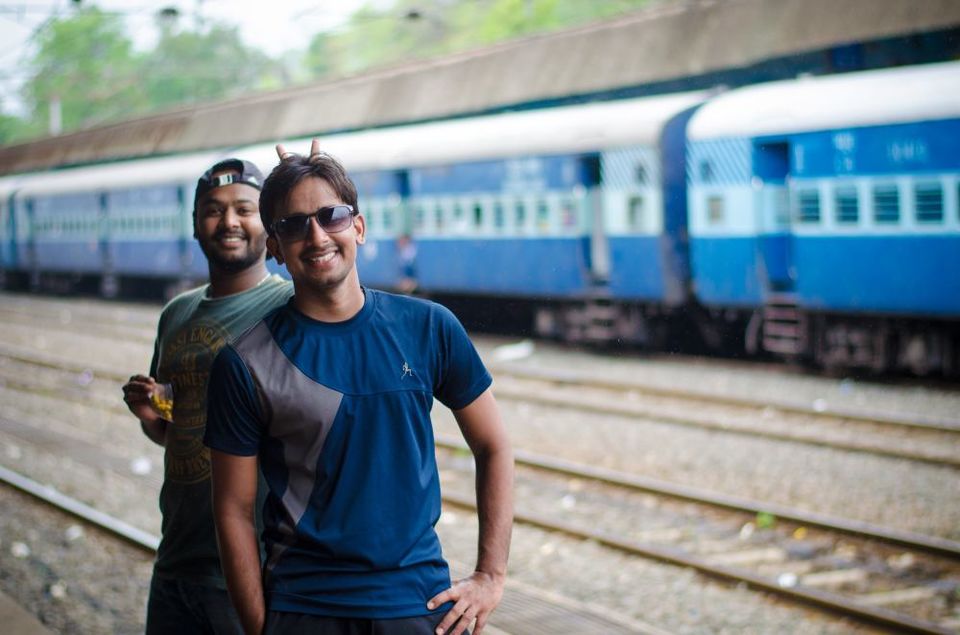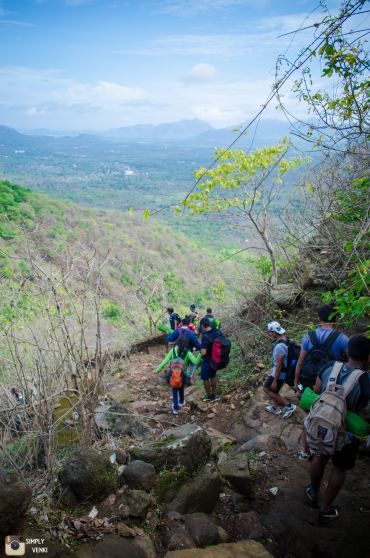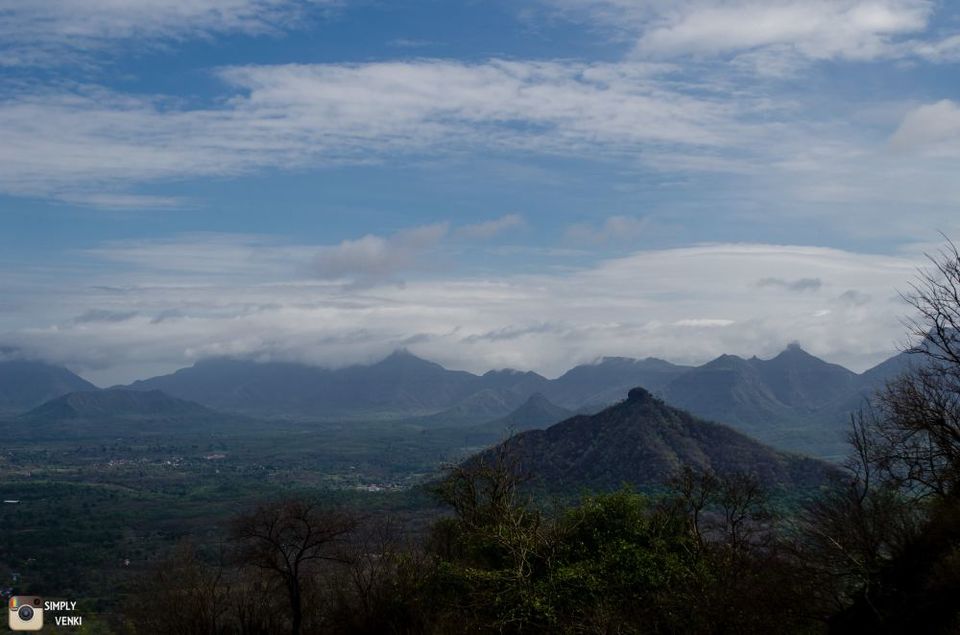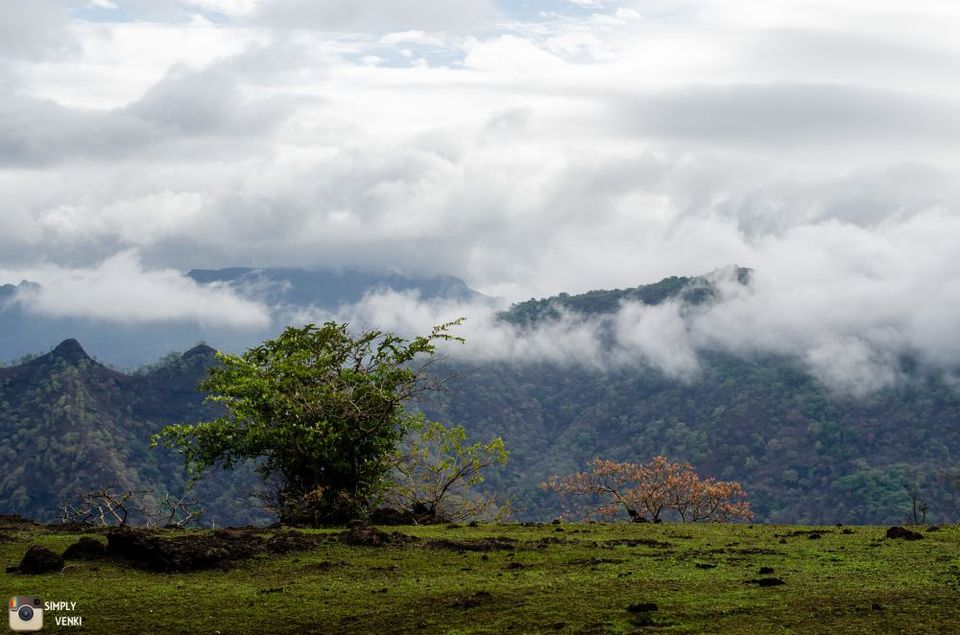 It's morning again and we were waiting for the destination, we need to off board the train at karjat, we reached pune and my taste buds are dancing to the tune of WADA PAV. I had to taste them immediately, and guess what, am eating them after a gap of more than 2 years. By the time I satisfied my taste buds, we crossed Lonavala. If you have ever travelled to Mumbai in monsoon, then you would be knowing, what's in store after crossing lonavala. We were completely surrounded by mountains with clouds kissing them on the top. The climate have changed, we have clouds completely taking charge at the moment. Am in confusion about which side to take a view. So I started jumping around both the sides, with a camera in my hand. We also crossed a few tunnels in between. Finally we reached our destination, Karjat. It was raining heavily and people with raincoats have taken them and covered themselves, the remaining ones decided to take a bath in the fresh waters. We had finished our lunch there and reached the bus stop. We had to catch a bus to reach the point where we had to start the trek. Before starting the trek, we had an introduction session. That is the time where I got a chance to take my camera again and click some pictures. I was very disappointed, as I won't be able to take my camera out because of the rain. Once we are done with the session, we started our trek.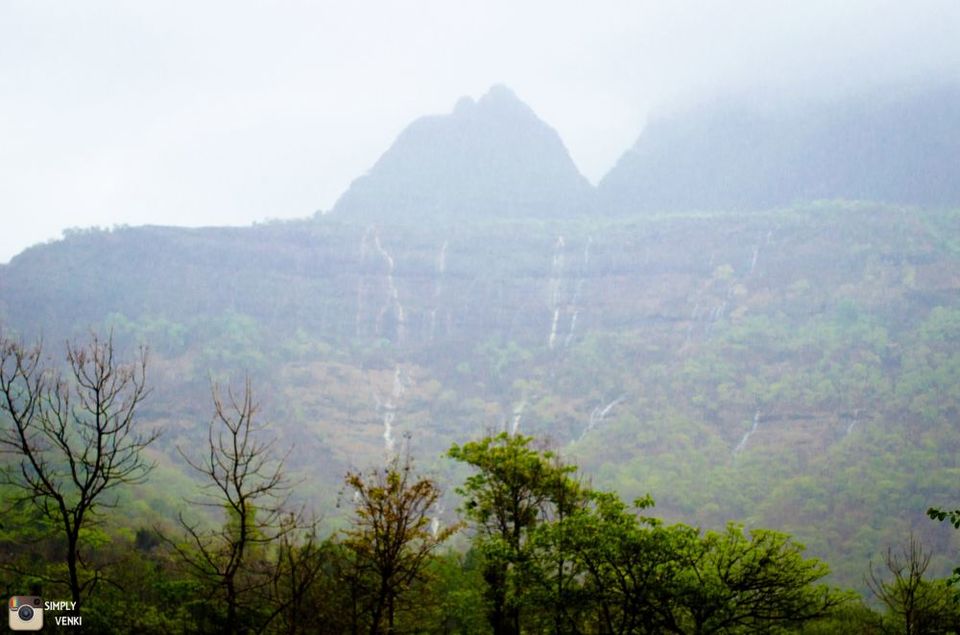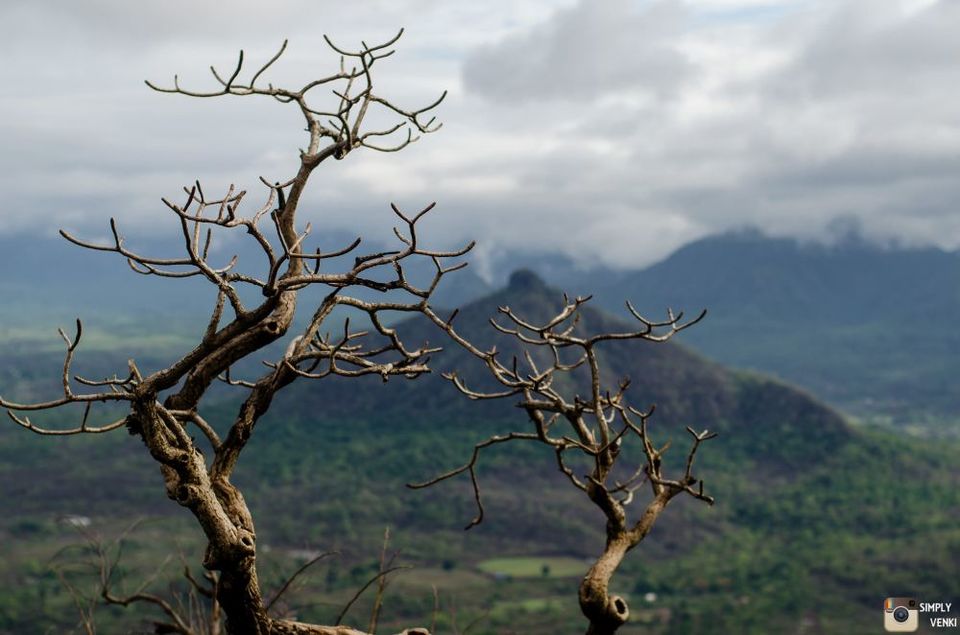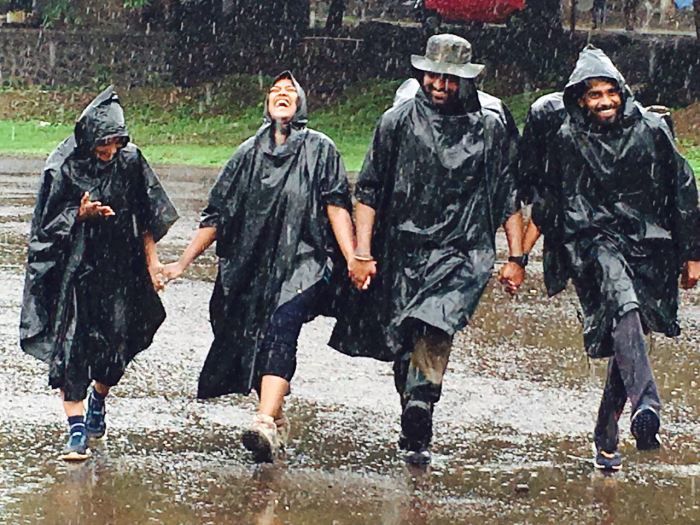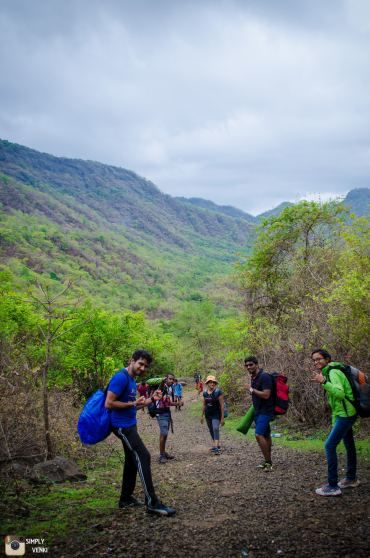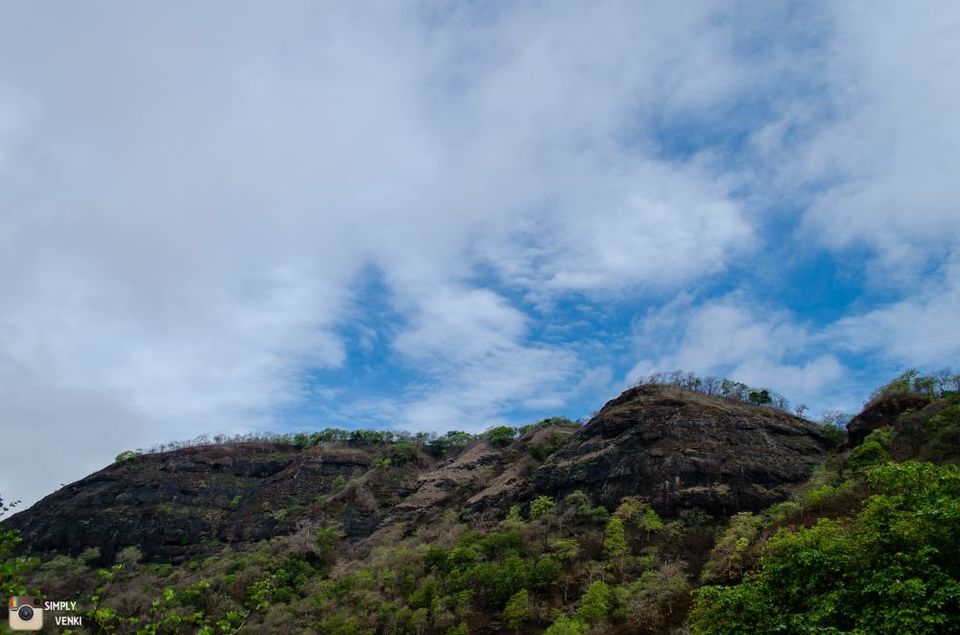 Initial path was easy. Whole trek was filled with greenery, fog and rain as well. As expected the colour green was the most dominant colour one could see in any direction. The mountains are lush green, the route is littered with waterfalls, and we were walking through the clouds. We were completely drenched in rain. The bags were getting heavier, our shoes were spilling water from within. I couldn't take my camera to capture the beautiful surroundings or the rain filled faces of us. But thanks to Motorola, few of them had water resistant MotoG phones, so we had managed to get few clicks on our way. The path all along has patches of loose mud and rolling stones. Stop along the way at the many streams and baby waterfalls and splash on some chill water to freshen up or just take a quick dip and laze around in the flowing waters for a while. We had a few break points in between, but at one point we had a tea stall, and a big rock, climbing on to this had gave us an awesome view of the surroundings. We had managed to take a few selfies here. And the most thrilling moment here is, drinking tea with rain above and surrounded by mountains, clouds and mist.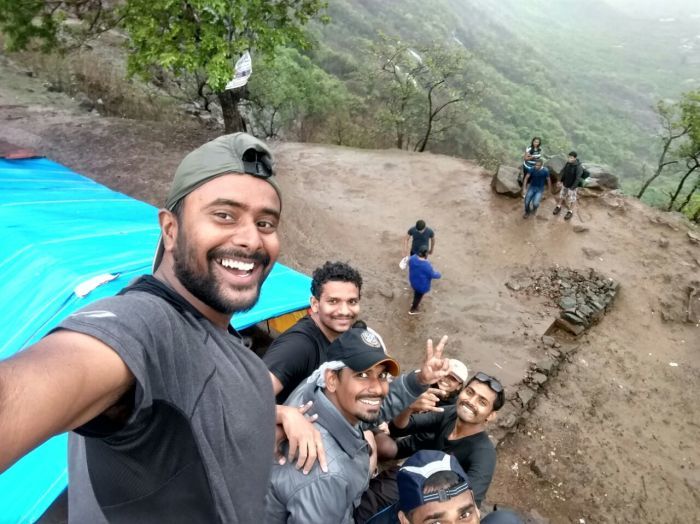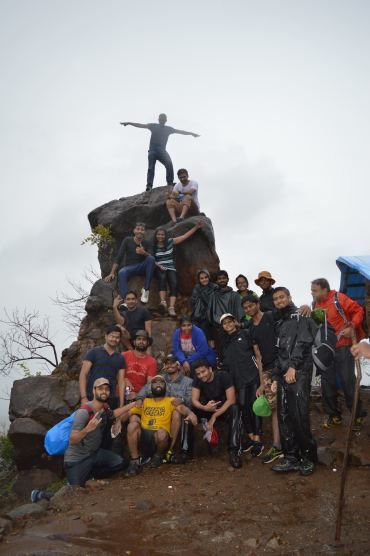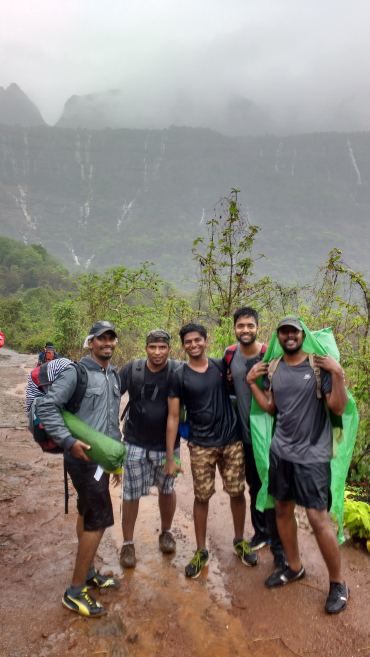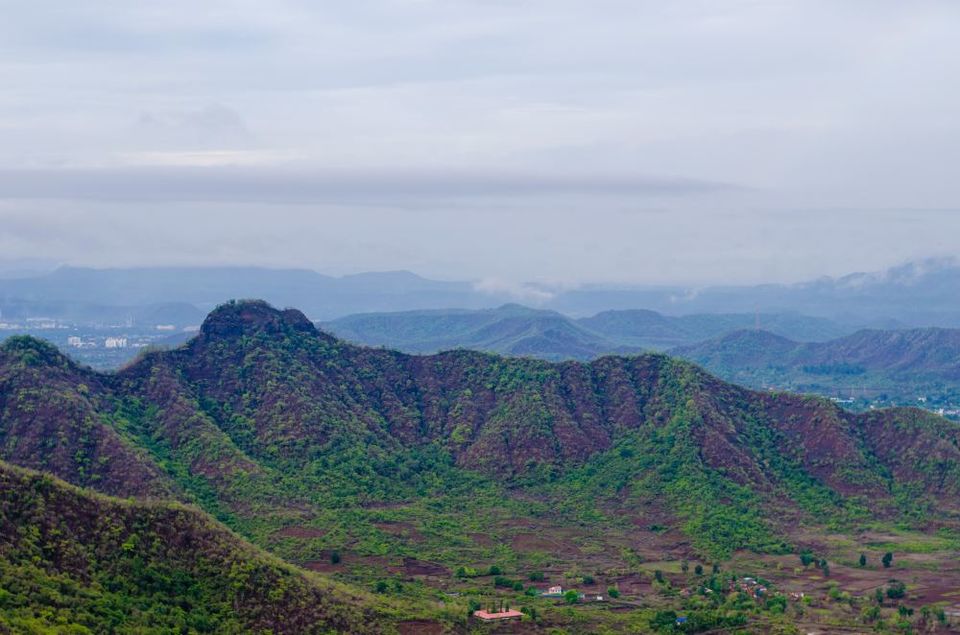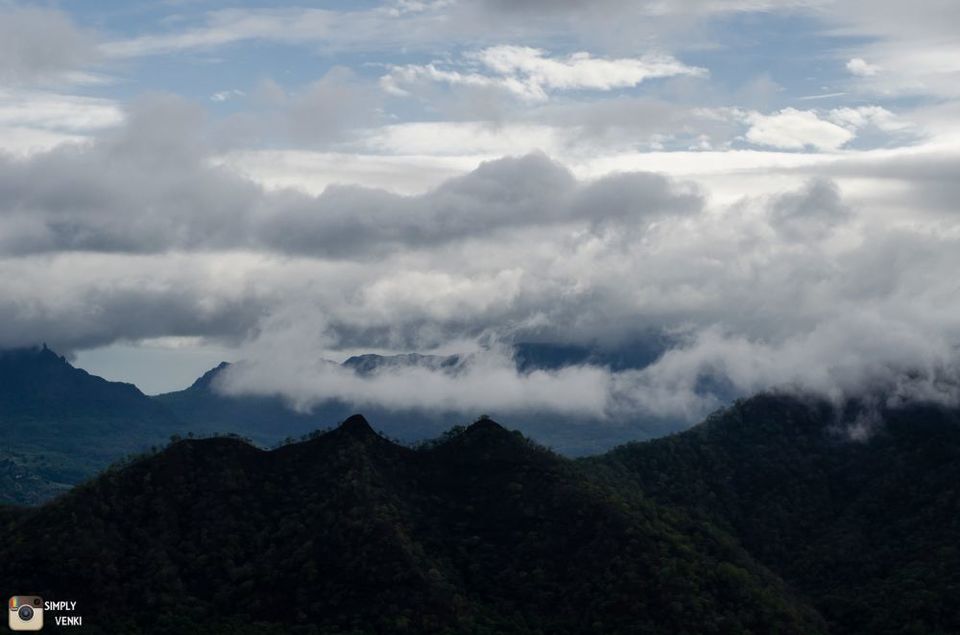 After sometime we started again and have reached the base camp. Once you reach here, you are in for a treat at a small shack which provides not only chai but also dishes out meals and makes available stay and lodging. We ordered our dinner, so that they will be preparing it by the time we reach base camp back from Pinnacle.
Main attraction to Kalavantin Peak is to climb till the Pinnacle. Steps have been carved in the mountain in zigzag way, with no protection on one side. I had listened to and read a lot of interesting stories about the steps of Kalavantin fort and now it's my turn, to tell the stories. We had mountain on one side and the other was completely exposed, while climbing the steps we can see the complete valley. One has to be very careful in negotiating them. You need to ensure your hands are holding to something while ascending the peak. Rock steps leading to Pinnacle are around 2-3 feet wide and are the best part of the trek. For many people trek ends here after looking at the exposure and size of steps. Monsoon time makes it more difficult, with rain and wind adding to the difficulty.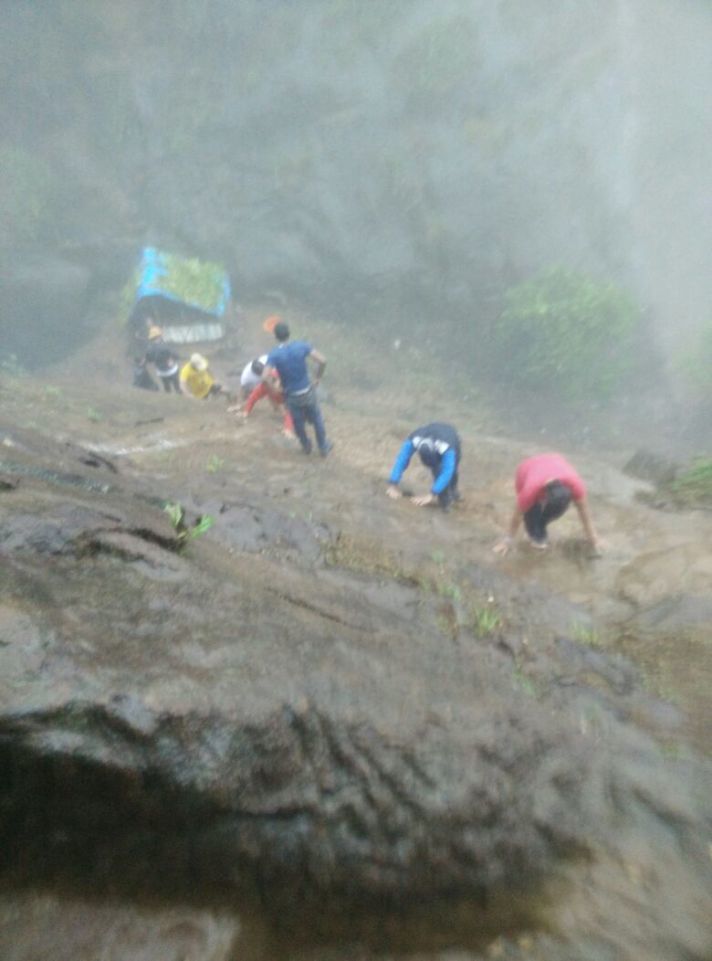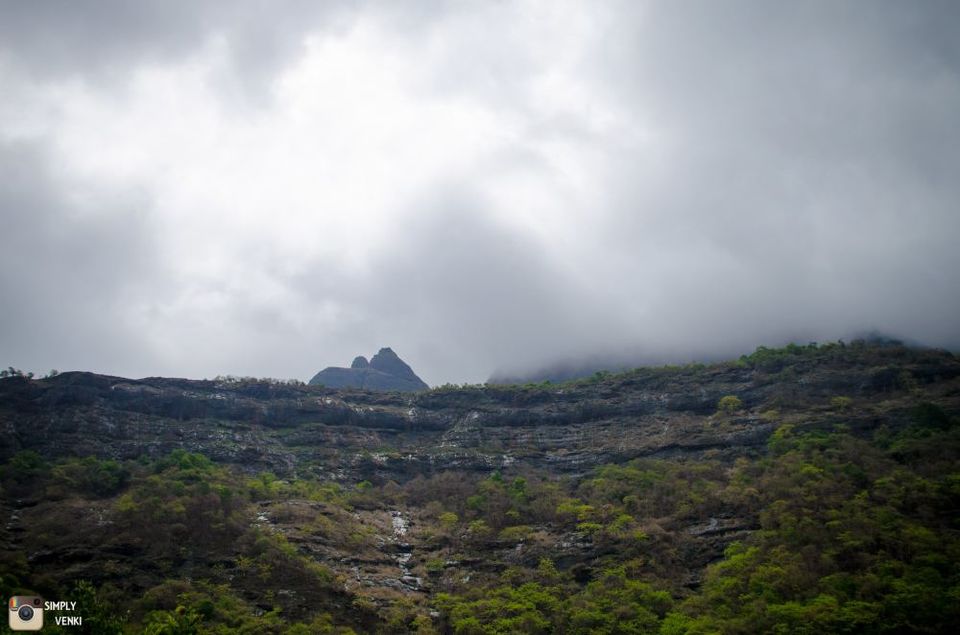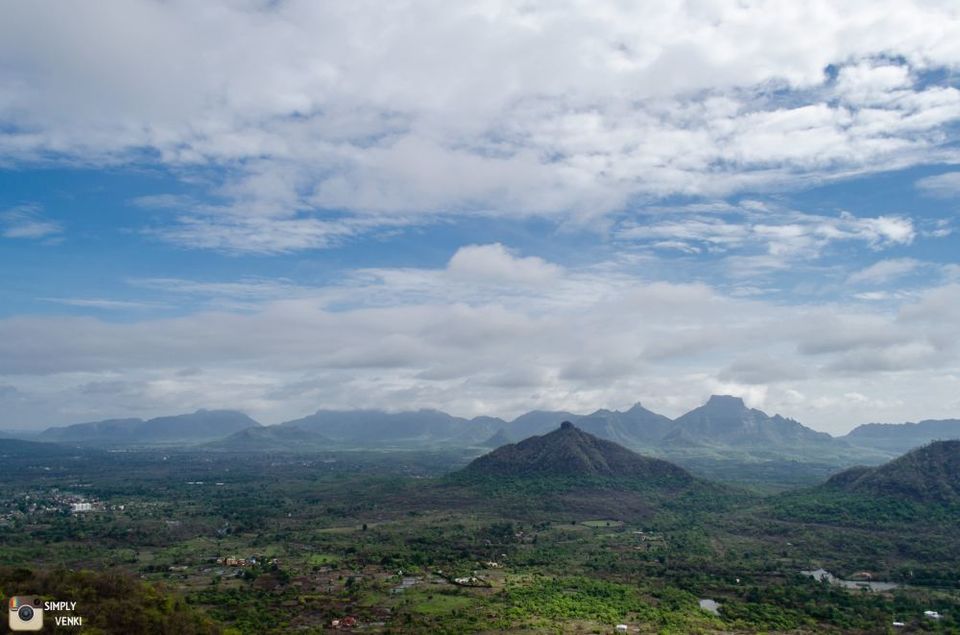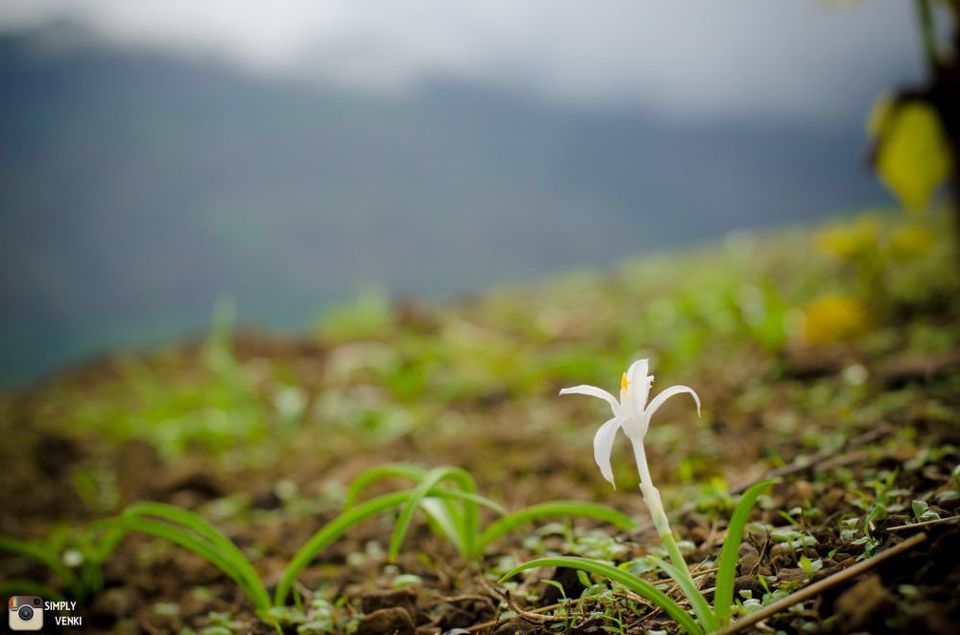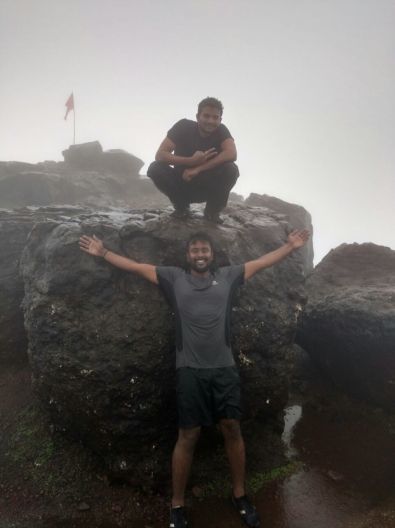 So now we had a discussion on how many will be climbing this. We had almost zero visibility, we were completely covered by mist and clouds. There were many drop outs in the beginning. We started climbing to the peak, and one by one have changed their mind, and accompanied us. Finally all of us did quite well and negotiated these steps without any hiccups. After climbing for almost like an hour, we reached a point where we need to climb a huge rock, to reach the pinnacle. So now it's time for some rock climbing. We don't have any ropes with us, to use them while climbing this rock. One of our organisers ascended ahead and the other one was below, guiding one by one. So with the help of these two guys, we had reached the top. The moment I reached the top, the whiff of the wild wind, the mesmerising view of the clouds will take you to another world. As the surroundings were completely covered with mist and clouds we couldn't get the view of the neighbouring mountains. At the top everyone went crazy clicking photos, with all kind of poses, some of them were dancing, some jumping, and some singing. We finally called it the Bahubali moment, with one hand in the air and the other one holding the flag.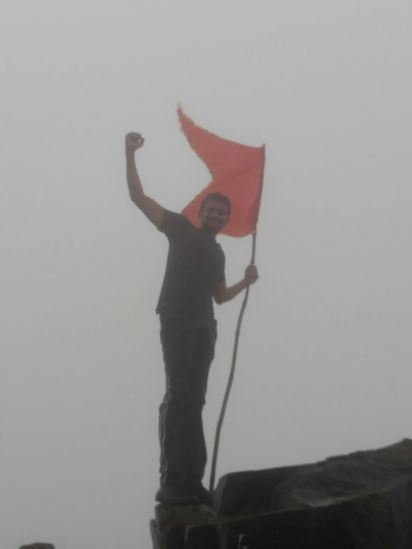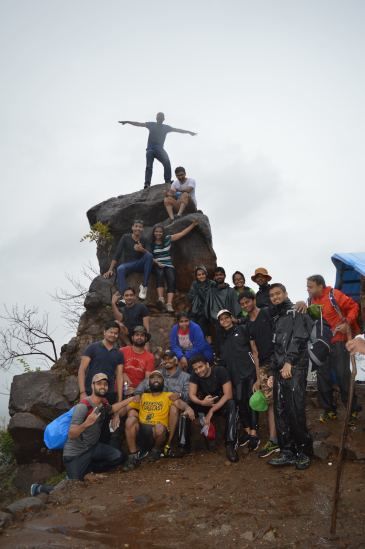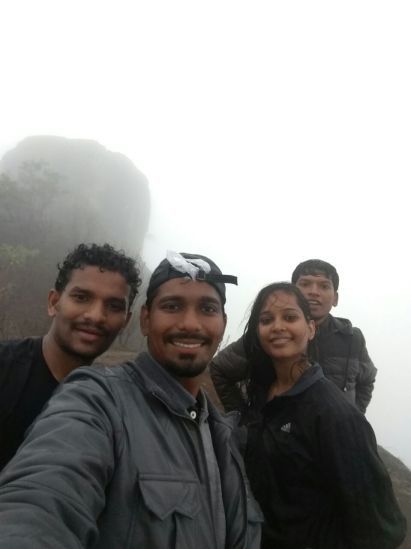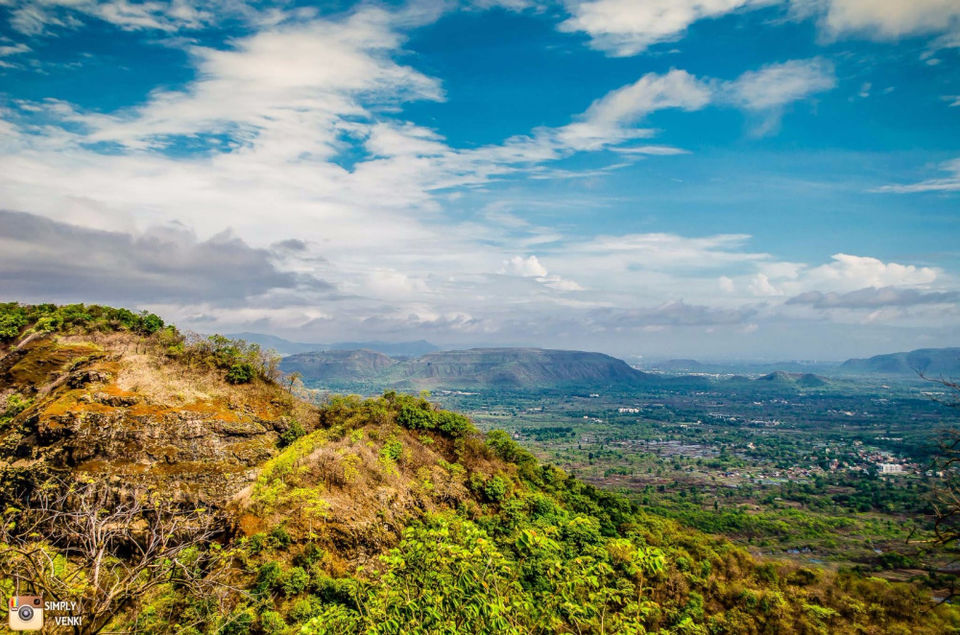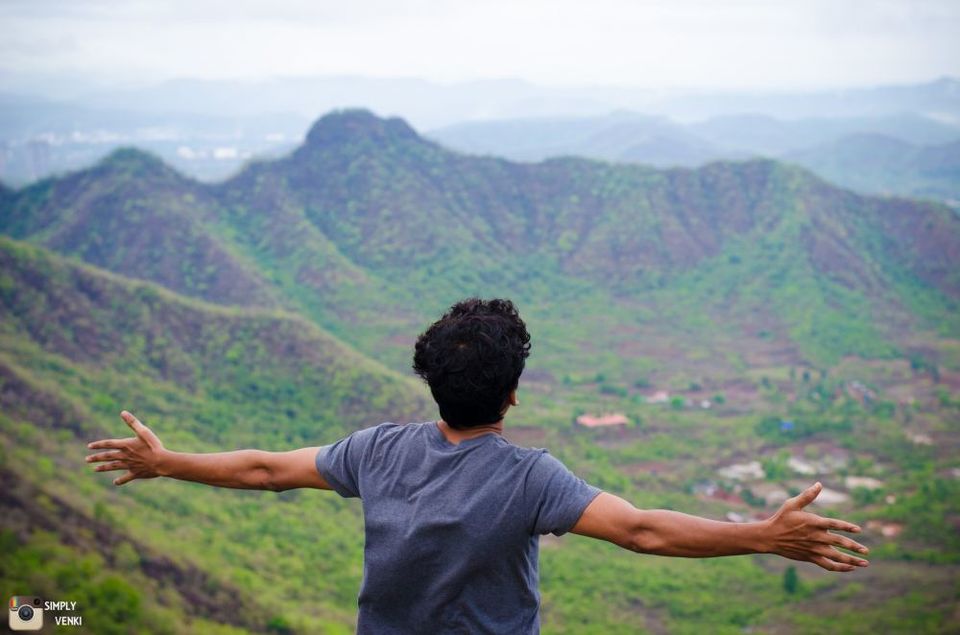 We started descending, and the Rain was pouring heavily and everything was surrounded by clouds and there was hardly any visibility. It was almost 7.30 P.M. and it was completely dark. Descending was difficult because of the slippery rocks and we had to help each other to negotiate the slippery patches. We finally reached the base around 9 P.M. only after reaching the base camp, we started feeling hungry suddenly. The locals served us with some hot chicken curry and chapatti. The taste was just awesome. We finished our dinner, and started gossip session again. It was raining heavily outside, so we couldn't pitch our tents.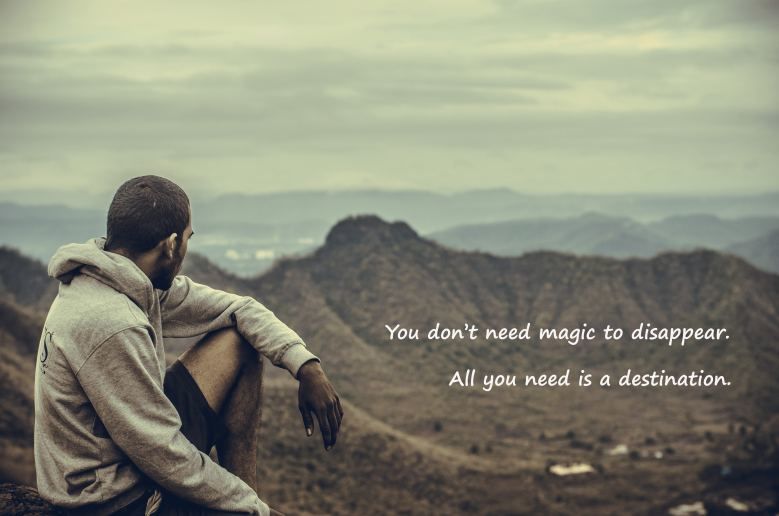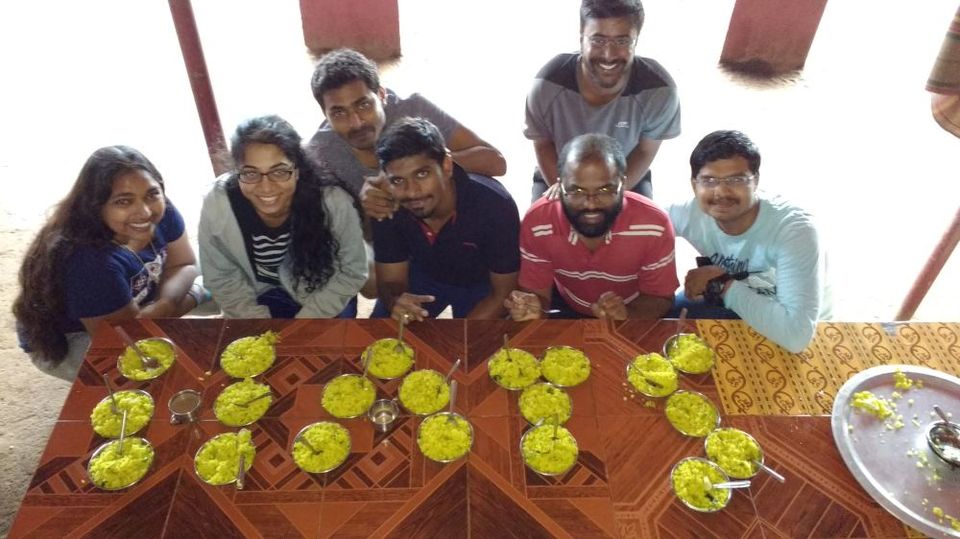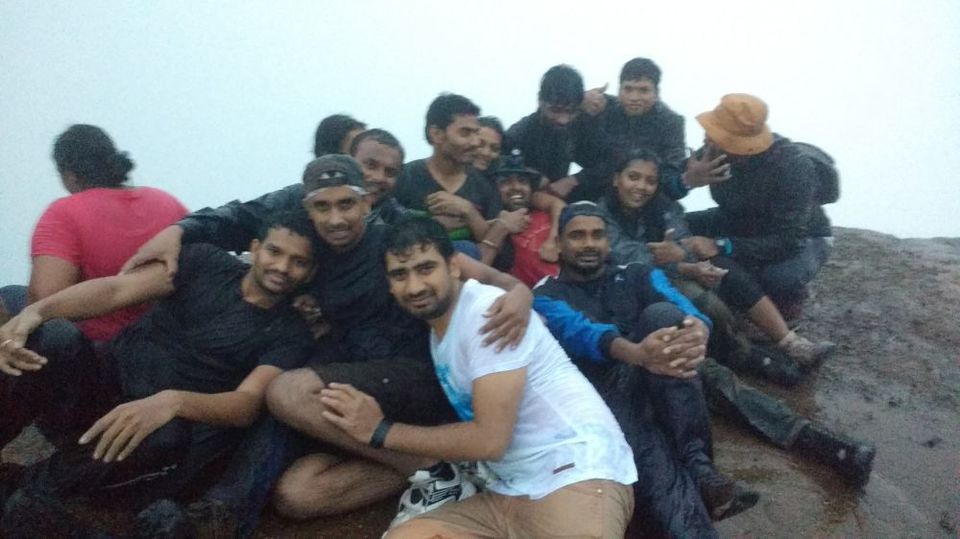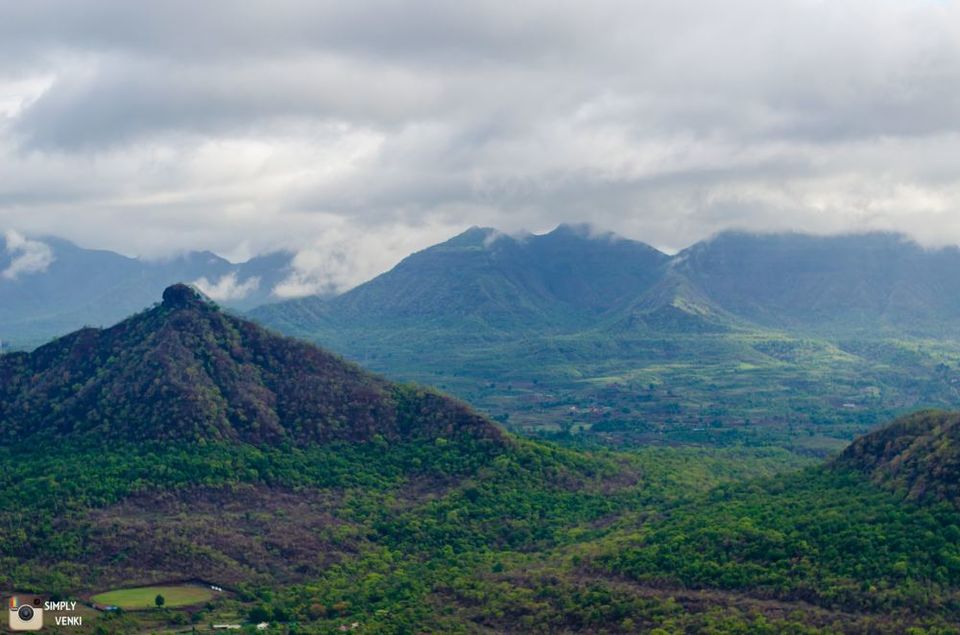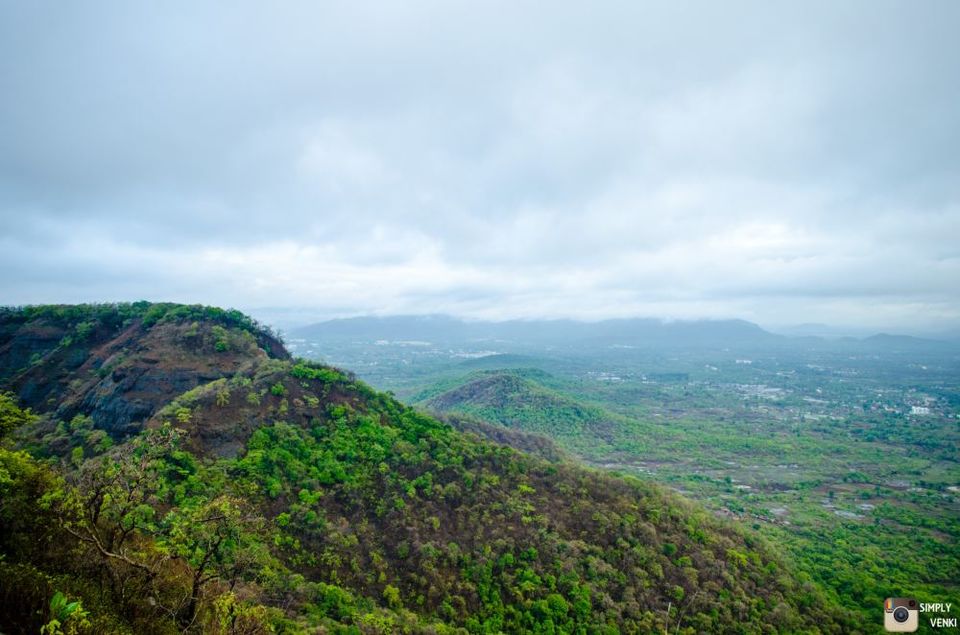 The next morning we were in for a surprise, there was no rain and the locations were looking absolutely stunning. I have taken my weapon out and started shooting. We spent almost 3 hours clicking pictures, before we started heading back. We had our breakfast Poha, at the base camp and then started our return journey. It took us around 2 hours to reach the bus station. From there we headed back to the railway station had our lunch and started clicking some candid pictures, while waiting for our return train back to Hyderabad.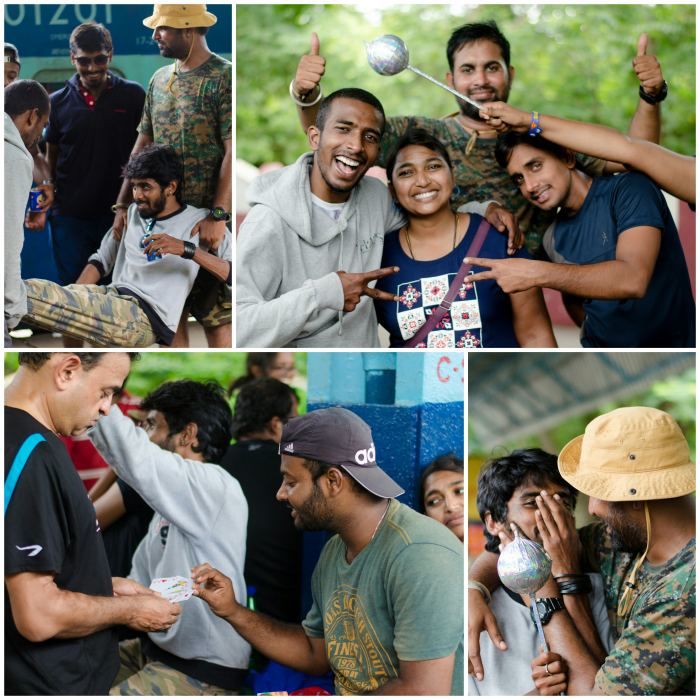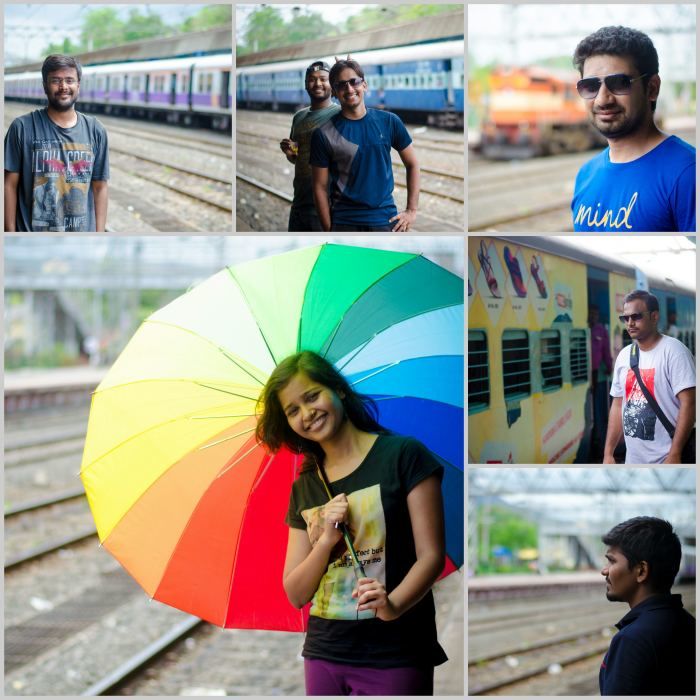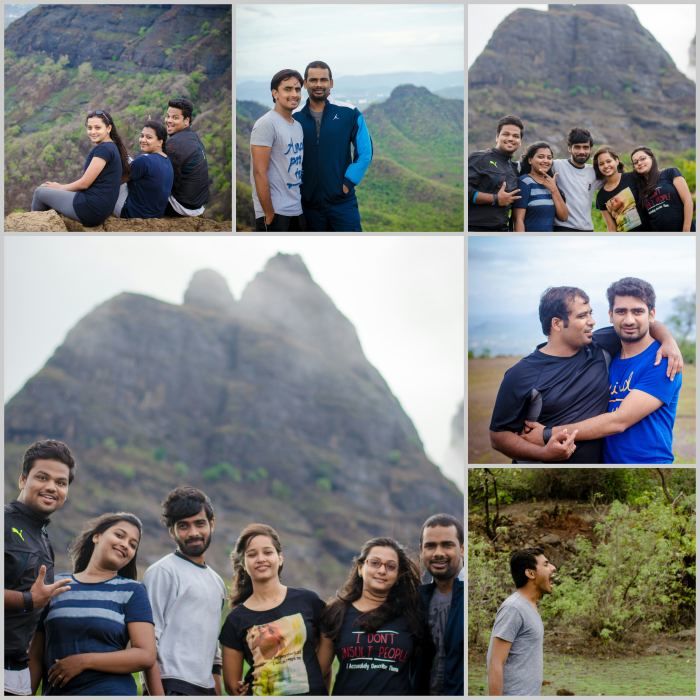 On the whole, my journey to the top of Kalavantin, with some stunning panoramic views of mountains from the top and chilled night spent in the outdoors made this hike one of the treasured ones. This is what I call the magic of trekking which I feel everyone must experience if not regularly, at least once. Trust me you will be addicted to it for the rest of your life.
So, what are you waiting for? Come out of your comfort zone, and pack your bags.