Himalayas are most sought after and at the same time most elusive trekking destination in the world. If you have not trekked in Himalayas, you have not seen the most beautiful creation of God.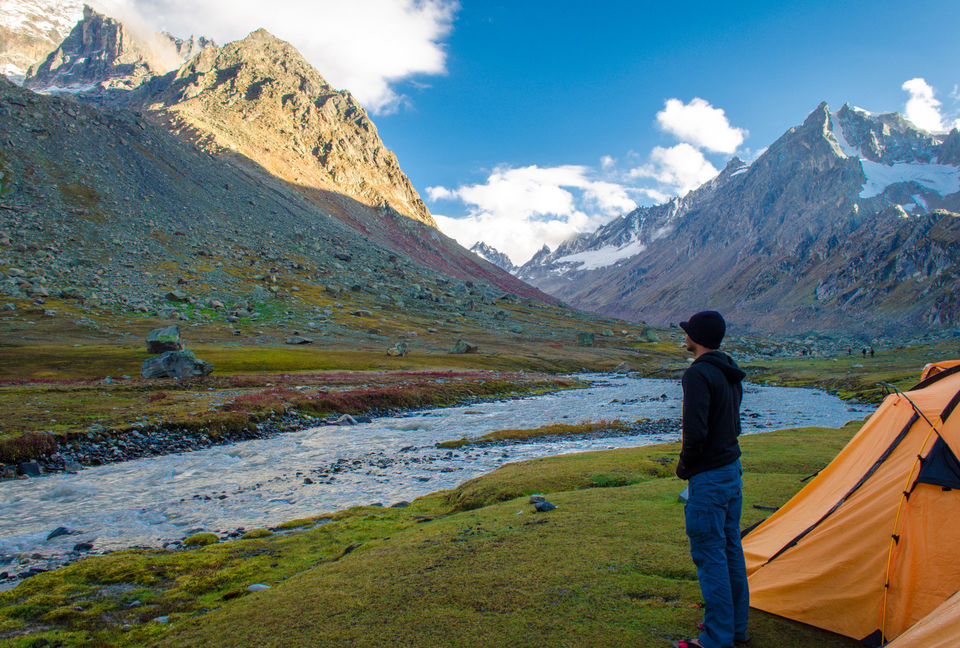 As usual, I felt writing about the complete journey in a single article will make the readers bored, so i thought of splitting them up. Below are the links in the order of our journey.
Hampta Pass: Hike Mountains, Run Through Meadows, Cross Rivers and Breathe the Wild Air
Hampta Pass Cross over Day: You Never Know What Could Be On the Other Side.
It was a lazy day for me, a day's break from our routine work because of Ganesh Chaturthi. Living a bachelor life in a room with friends, makes all the festival days look like a normal weekend. I was around 10 in the morning and I got a call from my friend, asking me to drop by for lunch, advantages of having two best friends who were married to each other. It took an hour for me to freshen up and reach their home. We had our lunch and were chatting, when my mobile flashed with an Instagram message. I uploaded almost 100+ pictures but never received any DM. So I opened it up immediately and to my surprise it was from tripoto. My eyes were stuck on to the screen, I was not even moving a bit, I was in for a big surprise and guess it was visible in my facial expressions. My friend asked me what happened, have you won a lottery or what. I felt it was more than a lottery for me. Below is the message I received from tripoto.
"Hi, Venki! Congratulations, you're the winner of our #TripotoTakeMeToHampta Contest 2.0"
Click here to have a look at the winning entry.
As far as I remember this was my second time I won any contest till date. The first one was in a painting competition way back in my school days. Everything was like a dream for me. I have won a trek in the mighty Himalayas. The tripoto team has sent me all the details of the trip and asked me to start my travel preparation. Everything was fine until they updated me with the travel dates. I had less than a week to start my journey, to be precise 3 days. I had to travel from Hyderabad to Delhi and then to Manali, from where the trip will be sponsored. Now there are many things running in my mind. I had to plan my leaves, mode of transportation, tickets booking, shopping etc. I felt that it is quiet impossible for me to travel via train from Hyderabad, as it requires additional 3-4 days. And the flight costs would be too high, considering the fact that I was booking them 3 days before, and I just finished my Manali-Leh bike trip which costed me a bomb. Also I need one week leave which I guess is very difficult, if you are working in a software company and that too with a short notice. At one point of time I felt like dropping the idea of travelling altogether. But then once the travel bug bites, there is no known antidote. I made my mind to take this opportunity and visit the Himalayas for the second time in less than a month.
Every time I read travel quotes, I feel some quotes were too cinematic, and won't be applicable for real life. Here is one such quote
"Travel is never a matter of money but of courage." – Paulo Coelho
But now I feel Paulo Coelho was spot on. Finally I started making my arrangements and my backpack is all set to rock and roll in the mountains again. I have booked a flight from Hyderabad to Delhi and from there a bus to Manali. This was my first solo trip, I've always been travelling with a group and they used to take care of all the planning. But now I have to take care of all the transportation and accommodation beforehand. Sometimes when you are travelling in a group, you don't even realise who booked the bus tickets or who researched about the hotels and places to see. When you are alone, you have to look at everything.
The day has finally arrived. I reached the airport on time and took my flight to Delhi. The moment I turned on my phone I was in for a shock, I received a message saying that the bus from Delhi to Manali was cancelled. This is where things started to get more interesting. Delhi was completely a new place for me and the most important thing I can't speak Hindi, though I can understand in bits and pieces. With the help of one of my friend I came to know that buses to Manali will be starting from ISBT. My friend advised me to take a metro from airport and follow the yellow line. Taking a metro is fine, but I couldn't understand what the yellow line is. I just ignored that part and went straight to ticket counter and said ISBT. He spoke something really fast in Hindi and I could summarise that, they don't have a direct train from Airport metro to ISBT. This is where things got really bad. My phone was dead and now I couldn't even contact my friend for suggestions. I started asking people around and one of them was good enough to help me with all the details. He knew English and he guided me till New Delhi station and asked me to take a ticket to ISBT from there. He explained me about the yellow, blue and all the colours the Delhi metro has. I went to the ticket counter again and asked them for ISBT and the person behind me was also going to the same destination. I asked him a few questions like, how much distance is the bus stop from metro etc. He told me that he will accompany me till the bus stop and started asking me about my details, where are you from, where am I going etc. At that point I realised that you never really travel alone. All the people around you are your friends waiting to know about you and help you when needed.
After reaching ISBT, I came to know that all the AC Volvo buses were full, and I had to wait for an hour to check if someone cancels or doesn't turn up, so that the seat can be allocated to me. But to my luck everyone was in. It was already 8 P.M. and so I have decided to stop looking for other private bus options and instead go for a ride on the ordinary bus. I knew it would be a painful journey of 16 long hours to Manali. I reached at 12 P.M. and got myself a room near the mall road in Manali. I haven't booked my accommodation prior as I knew I could get something or the other over there. I met my fellow trekkers that evening and we had a small briefing session by our trek leaders.