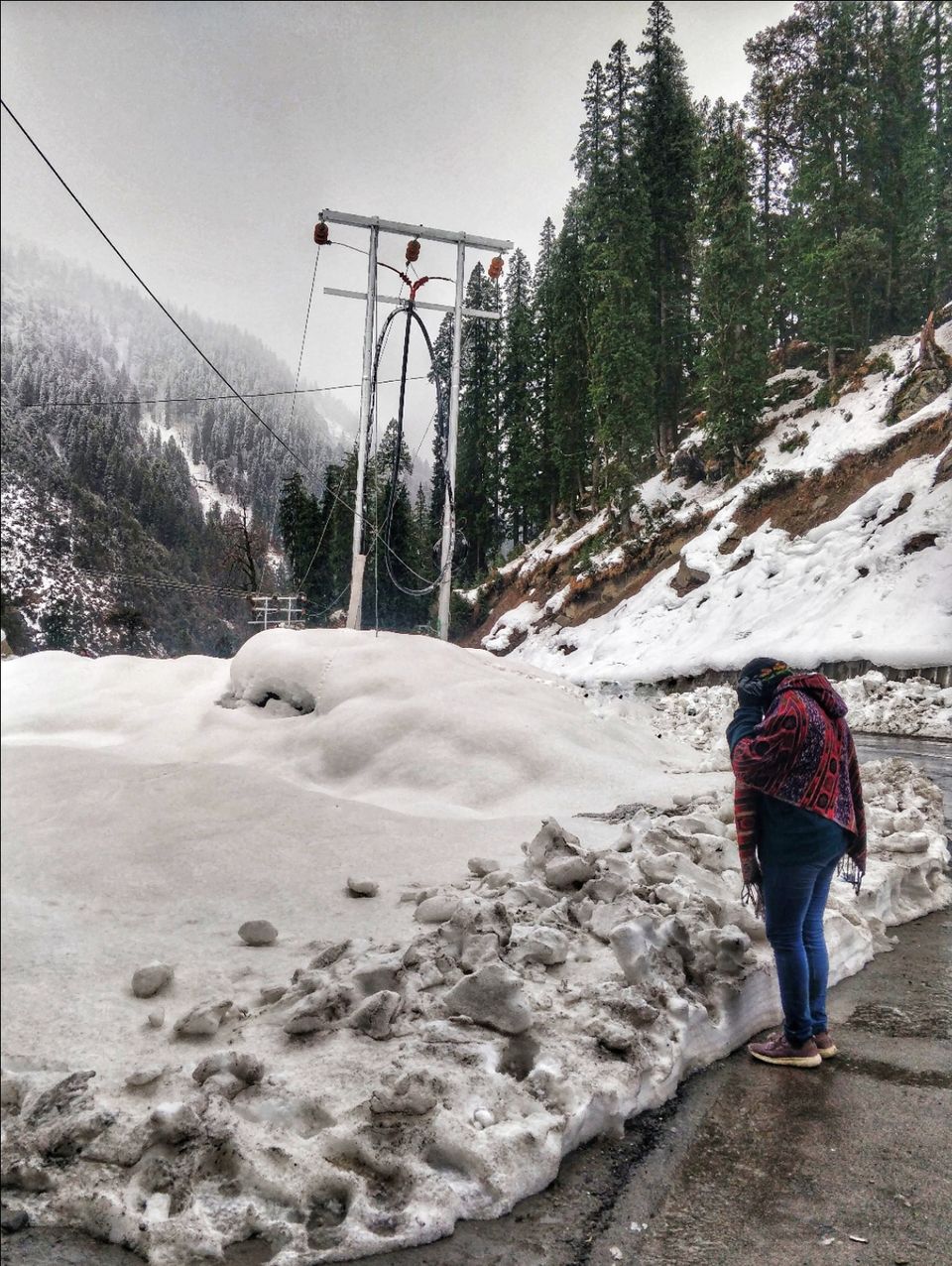 We all believe in energy, some of us can even feel it without words and then there are the strong souls who can penetrate all that and lift us up just by their presence. This picture is more than a thousand words about such a soul.
All drenched and tired, riding a scooty from old Manali amid gentle showers that pierces the skin we reached Solang Valley and decided to take a break and munch on some delicious parathas and momos with sips of chai. Our eyes met and we both knew what we desired the most at that particular moment. It was a risky bet but the risk was not as big as our faith in each other and all of this seemed so small compared to our next destination, The Atal Tunnel.
As we rode further, it started to snow and my finger-tips started going numb with that itchy feeling crawling underneath my skin as none of us was properly covered and our clothes were drenched top-down, I had to ask her to take the wheels and with an assuring smile, she took the command. The weather grew more fierce and it got difficult to keep our eyes open as the snowflakes were entering directly into the eyes but this bold girl kept maneuvering through all that as if its some video game that she is playing. The people on our way started warning us and told us not to keep going but we were dumb-struck with the idea of reaching the tunnel. This idea was soon thwarted by the forces of nature and our scooty slipped on the road and we fell. That was one slo-mo thing for me and all I remember during that moment is holding her and I am still amazed that how exactly human reflexes kicks in when they care about another human. After lying there for couple of seconds the locals rush to help us up and asked us to return as we were literally risking our lives by going any further. Considering the dangers of mother nature, we decided to return from there. Being quite concerned I deiced to ride back but was proved stupid soon enough after few meters as we slipped again.
She offered to ride and I couldn't refuse. She took the wheels by strong and faced the wind and the snow and the shivers and quivers. That's when this beautiful and exciting moment was captured.
Finally, we reached Didi's place in Old Manali and I couldn't get off the vehicle and felt like the blood in my legs had reached freezing point, my fingers couldn't feel anything either. I took my own time to get off and settled myself beside the fire alongside with her sipping on some hot beverage.
A lot happened that day, our bodies were tired, our clothes damp and dirty but our eyes sparkled differently coming from something remarkable and a never ending sense of complacency. May we all live enough to tell tales like this one.
I still remember a shivering voice uttered " Do bar gire hai ye bhi bta do."
Thank you for saving us. 🙏🌼 🌊🏔️