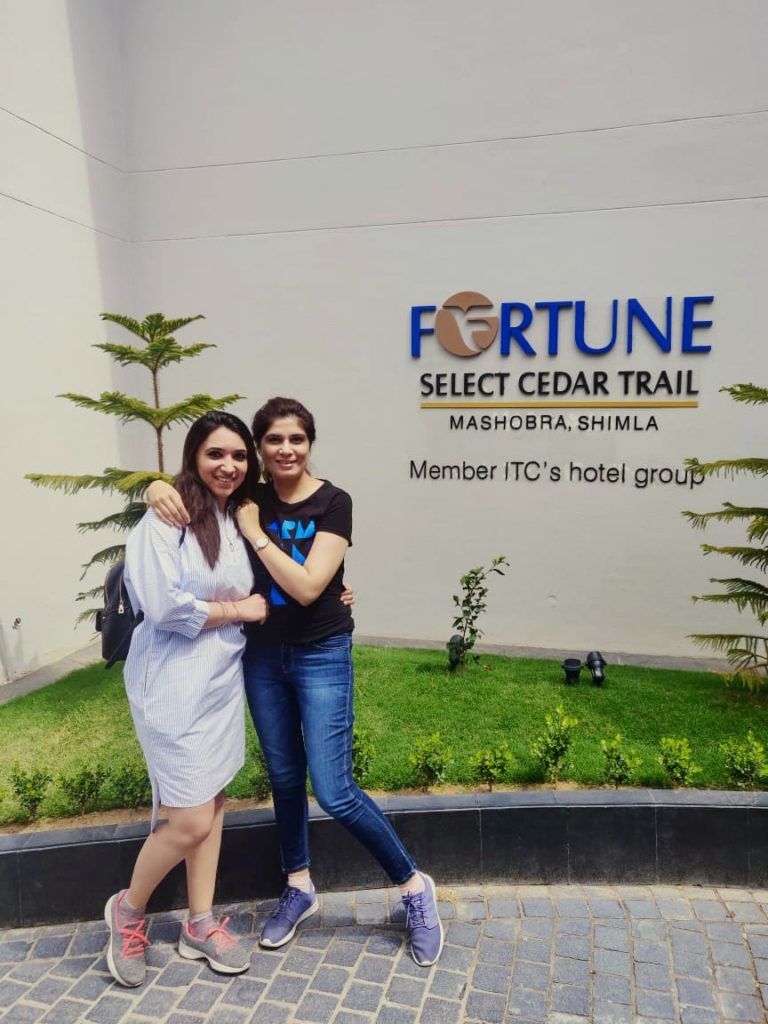 "When the going gets tough, the tough gets going."
In continuation, I ran to the hills of Mashobra along with a friend, thanks to Fortune Select Cedar Trail. The two days spent at the leisurely getaway paved way to umpteen memories and a grit to come back soon. Here is all about my experience and what you should know about the property.
Two happy girls at a happy property!It's a safe property for Delhi girls.Personalised Welcome Note to amp up the whole staying experience. That's a Fortune Hotel Property for you.
Fortune Select Cedar Trail, Mashobra, Shimla Review
Rooms
All Rooms have balcony with panoramic views of majestic Himalayas. This is the icing and the cake of it. It's serene to just sit by and watch the view while sipping hot teas and coffees. You sleep by the view and wake up to it. The rooms are compact yet comfortable with every luxury a Fortune Hotel would provide. The toiletries are well stocked with all the little requirements. You can make your own innumerable teas and coffees with the kettle and sachets provided and keep gazing outside.
The staff will welcome you with their signature 'Namaste' each time you meet them and their smile will jazz you of your tiredness and crankiness.
That's our room!A private balcony attached to every room. Witness majestic views day in and day out.Wake up to such views...
Dining
You'll leave a kilo or two heavier when you leave the property.:) The culinary experience is a delight. Their strong culinary lineage comes from the parent company ITC Hotels. The USP of both the restaurants Zodiac and Neptune is the spectacular view they offer of the lush oak, cedar and pine tree forests. Both have large private terrace for Alfresco Dining.
The food is Instagramable. A culinary delight is the local flavours of Himachal Pradesh.
The Breakfast Tea well served at Zodiac. It rained that day too.Virgin Pina Colada for a cozy evening.If nothing else works, a nice hot pasta is always a saviour.Evening tea & fritters, yes please!
Spa
They provide treatments and relaxation spa therapies coupled with steam and shower. We indulged in Balinese massage and the 60 minute session took all our tiredness away. What a beautiful sleep we had that day!
Experiences
The hotel has enough indoor games to keep you busy. From carrom boards to ludo to Table Tennis to snooker table, there is enough to keep the kids and the kid in you occupied.
With little time to play in our hectic lives, a good game is all we needed at the end of the day.Our lovely souvenir by the hotel. How cute of them!
How to reach Fortune Select Cedar Trail Mashobra?
Via train: You can take Kalka Shatabdi from Delhi to Kalka. It starts at 740 in the morning from New Delhi Railway Station and reaches Kalka by 1145. Return Journey: It starts at 545 evening from Kalka and reaches Delhi at 955 night. You can speak to the hotel's Help Desk for a taxi pickup and drop. It will take 4 hours from Kalka station to reach Mashobra considering the jams in-between. The train sticks to its schedule to the T. We travelled via train and it's recommended specially for 'Only girls groups' and elderly couples. Via road: You are your own boss. Just remember Mashobra is 45 minutes ahead of Shimla.Some quick pointers to help you make up your mind:
It's a beautiful property set amidst dancing cedar trees, away from the maddening crowds. It's a haven with peace and tranquility. The Morning Glory Breakfast Spread and Culinary Presentations are sumptuous. They have a fabulous team which is well trained and eager to provide personalized guest experiences.
I would recommend staying at the property and enjoying the majestic views and in-house activities while lazing around. However, if you have kids or an adventure junkie along, you can explore 5 nearby attractions listed below.
1. River Rafting at Tatapani on the Sutlej River and enjoy the Hot Springs.
2. Trekking on the Hillocks of Carignano to enjoy the stunning views and wander through lush green forests filled with oak, cedar, and pine trees.
3. Golfing at Naldhera Golf Course which is one of the oldest Golf Courses in India at an altitude of 2200 metres.
4. Kufri Tour
5. Shimla Tour - visit to the famous Mall Road.
The hotel is in the process of adding a new wing. It will house thoughtfully designed suites to accommodate large families, a swimming pool and a Spa with 4 treatment rooms.
Final word
Mashobra is a pristine heaven in the Shimla District. It's 45 minutes ahead of Shimla. Nestled away from the hustle and bustle of Shimla, Fortune Select Cedar Trail is located amidst a lush oak, cedar, and pine tree forest with spectacular views of the majestic Himlayan range. The hotel has a modern European architecture where every room has a private balcony facing the lush green valley. It's a perfect retreat for families and couples seeking moments away from the city life. Just reach there and give yourself to their hospitality.
You can find best room tarrifs on various travel portals or just call their HelpDesk and they'll customise a package for you.
Have a Happy Stay!
Tanya xx
P.S: Incase you have any question regarding the property, do write to me in the comments section below. I'll be happy to answer.
And before you leave, do check out my Instagram profile here: https://www.instagram.com/letsexpresso/ for all the travel and fashion tips. You'll love to follow. Promise ! ????
Tags:Fortune hotel in Shimla, Fortune Select Cedar Trails, Fortune Select Cedar Trails Mashobra Shimla, Fortune Select Cedar Trails Mashobra Shimla review, Mashobra, Mashobra Shimla, safe place for girls to travel, safe place for girls to travel on a weekend, weekend getaway from Delhi, weekend getaway Shimla, where to stay in Mashobra, where to stay in Shimla