Mauritius is filled with beautiful beaches, breathtaking views and exciting hikes. But very few people know that apart from the mountains and the beaches, it has some of the most wonderful waterfalls as well.
On my 1-month trip to Mauritius, I explored a couple of waterfalls here. But the one which took my breath away and made me want to return was the least explored waterfall - Eau Bleue waterfall.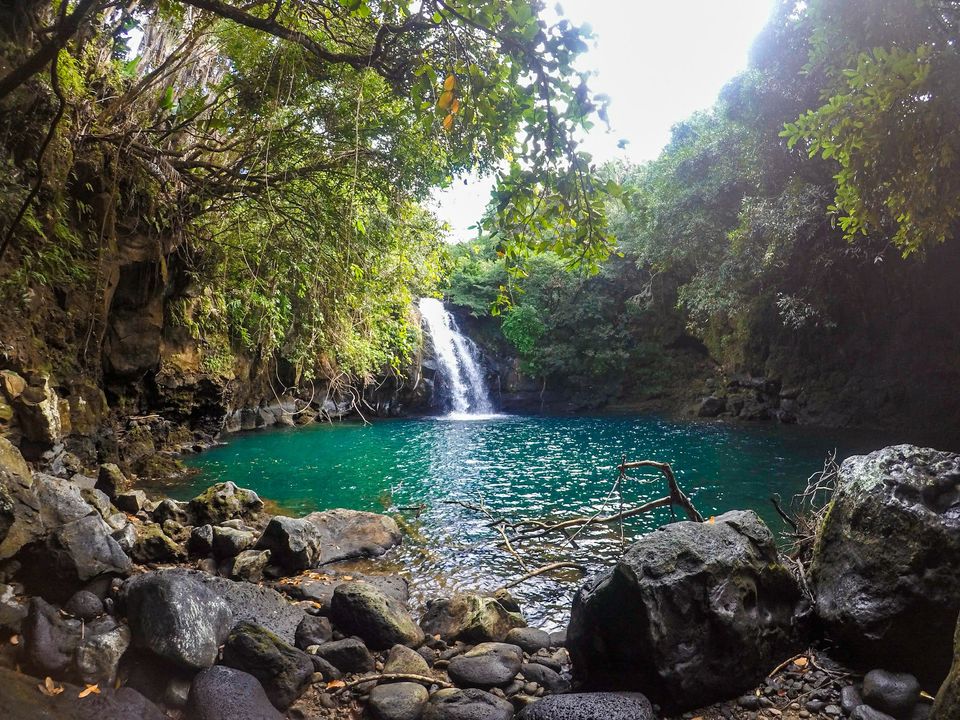 We luckily stumbled upon a local who had visited this place. And after looking at the pictures, we were convinced that we just had to reach this place.
Honestly, it was a task to reach here but it was worth every bit of effort. Because when we reached here, there was not a single person to be seen here so we had the entire waterfall to ourselves.
Where is Eau Bleue Waterfall Located?
Located near the Cluny village, Eau Bleue Waterfalls is also known as Cascade La Source and is surrounded by lush forest and large patches of sugarcane fields.
This is why it is easy to miss the waterfall as it is not clearly visible from the road. However, you can find the exact location of the waterfalls on the maps and just look for any small pathway on your left when traveling from Cluny village.
Best Time to Visit Eau Bleue Waterfalls
Ideally, the best time to visit Eau Bleue Waterfalls is during the monsoon period, i.e., February. However, this is also a tricky time to visit because the water flow increases and you might not be able to swim in the water pool here.
Personally, I feel that the months of May to July are good as there was sufficient water to enjoy the waterfalls and it wasn't dangerous as well. We still had to hike a bit which wasn't as difficult as it would have been if it was the monsoon period.
How to Reach Eau Bleue Waterfall
Now, let's come to the part where you can plan a day trip to this amazing waterfalls.
If you ask locals there, it is quite likely that they won't know where this waterfall exists or how to reach it. So, do pay attention here otherwise you can easily miss this waterfall in Mauritius and that would be a shame.
You need to reach Curepipe bus station from where you will take bus number 14 to Cluny Village. Tell the bus conductor that you need to go to Eau Bleue reservoir and he will let you know the stop to get down at. The cost of this bus ticket is around 15 Mauritius Rupee which means it will cost you around 30 INR.
From here, you need to walk for 2 km and check the location on the map of the waterfalls.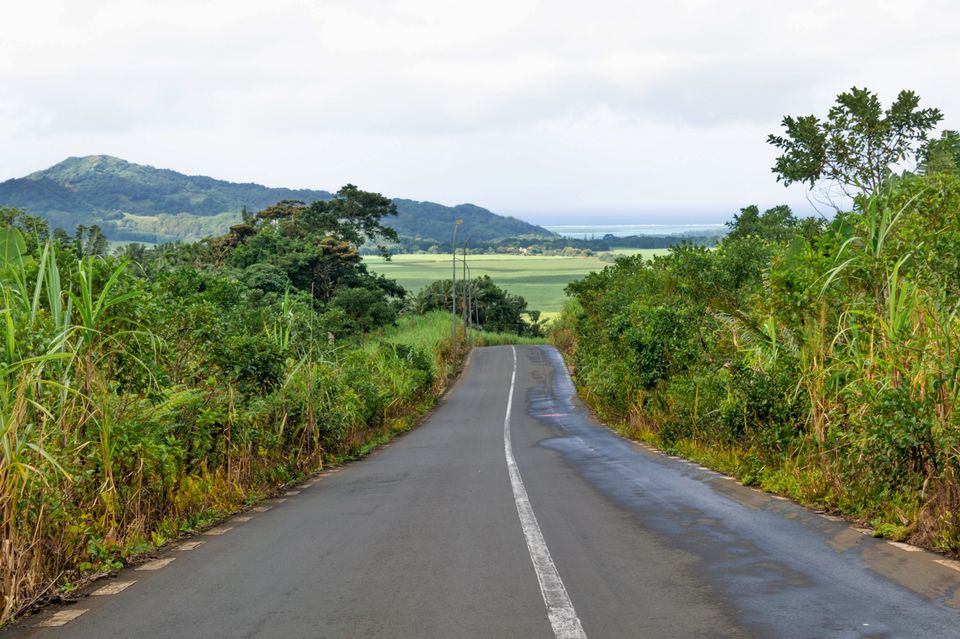 You will need to walk on this road for around 2 km from where the bus dropper you. You will be surrounded by sugarcane fields on both the sides for most part until you start seeing a small town.
The waterfall is around a kilometer before this other town so be careful while walking. Check the map and where the location shows as the Eau Bleue waterfall, look to your left. There will be small track going slightly upwards that you need to take.
After walking on this track for 100 m, you will come across a sort of trail downwards which you will need to take. Be careful here as this area is quite slippery and make sure you wear good trekking shoes while hiking to the Eau bleue waterfalls.
Once you climb down, you will be standing on top of the waterfall number 1 of Eau Bleue waterfalls.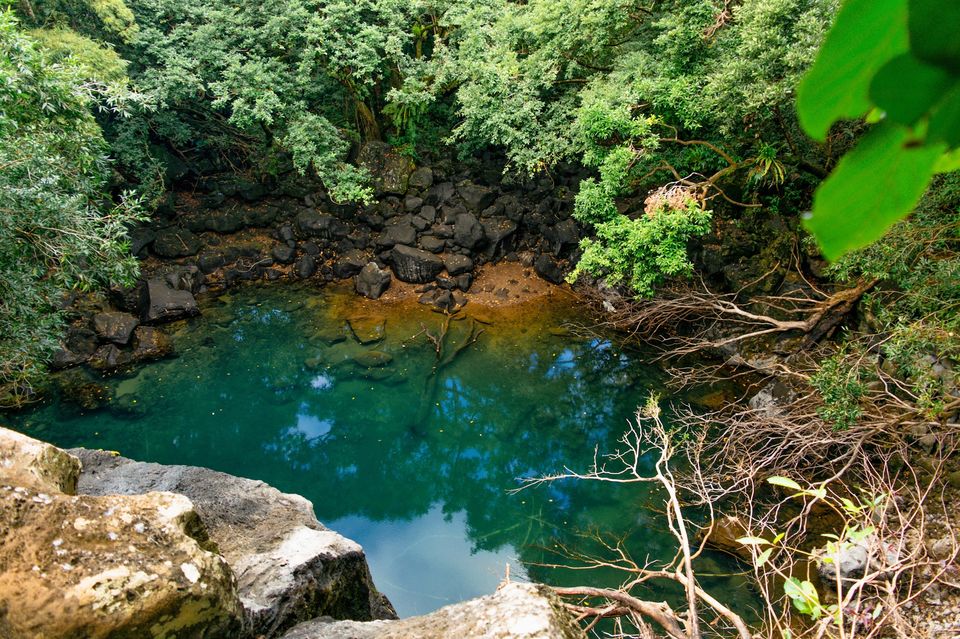 From here, it is a 20-30 minutes hike to the major waterfall where you can relax and swim for a while. Also, be careful as there are a lot of water pools with no floor so you might get stuck and hurt yourself while hiking here.
For return, you will again need to walk for 2 km to reach the bus stop and wait for the bus. We were lucky enough to hitchhike from here and were dropped right at the Curepipe bus station so we never had to wait for the bus.
If you don't mind talking to strangers then this is a good way to return back as well.
Why Should You Visit Eau Bleue Waterfalls?
As I mentioned before, Eau Bleue Waterfalls is one of the least explored places in Mauritius. As a result, it is still untouched and extremely gorgeous. You won't find a lot of people hanging around here and can really enjoy your time in the waterfall.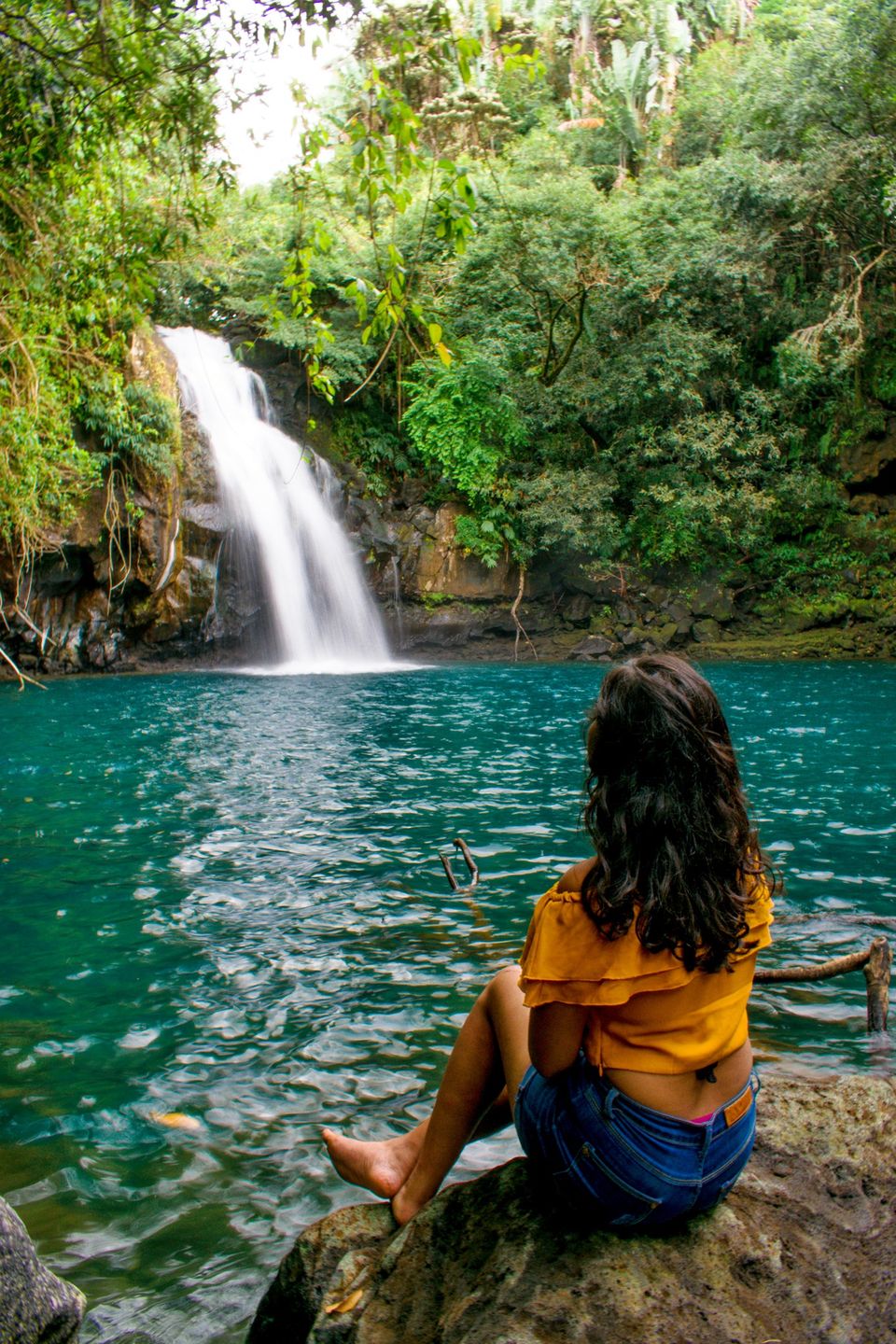 But the best thing about this place is the clear, turquoise-blue water and the lush greenery. It feels like you have been transported into a fairy tale. Trust me, the water is as blue as in the pictures, more so when the sun is shining.
So, you would actually like a dip and a short swim in this crystal clear yet sparkling blue water.
It is also a great place for picnic and swim around for a while. So, if you love dipping in the cold water, then pack your swimsuit and head to this unbeatable location in Mauritius.
Also, it is perfect for adventure buffs as you have to hike and climb stones in order to reach the waterfalls. So, if you love that kind of stuff, then you will definitely love to spend a day at Eau Bleue Waterfalls.
So, what are you waiting for? Plan a trip to Mauritius soon and make sure you include Eau Bleue waterfalls in your itinerary!
Get travel inspiration from us daily! Save our number and send a Whatsapp message on 9599147110 to begin!
Find like-minded explorers, learn from expert travellers or become one yourself and help others on Tripoto's Travel Forum!