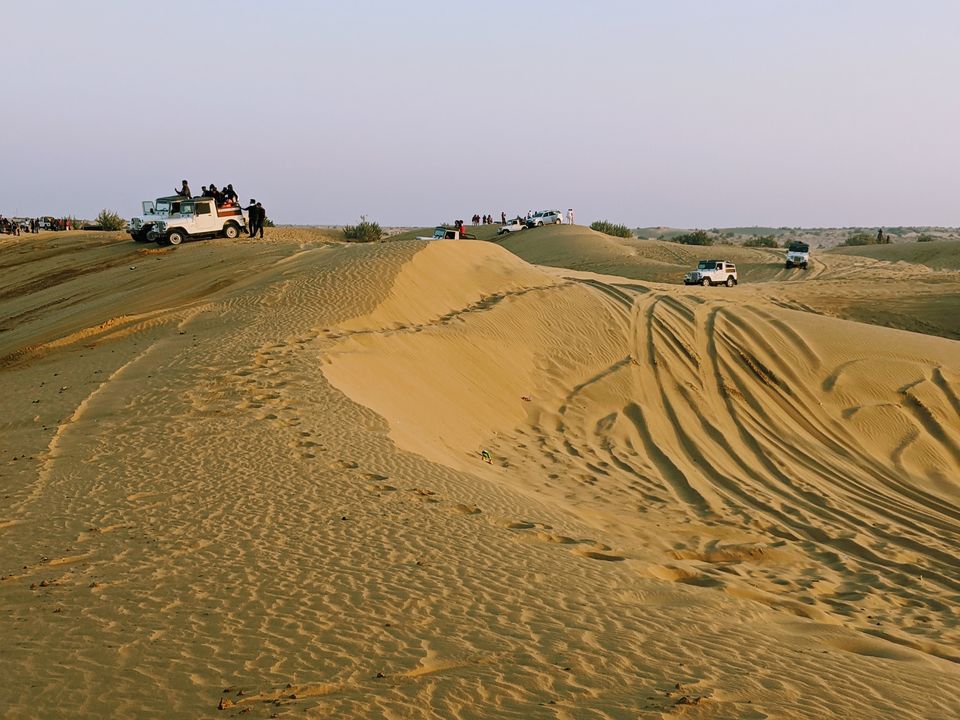 While 4 days is a pretty short duration to even scratch the surface of the variety of experiences that Rajasthan provides, it was all we had and we had to make the best out of it. So we decided to go for the famous trio of Jaipur (Pink city), Jodhpur (Blue city) and Jaisalmer (Golden city). Since the starting point for our journey was Lucknow (almost 400km from Rajasthan border), we knew that first and last day would leave us only few productive hours. Nevertheless, we were able to cover everything we wanted - the desert, the salt lake, major forts and the foooood (seriously, I can travel back to Jodhpur just for the food).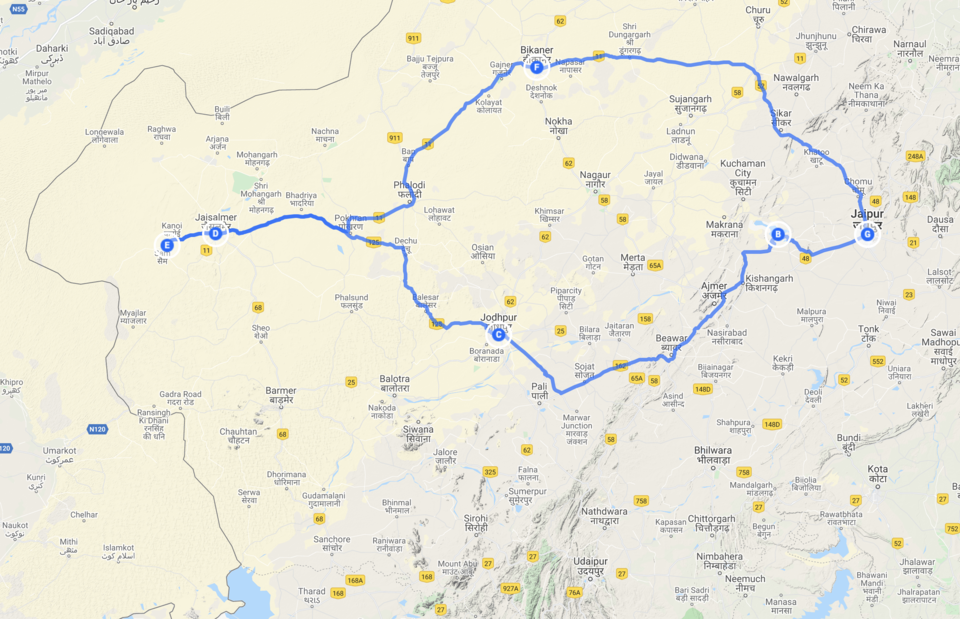 Itinerary
Travel summary:
Lucknow - Agra (Agra Expressway); 335 km/4 hrs; awesome road, negligible traffic
Agra - Jaipur (Agra-Bikaner road); 240 km/4 hrs; good road, moderate traffic
We started from Lucknow around 4.45 AM after having "breakfast" (don't know what a 4 AM meal is called) and headed straight towards Agra. On reaching there, we took a minor detour and visited Taj Mahal. It was not on our list, but was just a random thought that popped in our mind because of how boring the expressway was. We had been there before so we only spent an hour, good enough to make ourselves feel lively again.
Tip: Since there are hardly any eateries (2 to be specific) on the expressway, it is better to have (or pack) something as even they have pretty much nothing.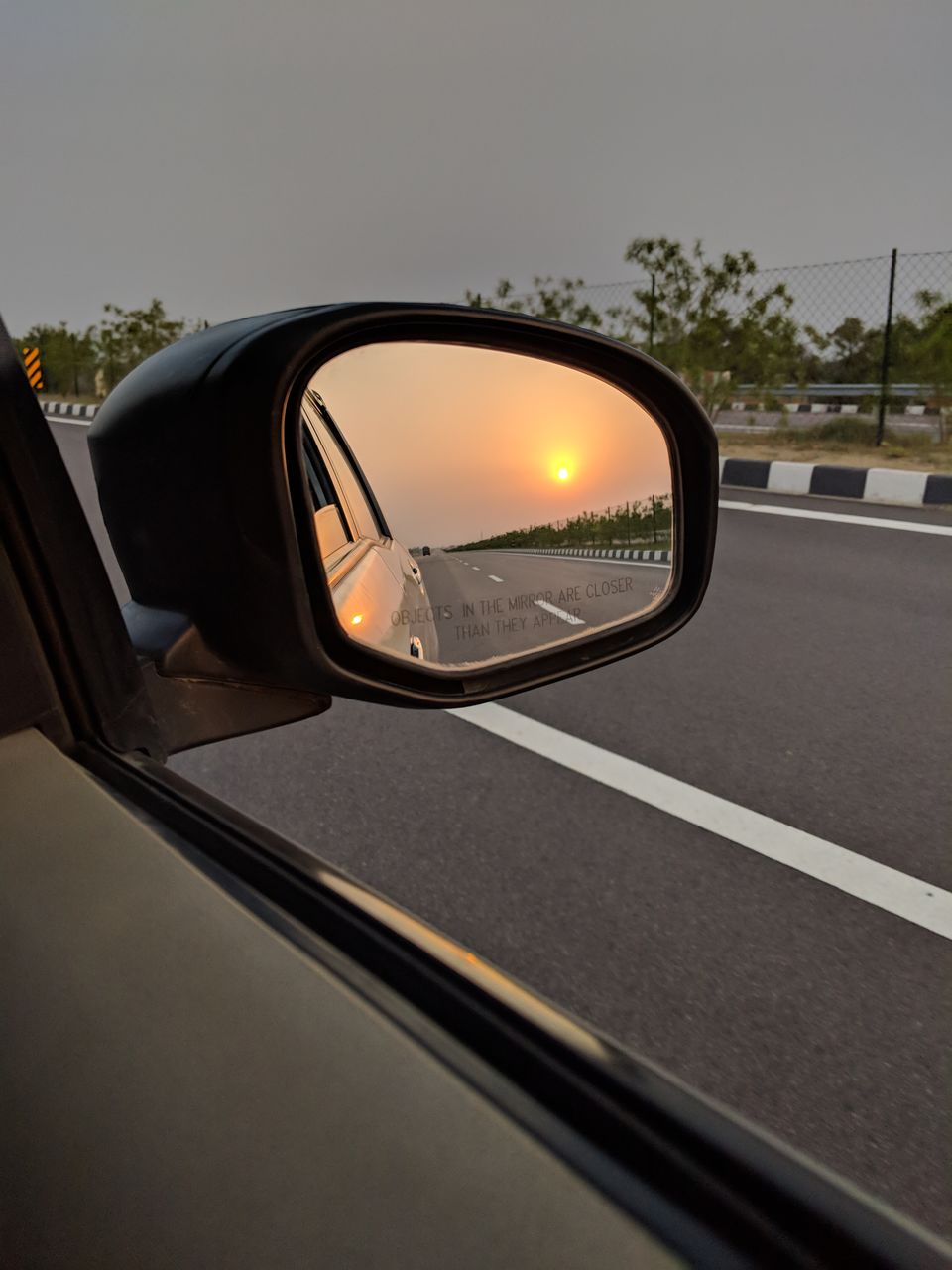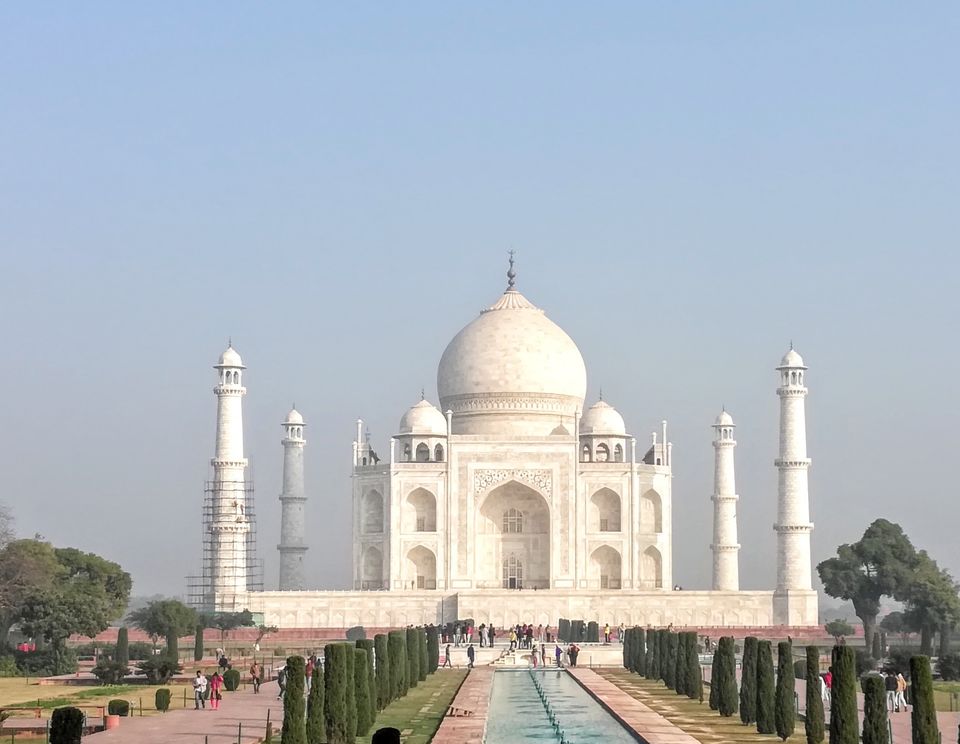 After the short break, we were back on our way to Jaipur. Along the way, we had a more proper breakfast. You can easily tell when you're about to enter Rajasthan as you start seeing the signature red stoney things on the divider, and hoardings that remind you to refill your car as the fuel prices shoot up crazily (When we went, petrol was 10 Rs./ltr costlier in Rajasthan as compared to UP).
We reached Jaipur at lunch time, which was well timed because it is just the right place to be if you're hungry. If you're craving for authentic Rajasthani food, you can (and should) go to Chokhi Dhani, but have some time in hand because it might easily take you around 3-4 hrs or more as there is a lot to do. It is an experience that will bring you closer to the Rajasthani folk. If you're someone interested in American cuisine, then Jaipur has an awesome cafe culture too. Tapri, Cafe Bae, LazyMojo, Curious Life, etc. are some of the worthy mentions.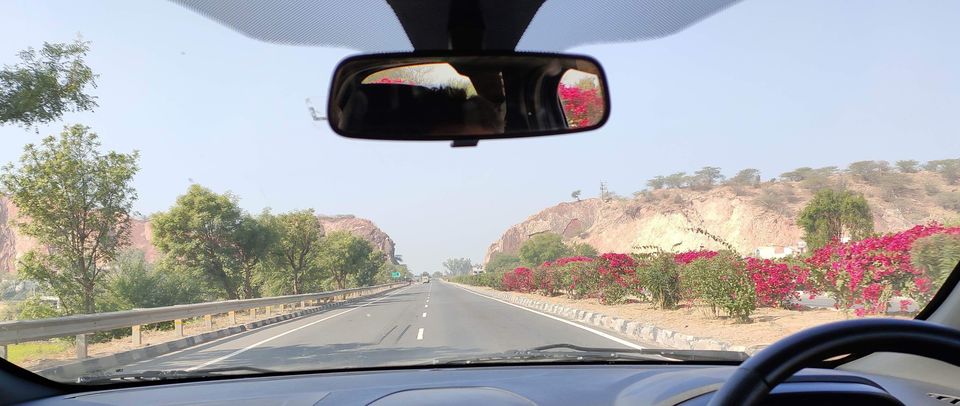 The first major spot on our list was Amer Fort, which is situated on a hill surrounded by the Aravalli range and has Maota lake at the base, together making it the most beautiful attraction of the city. Moreover, the fort is well lit at night and its reflection in the lake creates a splendid view. This was one more reason that we wanted to visit this place in the evening so that by the time we are out, we can also experience the night view. Stopping the car is not allowed generally on the lake side road, but you can take a couple of shots if the traffic isn't much.
Tip: You can take your car till the fort entry through a narrow road from behind the fort. Set your navigation to "Amer Fort Car Parking" (not Amer Fort Parking).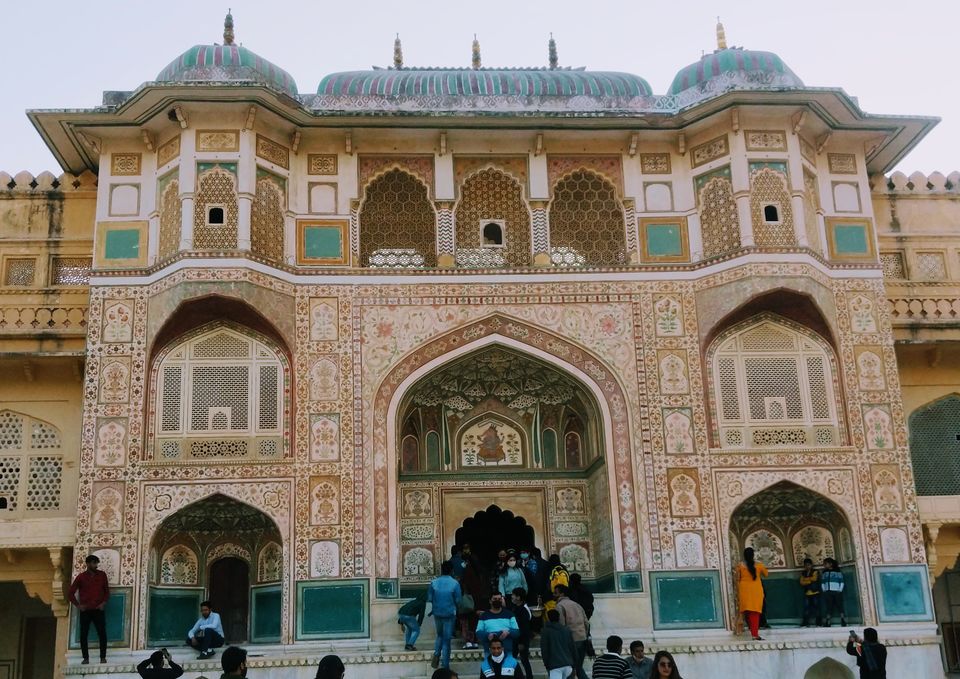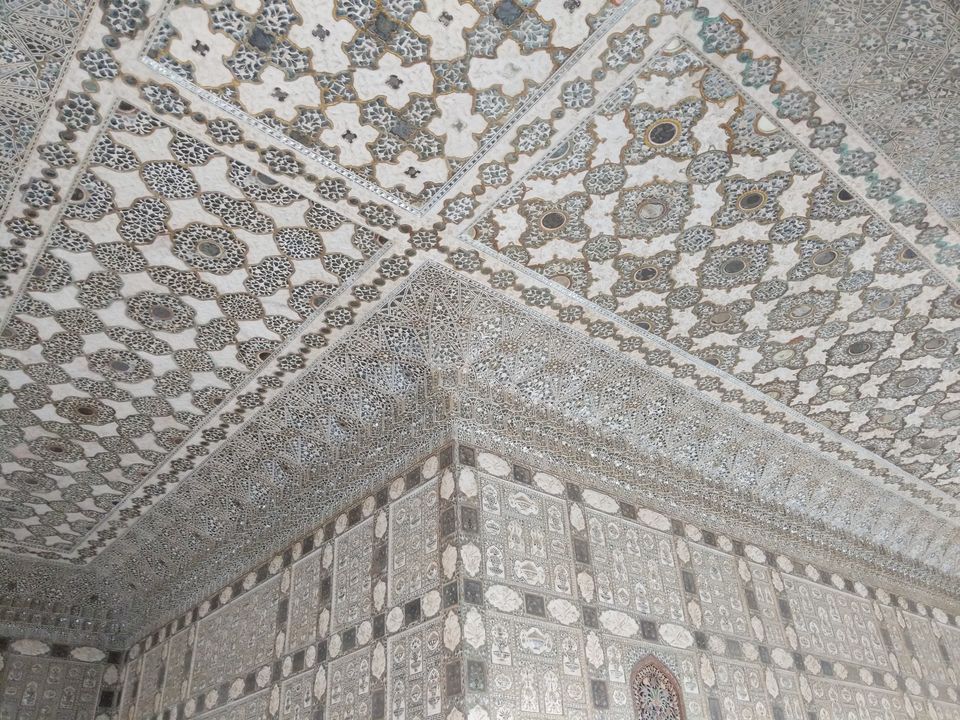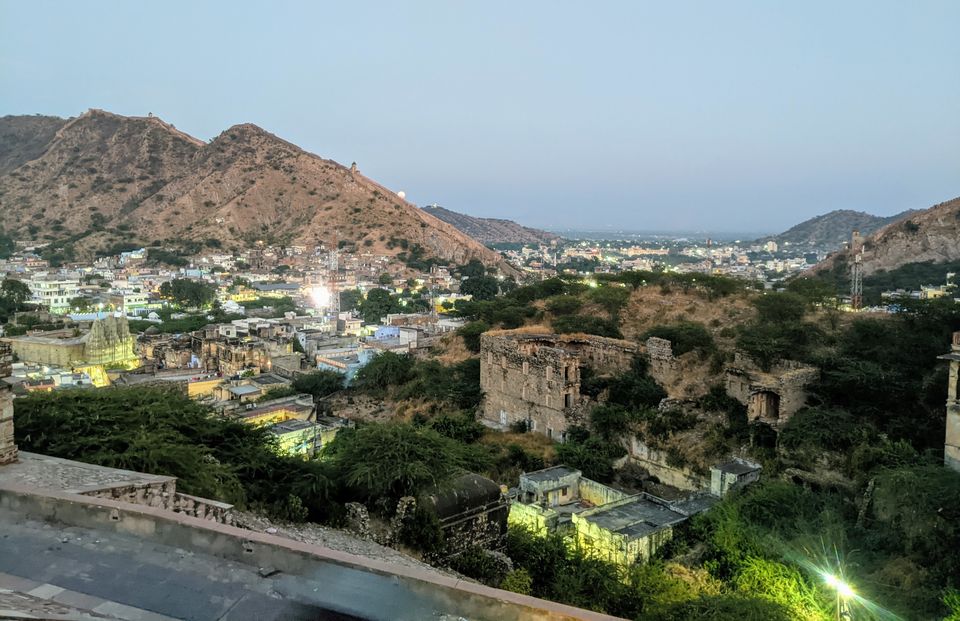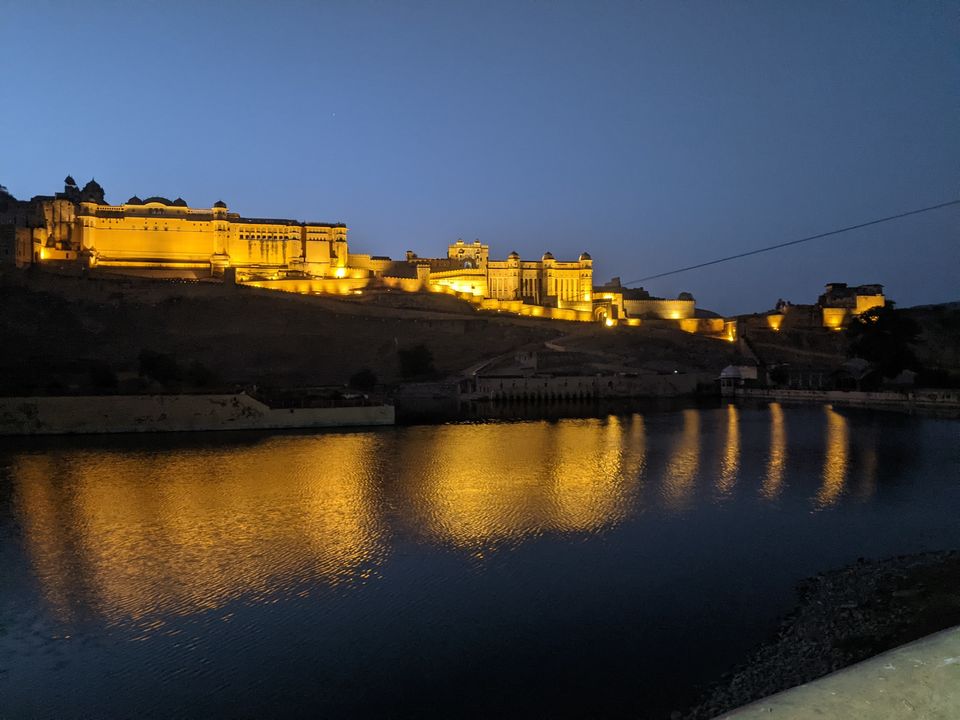 There are many places one can visit in the city after the sunset and Jal Mahal Palace is one of the top contenders for this category. It is located in the middle of Man Sagar lake. Neither the interior of the palace is open for visitors, nor boating is allowed in the lake. The view from Amer road is pretty much what you'll get to see, so visiting it during the day won't make much be any better.
Hawa Mahal is also well lit and can be visited at night but the street in the front has heavy traffic. If you want to take a good shot, better to have dinner and then come back much later as anyways entry is not allowed after sunset.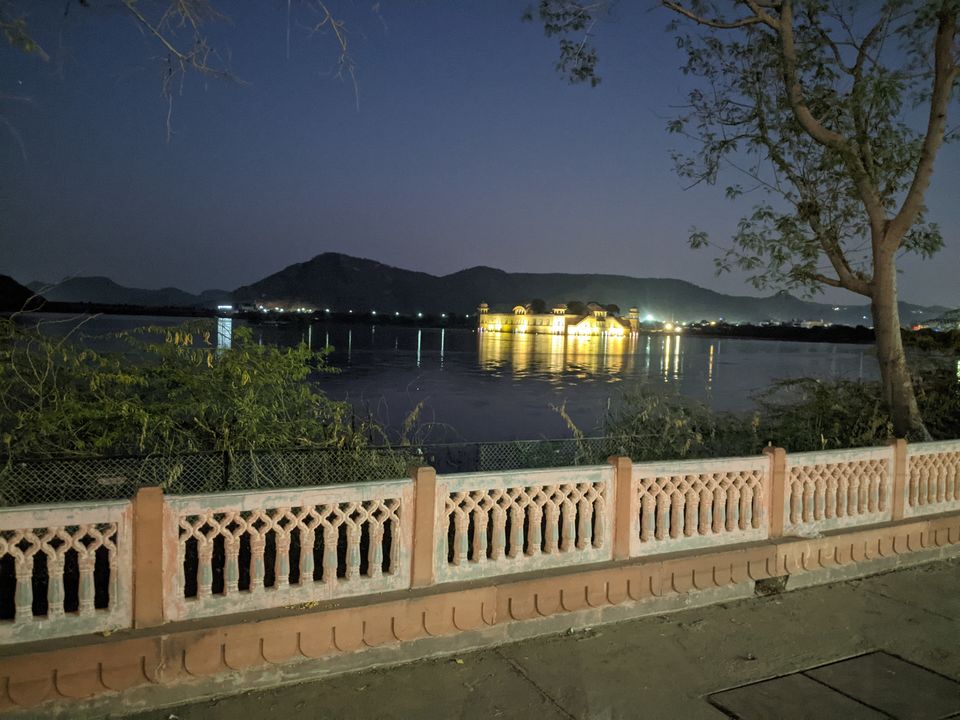 Travel summary:
Jaipur - Sambhar (NH 48); 85 km/1 hr 45 min; good road except for the last 10-15 km
Sambhar - Jodhpur (NH 162); 305 km/5 hrs; good road till Jadan, single carriageway thereafter
Since we had to return from Jaipur anyways, we left Nahargarh Fort for the last day and continued for Jodhpur. On the way, we covered Sambhar Salt Lake which is one of the best places I've visited so far (not only counting this trip). A few hours into the day, when the weather isn't too hot but there is enough sunshine to render the lake shiny white, is the best time to visit here. It is the largest saline lake in India and you can feel that once you go inside. In winter season, you can spot pink Flamingos if you go till the point where water starts. Since during this season most of the lake has dried up, you have to go very far inside for that. As you enter the lake, you will find tyre marks till wherever you can see. But generally try to aim for the centre of the lake and you will find the remains of the lake.
It is not easy to find a good spot to take your vehicle. You can ask the locals for the same but beware of frauds who will ask for money in return. There have been many cases of people extracting money from tourists for providing a pass to enter the lake. There is no such restriction from the government so just ignore them and find some other location to enjoy. And yes, remember to wear bright colours, the pics will be awesome. Many songs have been shot here including DJ Waale Babu, Lahore, etc.
Tip: GPS coordinates of the point from where we entered - (26.881439, 75.065188). This is not the only option but we know this was free from the fraudsters.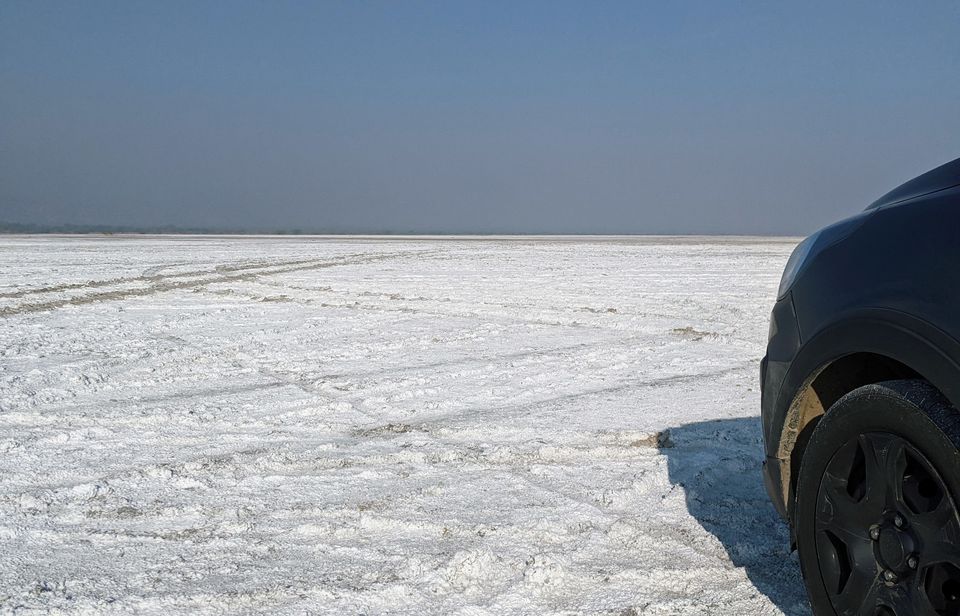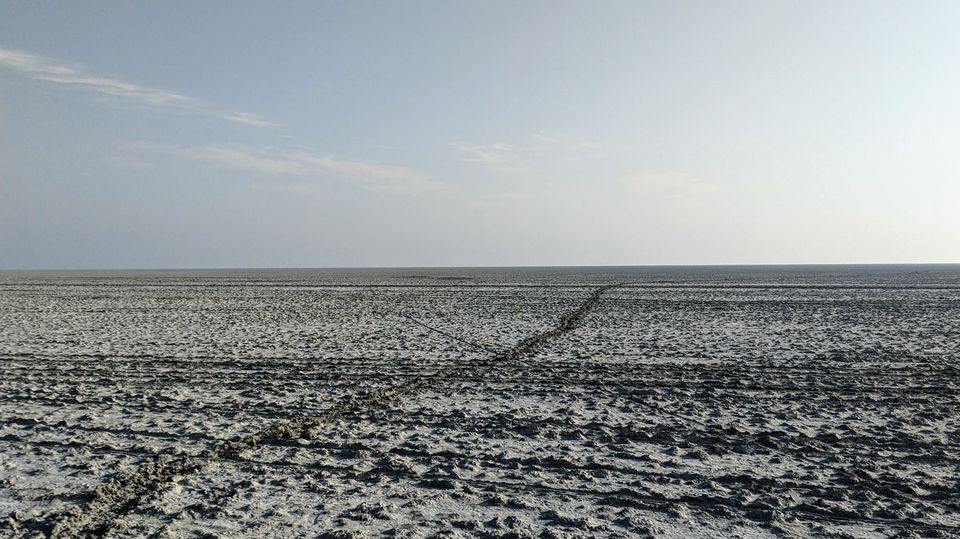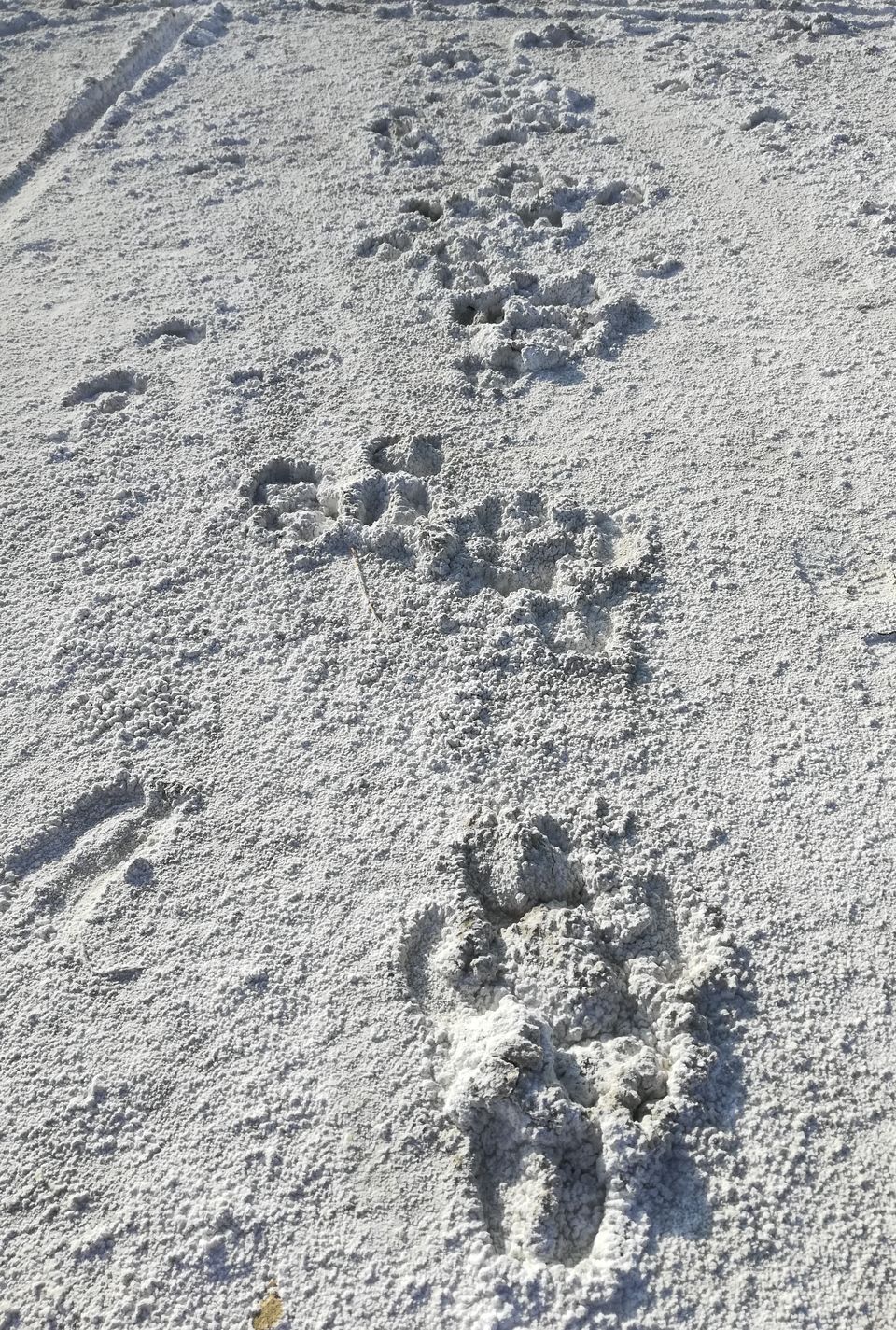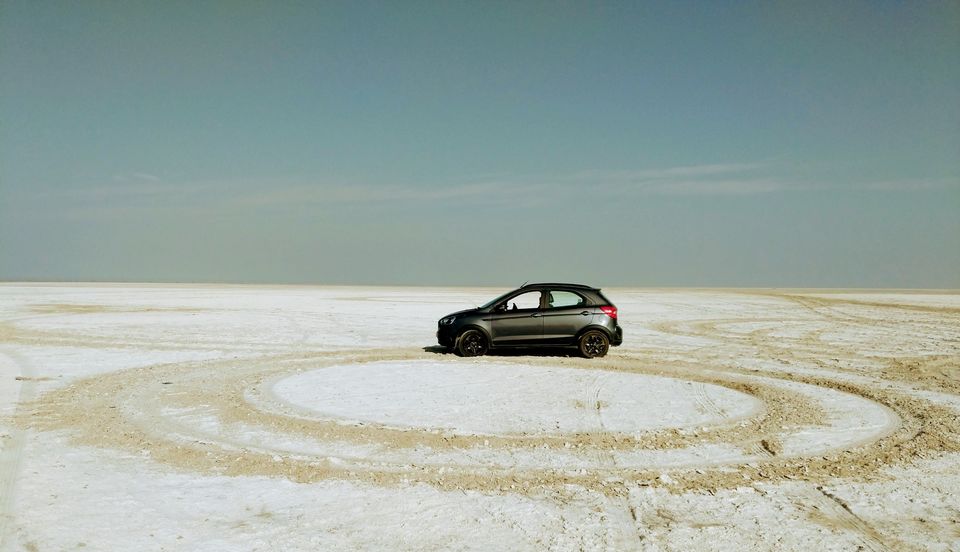 After clicking some 350+ pics, we continued on our journey to Jodhpur. As we were moving closer to desert, we were able to find some of the prominent hints like Khejri trees on road side, camels on the way and traffic becoming sparse by the km. During the last stretch I think we hardly saw any vehicles . . . or people . . . or animals. I distinctly remember seeing some 7-8 cars, 3 camels and 1 cow in the last 70-80 km. Still the terrain is fun to drive however, the passengers will get bored after some time.
Tip: Have your meal somewhere on the highway before leaving Beawar and keep enough water with you to make it till Jodhpur.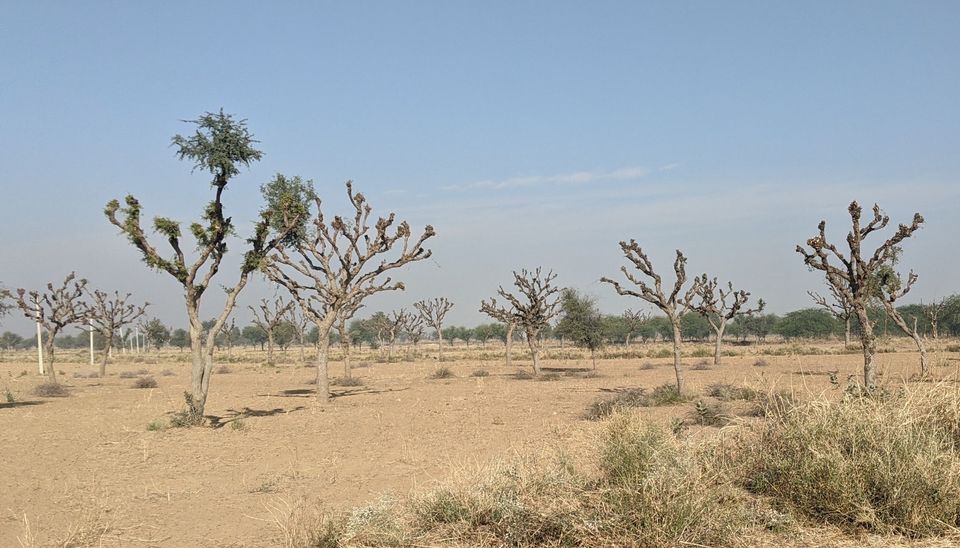 Next on our list was Mehrangarh (former Mihirgarh, or Sun-Fort), the major attraction of Jodhpur. Being one of the largest forts of India, it is visible several kms before reaching there. One of the first thing we noted was the huge free parking area complementing the fort. The fort is also extremely well maintained - the garden on top was lush green, the cannons intact and in position, the cleanliness is appreciable and the museum is very well-stocked. From the top, one can see the whole city and beyond. The whole fort takes (and deserves) a few hours to cover. Since after this we just had to enjoy the food, we stayed here till sunset.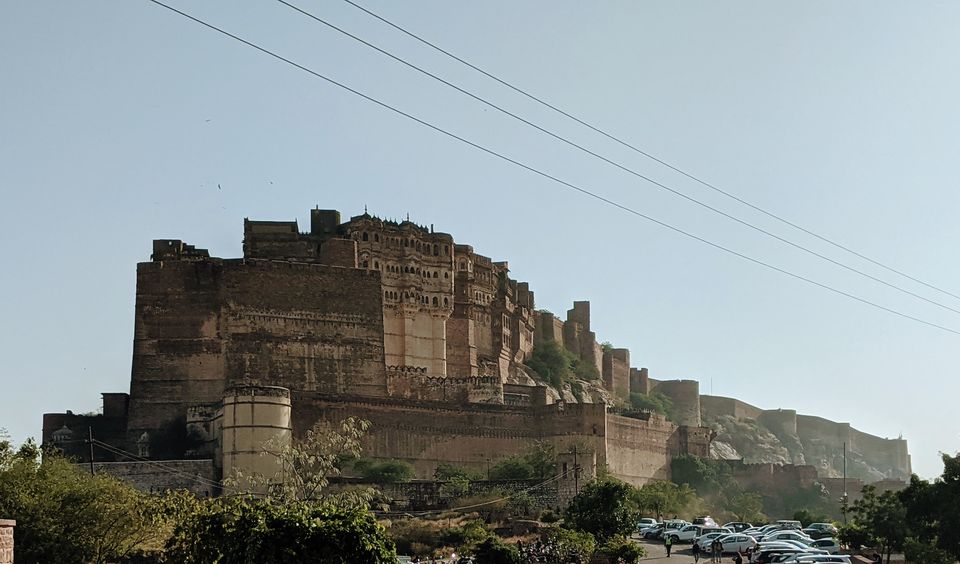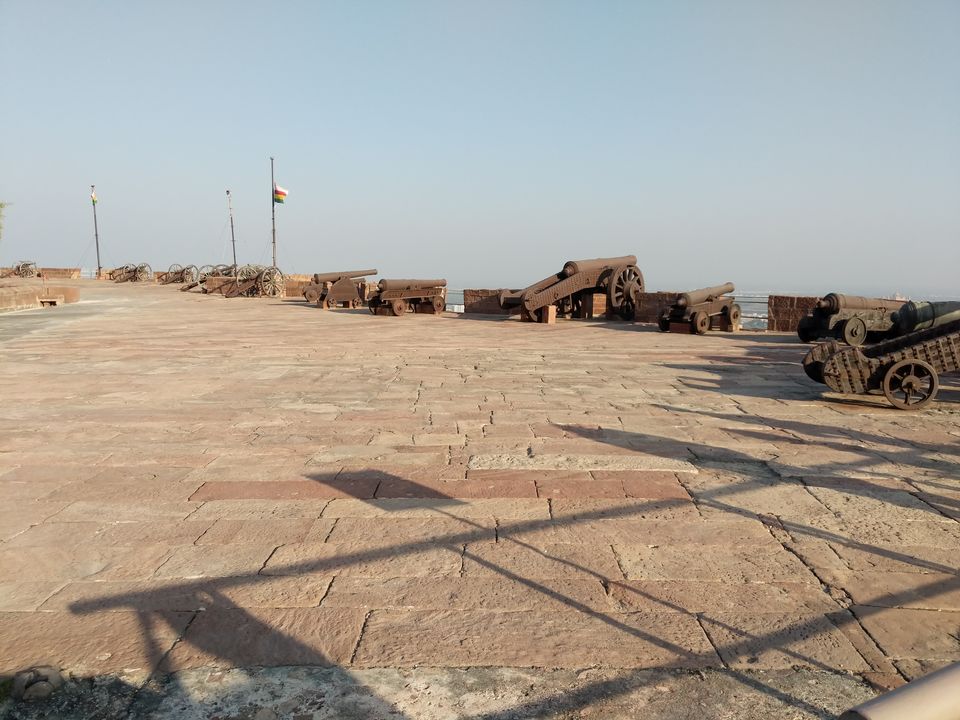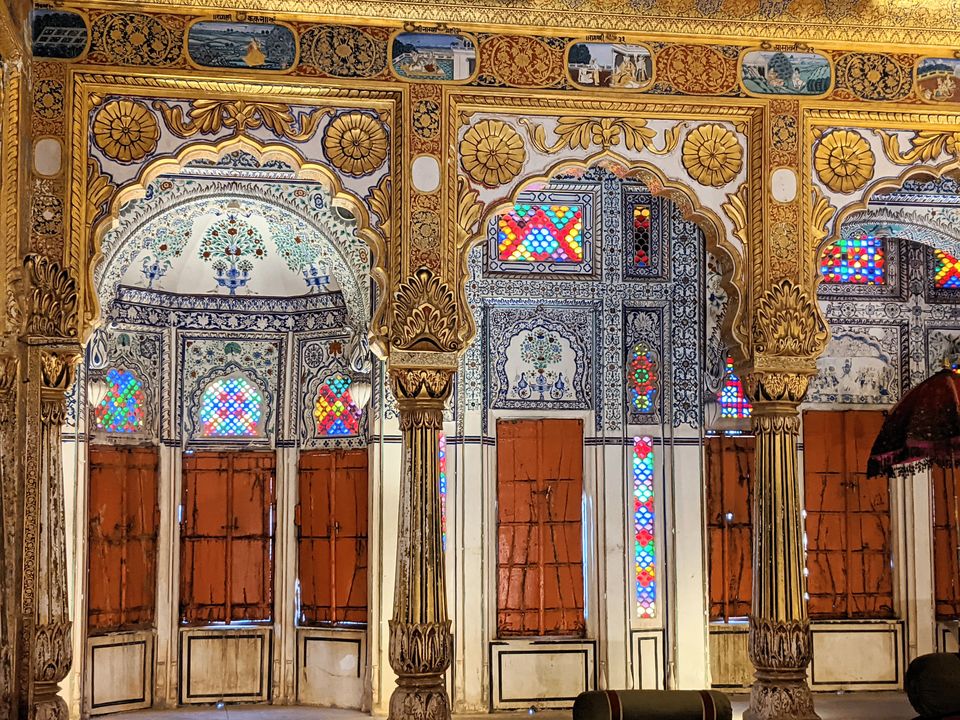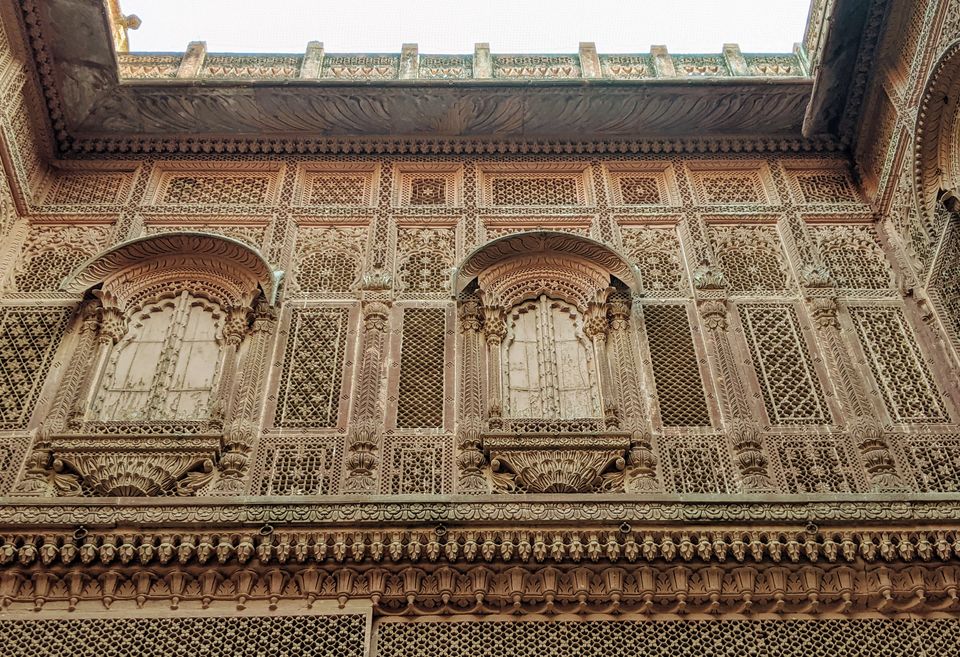 From the top of the fort and everywhere around it, one can see why Jodhpur is called the Blue city. The houses in the old town of Jodhpur surrounding the fort, are painted in blue/indigo, which indicated that Brahmins stay there. It is not the case anymore, but the blue colour still helps in keeping the houses cooler and insect repelling.
Jodhpur is well known for it's delicious food and rightly so. While there are a lot of options to go that can be easily found on the internet, we went to Gypsy. It is mostly known for its Rajasthani Thali, which is a must try. However, I would also suggest trying out Daal-Rice here. We were pleasantly surprised, like how much can you upgrade such a simple dish. Hats off to the chef ! Overall, it was an awesome meal to end this crazy year with.
Tip: Irrespective of which restaurant you choose, if you're a non-vegetarian, you should not miss Laal Maas when in Jodhpur.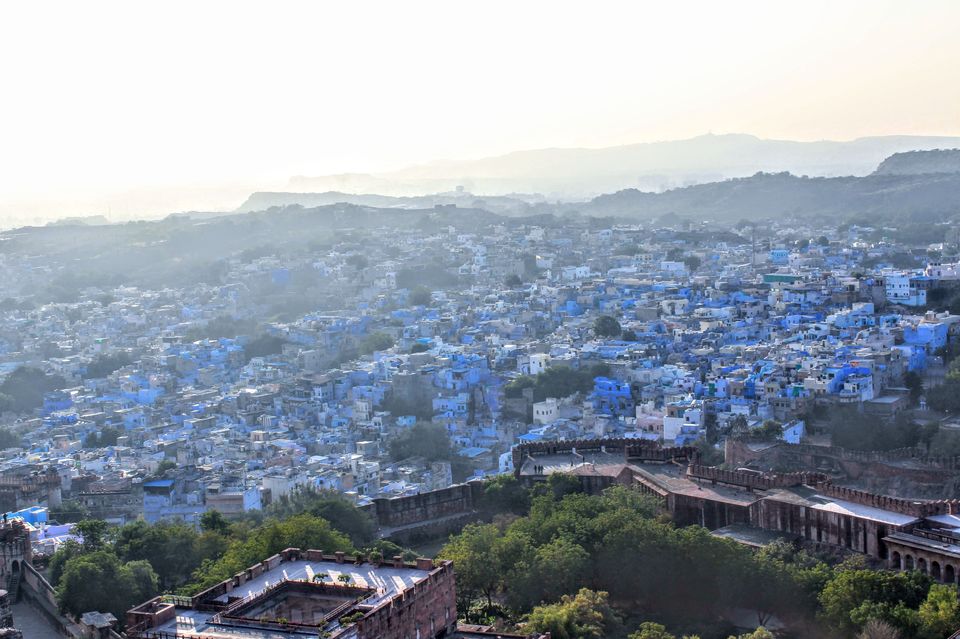 Travel summary:
Jodhpur - Jaisalmer (NH 125, NH 11); 280 km/4 hrs; good roads, no traffic
Jaisalmer - Sam (Jaisalmer-Sam road); 40 km/45 min; single carriageway, moderate traffic
None of us being early risers, we wouldn't have expected starting the new year at 5 AM, but we were excited for Jaisalmer. It was in fact the real trigger behind this trip. There were several stops we made along the way in the next 2 days because Rajasthan truly embodies its tourism campaign Jaane Kya Dikh Jaaye. We had a tea break on the highway and then stopped at some random locations which looked photogenic.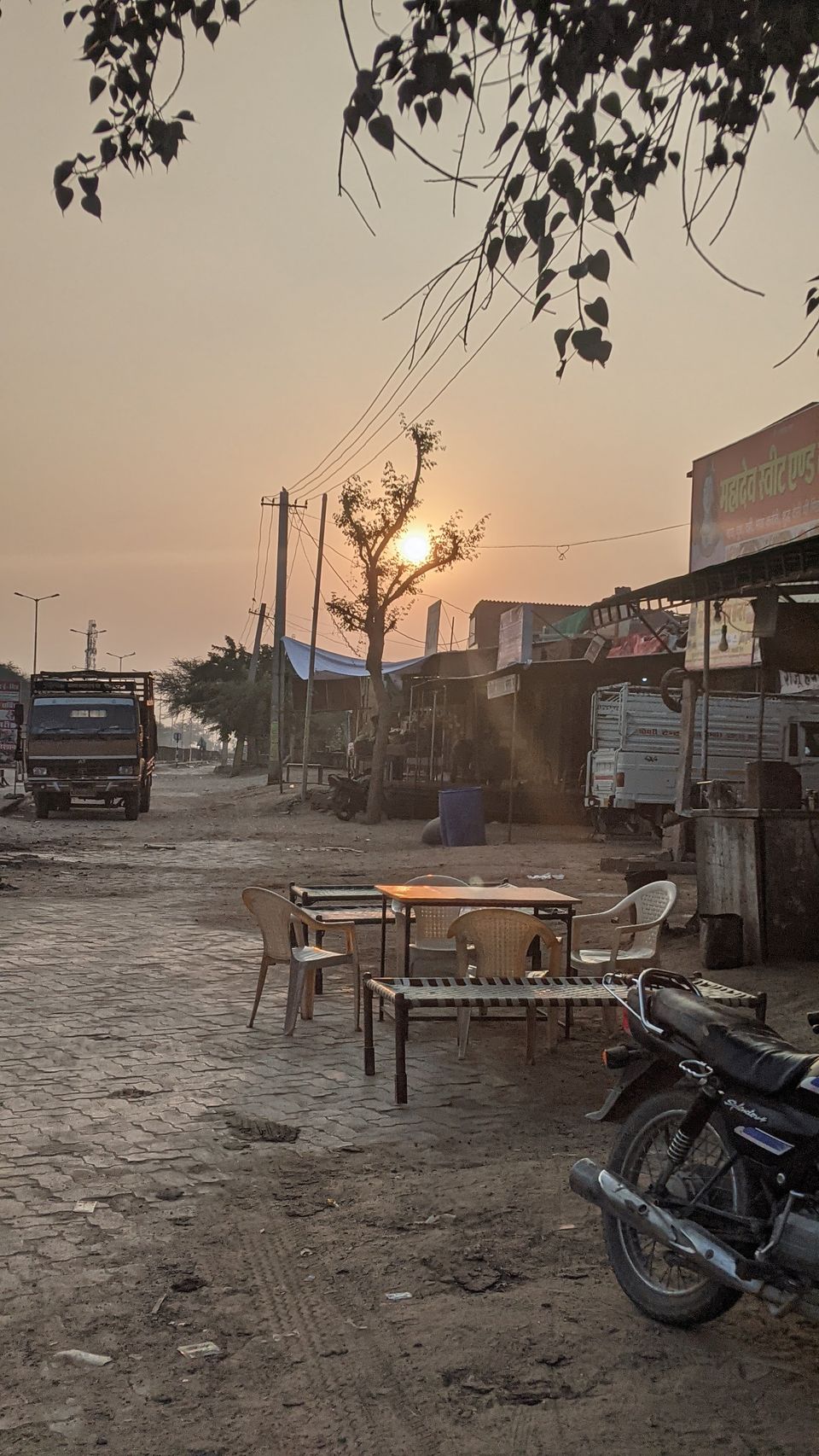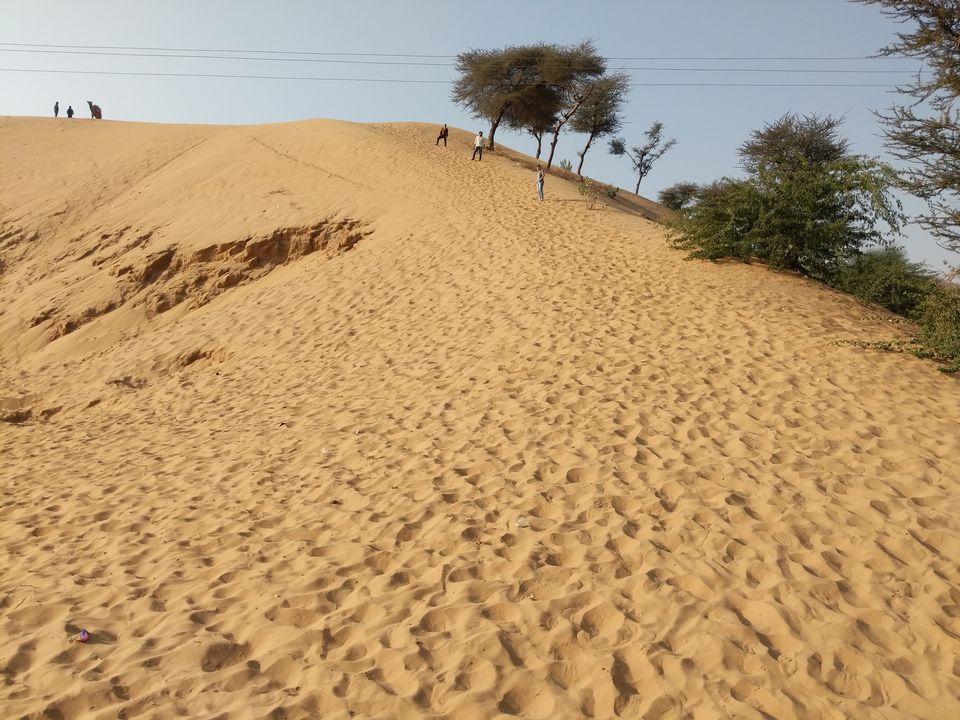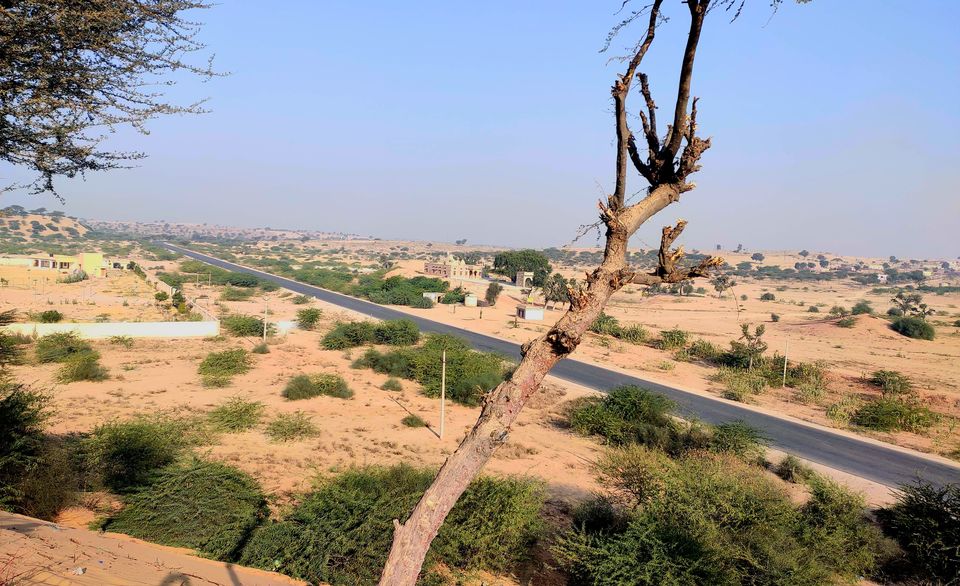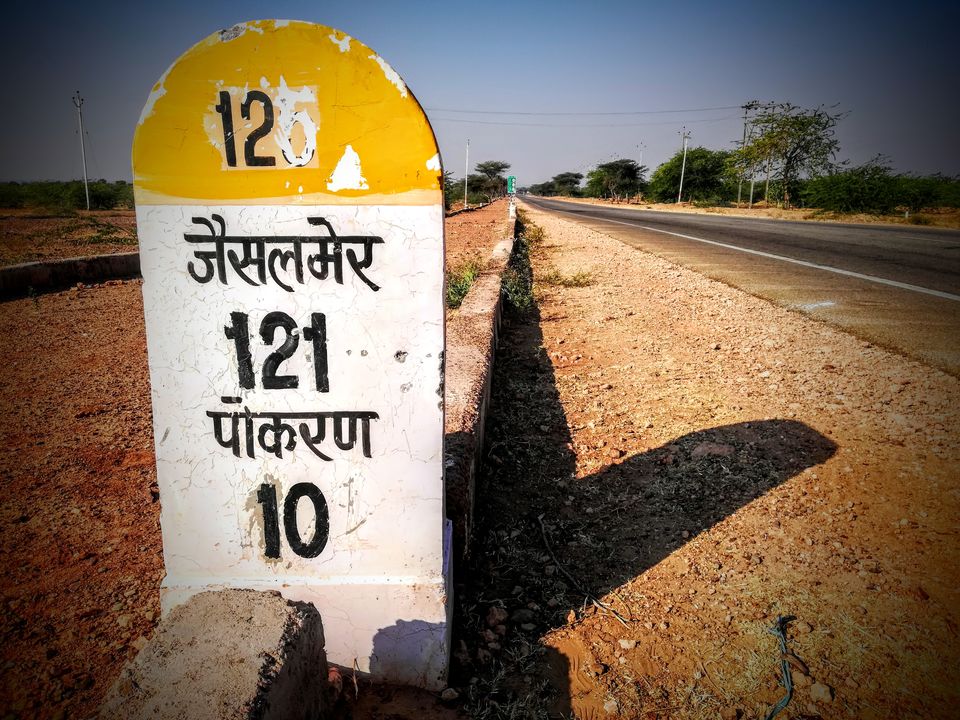 The photography sessions went on till Pokhran where we had our brunch. Although we had no plans in Pokhran, we had to go inside the city to find a place to eat. Since Rajasthan barely has intercity traffic, it is hard to find good dhabas on the way. After refuelling ourselves, we drove for around 1.5 hrs and reached Jaisalmer around 1 PM.
The whole city of Jaisalmer is engulfed in golden colour. The dividers, the circles, the pavements, the sidewalks, the houses, everything follows the same colour code as the fort itself. In fact, Jaisalmer Marriott is also built with the same stones and looks like a mini fort in itself. We went straight to have a glimpse of the Jaisalmer fort. This is one of the very few forts in the world where people still reside. In fact, apart from the last 300 yrs or so, the fort was the city of Jaisalmer after which people started building establishments nearby. We did not visit the fort from inside as we had visited 2 already and 1 more was due in the upcoming days.
Tip: Before moving ahead of Jaisalmer, better have your lunch because most of the camps will provide welcome drinks/tea but not lunch.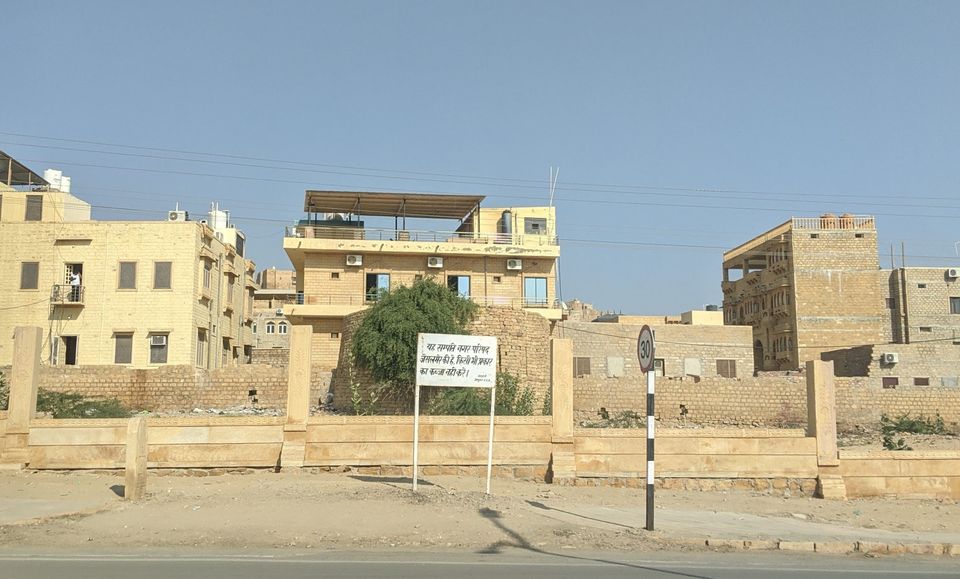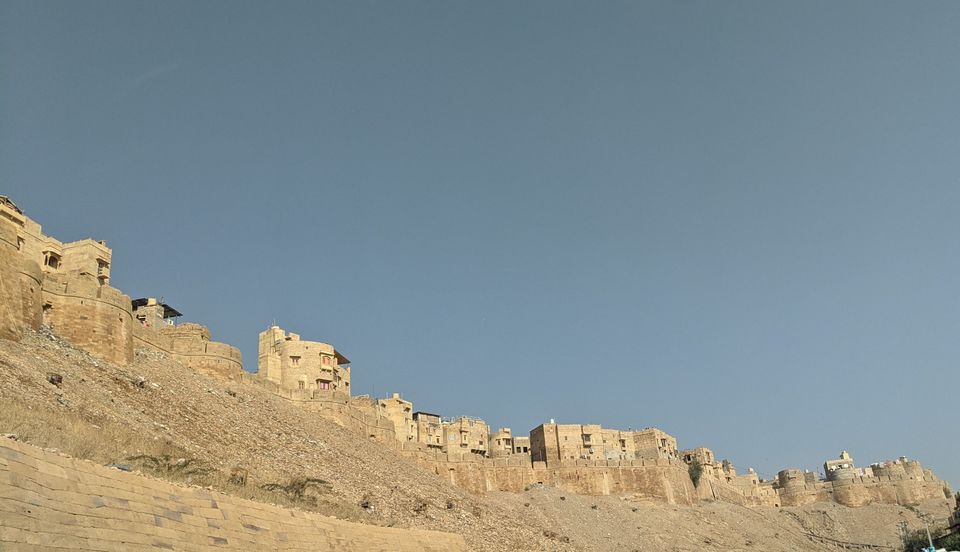 Finally, we were at the most anticipated part of our trip. As soon as you move ahead of Jaisalmer, it starts to feel like you're in the desert. All around nothing can be seen except for dry lands with hints of bushes in patches and the road that goes through it. Windmill farms can be seen everywhere. We just randomly stopped at some point to take some pics and this dog appeared out of nowhere. Turns out, it was the shade below the car that was so appealing for him. And it was not a place where people would generally stop, so yeah we could feel for our uninvited guest. It kind of felt bad for leaving so soon from there.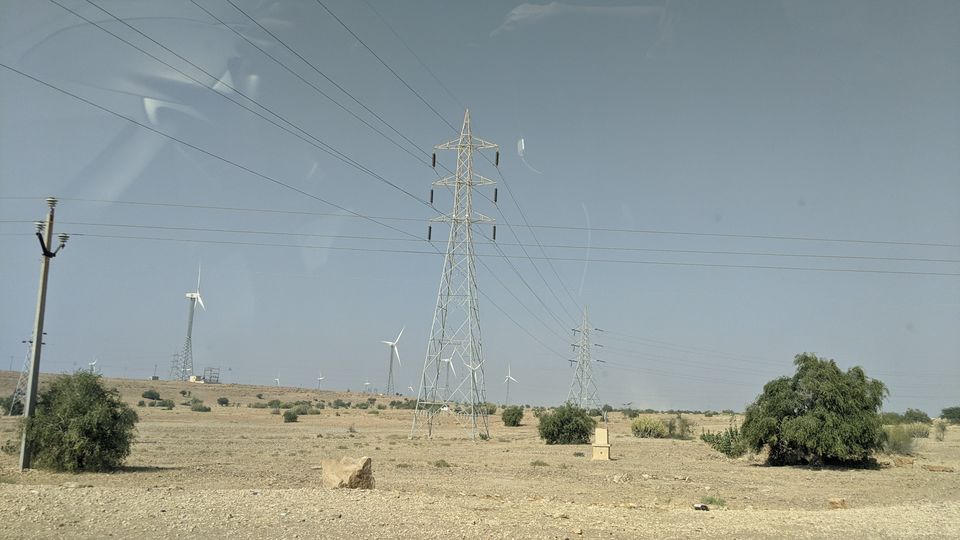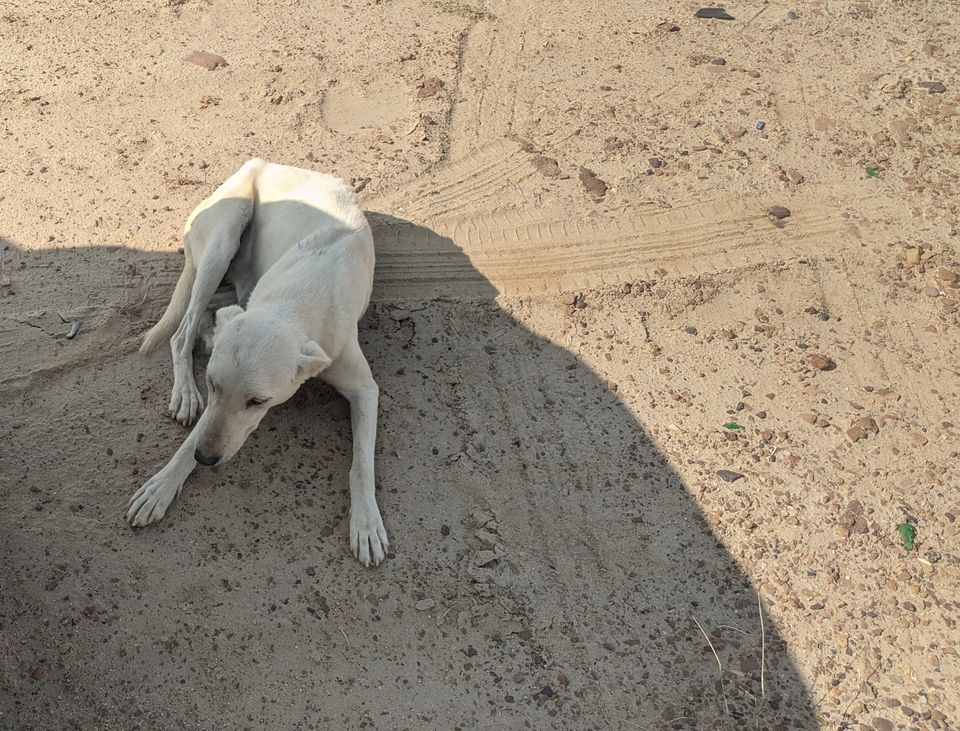 We soon reached our camps and had a light lunch before leaving for dune bashing in the jeeps they arranged. It was an awesome experience standing in open jeeps while he took us up and down the dunes. Post that, we were dropped at the sunset point which has a small shop where you can get snacks. We came to know that one is allowed to bring own vehicles for having fun in the sand, obviously if the vehicle and driver are both capable of it. But yes, an addition to the bucket list for some other time. We stayed here till sunset and came back to our tents after it was dark. You can also stay back near the tea shop if you want to watch the stars at night. They will arrange for your drive back to the stay.
Tip: If you're going for Jeep safari instead of camel safari, make sure you haven't just had food else it might not be a fun ride.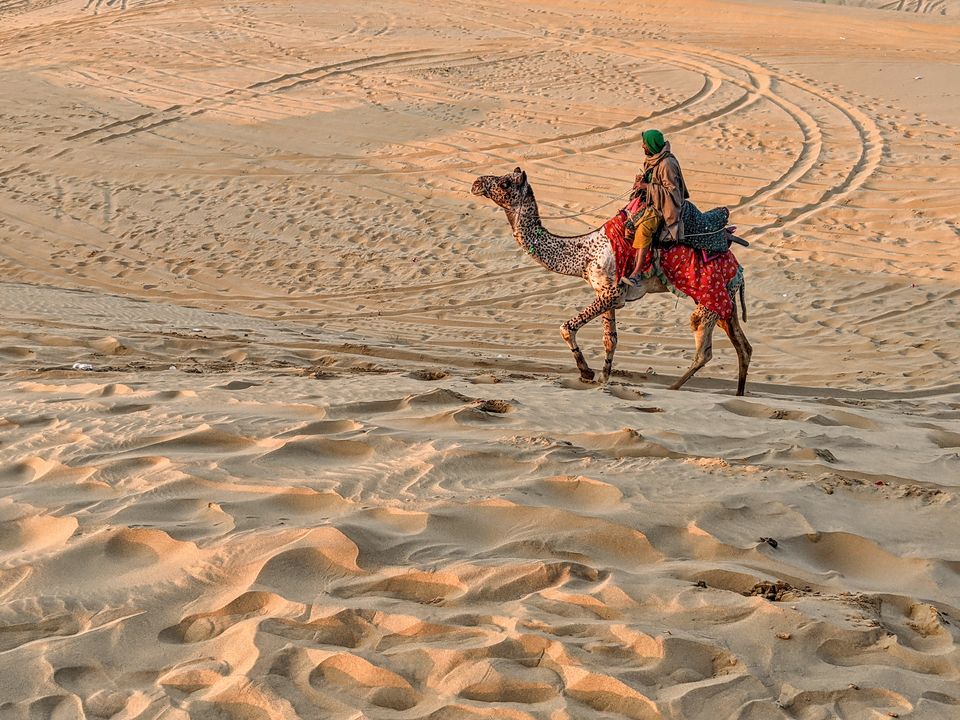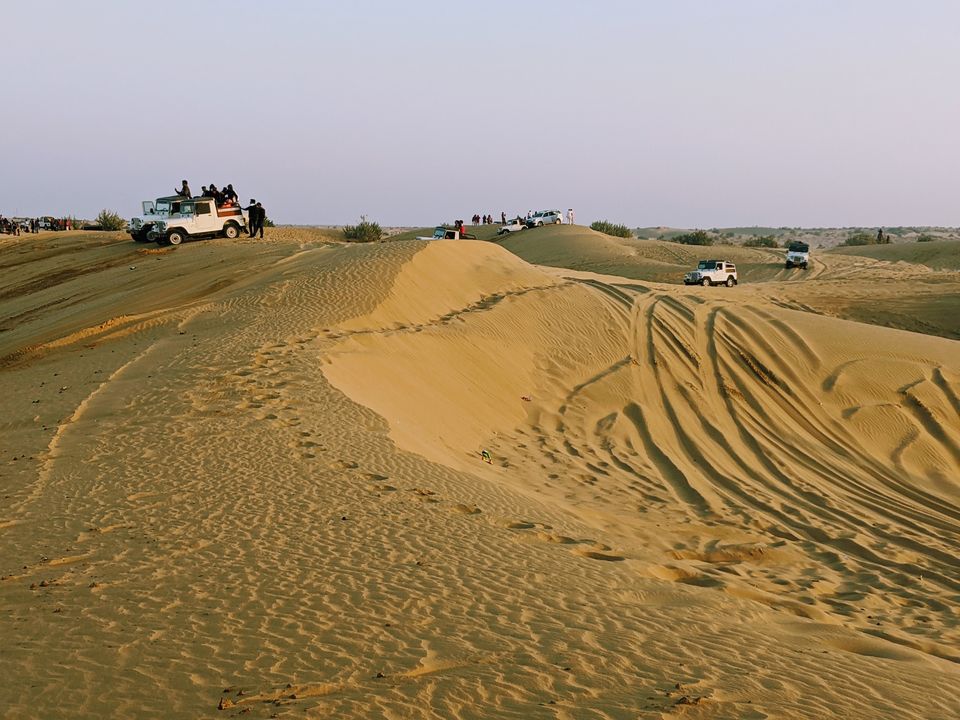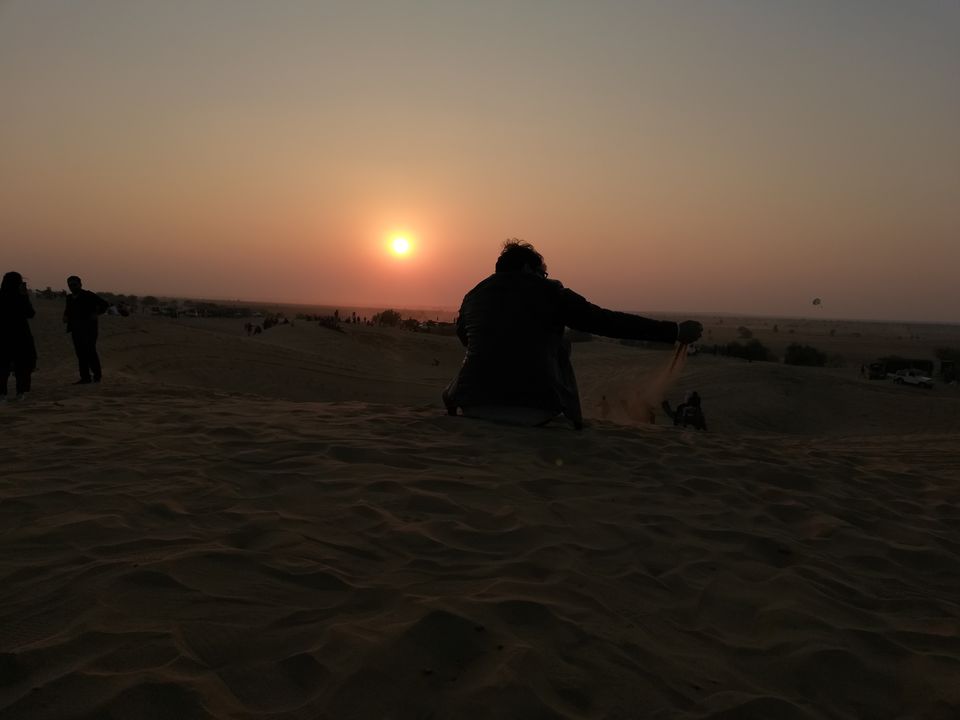 This place is surrounded by camps all around and most of them provide authentic Rajasthani food along with a folk show before dinner. We stayed at Peace Desert Camp and were seriously impressed with the hospitality. The food was delightful and so was the event. The host kept it very interactive by talking to the audience while tea and snacks were being served near the bonfire itself. Due to cloudy skies, we could not do star gazing but if that is something you are interested in, you should go to Astroport in Alwar. It is the second darkest place in India so the rest should be self explanatory.
Tip: Do try Ker Sangri when in and around Jaisalmer. It is a local speciality made from the fruit of shrubs only found in the hot dry regions of Asia and is rare to find it elsewhere.
Travel summary:
Jaisalmer - Bikaner (NH 11); 330 km/4 hrs 30 min; good roads, low traffic
Bikaner - Jaipur (NH ); 335 km/5 hrs; good road, moderate traffic
We were not yet done with Jaisalmer because there is so much more to do here. Not like we had enough time, but 1 or 2 places could still be covered. Next on our list was the abandoned village Kuldhara, but before that we got a chance to view the sunrise in the desert. I am saying chance because we woke up late and thought we missed it. But what we forgot was that we were now on a longitude 10º west from where we began, which meant we could still make it. We took the camels this time to take us to the dunes and we lcukily caught the sunrise at around 07:45.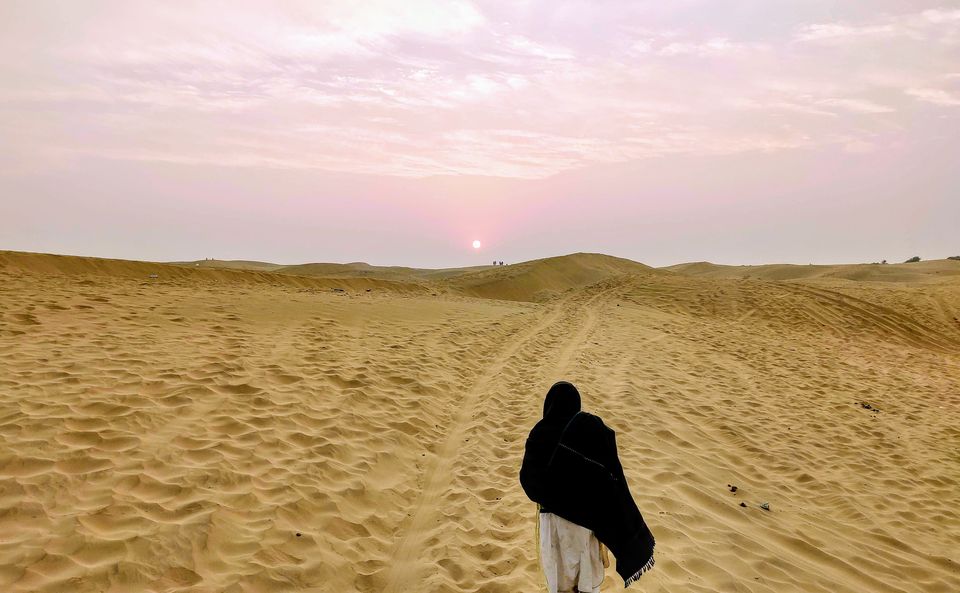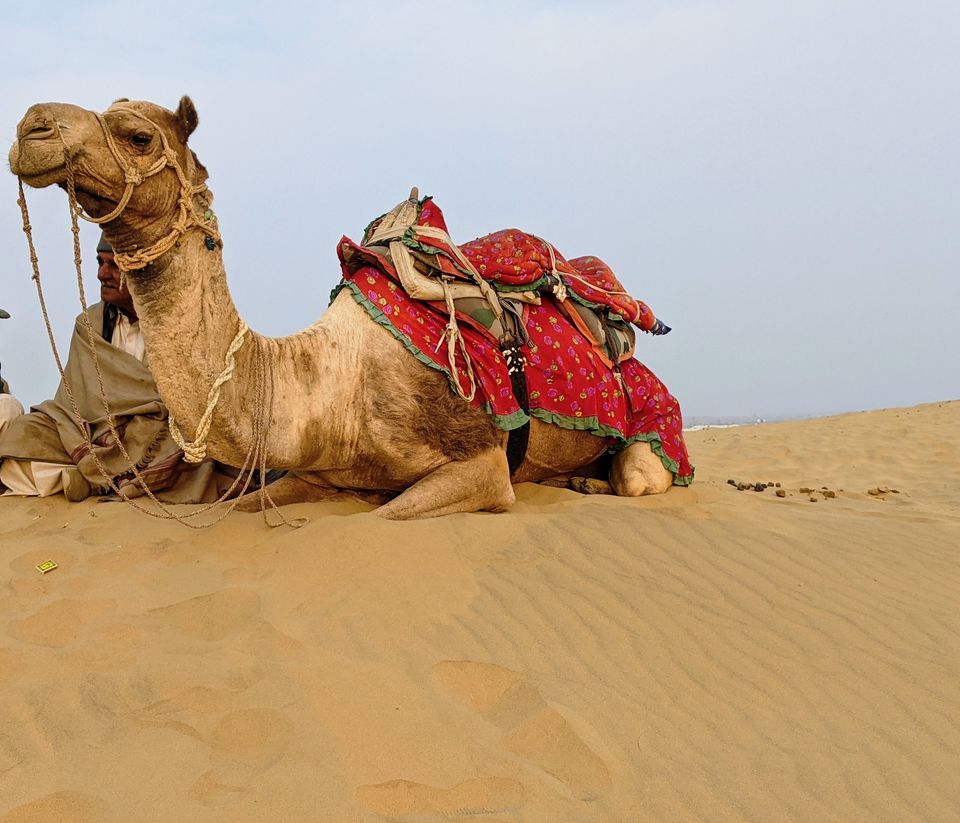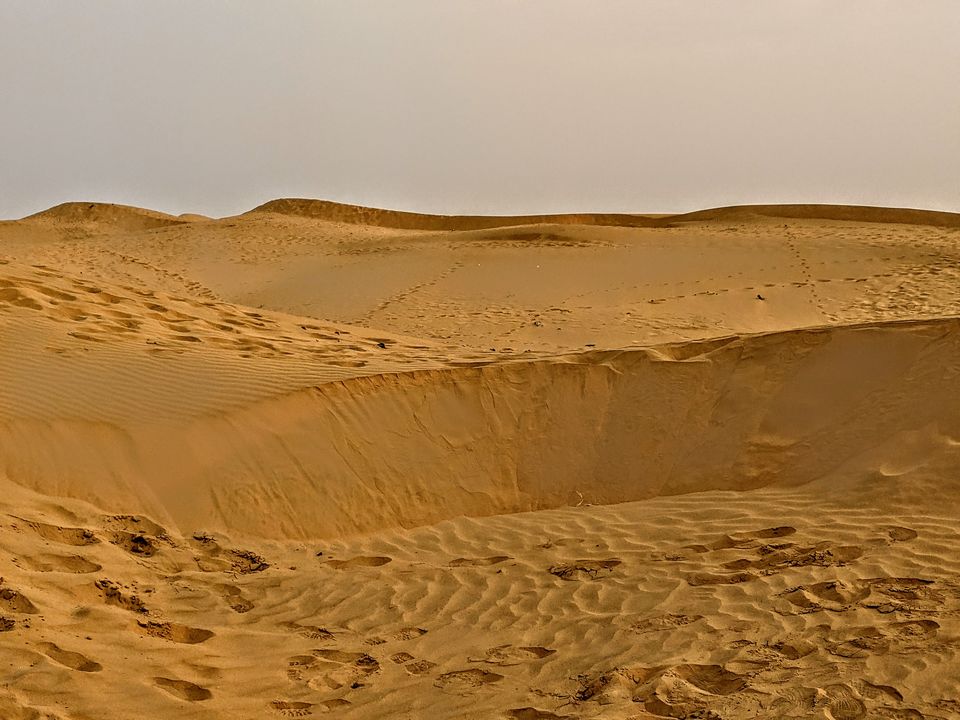 After bidding goodbye to the desert, we reached the abandoned (and allegedly haunted) village, Kuldhara. While there are numerous stories of what that triggered the abandonment, it is not certain what actually happened. Even the informatory boards at the entrance mention that there is no surety in this regard. Regardless, the place is awesome and one can go inside the village, explore the houses/remains and roam around the streets, just beware of the thorny bushes. Obviously since we went during the day, we didn't feel that the place is haunted.
Tip: If you want to roam around the streets of the remains in you own vehicle, go to Khaba Fort. It has similar ruins but you don't have to park your car outside and walk. It will give the true feeling of being in an abandoned village.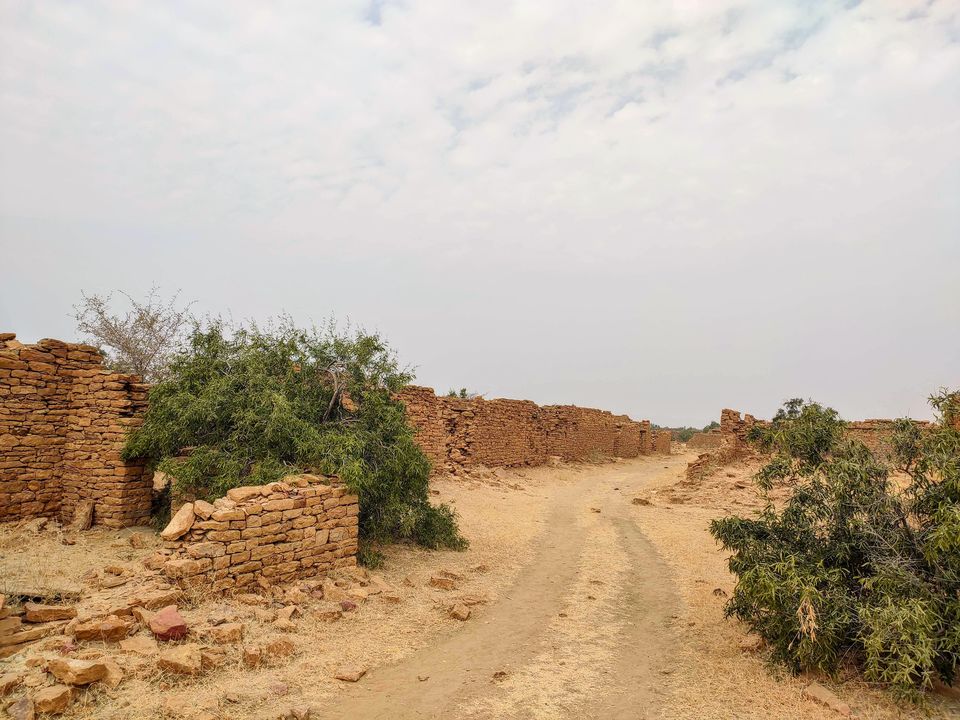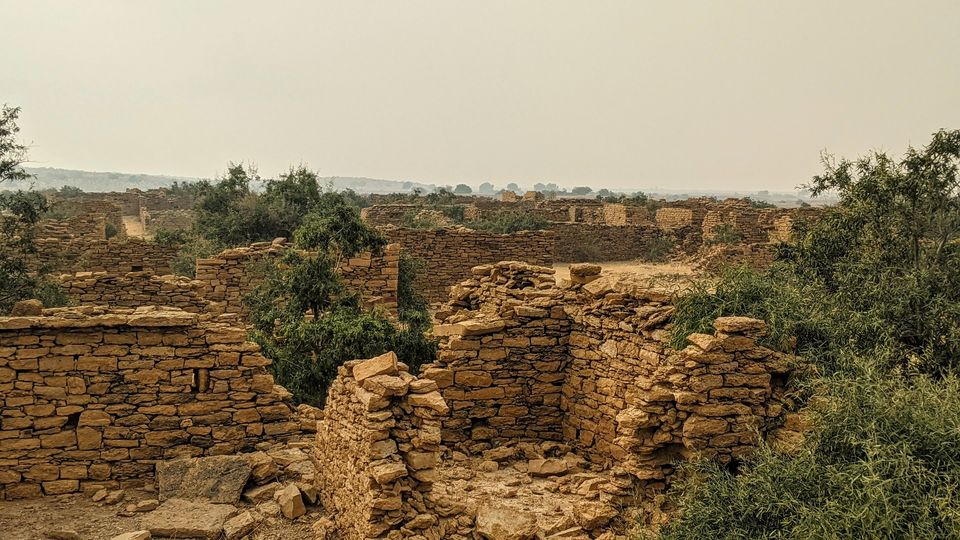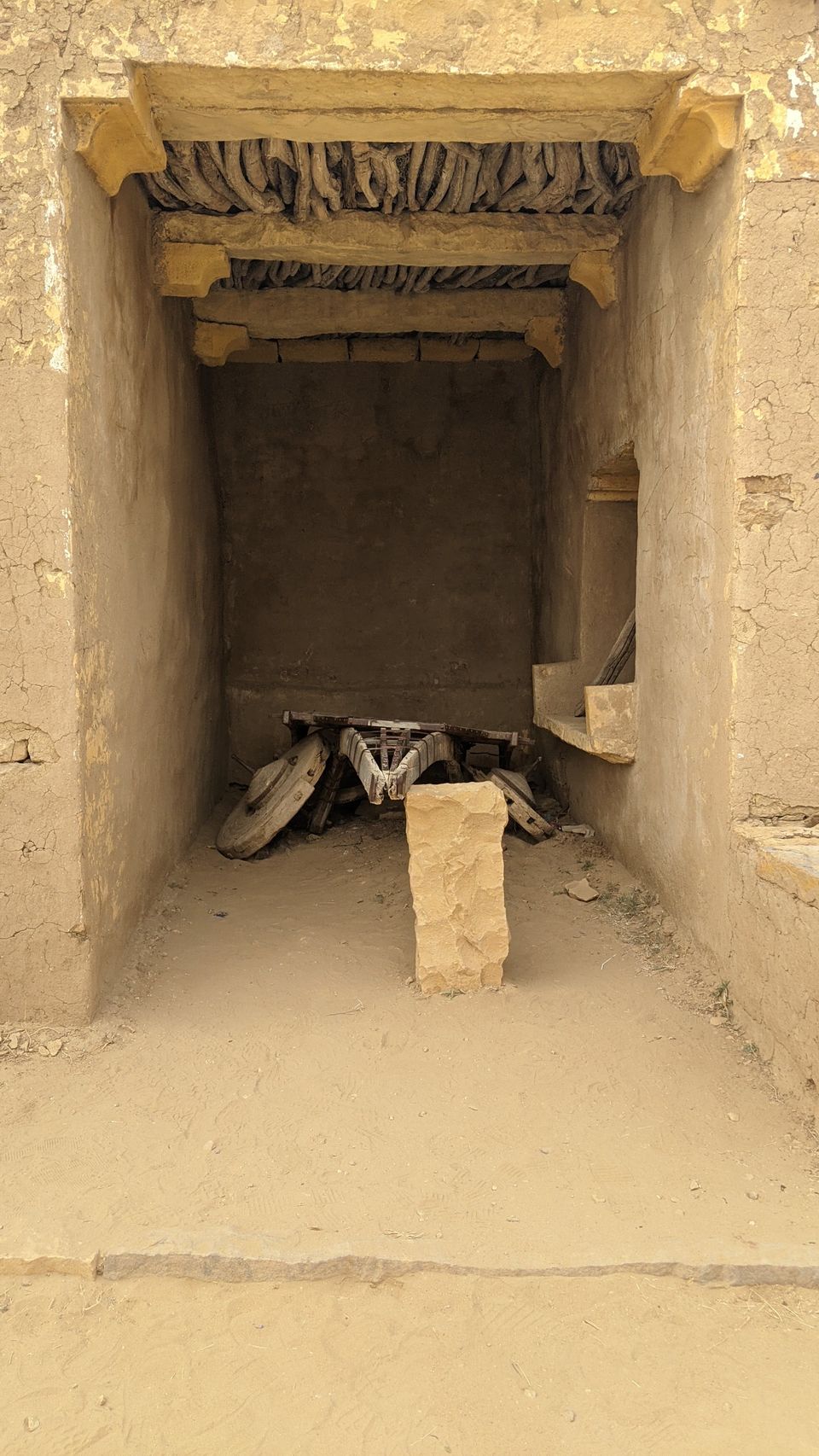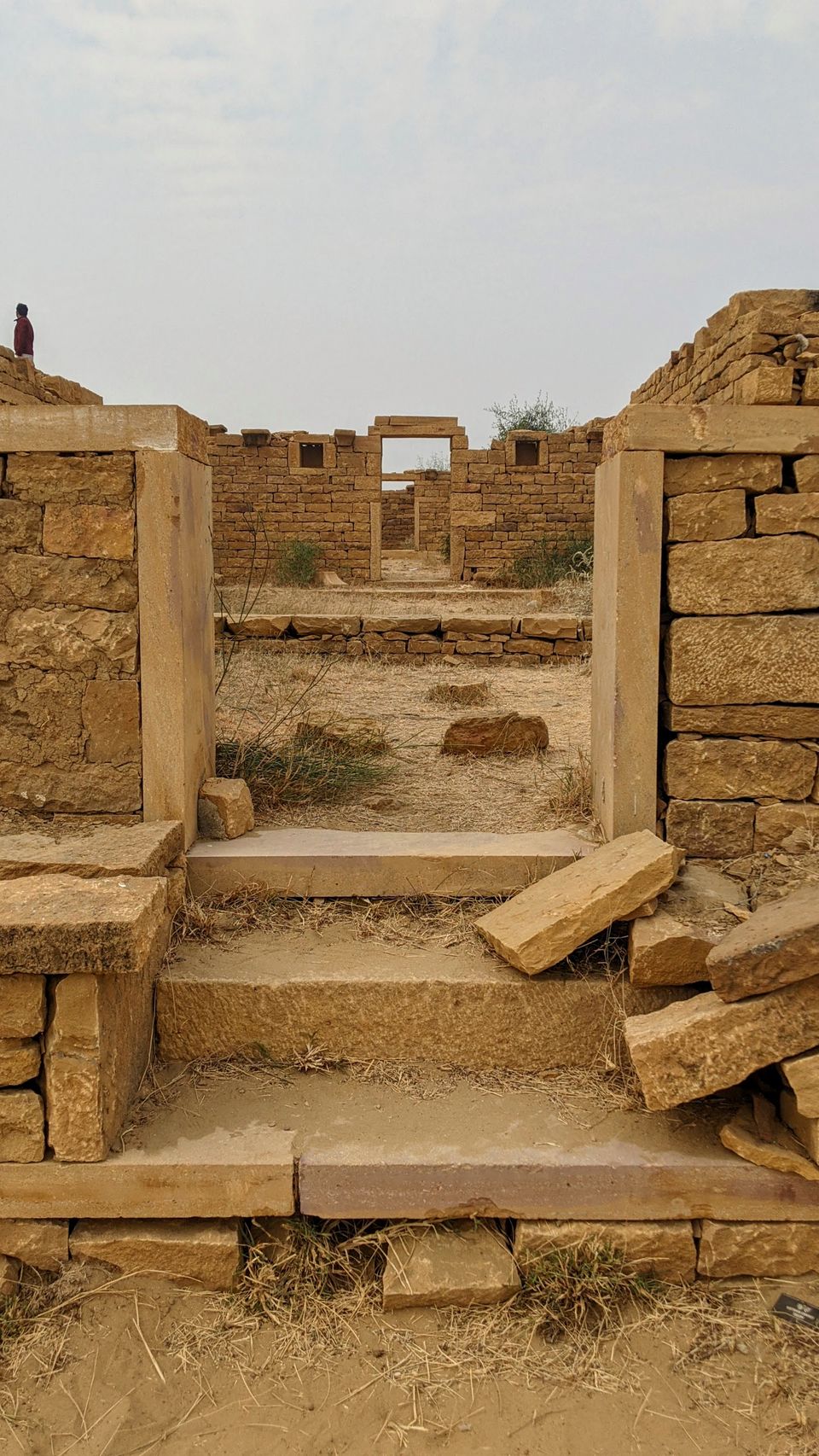 This concluded Jaisalmer for us, which also meant that finally we would start heading East after 3 days. The rest of the day was pretty much reserved for returning back to Jaipur as it was going to be a long journey. To avoid revisiting the same cities, we took a different route for going back - through Bikaner. If nothing else the roads would be new, the scenery would be different and that meant possibility for more random sites. This was the reputation that Rajasthan had built till now and it didn't disappoint us. Right after crossing BaP, we found an oasis (sort of) which had such peace and tranquility that could not be captured on camera. Finding this in the midst of an arid land really made our trip complete.
Tip: GPS coordinates of this secluded place - (27.430273, 72.374184)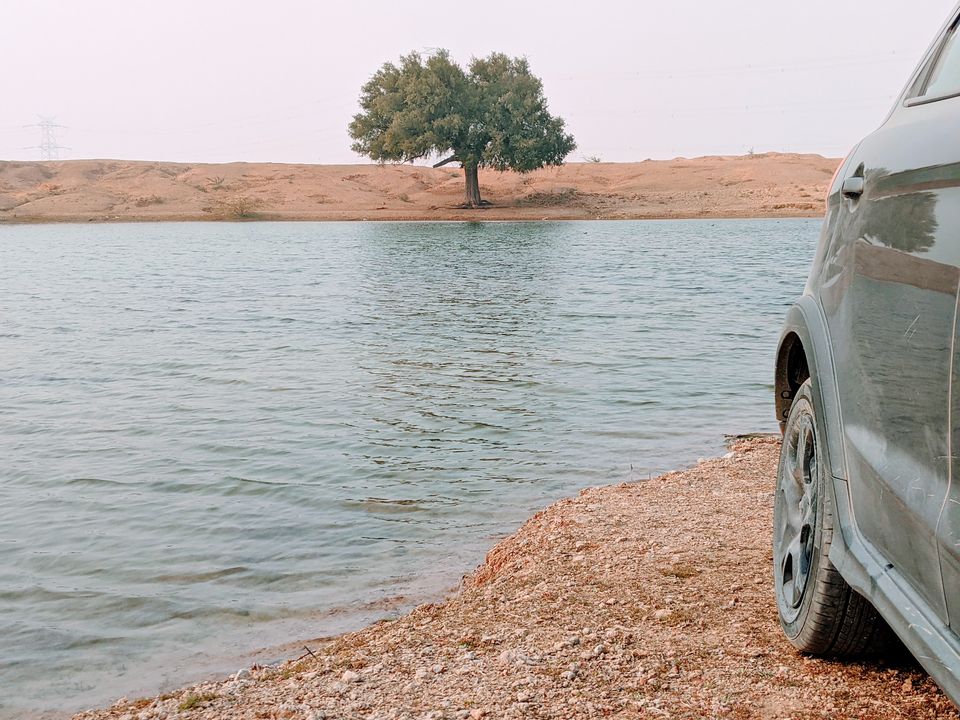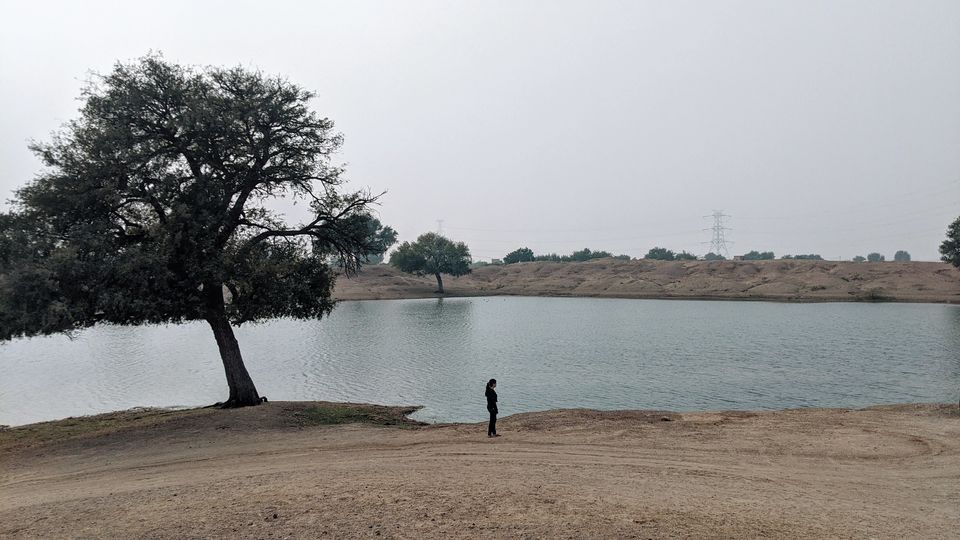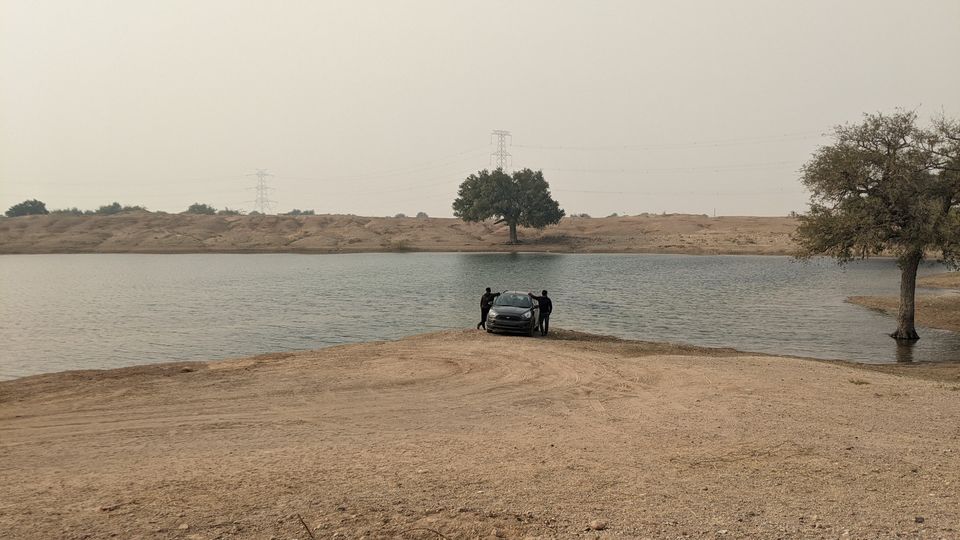 After this refreshing break, we continued for Bikaner. We found many overloaded vehicles on the highway. Overloaded is also an understatement as some of them were so big we were wondering how were they crossing the tolls. We reached Bikaner around 4 PM and as we were very hungry by now, the first thing we did was a heavy lunch. Obviously, after this we went for some authentic namkeen shopping. Before leaving from here we also went past Junagarh fort viewing it from outside, and then headed for Jaipur straight as it was already getting late.
Tip: Go for local shops for the real taste, not the names that you already know (like Bikaji). You can try Bhikharam Chandmal, Hanumanji Bhujiya Wale or just ask the locals.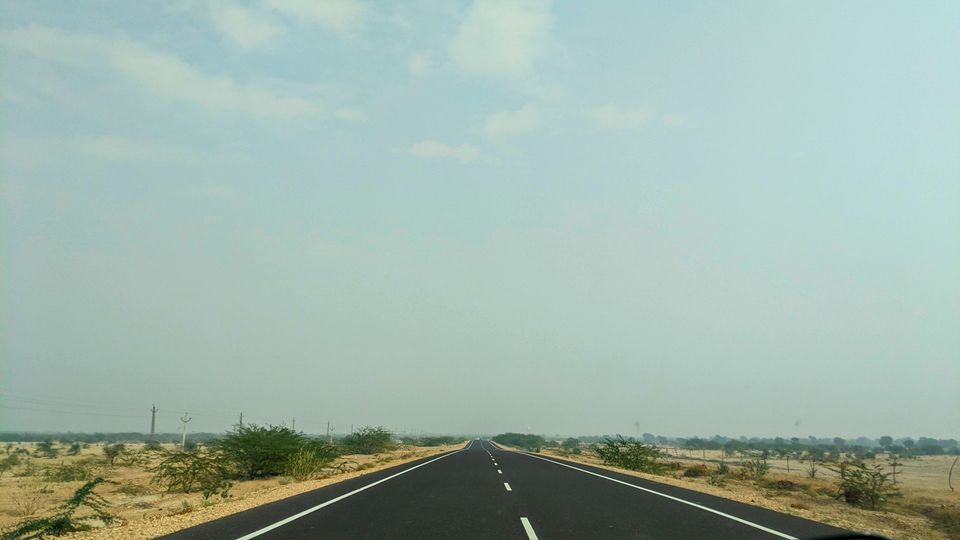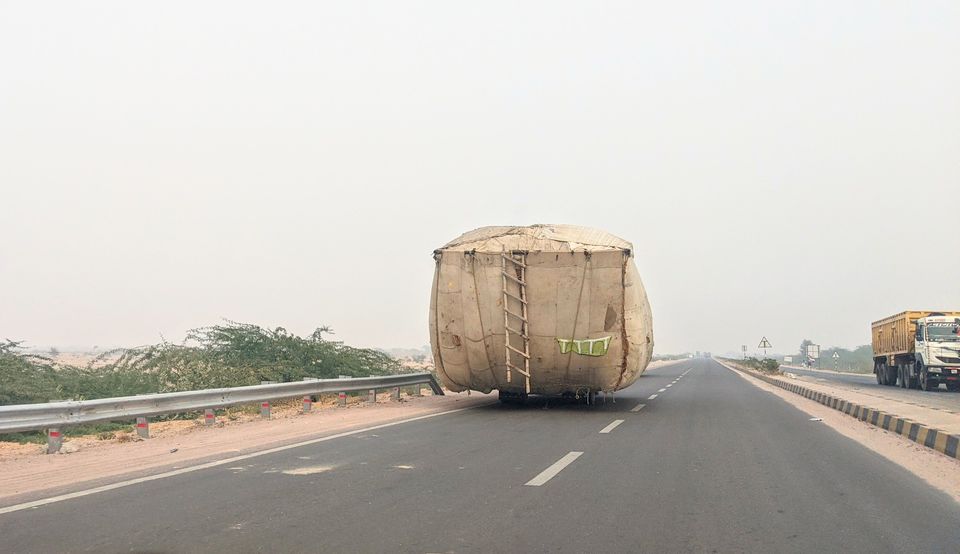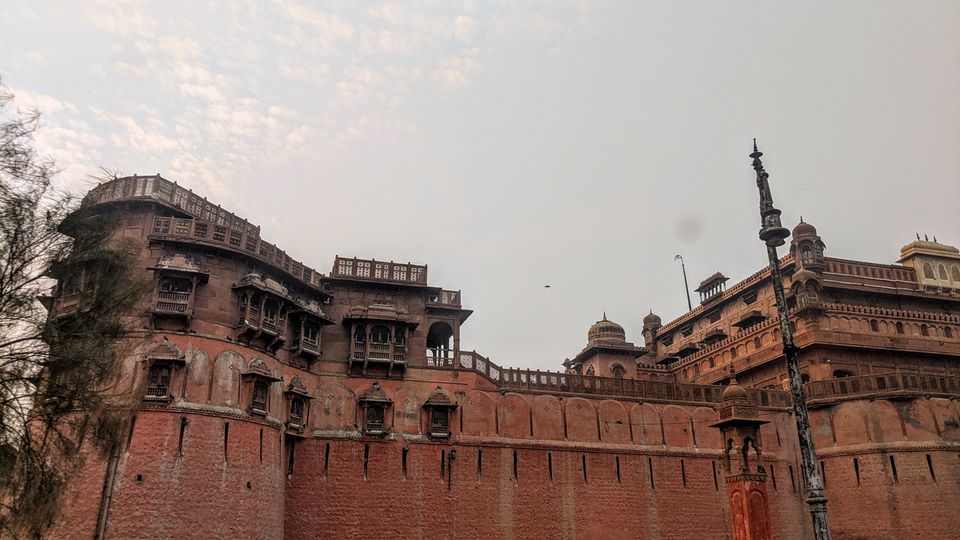 Travel summary:
Jaipur - Lucknow; 575 km/ 8 hrs 30 min; same old route but with rain and fog
It was the last day of the trip and we were almost done and dusted. To complete our list, we had to just visit Hawa Mahal and Nahargarh Fort. There was no plan of visiting Hawa Mahal from the inside but we wanted to cover the fort properly. So we just brushed through Hawa Mahal and reached the fort quickly. Since the fort overlooks the city of Jaipur, you get a nice panoramic view from the top. Unfortunately it had started raining in the morning and there was a little fog on the way up so we knew we weren't gonna get the full view. Nevertheless, it resulted in a cool pleasant weather which we had not experienced yet in Rajasthan. The step water tank on top was the second most attractive thing next to the view from the fort walls.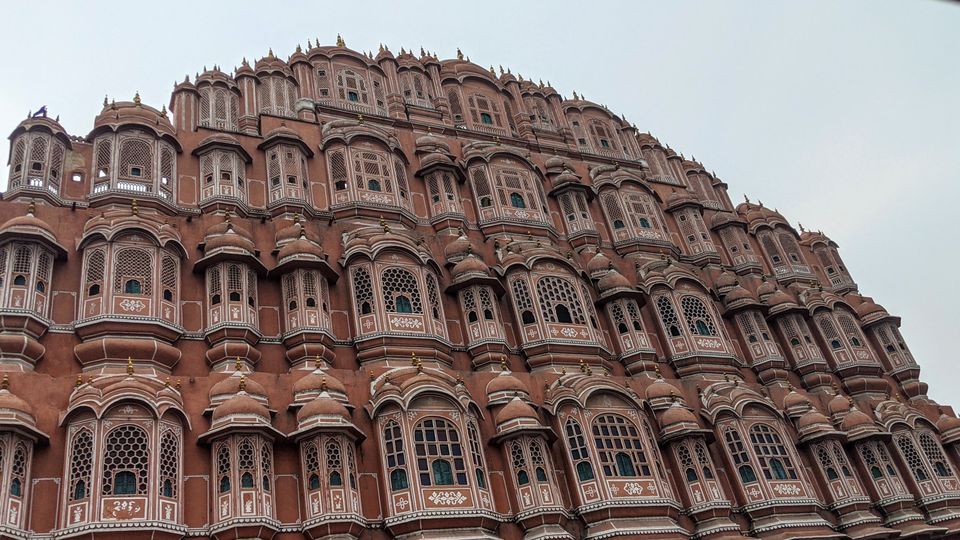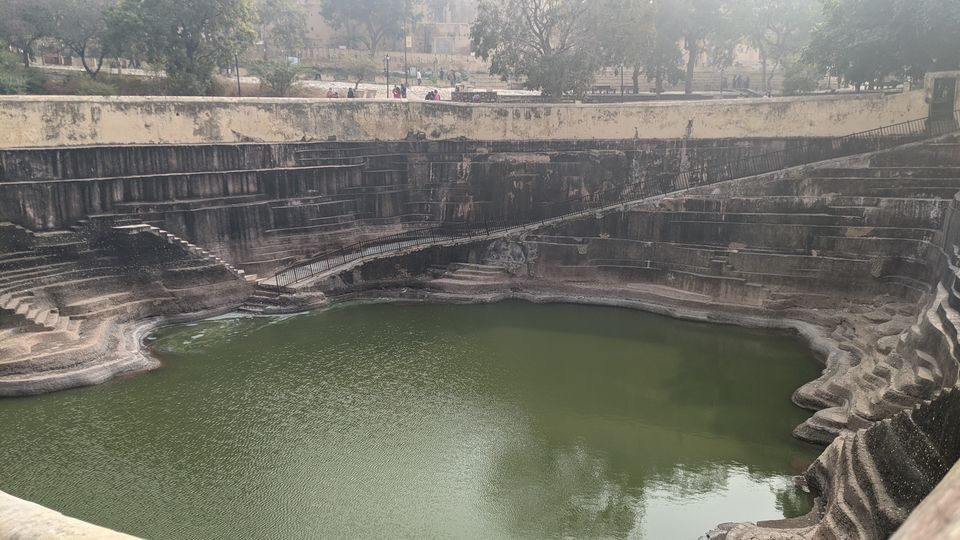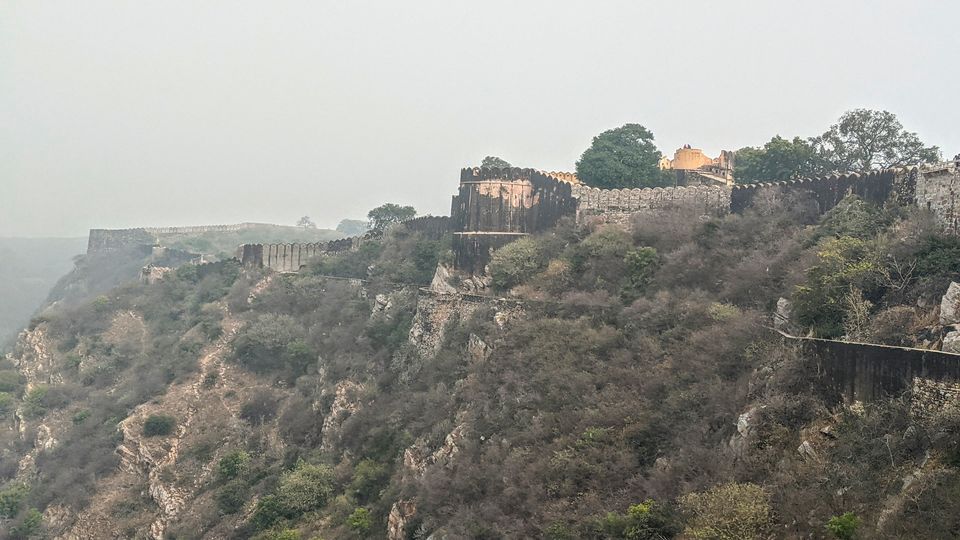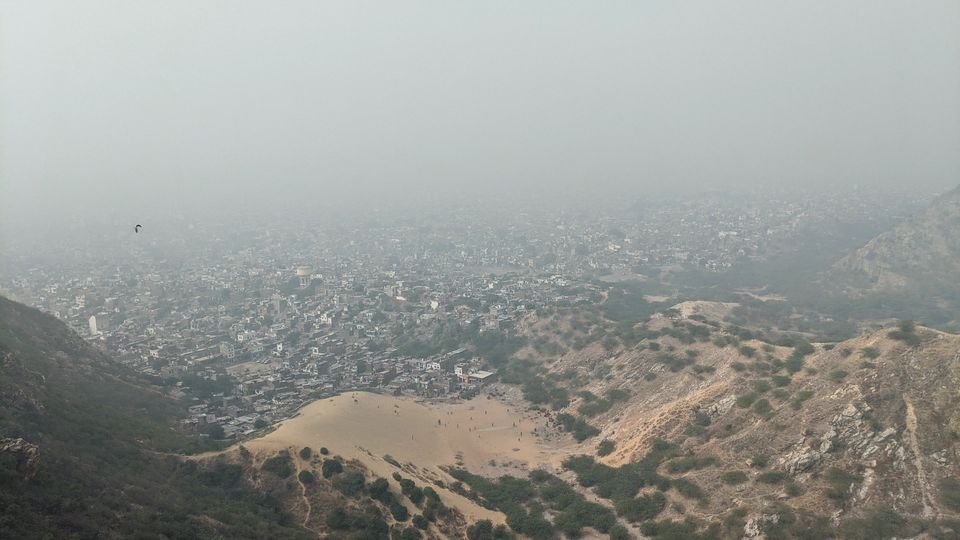 With this, our list had ended leaving us with the most effort taking part of any trip, going back home. Luckily, it was not as boring as Day 1. First, because it was raining cats and dogs on the Jaipur-Bharatpur stretch. It continued like that for around 2 hours which slowed us down a bit, but we were enjoying the weather. And second, because by the time we crossed Agra and climbed on the expressway, it was already dark. This is the time where reflectors on the road create a beautiful runway like ambience. Now there was nothing else we needed, just put on some good songs and . . . drive.