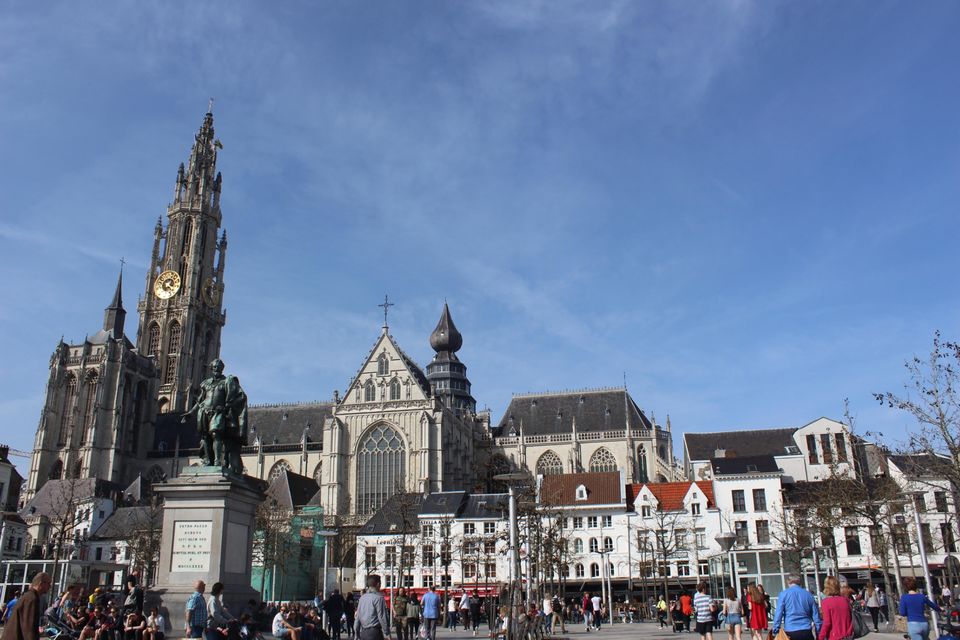 I was excited for the 1st weekend in the Netherlands and in excitement I did not plan anything and on Friday evening I met my colleague VK and asked him what was his plan for the weekend, his response was the climate is good I will get a bottle of scotch and enjoy my weekend.
At one point of time even I thought it was a good idea but again my travel ghost in my brain told "Hey what are you doing are you here to get drunk and waste your weekend sleeping? No...
Then at night, it was me and Google finding the places nearby to travel!!!!
At 2 am at night me and my colleague decided we are going to Antwerp, Belgium.
Buzzing sound of alarm.....but buzz buzz buzz...It was 7 am in the morning me and VK decided to have quick breakfast and get ready for our weekend blast to start our journey towards Antwerp.
We took a bus from Zeist to Utrecht -4€ which is approx 25 minutes journey by bus, one advantage of taking the bus for the journey with the city in Europe on weekends is you can use the ticket for your to and fro journey.
We reached Utrecht central and decided we will go by train to Antwerp.
The train arrived which was double Decker and it was not that crowded me and colleague VK decided we will board the upper compartments....the train started and we both were super excited to visit Belgium, we were so excited and in our own world that we forgot we were in Silence zone of train and we were talking loudly non -stop......!!!!
Suddenly one beautiful girl maybe she was Dutch came towards us, I and VK started seeing each other and the beautiful girl pointed her hand towards " You are in Silence Zone " and our minute of excitement vanished in a second.
We reached Antwerp central railway station...The original station building was constructed between 1895 and 1905 as a replacement for the original terminus of the Brussels-Mechelen-Antwerp Railway. The station is now widely regarded as the finest example of railway architecture in Belgium.
We came out of the railway station after clicking some photos....and headed towards Antwerp Zoo. Antwerp Zoo is one of the oldest Zoo in the world, established on 21st July 1844.
The other side of the zoo is the beginning of the diamond market, Antwerp is famous for its varied collection of diamonds.
By the time it was time for us to have lunch and this was the time I never liked while I was in Europe, as I am vegetarian ( eggetarian) to be specific and there are no much options to eat. We found a McDonald's nearby and decided not to waste time in searching for restaurants and have our lunch at McDonald's.
Our next destination was The Onze-Lieve-Vrouwekathedraal (Cathedral of our Lady), while on the way we were enjoying the mesmerizing beauty of Belgian Architecture my friends VK and Anita were entering the shops and stores to buy something for their better halves and I decided to stay out from shopping and was watching thae beauty of the place.
We reached our next destination for the Cathedral of our Lady - Built between 1352 and 1521 as one of the world's tallest buildings, since then Antwerp's majestic cathedral still dominates the city's skyline. Inside are magnificent canvases painted by Rubens which gives glory.
Then we reached our next place for the day Het Steen previously which was known as Antwerpen Burcht (fortress), this is a castle built alongside the Antwerp port the other side of the port is Scheldt. This river has played an important role in Belgian history......!!we clicked some photos of the scenic beauty and it was already 7 pm in the evening and had booked our bus back to Utrecht at 10 pm from Belgium central .... We purchased some souvenirs which will be a memory for us reminding our trip to Antwerp.
On the way we entered a shop to buy some Belgian chocolates and waffles by coincidence we entered a shop which was owned by an Indian, we bought some chocolates and waffles and VK took a beer and asked it to open and once beer was opened the shopkeeper told us that drinking in streets is not allowed in Antwerp.... and Vk's face was full of question mark???, we decided to follow the rule and not drink in open, as we were hungry and had around 3 hours for our bus to Utrecht we decided to have good meals and take rest before we start our journey....!!!!!
Again we were in confusion with Where and Whats, started our hunt to search good food and reached a street which was full of restaurants with cuisines from around the world and we found an Indian restaurant - Taj Mahal and after we found this Indian restaurant our hunger was doubled....
We entered the hotel and ordered food VK and me were puzzled weather ask the owner of the restaurant if we can have a beer which we had brought from outside, at last, we broke the silence and VK asked the owner .....he told there is no problem and you can....!! the order was ready and nan , paneer butter masala, and veg pulao was ready for the guys who had found an oasis in desert and we feasted on it.... We had our dinner and started towards the central railway station from where we would start our journey back to Utrecht.....
This was how i enjoyed my weekend at Antwerp!!!!!