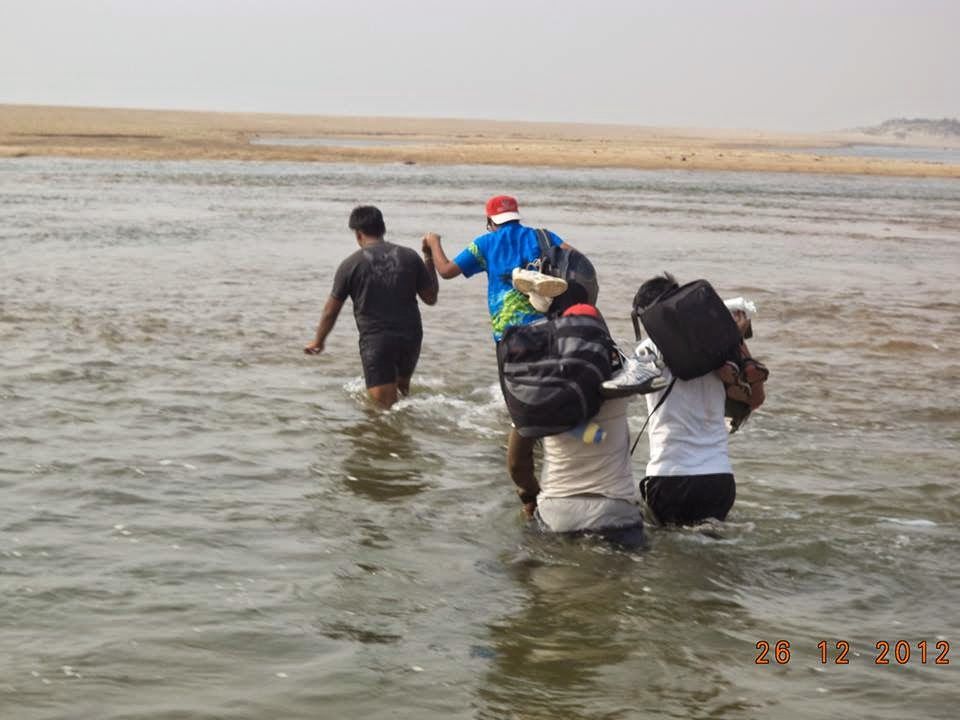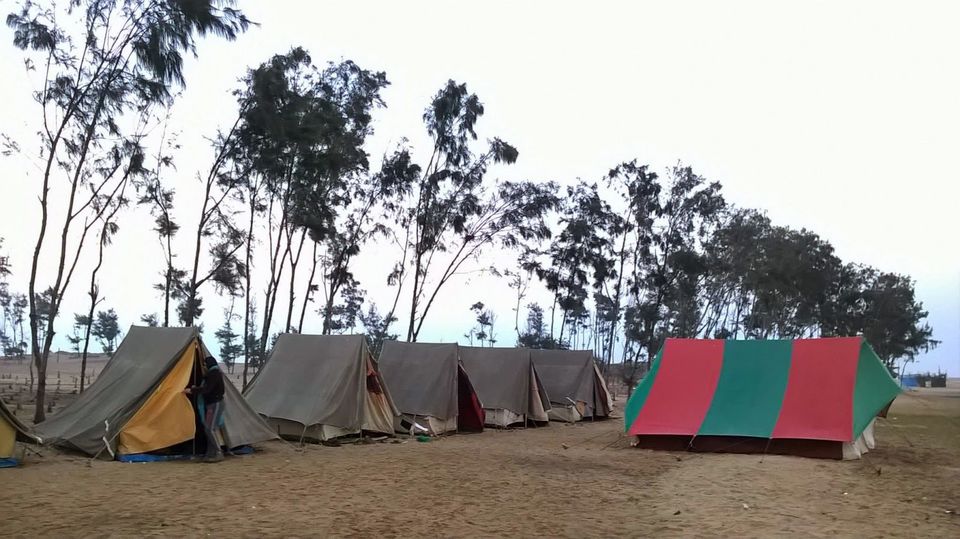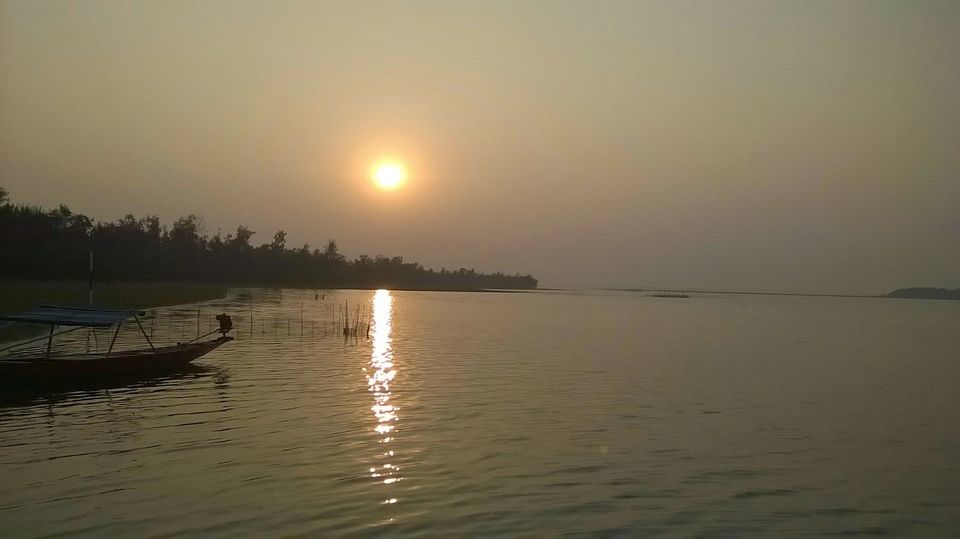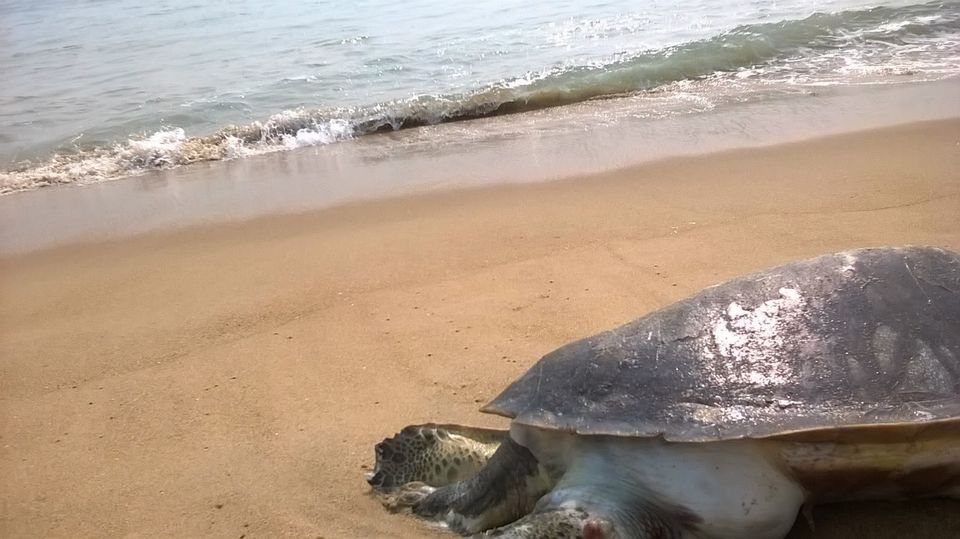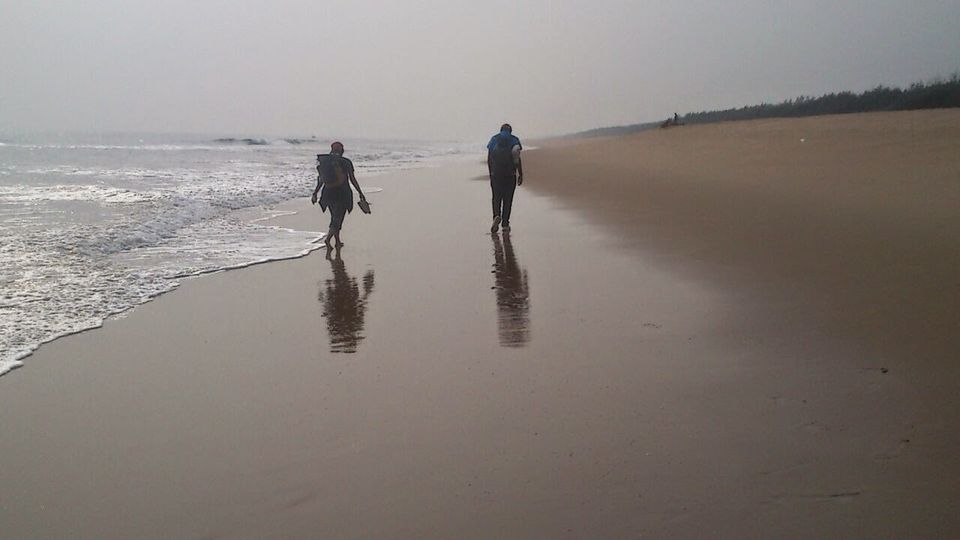 It was a bright and sunny morning in Puri. I was up early and was all excited about my trek. I wished all my fellow trekkers a very good morning, and I noticed two new faces among us then. They were two dynamic and young women probably in their early twenties who politely introduced themselves as Ranjani and Niveditha. All of us had a scrumptious breakfast together and packed our lunch. The trek was flagged off in the presence of the organizers, and we even got a few pictures clicked. We were accompanied by two volunteers from the camp till we entered what seemed like a no man's land. I experienced a rush of adrenaline while crossing a river that joined the sea. I had to hold my backpack atop my head as the water was around three and a half feet high. It was challenging to maintain my balance in the weak current as I traversed the ups and downs of the shallow floor. After all of us reached the other end, the volunteers bid us goodbye. We decided to have some fun playing in the water, but I was initially hesitant till our group leader Mr. Sibu pulled me in. That was awesome fun, and we got a lot of pictures clicked too.
It was all trekking from there on for the rest of the day. We got divided into small groups and marched forward. I was initially trekking along with a benign, elderly aunt who was also accompanied by her daughter Sindhu. There was a batch of men, young only at heart, around us. The two woman were initially like the shutterbugs of the group taking too many pictures but later retreated. I joined them since aunt was walking way too fast. I made good friends of them, and we had a lot of fun travelling together picking up sea shells on the way, singing songs, playing some games and clicked a hell lot of pictures together. The sun was scorching and trekking in the loose sand was getting difficult. So, we halted after travelling a substantial distance to have our lunch and resumed the walk along the shore. We even had a glimpse of the Irrawaddy dolphins which ventured into the sea for breeding.
Finally, the camp leader who had come to receive us was very friendly and polite. We finally reached our first campsite located in a Cyclone rescue shelter in Nrusingapatna village. We were all offered a welcome drink and some snacks while being briefed about the place. In the meantime, a family had come to join us for the journey ahead. It was time for the soup to be served followed by dinner. All of us had our dinner after which I took some time off to call my parents and listen to some music. The camp leader eventually became very friendly, and we had a chat for a while. It was time for a fire-less campfire. All of us gathered and played the cliched "Anthakshari" which was nice as I got to hear a lot of Old classics.
It was a pleasant morning on day two when I woke up and completed all my chores the "Indian Villager" style. We soon packed our bags, had our breakfast and moved on. The name of the next campsite was "Lunapani" which means salt water. I soon teamed up with Niveditha and Ranjani, and as we began to trek along, I found the corpse of a Turtle, that was severed badly by the blades of motorboats. It was sad a picture, and then I understood why they call the Olive Ridley Turtles an endangered species. As we moved forward, we saw fisherman burying their catch, a foot inside the sand. Upon asking why he did so, he replied that it helps to remove all the saltiness on its scales and of course shelters it from the aerial beings till he completes his fishing.
It was noon, and we had reached a diversion point toward the banks of the "Chilika Lake" and away from the sea. We soon found some shade and all of us had an excellent meal and rested there for a while since there were only a few miles more to trek that day.I soon ran out of water as I only had a litre bottle that was empty, same was the case with my fellow trekkers. One of the trekkers Mr. Bhabutosh came up with the technique of drinking water from the underground the "Bear Grylls" way. One just has to dig in about 1-2 feet into the sand at a point that is 5-6 feet away from the banks of the lake. Voila! We found some tasty water to quench our thirst. While on our way, we met some local fisher folk who surprisingly spoke in my mother tongue "Telugu". They were very nice as they gave us some water to drink. They were all the migrants from the North Coastal Andhra Pradesh, and it was great talking to them. The scenes of the place were simply exquisite and we reached our campsite around dusk. The sight of sunset was breathtaking there as the peninsular land was surrounded by Chilika Lake, Bay of Bengal and a river mouth with a thin strip of turf connecting it to the mainland. We were all greeted by our camp leader and accommodated in tents.
As the darkness enveloped the sky, I laid on the sand gazing at the countless stars in the sky under the shimmering moonlight as a gentle breeze swept across my face. It was an awesome feeling I would remember for life. We even had freshly fried fish in our dinner that the local fishermen were generous enough to provide us with. After that, all of us ventured to the beach which left us thrilled. The day couldn't have ended better but something even more surprising awaited ahead.
Frequent Searches Leading To This Page:-