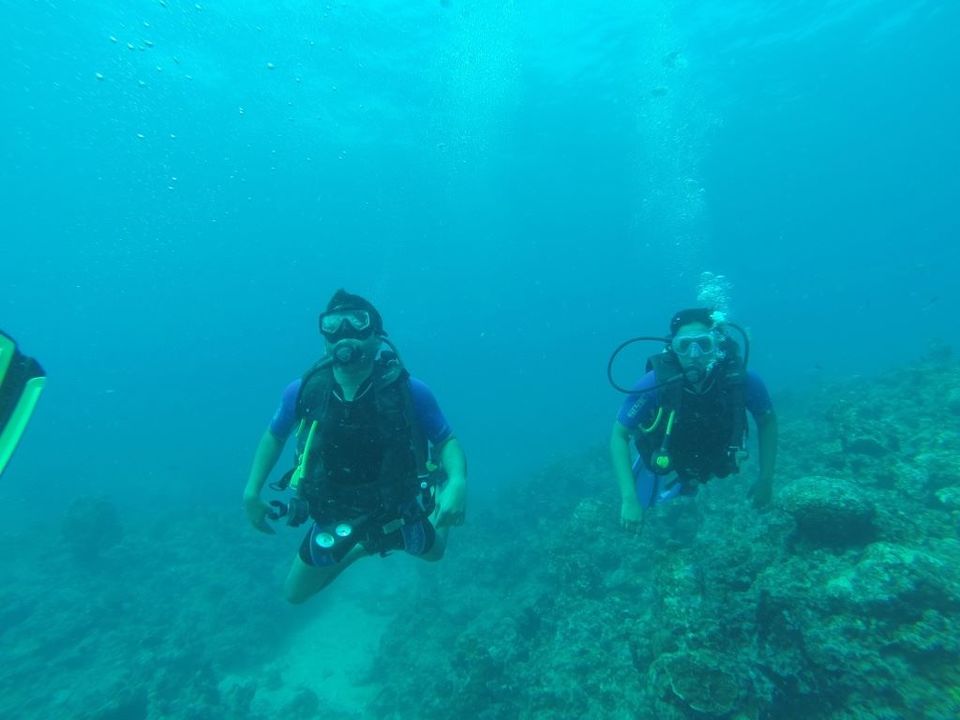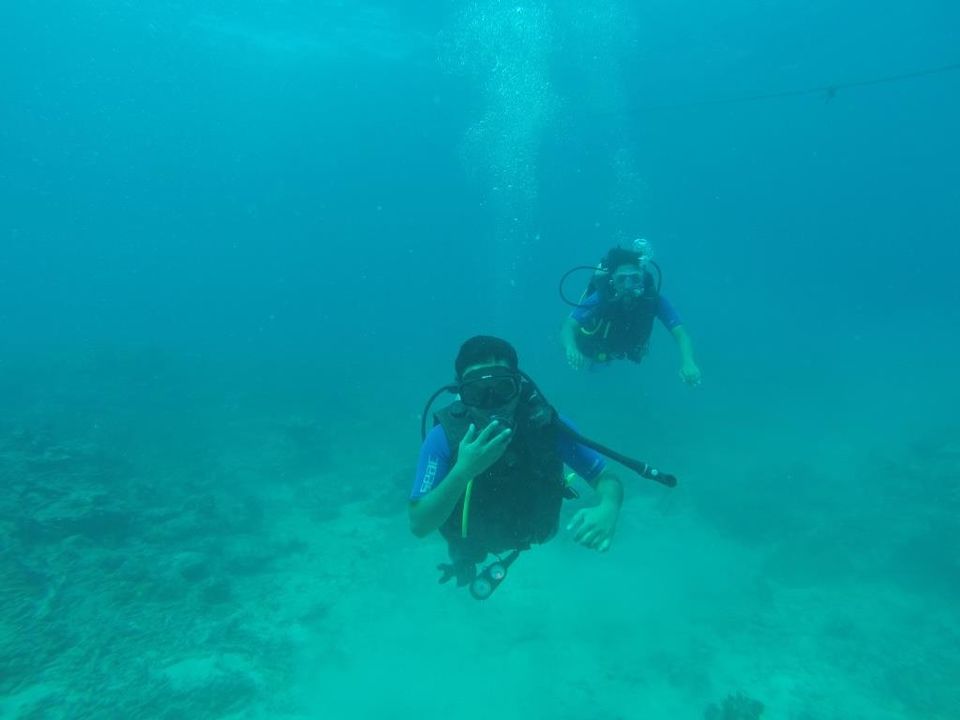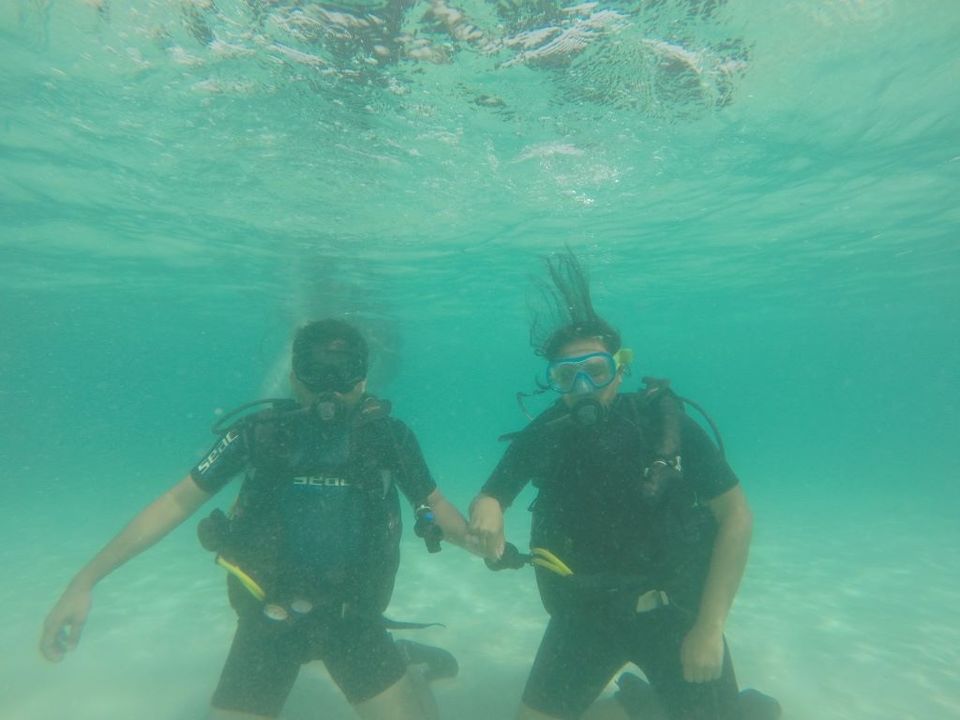 With a heavy heart and lots of sweet memories, we bid adieu to Andaman; Havelock to be specific. Trust me, one would never want to go back after staying in such calm and serene environment which Havelock offers you. There are numerous spots that could catch a tourist's attention - a short 2 km. trek to Elephant caves, sunrise at KalaPatthar beach, sunset at Asia's most beautiful RadhaNagar beach, countless bettlenut trees or just sitting idle facing blue waters of Indian ocean. All these are bound to give you infinite memories to take back but one thing which was unforgettable for us was the underwater diving experience. We did a Open Water Diving course which is a starting certification course for people who are actually interested in exploring the underwater world. Mind you, there are many sites all over the world which are open only for such certified divers. This course not only gave us insights about underwater diving experience but also handing of equipments as well. The world we saw till 18 metres below sea level is inexplicable. Schools of various kinds of fishes - turtle fish, lion fish, clown fish, stone fish and many more. It is a totally different world out there, much much different from ours and similar to ours in some ways. The sea animal don't really just roam around the sea, but they have a typical pattern to move from one place to other. There places are defined same like ours and they always move in a group.
It is a completely stunning world out there where the huge living shells (which close as you swim over it) reminded us of the little mermaid and her cozy shell bed we used to adore as a child. Mind you, these shells can be as big a 1 meter, which means you could actually go inside it, if only it would not close once you are in! Seeing the clown fish (Nemo) and Moorish Idol(Gill) made us feel as if we are also a character in "Finding Nemo". We saw a group of lion fisher proudly strolling the ocean, afraid of none, as they are the predators in the area and no one would dare to cross them. Suddenly a huge school of sleek bright blue fusilier fishes swim past us like a bolt of lightning and we feel so lucky to have captured them in our camera. We reach the sea bed pick up a sea cucumber (sea animal) and even inside water we could feel the leathery texture of its skin. The two shells that I picked up from the sea bed will always be more precious than any shell I buy from the market. We realized its Christmas inside the sea also as we touched the sea Christmas plant and it started glowing, it was surreal! And as we were rising to come out we encounterd a huge school of "Yellow Snapper" which scattered as we swam through them, it was a perfect finish to an awesome dive.
Apart from experiencing the underwater world, breathing inside the sea water was quite a dangerous and totally new task for us. We used to breath through our mouth rather than nose and the nostrils were totally packed. Underwater diving is quite a tiring sport but an interesting one too.
The second must have at Havelock is a good place to stay. Remember that a good hotel doesn't really mean an expensive one. What I observed that the most important thing your resort at Havelock should have is proximity to the beach. If you don't have that luxury, you are missing something really really important there. Our resort was right next to the beach which made it something very different from expensive resorts nearby. Imagine sipping a coffee in the evening, sitting on a wooden bench facing calm blue sea, listening the sound of waves and cool breeze touching your face. Else, in the afternoon, lying on a hammock under the shade of a tree, reading one of your favourite books and sea water flowing right below you. These are some out of the world experiences which only Havelock can give you. One would very well dismiss this statement by saying that any place with a clean beach can give you this experience. Even I have been to many places with clean beaches in and outside India but the peaceful environment I experienced in Havelock is unbeatable.
To my surprise, internet was a luxury at Havelock. Although I loved this fact that I don't have to think about anyone or anything while I was at Havelock. I could easily get away by saying that I was out of network and with no access to internet, which is the reason for delay in not able to do anything which I was supposed to. I was surprised because when I visited Hoi an which happens to be an ancient town in Vietnam, had Wi-Fi connectivity. And any restaurant you go, or any hotel you stay had this facility. In short, it wasn't a luxury there, but kind of a necessity. And Havelock, being one of the most popular tourist destinations in India is deprived of it. I always felt that an internet connection depends on how developed a nation is but this is not the case here. I am sure that India is far far developed as compared to Vietnam and Indian tourist department not being able to provide such basic facility cannot be because of lack of resources, rather it surely is negligence.
Lastly, the honesty which people carry here is commendable. Inspite living in such adverse conditions with economy in doldrums, thanks to Tsunami - people are really helpful, loving and honest. Everybody is content and satisfied with what one has. I think it is because of purity of Havelock island which has inculcated such purity and honesty in its residents also. You stay there for sometime and you will be there's forever and recall all the memories with a smile on your face.