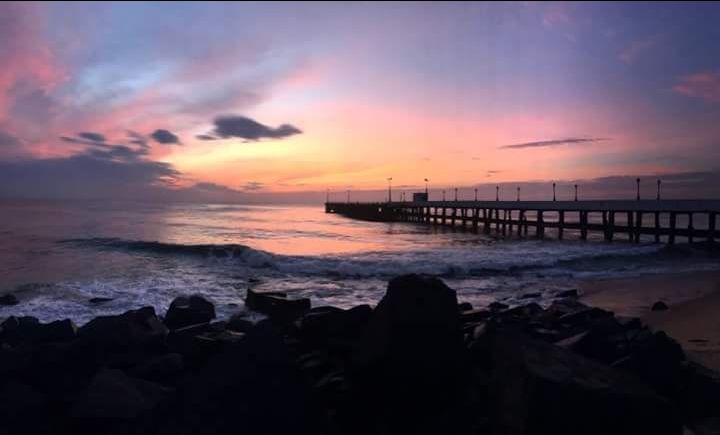 I turned blind for the rest of the world but not for the stars, my skin disclosed itself to the naked rock it was lying on but not to anyone else and that's how caliginous I felt when I could feel nothing but the cold wind and the splashing sea waves which were waking us up every now and then so that we save ourselves from its bourne to take us away. The risen golden breeze took our breaths away as we settled our eyes upon the horizon that managed to separate us from the real world. Little did we know that this place had a lot more to offer than just leaving us blind before the negatives.

Everything about the place was as disparate as it could be. From down to earth people to those out of the box cafes with absolutely zero traffic. " Sure , here you go!", said the bohemian enthusiastic lady sitting in the corner sipping a cup of lemon tea and reading a book of love and war when we asked her for a lighter. The attenders would only come out during the time of the order and the serving. How peculiar this place was ? So peaceful but at the same time punkily lively. The sea cuisine was definitely one of the best I had ever tried. No wonder Pondicherry became one of my favourite destinations for rejuvenation!

It's funny how strange we are to people these days. If they wave at us we think that they're mad , if they ignore us , we judge still but for some reason the togetherness was felt in a place where we can only imagine to survive. Every morning getting out of the aberrant homestay was an experience. All around the colony we would find folks wanting to know us and acknowledging the beauty inside of us. Pondicherry literally left the little hearts inside of us beatless and with every second of our devotion to the peace of the city , it just made us feel nothing but ourselves left loose with our mind wandering off wherever it wants to take itself.

It's a paradise. Too sunny to too windy, everything that resides there is too extreme. Though in every thing there is a beauty that always takes off and never lands. It's the paradise beach that takes us on a journey where everything seems to be overwhelming but at the same time it's manageable.

Pondi can never leave you dissatisfied with it's immense amount of diversity in everything. Be it the beaches, people, food or hospitality, everything comes with a cherry on the top.

Things to do in Pondicherry :


· A road trip to Pondi ! – A car or a bike ride with a group of friends is a must. The journey is breath taking!


· Visiting unexplored cafes – The banana leaf café ! The no. of cafes and restaurants in Pondicherry would drive you crazy, specially the banana leaf café !


· The beaches – Staying up all night in the rock beach is an experience. If you are a water lover then paradise beach is your place !


· Rent a bike – Renting a scooty or a bike in Pondicherry is one of the best ways to explore the city.


· Save water, Drink beer! – Nothing can be better than sipping on beer in the heat that Pondicherry encounters. Did Dis and co serves amazing brewery!


· Spending a night in Le café – It's always a bliss to have late night conversations but if you wanna make it better then le café is your place! It's open for 24hrs!


· Exploring the white town – The white town is filled with beautiful and elegant houses with amazing French restaurants and cafes! It's so pretty to just walk around and fall in love with them!


· A morning run – Mornings in Pondicherry is super calm. People who aren't a night person can get up early and go for a run and enjoy the sunrise in the rock beach!





Tips –


· There is scuba diving there but I think that it's not worth it. Everything there is artificial making it absolutely worthless.


· It's not an adventurous place so if you are a person who wants some crazy fun then it's not the place for you. People come to Pondi to get away from the hustle and bustle of the city and embrace the serene nature of the local!


· If you are planning to visit Auroville then the tickets have to be booked a day or 2 before!


· Alcohol is little cheaper in Pondicherry which saves you from carrying anything to the place!


· If you are planning to stay up all night anywhere around the town specially near the beach, it's always better to have somebody along. It cannot always be safe there!


· Air bnb is your friend! Nothing would be better or cheaper than booking rooms on airbnb! Trust me, It's freaking amazing!


· It's better to carry light coloured clothes and suns creams along because the sunny weather can literally kill you. However , it becomes cooler at night !