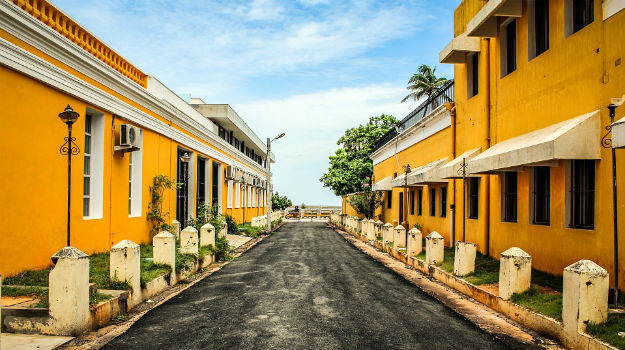 PUDUCHERRY meaning "New Town" it's former name Pondicherry (A.K.A Pondi) is a tiny coastal city also India's union territory will make you wonder if you are in India or in France. Pondicherry was colonized by the French for almost 200 years, this shows the strong influence and beautification in Pondicherry.
Why I chose Pondicherry as my first solo traveling trip?
Firstly, travelling alone can be daunting but it shouldn't be, I wanted to have an amazing experience alone to explore the city where my father grew up which had great places to visit, amazing food to eat, history and a little piece of France.
How to reach Pondicherry?
Pondicherry is located 160 kms south of Chennai, Tamil Nadu. I traveled by train from Mumbai Dadar station to Pondicherry it took 32 hours.
Other ways of travelling to Pondicherry is by flight to Chennai then a 3 hours drive to Pondicherry or there are flights from Bangalore to Pondicherry 5 flights per week (S M W T F )
Places I visited in Pondicherry
Before coming to Pondicherry, I made a list of places where I wanted to visit, it is a quaint little place and you can see everything there is to see in Pondicherry in one day but I made sure I explored the places slowly. One of the best things about Pondicherry is the beaches, there are four main beaches- Promenade beach, Paradise beach, Auroville beach and Serenity beach and compared to the other beaches they are pretty clean and well kept.
There are some things in life that you can never get tired of, and watching the sunrise is right on top of that list. And if you want to behold a magical sunrise moment, you have to be in Pondicherry. That feeling of the sun coming out of the deep blue sea can lift your heart and make your day. I enjoyed the evening walks in the sea shore also sitting in the café with a book and cold coffee with the beach view are the few beach moments I had in Pondicherry.
Pondi cuisine is the perfect blend of different cultures of cuisine and is a piece of heaven for the food lovers. One can try different types of cuisine the specialty being French food and traditional south Indian cuisine. Everything is mouthwatering and delicious with the perfect ambience in the restaurants and cafes.
Auroville a city of dawn a place like nowhere else in the world. It is a settlement where people from different nations can come and live in harmony. A perfect place that resembles unity. In the heart of the modern village is Matrimandir a huge golden sphere at whose center is a great crystal. A place to experience utter silence and meditate in peace. Auroville was an amazing experience for me and I had a good time and made new friends.
Another important place that I loved the most in Pondicherry is the Manakula Vinayagar Temple where I first saw Lakshmi a beautiful elephant who greets you at the entrance of the temple. Elephants love deeply and are passionate about life. I adore them and the excitement I had when I saw Lakshmi was indescribable it was one of my favourite moments. This is where my love for elephants started.
What I have learnt travelling alone is I have become self-reliant, challenged myself and have a go at things. When you experience travelling alone you will be more sensible cautious and understand yourself more. You will know the strengths that you have built, the courage you have to exploring new places and company of just yourself. Follow your passions, travel with an open heart and see the beauty around you.
This was the first time I experienced going around on my own and there is a bigger world out there this is the first time and I am looking forward to lots more. Make everyday interesting and always believe in yourself.