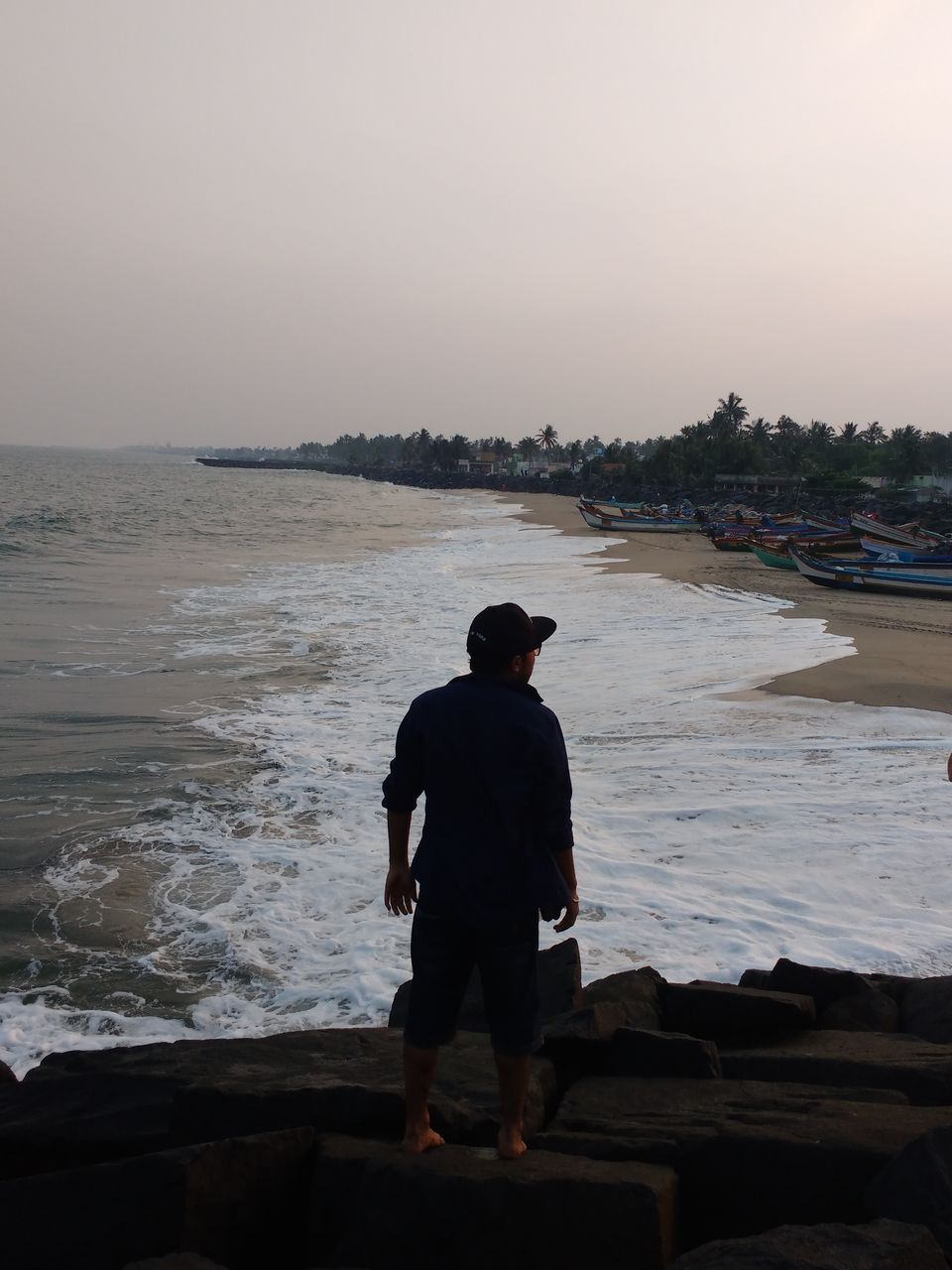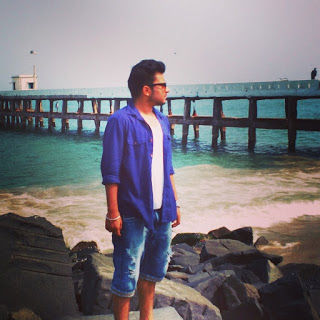 We reached there within 30 min as it is located just 8kms from the town along the cuddalore main road . Paradise beach has a paid entry and not much options for food, but it is a well maintained beach and a must visit. The water sports available are not much to do hence don't waste time and money there.
2. Rock beach: In the evening we went to rock beach . It is some what Nariman point in Mumbai .Best place to chill out at night with a variety of bevrages and food items. Having an ice cream in this cold breeze is an stupendous experience ("Aapa to yahi ghar bna lende"). Coming to this place again and again is irrefutable seriously.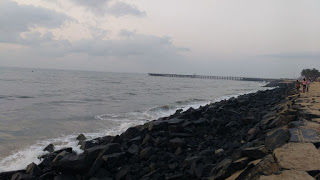 From there we went to French colony. A colony with different colour monuments and some foreigners chicks (Totta) .The roads of the city are extremely clean and beautiful. The architecture is unusual which makes one take a longer look on it. It is a treat to spend some quality time there clicking photos and chilling .This place drives me crazy ("Ça me prend la tête ! ") some french words finally .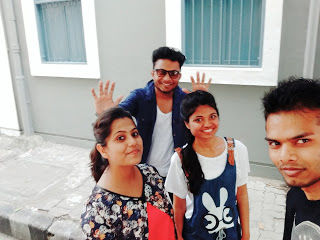 4. Aurobindo aashram: The Aurobindo Ashram is a spiritual community that is located in the French quarters of Pondicherry. It is one of the most imp Ashrams in India,formed by the renowned freedom fighter and spiritual philospher sri Aurbindo . The ashram has a beautiful display of exotic flowers and even ten minutes in this place can really help you quiet your mind and find serene.
5. Serenity beach: On the third day of our trip we wake up 10:00 in the morning and went to serenity beach .This beach is twenty minutes drive to the north of town. Fishing boats are parked on the shore and one can see kids doing summersaults of the deck. A lot of beach is covered with creepers and the green helps clean the place.
Carry towels,change of clothes and some water and snacks if you want to stay for a while.The beach gets pretty crowded so do keep an eye out for your belonging.
For me this the best beach here to chill out. As I often say coming to beaches witout shades is useless but my friends always make fun of me but (Menu ki fark penda).
6. Botanical garden: A garden famous for the collection , cultivation and display of wide range of plants labelled with thier botanical names . A small trip in toy train which runs inside the gardens the bfeeling which will definately retrack your childhood memories.
In the night we went to some aquarium fair .You will see there variety of fishes in different aquarium .This fair also consist of small market for shopping and some trade shows .Be sure to put your bargaining skills to use while street shopping in Pondicherry.
I must say people here in pondicherry have very amiable and jovial kind of nature. Beautiful beaches, tattered bridge, scooty rides, French cuisines and fancy old style buildings is what I recall of the city.
I t was an eventful trip and we managed to see, eat and shop quite a bit.
Frequent searches leading to this page:-
pondicherry Serenity beach, pondicherry solo tour package, 5 day trip to pondicherry, pondicherry package from pune

"Give Time a Break" Pondicherry calls you
Pondicherry, or Puducherry, is famously known as the French Riviera of the East, and is one of the most mesmerizing and charming places in South India. A former French colony, this quaint little town has retained its old-world French charm. 8000 kilometers away from France, Pondicherry comes very close to giving you a feel of the French culture and the French influence is very obvious in the city right from the food to the architecture.
A Couple of weeks ago, I spend 3 days in pondicherry with my friends and had an incredible time ("Khub Balo Lglo") We were a group of 4 people. We Travelled by Train at night from Bangalore to Pondicherry and vice versa. The train arrived at pondicherry in the morning around 6:30 am. We booked a hotel near the railway station. The next day we rented scooty and bikes and followed our way to paradise beach.
1. Paradise beach: " If u r looking for Paradise look no further "
3 .Beach gandhi: On the second day of our trip to pondicherry we wake up 4:30 in the morning and we arrive at beach gandhi. If anything in pondicherry you cannot miss while like at sunrise beach gandhi, divine the world is very small, no words to explain the sensation.This moment is worth a capture on camera.