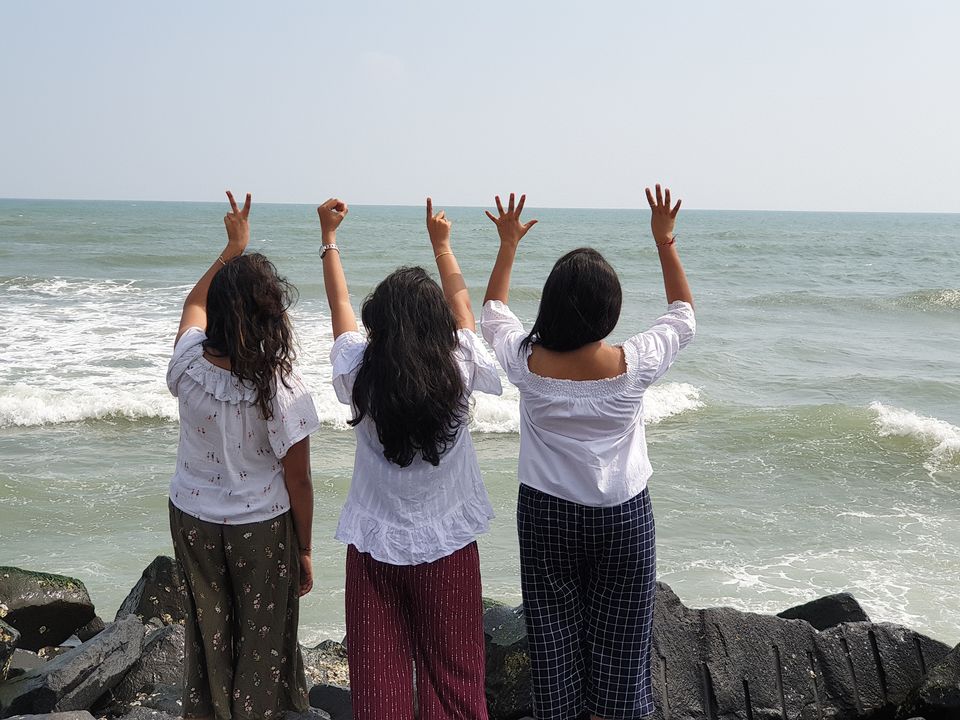 The 'BFF(Best Friends Forever)' Whatsapp group came alive, for one more time that night. This time, the discussion was about celebrating New Year Eve somewhere but nowhere in Bangalore. The group was now having heavy discussions about choosing one among the two - Pondicherry or Kodaikanal. After a lot of discussions, we settled with Pondicherry.
Considering the last-minute plan, managing the budget was a big deal. (Please, plan in advance and visit during off-seasons to experience the best and comfortable stay at Villas and resorts) After endless discussions, our car started off from Silk Board, Bangalore at 11 am on a sunny Saturday afternoon.
DAY 1
The first stop : → Murugan Idly Shop, Krishnagiri
It was in Chennai near Edward Elliot's beach where I first tasted Idly and Dosa at this restaurant. From that day on, every time I think about Podi Idly, my mouth waters. While some of us enjoyed their delicious podi idlis and dosas, few of us settled with their South-Indian thali.
Jigarthanda is that cold beverage which contains mainly milk, sugar and ice-cream. There is a shop outside Murugan Idly Shop, which serves cold Jigarthanda. It's worth a try.
After relaxing for a while at this place, we hit the road to resume our journey. We tried guava, pineapple and cucumber with chilly powder and salt from local vendors, while quenching our thirst with yellow tender coconuts.
The second stop :→ Pondicherry City
We reached the city around 7 pm and checked-in to our rooms. We freshened up and went to eat hot parathas with curd and pickle at a shop beside our home stay. We then set out to explore the night-life.
* Firstly, we drove till Rock Beach. Then, took a stroll along the lanes of the beach. As it was during New Year time, the lanes were lit and the hotels had the Christmas feel. It was beautiful just to walk around that place.
* Next, we clicked a few pictures at the beach and walked along the promenade. The nights here are very serene and relaxing.
* We visited the Le Cafe next, the place which faces the beach. We visited this; as one can enjoy direct view of the sea and the waves while munching on our food. The food is not costly here and not tasty too. It's cheap and must be visited only for the location.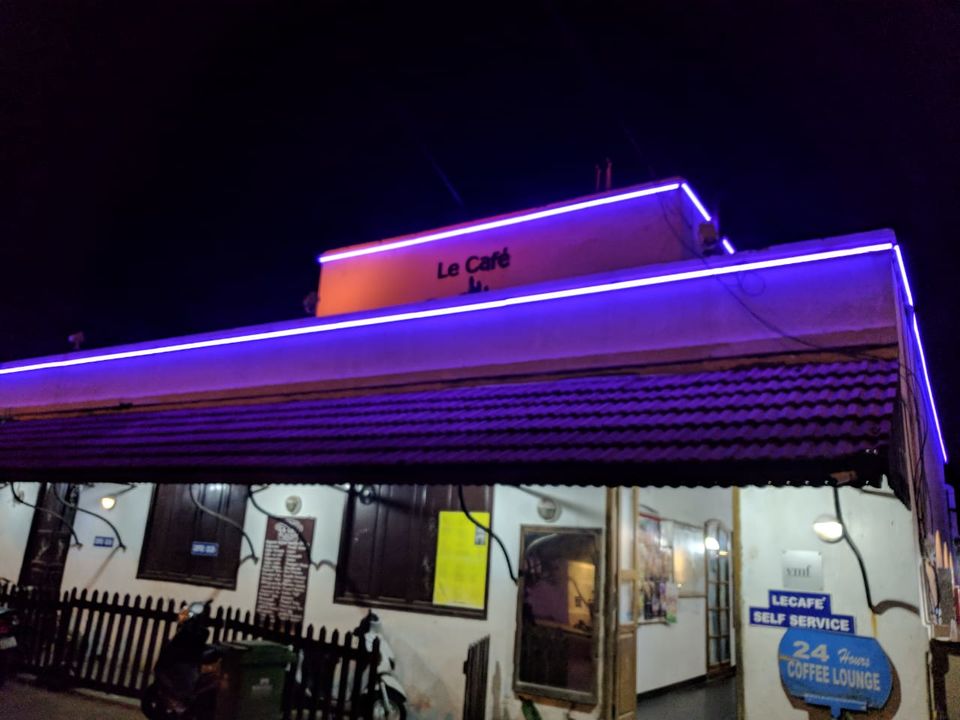 * There are a plenty of shops for Ice-creams, however we settled for softy- the one right outside the Le Cafe. It is a little overpriced for its taste.
DAY 2
The first stop : → Paradise Beach Island
We woke up a bit late, smeared sunscreen and headed towards the Paradise Beach Island. On our way, just 100 meters before the parking space, we had our breakfast at a local hotel. Trust me, it was really delicious. It is a very small hotel famous for dosa. We had egg dosa & onion dosa. Both of them tasted very delicious(or maybe we were really hungry).
Make sure you carry extra pair of clothes, towel, make-up pouch, water bottles, hat, goggles and snacks. There is a huge queue for buying tickets to enter the main place. The queue for women is less-crowded and moves quite fast. After buying tickets, we joined one more queue to board the ferry to the Island. The queue is very huge and needs a lot of patience. We took turns to stand in the queue so that we could click some pictures and relax at a nearby cafe. We boarded the ferry and I took the corner-most seat so that I could get a proper view. The journey mesmerized me.
After reaching the Island, we clicked a few group pictures and lots of solo pictures at the entrance.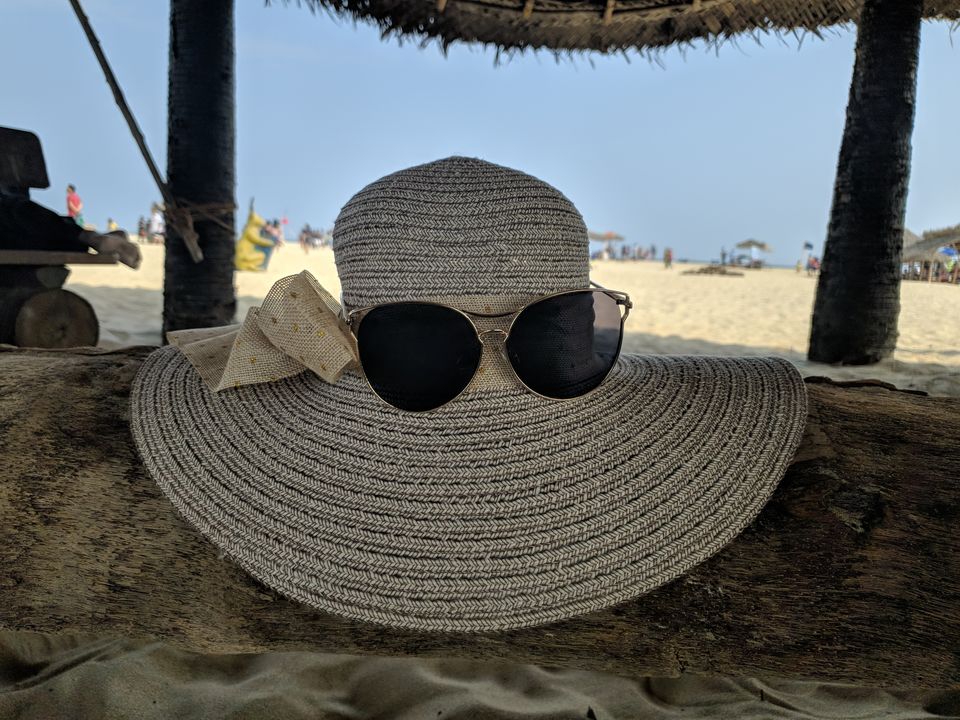 There are changing rooms available, so you can play in the water. There are a lot of restaurants available too, for lunch/snacks.
The second stop :→ Shopping at MG Road
After exploring the Island, we drove back to Pondicherry for Sunday Flea Market. Before proceeding, we went to 'The Taka Pizza'.
I totally loved the pizza and desserts. We were lucky to get the biggest pizza that they made and the flavored french fries trio. The lane where people claim the market begins, didn't impress me. There was not one thing which I could buy. However, having known a localite, we knew exactly where we could shop. (There is a lane near La Paradise, that is good for trendy clothes and accessories) The Indian Coffee House, Pondicherry is in MG Road and is great for coffee.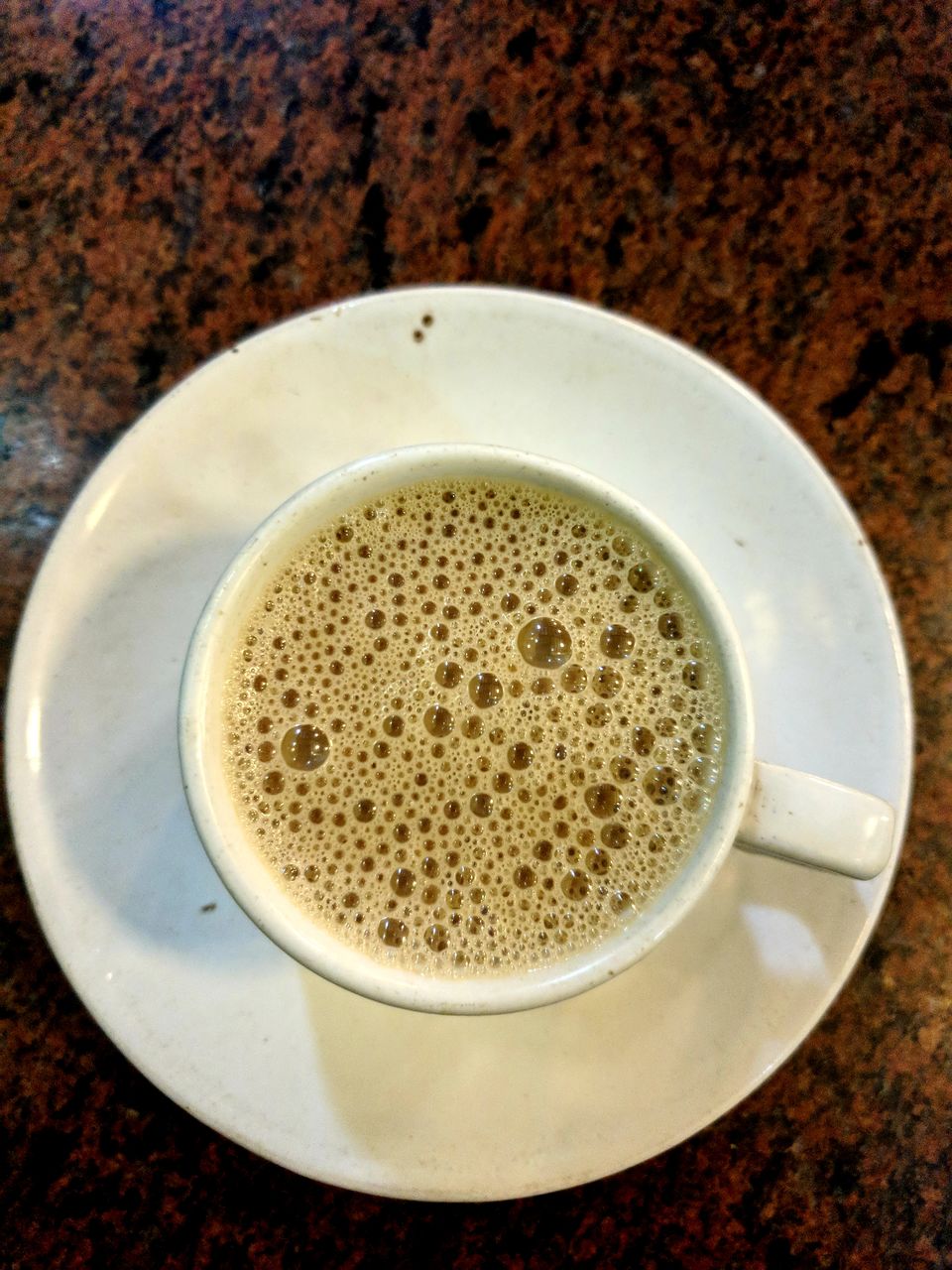 Relax here while shopping to your heart's content.
We concluded the day with very delicious dinner at a restaurant opposite to The Taka Pizza.
DAY 3
The first stop : → Breakfast at Cafe Des Arts
This Cafe has a very nice ambience and serves one with very delicious waffles and pancakes. After a sumptuous and luxurious meal, we started our journey towards Pichavaram, a village near Chidambaram.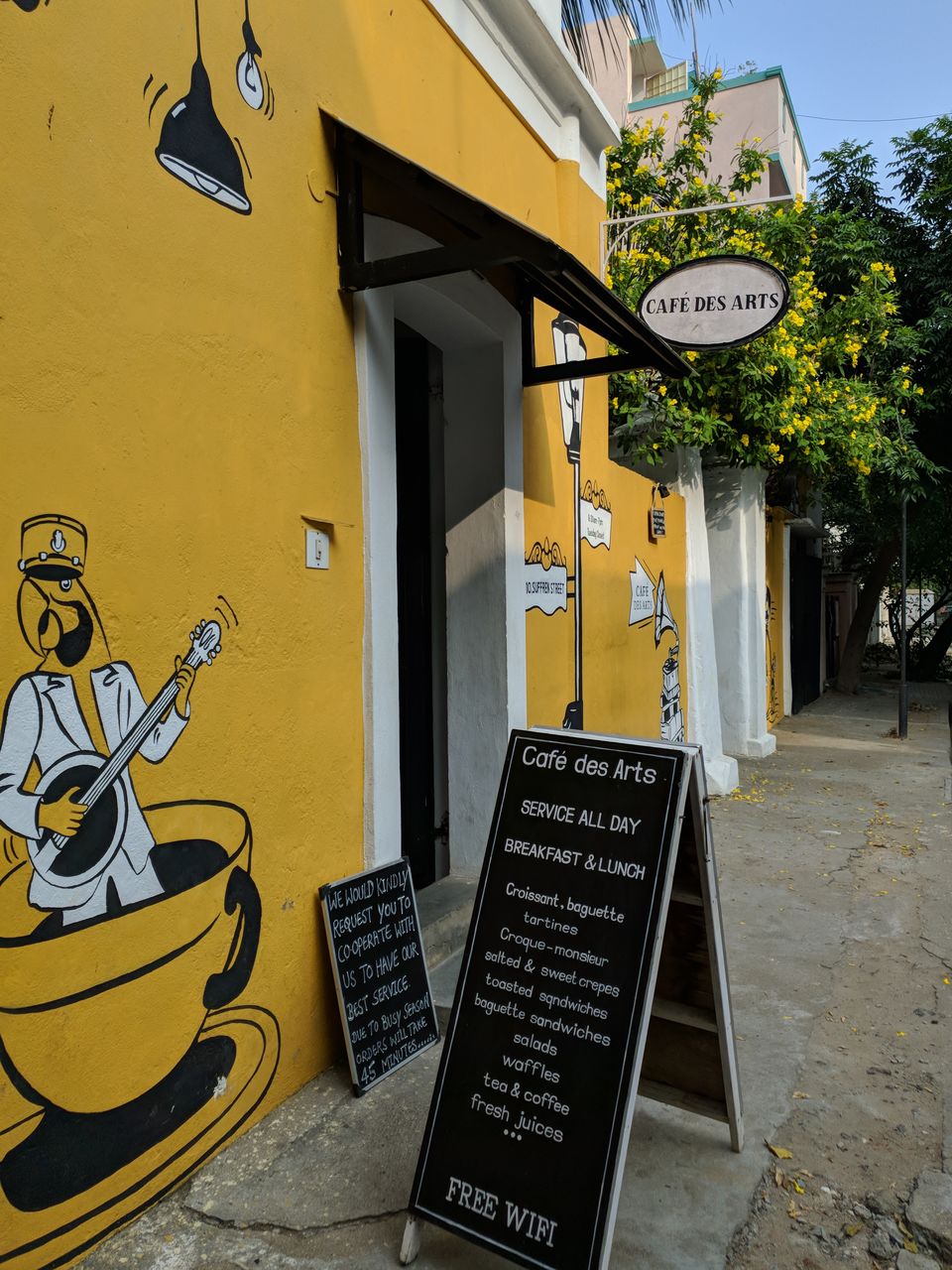 The second stop : → Pichavaram Mangrove Forest
Pichavaram Mangrove Forest is the best place which houses the second largest mangrove forests in the world. This place is nearest to Chidambaram and can be reached in a very short time. However, I covered this place during my visit to Pondicherry. We started at around 8 am from White Town. The road from Pondicherry to Pichavaram is picturesque and we had tiny stops in between for our pictures to be clicked in the fields. If you don't do this, you will reach the venue earlier. After reaching, you will be approached by locals who will ask you to take their boats as they will offer for a cheaper price. As this is govt owned, please don't listen to them. Approach the ticket counter and obtain tickets from them. You will be assigned a boat which will take you around places. After you travel for some time, talk to the person on your boat and convince you to take him to canals and other places. If you negotiate properly, he charges Rs.100/- per person for this extra journey. It's totally worth it. He will take you around some of the hidden and best places in Mangroves.
I loved the place. The mangroves here match the standards of the Mangrove forest I had witnessed when I was in Bharathang, Andaman & Nicobar Islands. You can spend the whole day here, however we winded up our sight-seeing around 3 pm and headed back to Pondicherry city.
The third stop : → NYE Party 2019
We had registered for New Year Eve Beach Party on one of the private beaches on ECR. On our way, we visited Cafe Xtasi. This place serves some of the best wood fired pizza. I won't say the pizza that I had here were the best, but yeah I loved the place and the way they make the pizza. It's worth a try! We enjoyed the NYE and welcomed 2019!
DAY 4
The first stop : → A2B, Pondicherry
We started the New Year with delicious Masala Dosa and Ghee Roast at A2B. We also bought their signature sweets for our families and friends. With a little bit of accessories shopping, we proceeded towards French Colony.
The second stop : → White Town
Streets in Pondicherry are very exciting. They are so parallel and organized. We did a little bit of Photoshoot there, in front of yellow, blue and white buildings.
The third stop : → Promenade Beach
We clicked some pictures here and enjoyed the tourist places, all of them located in this road. During the day, traffic is allowed so we could easily cover places with our car. We had a very relaxing time listening to the waves hitting the rocks and seeing the vast beach under the sun.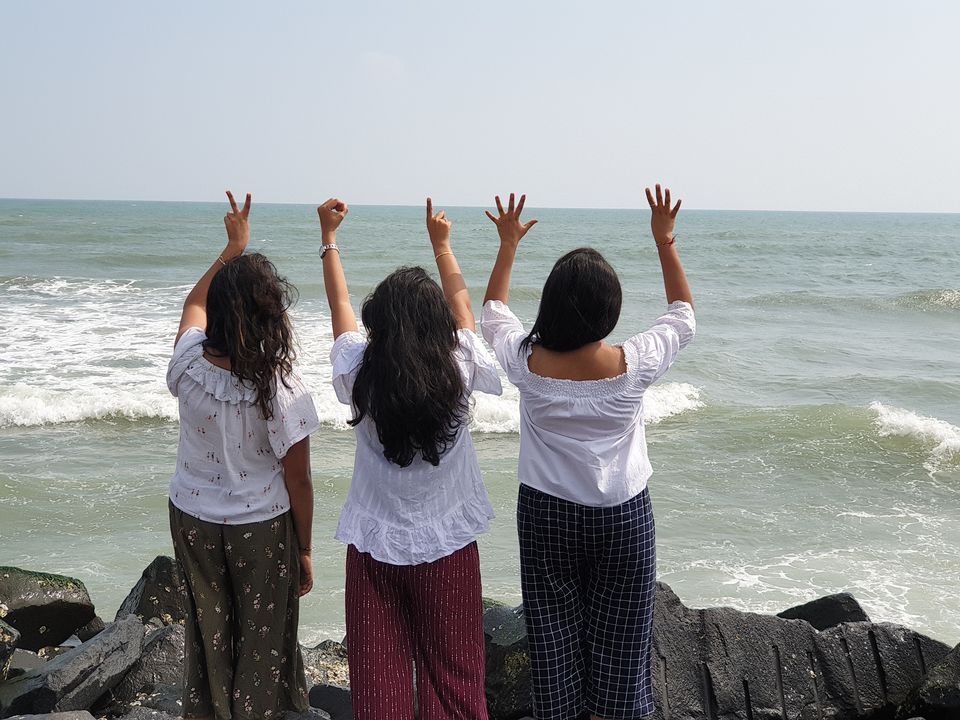 The fourth stop : → Cotton Factory outlet, White Town
This outlet is quite famous in White Town for it's wholesale price and cotton clothes. There is a separate section for women and men, however I found good quality jackets for women in men's section. Spend enough time here to search for best clothes. There are good night suits, jackets and t-shirts for nominal price.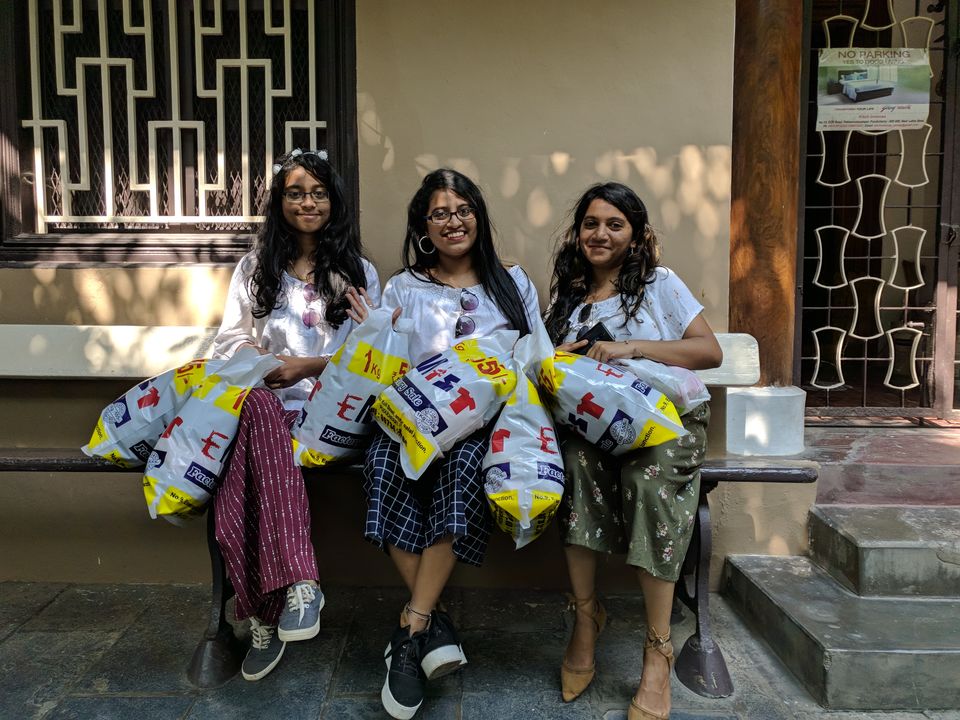 The last stop : → Gelateria Montecatini Terme
This place offers all kind of authentic Italian ice-creams in tropical-tasty flavors like mango, watermelon, pineapple, guava, orange and kiwi.
Having my cone filled with my favorite ice-cream and taking a stroll at the Promenade, was a dream come true moment!
Thank you for reading :)
Frequent searches leading to this page:-
pondicherry 3-day Itinerary, book pondicherry road trip package, pondicherry French War Memorial