If ever there was a person so thoroughly inspired by movie locations- it's me. Obviously, it was Dark Knight Rises that put Mehrangarh Fort on my radar, and ever since, I'd been wanting to see it for myself. My dreams of a spectacular view of all-blue houses came crashing down as this city left me utterly uninspired. There are parts of Jodhpur that I truly did enjoy, but in terms of the city itself- I remain unimpressed. All you need is a day to explore the best that Jodhpur has to offer- if you're a see-all-you-can traveller. If you want to take it slow, you need two days. Another way to explore this stretch would be to cover the Jaipur-Jodhpur-Jaisalmer trio. If you're looking for a luxury experience- Jodhpur is worth considering. You could stay at a fancy resort and take a day to explore Mehrangarh Fort. I believe its one of the better managed forts in the country, and large enough- also informative enough, for half a day's worth of exploring, with a guide in tow.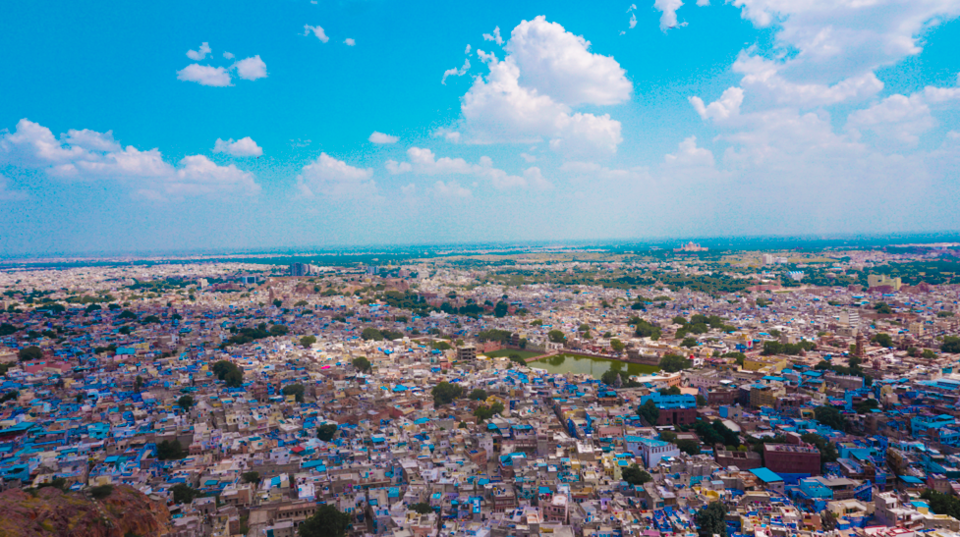 When to go:
To give you a fair idea, I went in the middle of September, and it was burning hot throughout the day. It felt physically painful and draining to be walking around in that heat from one place to another, and going out "exploring" places was quite difficult. The reason you can't make this a staycation trip (like you can in Jaisalmer) is because almost everything shuts around 5:00 pm in Jodhpur- at least the main tourist spots and the "things to do" leaving you with only food and rooftop cafes to enjoy in the evening. The only thing open till 7:30 is the Rao Jodha Desert Rock Park. So if you're planning to stay indoors during the day and head out to explore the city when its cooler, that isn't unfortunately much of an option.
How to get there:
Jodhpur is a convenient 1.5 hour flight from Delhi. To be specific, you barely spend any time traveling at all and would probably take less time getting to Jodhpur by flight than you would within the city. Trains run frequently to and from Jodhpur, although frequently delayed. It's a long journey by road, but if you plan to cover Jaisalmer as well (approximately 5 hours drive from Jodhpur) then it's worth driving down. (I took the train from Jodhpur to Jaisalmer. It wasn't as convenient as I expected because its not a chair car and by the time it arrives in Jodhpur- usually delayed- the berths have usually been used once before.)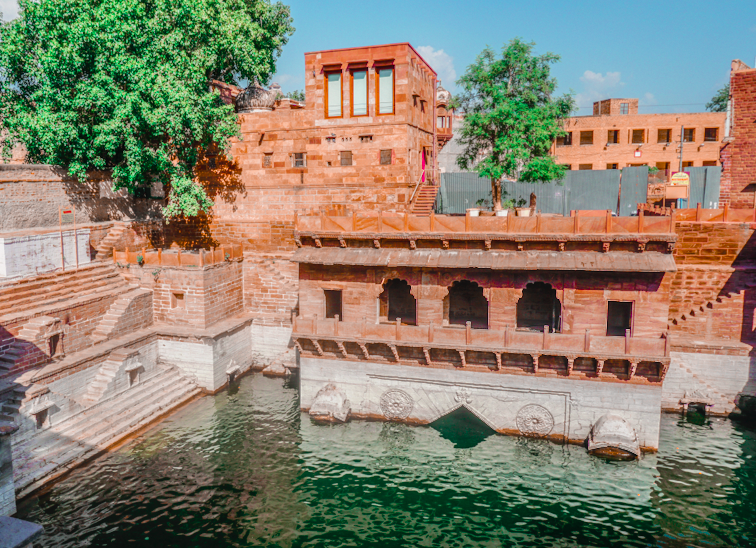 Where to stay:
Jodhpur welcomes a lot of international travellers, who choose one of two types of accommodations: youth hostels or luxury accommodations, and so, stay options are mostly divided among these two choices, most of which are in the "old city" area next to the Bawri or "Jhalra" as the locals call it. Among these youth hostels are Zostel, Stop Hostel, The Kothi Heritage (this one isn't a youth hostel but isn't too heavy on the pocket), Moustache, the beautiful HosteLaVie and Madpackers. For a luxurious experience, you'll find Raas- a tastefully created luxury hotel that shares a wall with the Mehrangarh Fort. It comes with a touch of Rajasthani influence, a spectacular view of the lit-up fort in the evenings and a stay-in experience for those who are willing to shell out on a hotel experience that comes with fort-style decor meets contemporary art. Among these through-the-roof luxury experiences is Umaid Bhawan Palace, a feast for the eyes and world's #1 hotel on TripAdvisor for many years straight- reflected, aptly, in its prices. Vivanta Hari Mahal and WelcomHotel are others that fall within the 20k per night category. Pratap Niwas Palace Hotel is a heritage resort on the outskirts of Jodhpur and is operated by Club Mahindra. The only drawback is its distance from the city, at an approximate 10 kilometres, making cabs to and from the resort relatively expensive.
About the city:
As is the case with Rajasthani cities, Jodhpur has an "old city" that was built around the fort. When the King's court settled in the Mehrangarh fort, the entire village began to settle all around it- and this is the view you would get from atop Mehrangarh Fort. This old city is home to the famous "blue houses" of Jodhpur, and straight ahead from this maze of houses is the "Ghanta Ghar" or clock tower, where the main bazaar area is. If you're looking to take home beautiful textiles and artefacts, a reliable place to purchase these is within the small marketplace inside the fort. Prices are likely to be higher, but if you go looking for these inside the industrial parts of the city, you might find it a hassle to sort through the various local stories to find the things you're looking for. You could also visit the branded stores near the Jhalra. These include Forest Essentials, Nico Bar and many other local designer boutiques. But most locals will tell that you that over 50% of these stores are far too expensive and not a bit worth their prices- and that's entirely true.
Around the Bawri/Jhalra area, you will also find several cafes and eateries, including Stepwell Cafe, Portside Cafe and plenty of rooftop cafes. In terms of being around the "main" tourist/things-to-do spots, its best to stay in this old city area. The rest of the city, as I mentioned, is like the industrial side of any old city, and there's nothing all too inspiring about it. The one thing truly worth exploring is the Mehrangarh Fort- and for this one, I would recommend hiring a guide. There isn't much else to do around Jodhpur, and as a city, it doesn't have its own "vibe" the way that Jaipur and Jaisalmer do.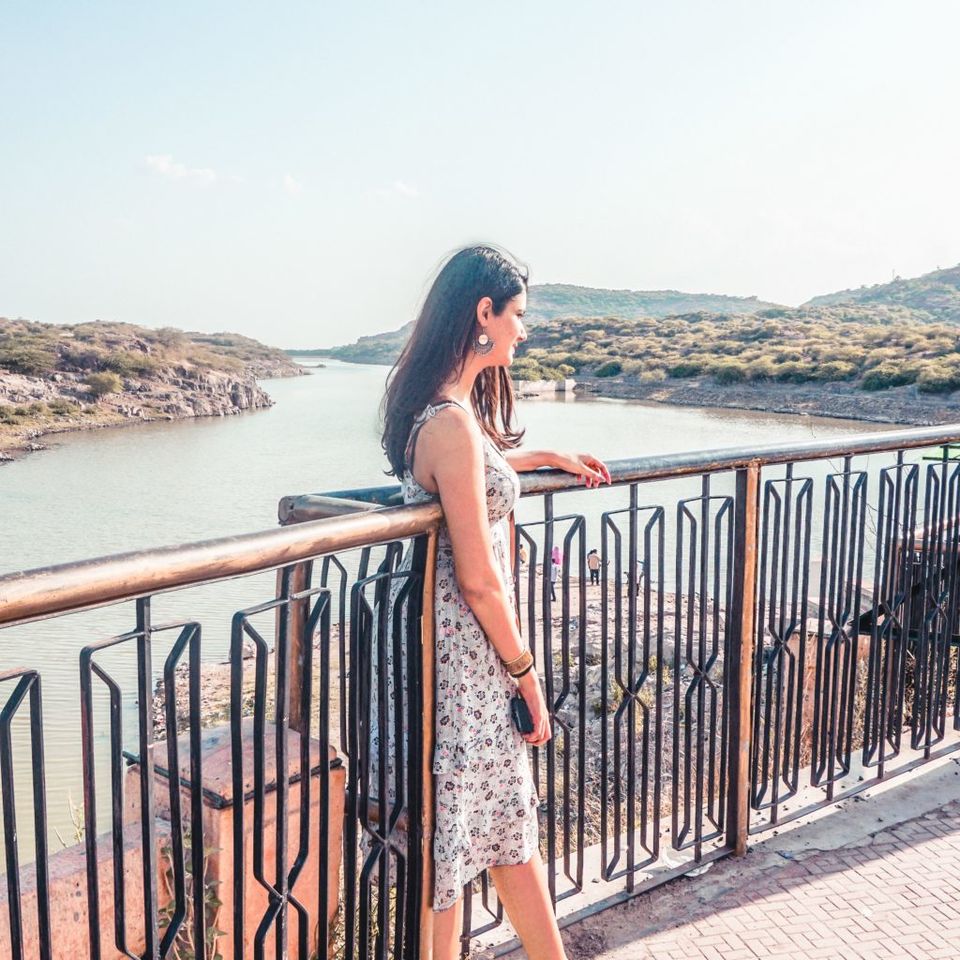 Things to do:
While you'll find plenty of lists for things to do on Lonely Planet etc, I'm going to narrow it down for you in terms of the things that are really worth doing vs those that can be skipped:
1. Mehrangarh Fort:
Famous for its aerial view of Jodhpur's old city, there's more to Mehrangarh than one first thinks about before visiting. The view expands to cover almost all the major tourist spots in Jodhpur. Umaid Bhawan Palace, a spectacle worth marvelling over from every corner, is visible from the fort- as is Jaswant Thada, the famous blue houses and the clock tower. You might also be able to identify some shooting spots for Dark Knight Rises. The one thing though, that truly makes this fort unique, is the way that is has been managed. Mehrangarh Fort has been under the wing of a "Trust" called the "Mehrangarh Museum Trust" which has managed and conserved the fort since 1972. It is one of Rajasthan's best managed and conserved forts, with a lift that goes directly to the top of the fort, so visitors don't have to climb the entire fort. I would recommend taking this lift to the top, and from there you can explore the fort on your way down. Aside from its ease of accessibility and great views of the city, the fort is also a fountain of information. I would recommend hiring a guide here and really spending time to understand and grasp what life was like here, in the King's royal zenana and mardana. Your guide will also be able to give you interesting tidbits of information about life in the royal court. Duration: 1.5- 2 hours
2. Tour the blue houses:
It was the idea of seeing the blue houses in person that drew me to Jodhpur, and I was directed towards the "old city" for its narrow streets lined with these cobalt blue homes. A path extends from Mehrangarh Fort into the old city, and that is where it begins, extending all the way to the ghanta ghar or clock tower. Sadly though, there are much fewer houses now that are still painted blue, and one who is actively seeking a sight of blue over blue houses is bound to return disappointed. Within this small city area is the main "jhalra" with its commercialisation by stores and cafes additionally off-putting. The novelty hasn't worn off entirely though, and you can still stroll along these blue streets, exchanging pleasantries with local shop owners.
3. Umaid Bhawan Palace and its surroundings:
The drive up to Umaid Bhawan is just as beautiful as the palace. Once you get there, a view of the city unfolds just as you step off the car. The surrounding area is clean and the roads are in great condition. Umaid Bhawan is divided into 3 parts- the museum that is open to all visitors, the hotel run by Taj that is open only to residents, and the Maharaja's palace- where he still lives on one side of the property. There isn't much to see here aside from family pictures and information on the lineage along which the palace has been passed down. Additionally, you might find information on how the Umaid Bhawan was built, its expenses and the London-based architects that designed it. Still, Umaid Bhawan is worth visiting for the beautiful architecture, sprawling green lawns and display of vintage cars that is open to visitors.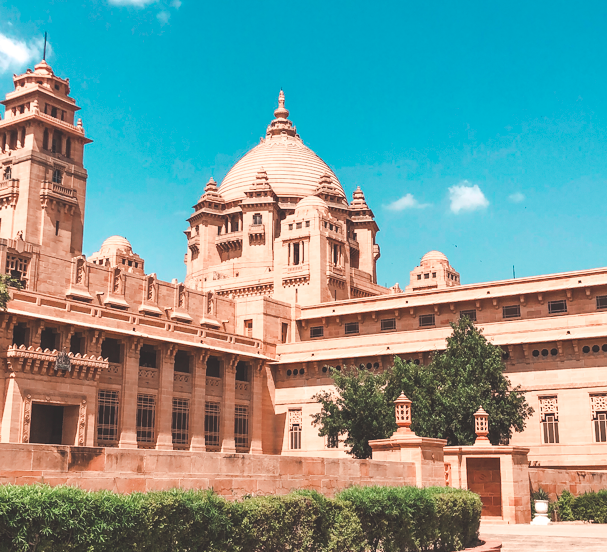 4. Hit the rooftops:
One of the fascinating things that make a true Rajasthani experience is Laal Maas at a rooftop café- or Dal Baati Churma for those who don't eat meat. These quaint cafes and restaurants have charming dinner seating, with candle light, soft folk music and usually a view of the lit-up fort in the backdrop.
5. Rao Jodha Rock Garden:
Surprisingly, this is one of the better things to do in Jodhpur. It's a beautiful garden with several trails and hikes spanning a couple kilometres. There's a lot of flora and some pretty great views to enjoy. The best time to visit is in the evening, and it's one of the few places- I believe the only sightseeing spot that's open past 5:00 pm. The park is open till 7:00 pm and visitors are encouraged to visit during the evening hours- given the heat. Entry fee: INR 100 per person for Indian visitors.
6. Chand Baoli or Jhalra:
More commonly known as Jhalra- and that is the recommended term to use, should you need directions from the locals- the Chand Baoli is a step well around which most of the city's main cafes and stores are located. I guess it would be imperative to stop by, given that many cafes are located here and in the evenings this area is a lively one, with tourists wandering around the cafes. This is also where the youth hostels are located, and the Jhalra also shares a wall with Raas- the luxury hotel situation around the corner.
7. Kaylana Lake:
This beautiful lake provides water to all of Jodhpur and its surrounding villages. It's a clean and beautiful lake, with adequate seating space around it as well. Boating for individuals as well as groups happens from the same entry spot as well. The lake is surrounded by rocky terrain, which makes it look exclusive and quite calm. Perhaps it was because I visited during mid-September while it was still relatively hot, and the crowds hadn't quite descended to Rajasthan, but there was hardly a soul at the lake around the time when I visited. From my chats with the locals, I hear it does get pretty crowded during season time.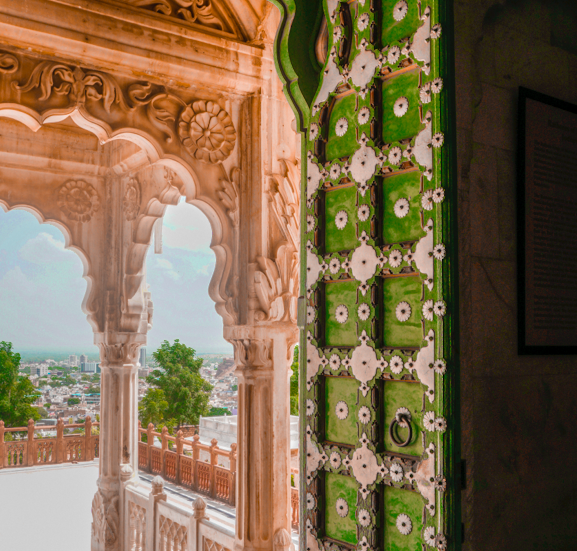 Things not to do:
1. Jaswant Thada:
The view is as great as anywhere else in the city, and besides a memorial and several pictures of all of Jodhpur's kings in chronological order- there's little you will find here. The entry fee is INR 30 for residents, but you might end up wasting precious time. Once you get there though, a small view of a tiny lake surrounded by barren hills unfolds- but you don't need a ticket to see that.
2. Don't take a hotel on the outskirts:
Nothing to do with sightseeing, but a hotel on the outskirts- like the Club Mahindra property here, is going to cost you big bucks. Cabs from Club Mahindra- or the general surroundings could cost anywhere between INR 600-800 per trip. Unless you've driven down, this could potentially be quite expensive. You could also choose to book a cab for the entire day from one of these properties on the outskirts- which will likely cost you INR 2,000. You might be able to negotiate with a local cab provider for INR 1,000 given that everything is within close proximity and there's hardly any driving to do besides the hotel to and fro.
A break-up of my costs:
Cab from the airport to the hotel (located on the outskirts- 10 kms from the airport): INR 800
Cab for the full day tour of the city: INR 2,000 including all the sightseeing mentioned above. I left at 11:00 am and my cab driver was quite restless to get back by 5:00 pm. There wasn't much driving time- we drove to Umaid Bhawan Palace, Rock Jodha Park, Jaswant Thada and Mehrangarh Fort (not a lot of distance from each other). Eventually I was dropped at Mehrangarh Fort and left to experience the fort, old city and cafes by myself until the evening. In the end we headed to Kalyan Lake (on the outskirts of the city) and back to the hotel.
Lunch at a cafe: INR 1,500 for a pizza and a smoothie at Stepwell Cafe. I reckon it would be cheaper at the rooftop cafes.Entry fees: Aside from the entry fee at Mehrangarh Fort- which was expensive because I also hired a guide, the fee at sightseeing spots averaged on INR 30.
This blog was originally published on Stumbling Around Delhi.