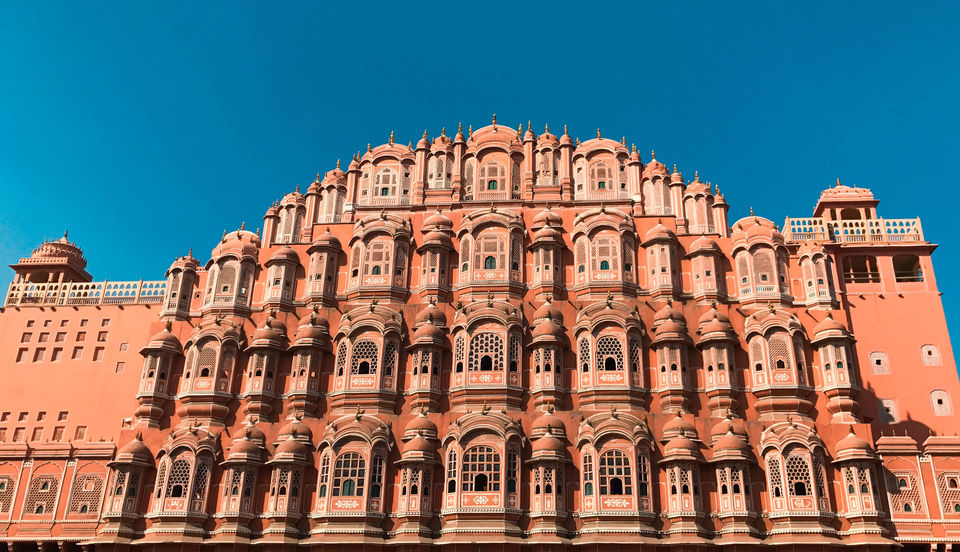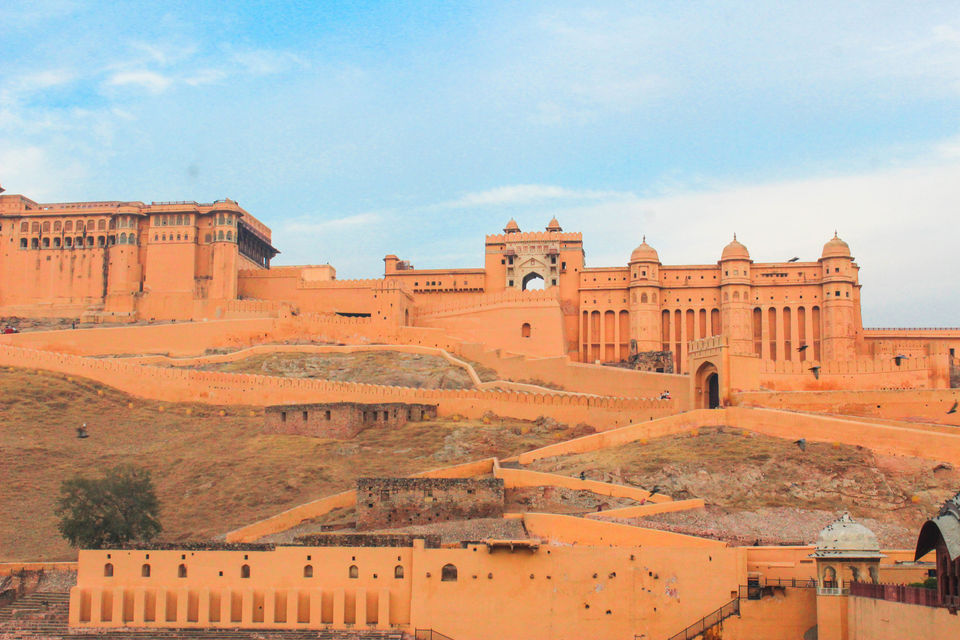 I always wanted to tick off the Desert state of India : Rajasthan from my bucket list. I have heard a lot of things about this state. So now it was time to discover those places on my own. And there can't be any better time than this. It was early January of 2019. New year just had started. And after doing some research, I planned the long waited Rajasthan trip with my Parents and my sister. Since this trip was with my parents, I wanted to organize everything before hand. So I pre-booked the trip through Rajan Bookings that included accommodation, transportation & meal plans (only breakfast included in our package). First city that we explored on our trip was Pink City of India -Jaipur. Here, I will share my experience of Jaipur.
Finally our journey started on 9th jan from Bhubaneswar to Jaipur by Indigo Airline at 1 PM. After 6 hrs journey (as it had 1 hr lay over at Mumbai Airport), we reached Jaipur.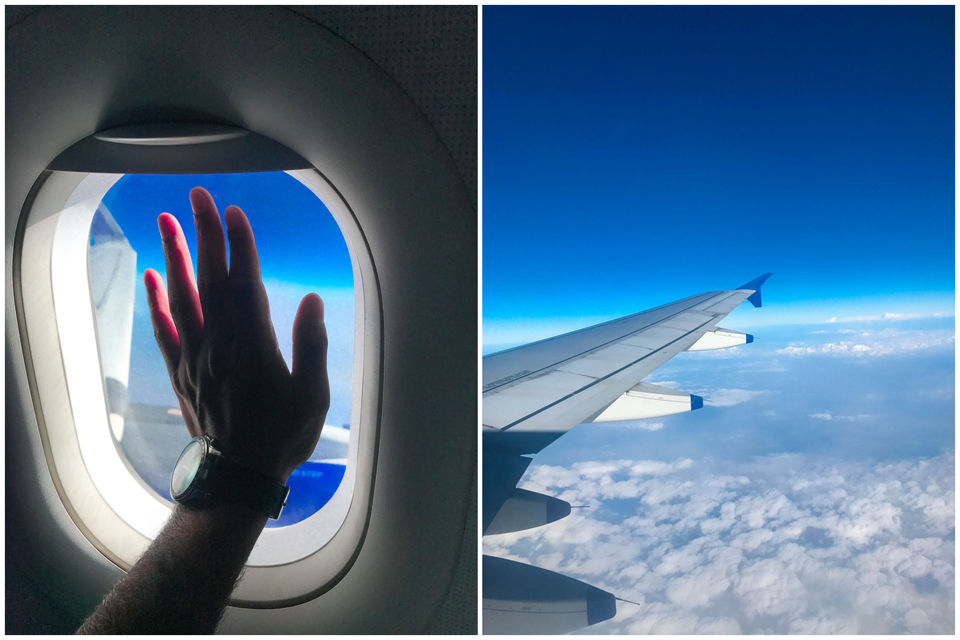 In the Jaipur airport itself, you will get the Rajasthani feel as everywhere the hoardings are placed with Rajasthani sayings written all over it like "Padharo mare desh" (Come to my land). There is something in the atmosphere of Jaipur that brings joy as soon as you set foot in the city.
This state attracts lot of foreign tourists every year because of its grand architecture, rich culture & royal history. Most of the foreigners add this state to their itinerary. I think because of the Royal feeling they get in this state, the story of 100 year old Kings they listen, it attracts them most. After all I was so happy as finally I made it to the most visited state of India : Rajasthan.
Our cab driver was already waiting for us outside the exit gate. He took us directly to the hotel. Our tour organizer had booked hotel Ram Vilas for us. What a coincidence : My name is Purusottam and I was going to stay in Ram Vilas. Isn't it interesting.? :D
After check-in we entered the hotel rooms which were very clean and spacious. The rooms were decorated in traditional way to give the guests Rajasthani feel.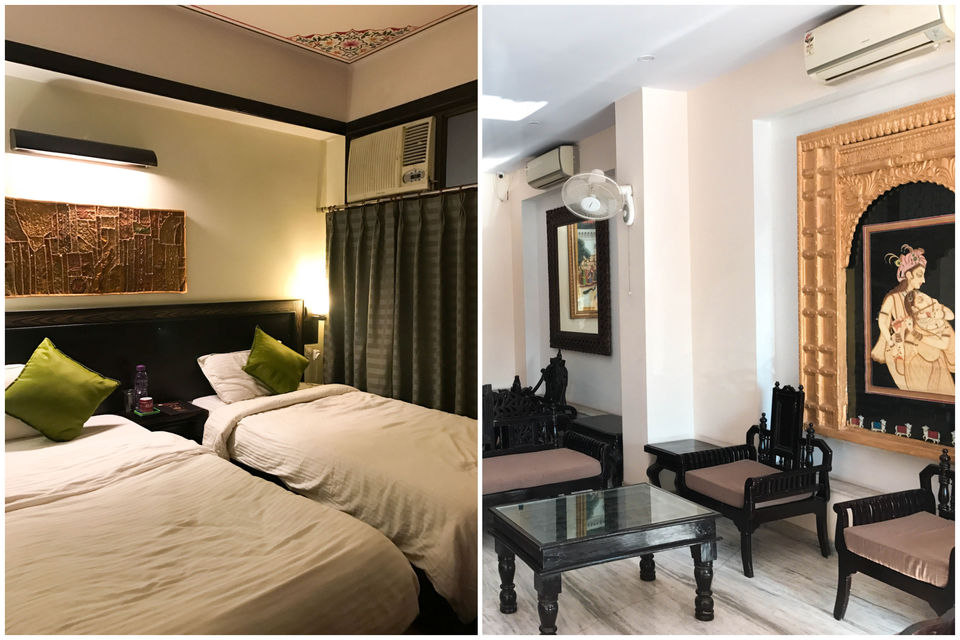 After freshen up, we went to the restaurant which was located in the ground floor of the hotel. We had our dinner and went to the sleep.
Next day we woke up at 8 AM. It was our first day in Jaipur. I was so excited to explore the capital of Rajasthan. Within 2 hrs, we got ready and had our breakfast.
The cab driver was there waiting for us (he generally gets ready by 9 AM). In the excitement, we jumped into the cab (only me ;)) and left the hotel for exploring Pink city.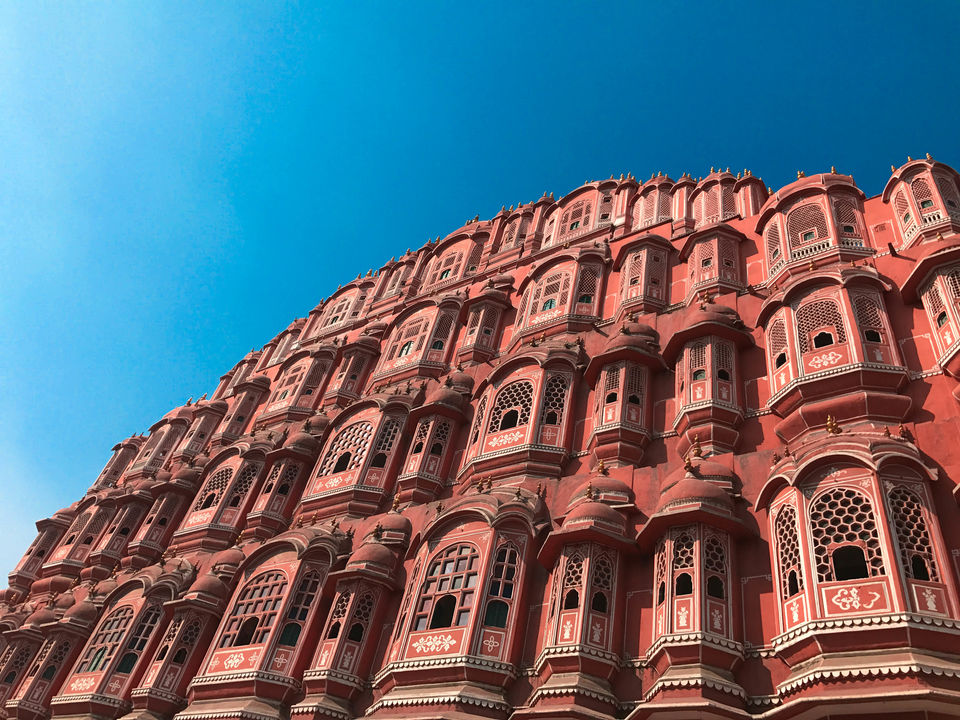 Once you get into Jaipur, you will realize why this city is called as "Pink City". You will notice most of the old buildings of Jaipur are painted in pink.
It took 35 mins to reach at our first destination of the day : Hawa Mahal (Palace of Winds). The driving distance between our hotel to Hawa Mahal was approx 15 mins. Due to heavy traffic, it took extra 20 minutes. Around 11 AM, we reached at Hawa Mahal. Nov - Feb is the peak tourist season in Rajasthan. So if you are in Rajasthan during that time, then my suggestion will be leave your hotel as early as possible. otherwise you will get stuck in the heavy traffic. Our driver left us in front of Hawa Mahal and left for parking the cab.
First sight was so breathtaking. The palace is constructed of red and pink sandstone. It was built in the year of 1799 by Maharaja Sawai Pratap Singh. The palace was designed with a high screen wall that has approx 950 windows. This wall was used by Royal women and queens to see the outside world from behind these windows while remaining unseen from outside.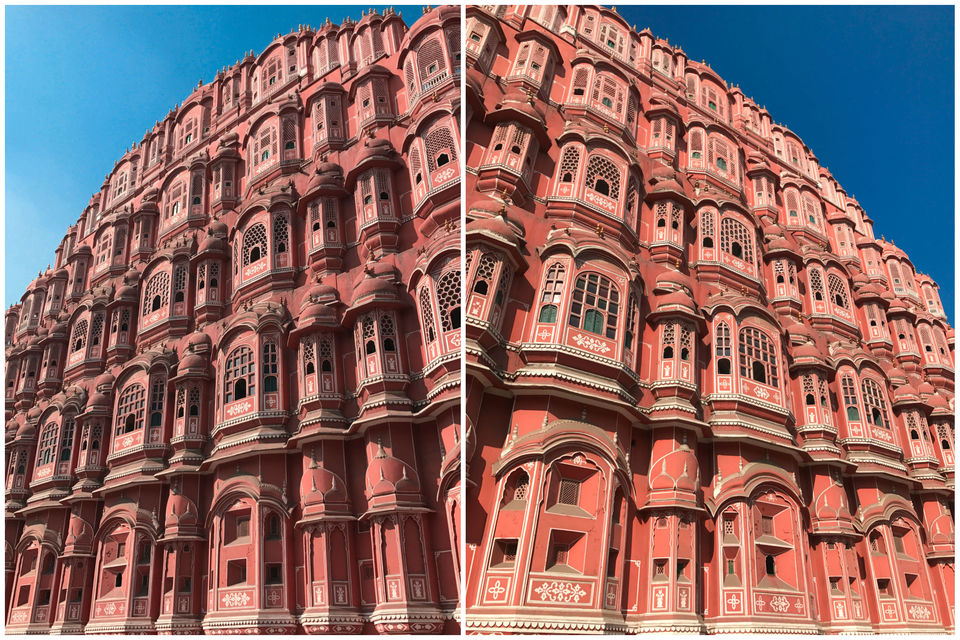 The building has been designed so beautifully that you will fall in love with the architecture. Generally summer time is too hot in Rajasthan. And these windows play a very vital role during that time for residents of this palace. It is designed in such a way that it passes cool air to the main Palace area through these windows. And so the name is Hawa Mahal (Palace of Winds).
There are two cafes (The Wind Cafe, The Tattoo cafe) just opposite to the Hawa Mahal. You need to climb up to 20 steps to reach there as they are in the first floor and second floor respectively. If you are at Hawa Mahal, just book a table in either of the cafes to get the best views of it. My sister and me went to the Wind cafe to enjoy the views. In the mean time, my Daddy and mommy were busy in exploring the Rajasthani local market.
You won't believe me, what a view from the top! You have to be there to believe me. Just posting the picture as proof. :)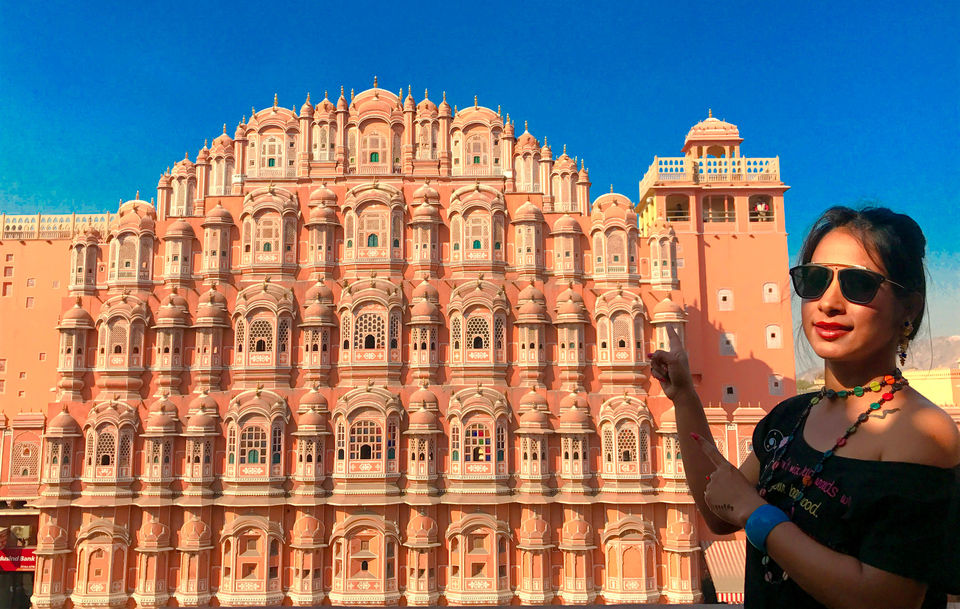 When we returned, we saw daddy had bought two Rajastani topi (hat). We clicked some pics with it and headed to our next destination which was City Palace. This palace is situated adjacent to Hawa Mahal which is just 5 -10 mins walking distance.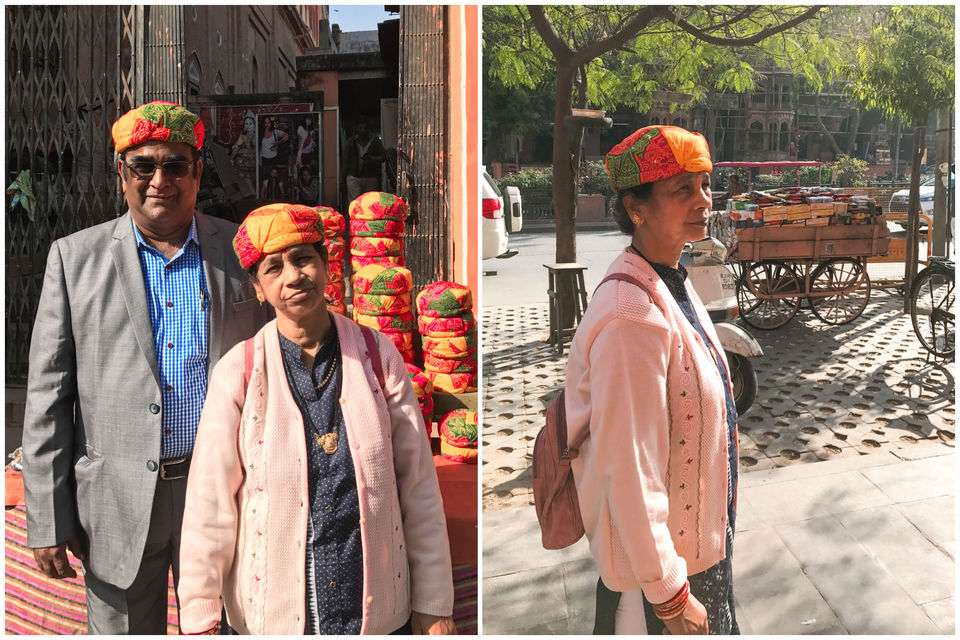 Opening Time : 9.30 AM - 5.00 PM
Entry fee : Indians: 50 Rs , Foreigners : 200 Rs
When we reached the City Palace ticket counter, it just surprised me. Different categories of tickets are available for visiting the City Palace. A basic ticket costs around 200 Rs and with which you can't access all the areas of City Palace. If you want to go for a Royal visit where you get access to Chandra Mahal (one part of the City Palace which is still used by the royal family), you need to take 2500 Rs ticket. Well ! that's too high for a palace visit. So we took the basic ticket and entered the palace premises.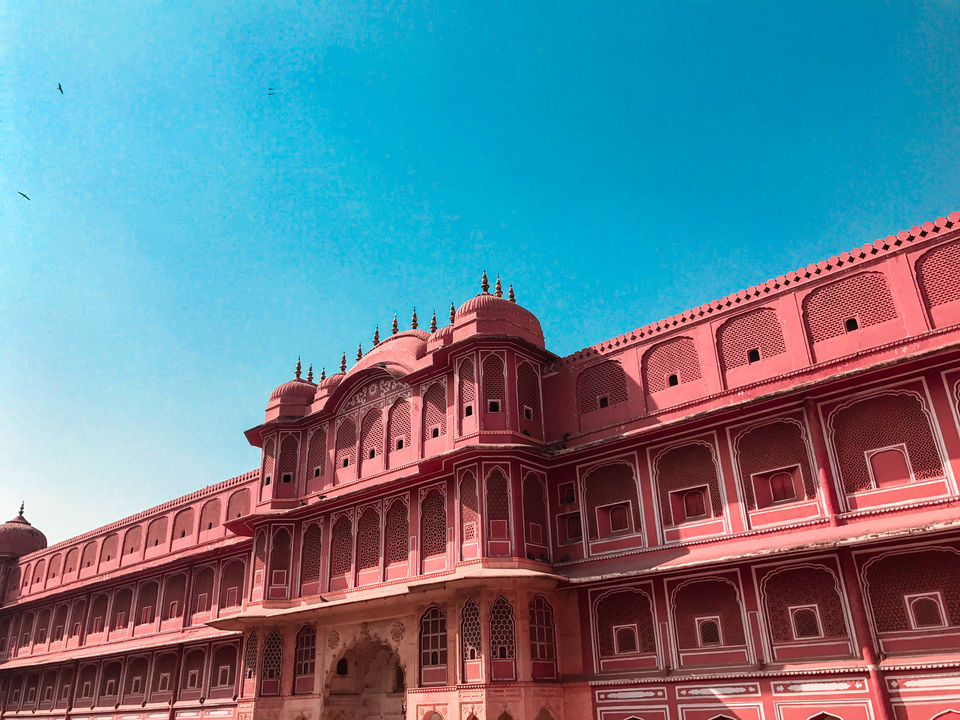 Once we entered the premises, we realized the area is too vast. The highlights of the palace include Chandra Mahal, Mubarak Mahal, Diwan -I-Khas.
We were not allowed to enter Chandra Mahal as we had taken the basic tickets. Mubrak Mahal (Palace of Welcome) was built by Maharaja Madho Singh II. During that time this Mahal was used for welcoming the guests to the city Palace. Hence the name "Mubarak Mahal". Now it has been converted to a museum.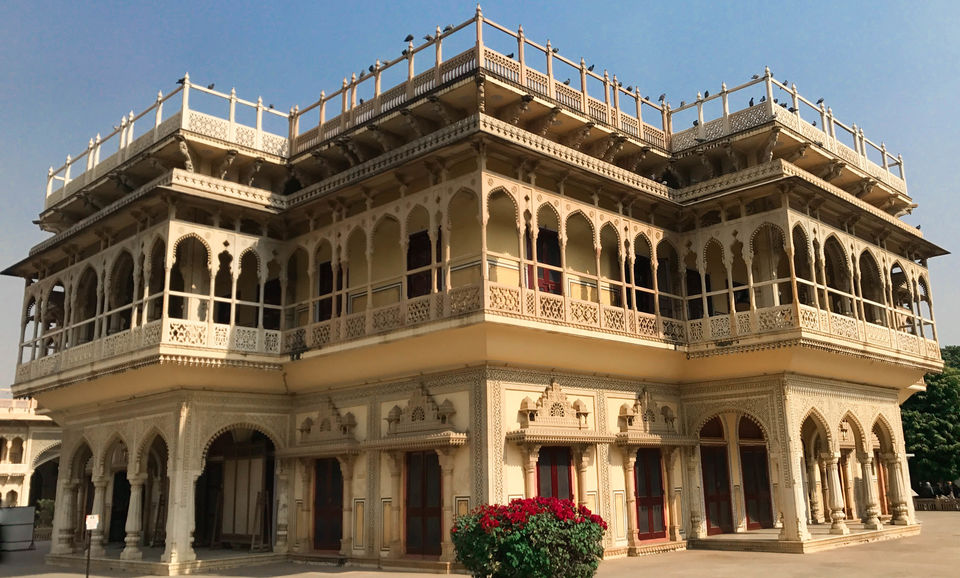 Right to the Mubarak Mahal, you will see a beautiful gateway which will directly take you to the Diwan-I-Khas. It is an open hall. Two large silver vessels are placed in this section which were constructed for carrying water for personal use by King Madho Singh II on his journey to England. Because he didn't want to use their (England's) water. You can guess how Royal they were. I am just wondering which transport mode they were using for such purposes. Now it holds a place in Guinness Book of World Records for displaying the world's largest silver vessels.
This palace has one museum also where you will get to see collection of clothes, weapons and paintings used by Royal families. Photography is not allowed inside the museum. If you are more interested in knowing history, then this place is for you. We took 2 hrs in exploring the palace. One thing I must say, this is very picturesque place. I also clicked few beautiful pics.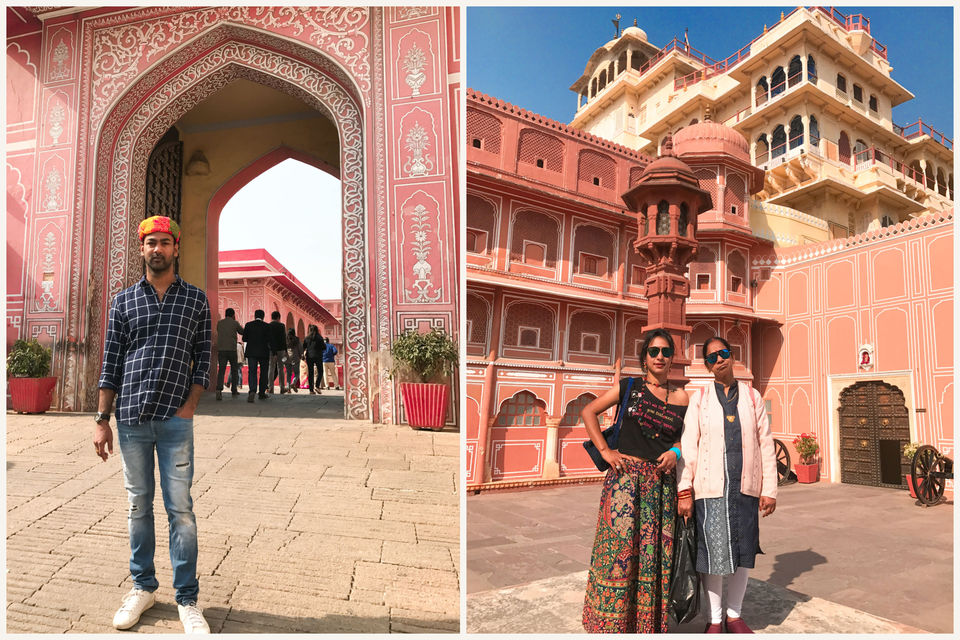 Opening Time : 9.30 AM - 5.00 PM
Entry fee : Basic Ticket : Indians: 200 Rs , Foreigners : 700 Rs
It was 2 PM at that time and we were too hungry. So we headed for having our lunch.Our driver stopped at a near by restaurant. We finished our lunch and then headed for our next destination : Amer Fort - The most famous tourist attraction of Jaipur. It is 15 min driving distance from City Palace.
It is an UNESCO World Heritage Site. I have heard a lot about the Elephant rides at Amer fort. Lots of Bollywood movies were shot here. Who can forget scenes from Iconic movie Hum Sath Sath Hain. :) But when we reached Amer Fort , we got to know that elephant rides were over. They operate only at morning time ( 7 AM - 11 AM). I was sad because I missed the most beautiful experience.
The Amer palace is situated on a hill top. You need to climb up few steps to reach the palace. It is approx 150-200 steps to the top. Next 1 hr we explored the Palace. It was too crowded at that time.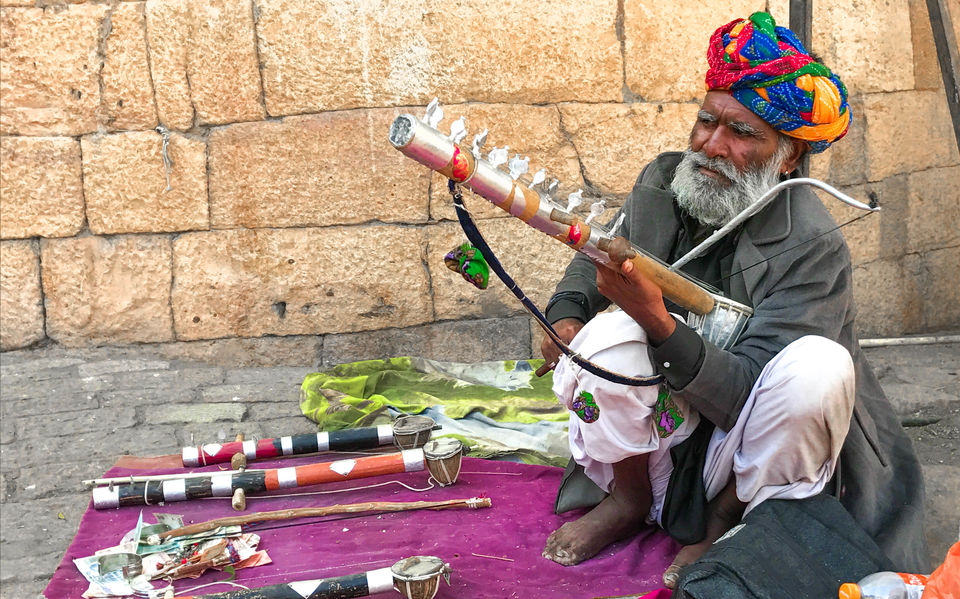 You can go at evening time also when you will get to see lighting show at Amer Fort. They depict the history of Amer Fort through colorful lights & music. But in evening time the entry price gets little higher.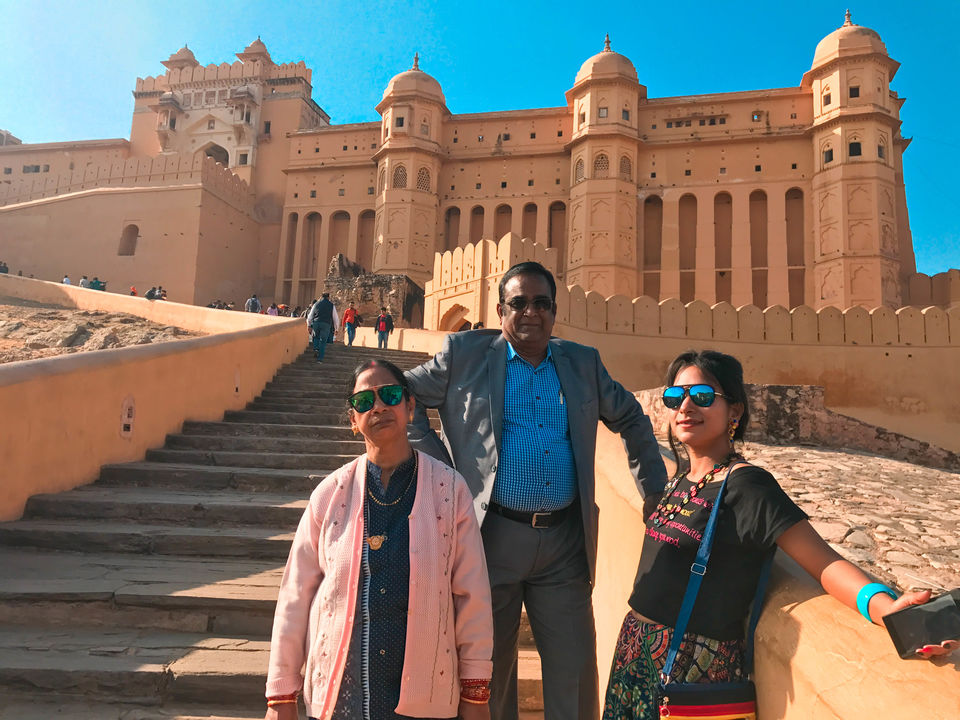 From my experience, early morning is the best time to enjoy the palace. During morning time, it is less crowded and very quiet. After visiting Amer Palace, we went to our next stop : Jal Mahal Palace which is 5 min drive from Amer Palace.
Opening Time : 8 am–5:30 pm, 6:30–9:30 pm
Entry fee : Indians: 100 Rs , Foreigners : 500 Rs
It is a beautiful yellow color building inside a lake. Unfortunately you can not go inside the palace. You can only see this lovely floating palace from the bank. There is nothing much to see. But good for photography as you can get local Rajasthani dress to wear and take photos at 100 or 150 rupees per photo. We also got clicked ourselves in Rajasthani attire. It was the best thing we did in Jaipur. These are the moments we cherish forever. No?? We took one hour there in clicking ourselves and then we headed to our hotel.
It was evening time. On our way to the hotel, I wanted to stop at Hawa Mahal again. I know that in evening time, it gets lit. So I wanted to capture that view as well in my camera. So I told our driver to stop at Hawa Mahal. We got down of our cab. Oh My God ! the view at night is just mesmerizing. Seeing totally lit Hawa Mahal is a treat to eyes. This place should be on your top list when you are in Jaipur.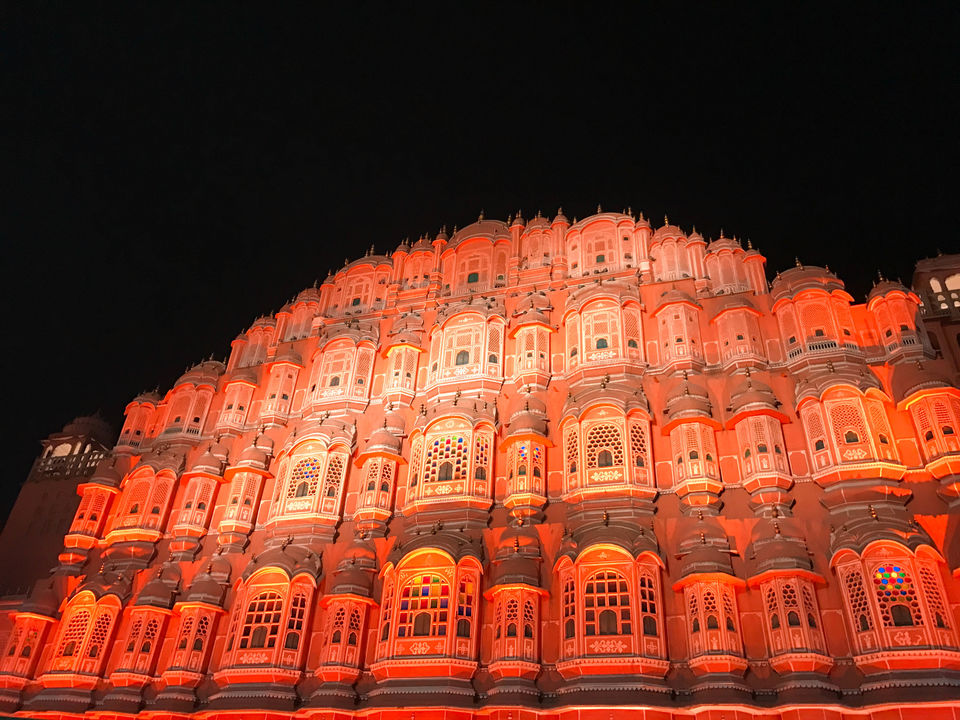 After enjoying the breathtaking views, we headed to our hotel. We got freshen up and again went to the hotel restaurant for having dinner.
Next day I woke up at 6 AM. I had my own plan in my mind. I wanted to see elephant rides at Amer fort. I got ready within 1 hr. I didn't want to disturb my sister & my parents. They were little tired. Also I didn't want to disturb our driver at early morning. So I took the local bus and reached Amer fort in 5 mins.
It was 7.30 AM at that time and the elephants were already there. The environment : I felt like any Royal wedding was happening. Seeing approx. 500 colorfully decorated elephants at a time was definitely a sight to hold. Coming to Jaipur and not enjoying elephant rides at Amer Fort is a loss I believe.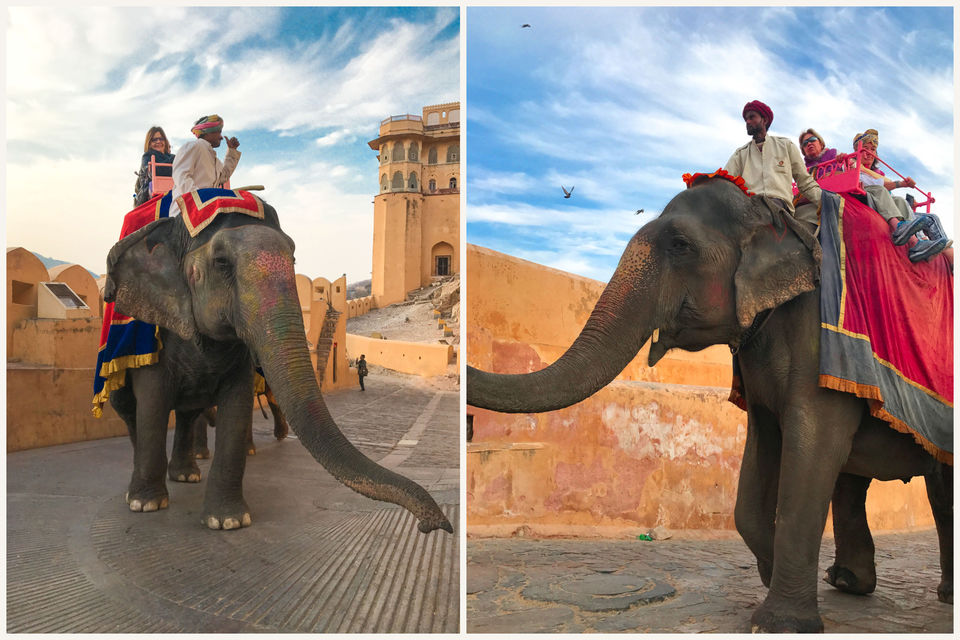 Most of the foreigners were there at that time who were taking the rides. It was a great start to the day. I had captured all these scenes in my camera and left for the hotel after 1 hour. When I reached the hotel, my sister & my parents were busy in taking the breakfast. I joined them and showed them the pictures. My sister regretted most for not going with me.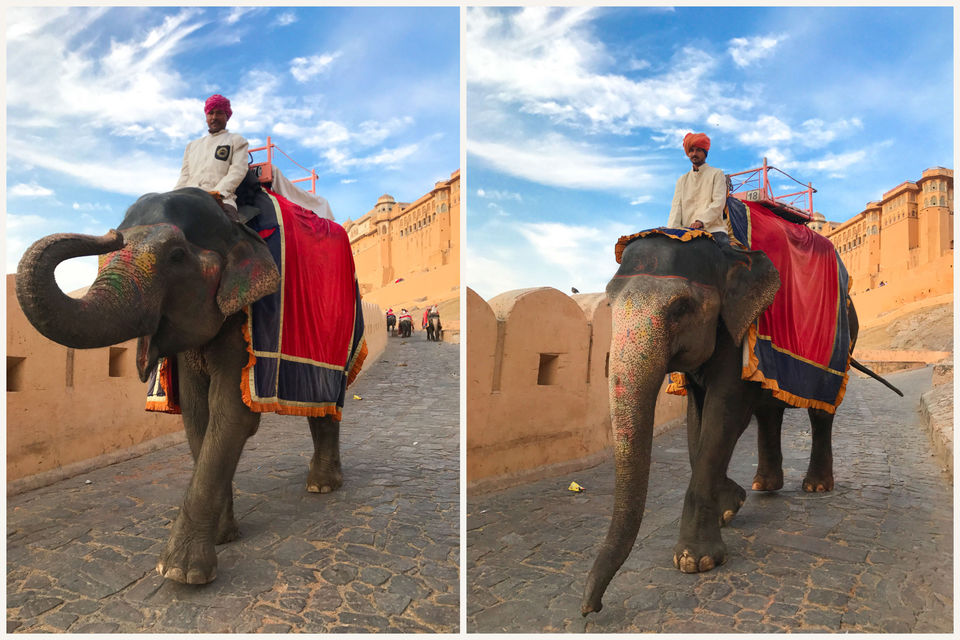 We finished our breakfast and checked out from the hotel. It was our last day in Jaipur. We did put all our luggage in our cab and bid a good bye to our hotel : Ram Vilas.
Our Next Destination in the tour was Bikaner. But prior to that we had to cover few places in Jaipur.
It's built in white marble and exquisite in its design. No photography is allowed inside the premises. Statue of god and goddess inside the temple is very very beautiful.
The vibe was so magical. This place is so peaceful that will definitely help you in refreshing your soul. We spent 1 hr sitting there and then headed to our next destination : Pratika gate.
It's 10 mins straight drive from Birla temple. This place is very near to Jaipur Airport. It's not a famous tourist spot. Rather I would say it's a picturesque spot. Most of the youngsters come to this place to click those perfect pictures (You know what I mean : Yes, Instagrammable Pic).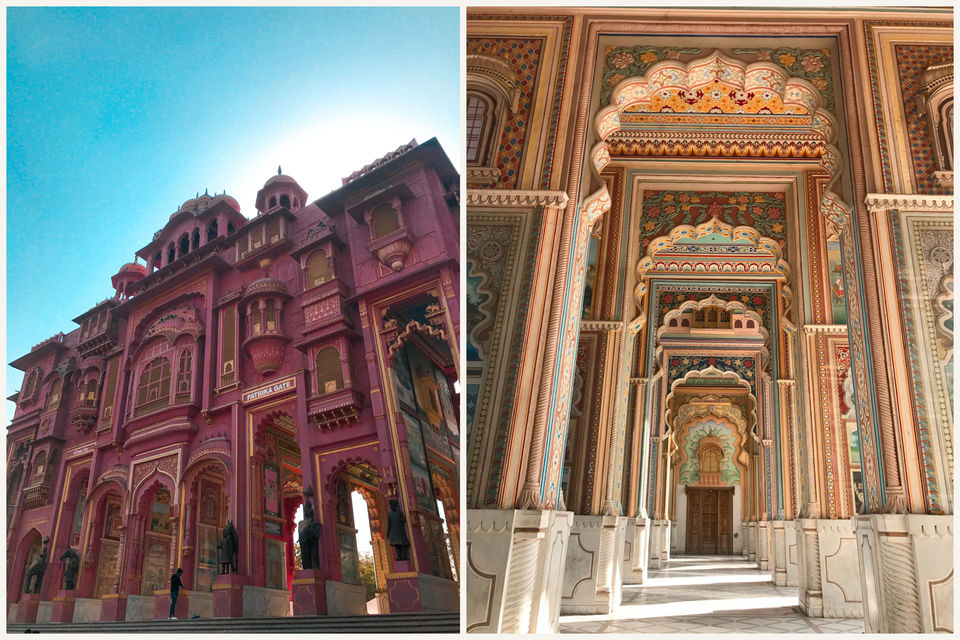 I must say it's definitely a gem and well worth the visit. This gate has been designed very beautifully. It looks so gorgeous. How come a place so beautiful is still not crowded in twenty first century. Now I will let the pictures do the talking here.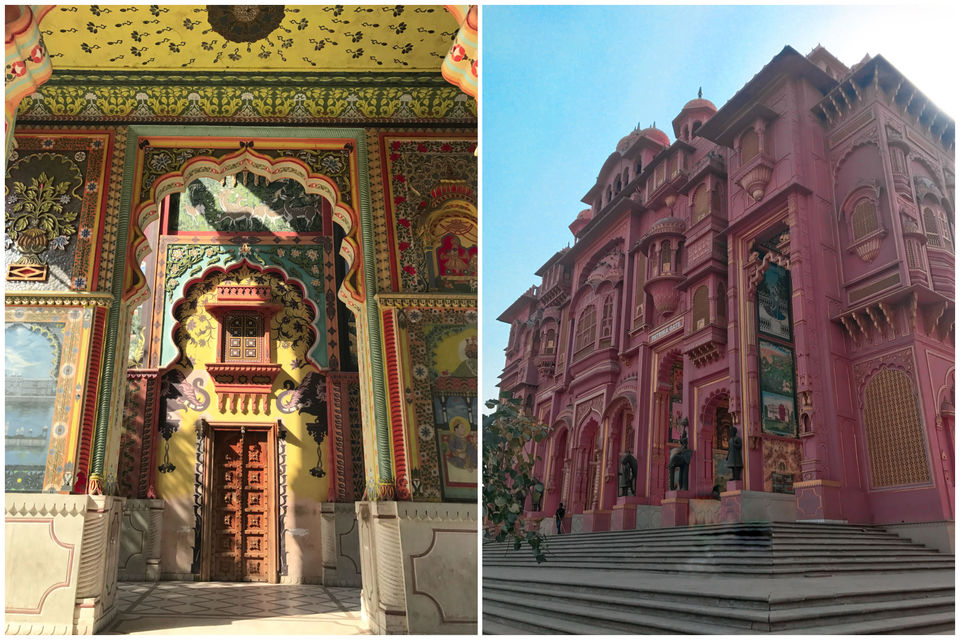 It was 1 PM when we finished exploring the Pratika Gate. Then we directly headed to our next Destination : Bikaner.
Jaipur is a city where you can see a lot of places in a short time period. This city has everything to offer.
Soon I will definitely come back to this place. There are lot of places which I could not make it due to time constraint. If you are in Jaipur, I will suggest you to check out these places also which I had missed.
1. Gaitore Ki Chhatriyan - It is 10 min driving distance from City Palace. The area is very peaceful and quiet. I regret the most for not covering this one.
2. Panna Menna ka Kund - A step well situated near to Amer Fort (5 min walk able distance).
If you haven't got a chance to experience the royalties of Jaipur yet, plan your trip right away!