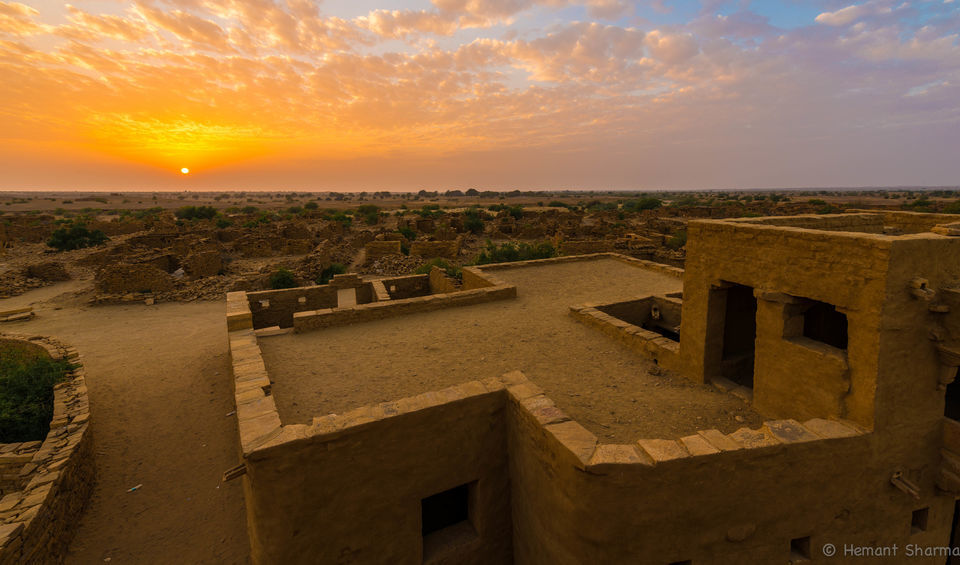 Is Kuldhara really haunted? Well, we can vouch that it has a spooky air, to say the least. Did we see a ghost? No. But aren't most supernatural experiences all about how you feel in that moment? The chill, the strange turn of events? Here's what happened when we decided to visit.
In 2016, when Rajasthan Tourism came up with the campaign, 'Jaane kya dikh jaaye', the series of commercials and print ads were at par with the already popular tourism ads from Kerala, Madhya Pradesh and Gujarat. The video that caught our attention the most was one that spoke of 'haunted tourism' in a deserted town called Kuldhara, 18 km to the west of Jaisalmer. It's pretty much then that we decided to pay a visit to check it out for ourselves.
No one lives in Kuldhara because it is believed to be cursed. It is said that it was once a lively village where the community of Paliwal Brahmins lived. According to folklore, the residents abandoned their homes overnight in the year 1825. There is another story about how they left on the day of Raksha Bandhan and that is why some of the Pali Brahmins do not celebrate this festival. No one knows where the residents went, but some believe that they relocated to a place near Jodhpur, but not before cursing the village to stay abandoned forever.
We had hired a car to get to Kuldhara from Jaisalmer. The driver kept freaking out once he knew where we wanted to go. After some cajoling, he agreed to drive to Kuldhara in the day. When we reached the entry point of the village, we were greeted by a board put up by the Archaeological Survey of India (ASI) that clearly states that "staying after sunset is strictly prohibited, in this area". Our idea was to go as late as possible so that we would have to leave the premises only by 6pm, which is when the gates close.
We found two guards sitting in a makeshift check post. When our car approached them, they asked us to buy tickets and promised to be around until the time of exit, and give us a receipt on our way back. They even offered us some chai and told us that there were many cars that had gone ahead to see the site and that the place would be full of tourists. They reminded us to exit on time because the place is known to experience paranormal activities post-sundown.
When we went in though, we found absolutely no trace of any cars or any tourists. The silence and emptiness added to the eerie feeling of the place, while we wondered why the guards would lie.
One look at the deserted village let the imagination run free. The vast space must have been home to thousands of villagers. It appears to have been a well-planned settlement with wide streets, temples, and stepwells. We got off the car and went into some of the houses and climbed to the roof to get a view of the village. We liked Kuldhara because of its unusual backstory and architecture. The driver kept urging us to get back into the car and leave. Finally, we left way ahead of the given deadline only to find no guards at the check post and no receipt or tickets. They had disappeared like we had imagined meeting them.
At this point in time, our driver got philosophical. "You must always fear men more than ghosts, you see. You are tourists. Everyone knows that you will have some cash and a phone and maybe a watch too. You have a girl with you. There are no tickets so there's no evidence of you having been here. This place is full of thieves and drug addicts at night. The police will also tell you that you shouldn't have been in such a deserted place," he told us with a disapproving nod.
Best time to visit
The winter months from October to March is the best time to go as the soaring temperatures can deter your spirit to be outdoors.
How to get there:
Kuldhara is 18km away from Jaisalmer.
By air
Jaisalmer is the closest airport to Kuldhara. Jaisalmer is well connected to all major airports in India by air.
By train
You can take a train to Jaisalmer as well. A rail journey from New Delhi to Jaisalmer will take you 13 hours.
By road
Taxis are easily available from Jaisalmer. You can also take your own car. The drive from Jaisalmer to Kuldhara will take approximately 30 minutes.
Where to stay
If you base yourself in Jaisalmer, there are quite a few options to pick from for stay, for a variety of budgets. You can try Hotel Killa Bhawan, or for a camp experience head to Rajwadi Desert Home Stay.
Man or ghost? What makes Kuldhara haunted. We suggest you head to this isolated village in the desert and see for yourself. If you've already been brave enough to go, write to us and share your experience.