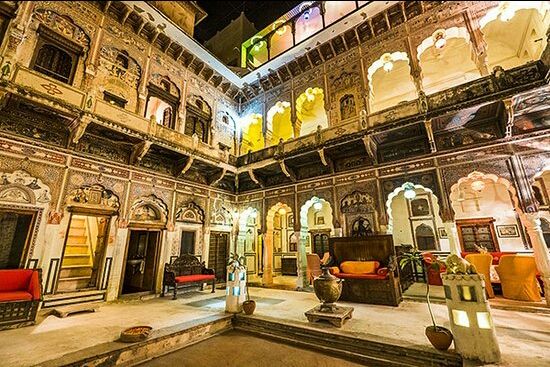 Mandawa is a town in Jhunjhunu district of Rajasthan in India. It is part of Shekhawati region. Mandawa is situated 250 approx from delhi which takes less than 6 hr.
The towns of Shekhawati are eminent for their amazing painted havelis. Such is the appeal of the havelis that this region is dubbed as "open art gallery of Rajasthan". The havelis are noted for their frescos depicting mythological themes and that of huge animals.
(Shekhawati Region: Mandawa, Dundlod, Nawalgarh, Ratangarh are the parts of Shekhawati region, approximately 15 to 30 Kms.
I have visited to this place after my friend's advice and trust it was worth it. Whatever you plan for your weekend Getaway, this is going to be perfect. Thank me later
A huge fort with colorful bazaar and numerous havelis with elaborate architecture makes it an interesting destination for your next weekend.
How to reach - From delhi you can take bus or own vehicle takes around 5-6 hr.
What to eat - Try rajasthani " Dal Bati Churma"
Stay - Many haveli (mansions) transformed into hotels and provides best service.
Total expenditure - around 5k.