Hello gorgeous people,
Before I tell you about Udaipur, it's important that you know me and understand what kind of traveller I am. So that you can relate to the ways and whys of my travel.
Travel to me is a form of escape. It's an excuse for me to spend some quality time with my partner away from everyone else and from our everyday hectic lives. We travel to absorb the place, to just walk around the city, try their cuisine, shop from their locals- basically the small stuff. So you'll often find us eating in some random cafe in the city tired from our long drive or long walks.
Udaipur is the city of lakes in a desert land- the Venice of India and it truly does justice to its name. The best time to visit this city is in the month of July. You'll find her at her best.
It rains heavily in Udaipur and absolutely.. Absolutely random rain. Like one minute it's sunny, you go to your room to get your keys and by the times you come back, it's raining. So, I suggest if you do choose to travel in monsoon, keep an umbrella or a raincoat handy.
Udaipur is a city that relies heavily on tourism. So, you'll find lot of good options for hotels in all price ranges. We choose an OYO- hotel Viaan. We choose our hotels mostly based on its bathroom. We believe that if a hotel has good, clean bathroom, it probably invested enough in its rooms for them to be decent and clean. And honestly, we got more than we bargained for. Viaan is at a main location in the city. The view from the restaurant at its top is breathtaking. The person who manages the hotel is really nice and pretty cool to talk to. He also makes   beautiful earrings from the scratch which makes for a great gift for your loved ones. You can easily rent a scooty/bike from the hotel at 400 INR for a day. You can also take autos but they charge wayyy too much so i suggest, rent a vehicle.
On our first day out, we went to the city palace. It is situated in the old part of the city in some really narrow streets. Driving through them is its own kind of experience but the real treasure lies in the small shops in those narrow streets. We found a really old bookstore and a small jewellery shop which was a great bargain.
City palace is a great place for photo enthusiast
After that, we went for a long drive around fateh sagar lake. The lake is surrounded by roads that will satisfy your OCD. The walking space is equivalent to the marine drive of Mumbai. We suggest you to just park your vehicle there and stay. Stay for a while, eat street foods from the shops on the side of the road. Take a walk with chai in your hands and try to strike a balance between the hotness of the chai and a conversation with your partner, watch the sunset and just stop and feel for a while.
Another great thing about Udaipur is that every hotel is a lake view, rooftop hotel. So all you need to do is choose what kind of food you wanna eat and voila!
Although, we do suggest you visit the cafe lazy beans(they have picturesque wall art along with great food) and cafe jheel(great location, great food and awesome Chai❤️)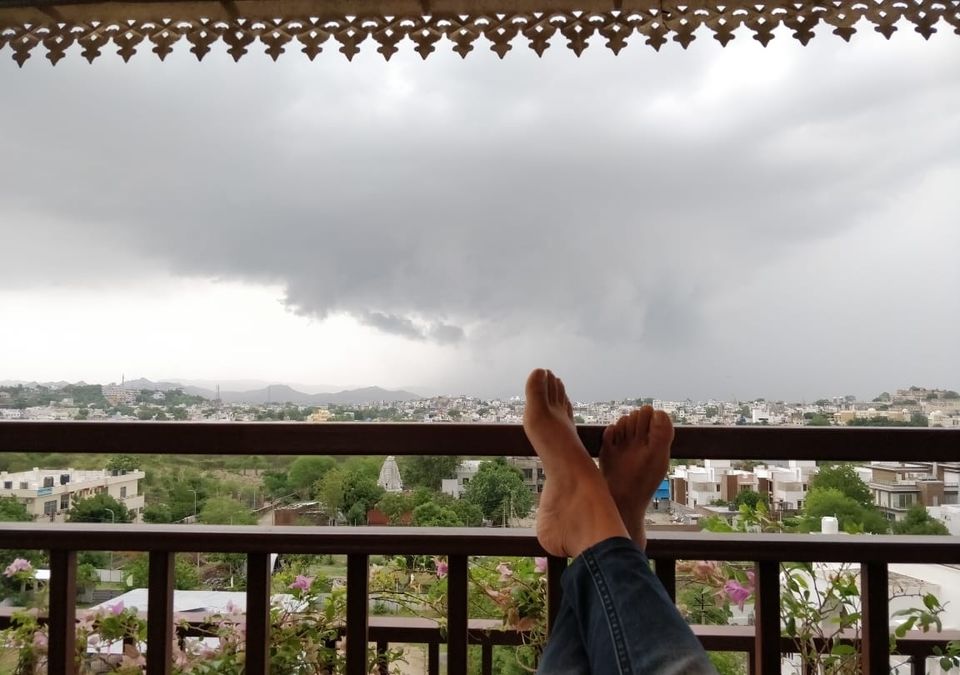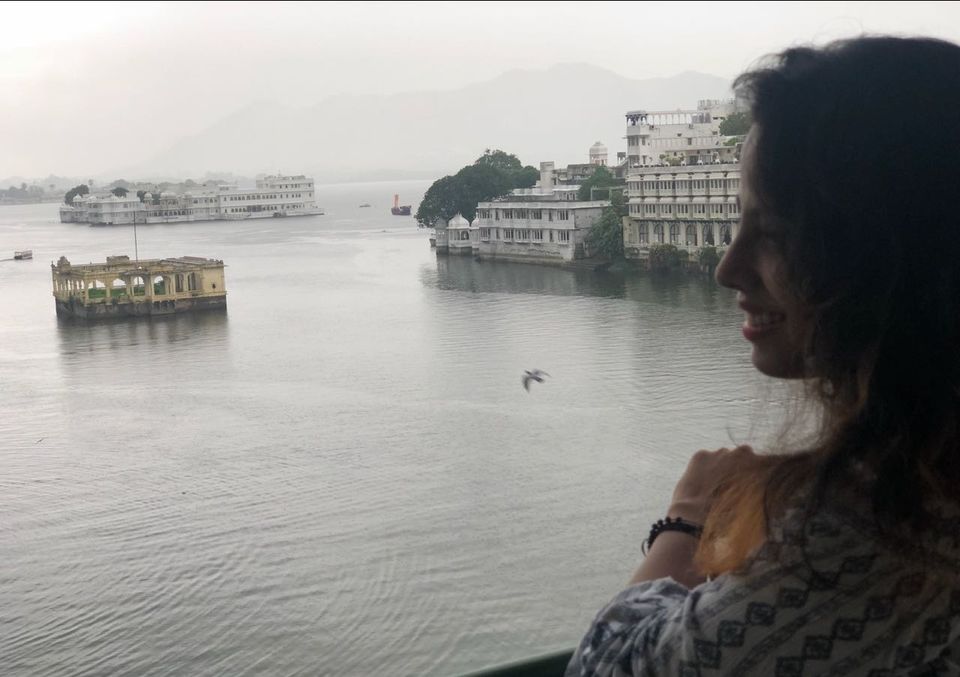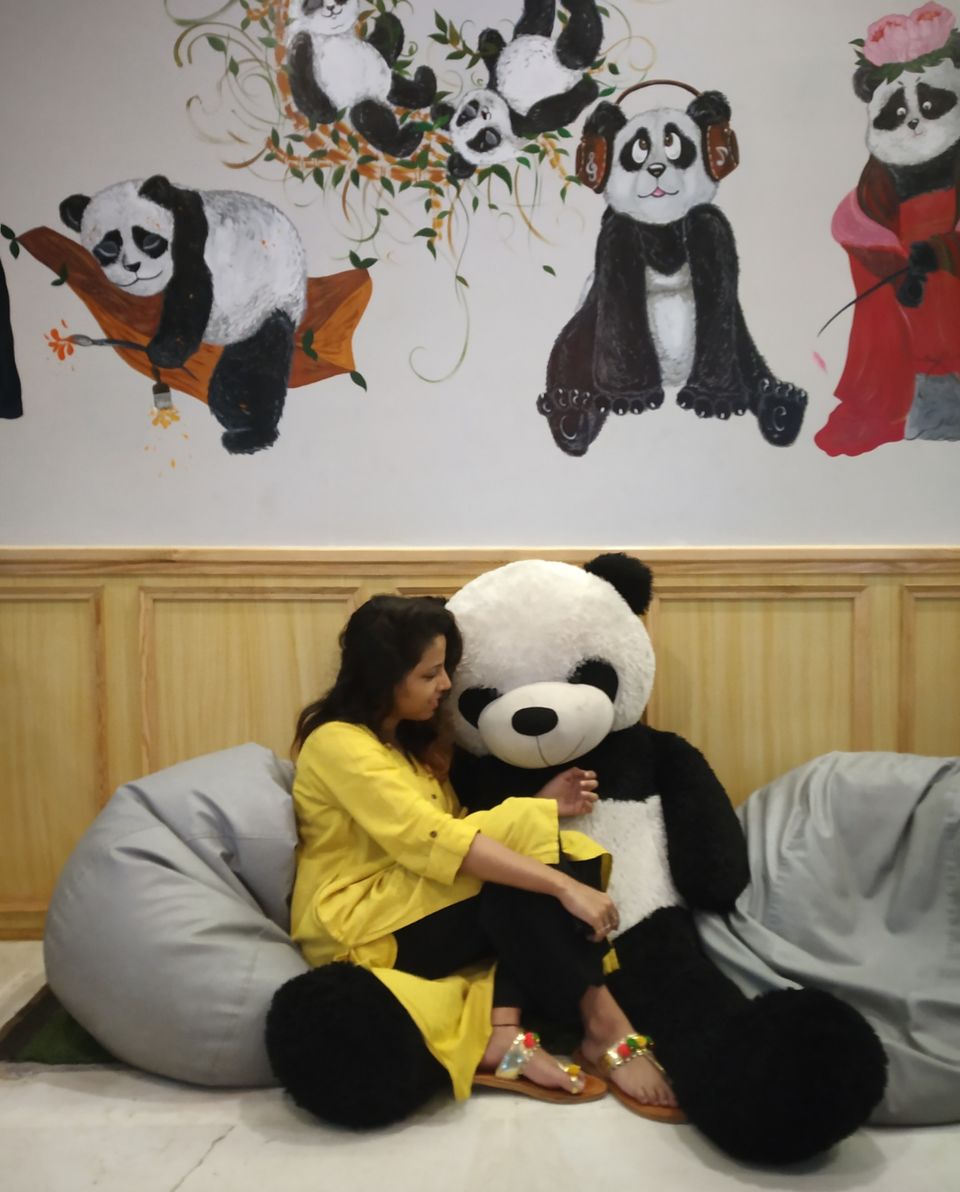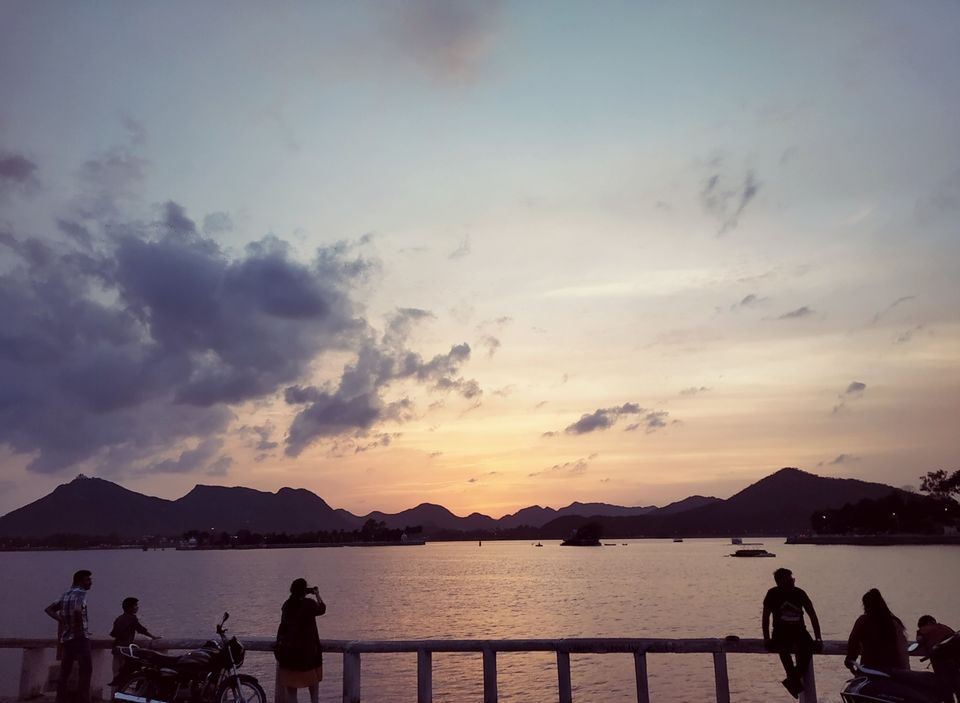 For us, second day started with heavy rain so we just went to the restaurant on the top of the hotel and sat there for three straight hours. We listened to some really old songs and had brunch.
Has anyone else noticed that rain brings out some really great conversation topics or is it just us?
We left our hotel at noon, bought raincoats and drove straight to monsoon mahal.
Monsoon mahal/sajjangarh is situated at a top of the hill overlooking lake pichola. Again, the best part about reaching it is the drive to the top of the hill. You can either drive to the top or book a Jeep at the the entrance at 100rs/person. There is nothing much to see in the mahal but there is lot to see from the top of the hill. You can see the entire Udaipur. We sat in the cafe there for I don't even remember how long. We also watched sacred games there. Trust me, best feeling ever- Netflix and chill at the top of Udaipur😁
Then we went to karni mata temple which is at a peak of the hill and to reach there you can either trek or take a ropeway. It's a 300 meter ropeway. But I have never been in a ropeway before so it was one of my firsts and I truly enjoyed it.
In the evening, we went to the gangaur ghat. We met some cool college goers, jamming there and playing covers of Arijit Singh's songs and old Bollywood songs. Those kids made our evening. We kind of just zoned out there for a while, each in his own thoughts.
We then retired for the evening after a long eventful day to catch our flights back to the reality.
Udaipur is a great place for a laid back weekend. If you intend to have a change of scenery and enjoy a slow weekend, it's the place for you.