Udaipur also was known as Venice of East. City of lakes is beautiful place surrounded by 7 lakes, Aravalli mountain ranges (the oldest range of Fold Mountains), architectural temples, stunning palaces and Forts. Udaipur was historic capital of Mewar kingdom formed by Maharana Udai Singh after he moved from Chittorgarh to Udaipur when King Akbar has beleaguered Chittorgarh. Till 1818 Udaipur persisted to be capital, but post-Independence it became part of Rajasthan. Udaipur is separated from Thar desserts by the Aravalli range and is at the approx. 600 km distance from Delhi capital of India and 800 km from Mumbai the Economic capital of the country.
Ways to Reach Udaipur:
By Airways: Udaipur has an airport named Maharana Pratap Airport at the distance of approx. 25 km from the old city well connected by roads. There are few flights operational as of now which connects Udaipur to major cities like Jaipur, Mumbai, Delhi, Chennai, Bangalore, Hyderabad in India. Airfare can cost you approx. 2700 INR one-way fare from Mumbai if you book your trip well in advance.
By Railways: Udaipur is connected via railways by two railway stations named Udaipur city railway station and Rana Pratap Nagar Railway station. Via Railways Udaipur is connected to all major cities in Rajasthan and other states of India as well.
By Road: The city is well connected by National highways to Gujrat, Mumbai, Delhi and Madhya Pradesh. For people travelling by road, the distance between Udaipur and Mumbai is approx. 800.
For working people, as there are short of leaves and airways being the fastest way of transit, they should be choosing the same over other 2 modes of travel.
Local Transportation:
As this city is a sightseer place and most of the visitors are Non-Indians who are here to explore Rajasthan, they travel through public transport or rented cars within the city and intercity.
A rented car is another option for travelling in and around Udaipur. Rented car costs per day 250 km at 12 INR per KM which includes Toll and parking.
As we also covered Haldighati, Kumbhalgarh and Chittorgarh, booking a cab for wandering around was much needed which helped to explore all these places at the fullest and enlighten with the history and culture of the place.
Accommodation:
Udaipur: You can book the budget hotels as cheap as INR 500 per night in Udaipur old city, which are decent enough to the stay. From Old city the view is amazing and there are a few places which you can cover on your own as they are at the walking distance. As the old city has a very narrow road only private vehicles ply or the rickshaws. Rented cars or buses are not allowed on this road to avoid the traffic. Most of the hotels here have restaurants on the terrace which has the lake Pichola View.
Kumbhalgarh: The hotels in Kumbhalgarh are bit costly than Chittorgarh and Udaipur, where the per night stay for a single room costs at least 1000 INR in a budget hotel.
Chittorgarh: Budget hotel here will cost at least 500 INR per night.
You can book the hotels via Booking.com, Agoda.com or Goibibo.com post comparing the costs of the same hotel on all the 3 websites. So far I have seen Booking.com gives good rates and also discounts if you are a regular user.
We reached Udaipur in the afternoon so as per agenda we were to dump our bags in the hotel and immediately leave for exploring the City Palace. This was the plan, but not every time things work as planned, and exactly this is what happened. We landed 2 hrs behind the schedule in Udaipur and post getting into the cab, during our conversation we got to know that City Palace for which I flew all the way from Mumbai is closed for visitors from 5th Dec to 9th Dec, due to Ambani's wedding. We had to make the changes in our schedule and add a new place in our itinerary.
Fateh Sagar Lake:
While going from the airport towards the city en route we stopped at Fateh Sagar Lake. This is an artificial lake named after the Maharana Fateh Singh. There are 3 islands on this lake of which the largest is Nehru Park. Nehru Park is accessible by motor boats and was earlier open for tourists to explore but due to a mishap which occurred a few months back, it is closed for visitors. You can enjoy the lake view with the mountains in the backdrop or a boat ride in the lake.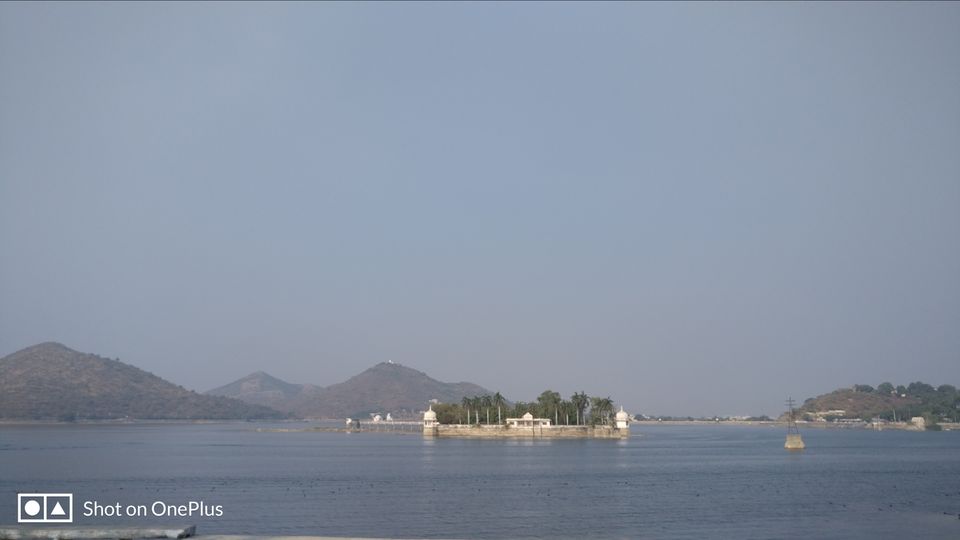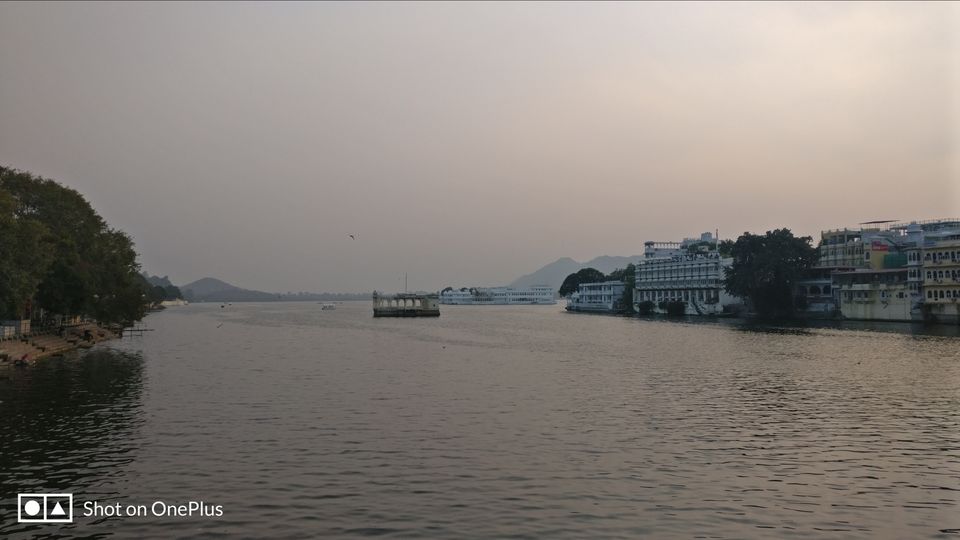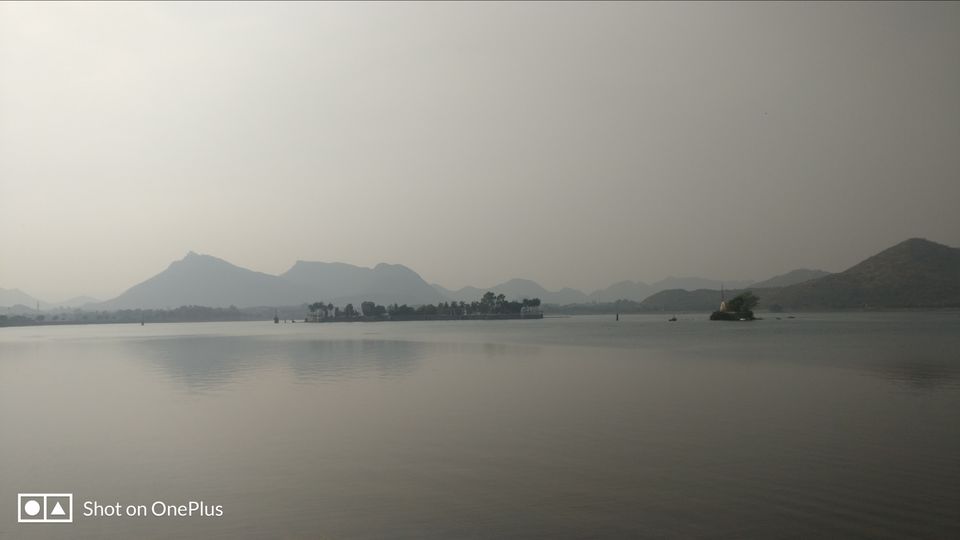 Saheliyon ki Bari:
Entry Fee:
10 INR for Indians and 50 INR for Foreign Visitors Timings: 9:00AM to 7:00PM
Saheliyon ki Bari means Garden of Maids which was built in 18th Century by Maharana Sangram Singh for the Royal Ladies. As per the local guides, this garden was specially designed by the King and presented to Queen to offer delightful moments with the maids. As the Queen used to spend time and relish with her maids the garden got its name as Saheliyon ki Bari.
In the later stage, King added fountains to the Garden which were imported from England. It is said that till date no one knows how the fountains function without any motor being used. History and the architecture will amaze you, every time you go to a new place having historical relevance. The main pool has four black marbled kiosks in its corners and one white marble kiosk in its centre. There are sculpted birds that spurt water from their beaks producing the rain effect on the top of kiosks.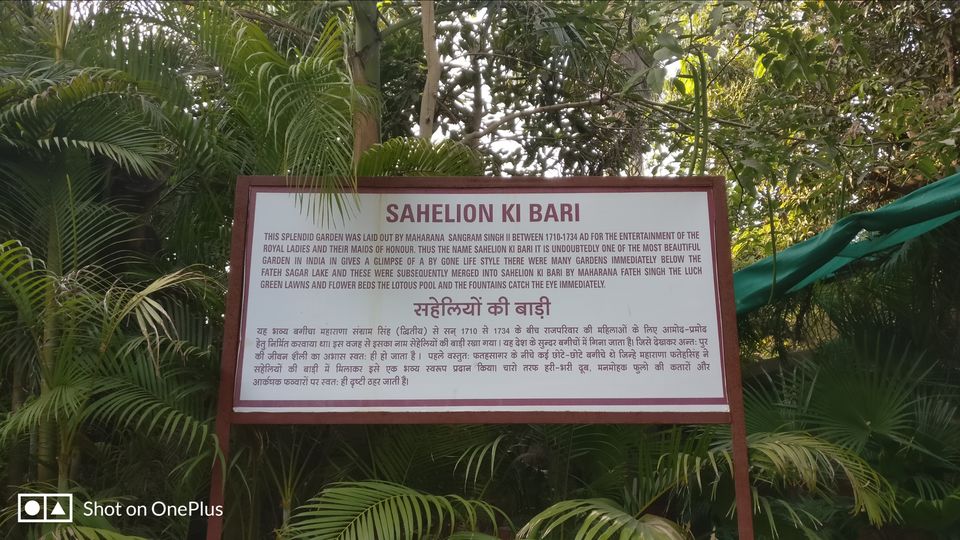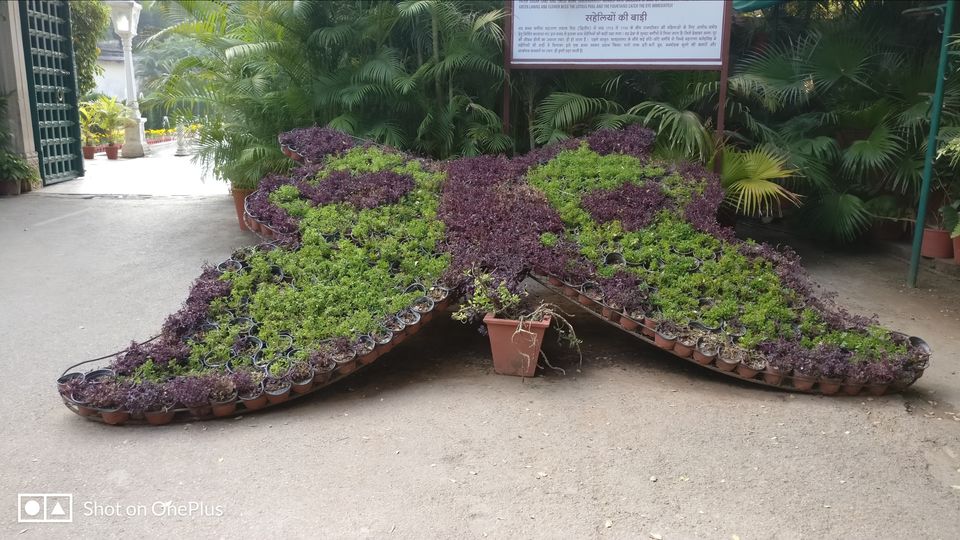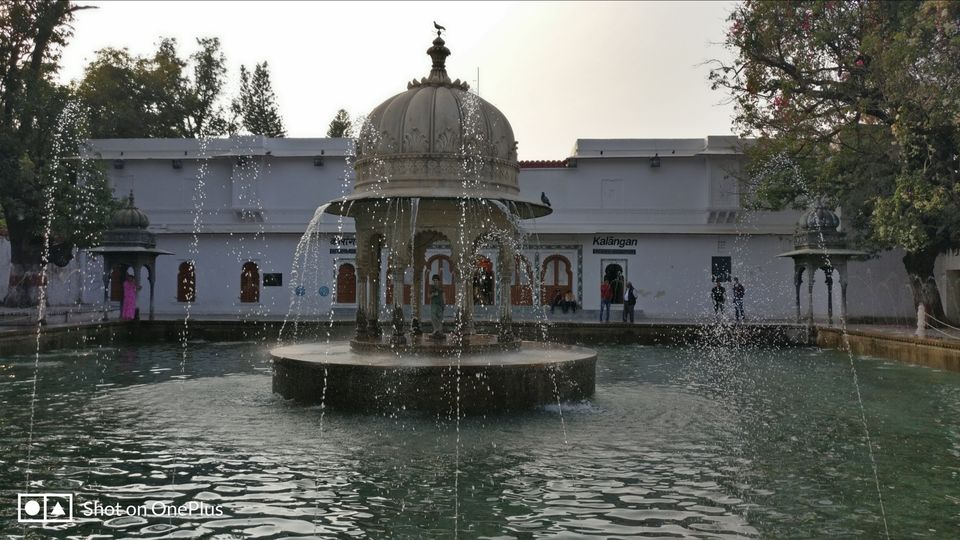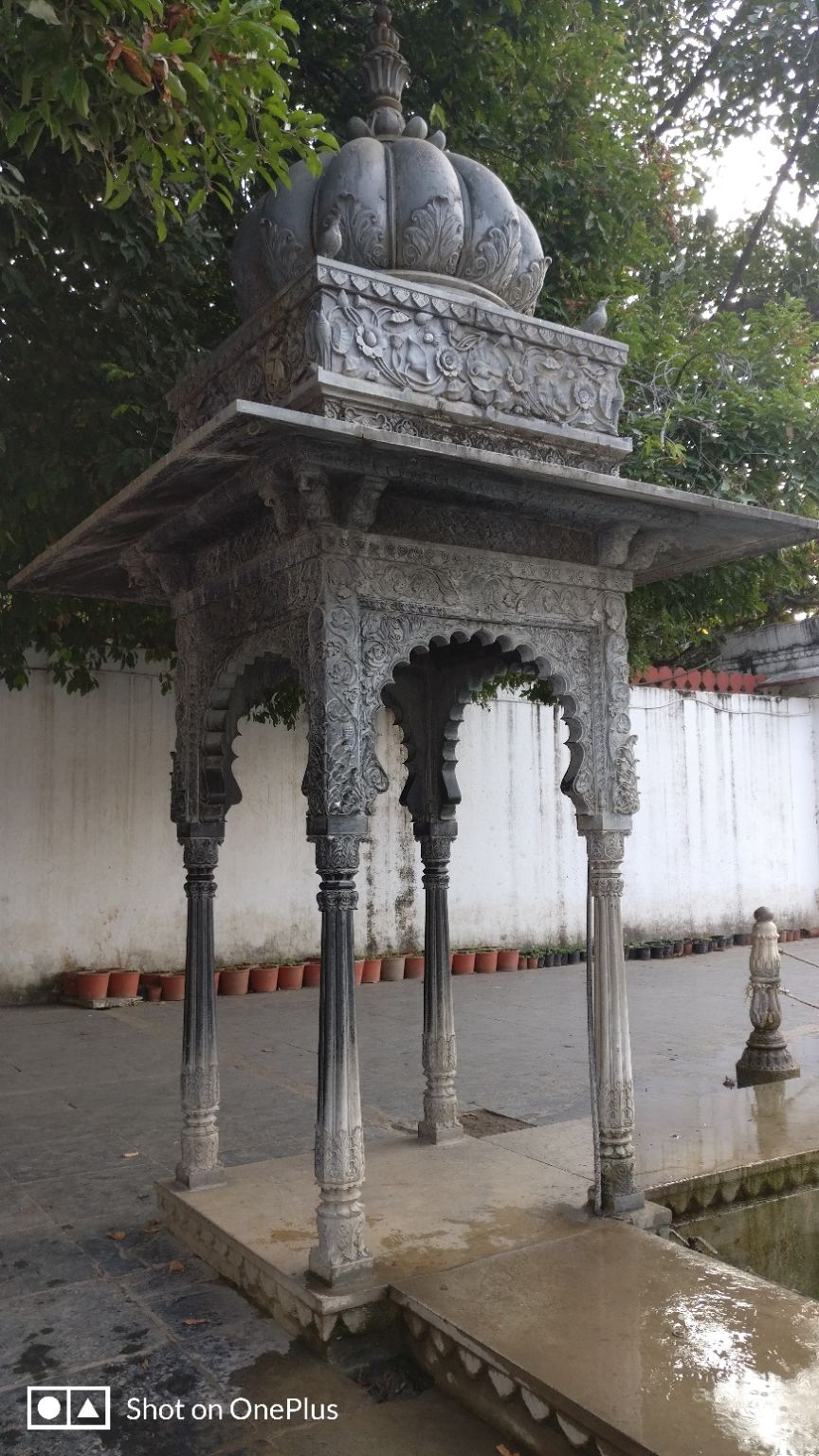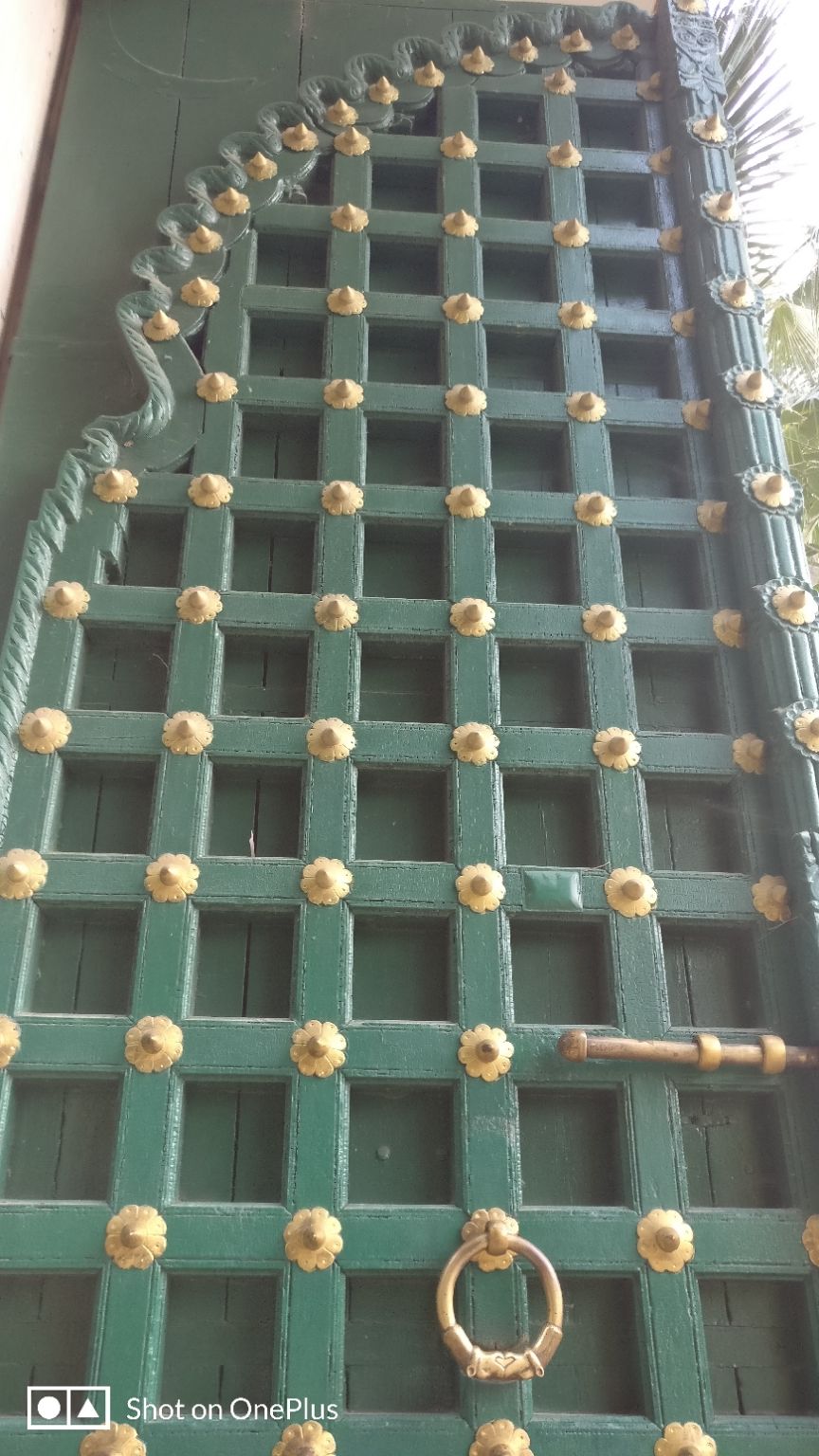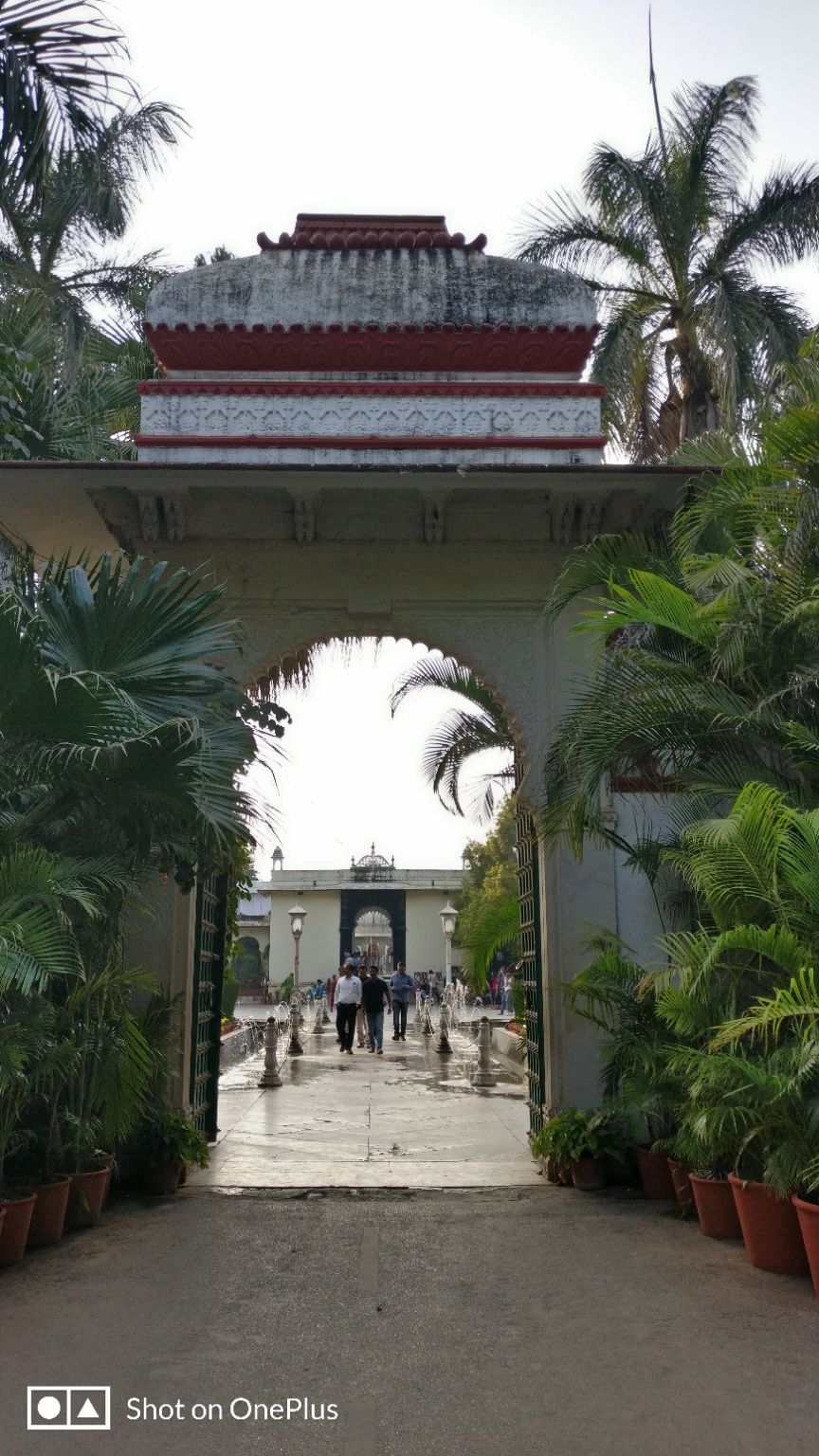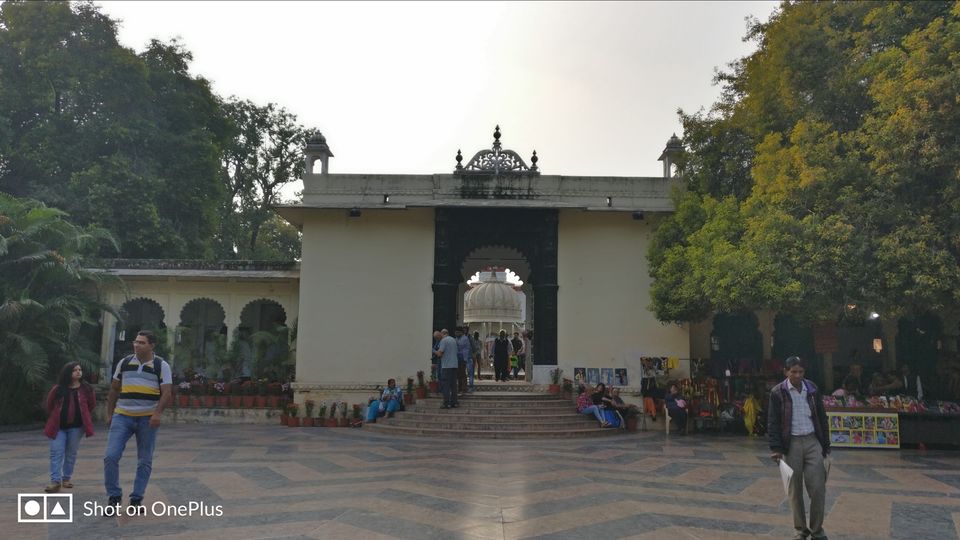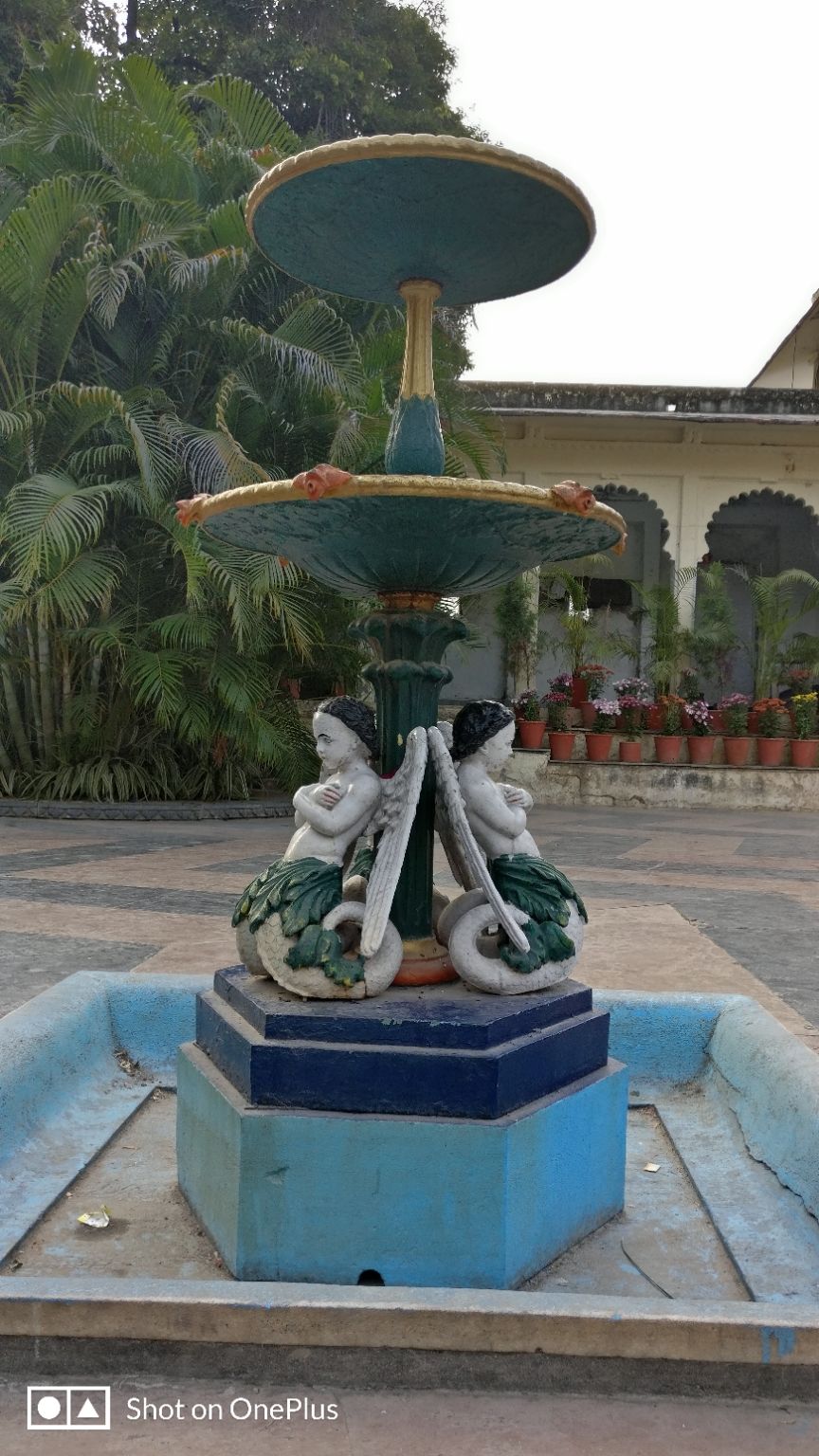 Sukhadia Circle
Entry Fee: Nil
Timings: 6:00 AM to 9:30 PM
Boat Rides: 40 per person for Paddle Boat 100 per person for 2 Seater Boat
Sukhadia circle is a recreational place in Udaipur. It has a three-tiered fountain surrounded by a small pond where boating is done. The circle is surrounded by food joints and kids play zone.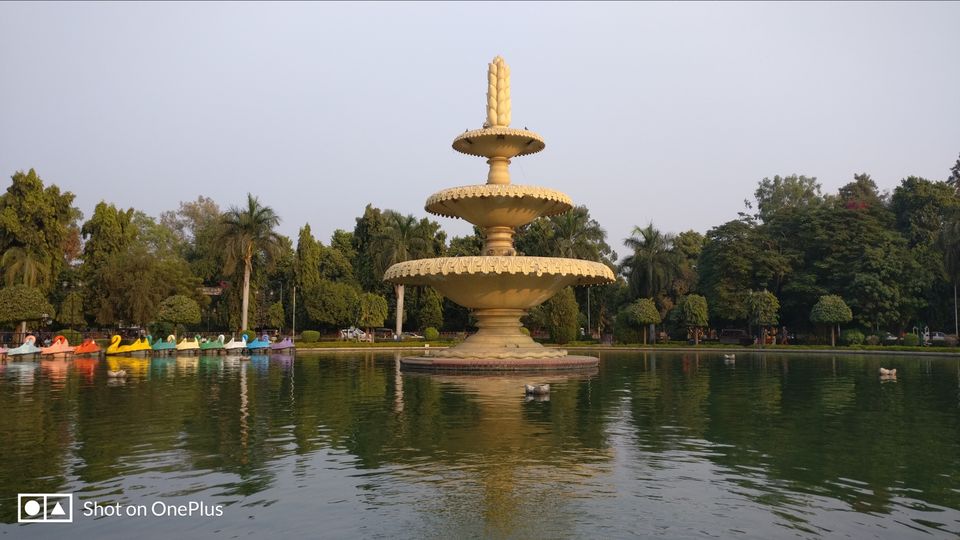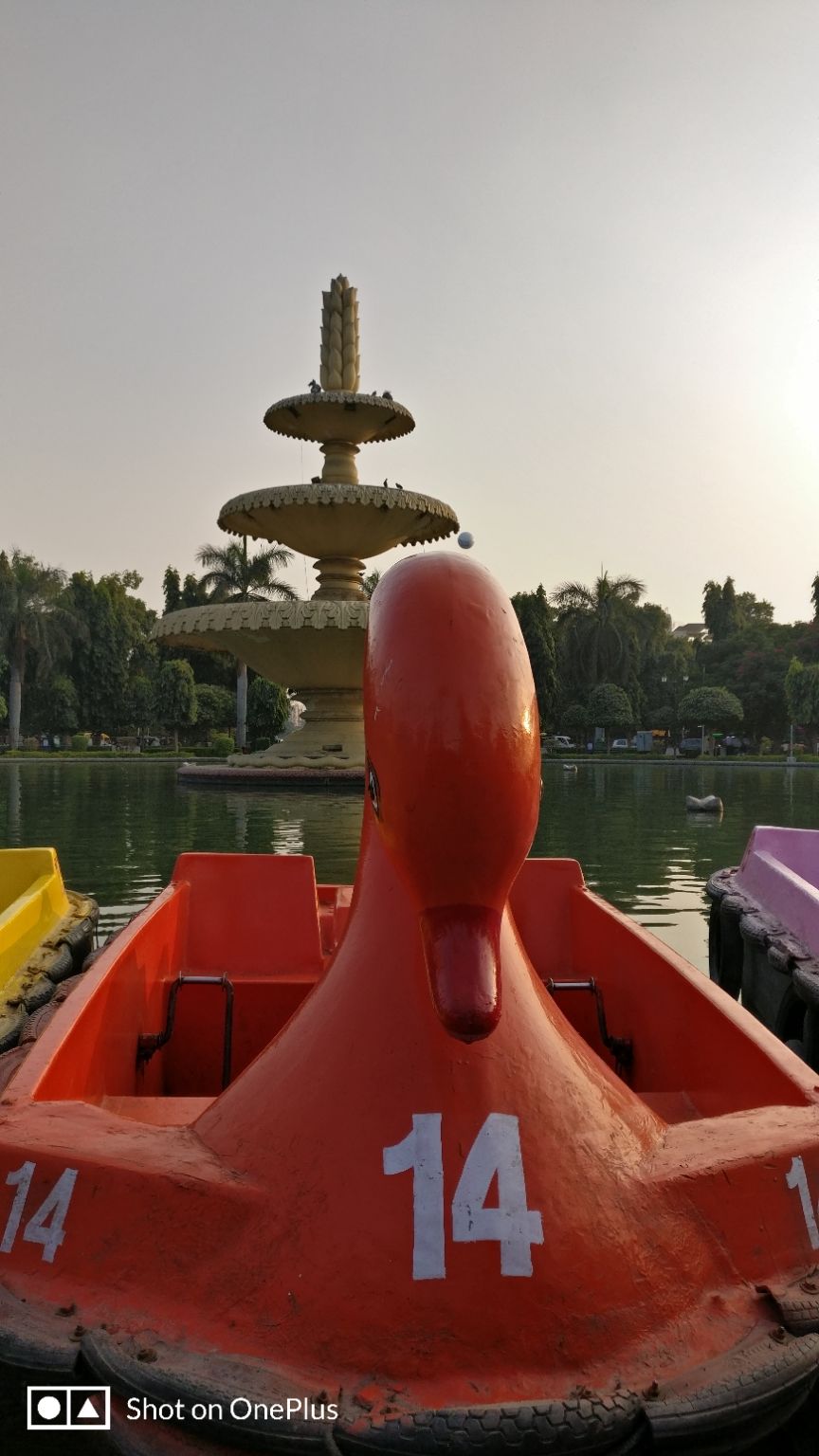 Post seeing the above 3 places our driver took us to the shop where sarees, quilts and other stuff manufactured in Rajasthan is made. After this driver dropped us at the hotel and we had free time.
Being an active person I don't really prefer to relax in the Hotel when I am a new place. With the urge to learn something new about the place I went to the hotel reception and questioned the person there. He was very helpful and informative, told us to see the Bagore Ki Haveli Folk show which is conducted every evening from 7:00 pm to 8:00 Pm.
The moment we left from the hotel we realised that the temperature is dripping but I was too lazy to go back to the hotel and get my pullover. But yes I did have a desi solution on the cold, a cup of tea. So while searching Bagore ki Haveli on Google maps my eyes were looking out for a chai tapri (tea stall). Finally, I got one right opposite to Jagdish Mandir. Guys if you are visiting Udaipur do try the chai, Poha and moong kachori here. The place is small but the food is tasty.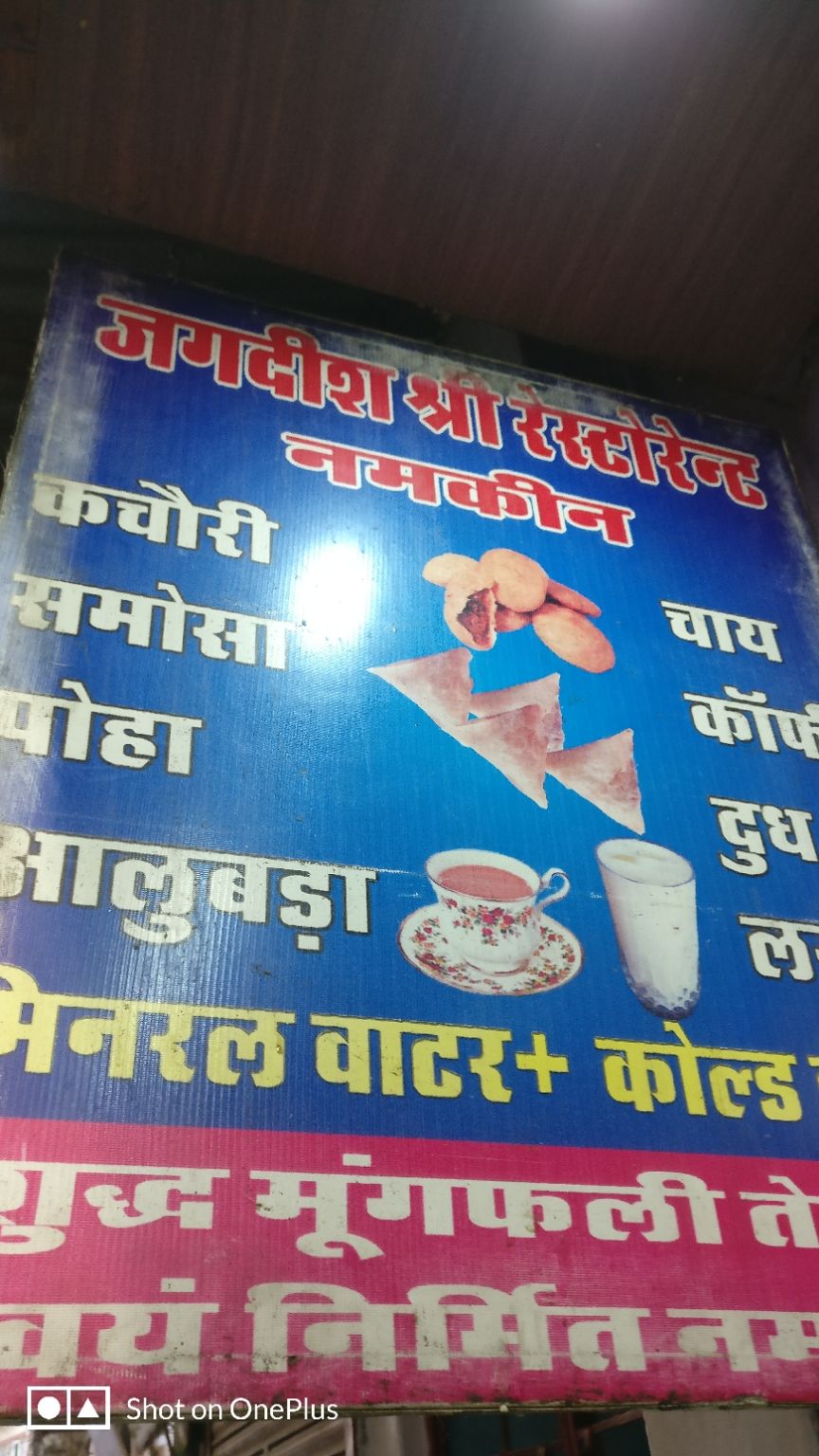 Dharohar Dance show
Entry Fee
90 INR for Indians
45 INR for Children
150 INR for Foreigners
150 for Any DSLR/mobile
Timing: 7:00 pm to 8:00 pm
Dharohar is basically a folk dance show at Bagore ki haveli where all forms of Rajasthani folk performances take place. The performances include ghoomar, puppet show, Gauri, Terah Tali dance and few others. The astounding part was a lady about 72 years dancing with about 11 clay pots on her head. Spectators were amazed when the age of lady dancing was announced. Incredible India and implausible are the traditions.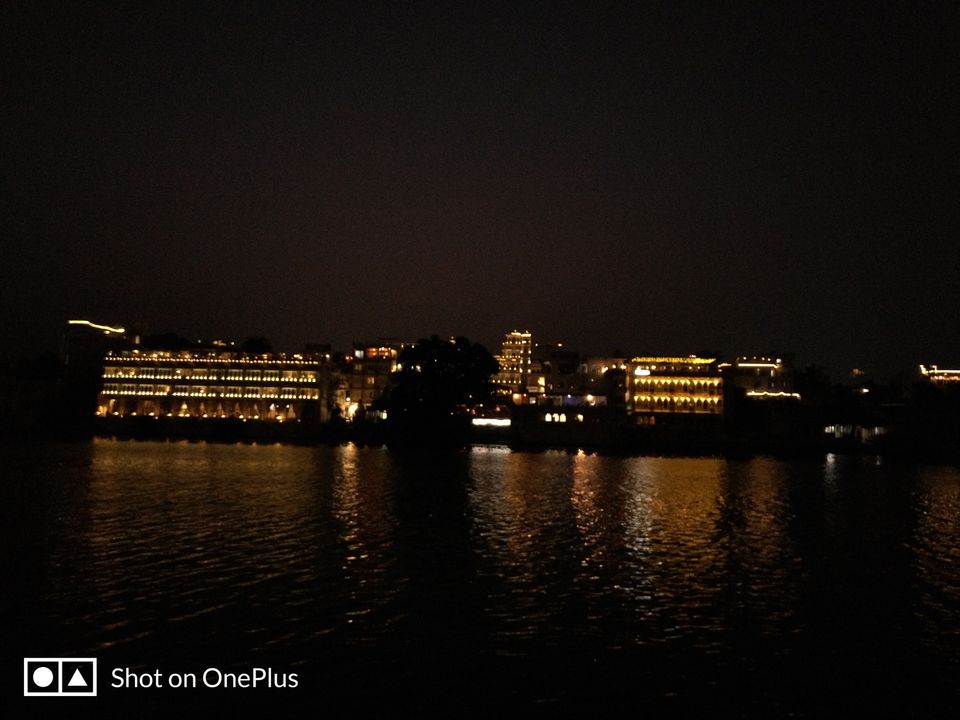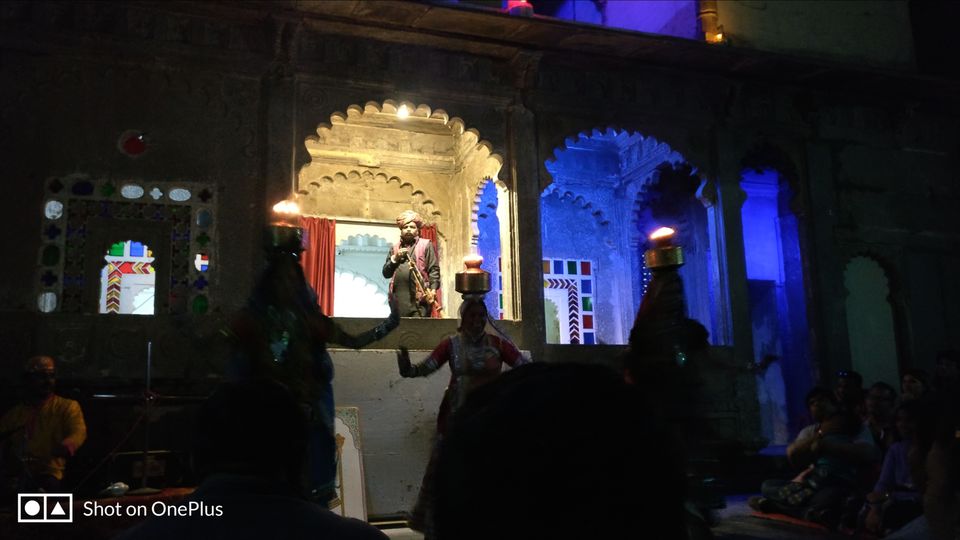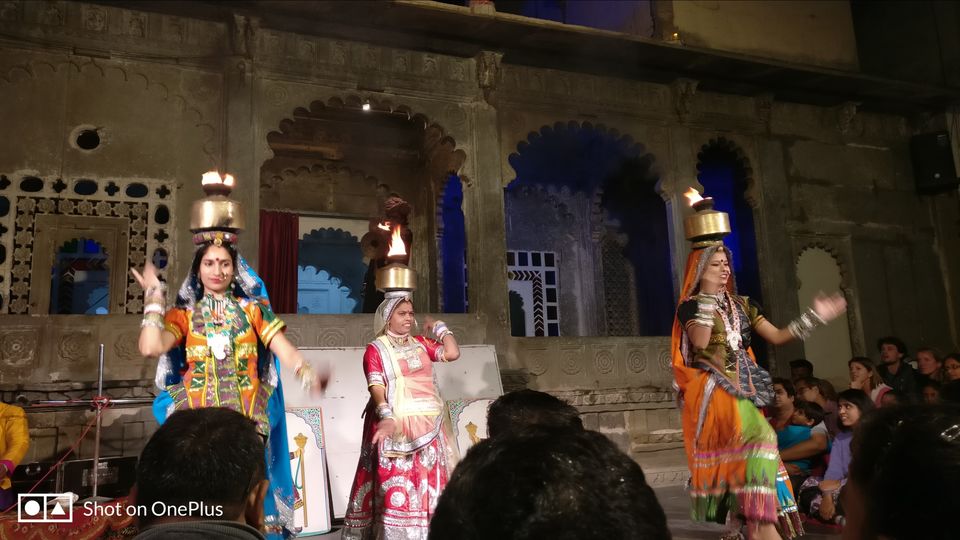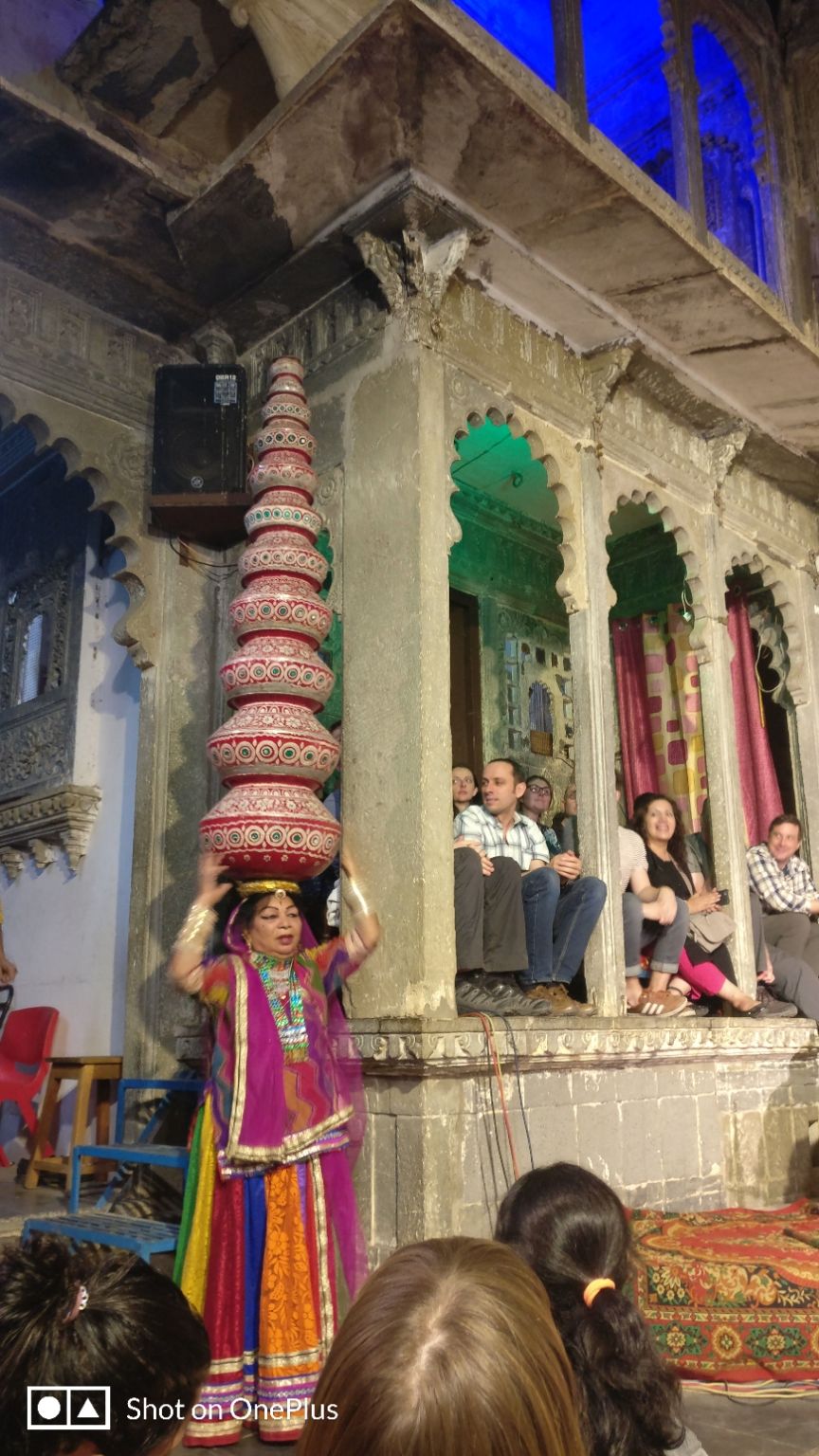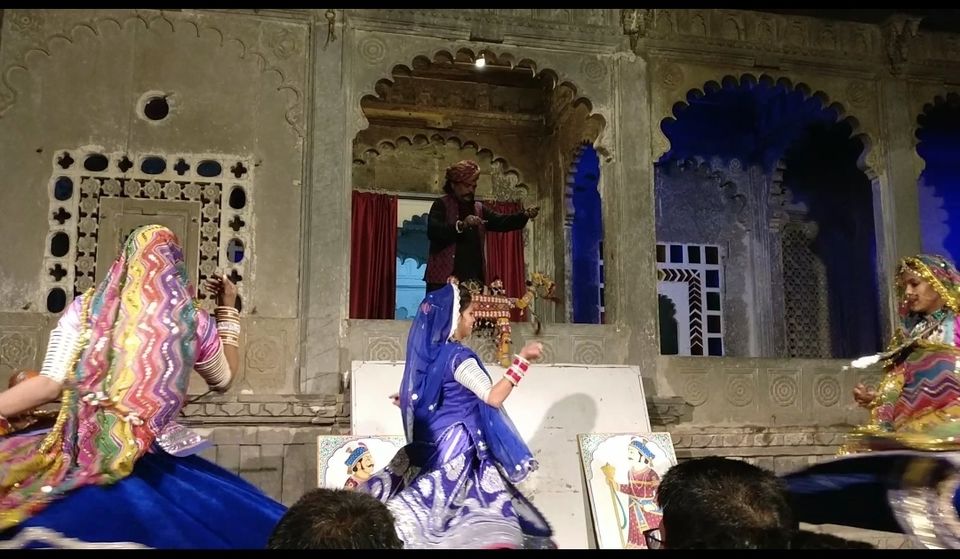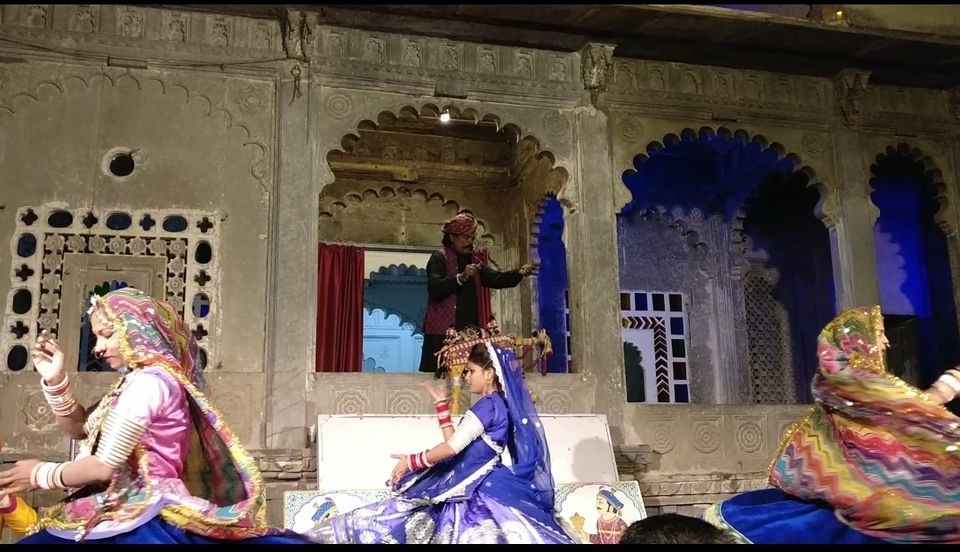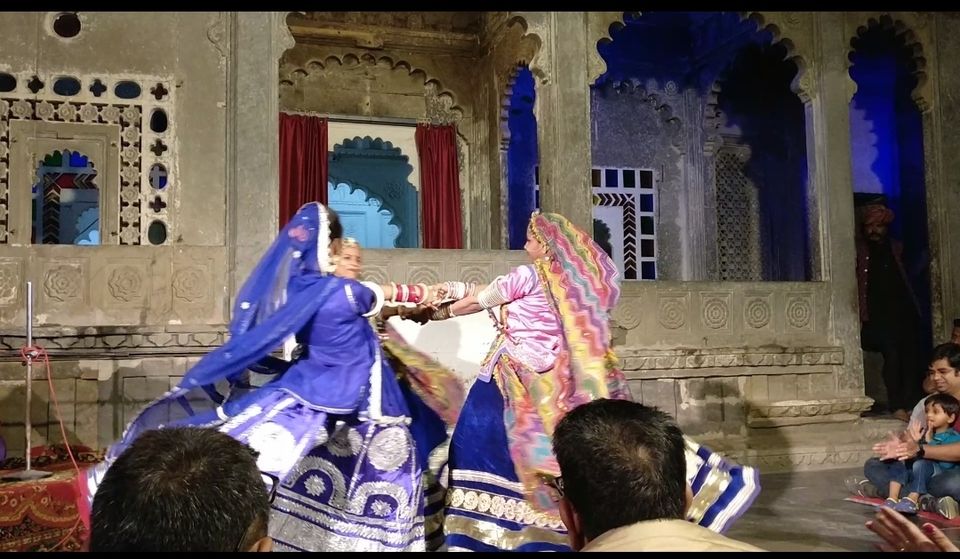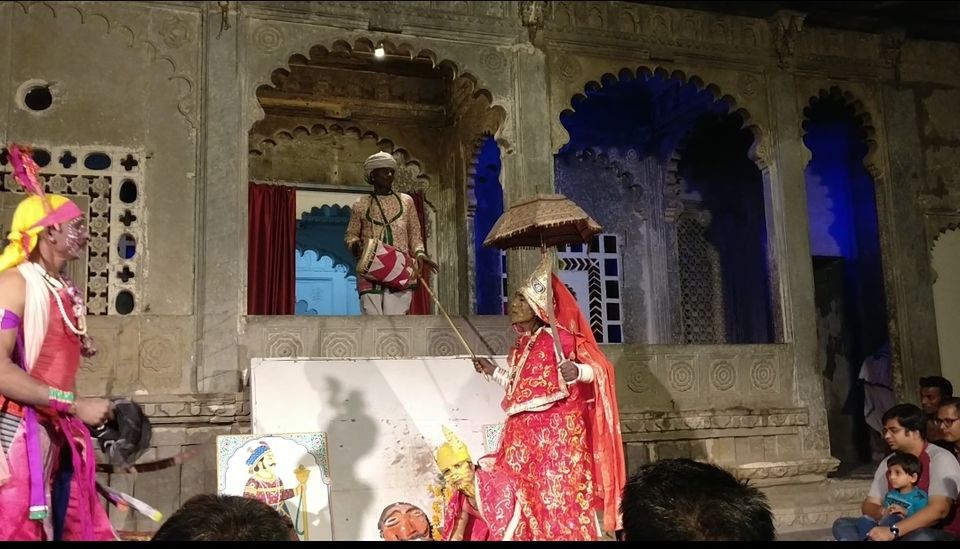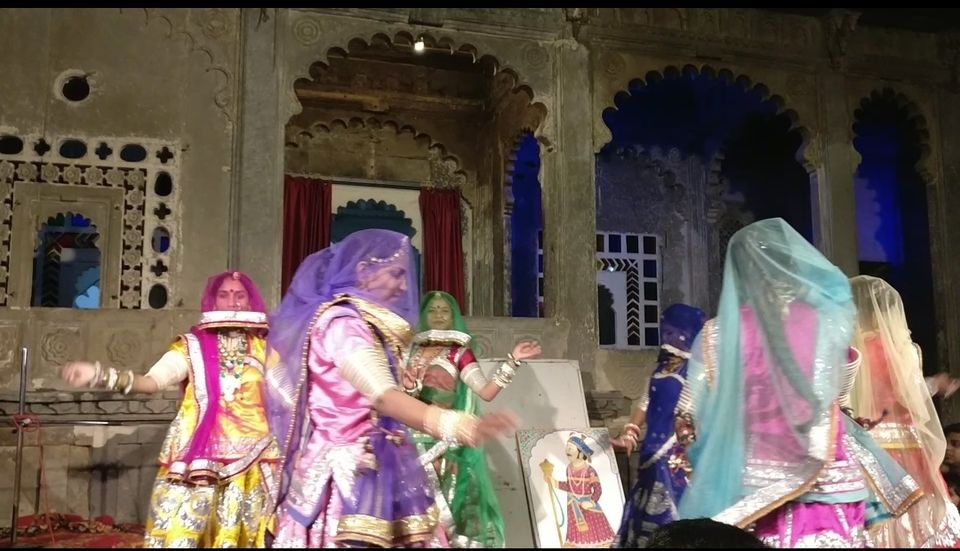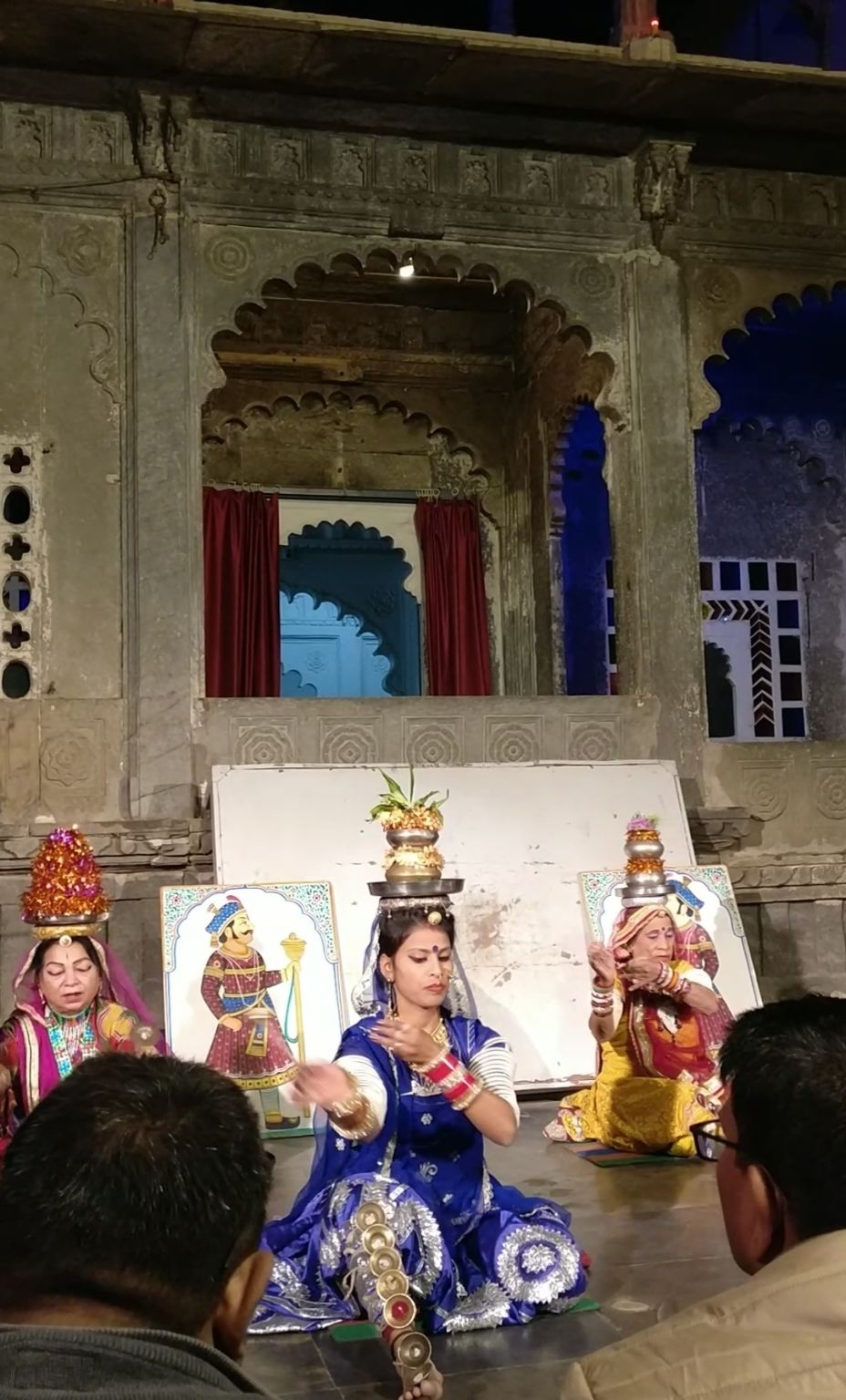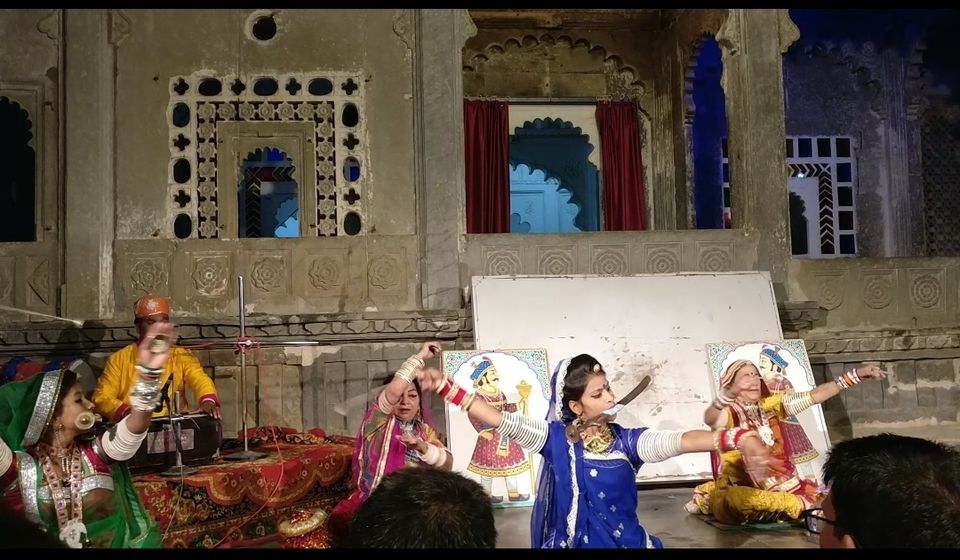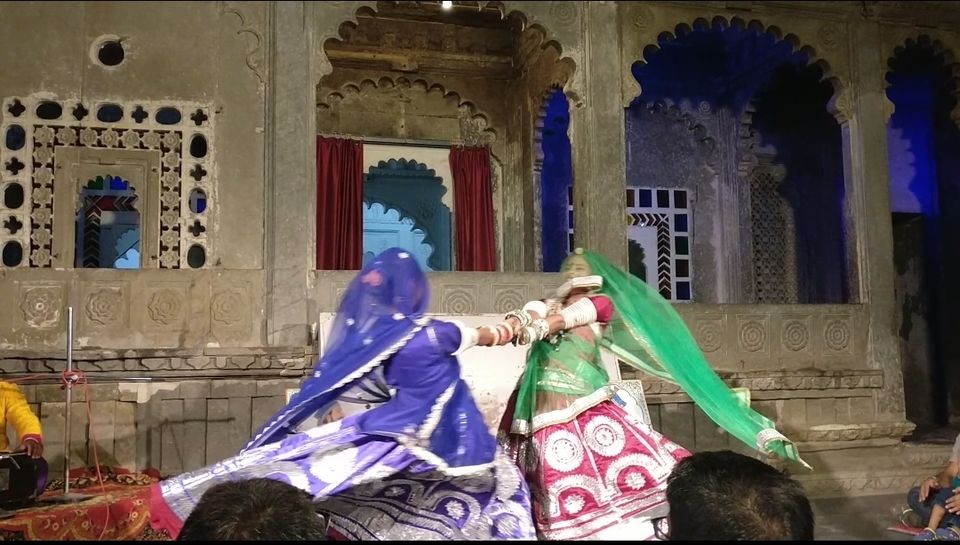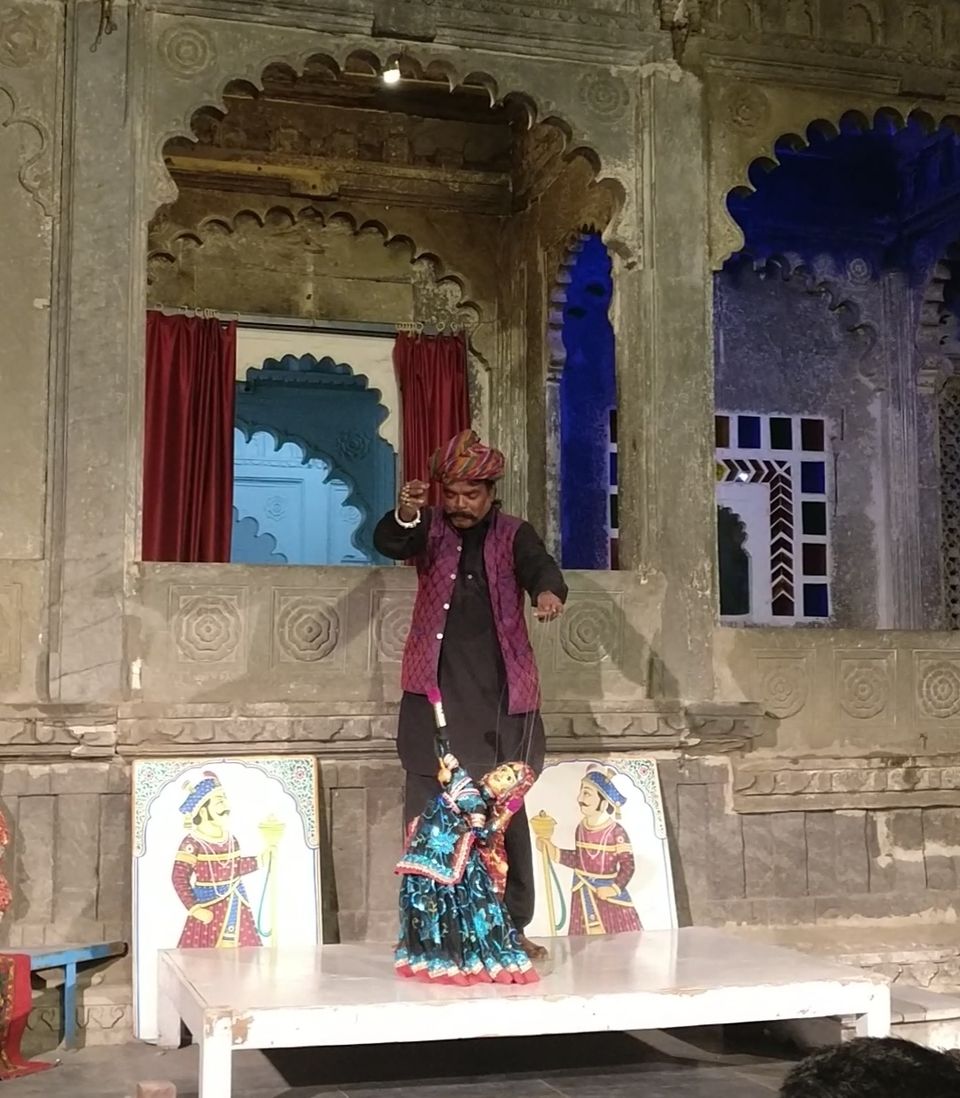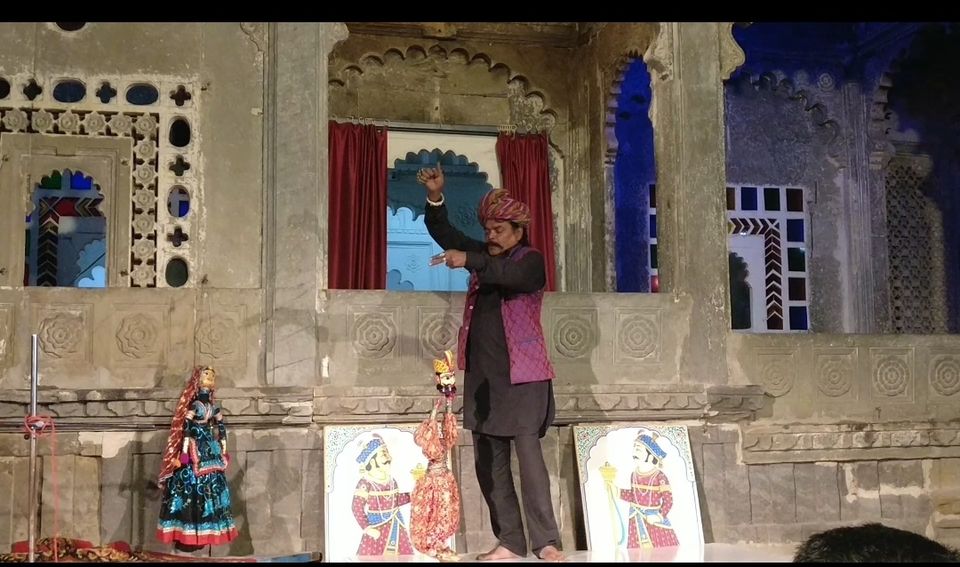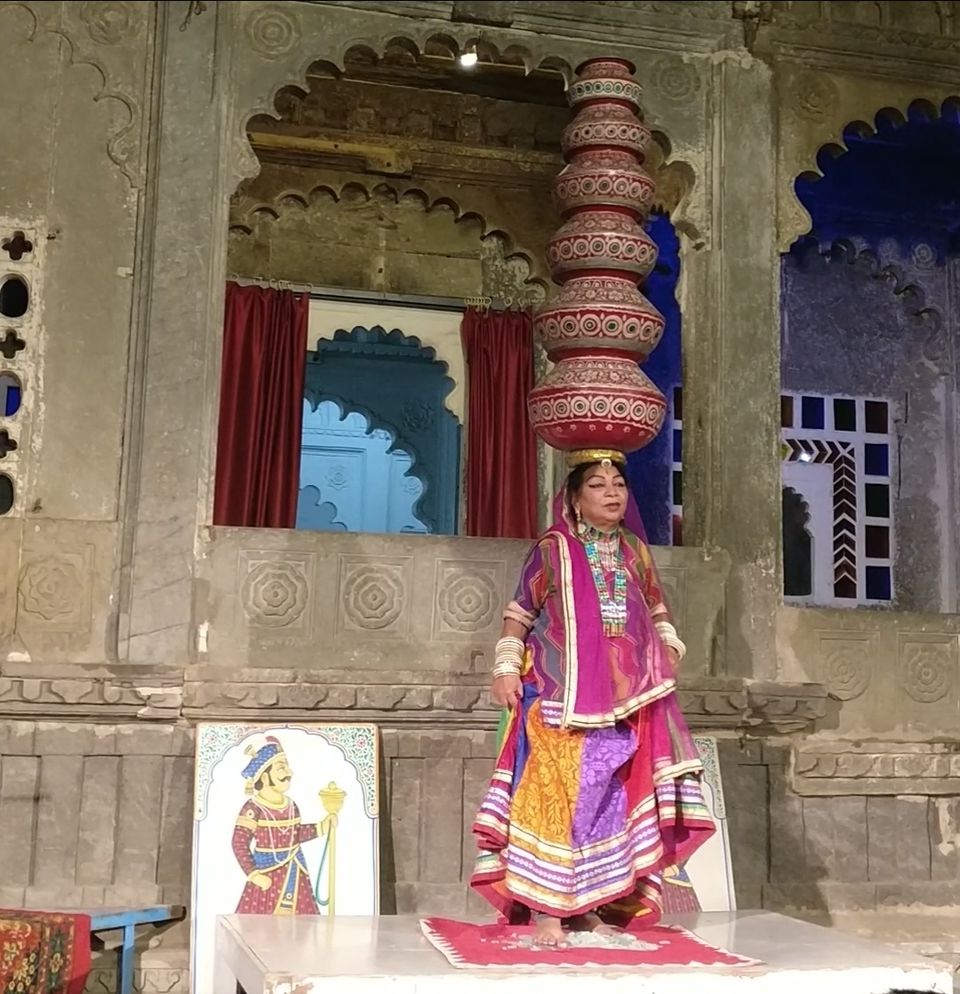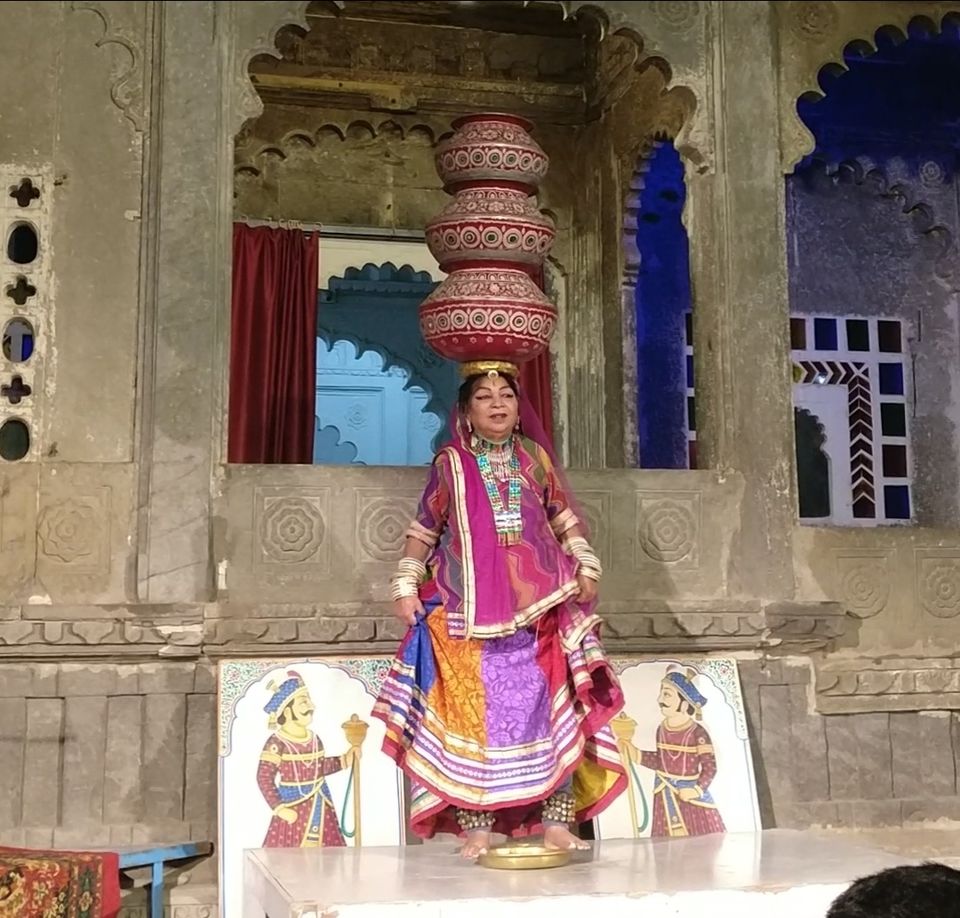 On the second day of our trip, we were on our way to Kumbhalgarh, which is about 103 Kms and takes 2and half hours to reach. There were a few more places which we visited as per our plan;
Eklingji Temple:
Timings:
4.15 AM to 6.45 AM
10.30 AM to 13:30 PM
17:15 PM to 19:45 PM
Our first halt was at Eklingji Temple a royal temple which is about 20 km from Udaipur old city. The temple was built in 8th Century by Bappa Rawal ruling the Mewar region. It is believed that Shri Ekling Ji (Lord Shiva) is the God of Maharanas and even today the bhog (Prashad) comes from the Royal Family.
The architecture of the each of the temples located in the campus is exceptional. Pilgrims coming to visit this temple are not allowed to carry their bags and are asked to keep in the locked which is located just beside the entry gate. No photography is allowed inside the campus hence no pictures to share. Nonetheless, you can view the pictures on google.
Haldighati
Haldighati is at the distance of 40Km from Udaipur. Basically, Haldighati is a mountain pass which connects 2 districts in Aravali. The topsoil at this Ghati is Haldi (turmeric) coloured yellow hence the name Haldi Ghati. This is the place where the unforgettable battle was fought between Mughal and Mewar king Maharana Pratap. Maharana Pratap's horse Chetak played a dynamic role in this battle by saving his master from the enemies. Though he was lethally wounded when he jumped from one edge to the other edge to save Maharana Pratap.
Besides war, Haldighati is also known for the products of rose and mud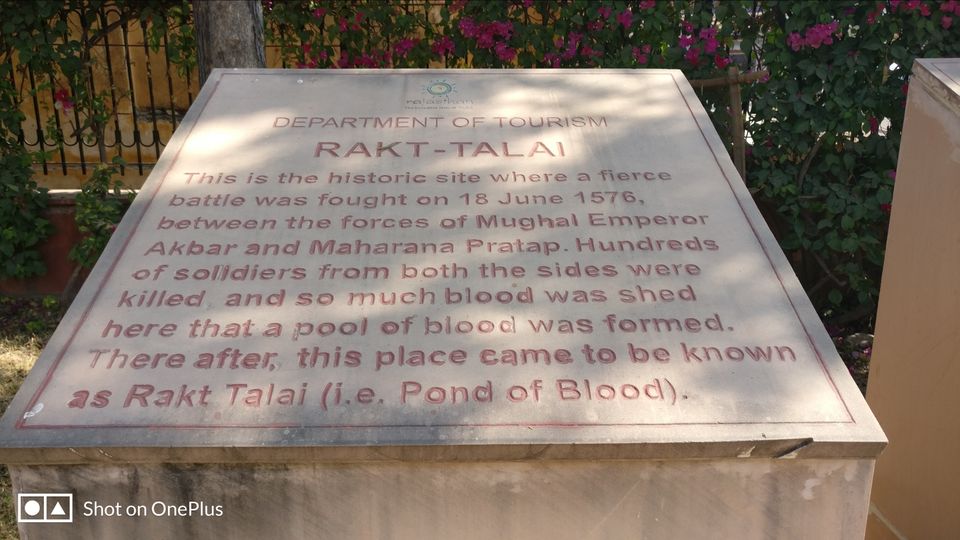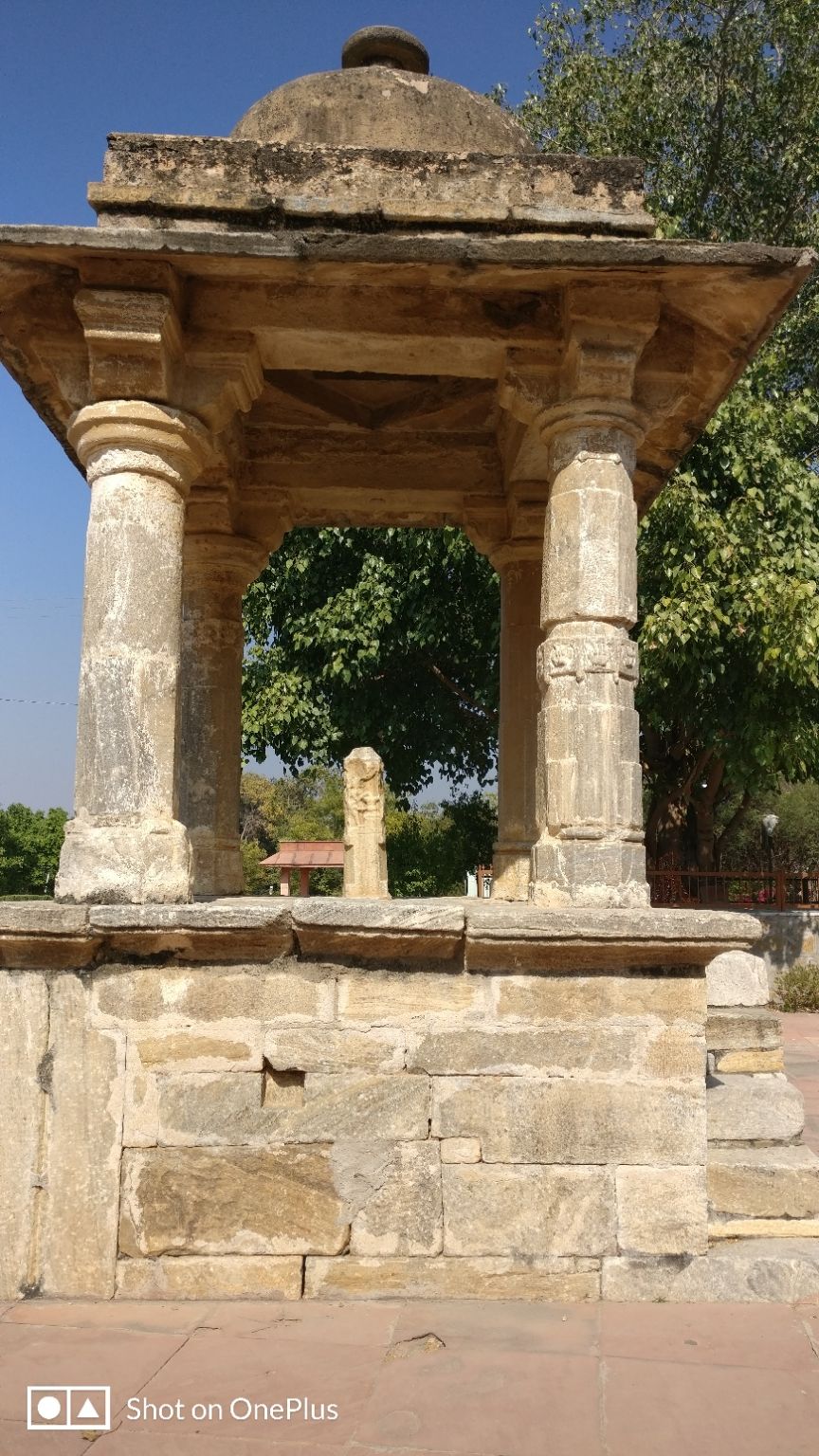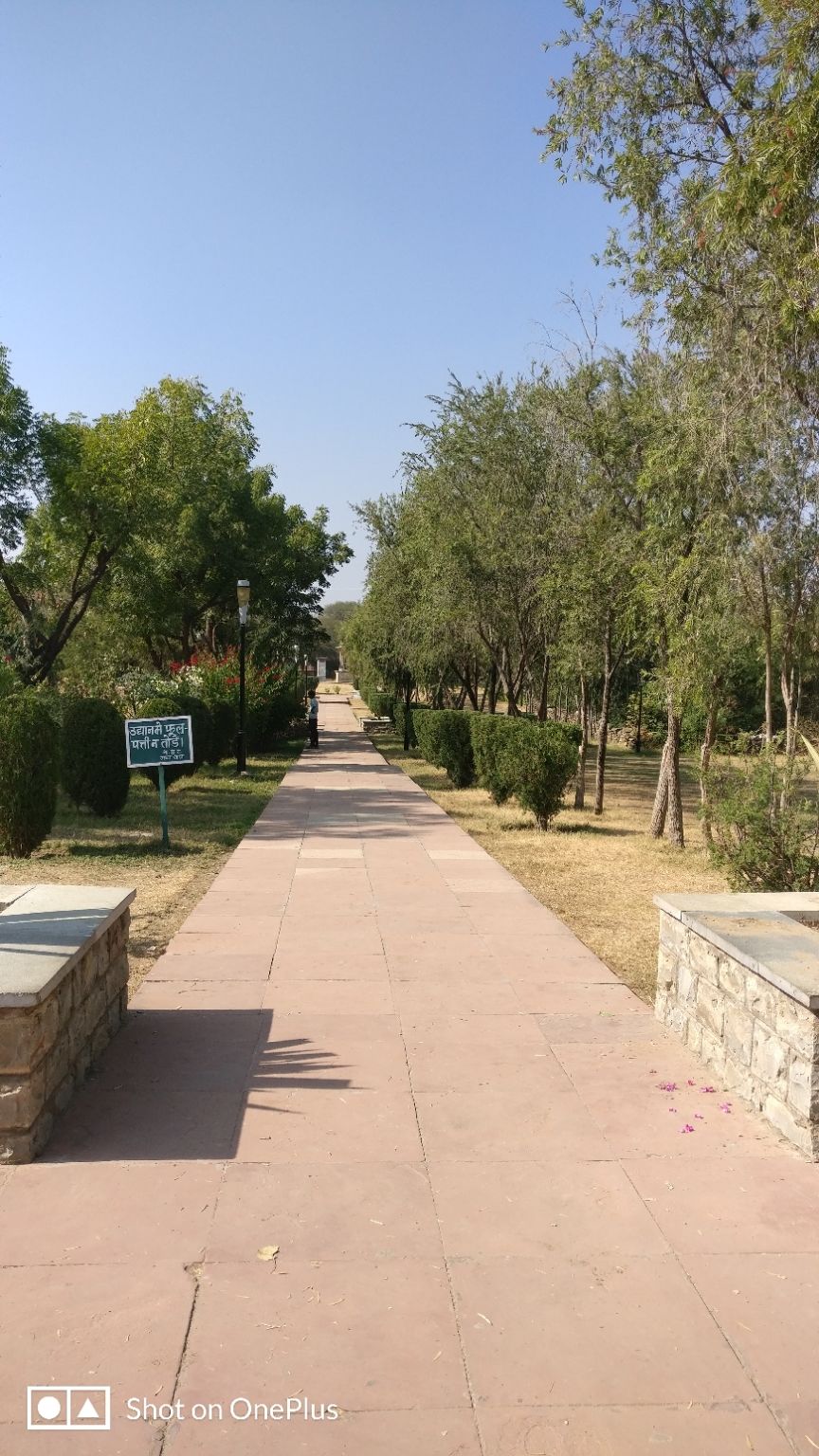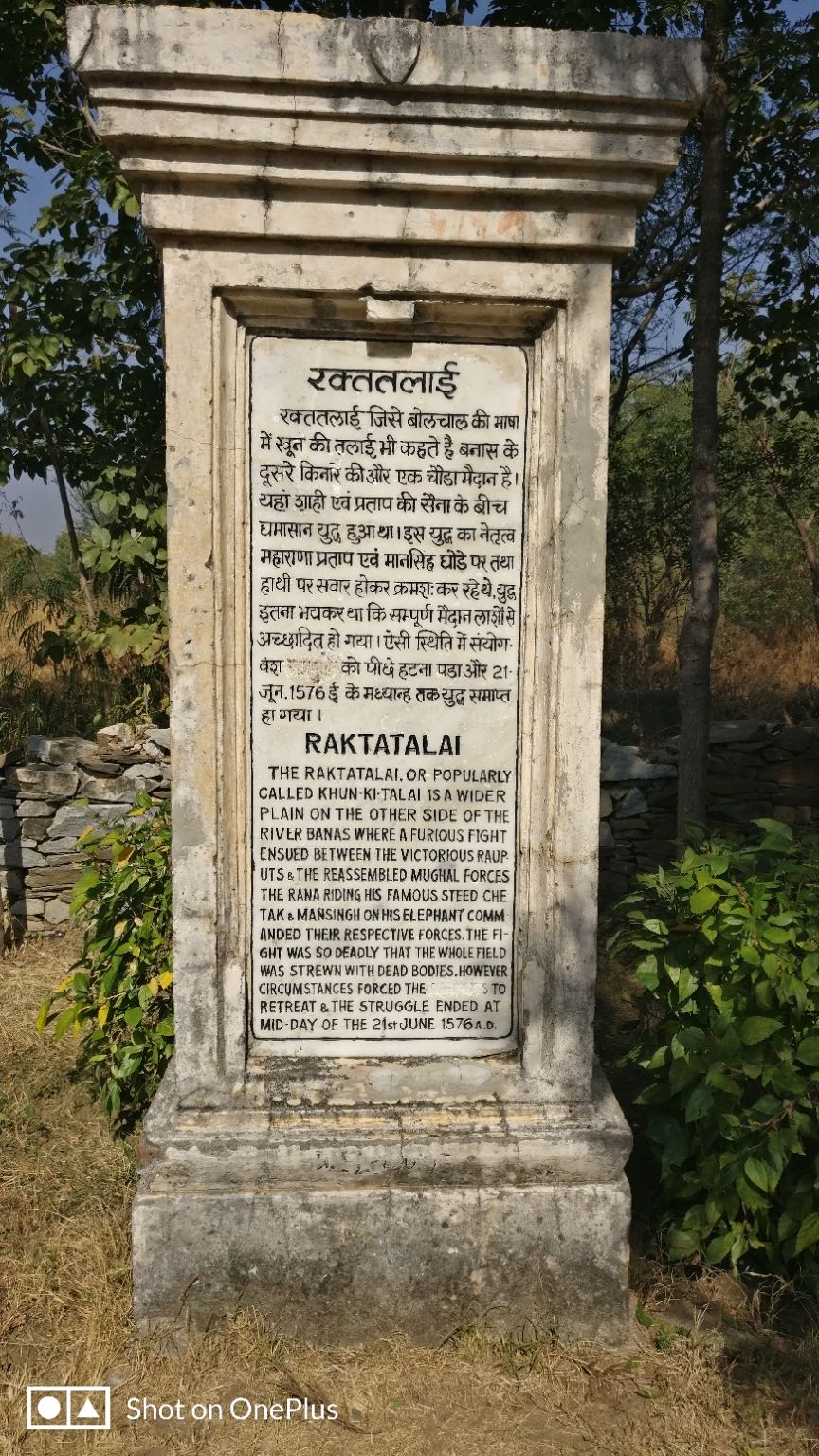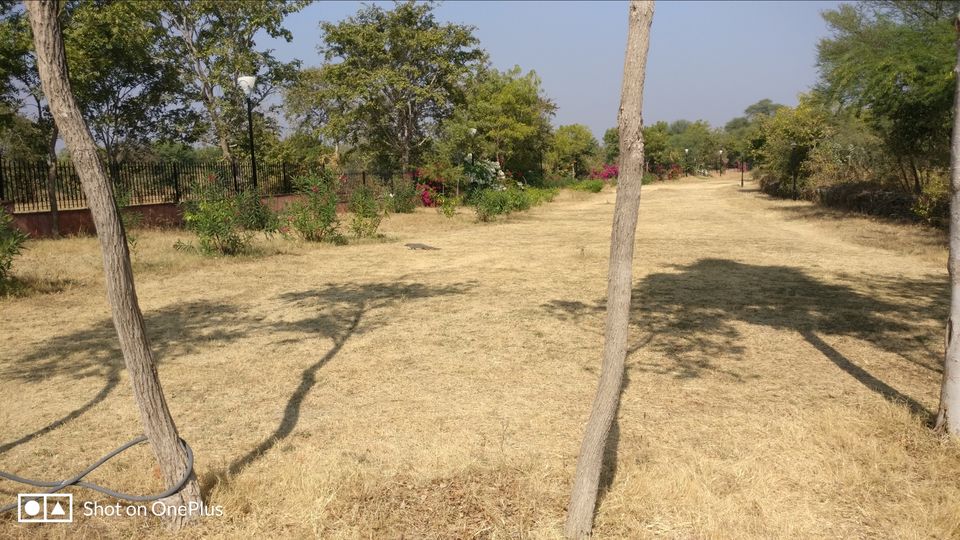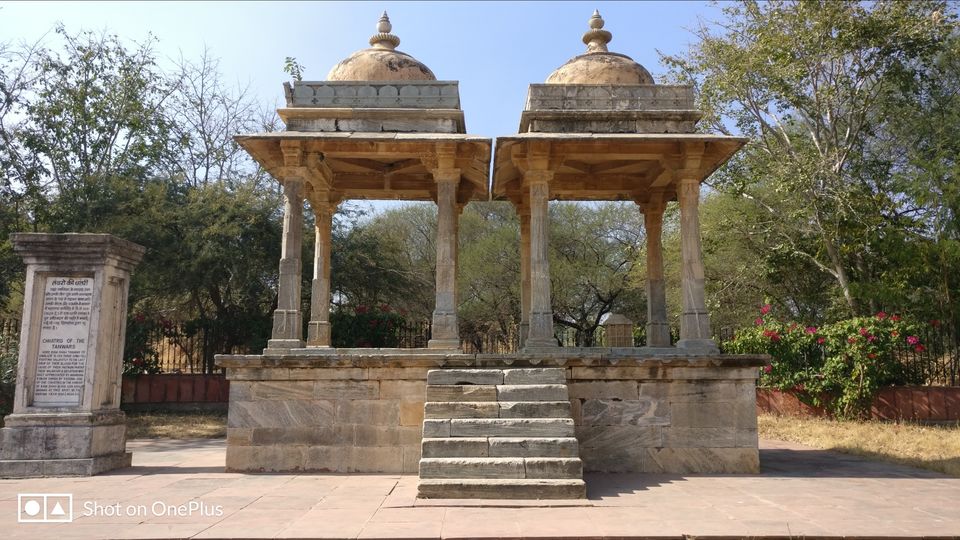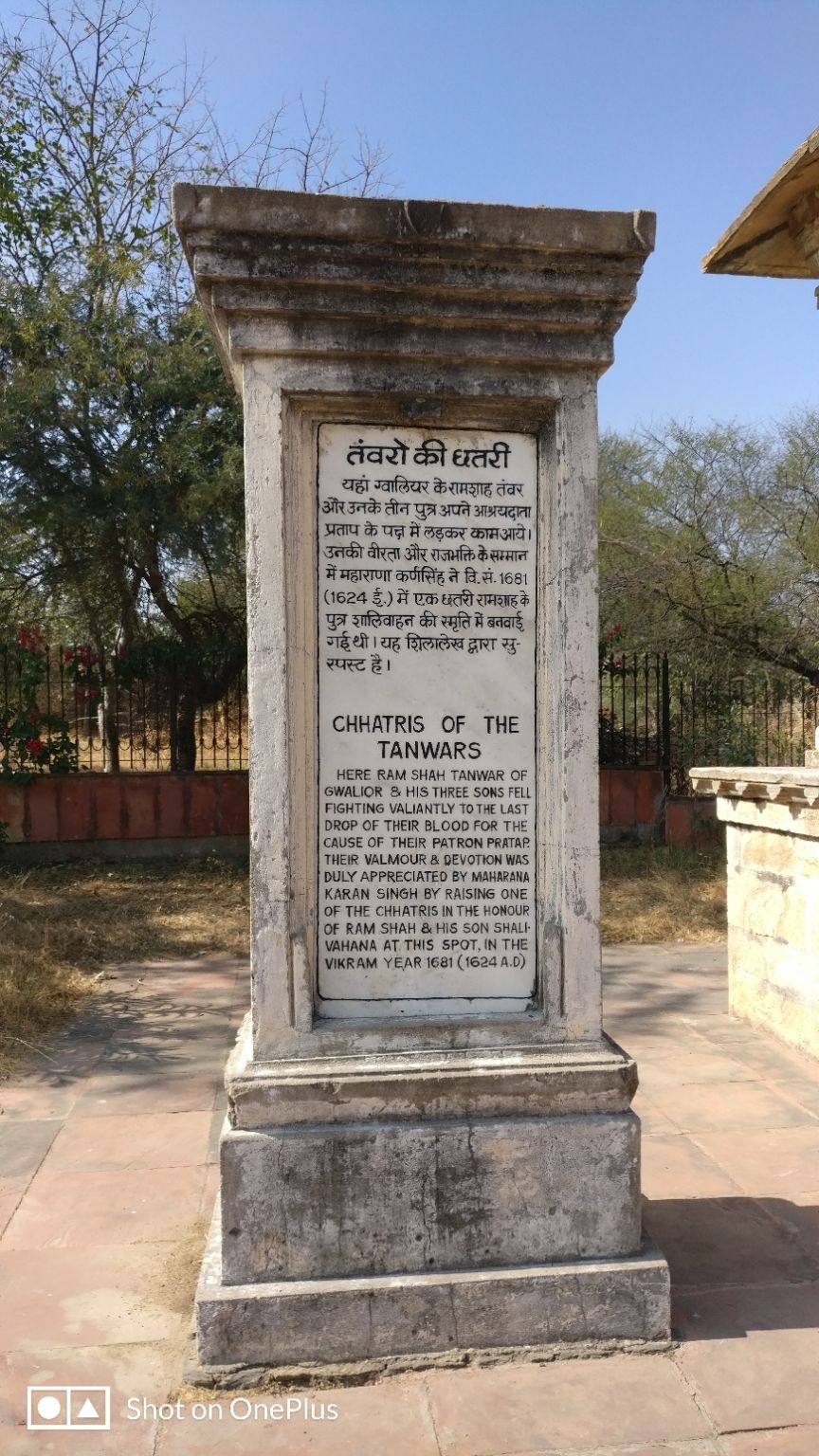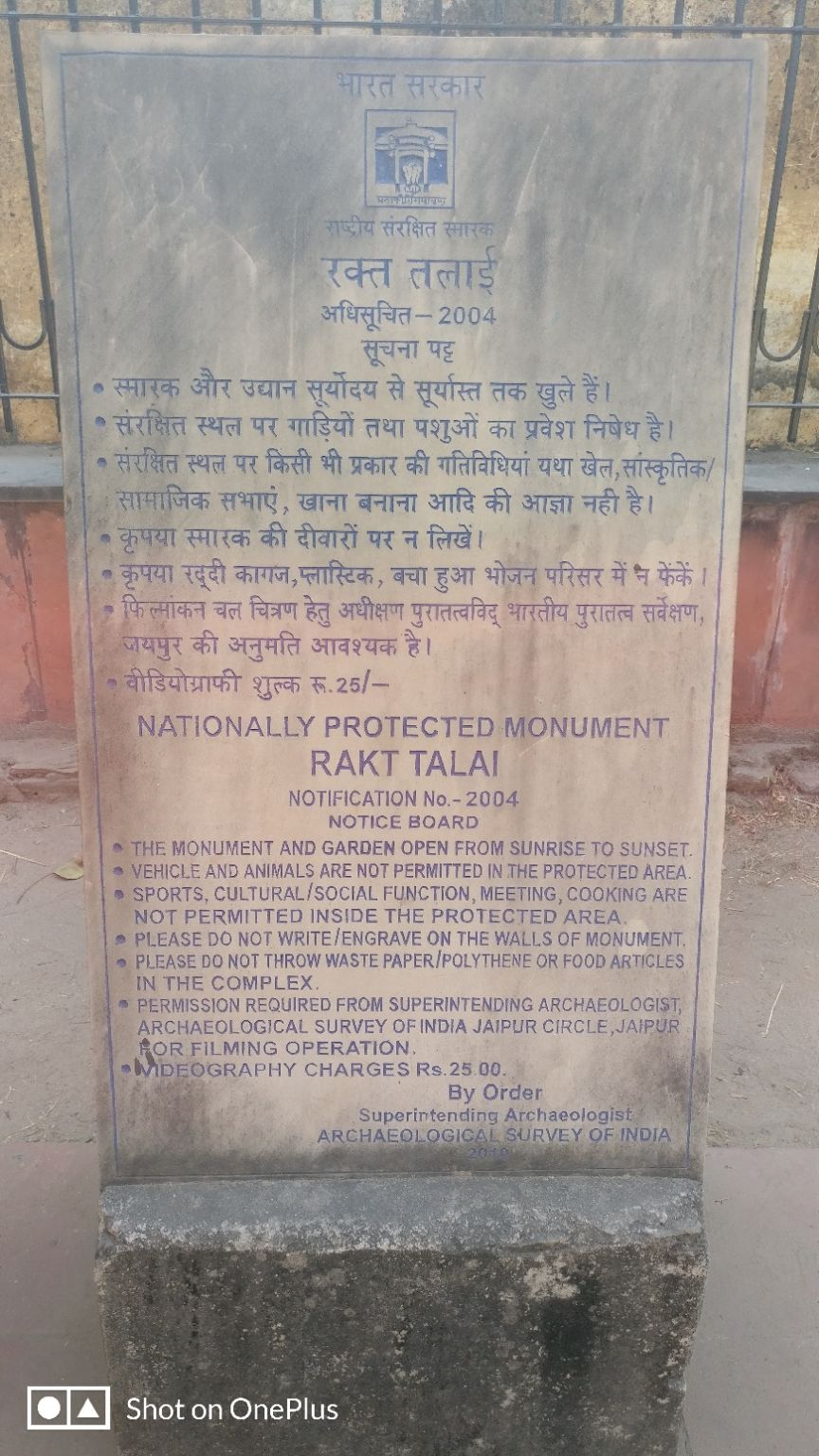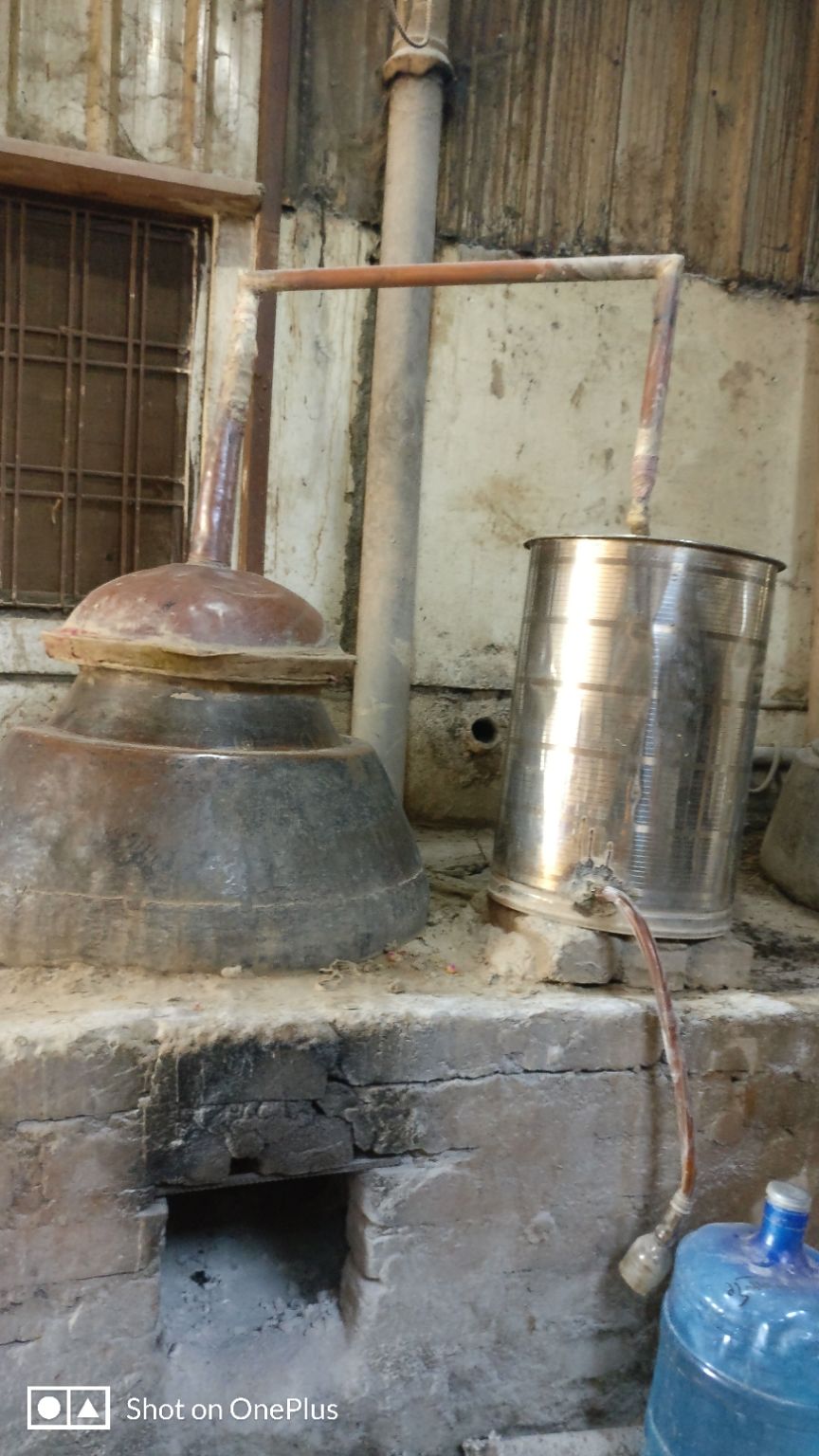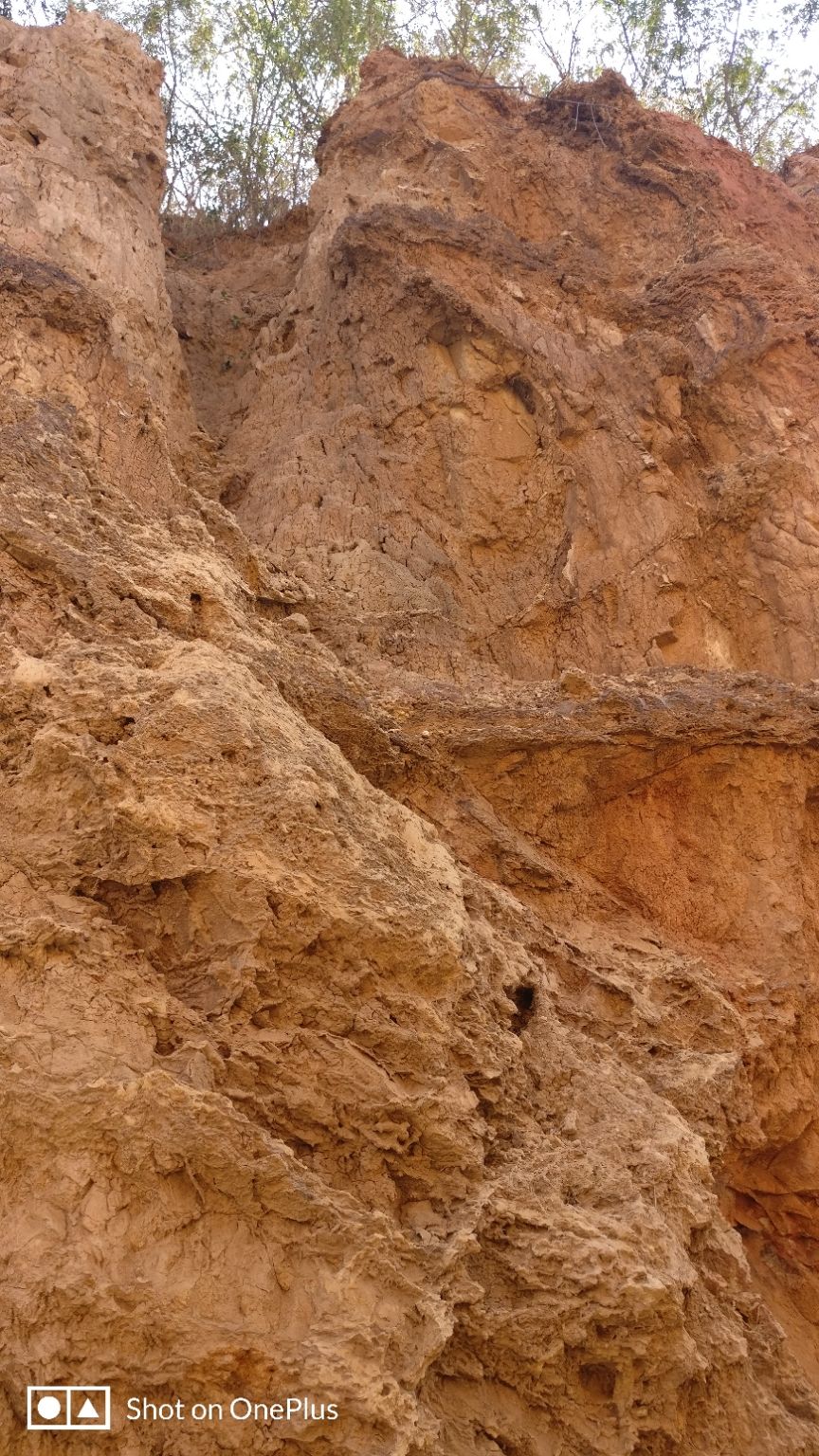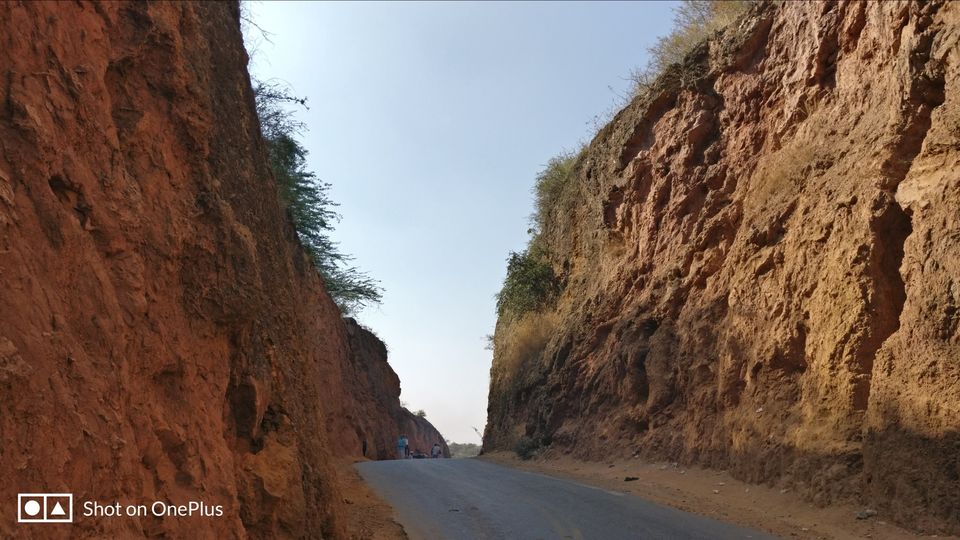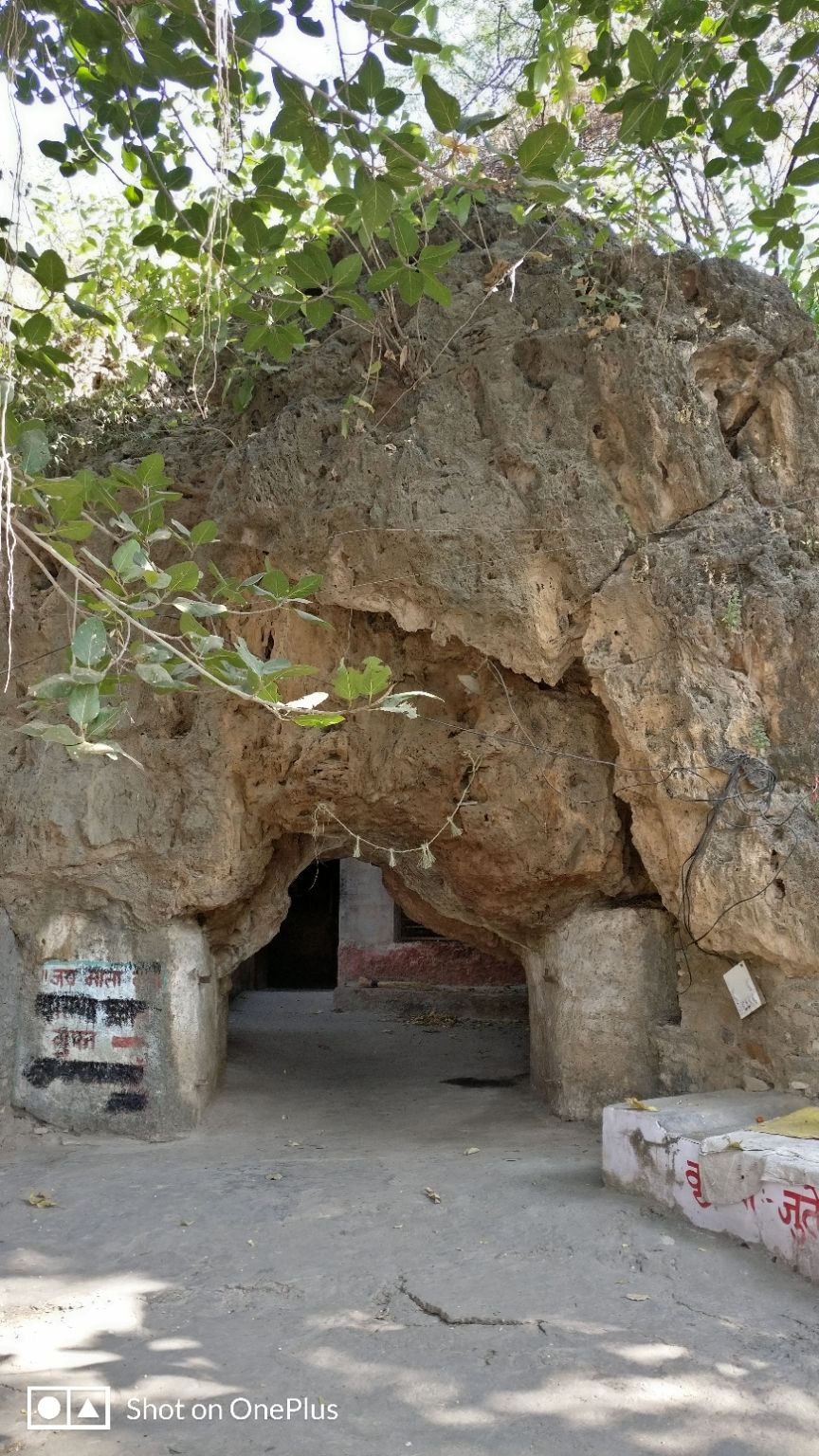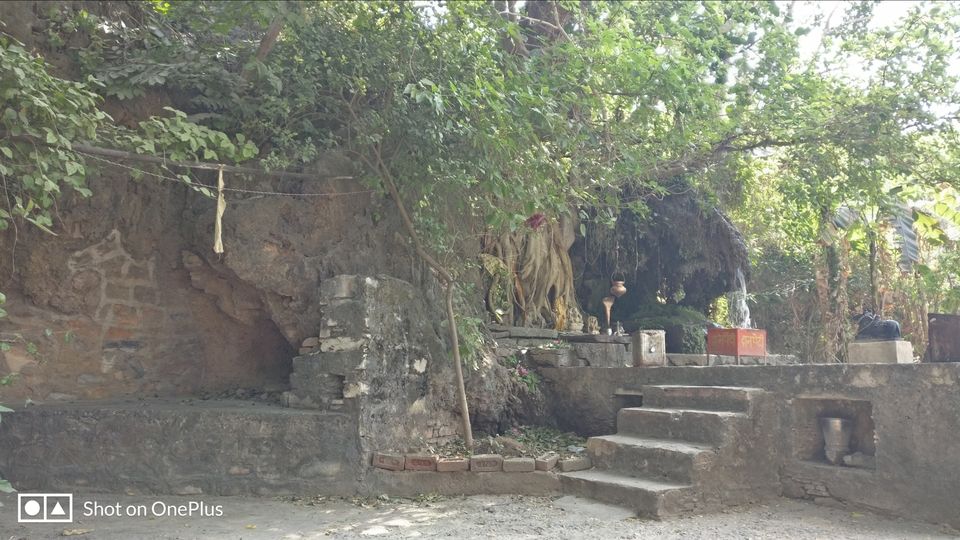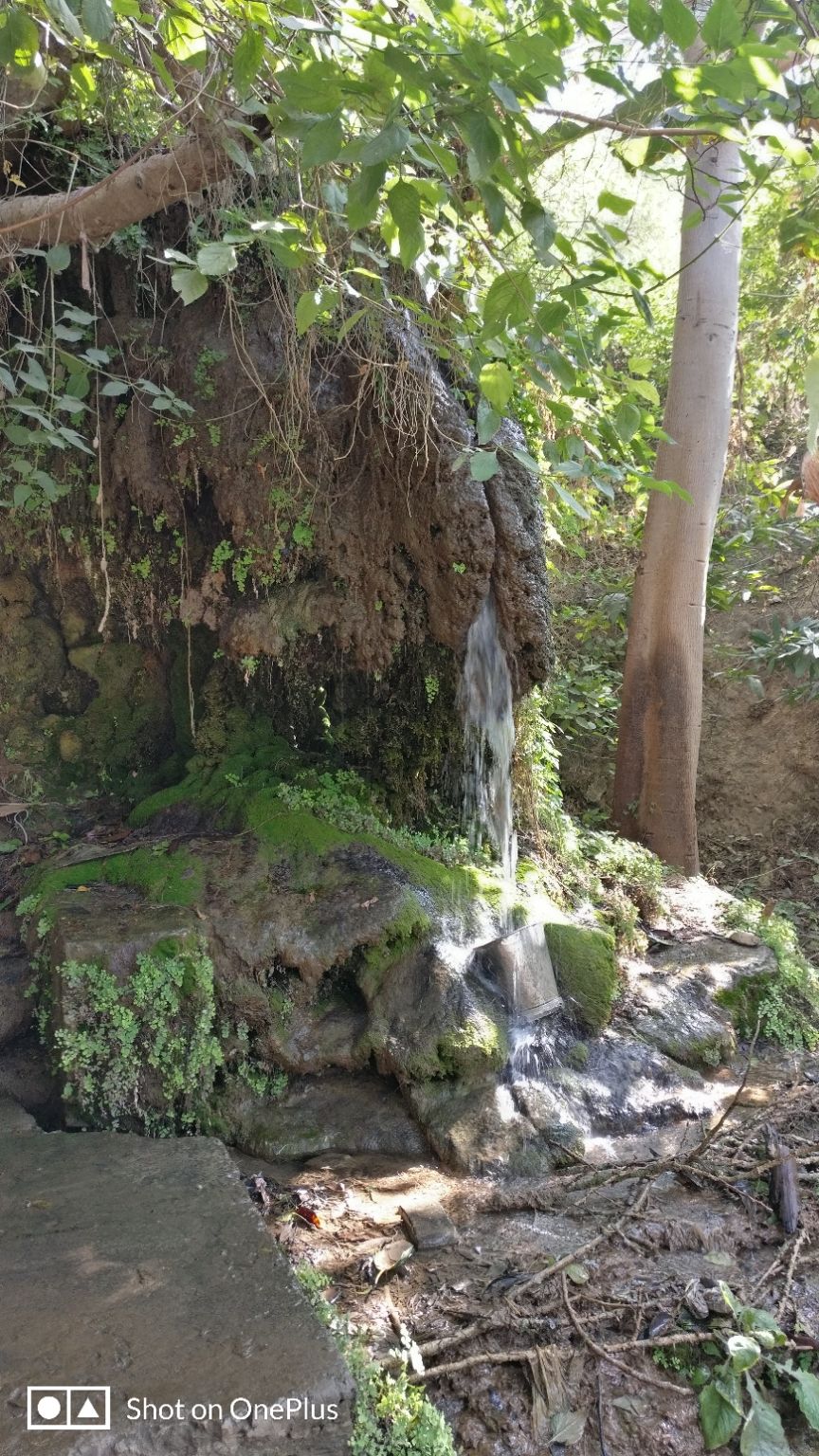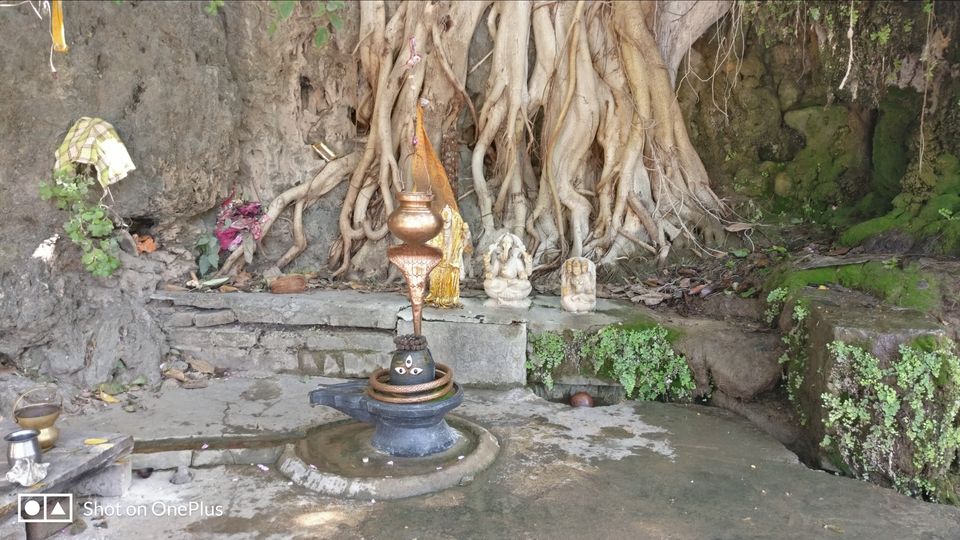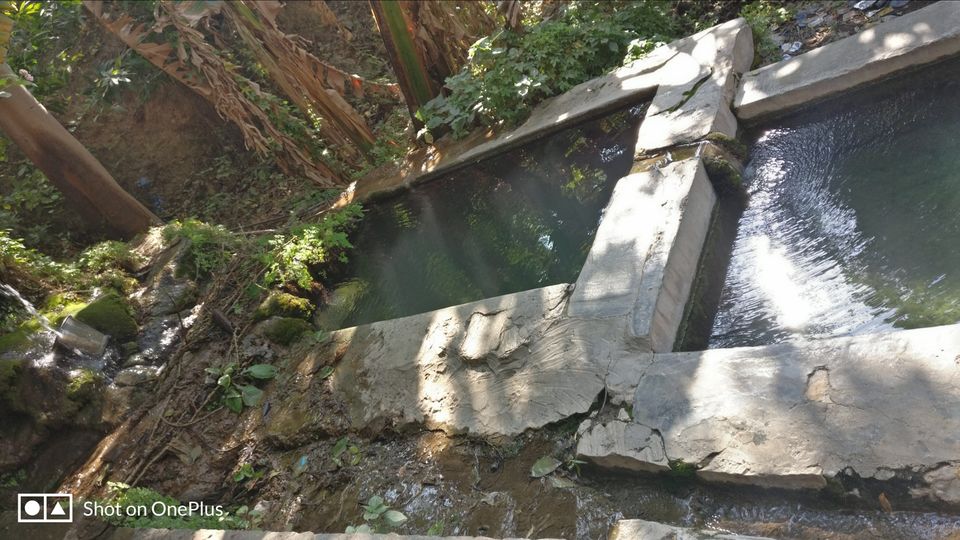 Chetak Memorial
Chetak's vital role in the battle and his loyalty towards his master was commendable. Maharana Pratap built a small memorial just a few km from Haldi Ghati.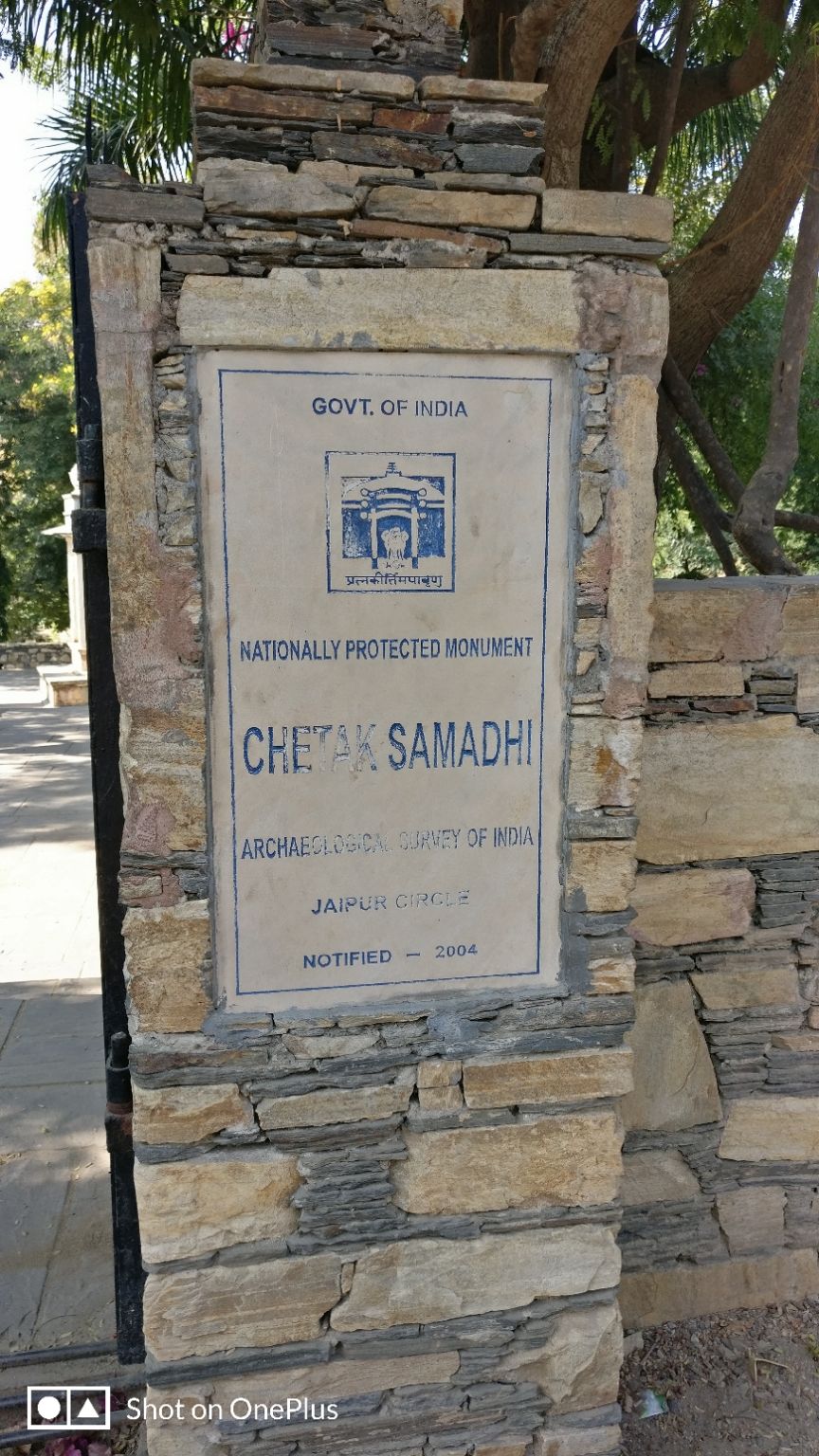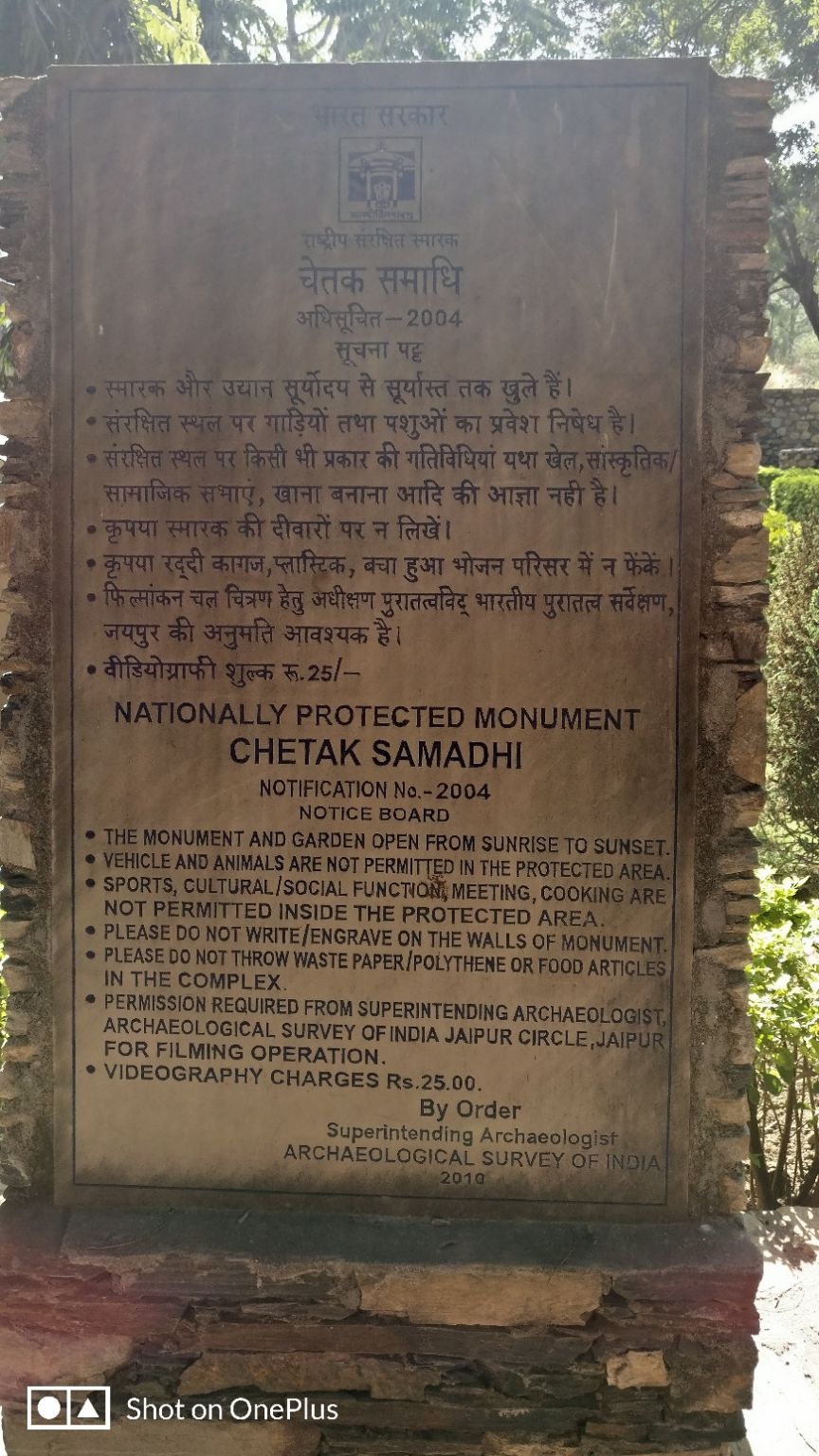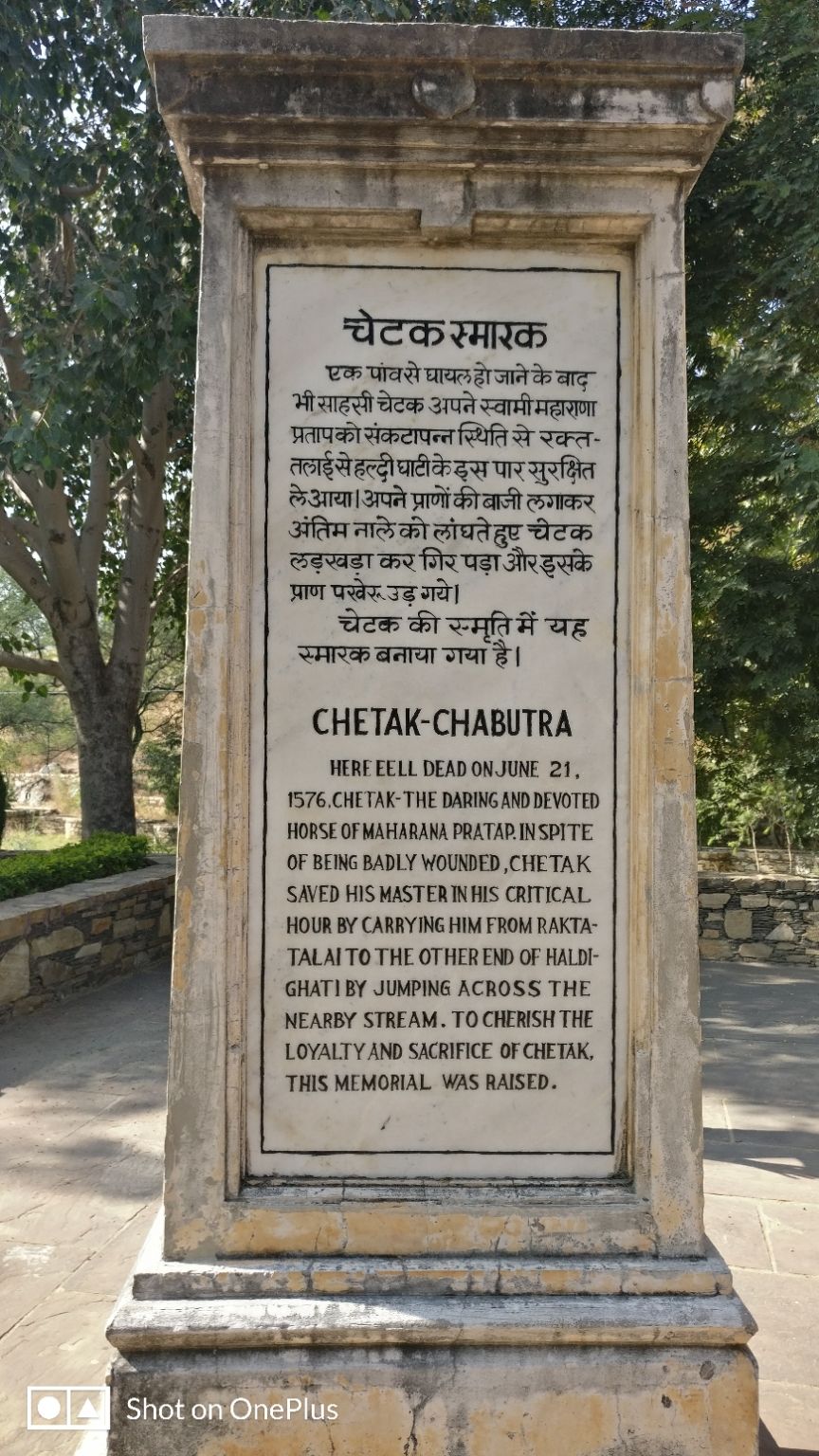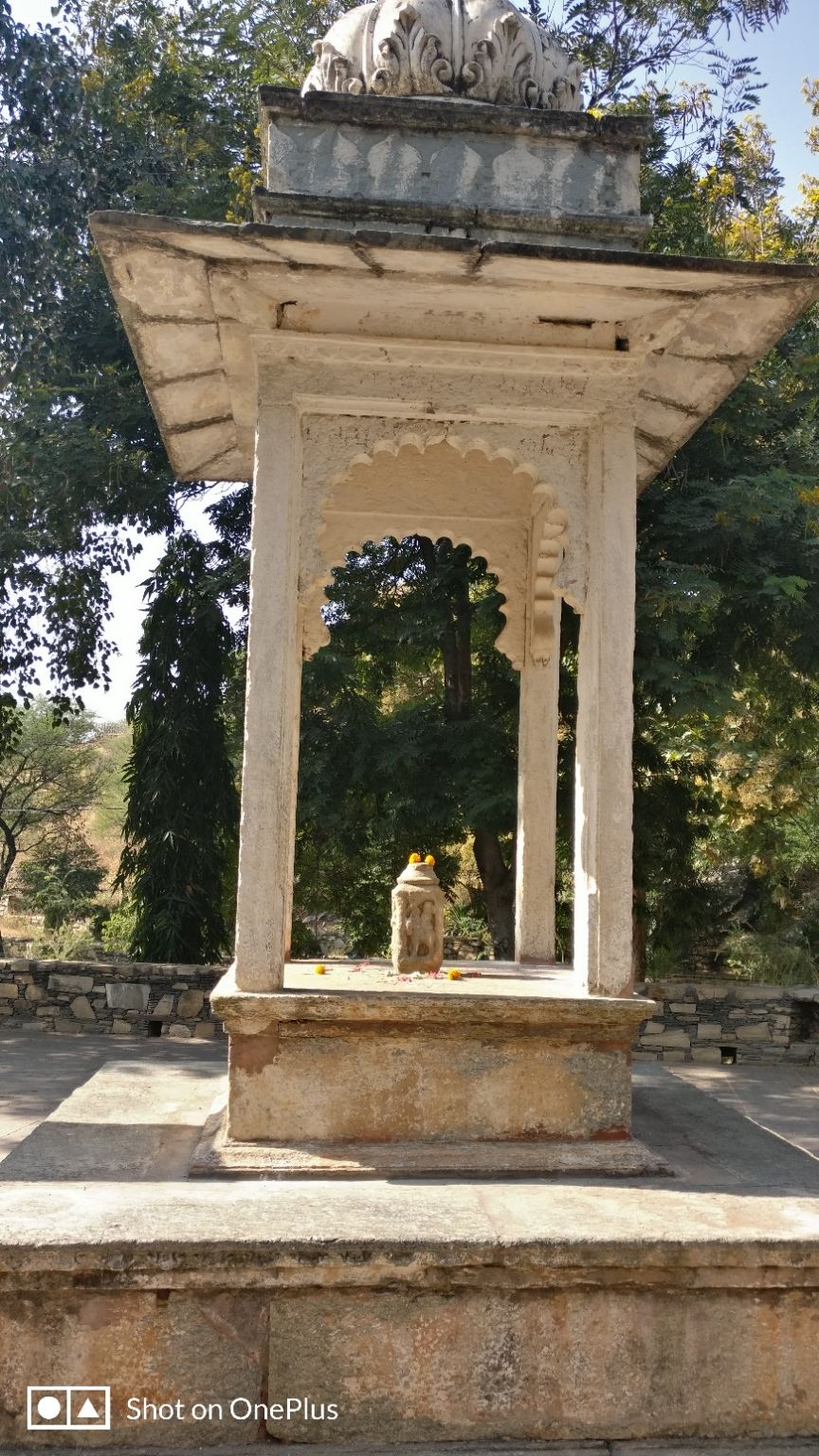 Haldighati Maharana Pratap Museum
Entry fee: 30 INR
The museum is just about 2-4 km from the haldighati. This museum stores the weapons and paintings of Haldighati battle. Every day there are light and sound shows on the entire history of Maharana Pratap and Haldi Ghati battle in the closed amphitheatre.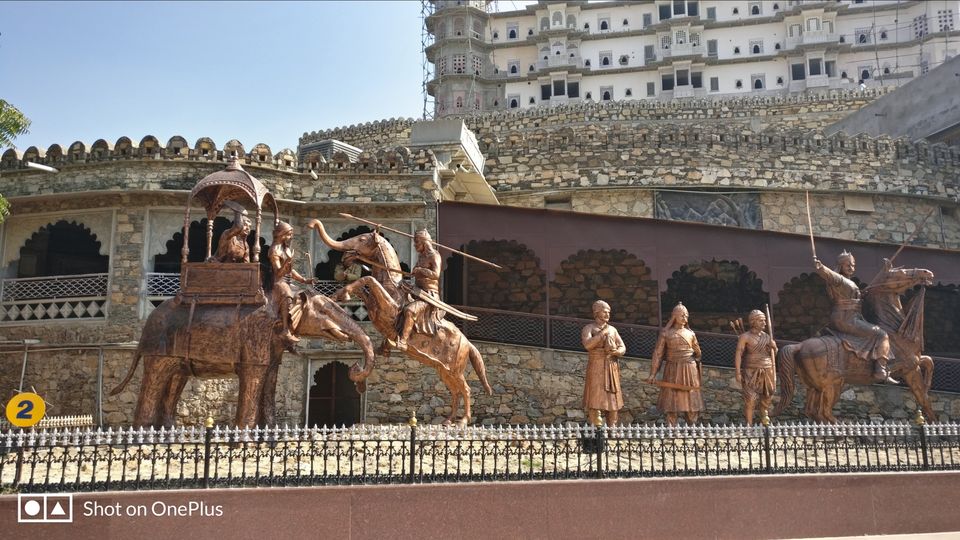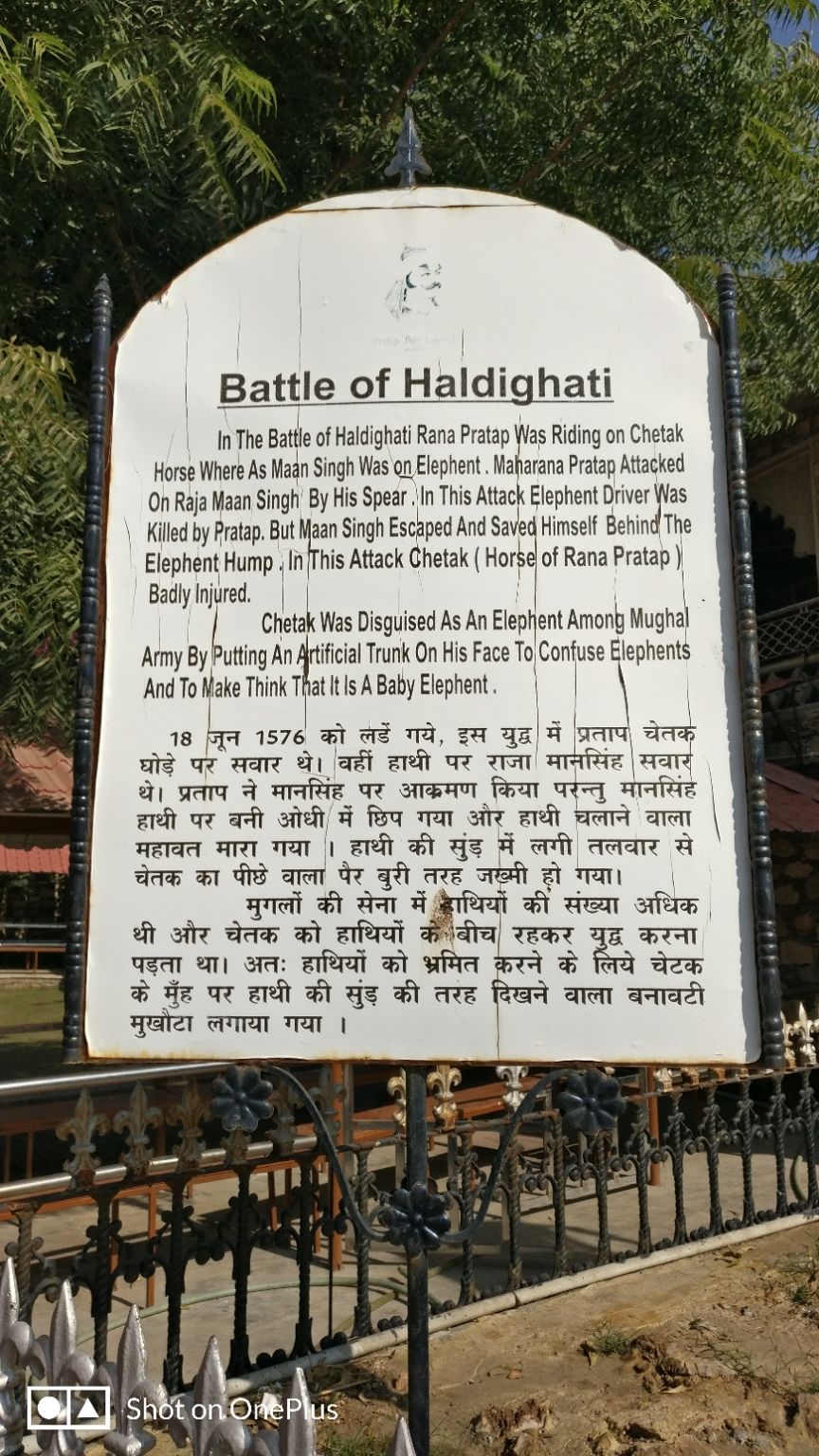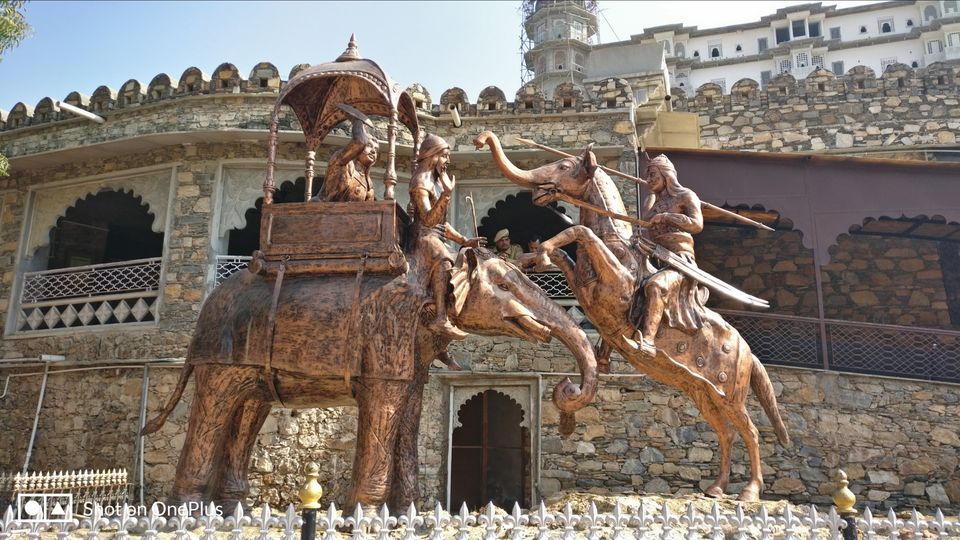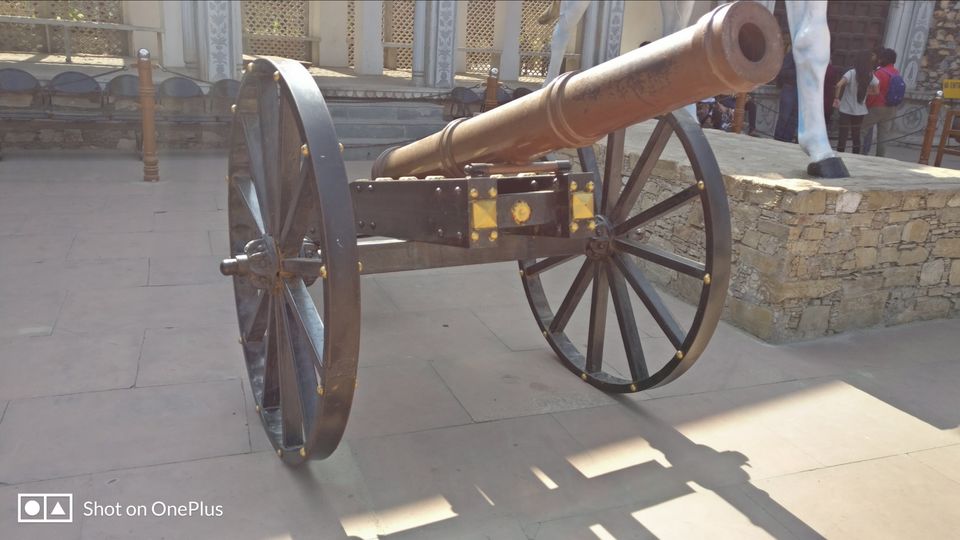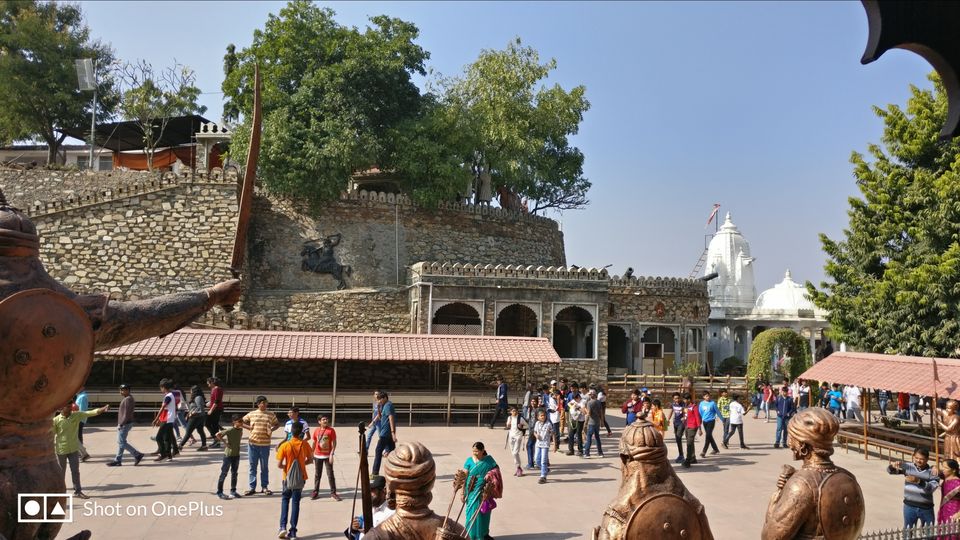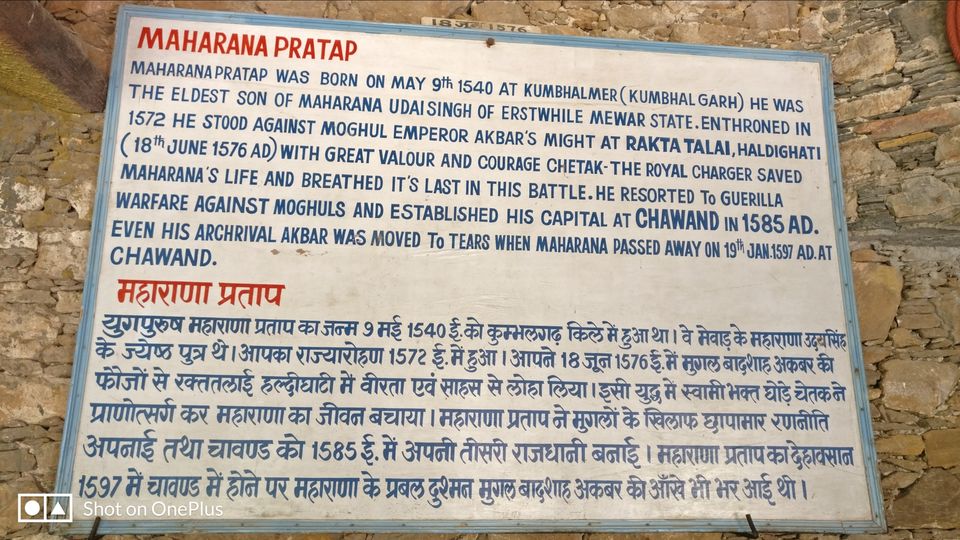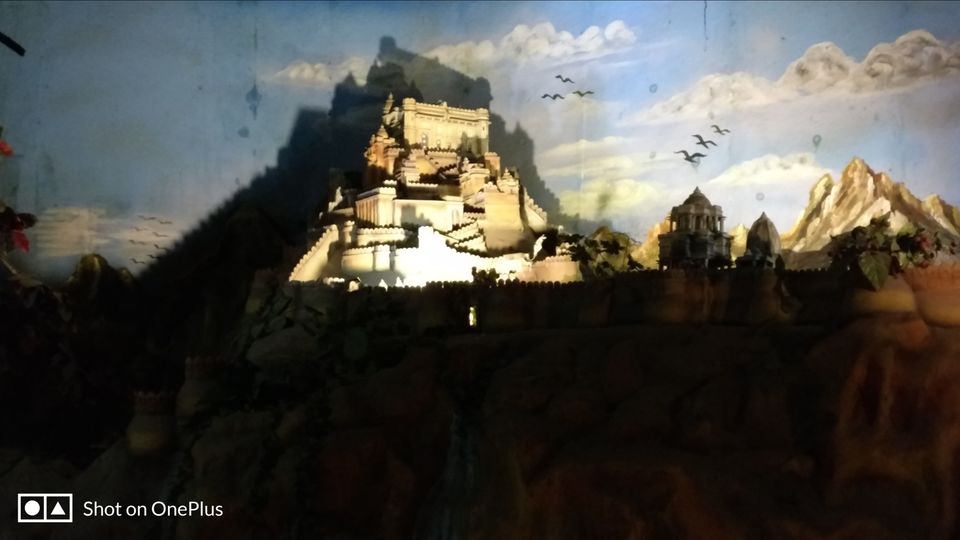 Kumbhalgarh
Entry fee:
Indian Citizens: 15 INR
Foreigners: 200 INR
Light & Sound Show :
Adults: 100 INR
Children: 50 INR
Fort visit Timings:
Kumbhalgarh Entry fee:
Indian Citizens: 15 INR
Foreigners: 200 INR
Light & Sound Show :
Adults: 100 INR
Children: 50 INR
Fort visit Timings:
9:00AM to 6:00PM
Light & Sound Show:
Every day at 6:45 PM
Kumbhalgarh priorly known as Machindrapur is located at 84 Km from Udaipur in Rajsaand district. This huge and captivating Fort was never conquered in battle and is the birthplace of Maharana Pratap. The wall of Kumbhalgarh is said to be the second longest Wall in World after the Great Wall of China. The length of the wall is about 36 km around the Fort. The Fort has approx. 360 temples inside the campus.
The Fort has 7 Pols i.e entrances to guard the fort from the enemy. The incline inside the fort is strategically designed with sharp turns to make it challenging for the enemy to enter with the Elephants and horses. It is said that the lamps lite at the Fort consumed around 50 kgs of Ghee and 100 kgs of cotton. The Fort is built strategically to trap the enemy.
The fort encompasses of Kumbha palace, Badal Palace and temples. The Kumbha palace is double-storied building and is steep uphill at the utmost part. The structure is quite impressive and is one of the prominent buildings in the campus.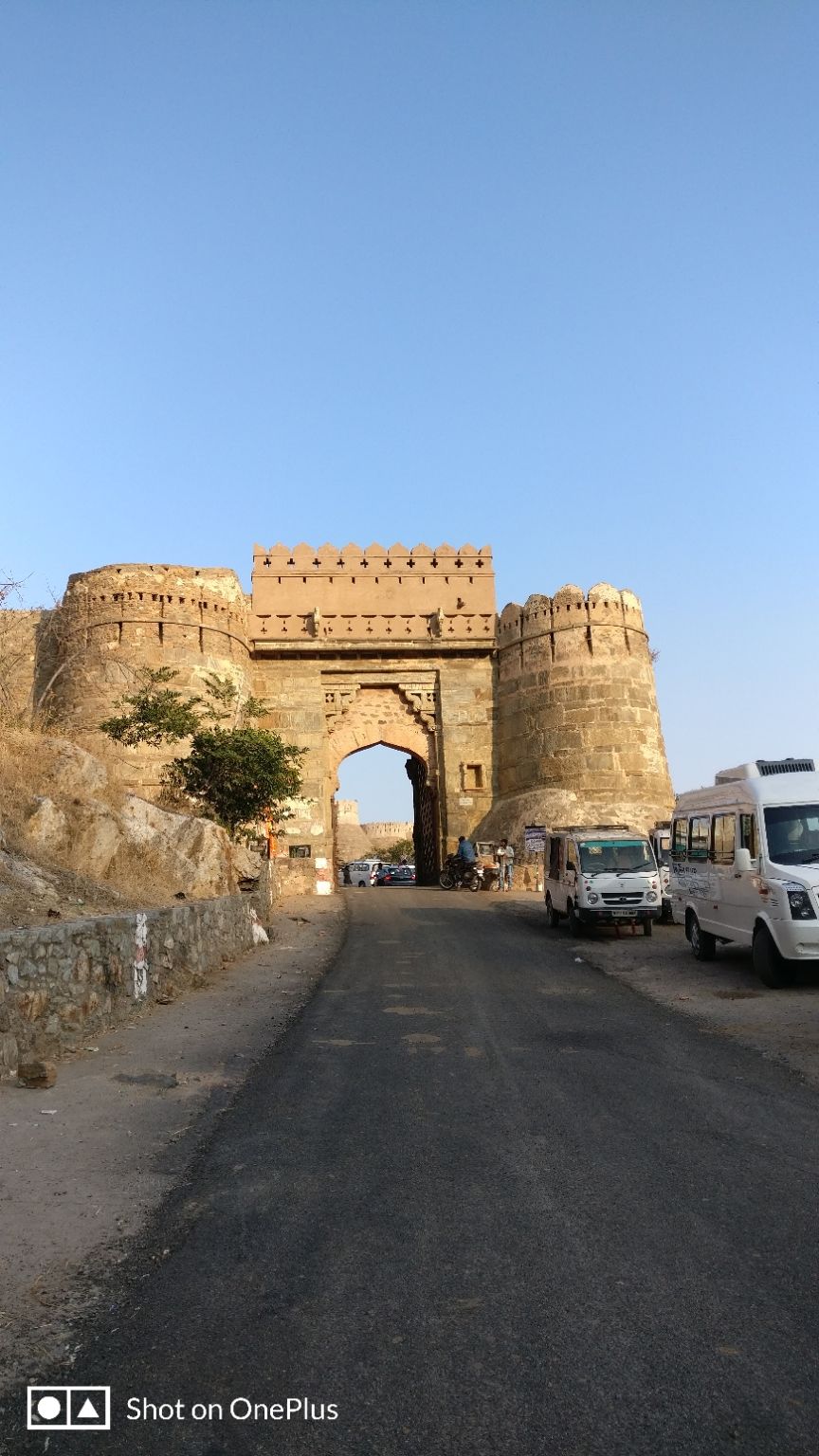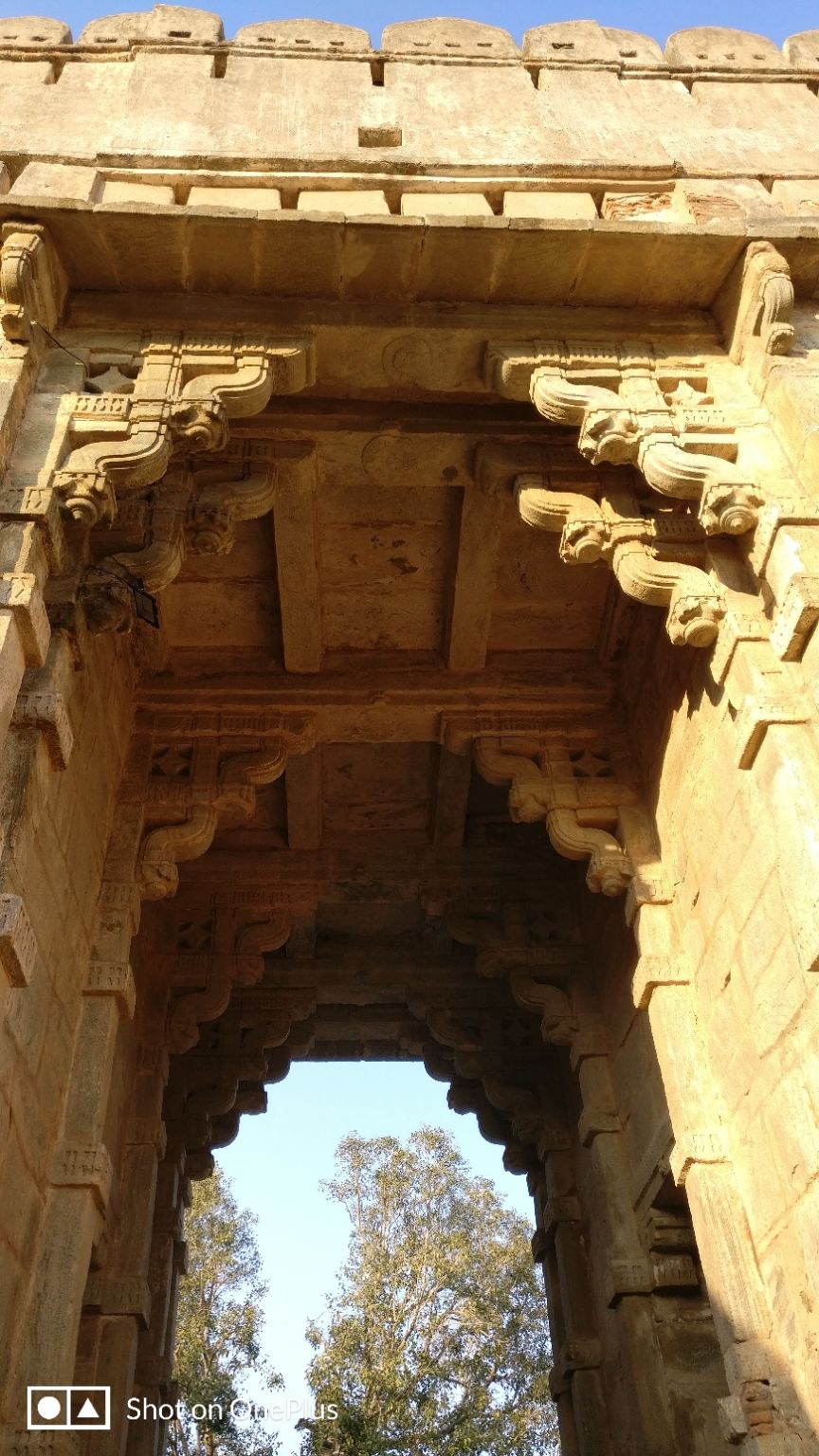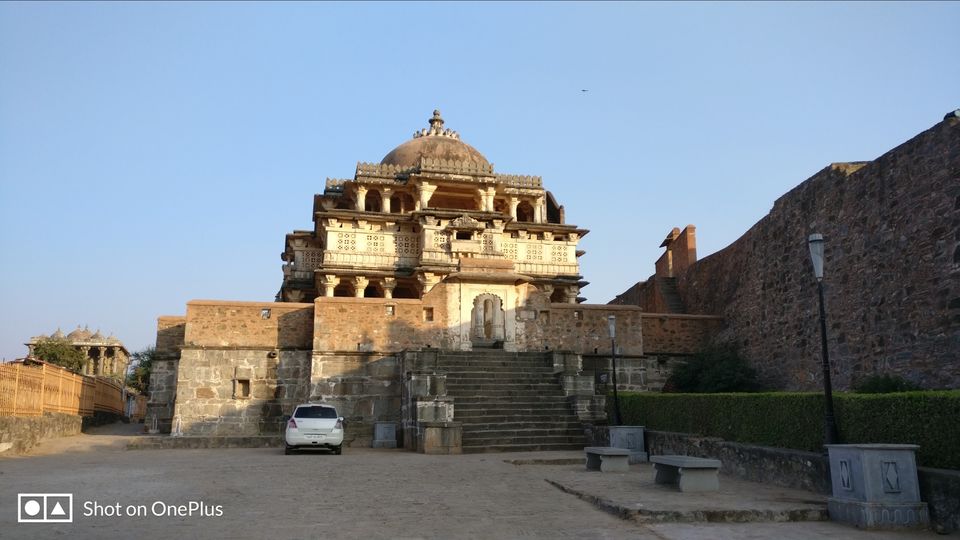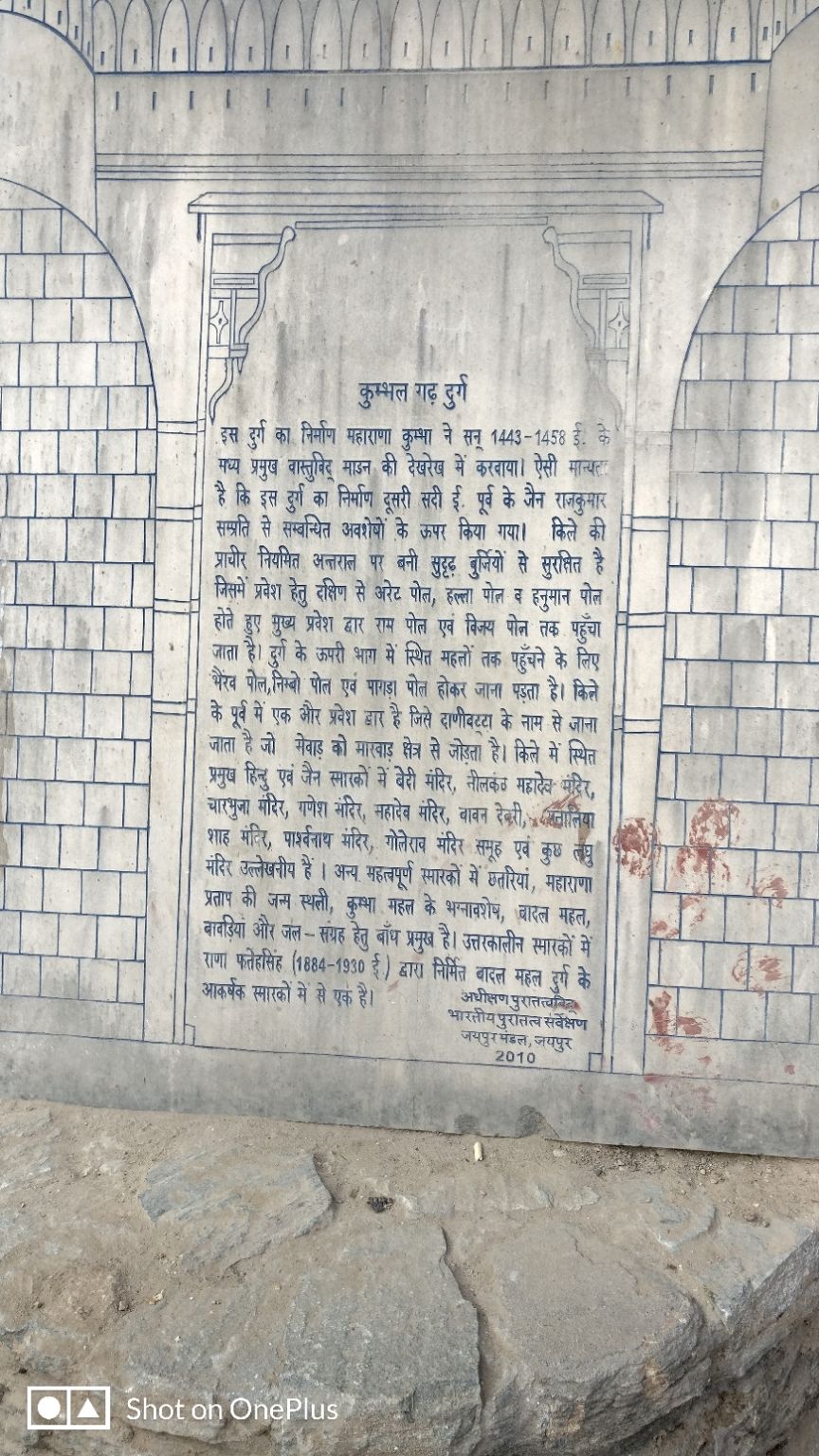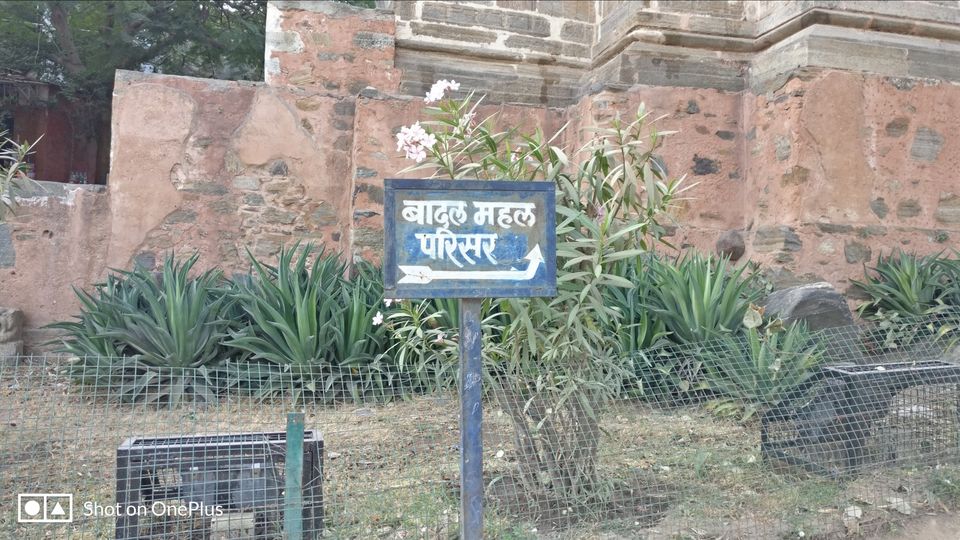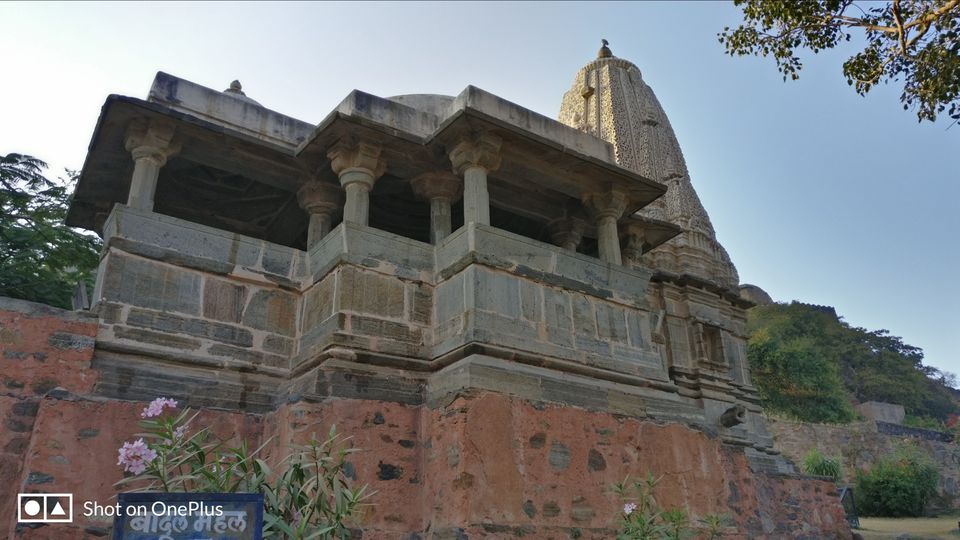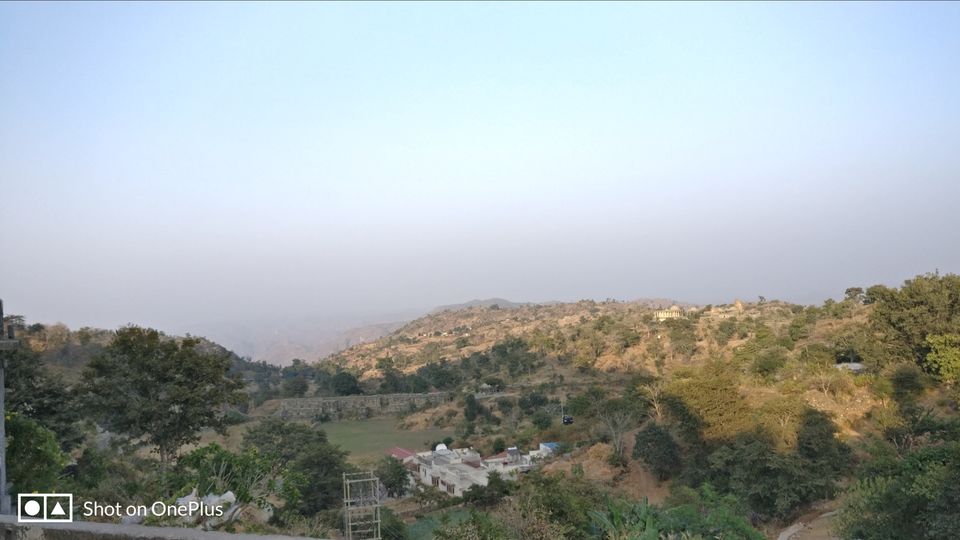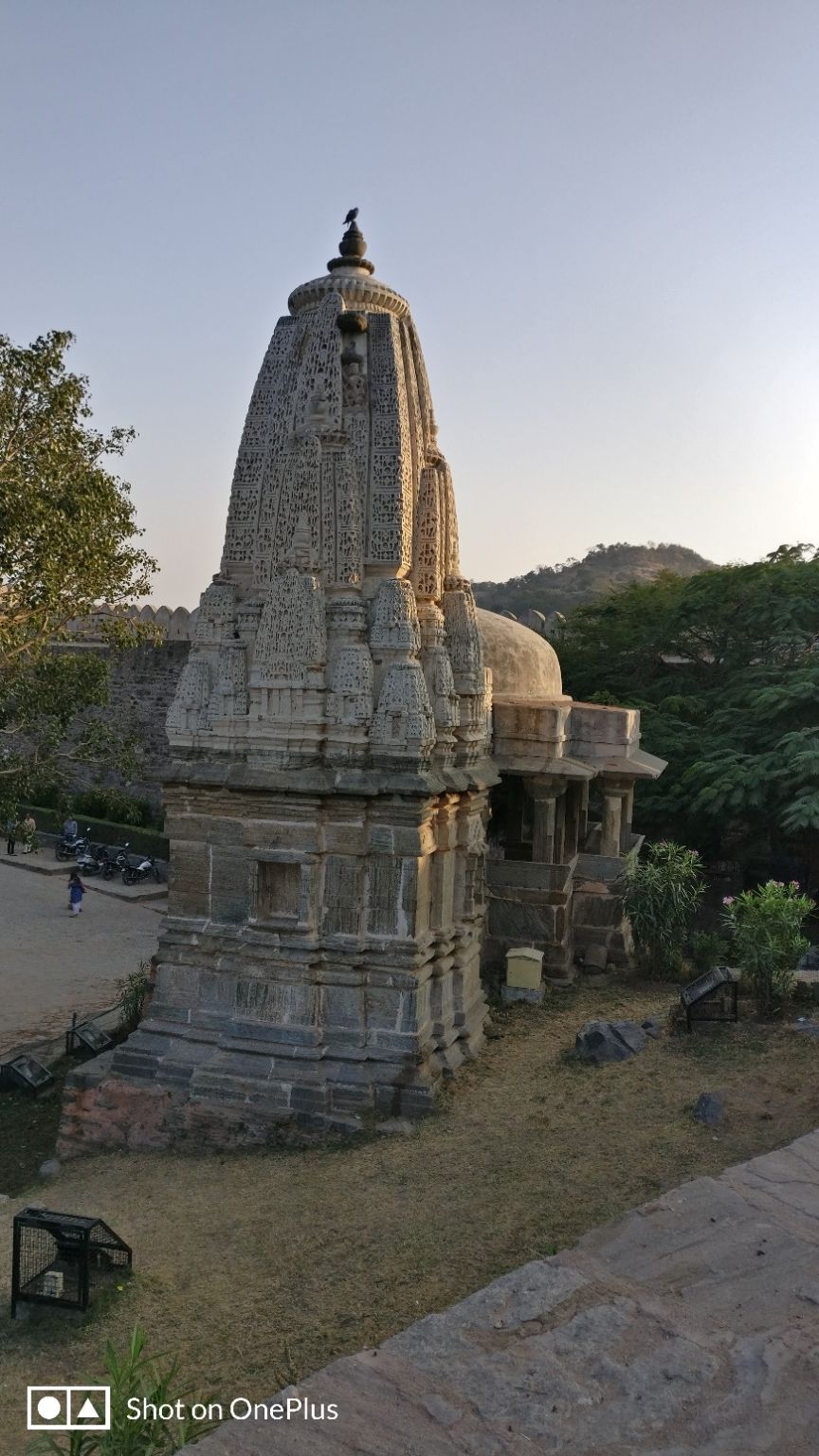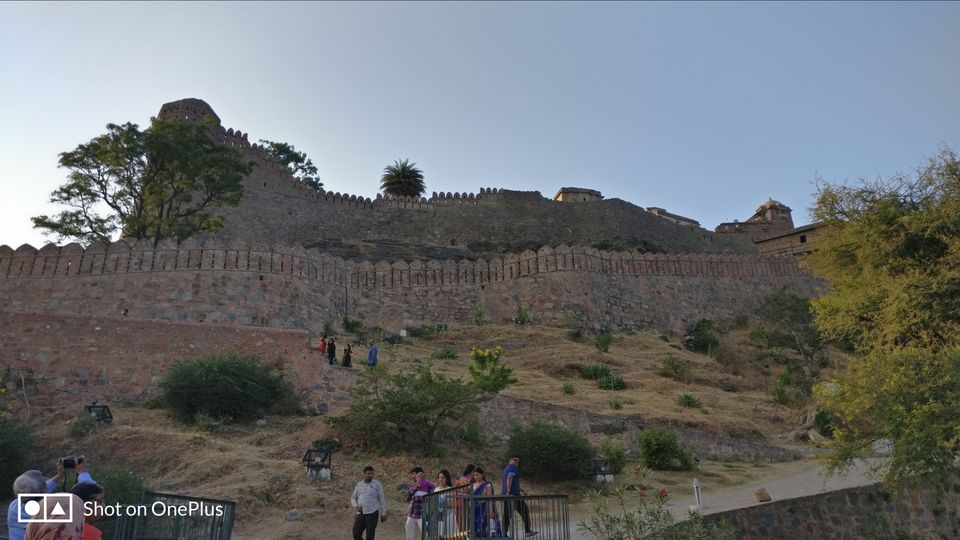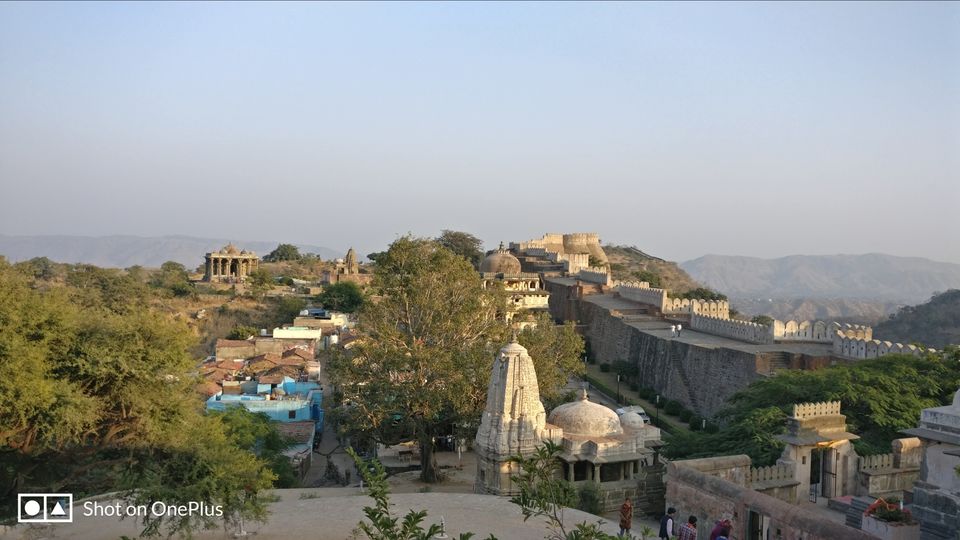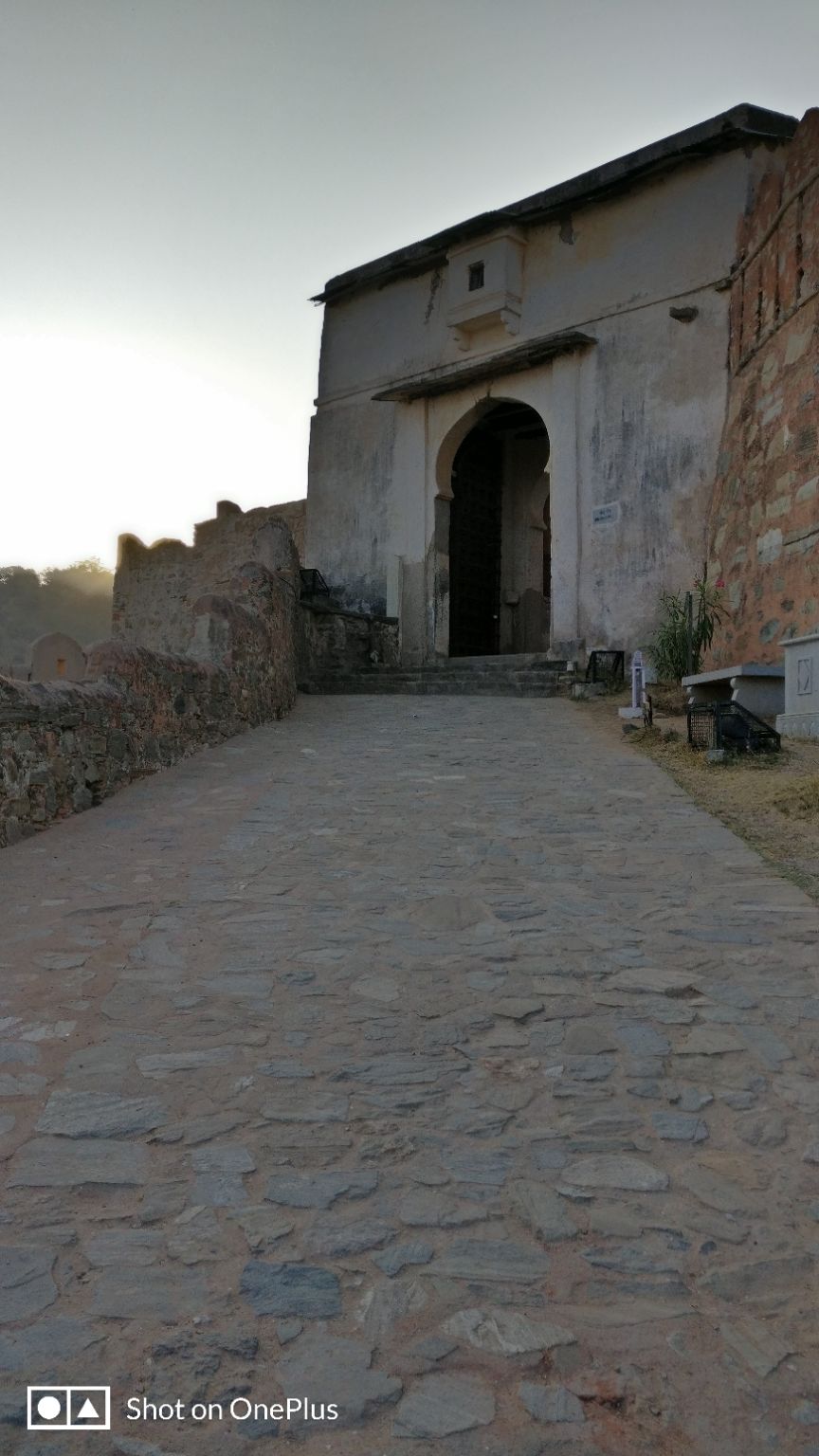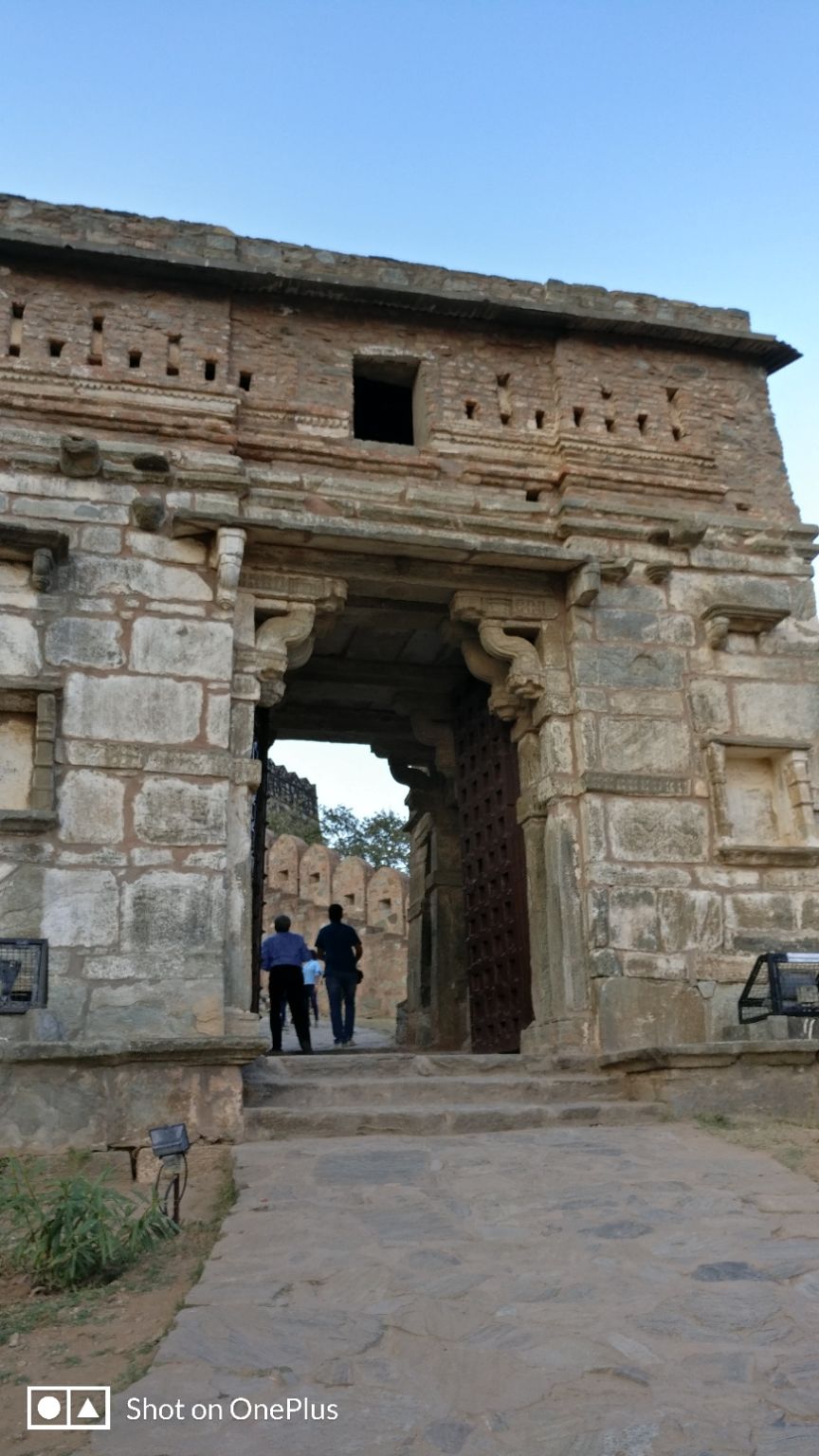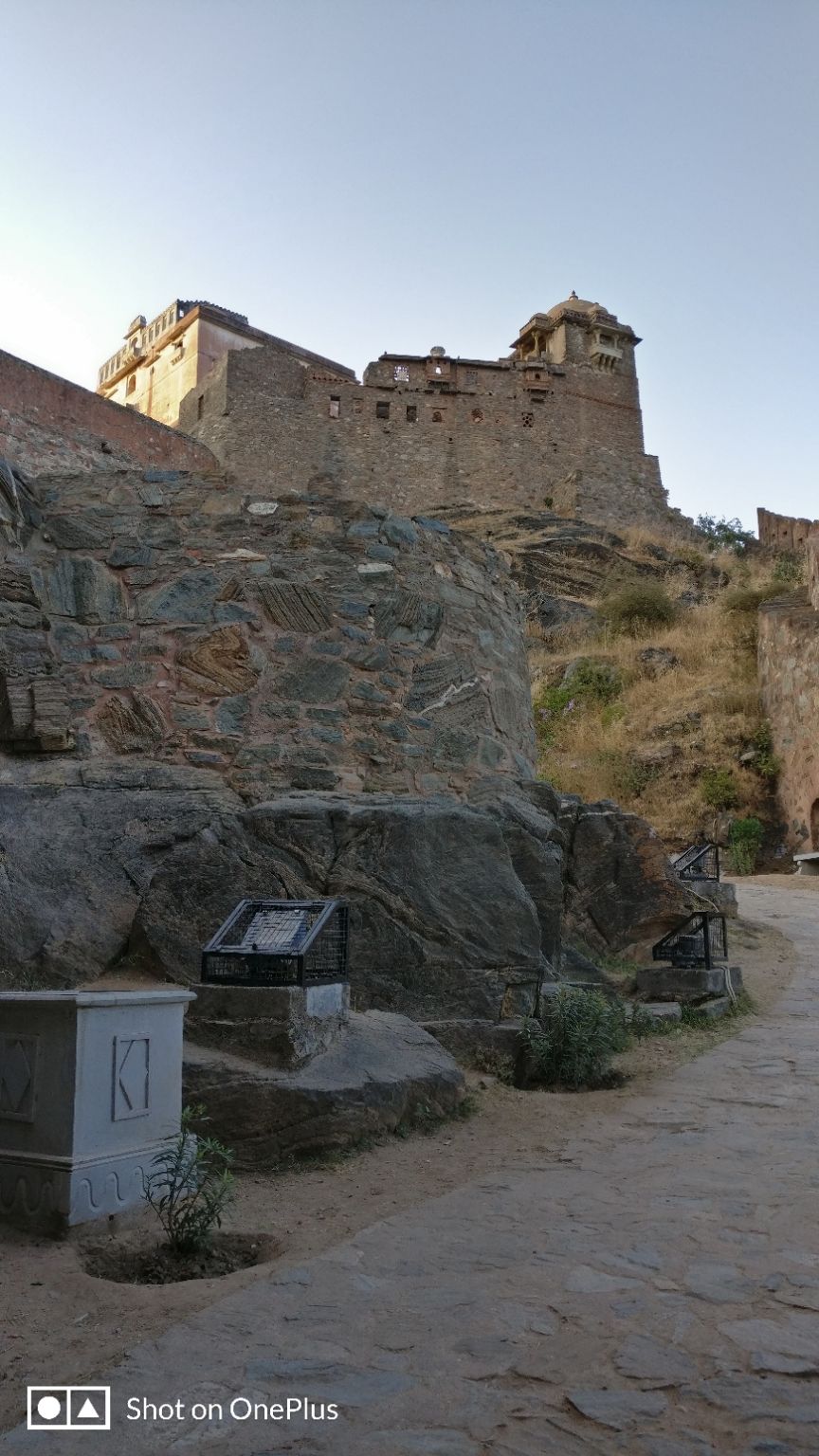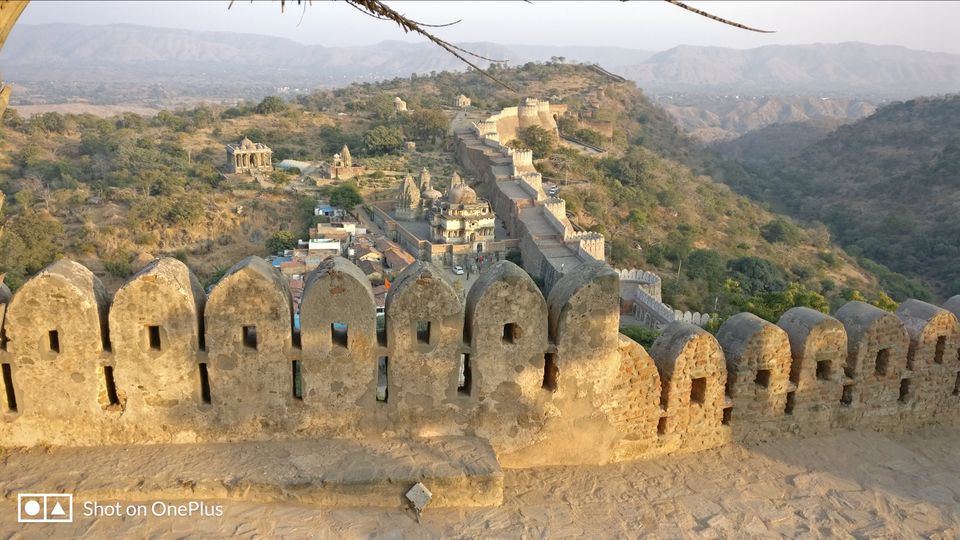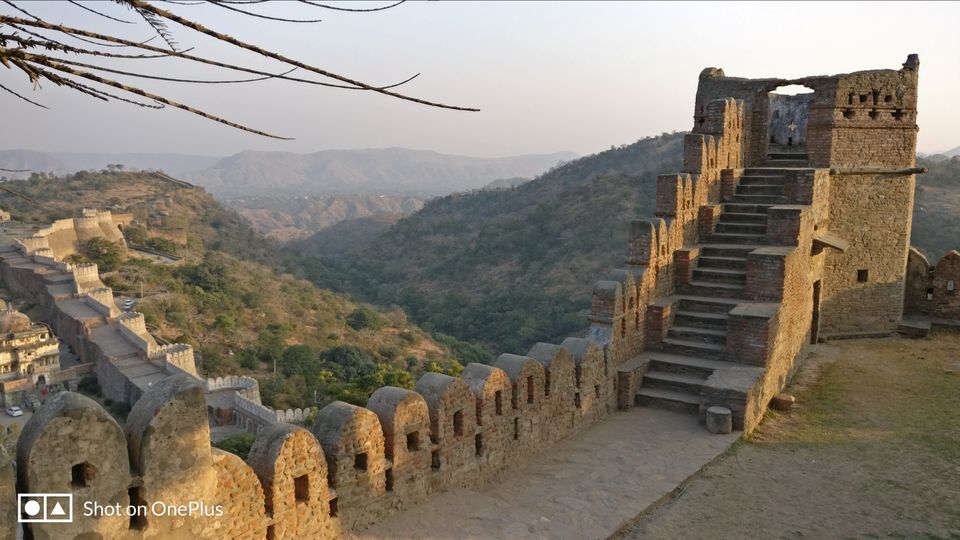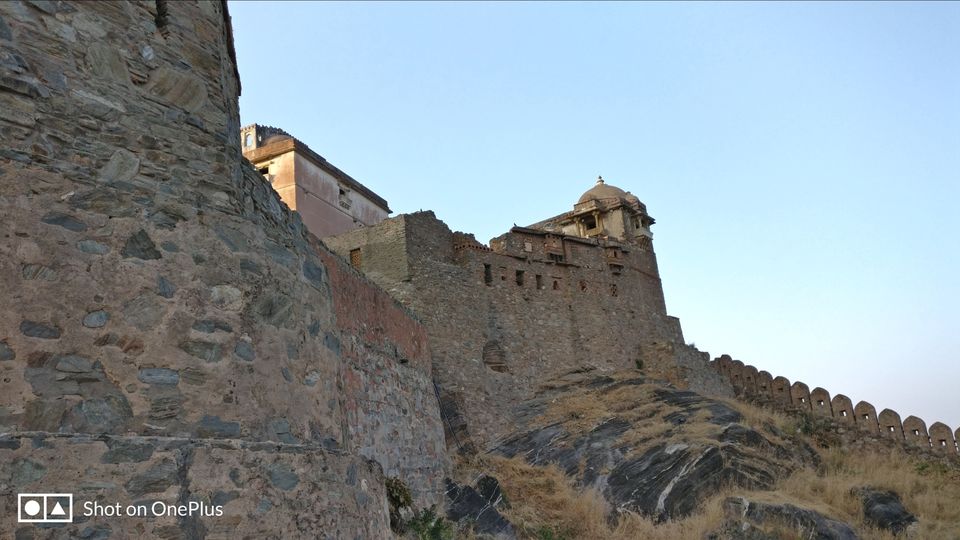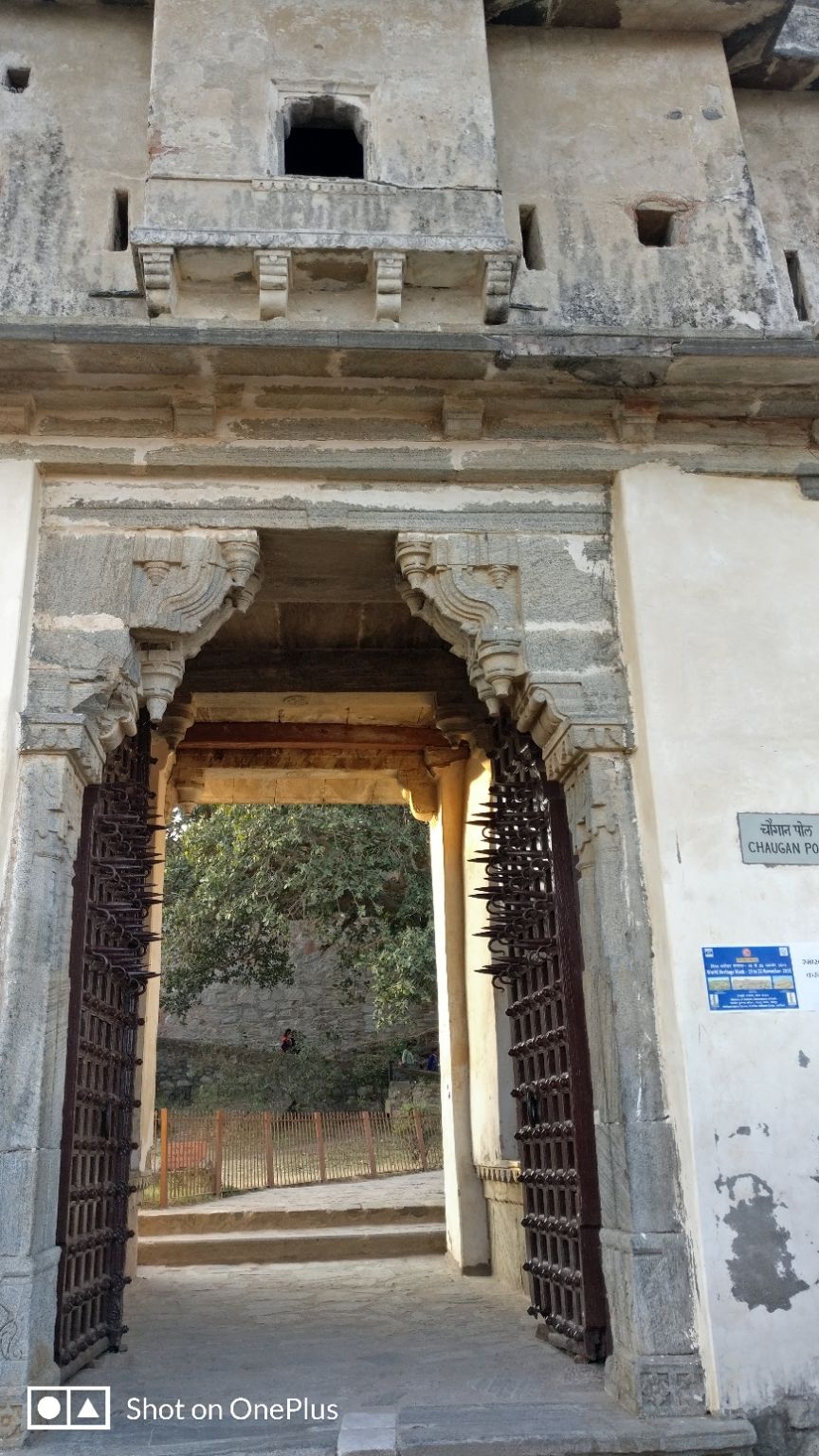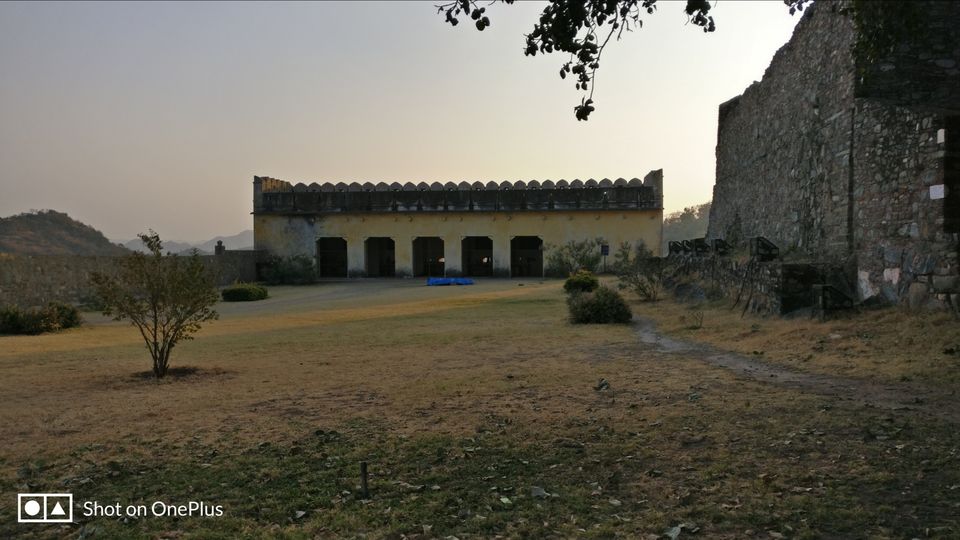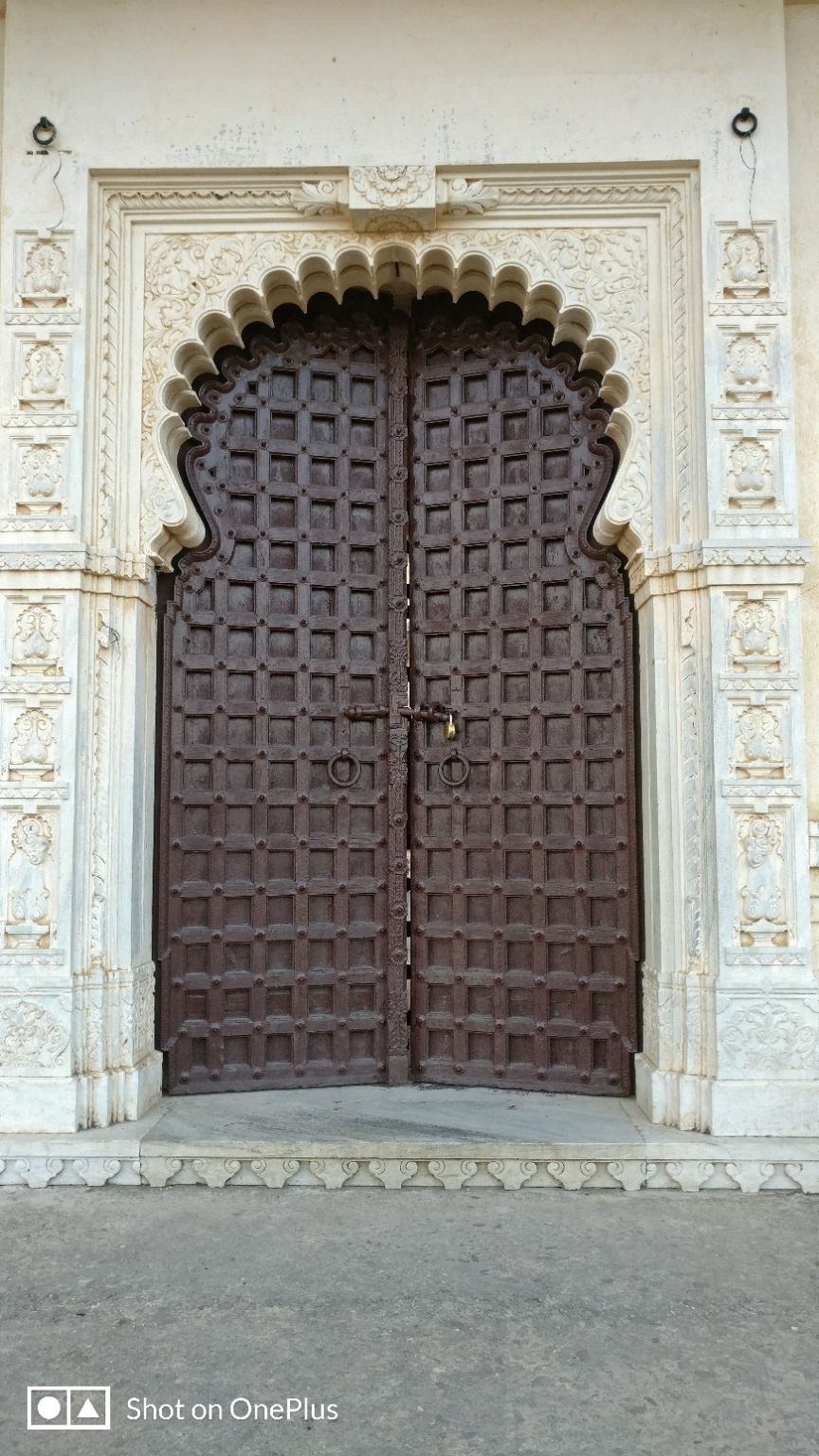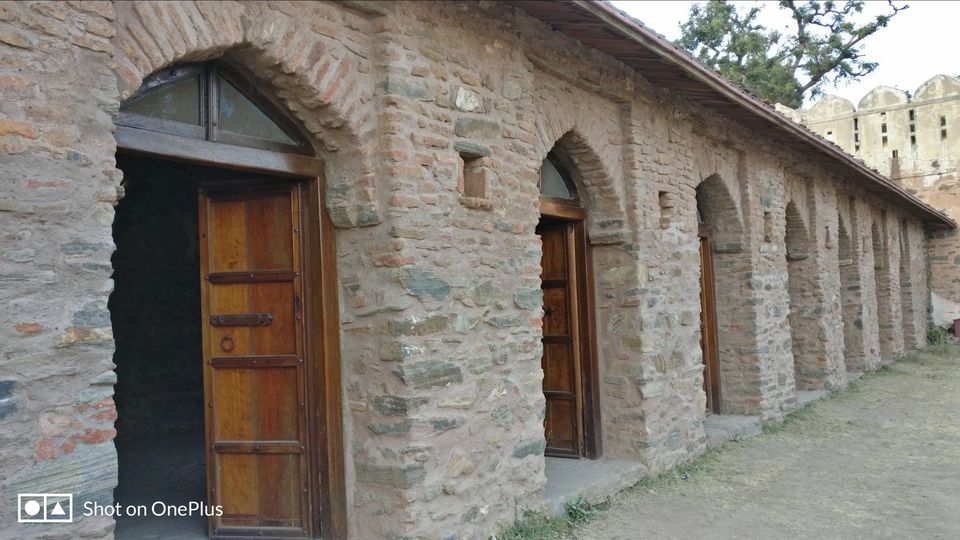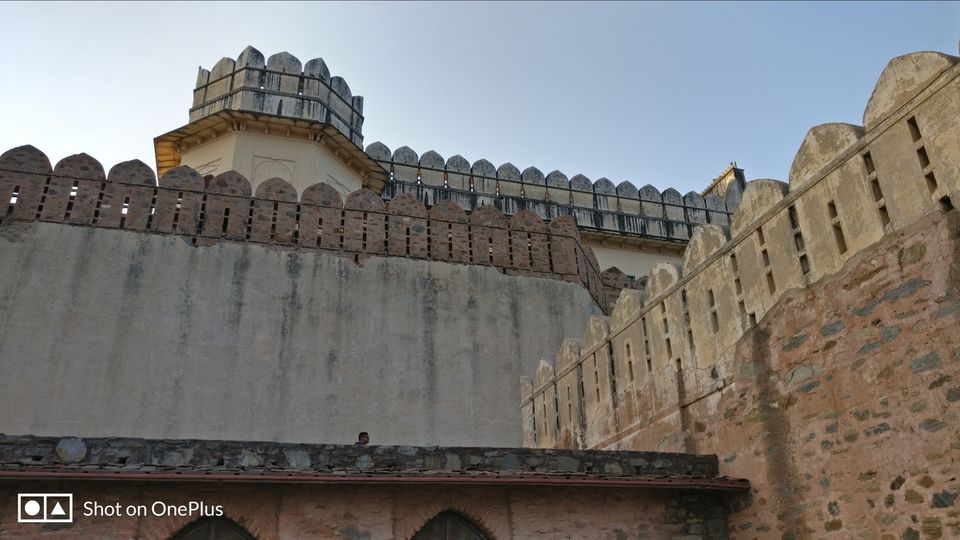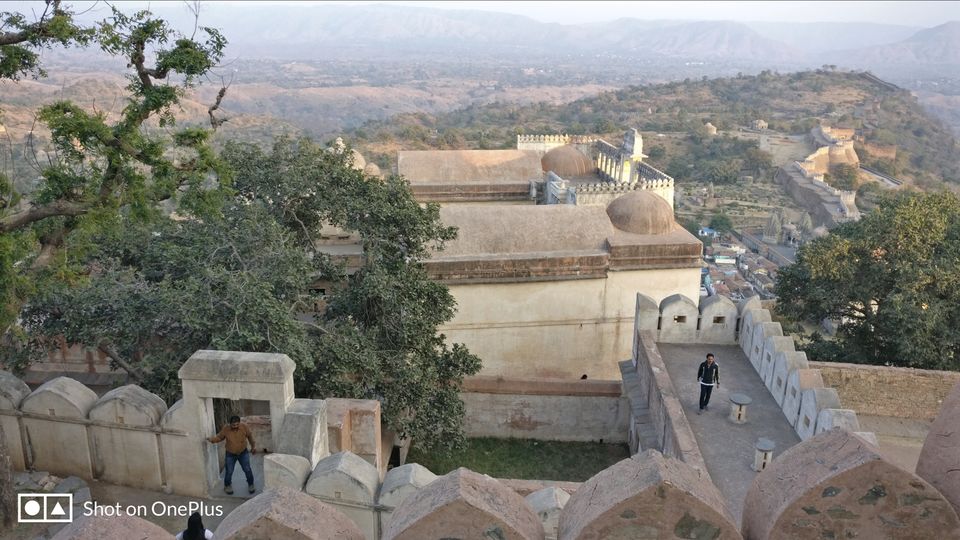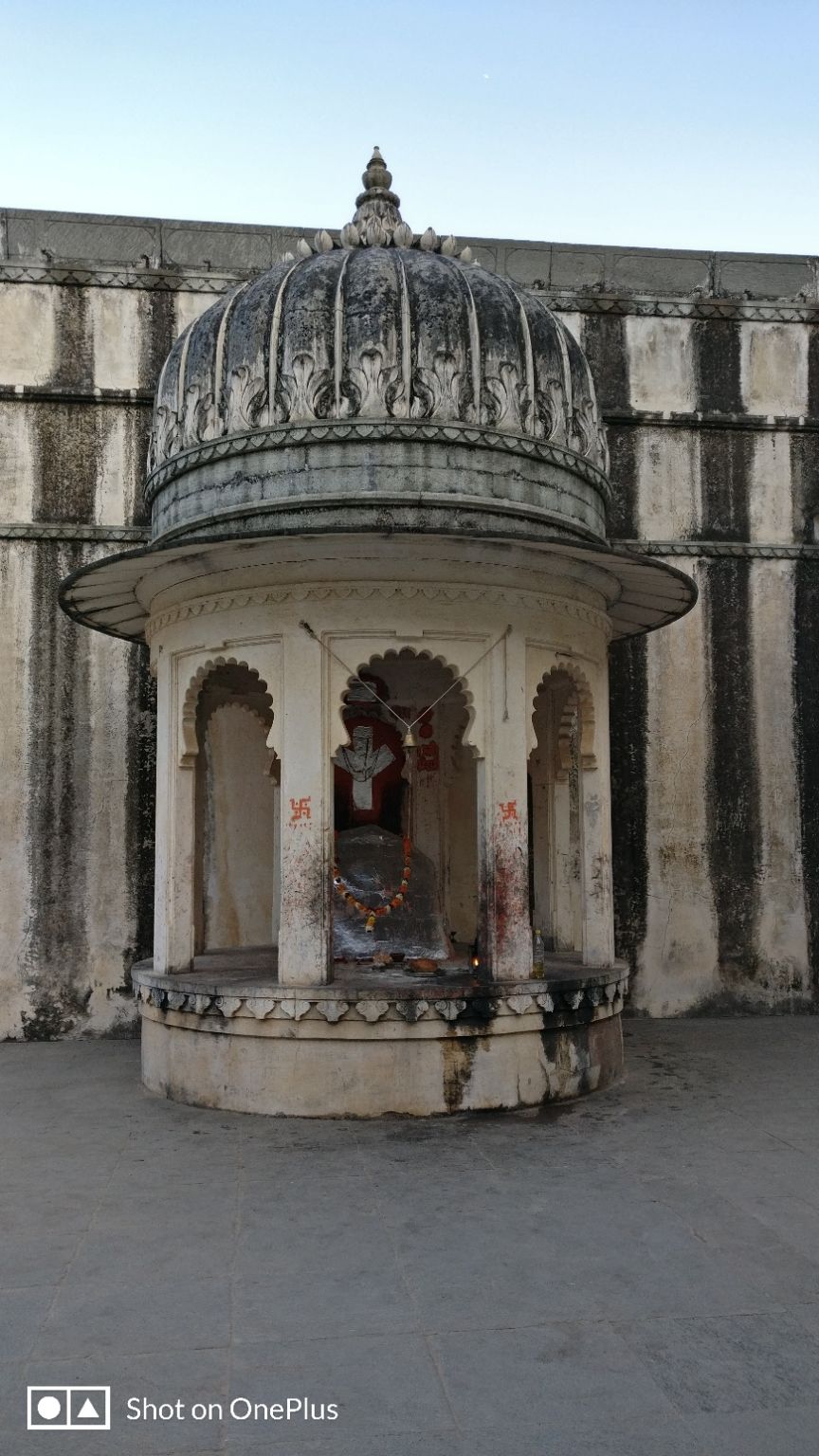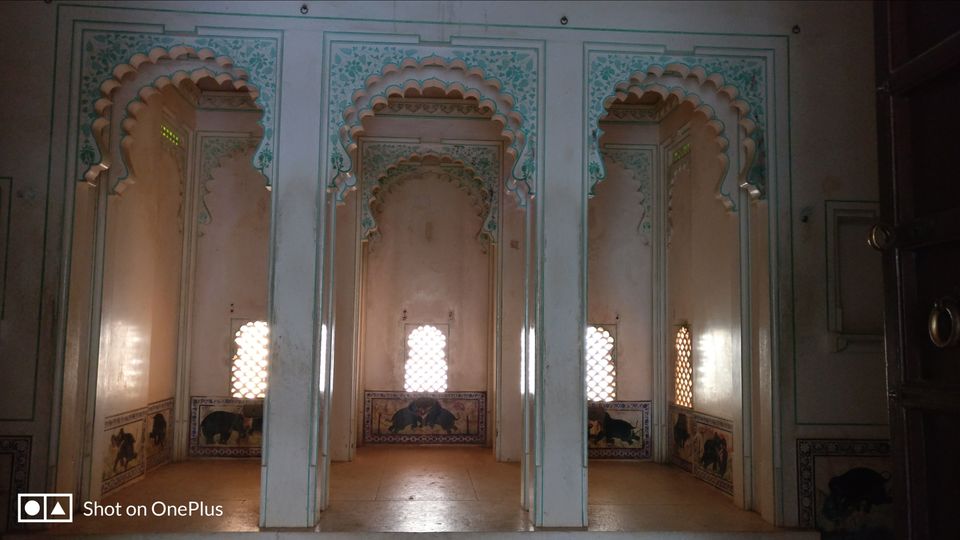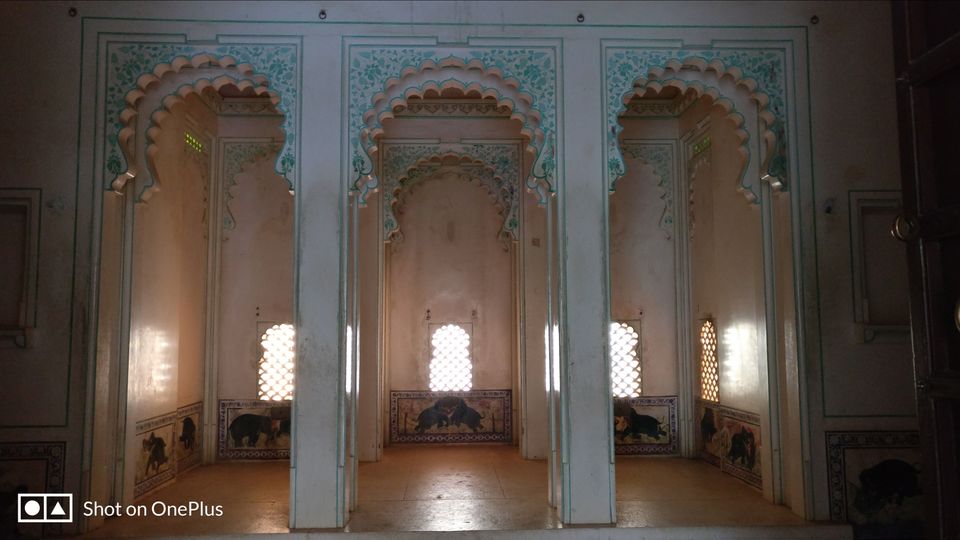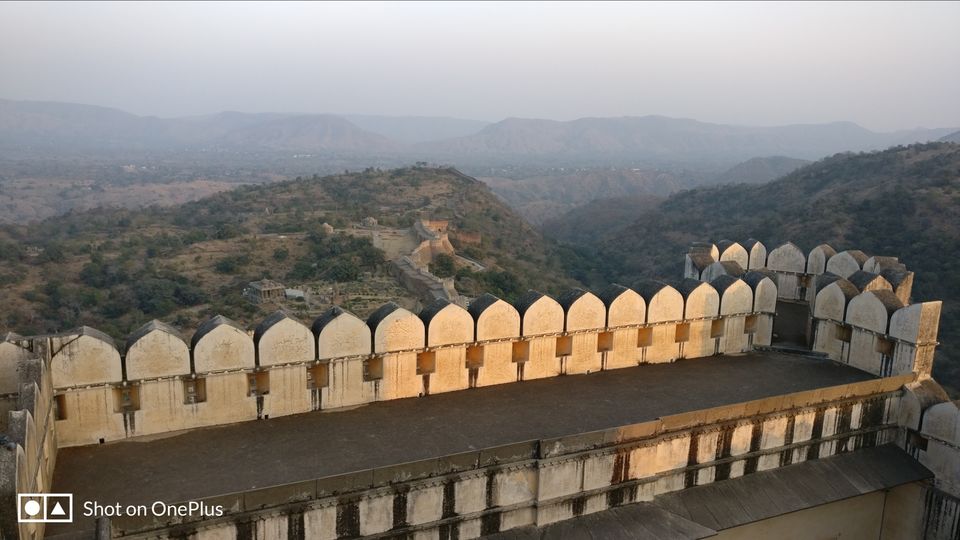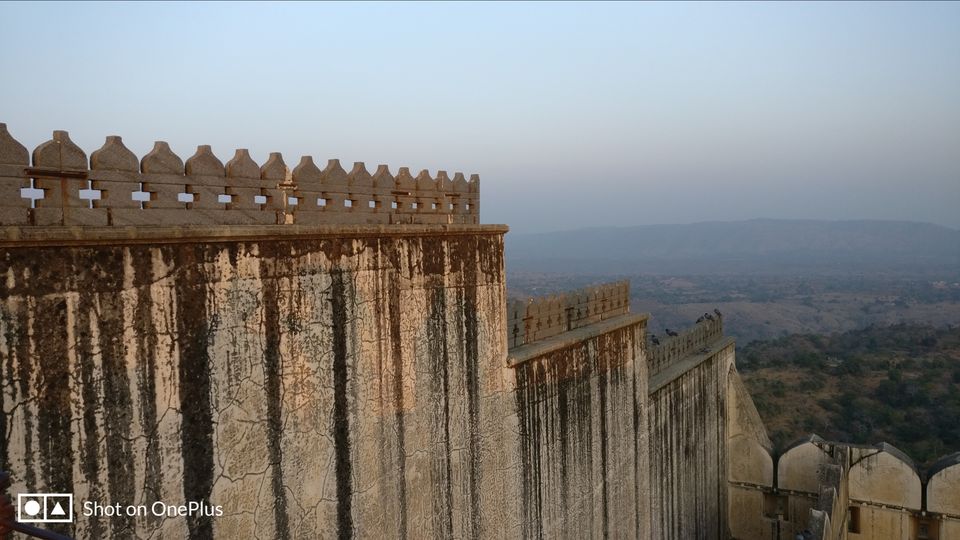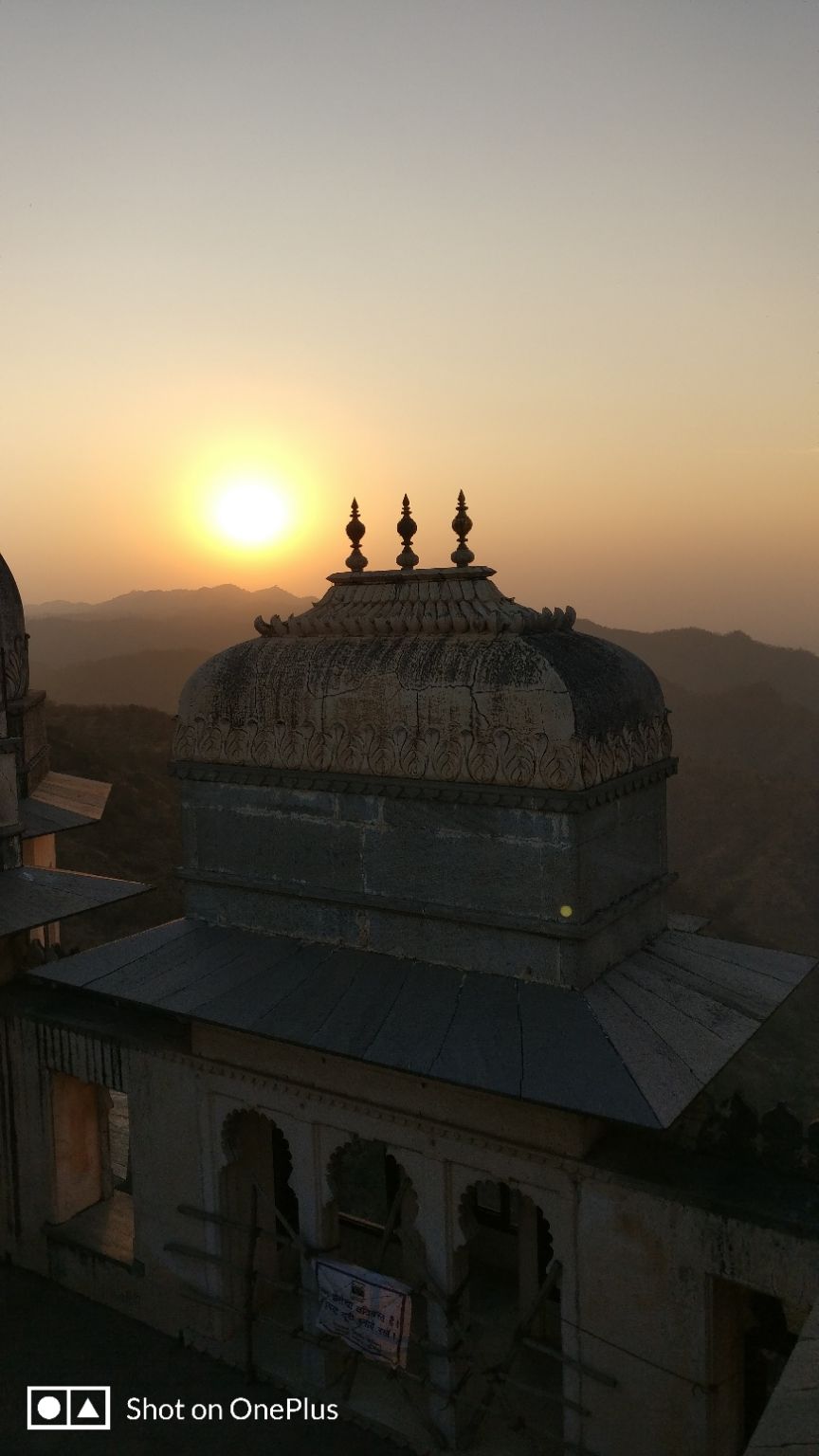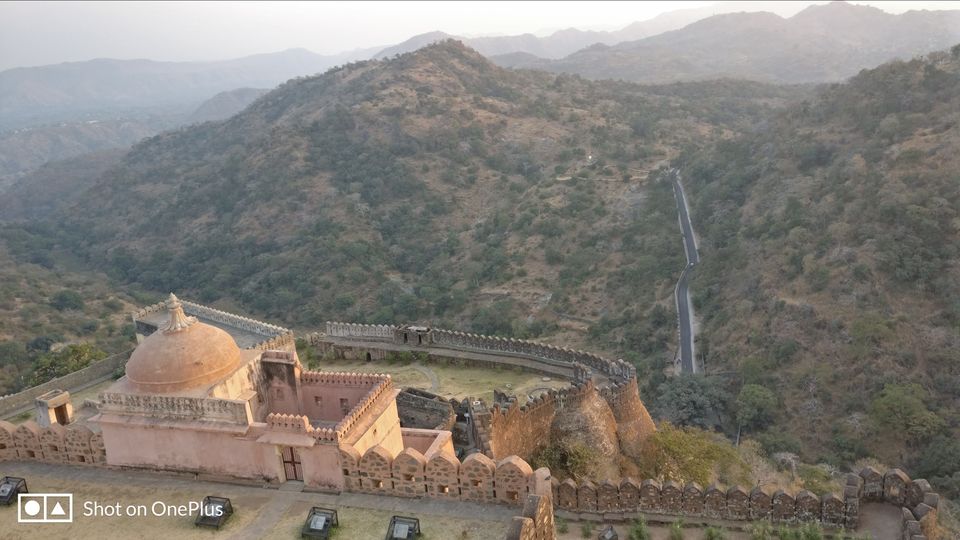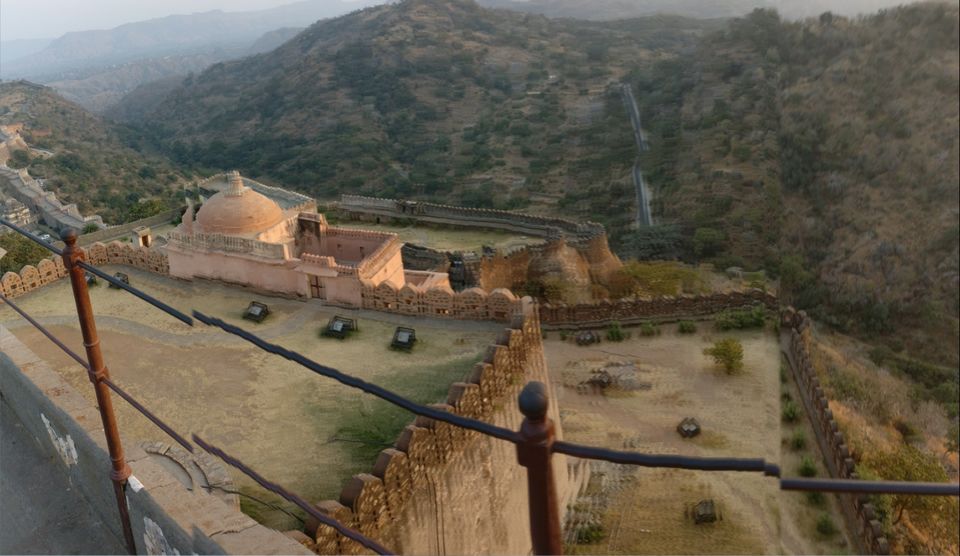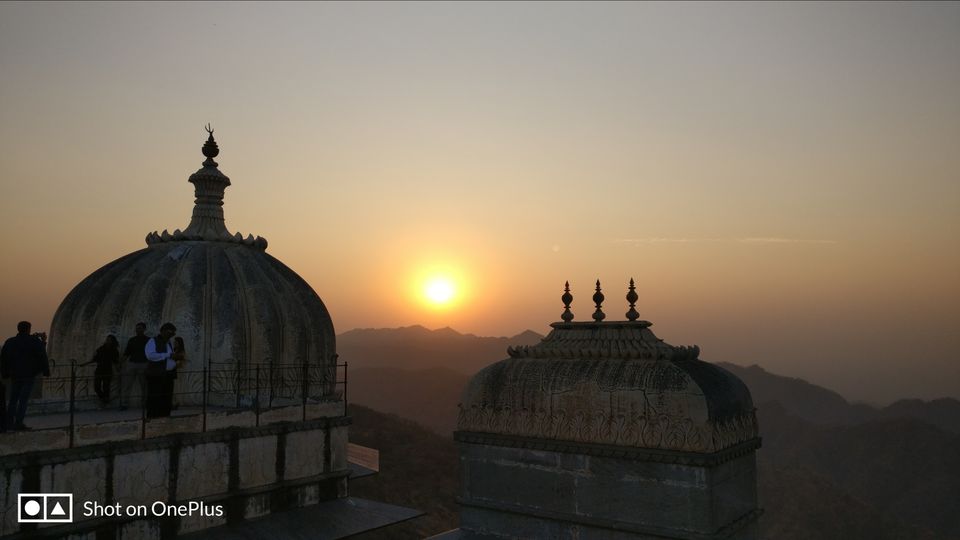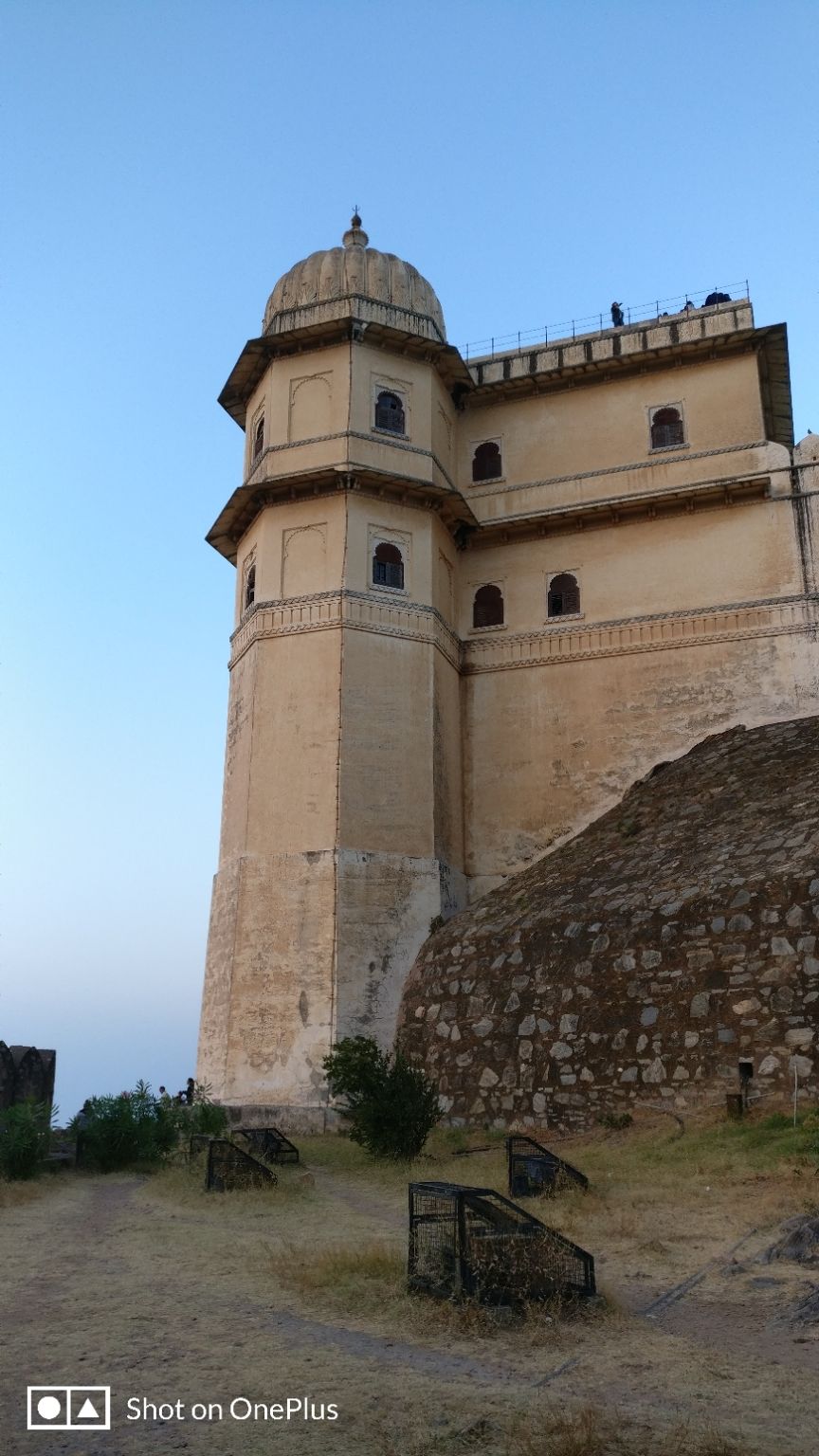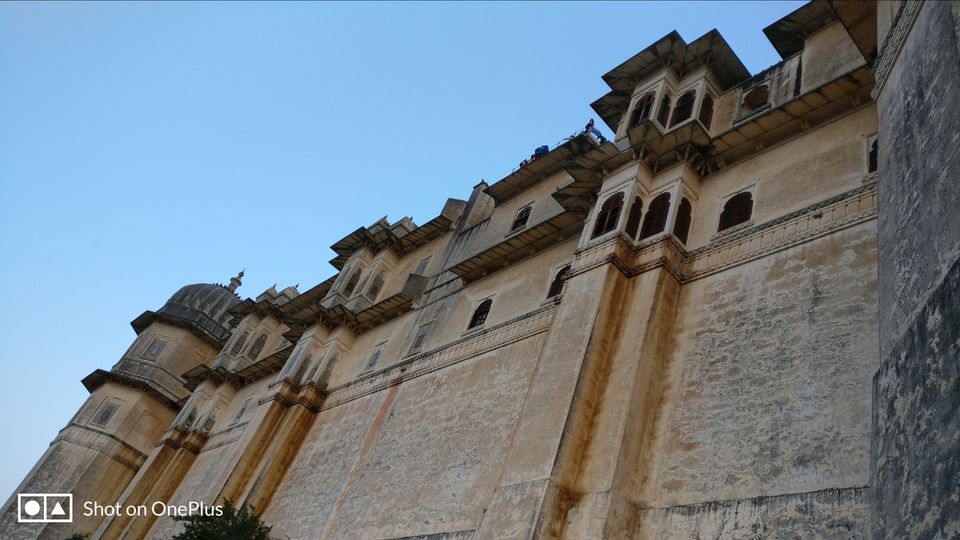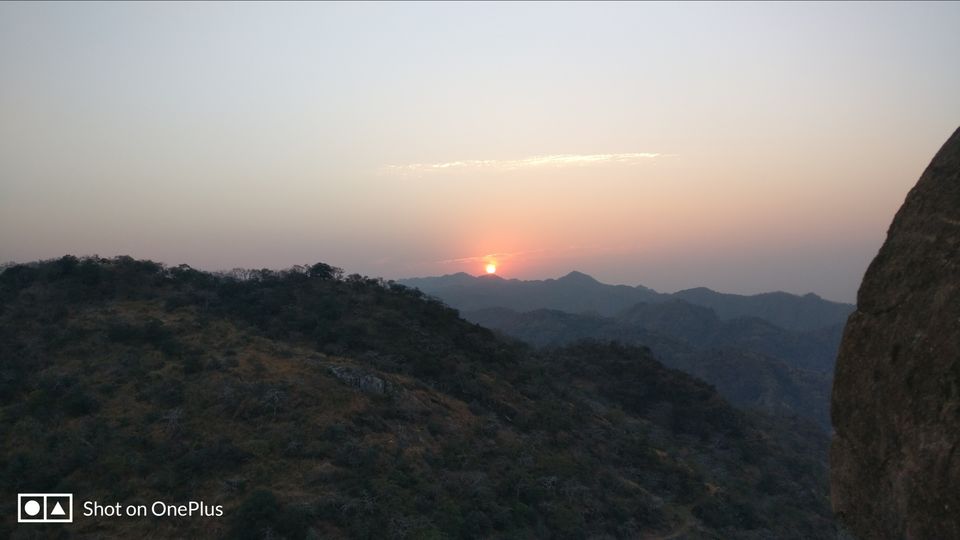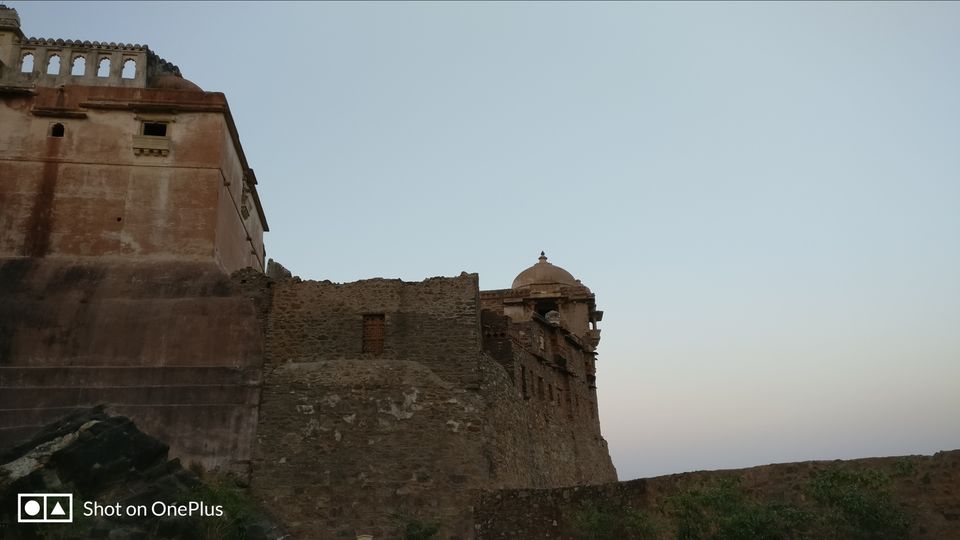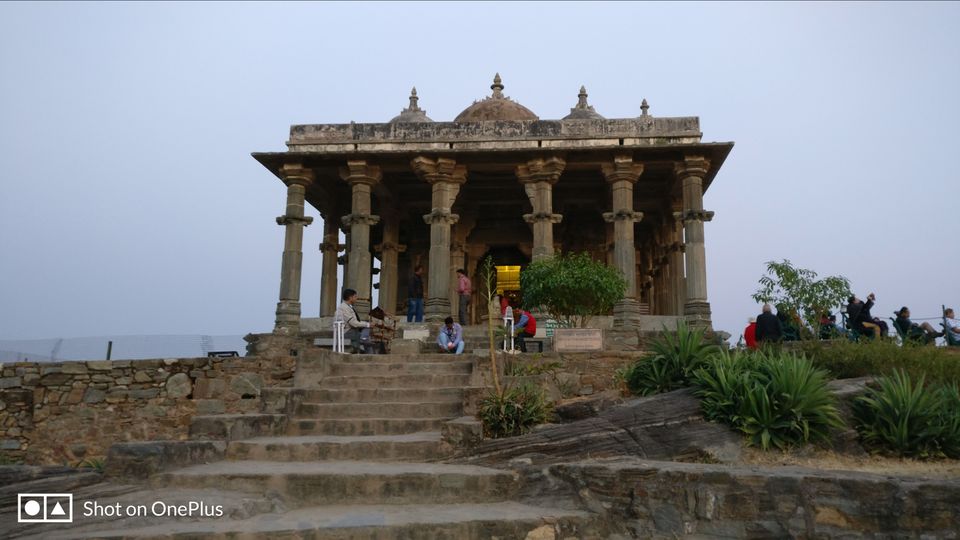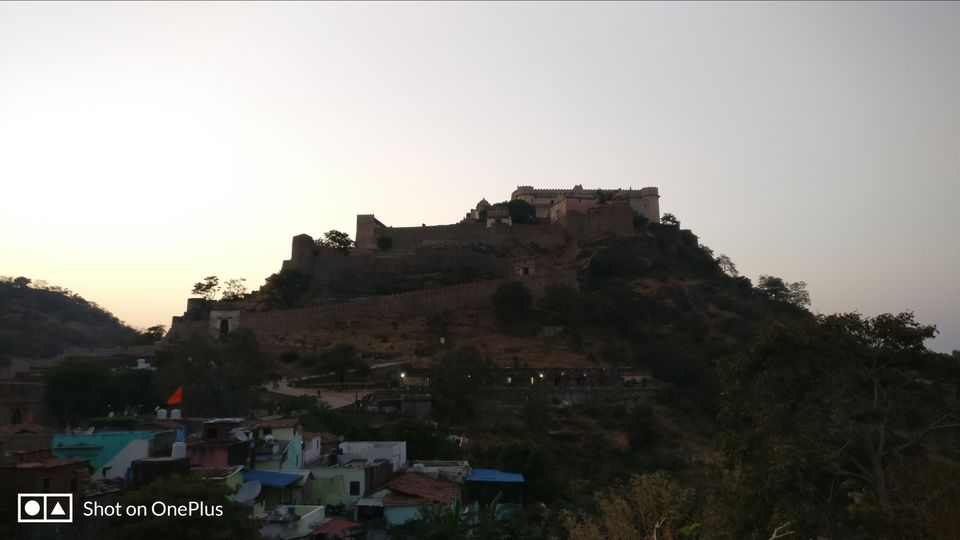 Light and Sound Show: It is always better to know the place you are visiting and what is best than knowing its history in a form of story and that too with the sound and light effects. Kumbhalgarh will offer you this for 45 mins. After the show the Fort is lite, and the moment you see the fort full with lights you will fall in love with it. It is actually treat to the eyes.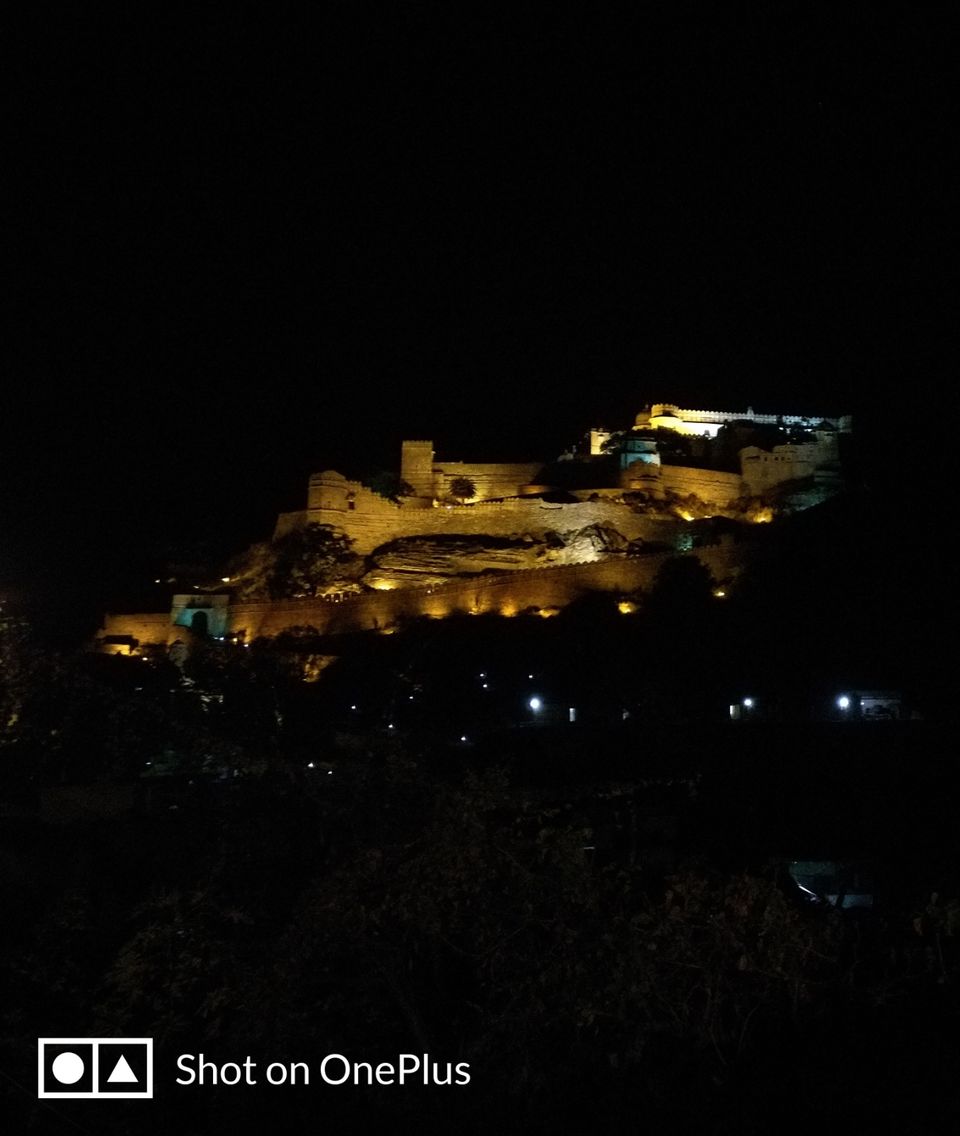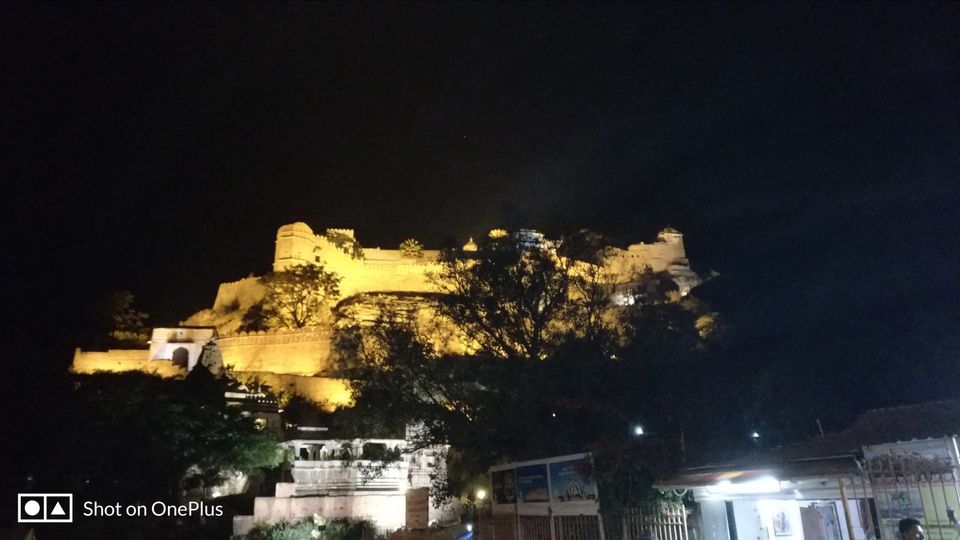 We travelled from Kumbhalgarh to Chittorgarh which is approximately 160Km and takes around 4 hours to reach.
Entry Fee: 20 INR
Guide Fee: 500 INR
Timings:
9:30 Am to 5:00 PM
Chittorgarh is the renowned and largest Fort in Rajasthan and India as a whole. As this Fort is associated with the heart-wrenching legend Queen Padmini, this fort has got a soft-corner in the hearts of every Indian. The Fort is now UNESCO world heritage site. This fort was built by Chitrangada Mori hence the name Chittor
Chittorgarh has 7 gates and is strategically positioned where the sound at one gate gets channelized to the upper regions of the fort which acts as a precaution against invasion. It is believed that the Fort area had 84 water bodies during those days, which was sufficient for the entire population living in there.
The major attractions in this premise are Kumbha Palace, Vijay Stambh, Kirti Stambh, Padmini Palace, Gaumukh and Meera temple. The architecture of each of these structures is eye-catching.
Kumbha Palace: This is the most colossal structure in the Fort and now in the ruined condition is named after the great Sisodia's. This is assumed to be the same place where Queen Padmini and other women committed Jauhar.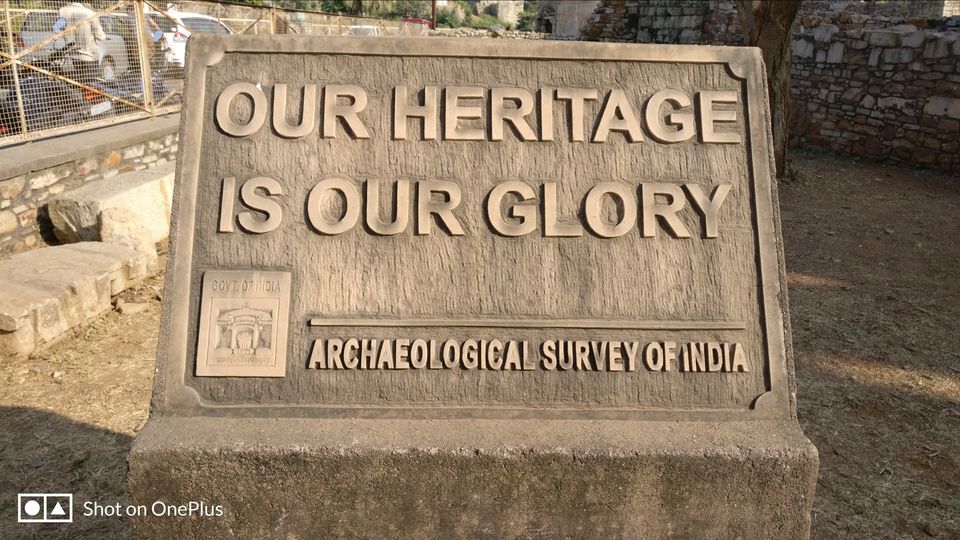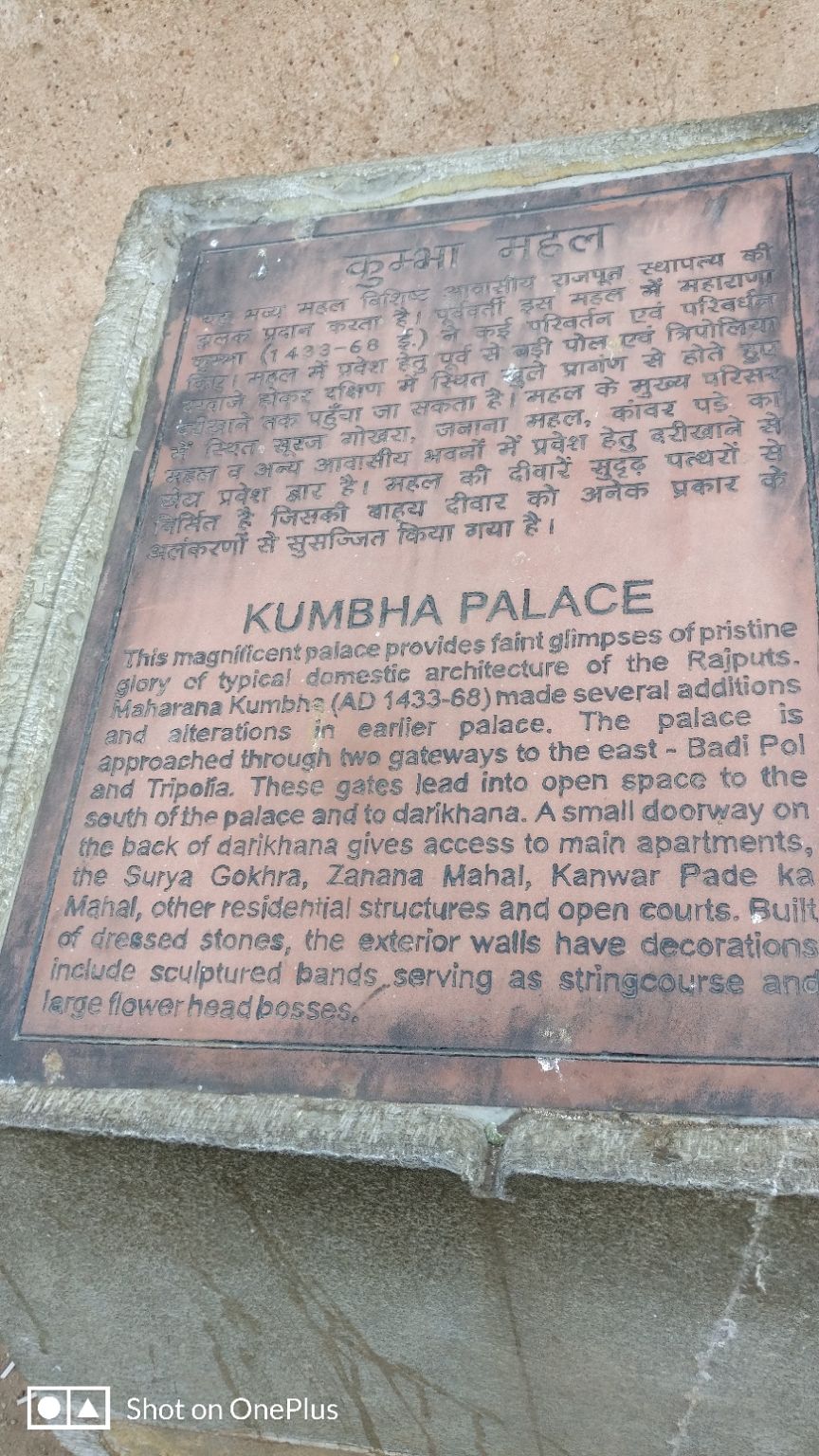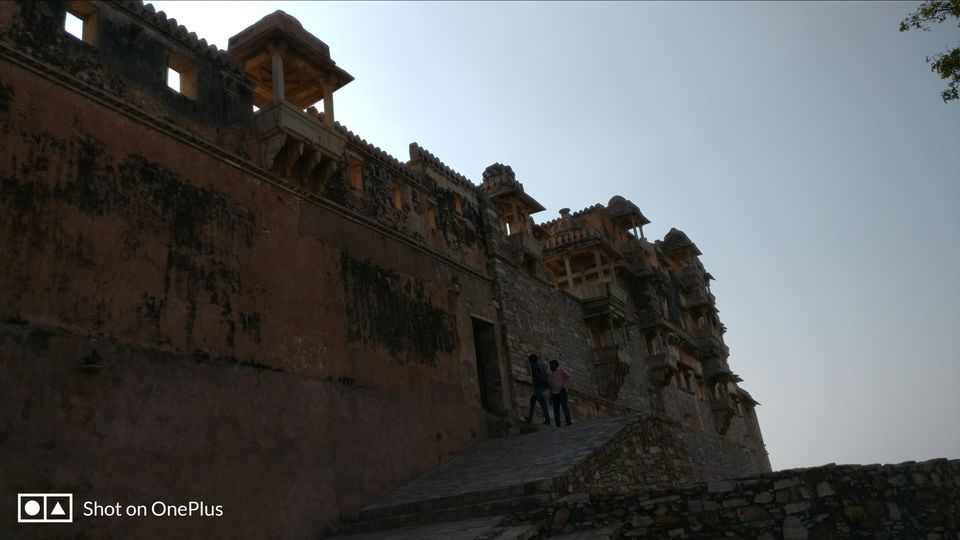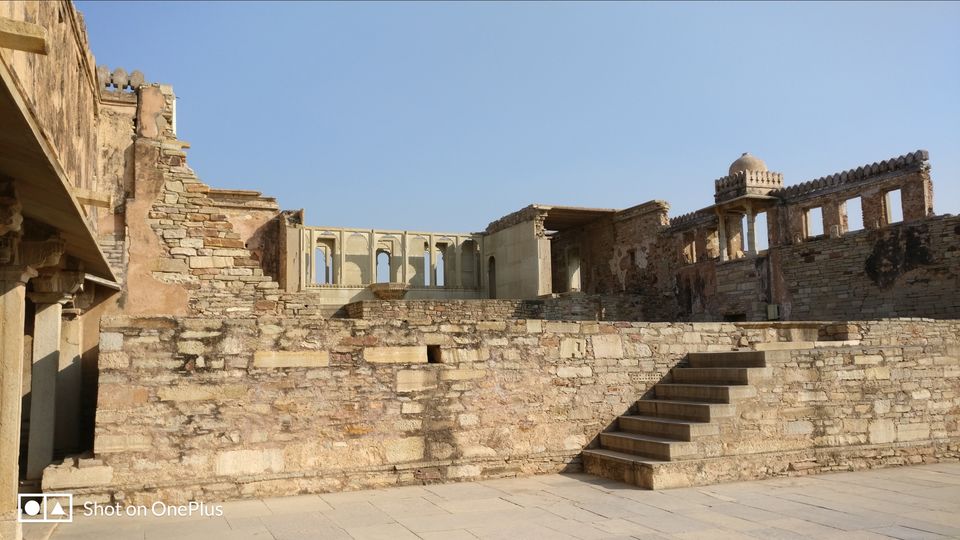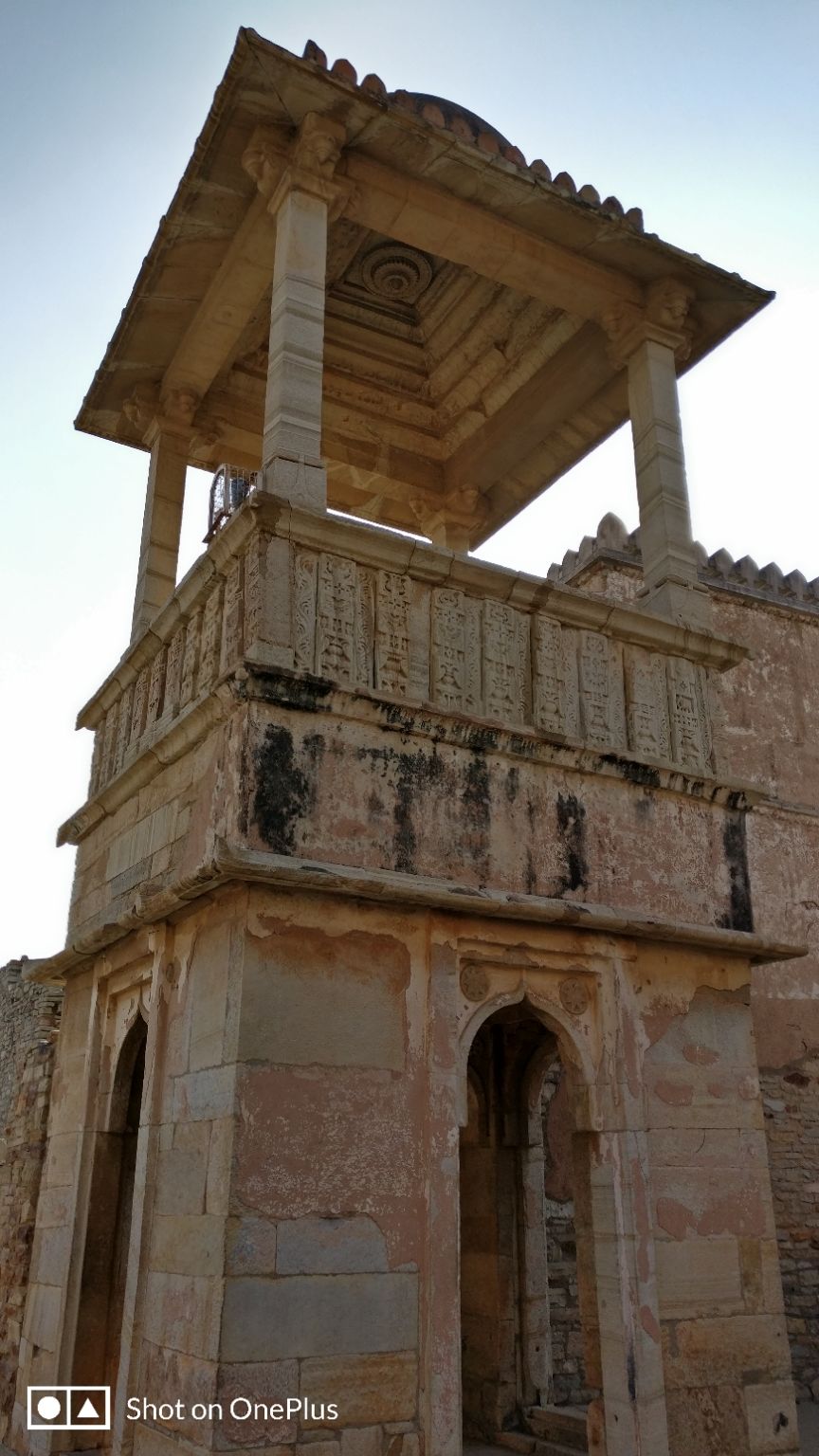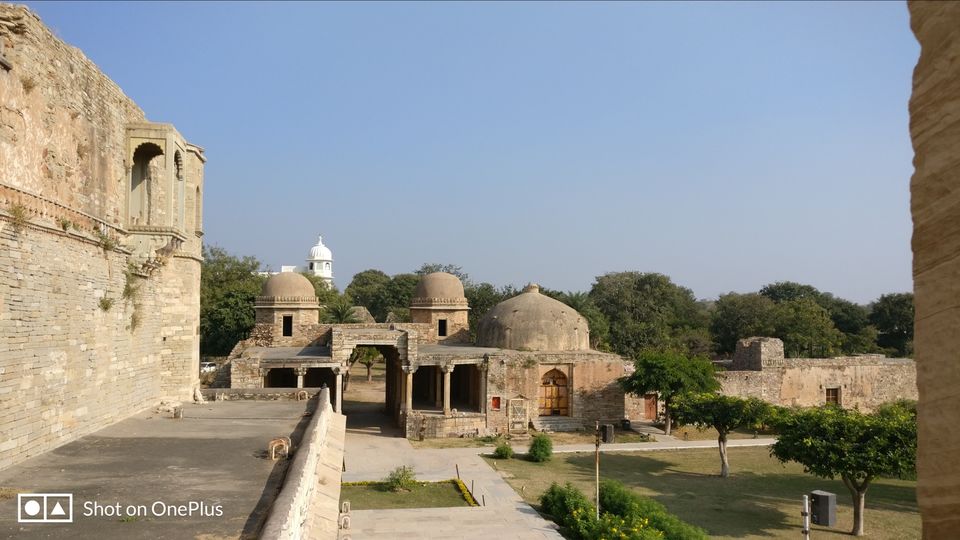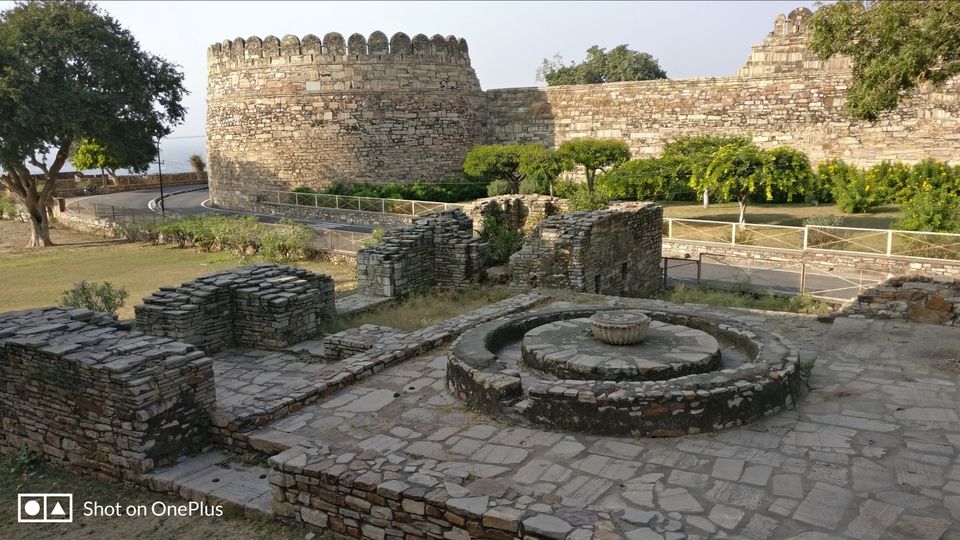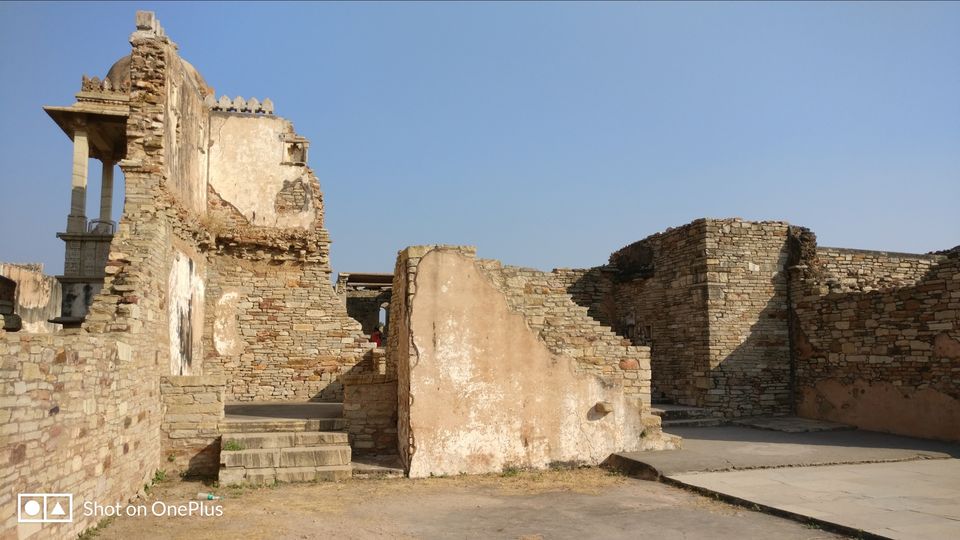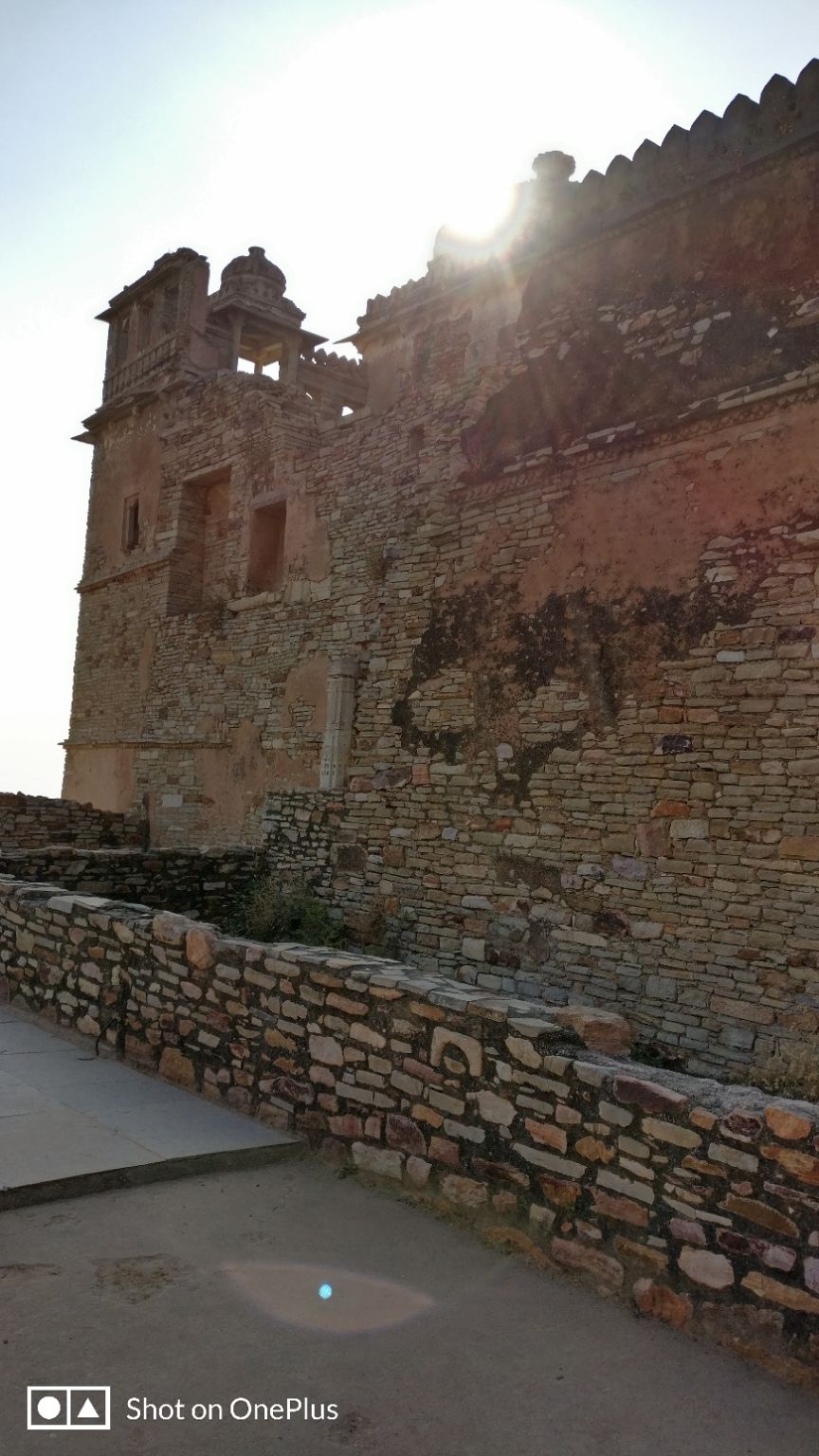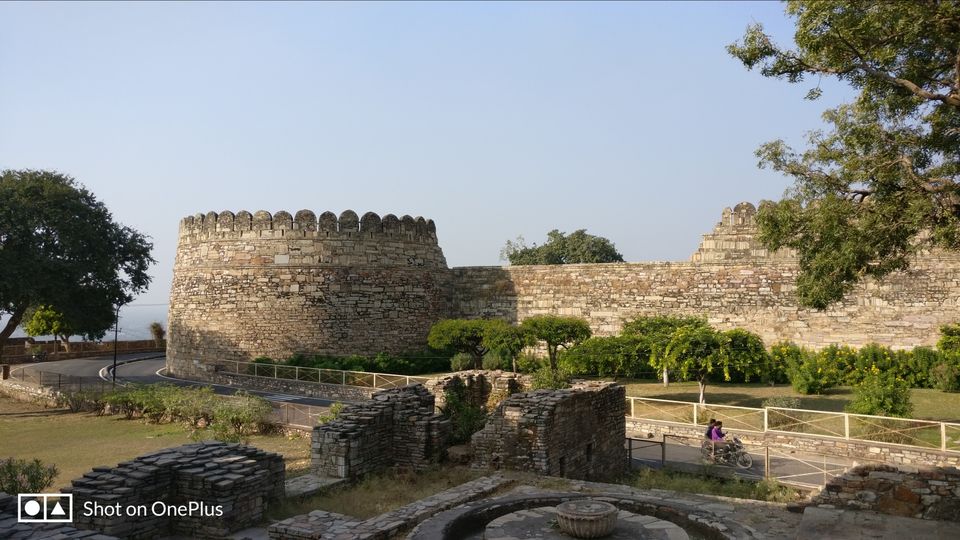 Meera Temple:
Meera temple was built by Maharana Kumbha in 14th Century dedicated to Meera bai. This temple houses Lord Vishnu Idol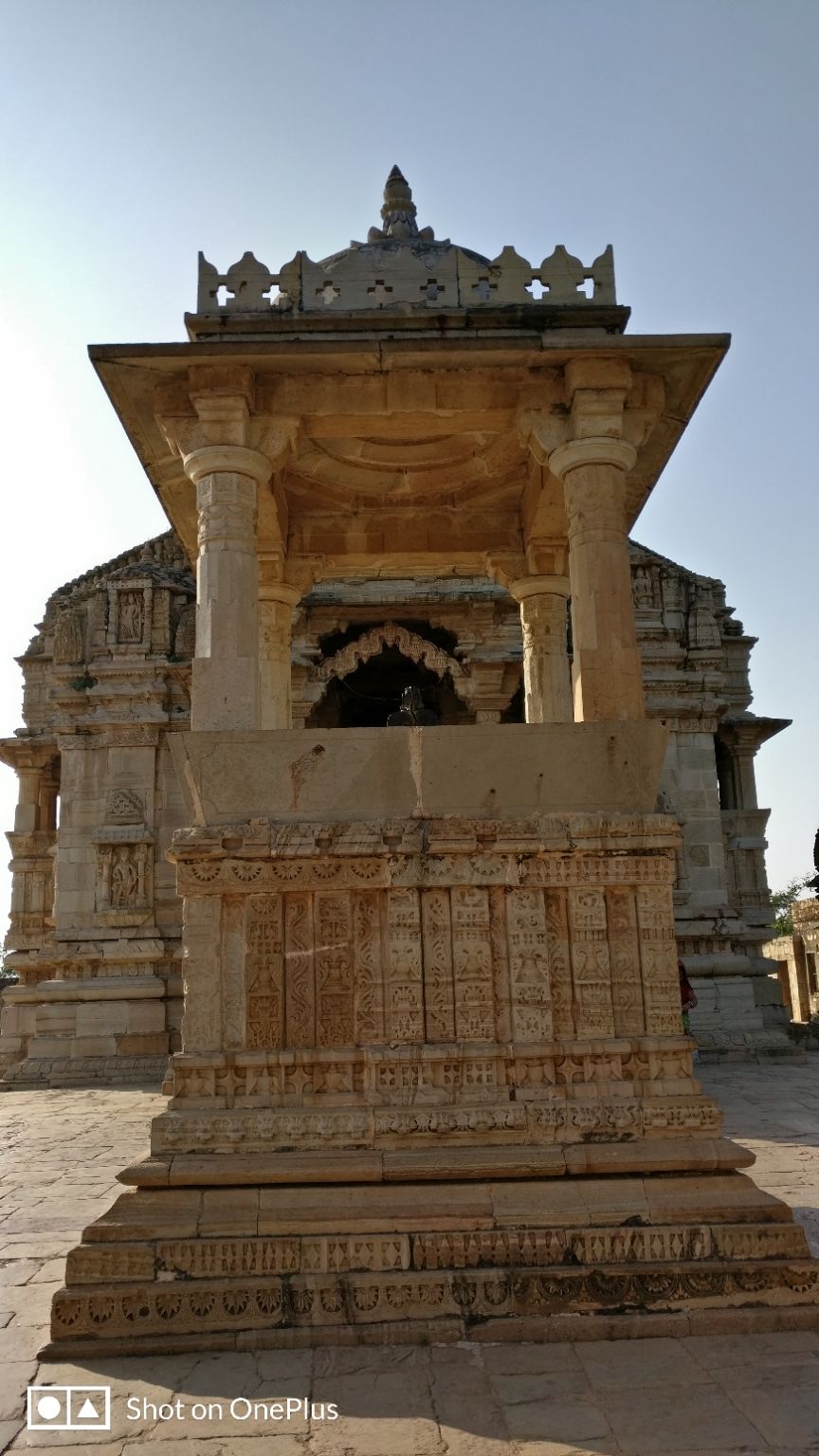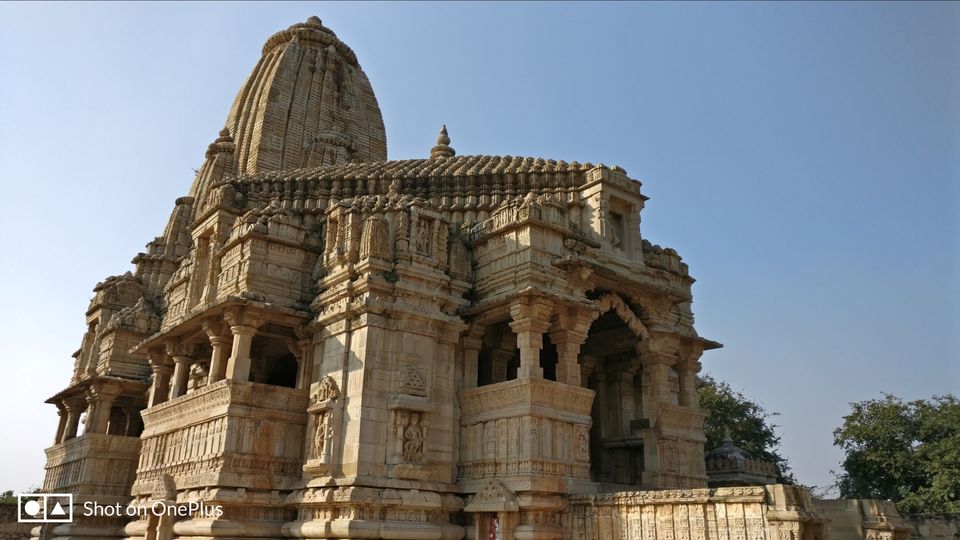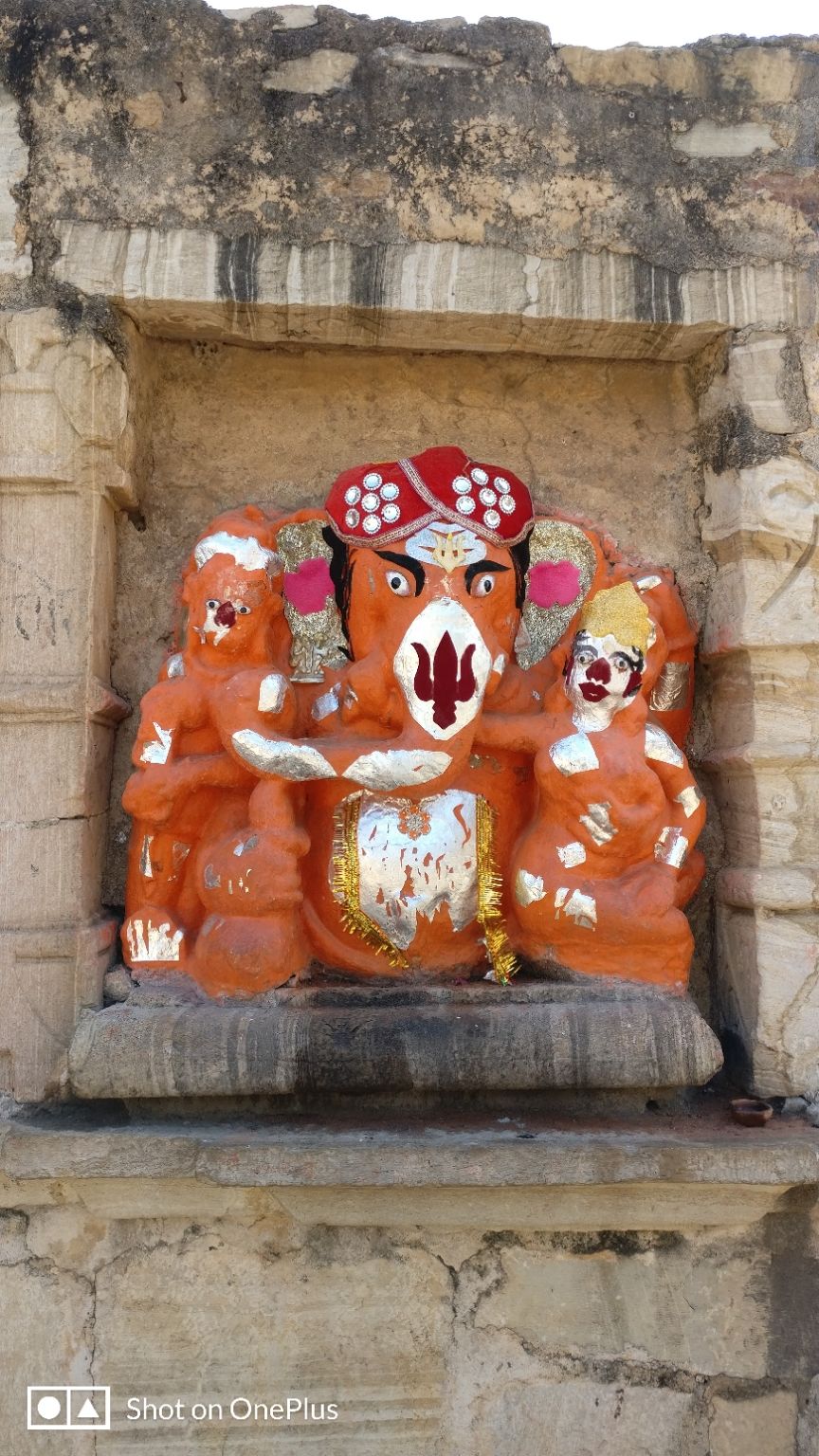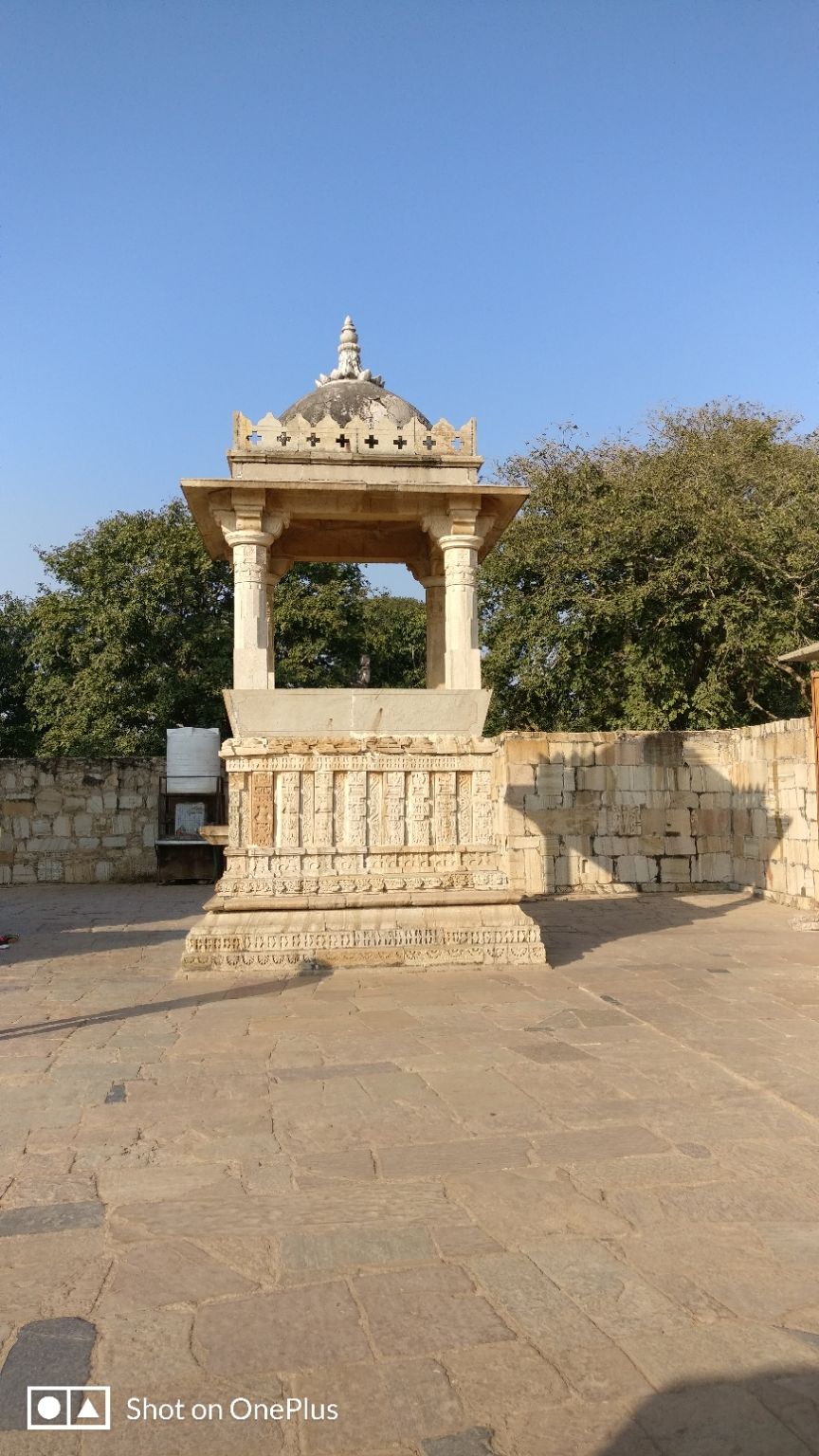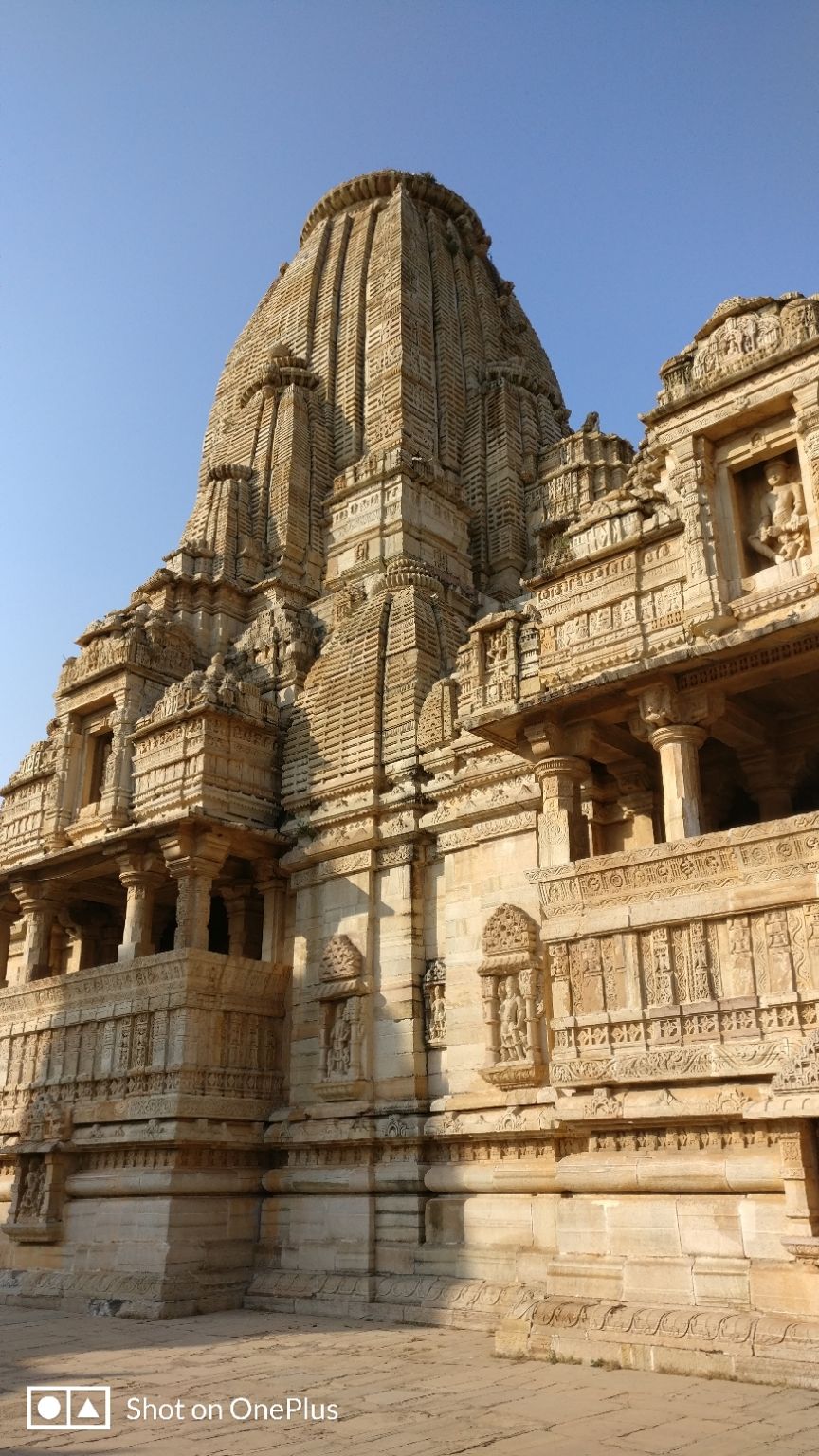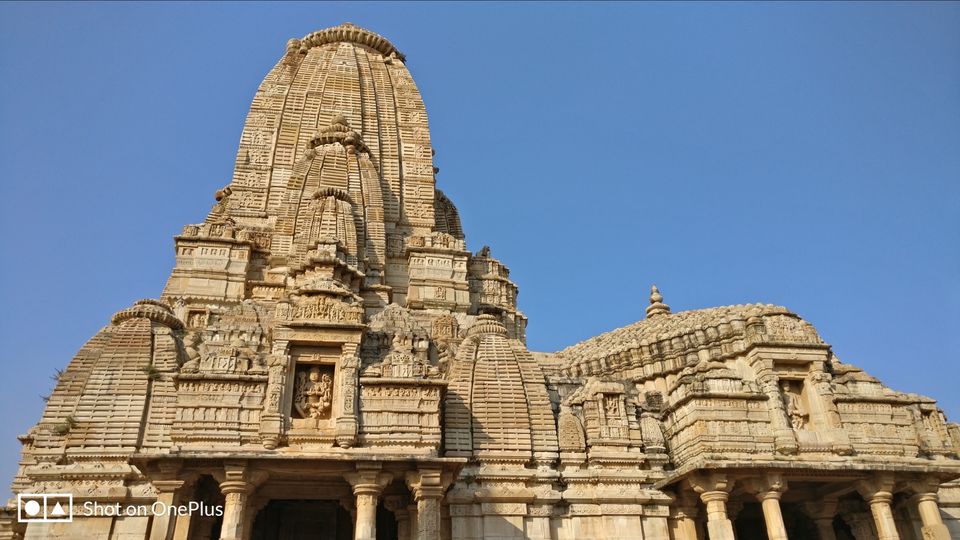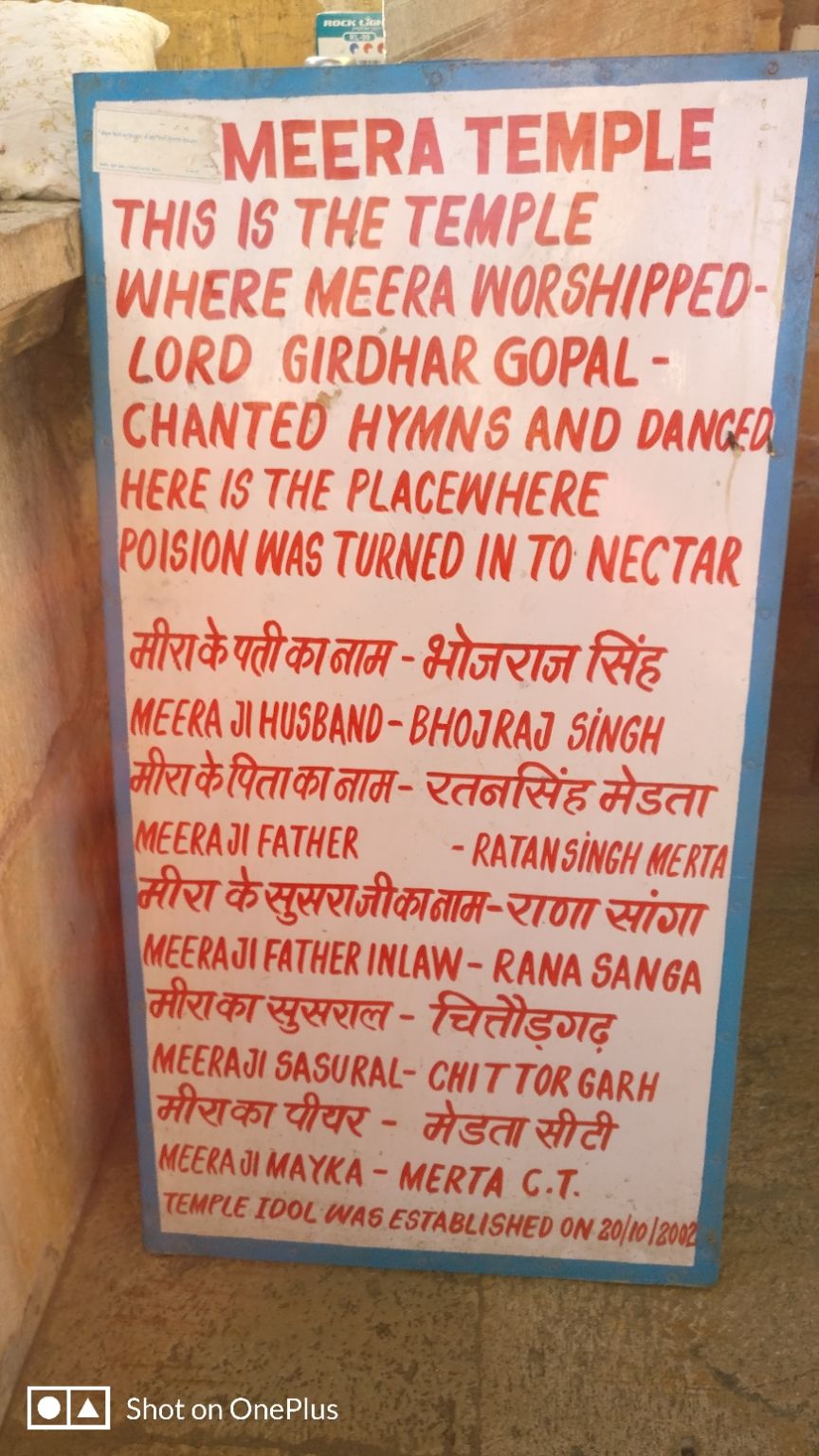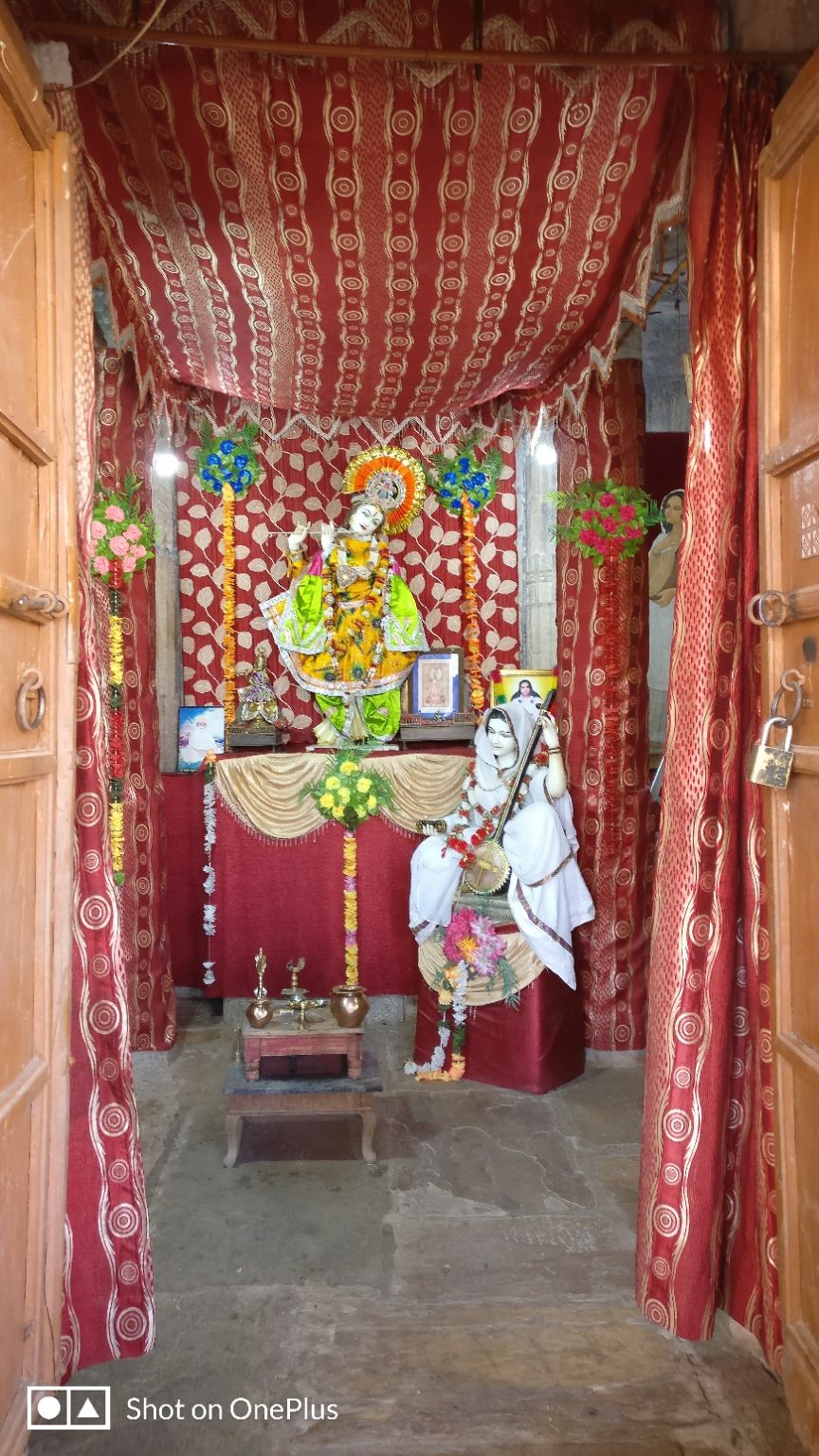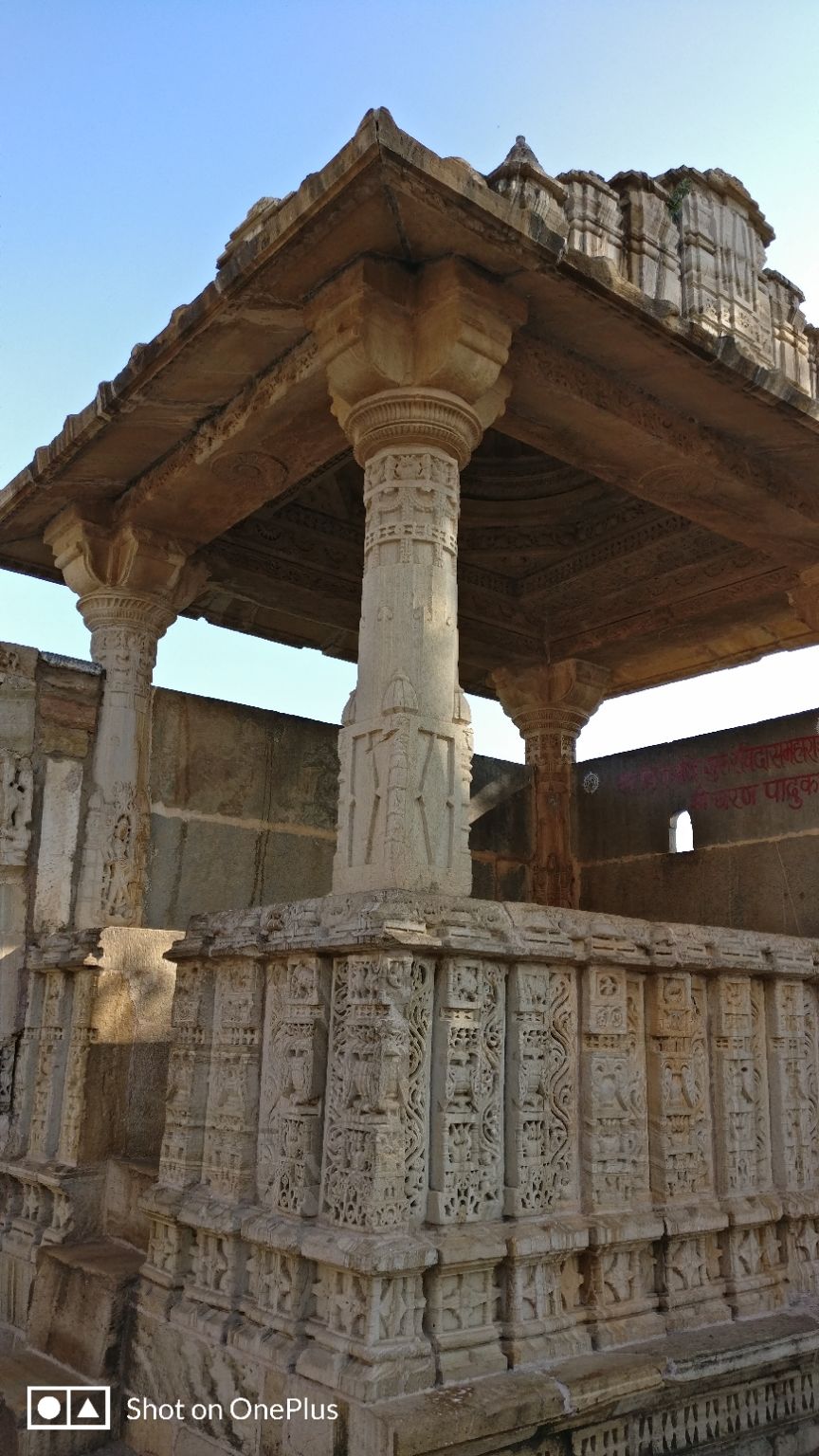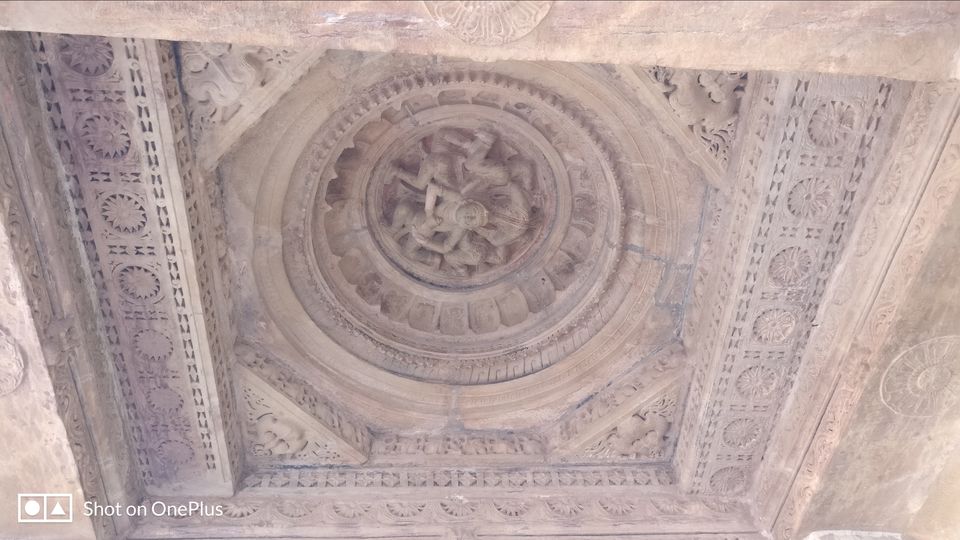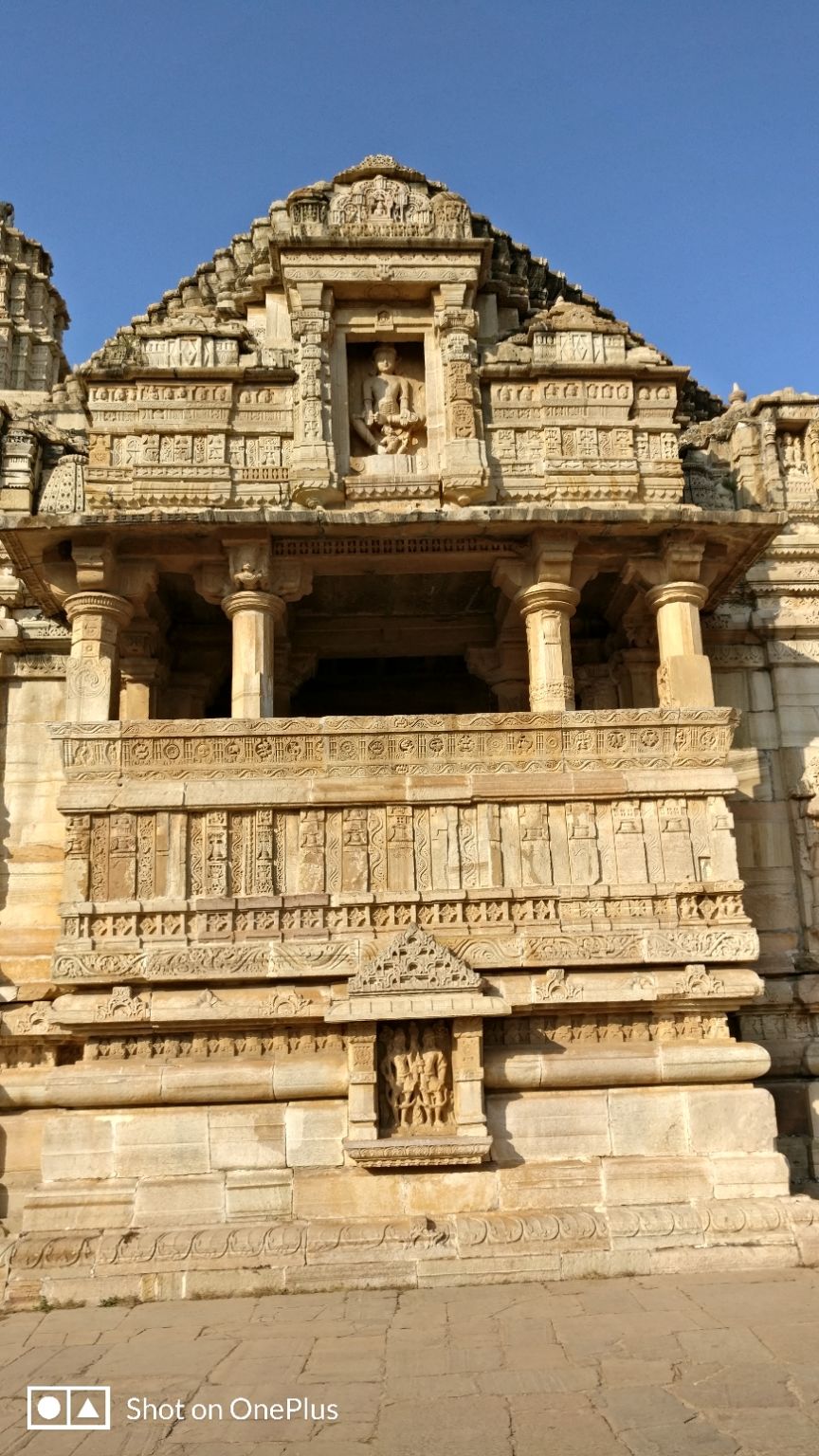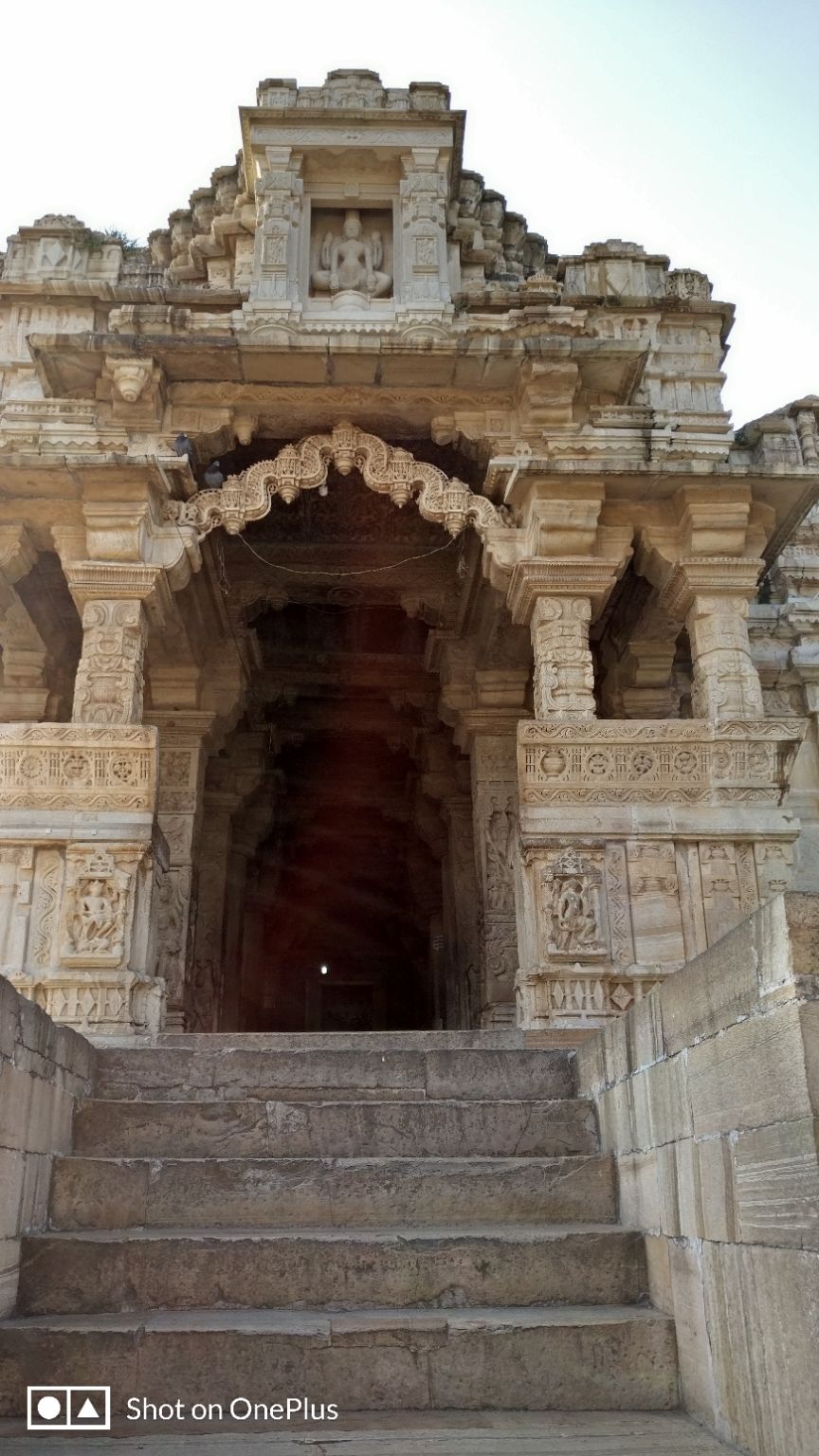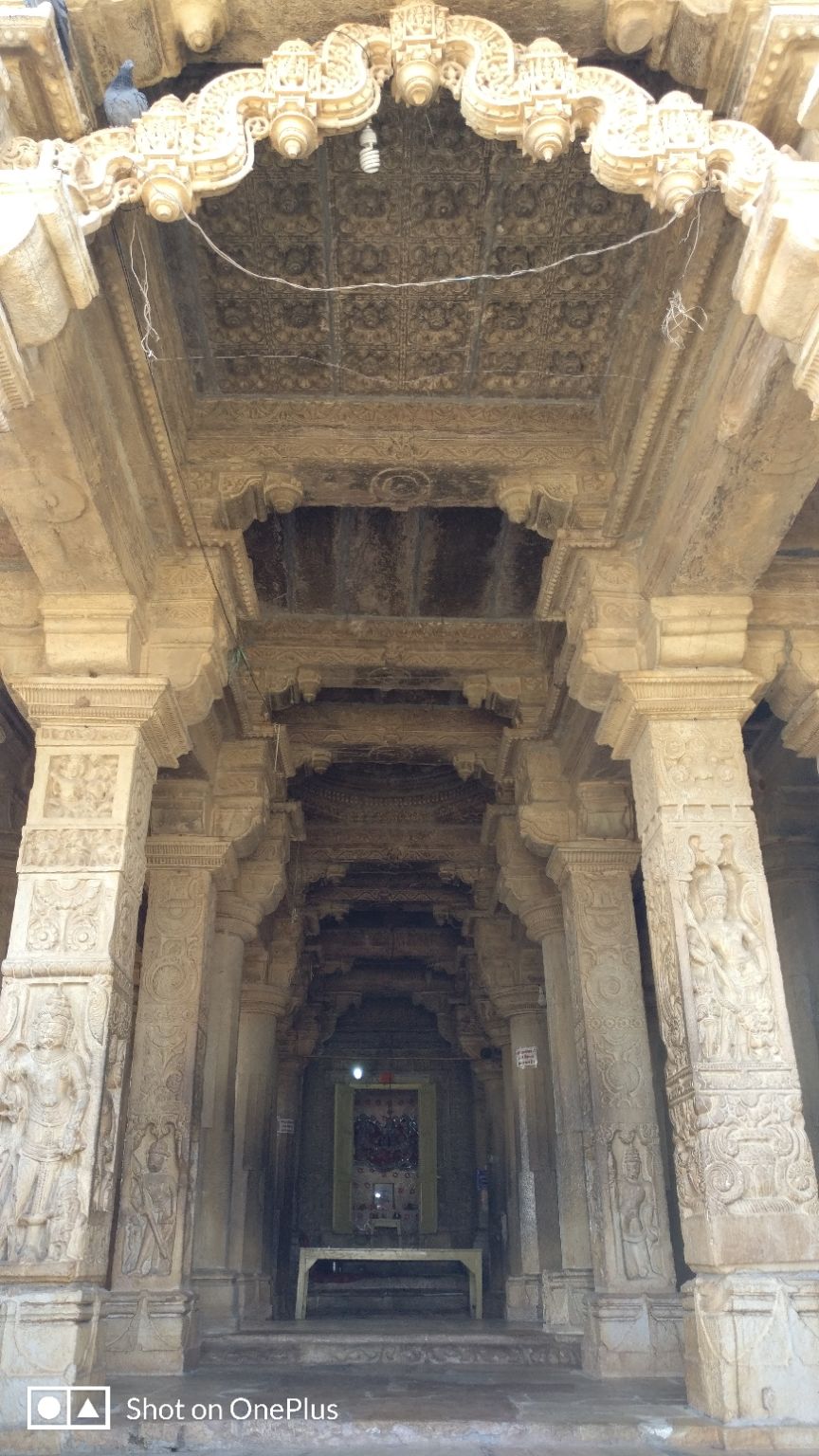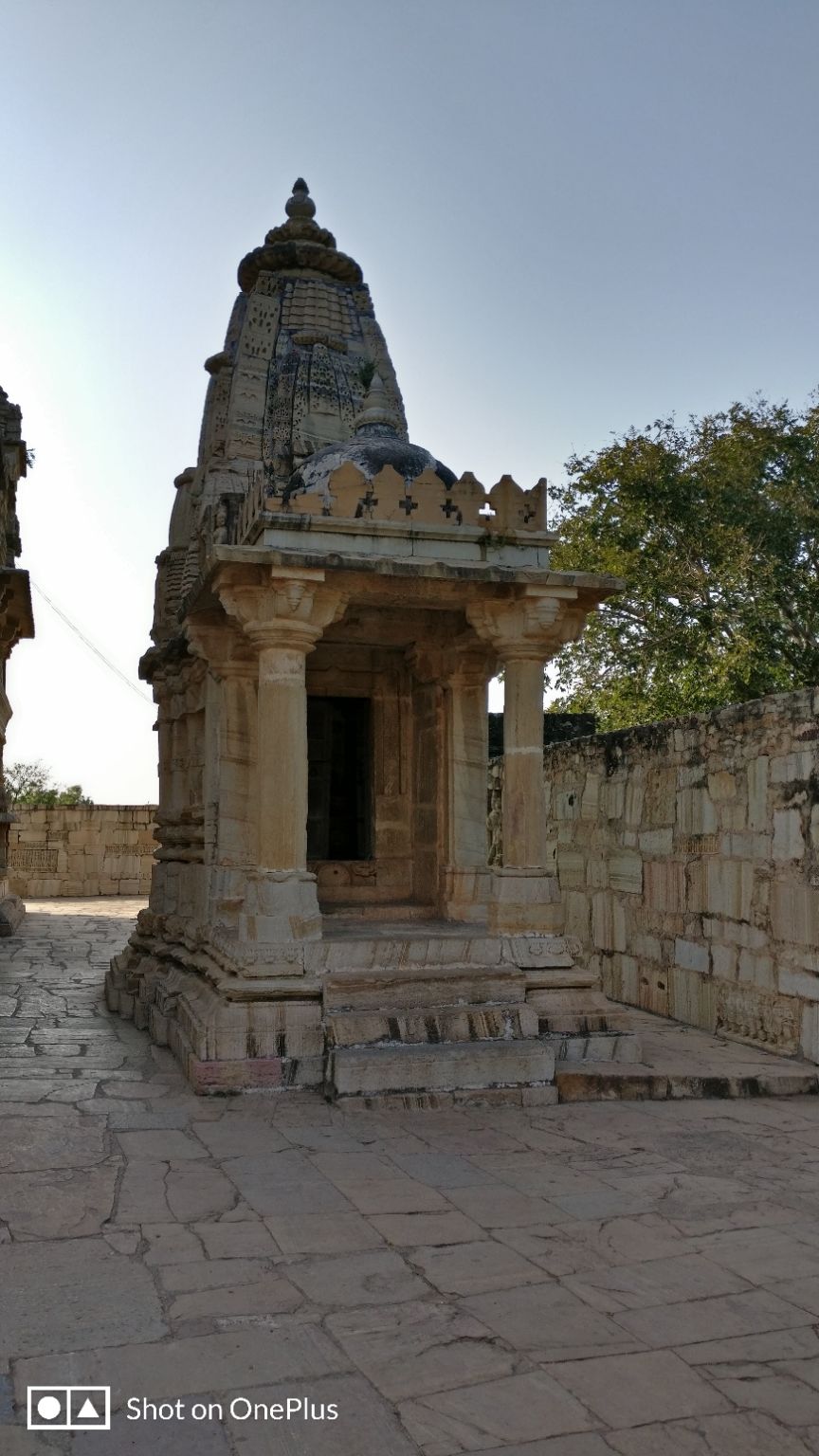 Vijay Stambh:
Also called as Tower of victory, was built by Maharana Kumbha to celebrate his triumph over Mohamed Khilji. This is a 9 story tower built back in the 14th Century. The structure has sculptures of Hindu deities. One can climb this tower up to 7th floor as the 8th-floor stairs are destroyed and the 9th floor has the image of Goddess Padmavati. There are approx. 150 steps to climb this tower. The view of the entire Fort premises is fascinating from the topmost floors.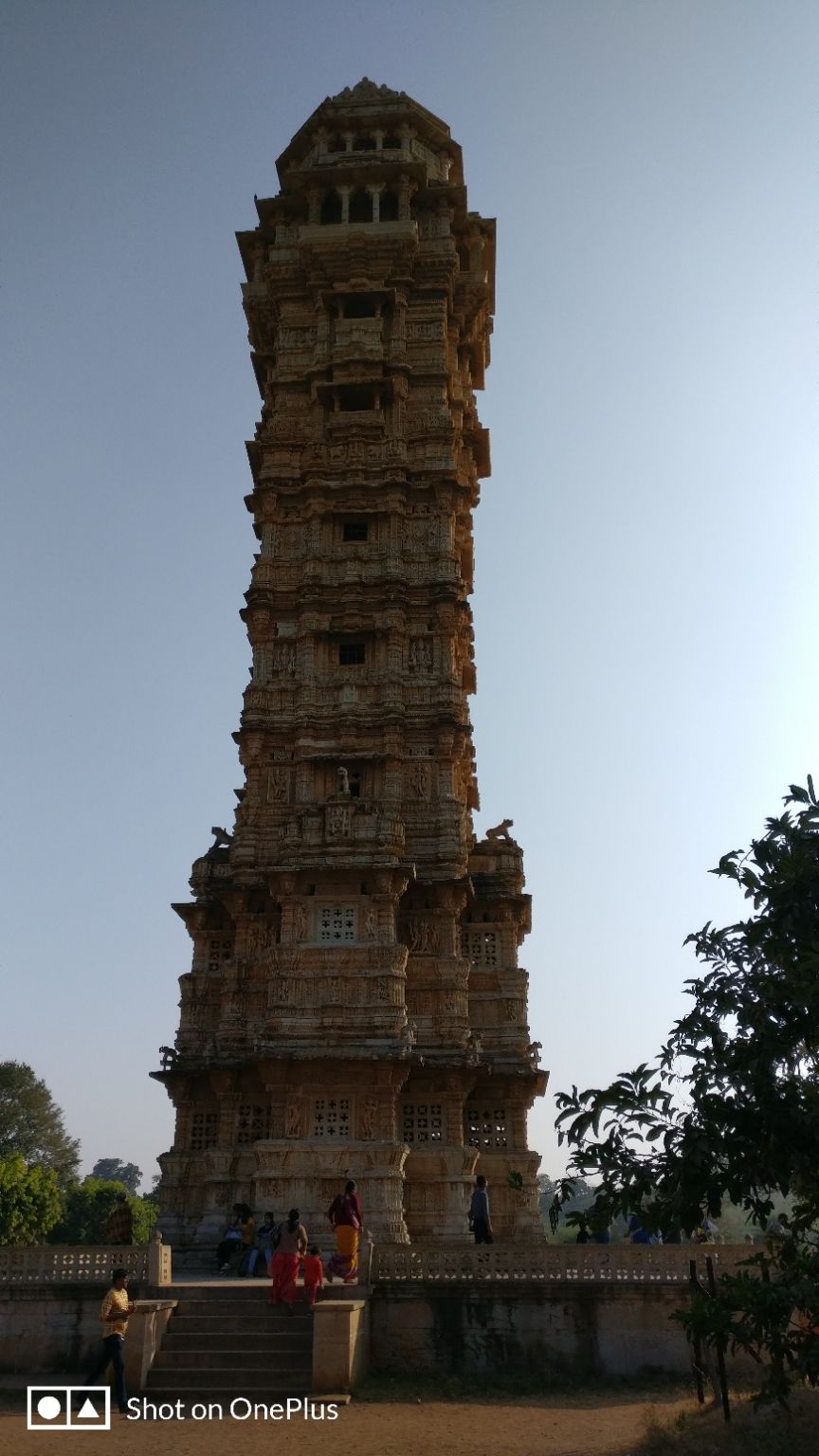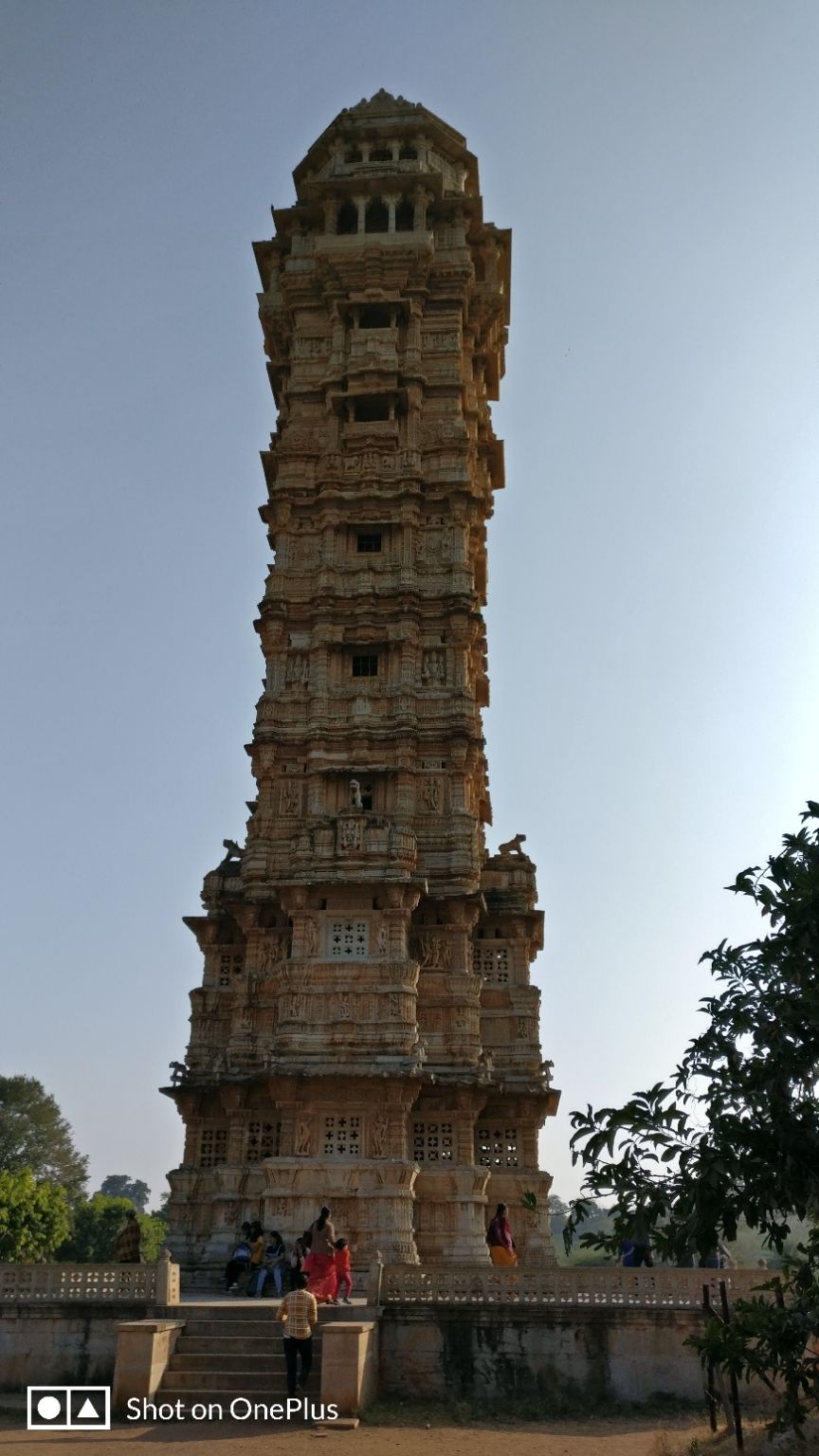 Gaumukh:
Gaumukh reservoir is one of the 84 water bodies on the fort. This is the natural source of water where the spring comes from Cow mouth situated at the edge of the cliff.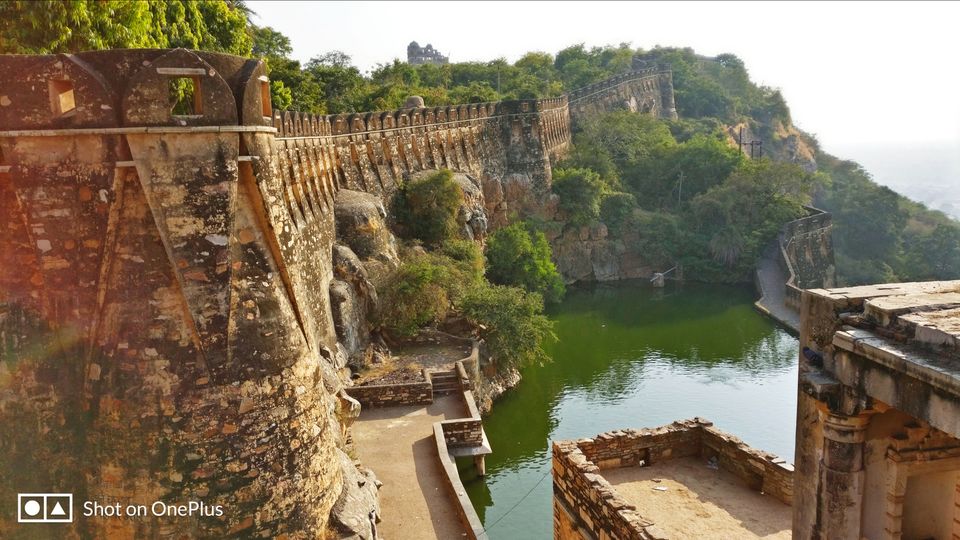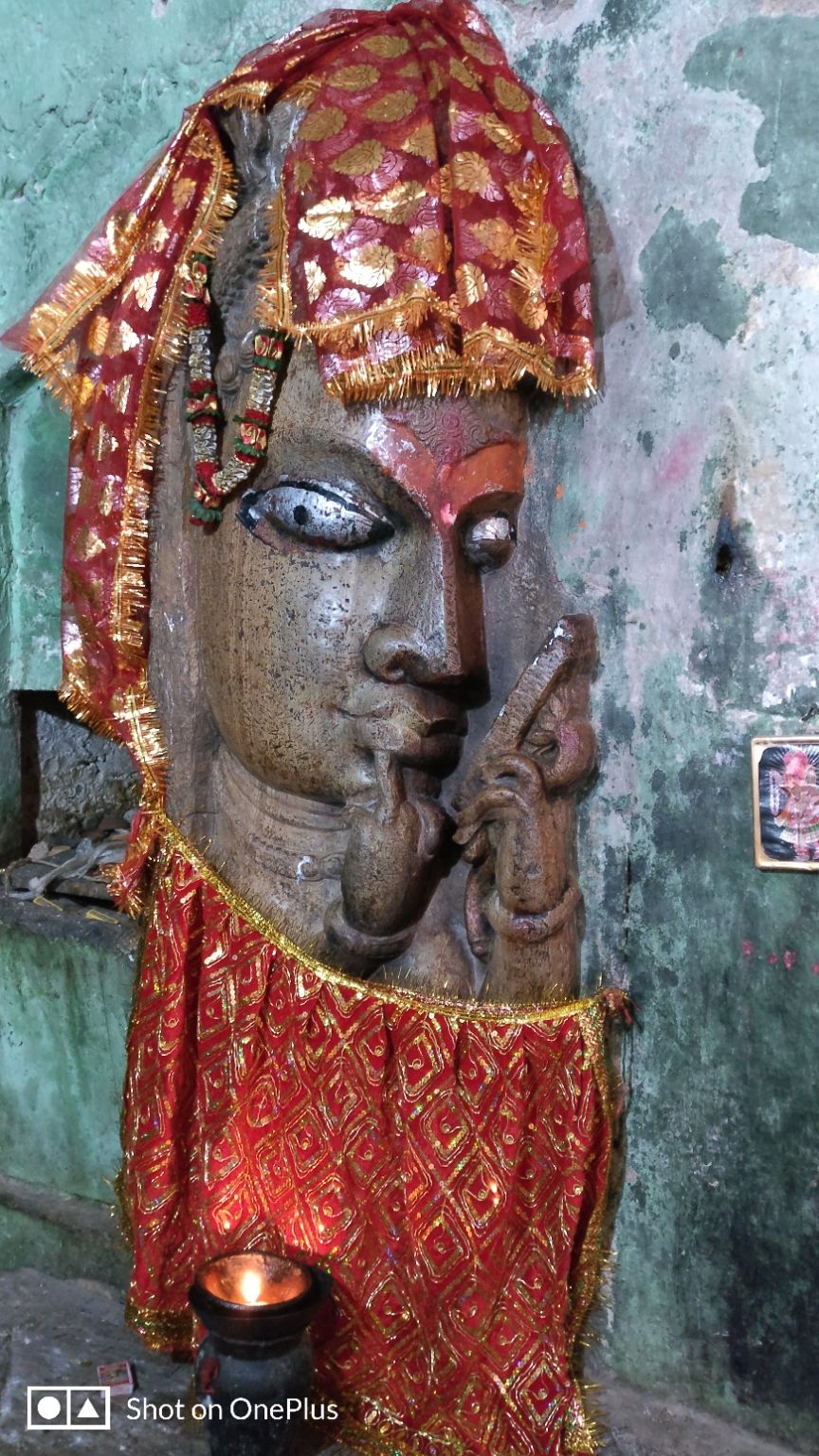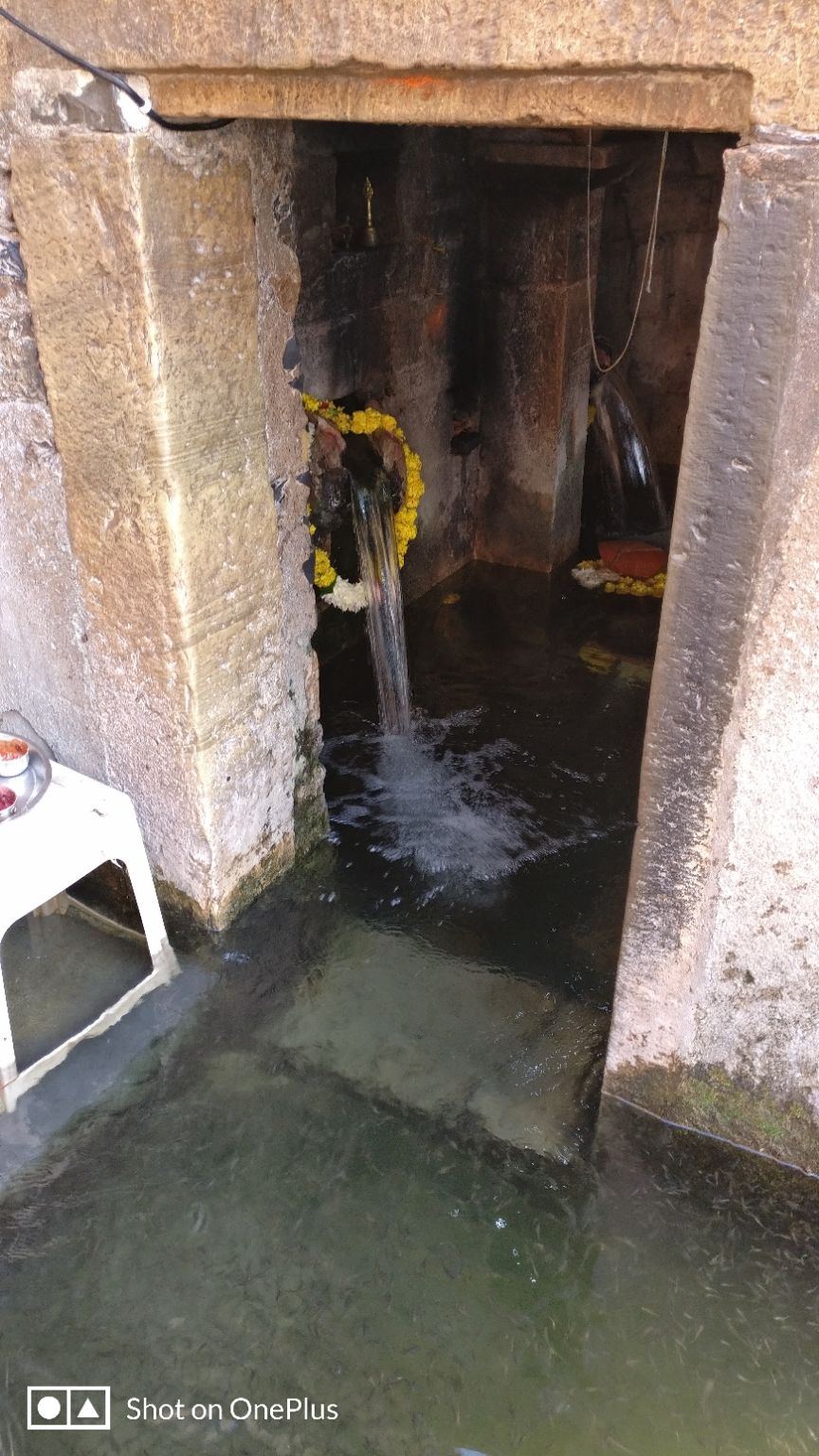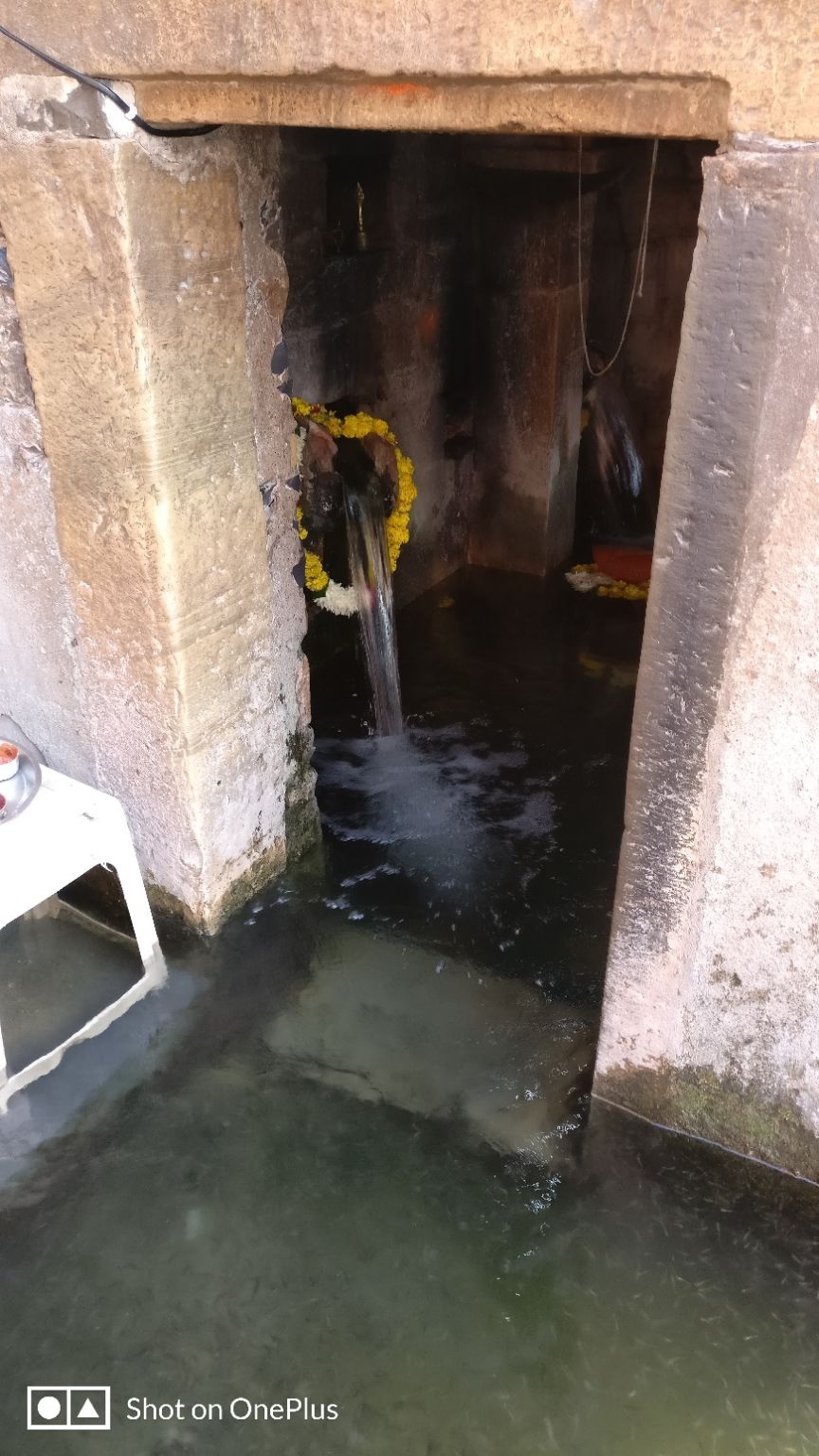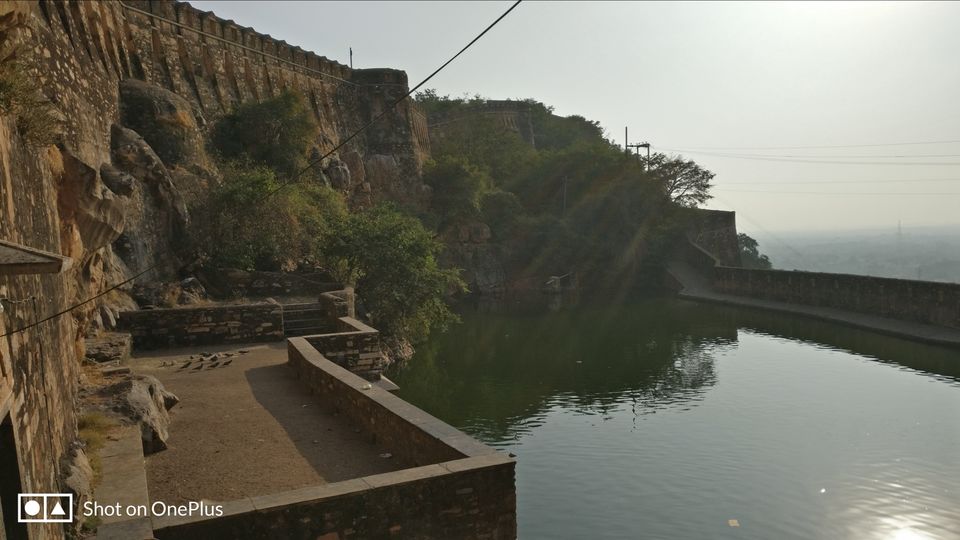 Padmini Palace complex:
The complex consists of Padmini Udyan, Padmini Palace and Jal Mahal. Padmini Palace complex is one of the most popular places in Chittorgarh. The palace once the scene of an incident directly responsible for a battle between Rana Ratan Singh and Allauddin Khilji, is a distinctly feminine structure that overlooks a pleasant pool.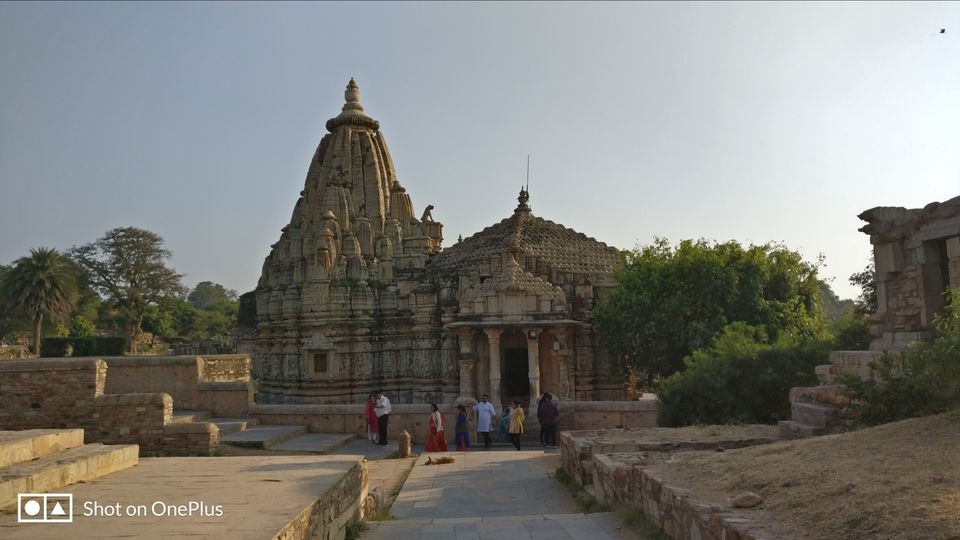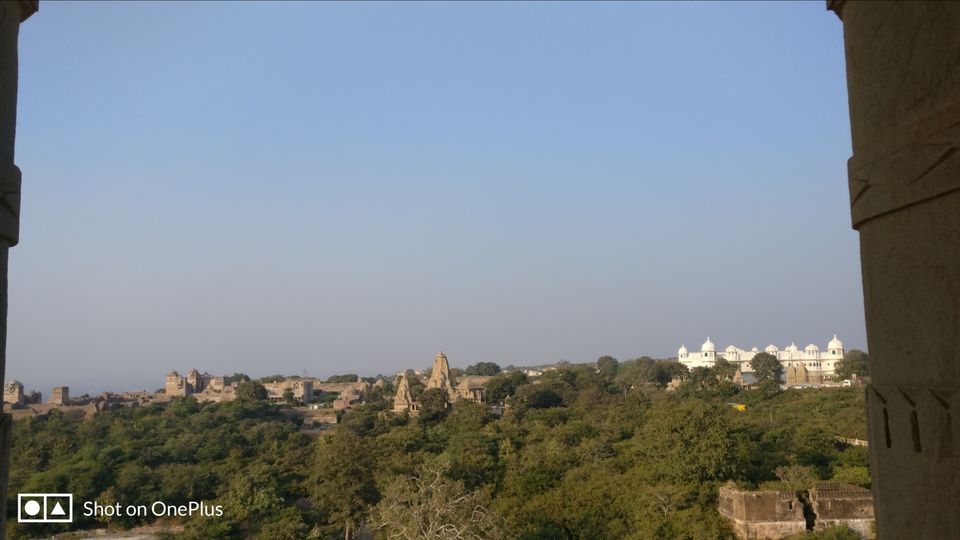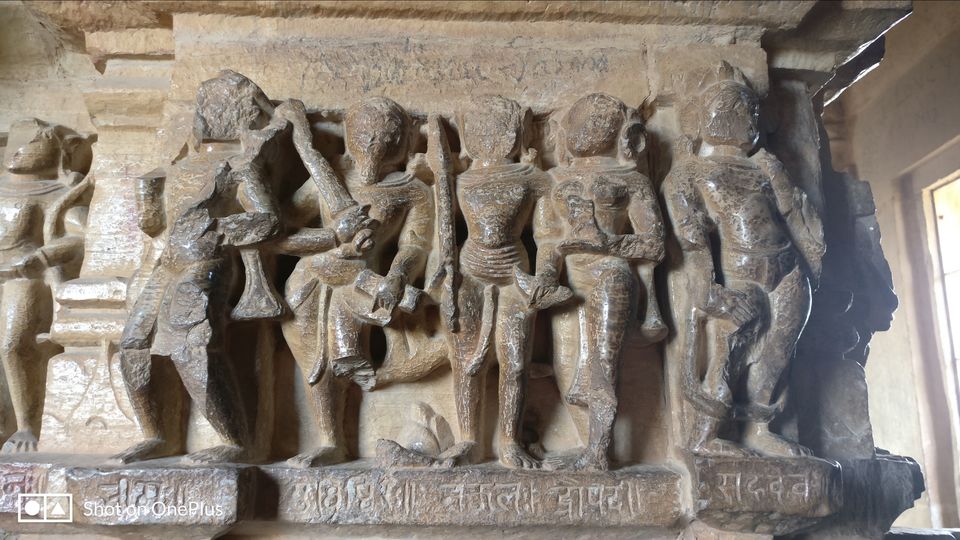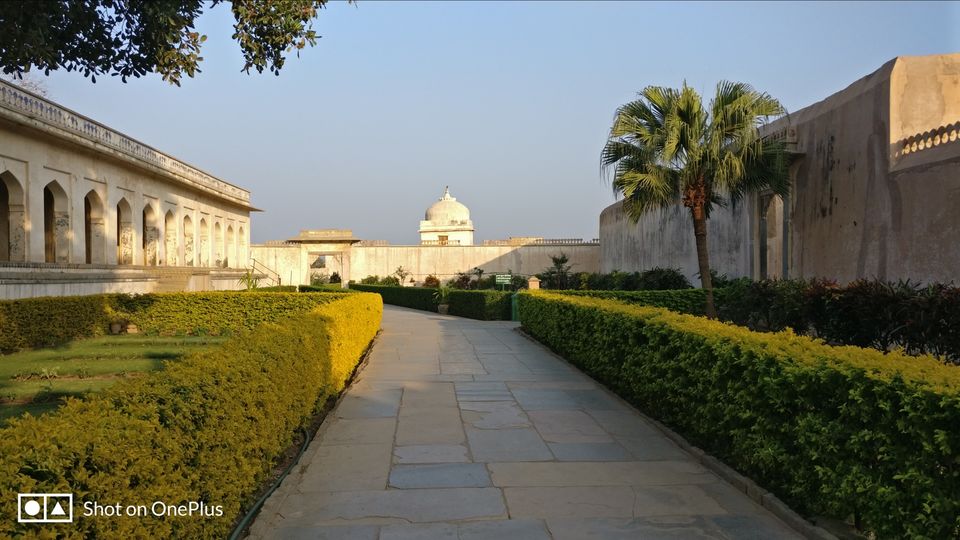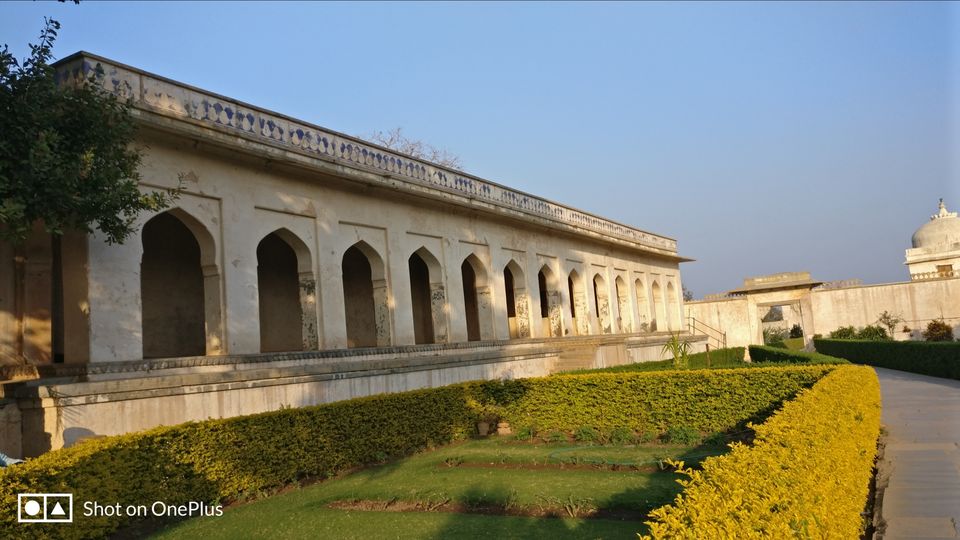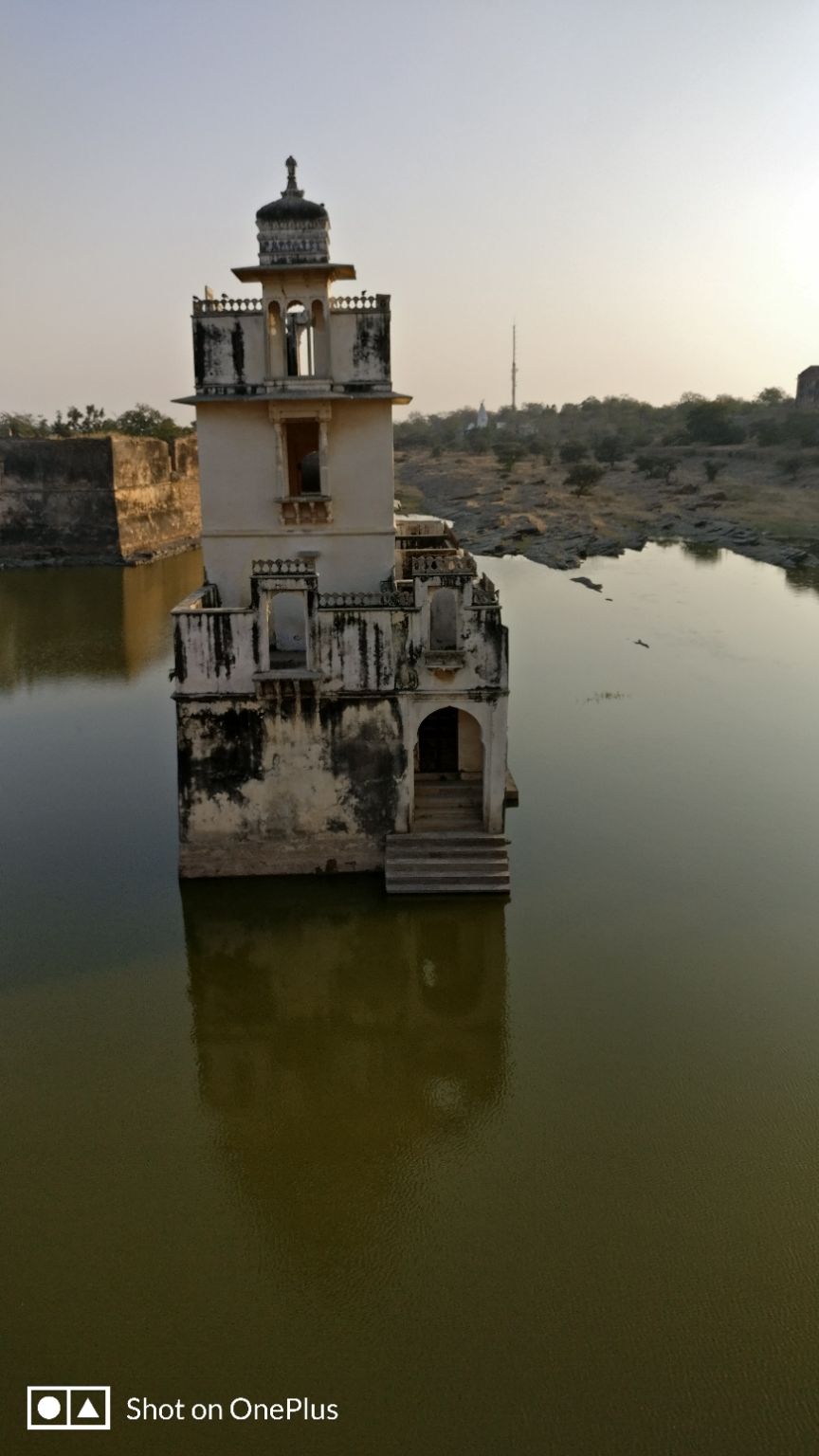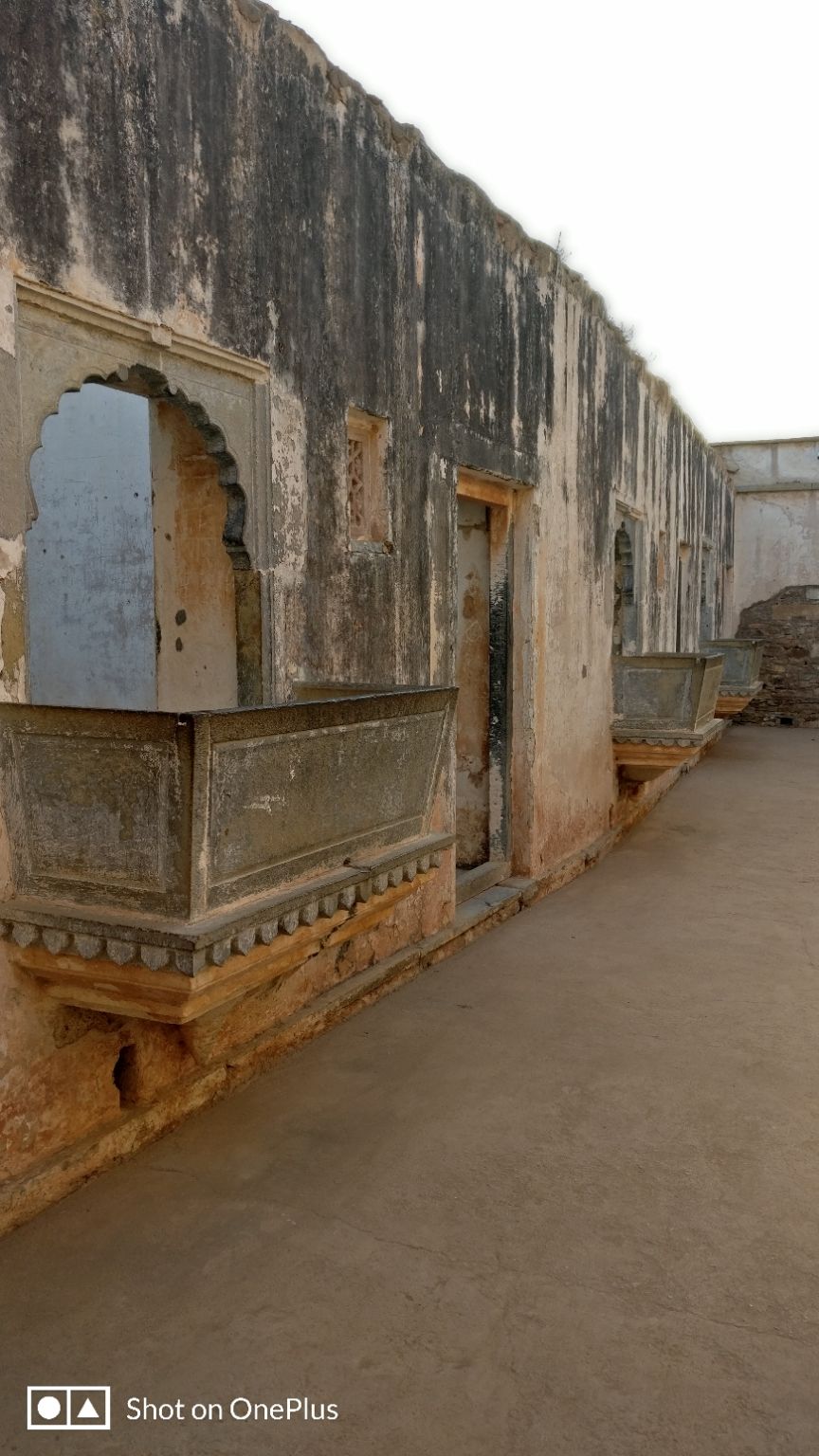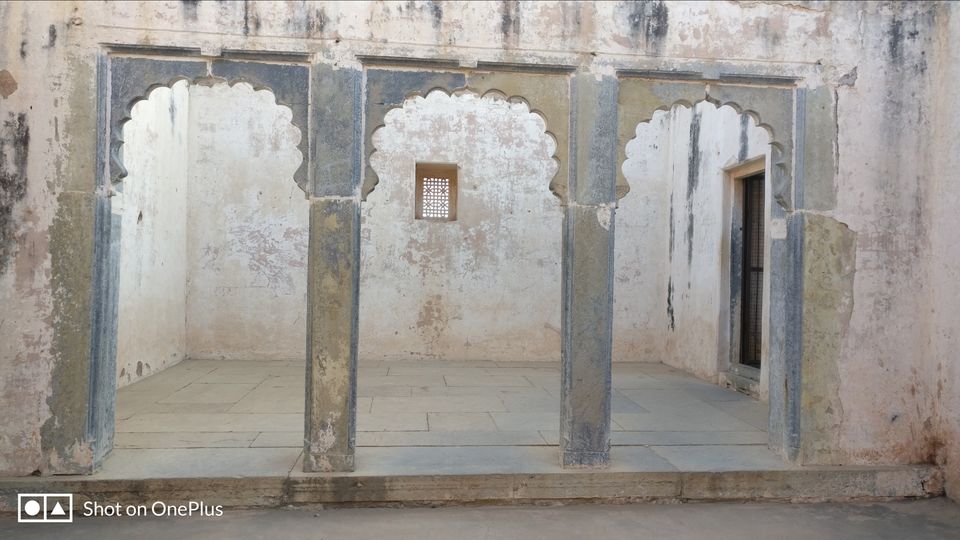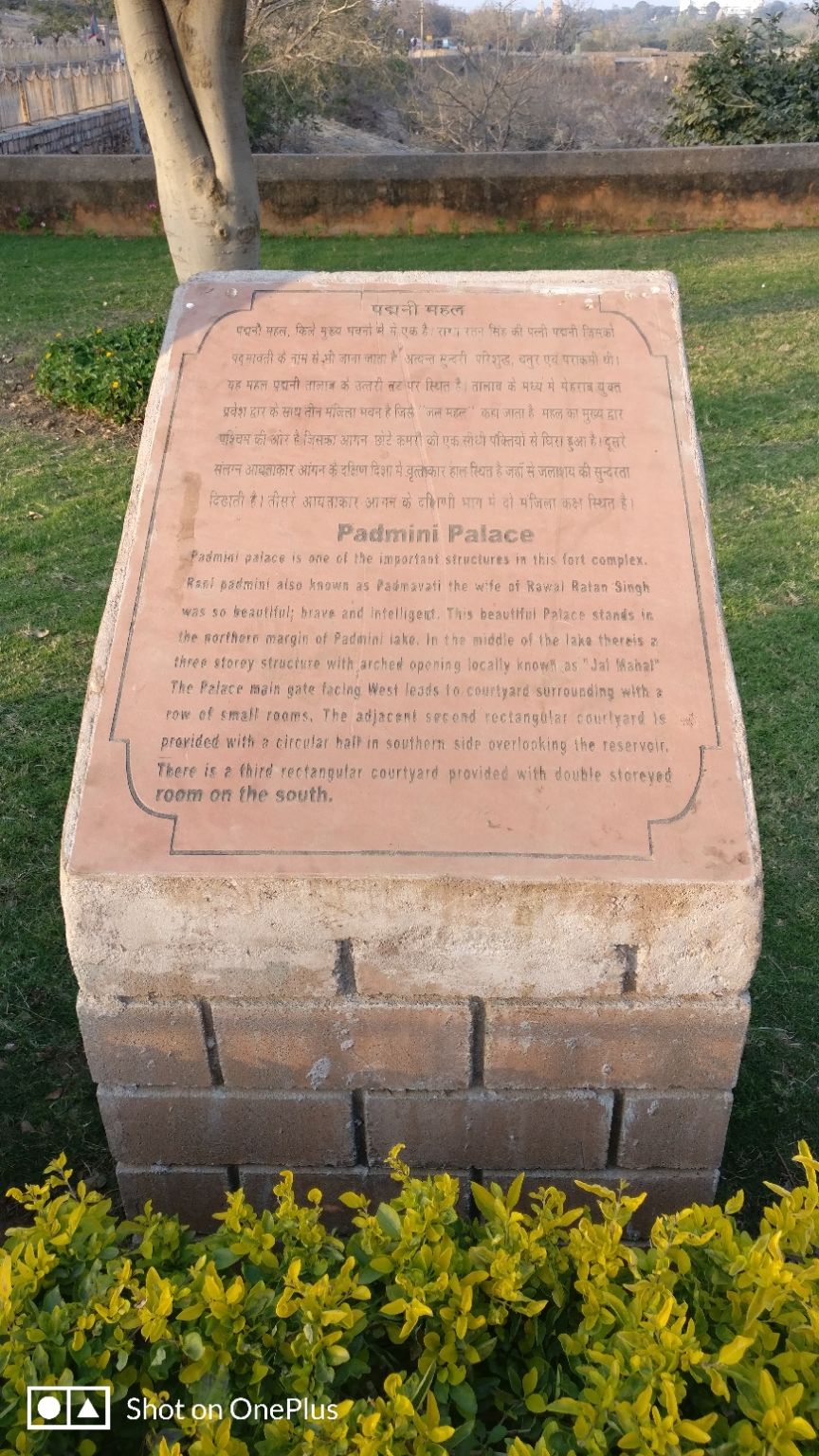 Kirti Stambh: Also known as the tower of Fame was built by Jain merchant Jeeja Bhagerwala during the Rawal Singh kingdom. The height of the tower is about 22 meters high and is 7 storyed. Kirti Stambh was built prior to the Vijay stambh.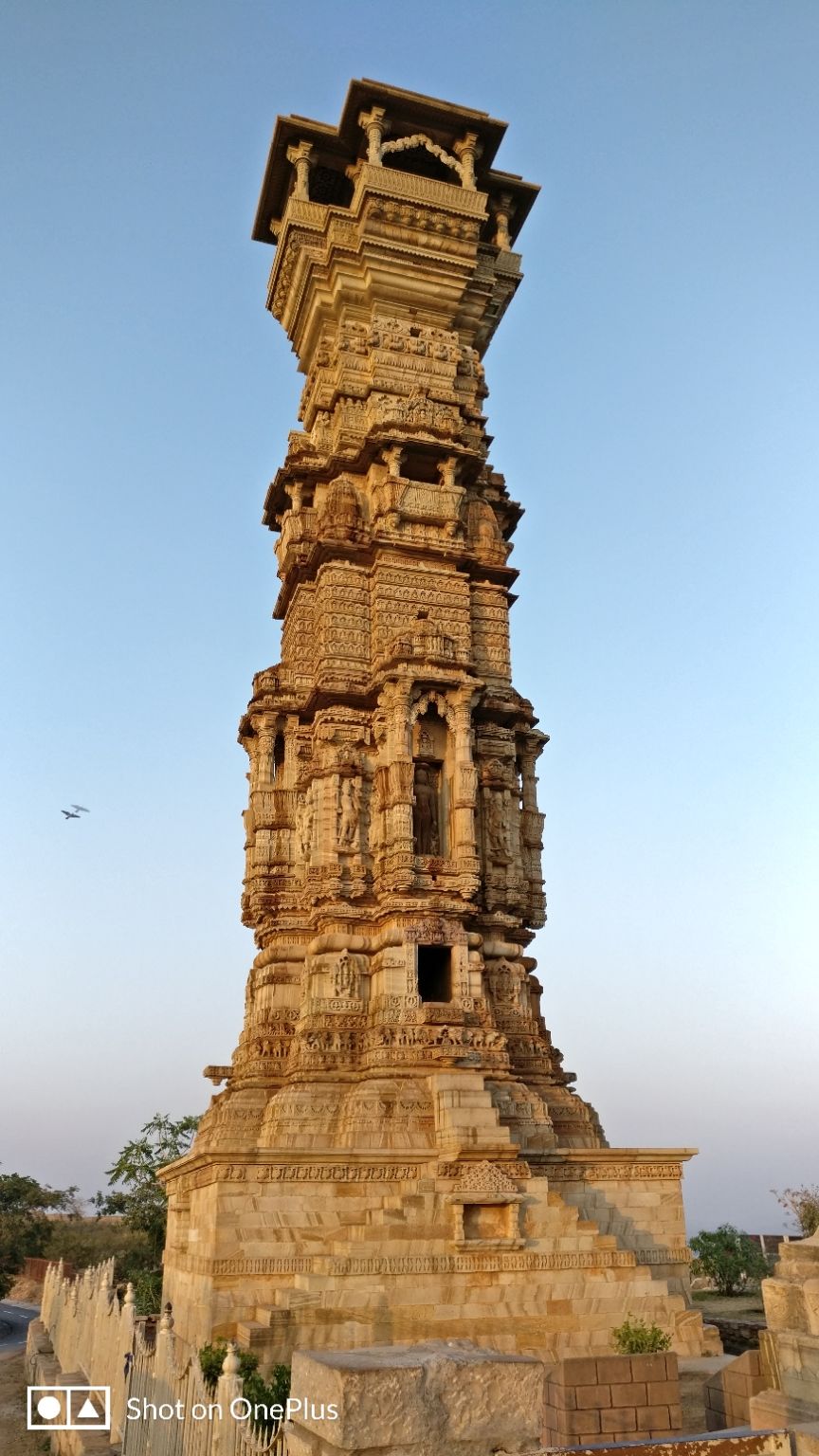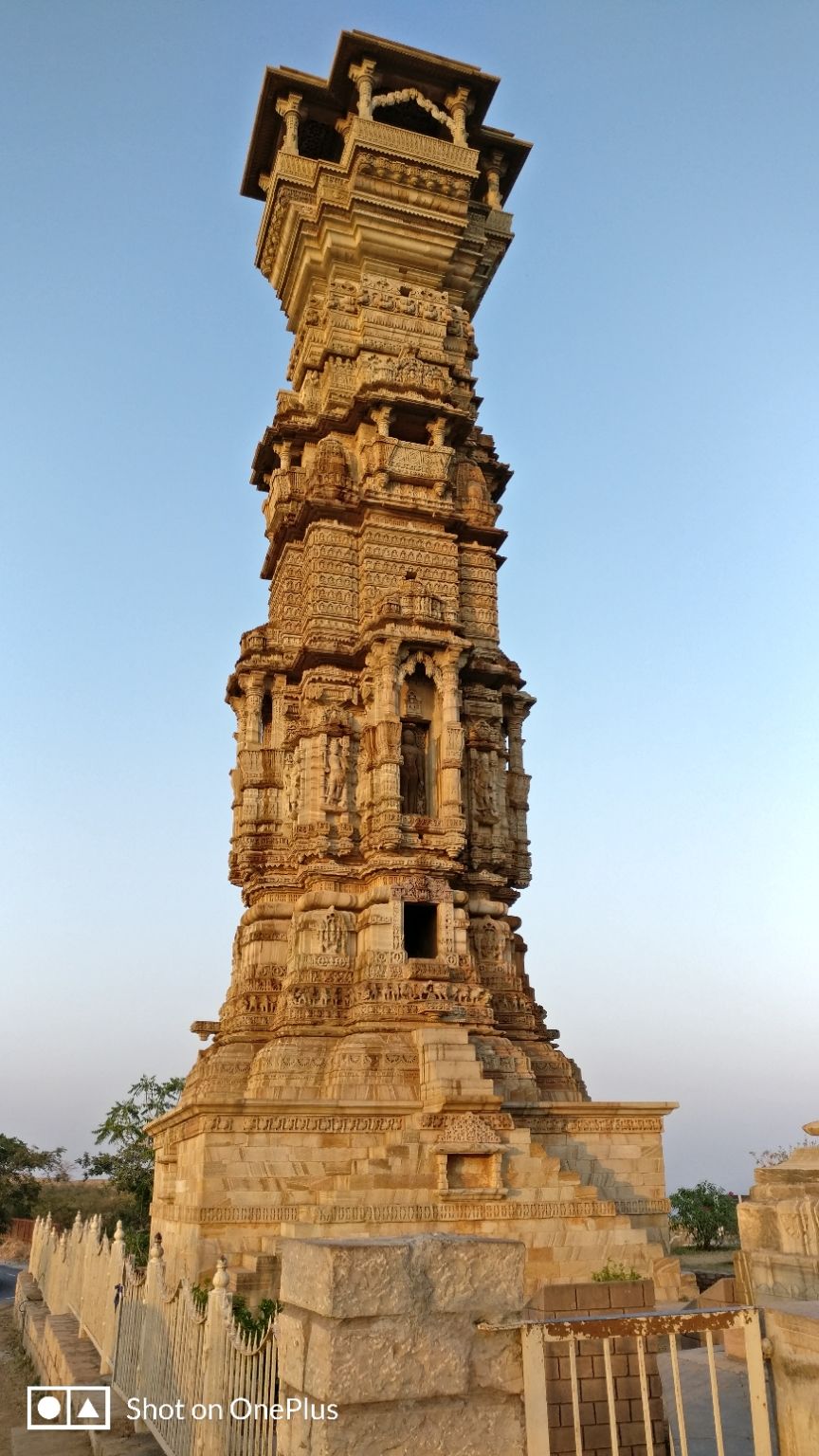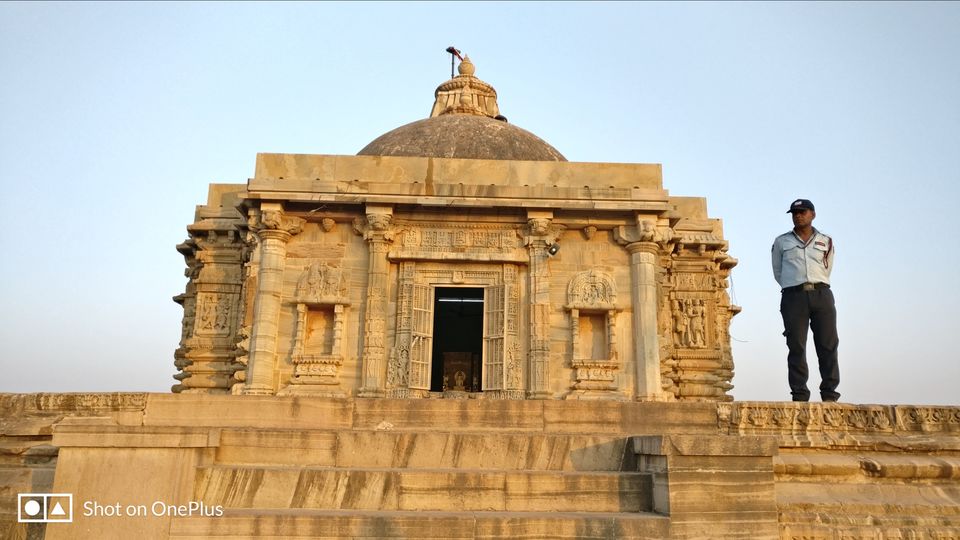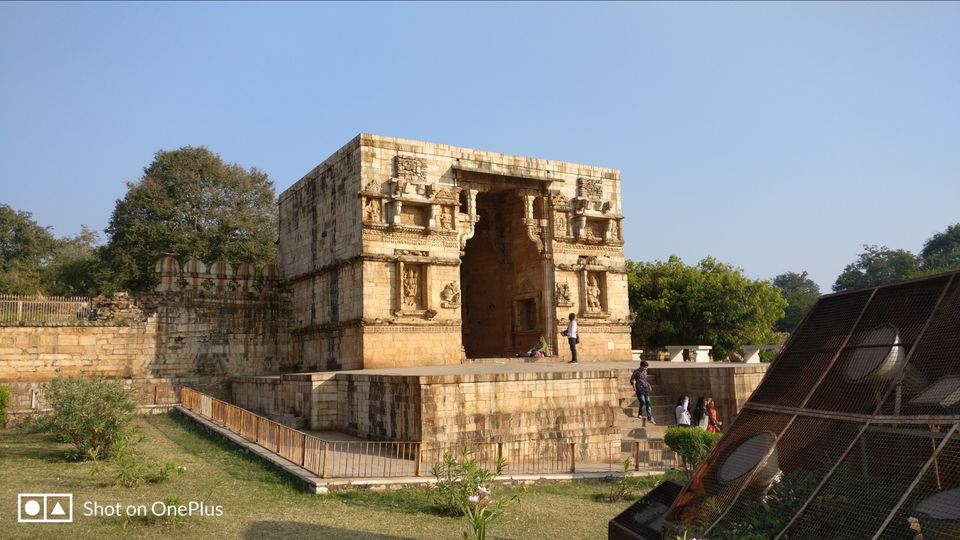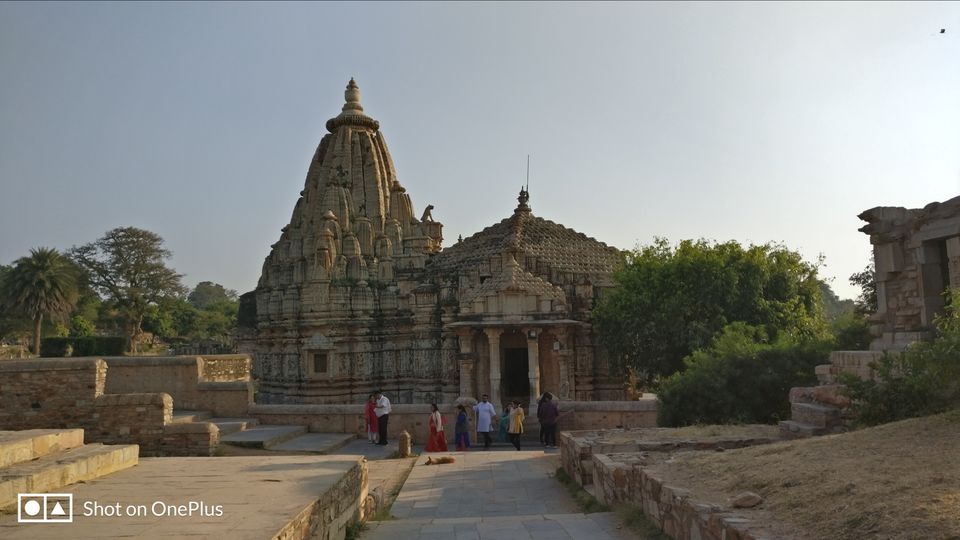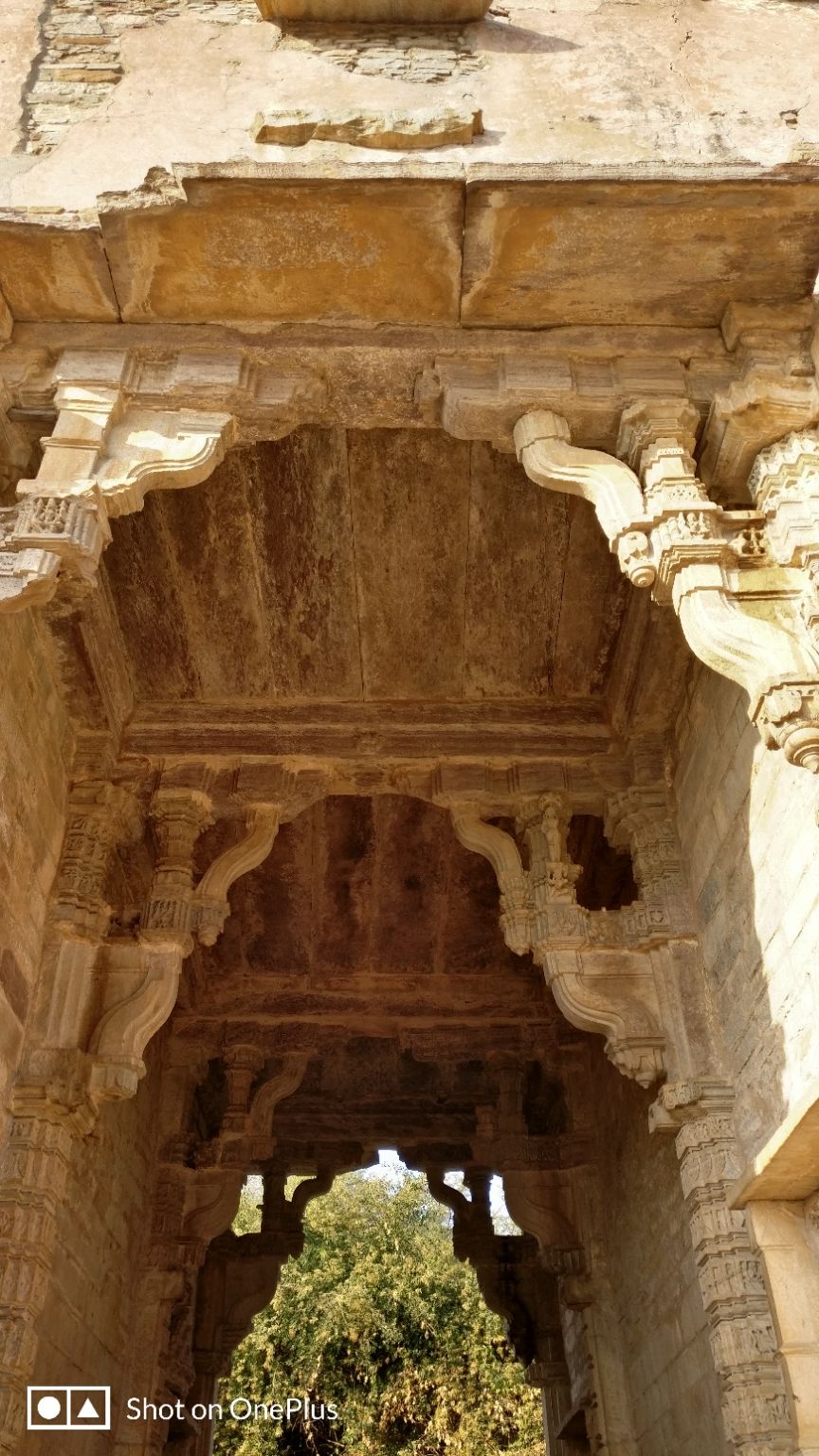 We travelled from Chittorgarh to Udaipur which is at 135 km. We left early at 7:00 Am and reached Udaipur at 10:00 AM. Post reaching, we first visited Bagore ki Haveli, Jagdish Mandir, Karni Mata Mandir and then the Monsoon Palace.
Jagdish Mandir:
Jagdish Mandir is at a distance of 500 meters approximately from bagore ki haveli. Earlier this temple was named as Jagannath Rai and was built in the 16th Century. The temple is dedicated to Lord Vishnu. It is considered to be the largest temple in Udaipur.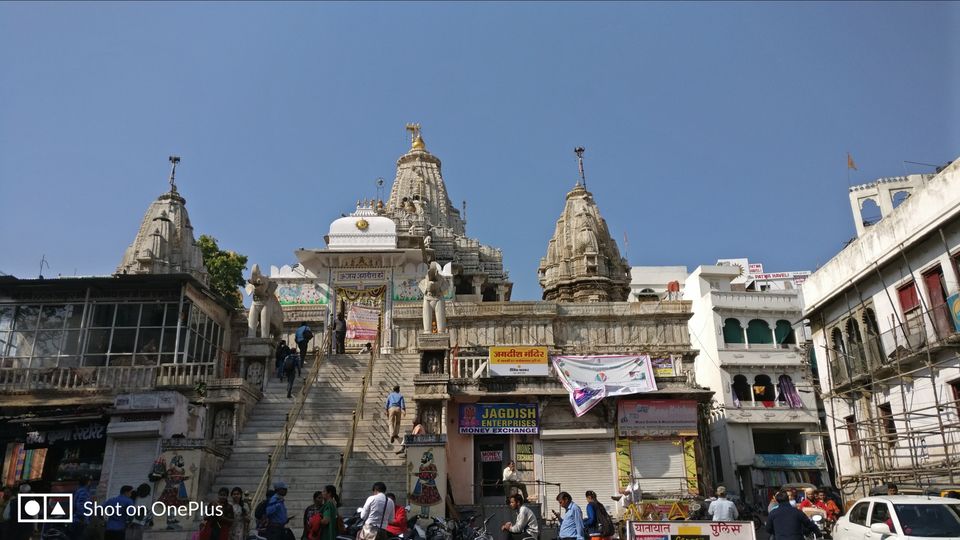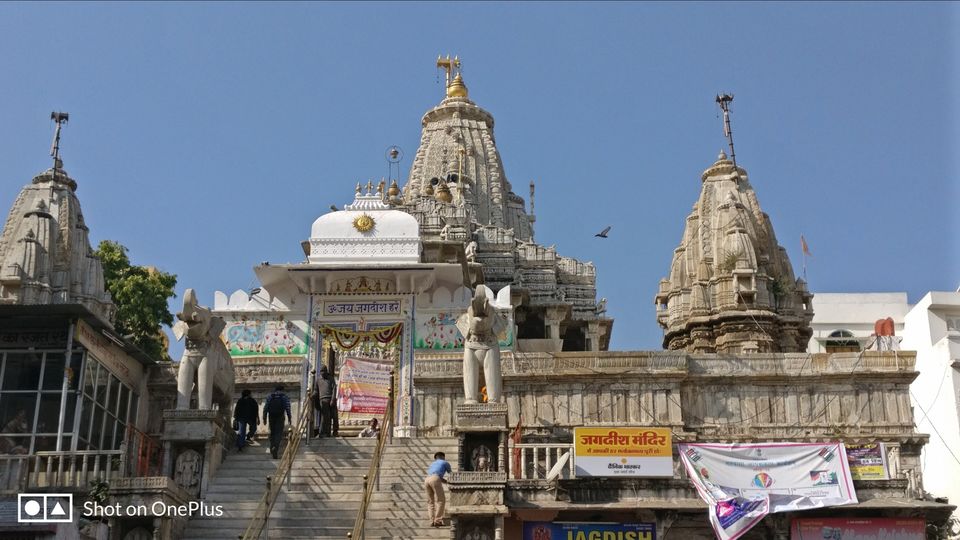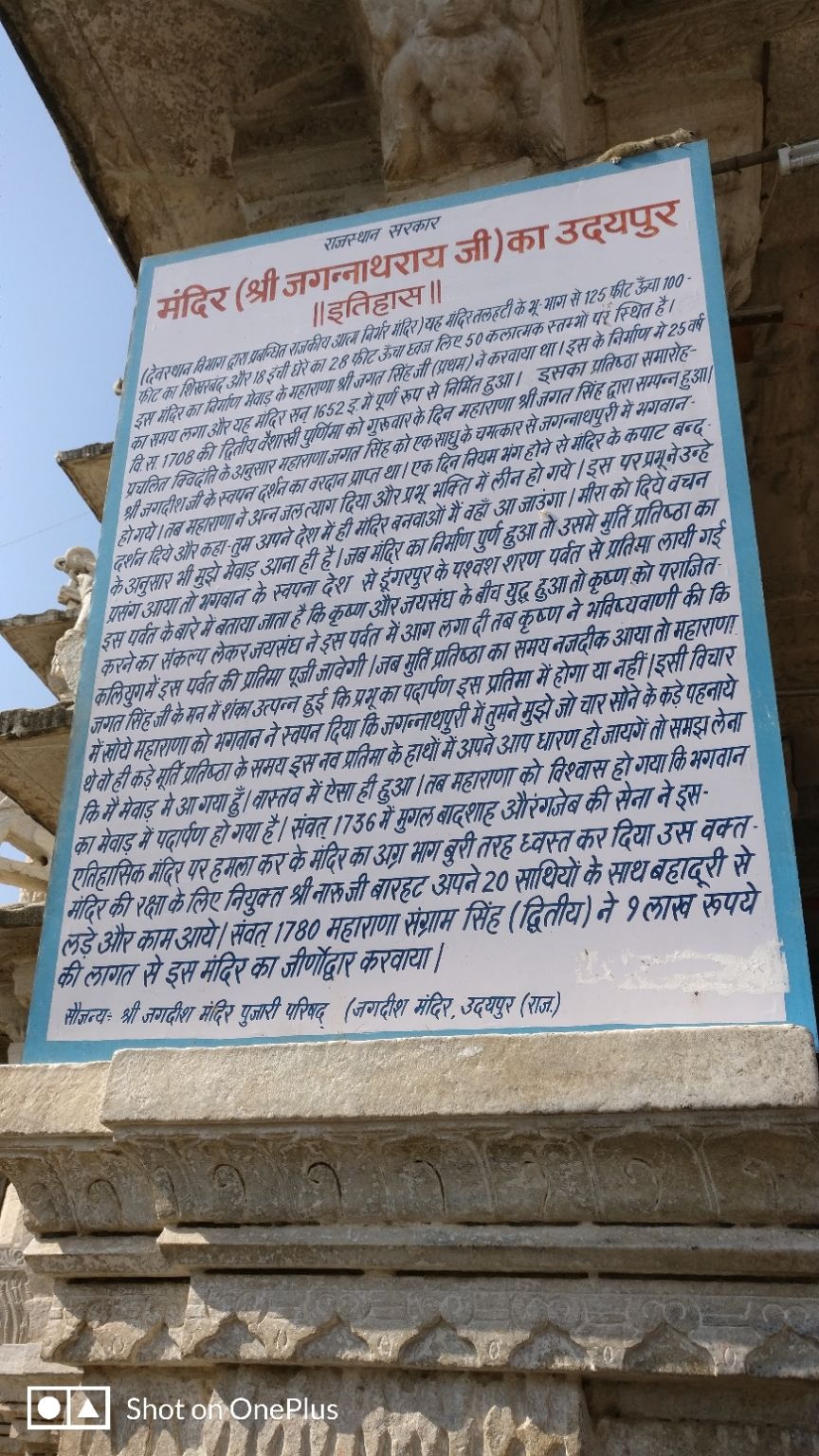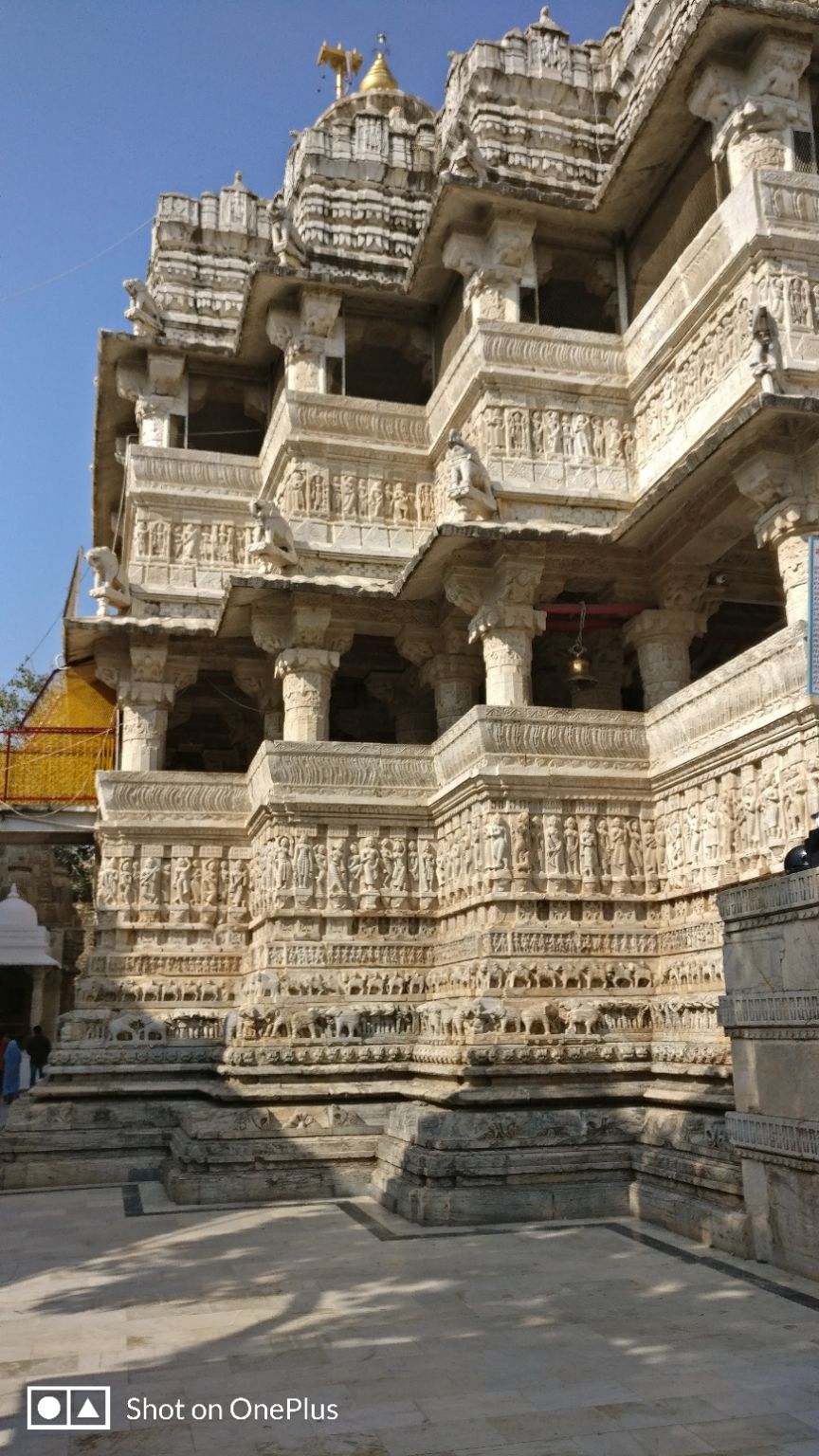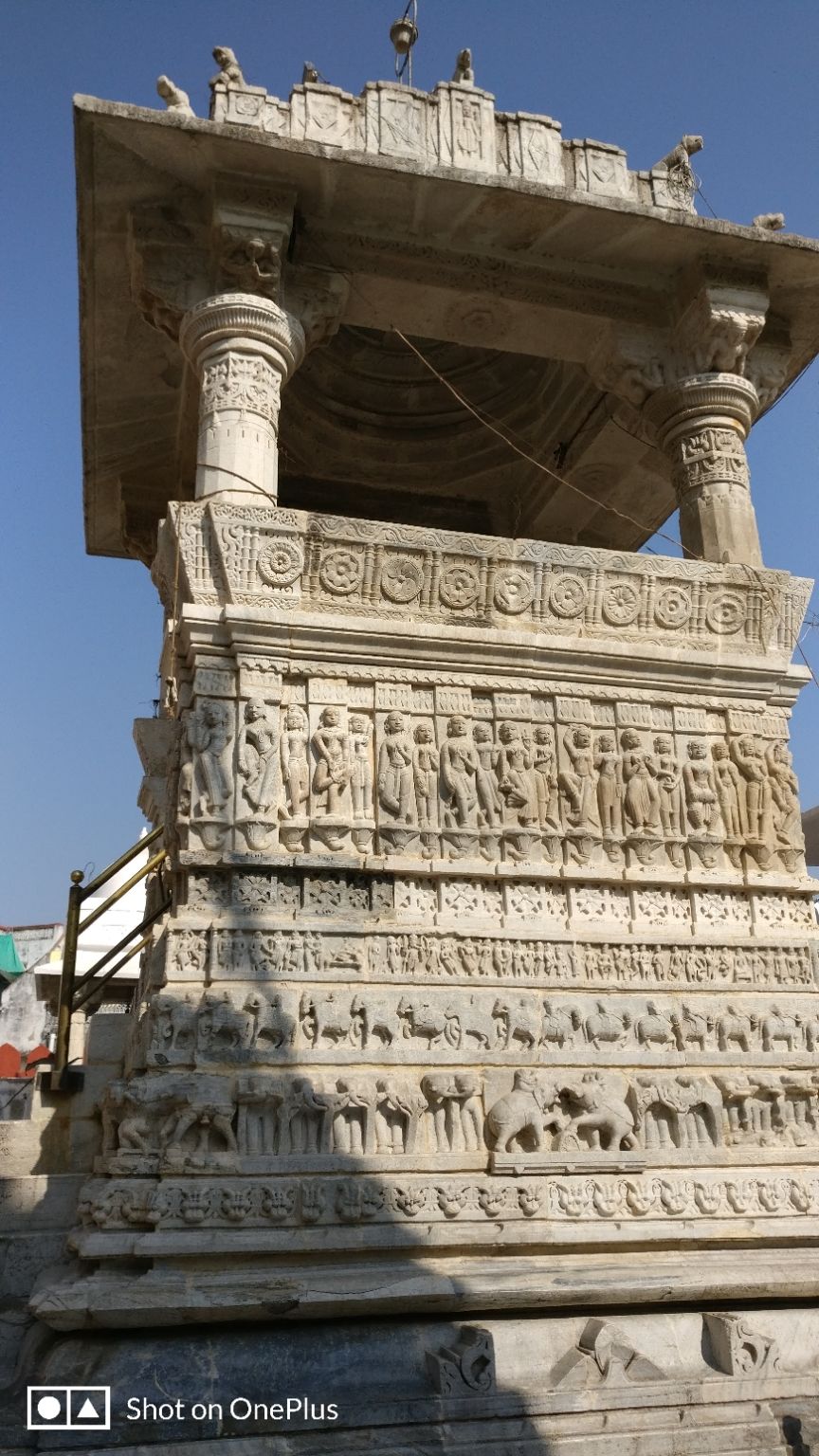 Bagore ki Haveli:
Entry Fee: 60 INR
Camera fee: 100INR
Timings: 10:00 AM to 6:00 PM
Built in the 18th Century, this structure is located just beside the Lake Pichola in Udaipur centre. This was built by the then ministers of Mewar namely Amarchand Badwa. The Palace has glasswork and walls painted in vibrant colours. Currently, it houses a puppet & turban museum and the museum of weapons used by Mewar kings.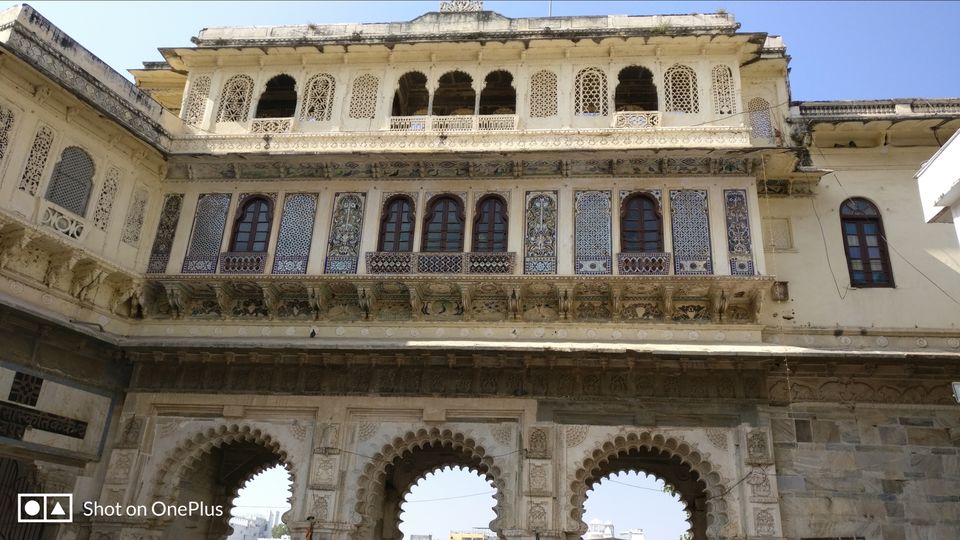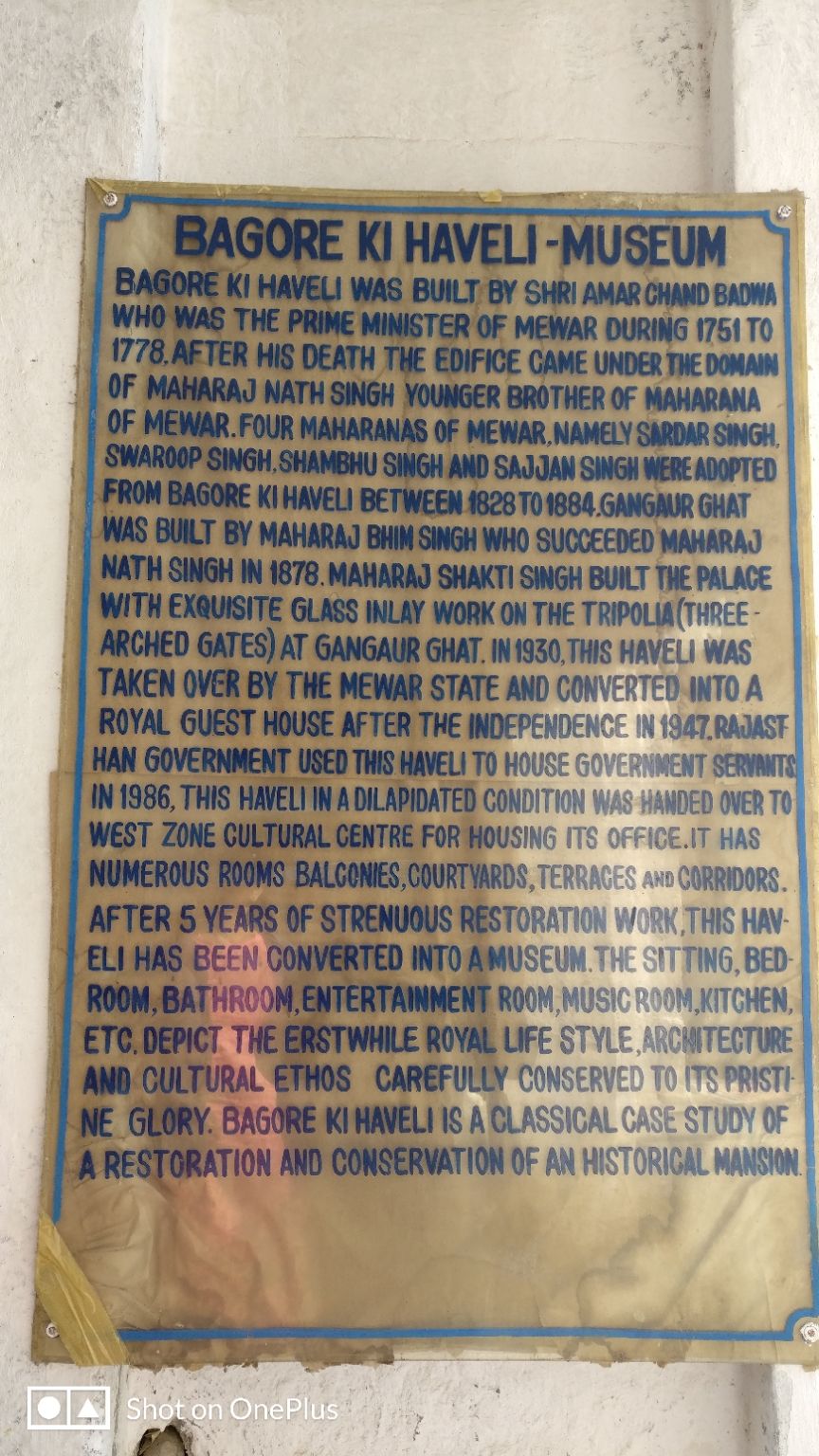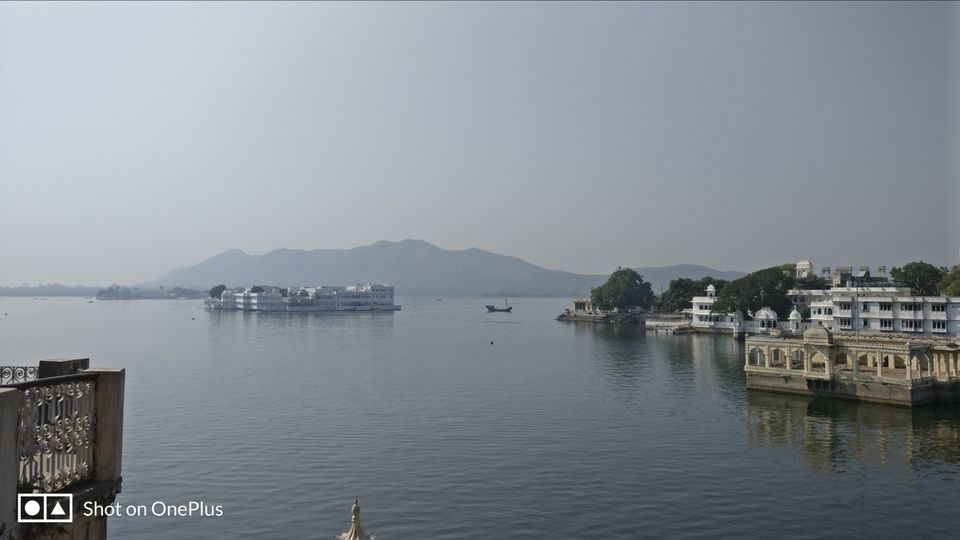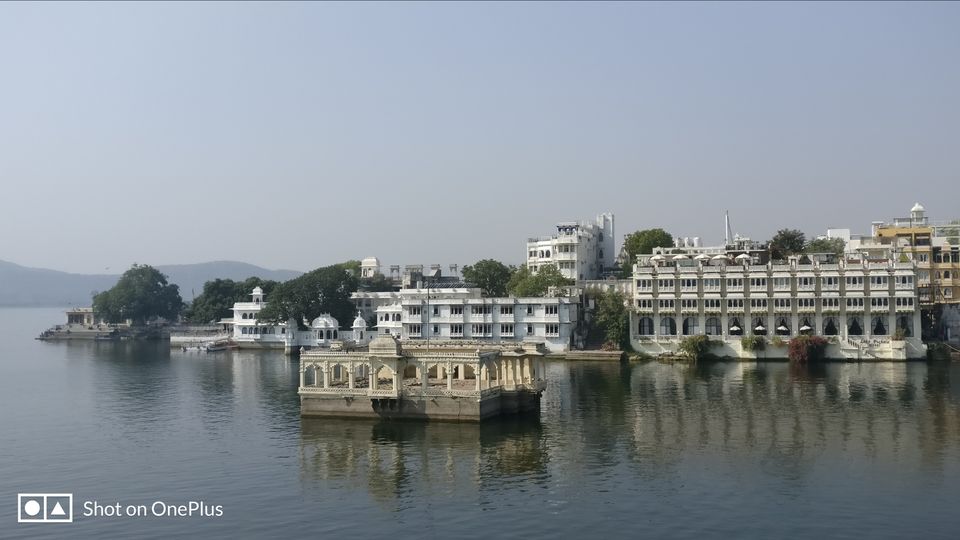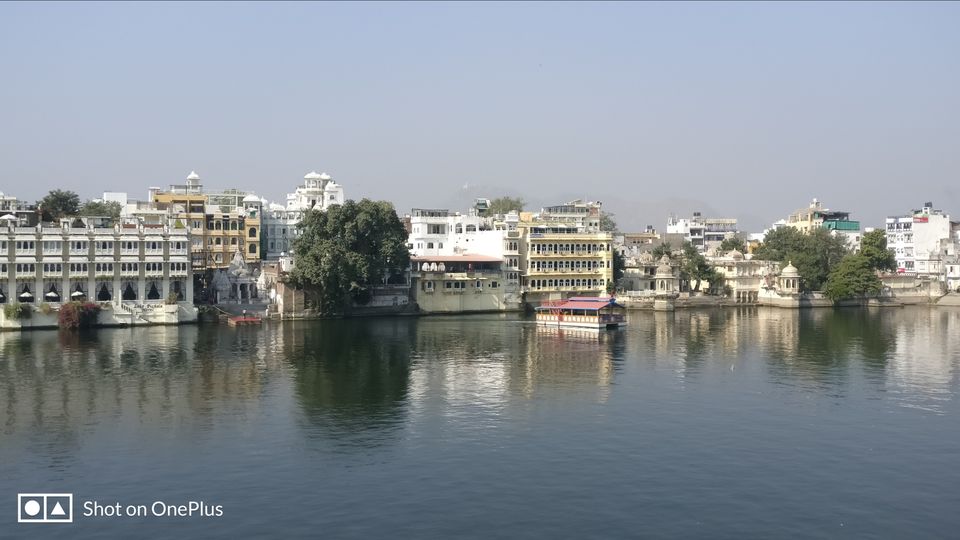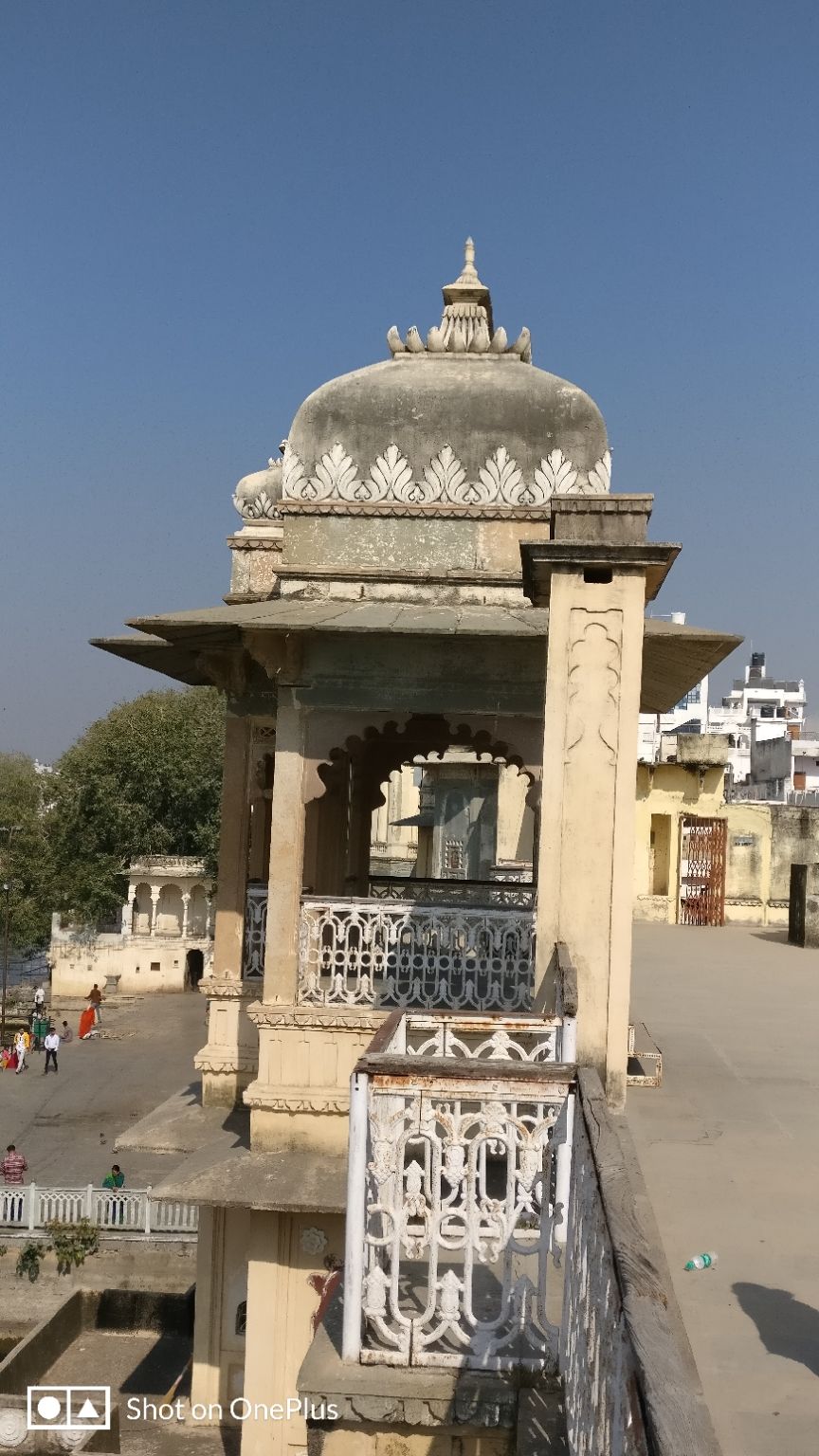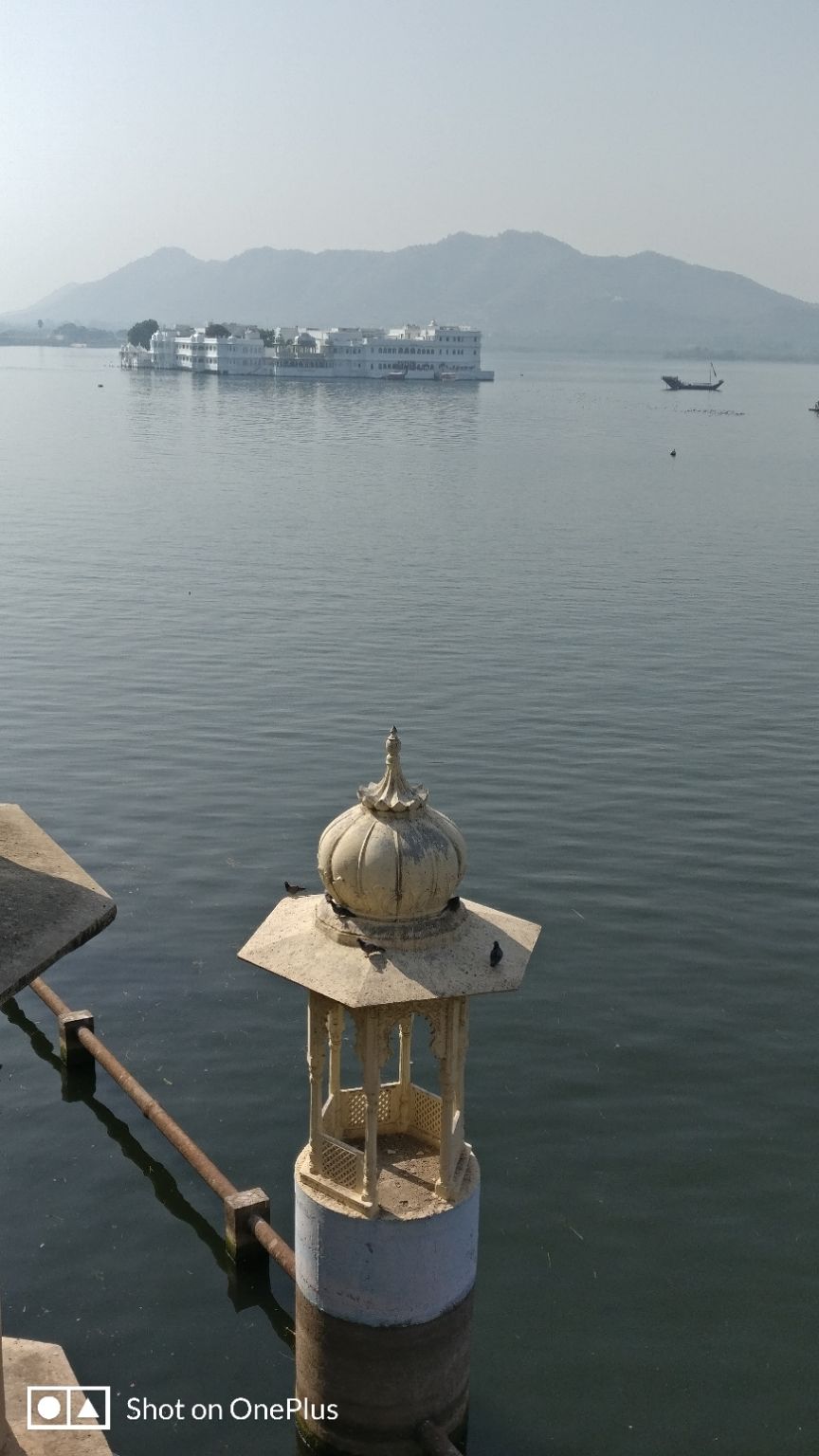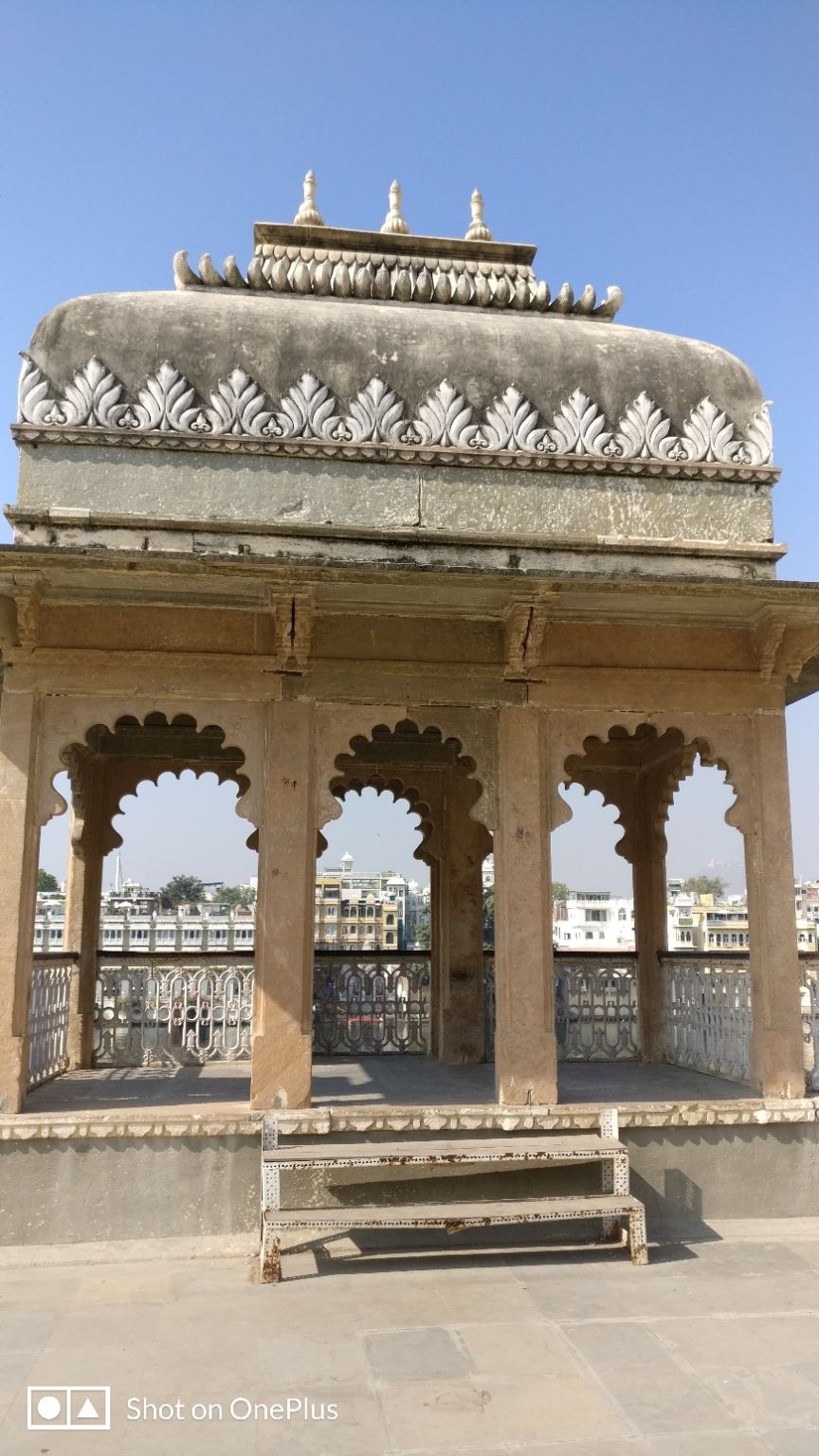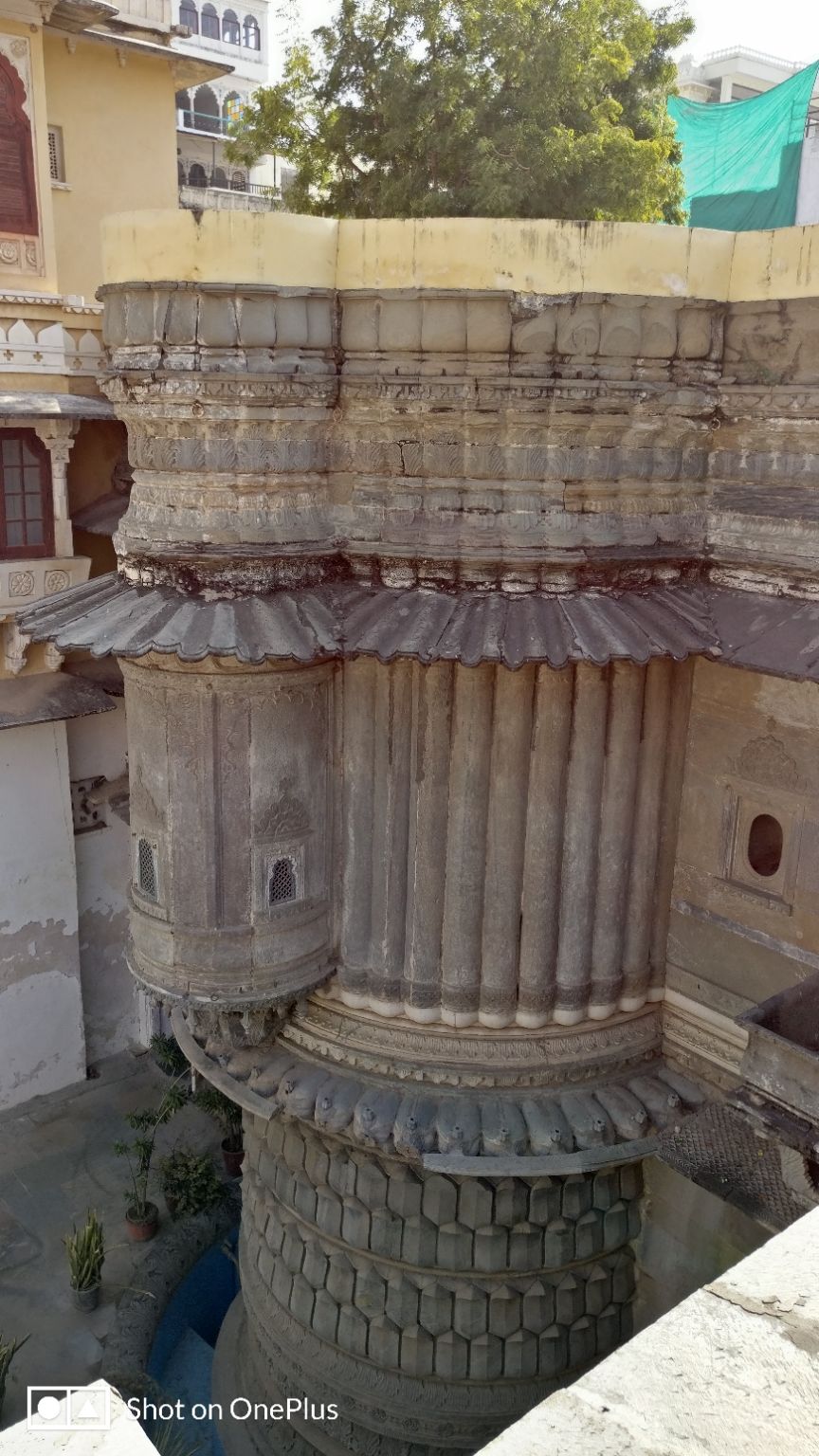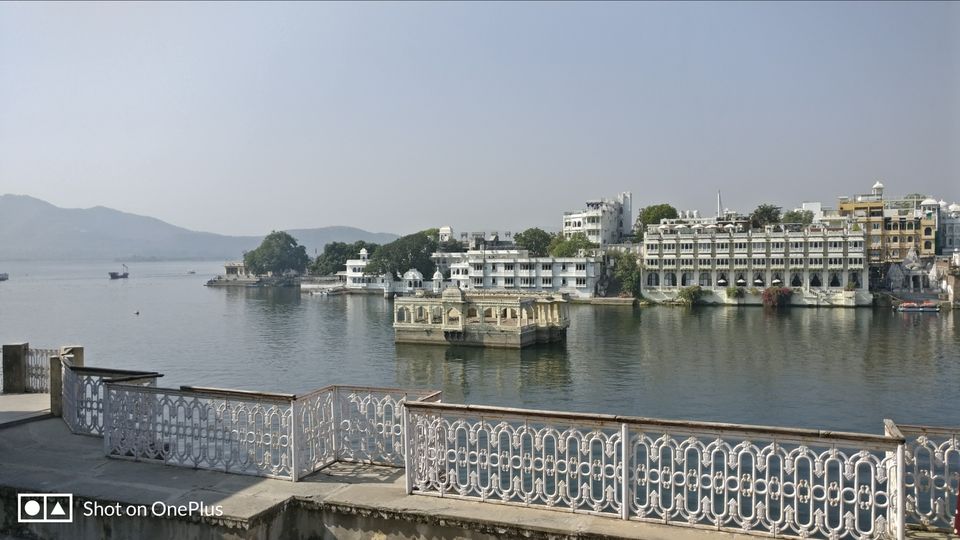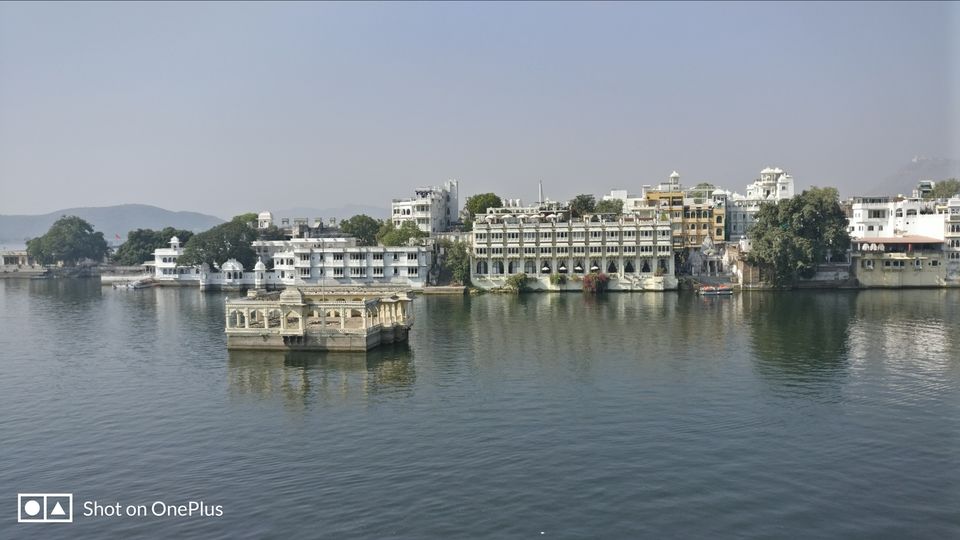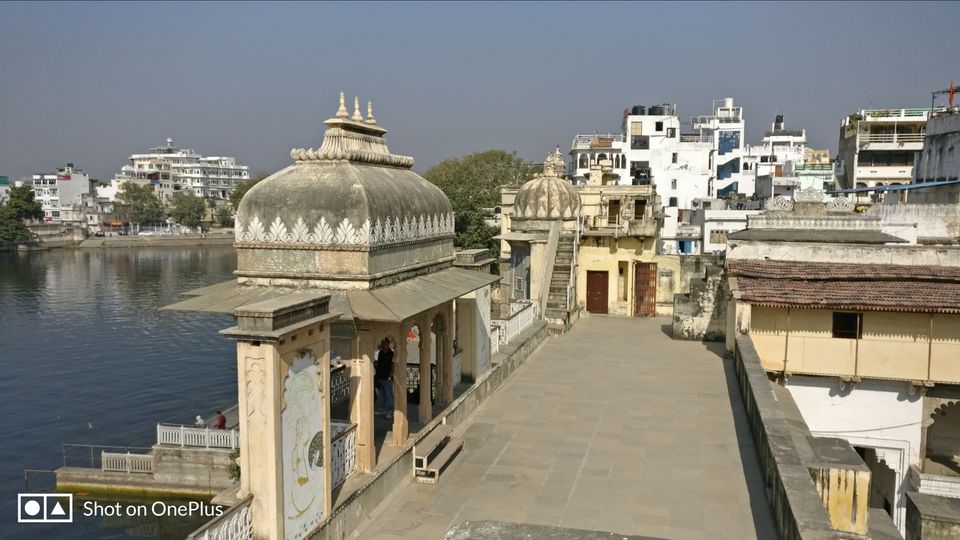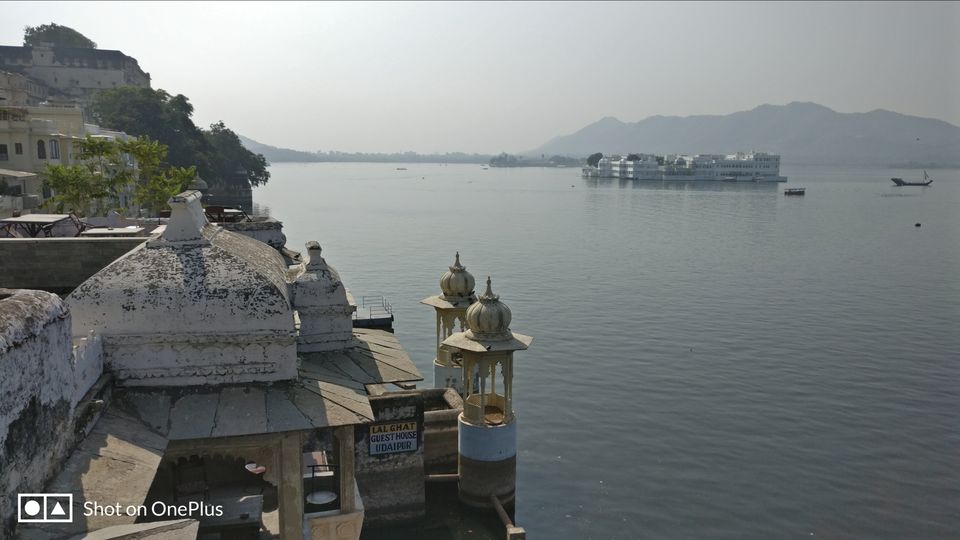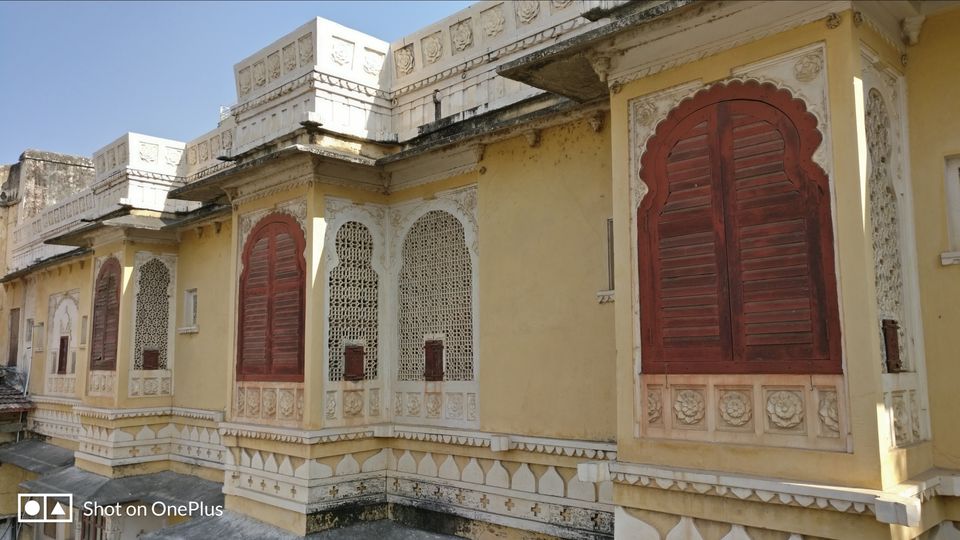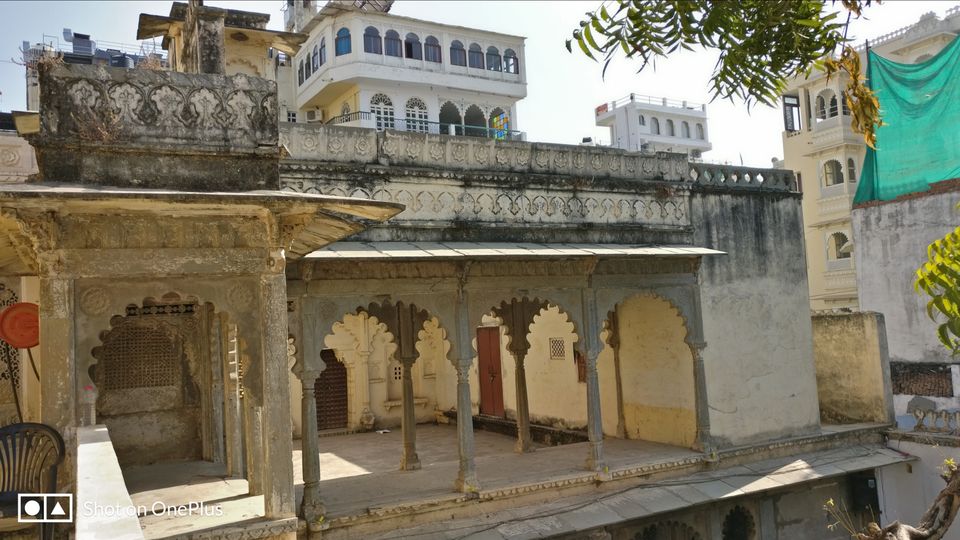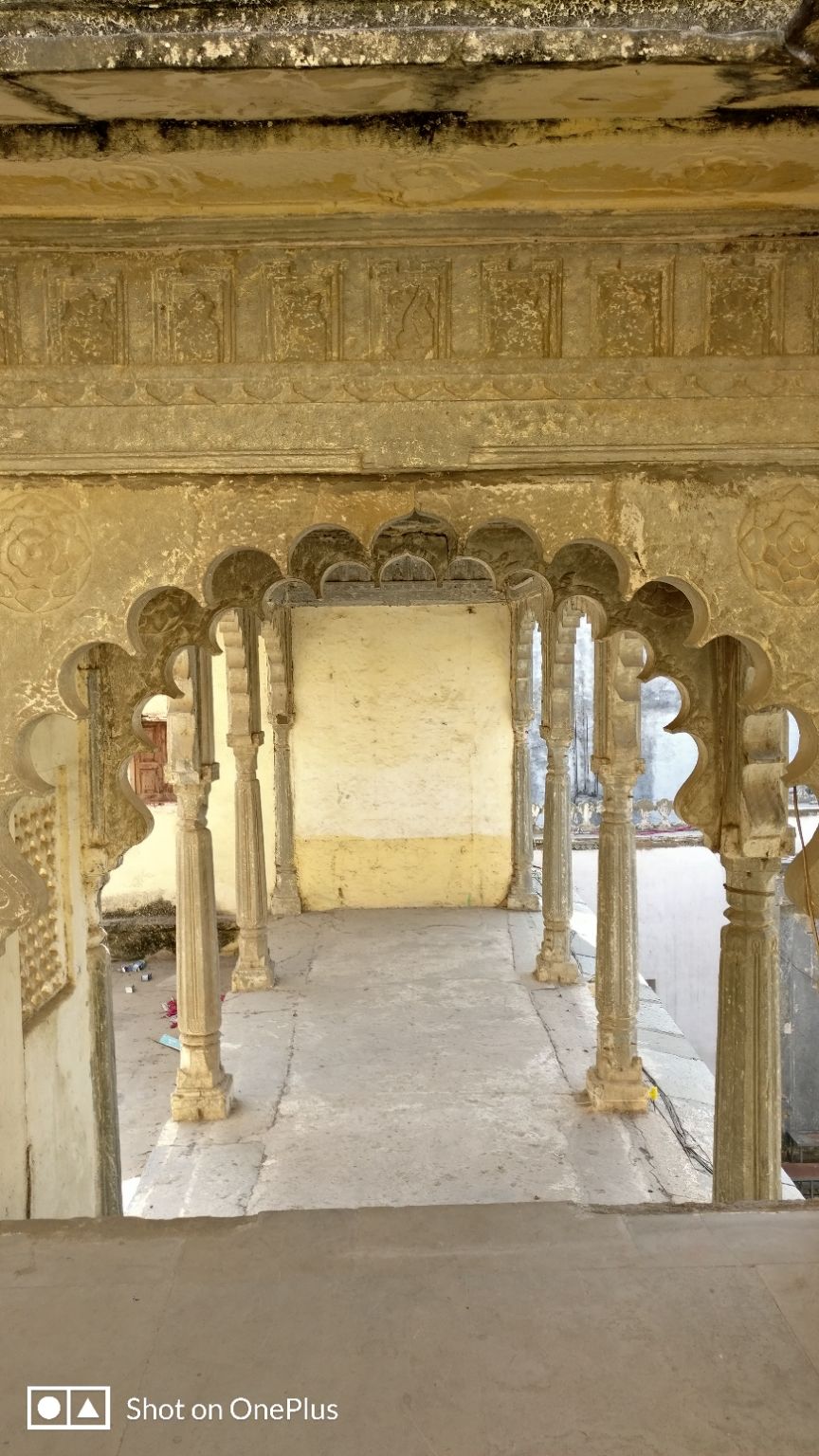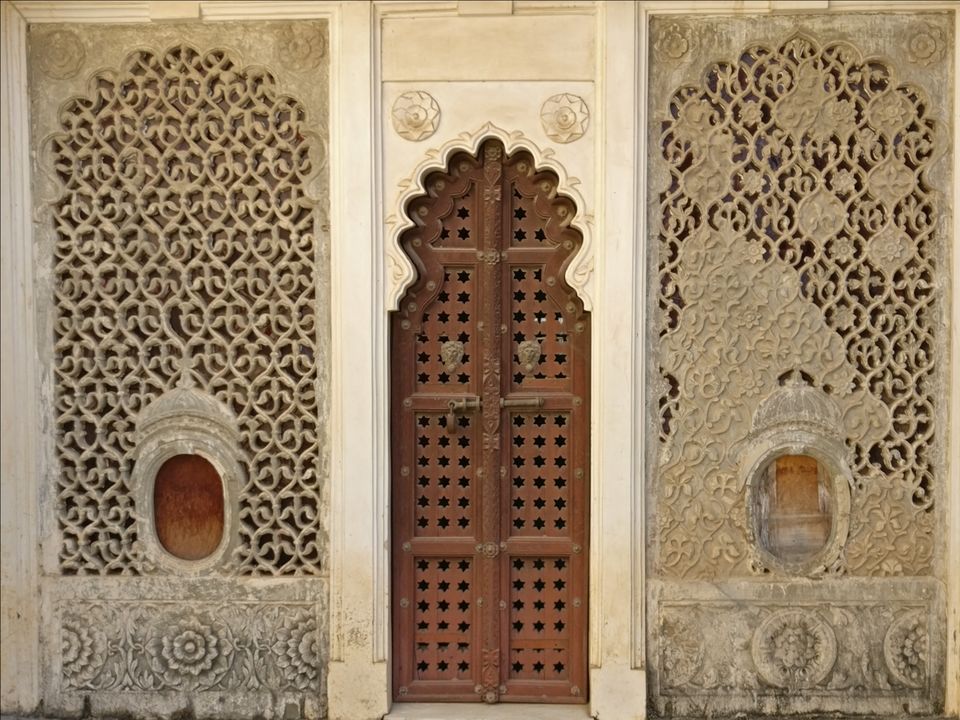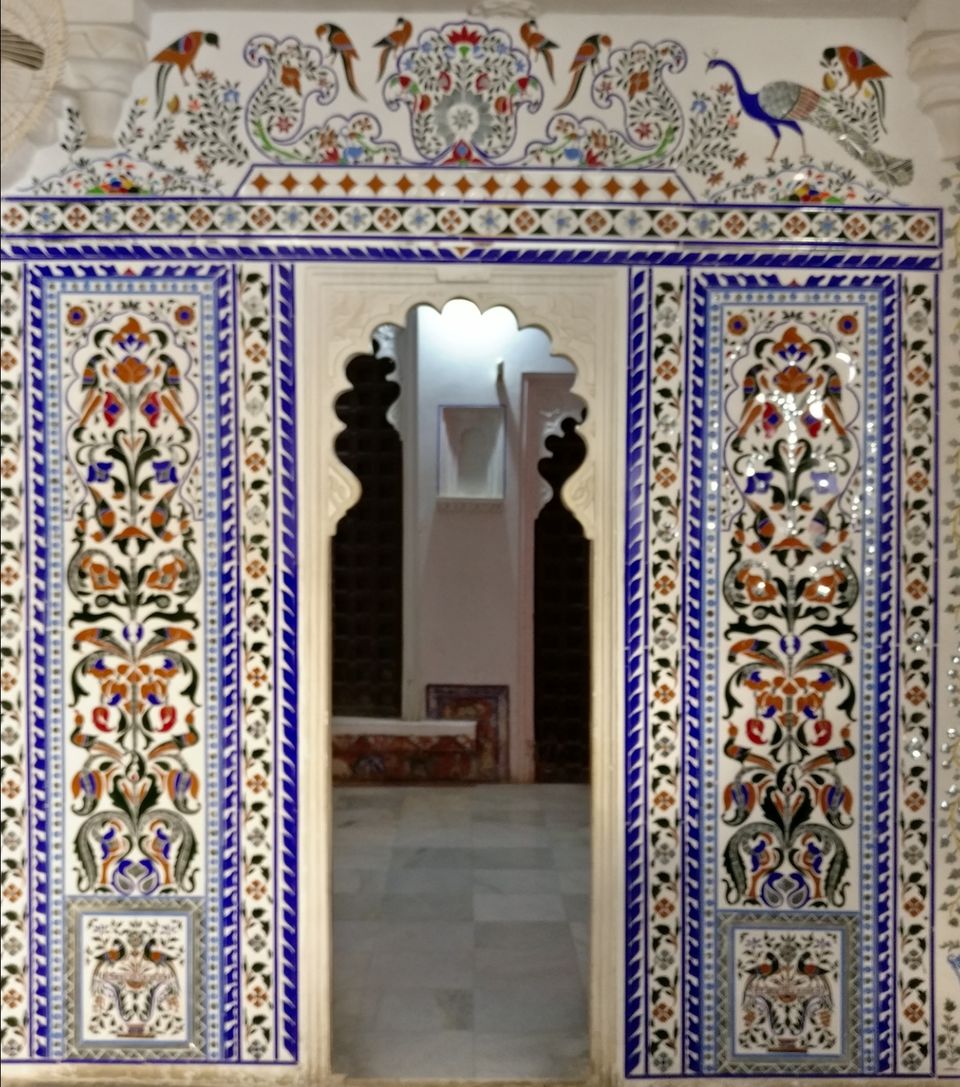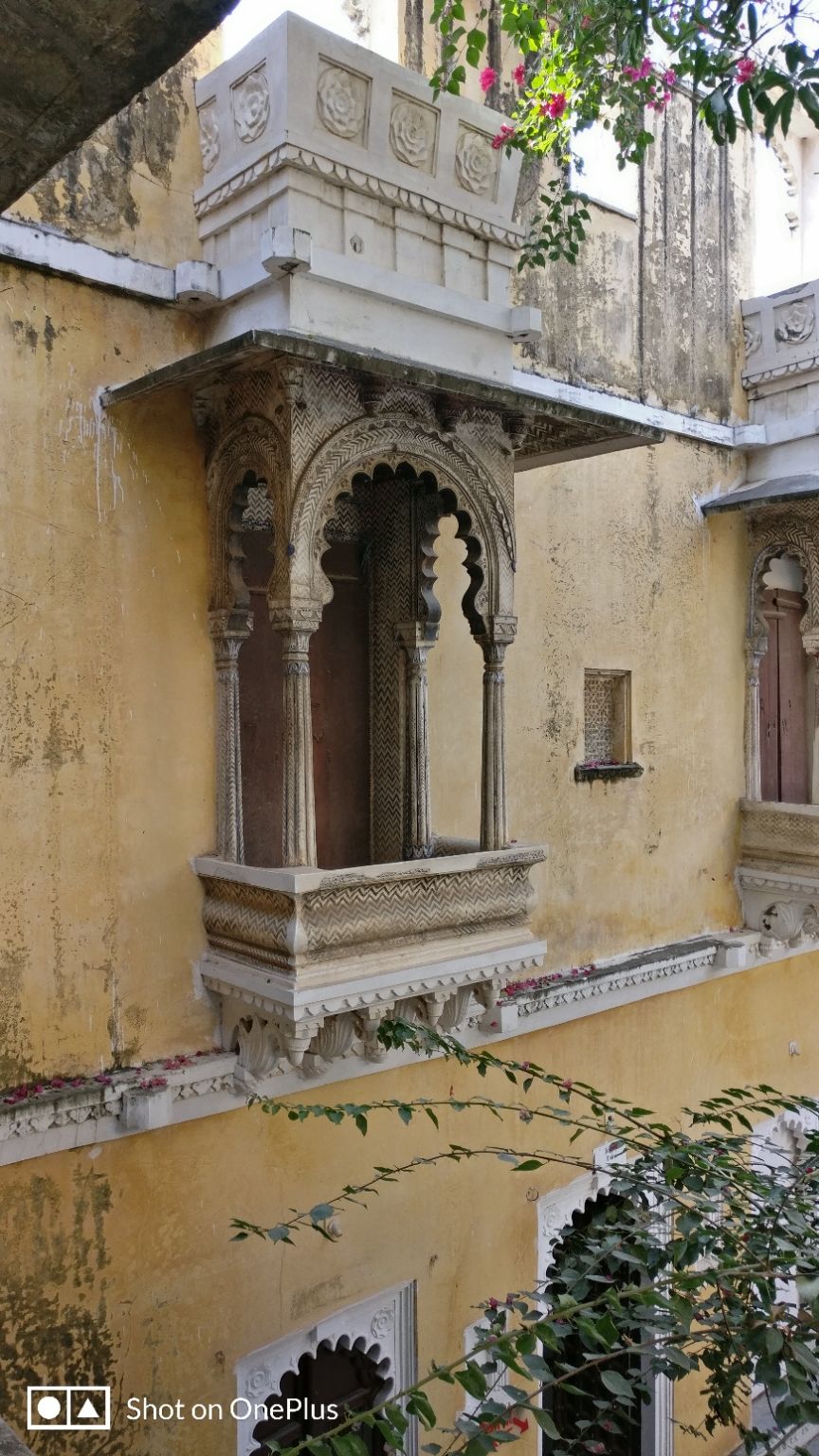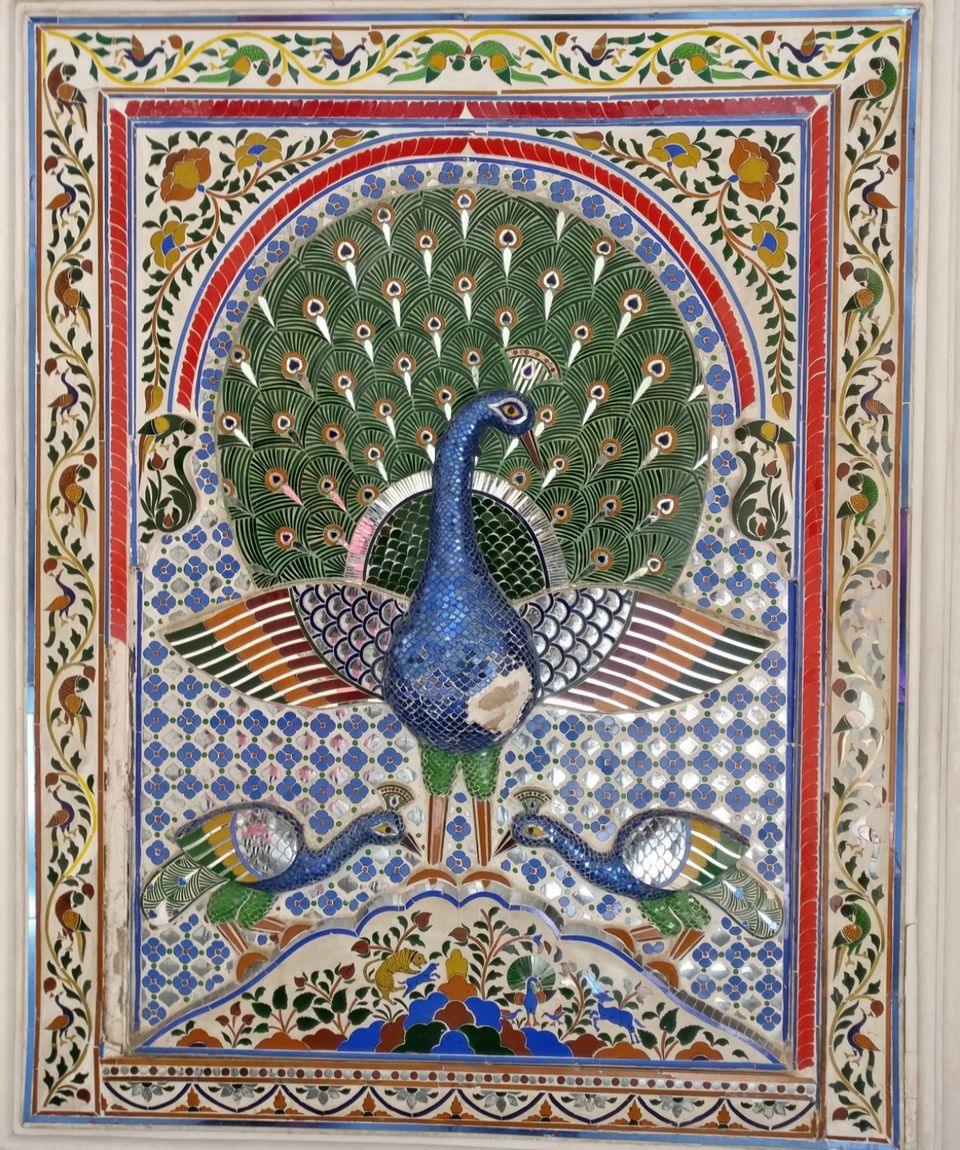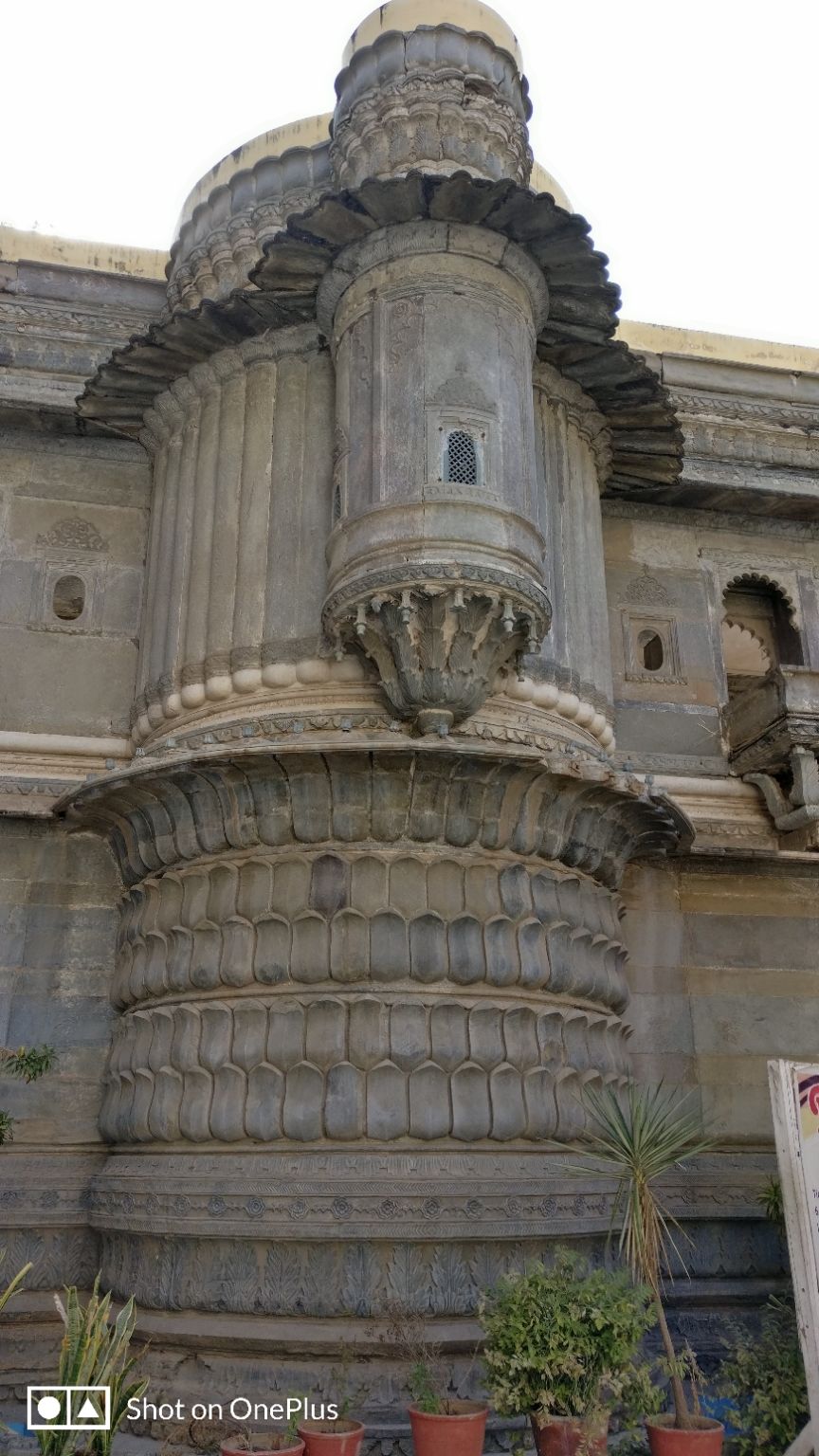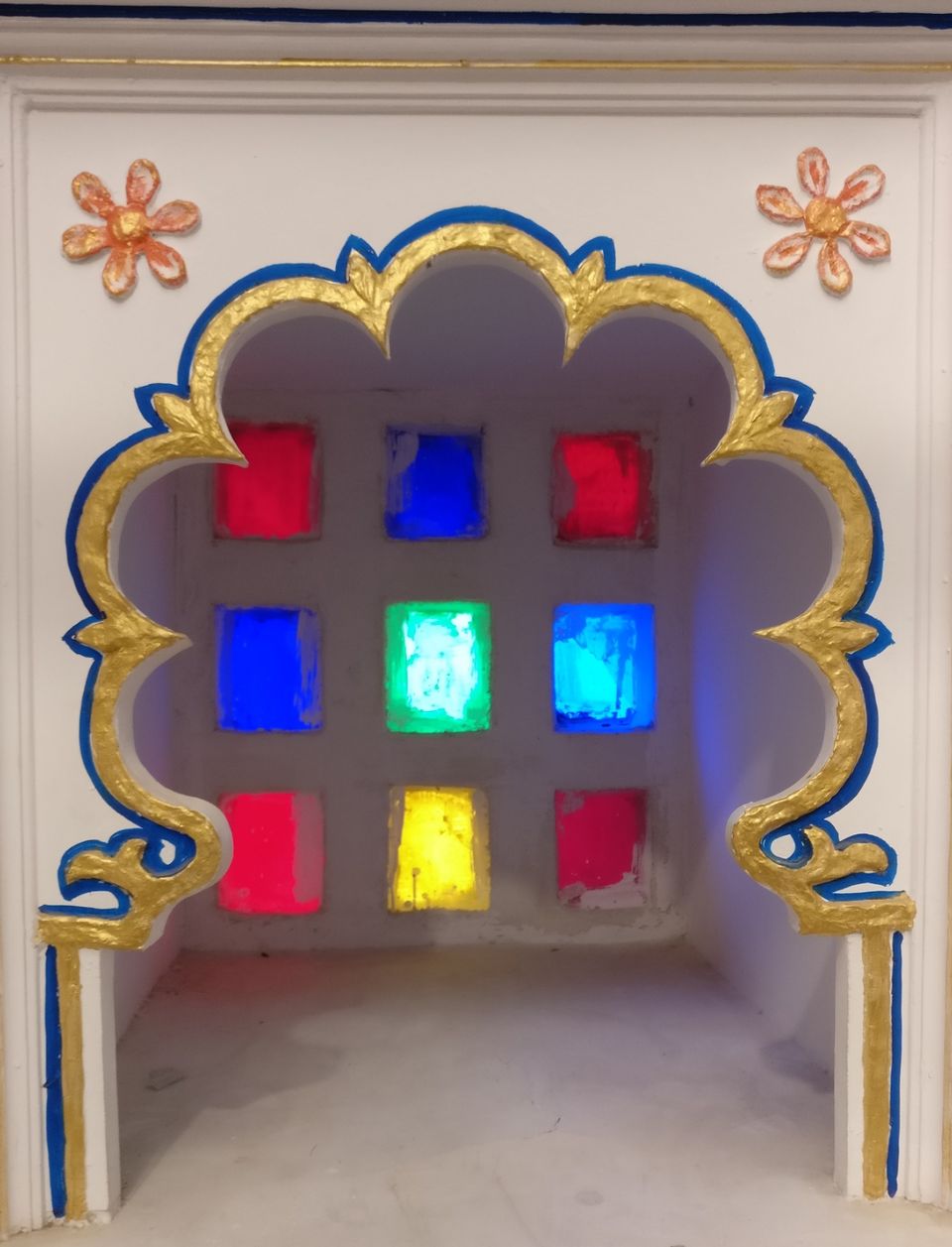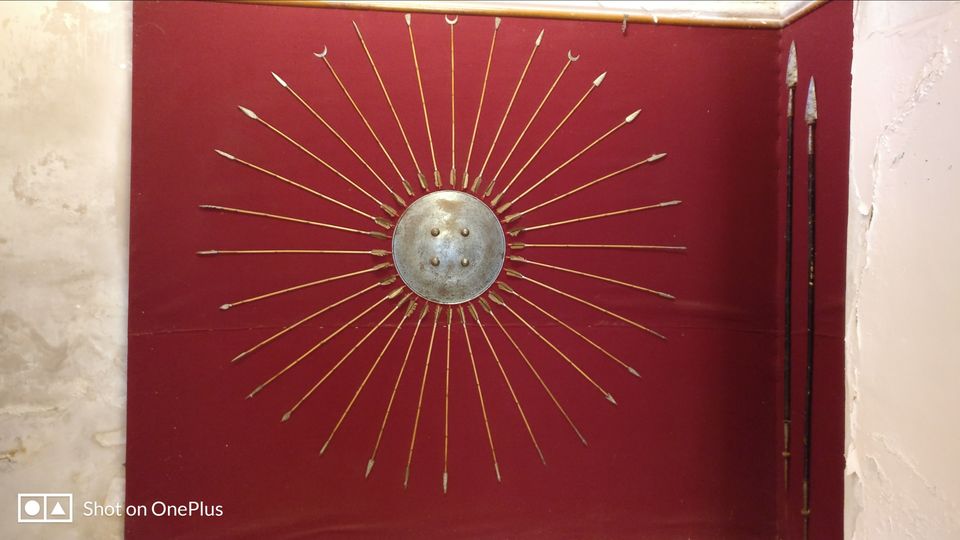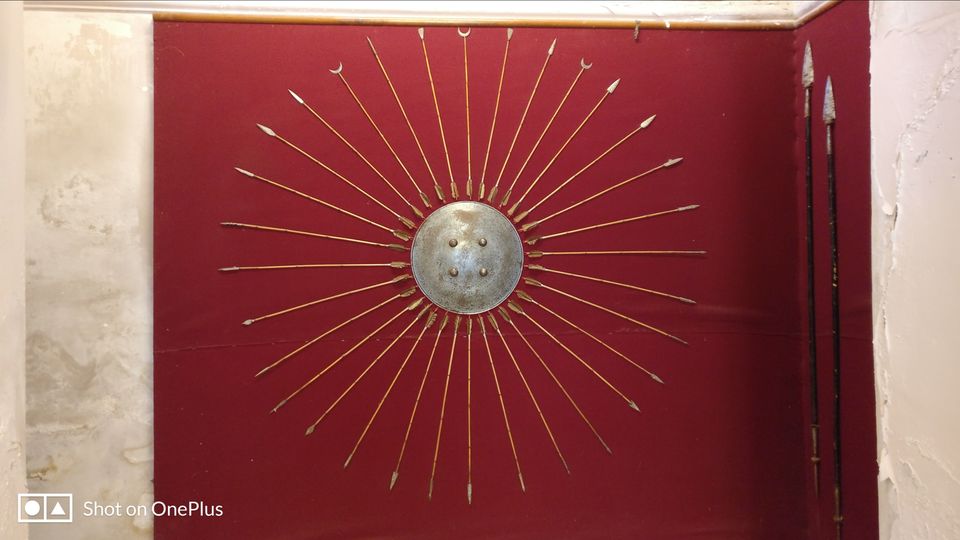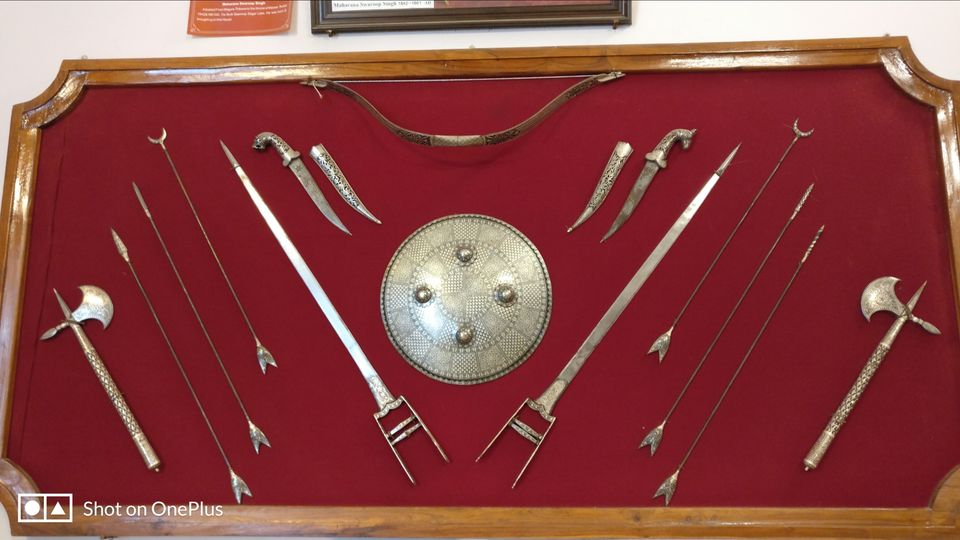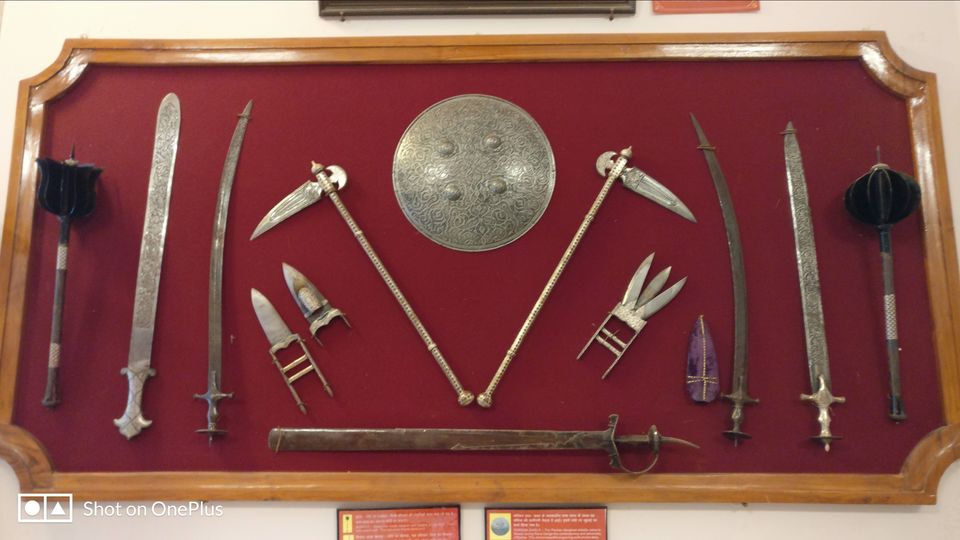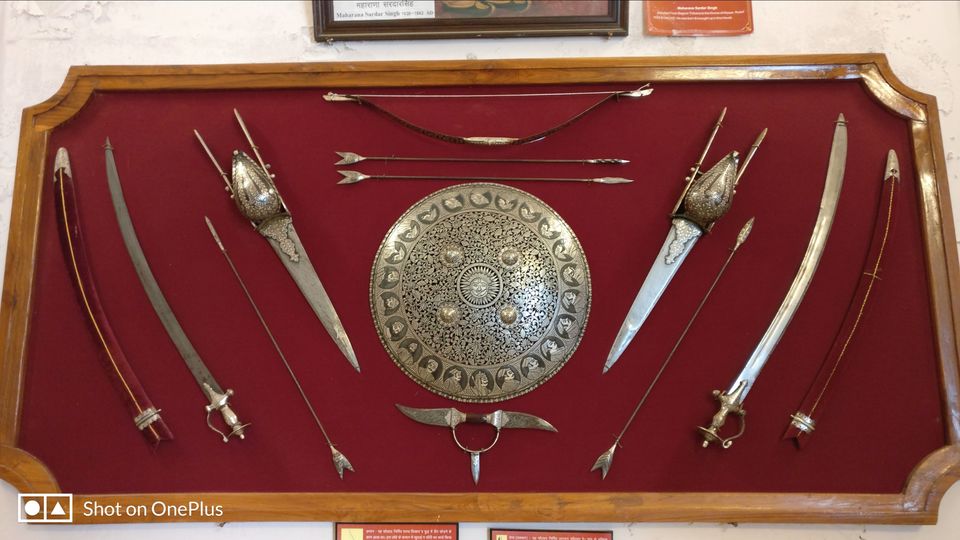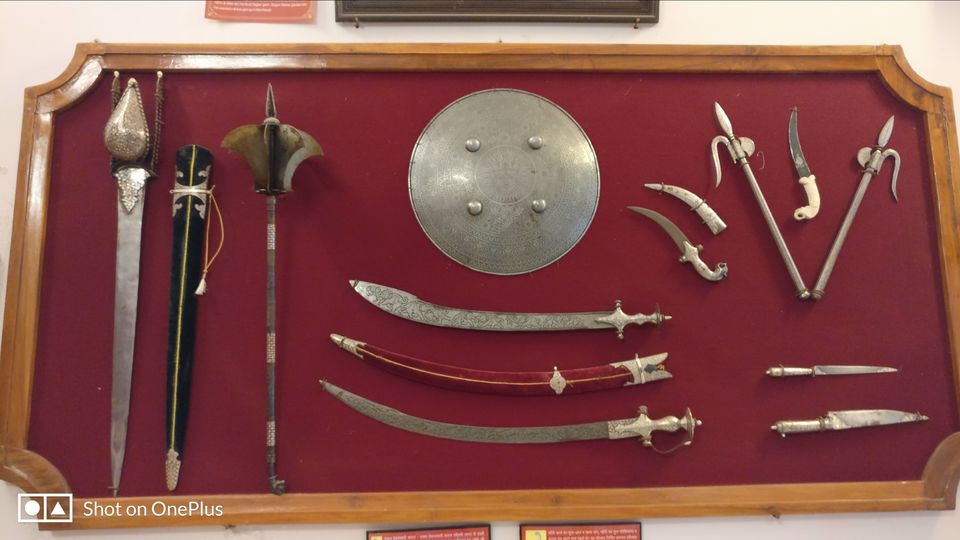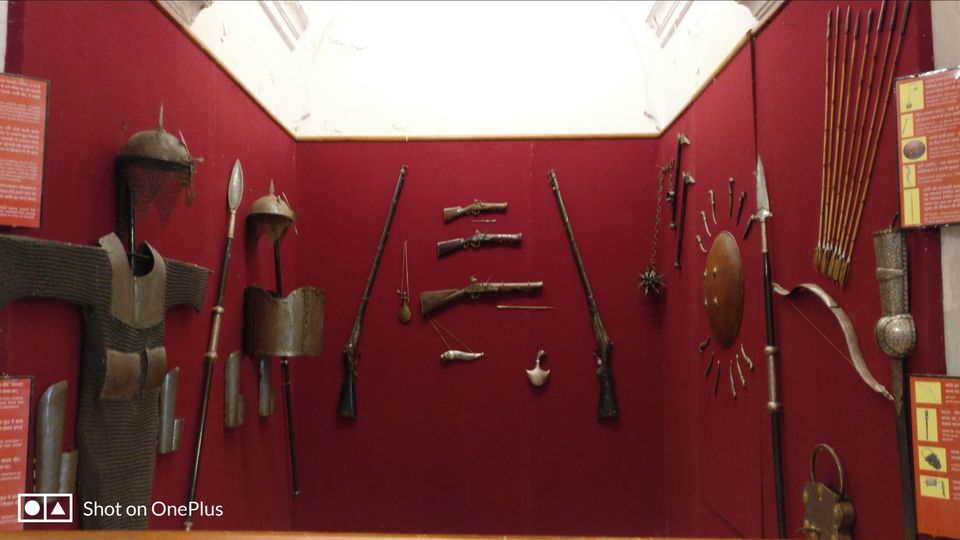 Karni Mata Mandir:
This temple was built in 16th Century by Maharana Karan Singh. The temple is located at the hilltop. There are 2 ways of reaching this temple. Either you can climb the stairs which take around 20-30 mins or go by ropeway which takes not more than 5-10 mins. The panoramic view of Udaipur city is spectacular where you can see the whole of Udaipur. You can have a stunning sight of Dudh Talai lake, Pichola Lake, Lake Palace, Fateh Sagar and much more
Ropeway fare:
72 INR Indian Adults
36 INR for Indian Child
300 INR for Foreign Adult
150 INR for Foreign Child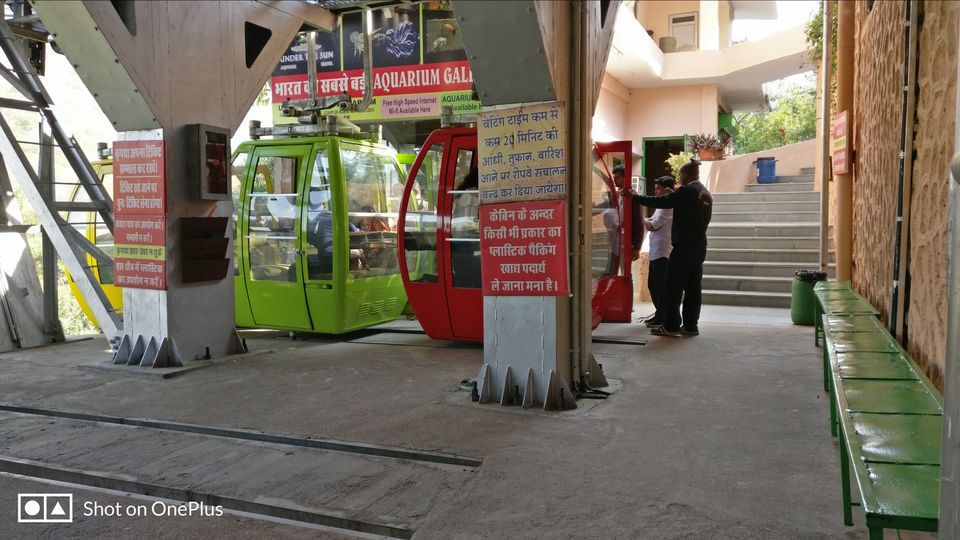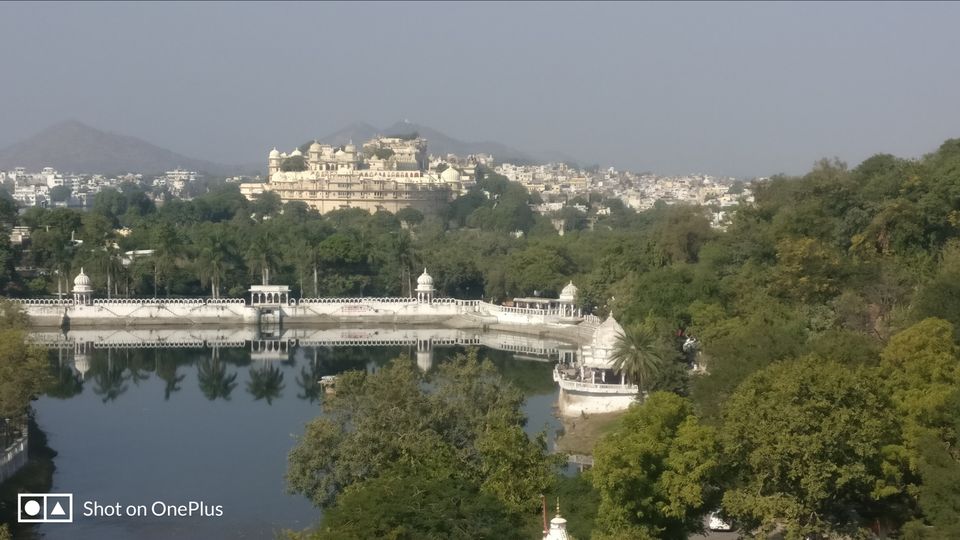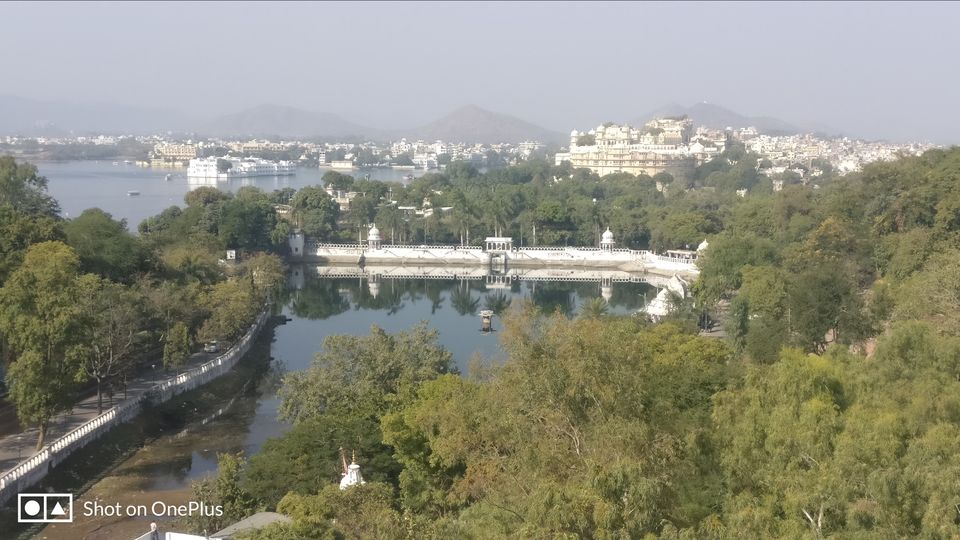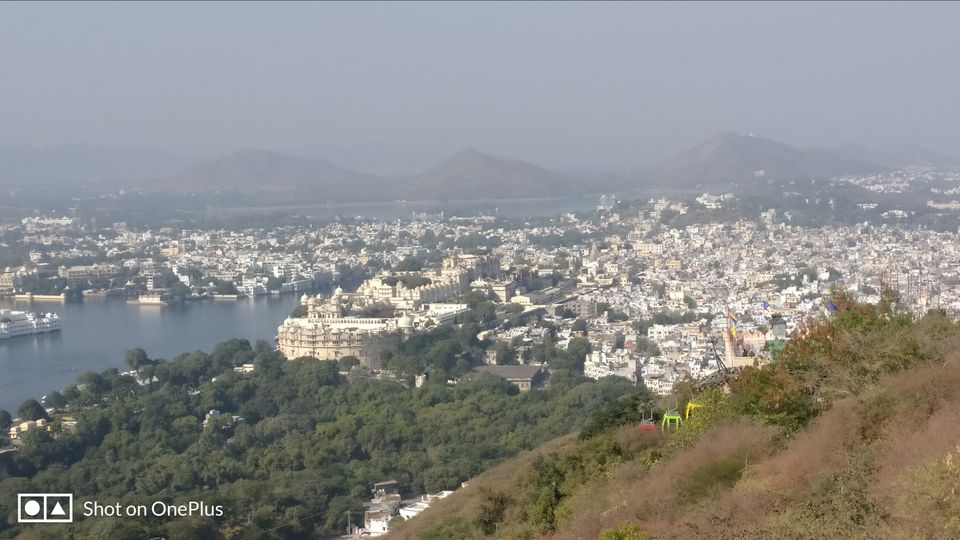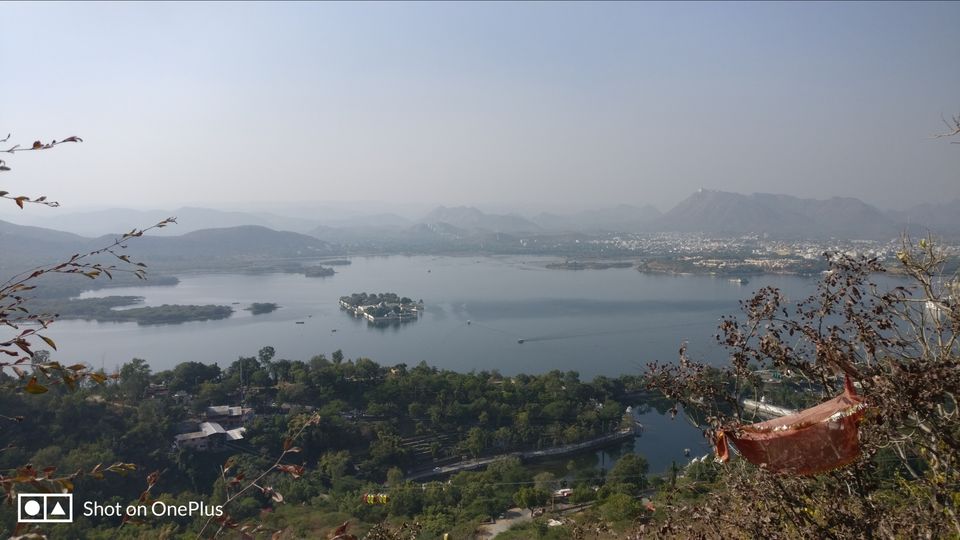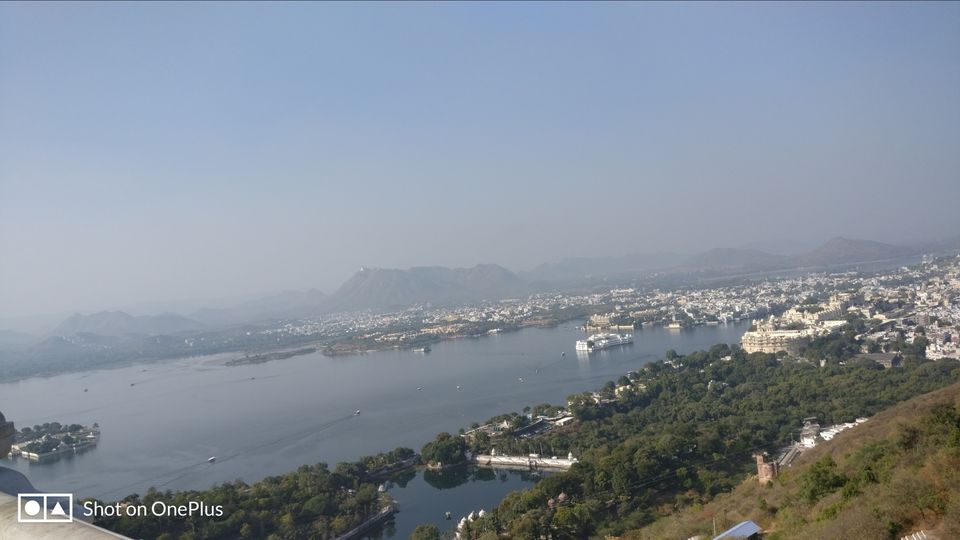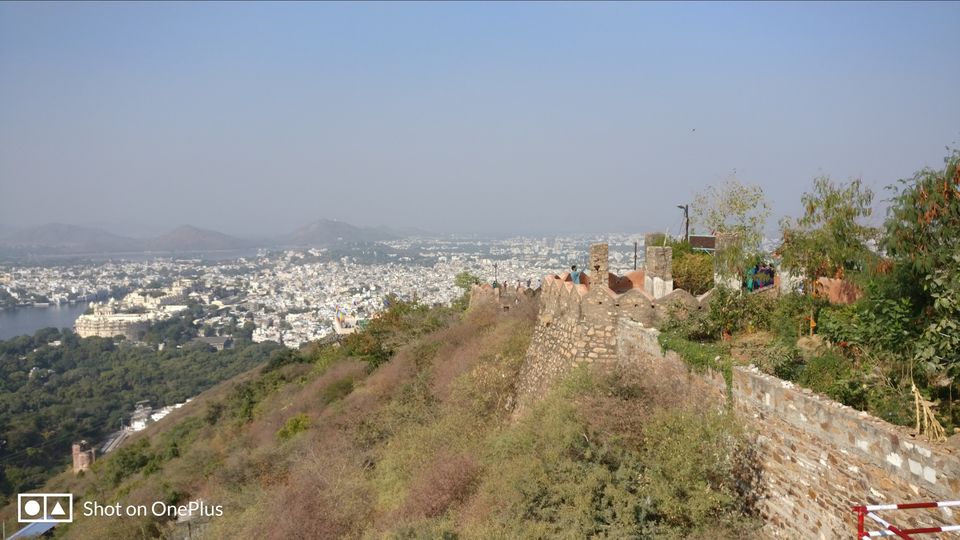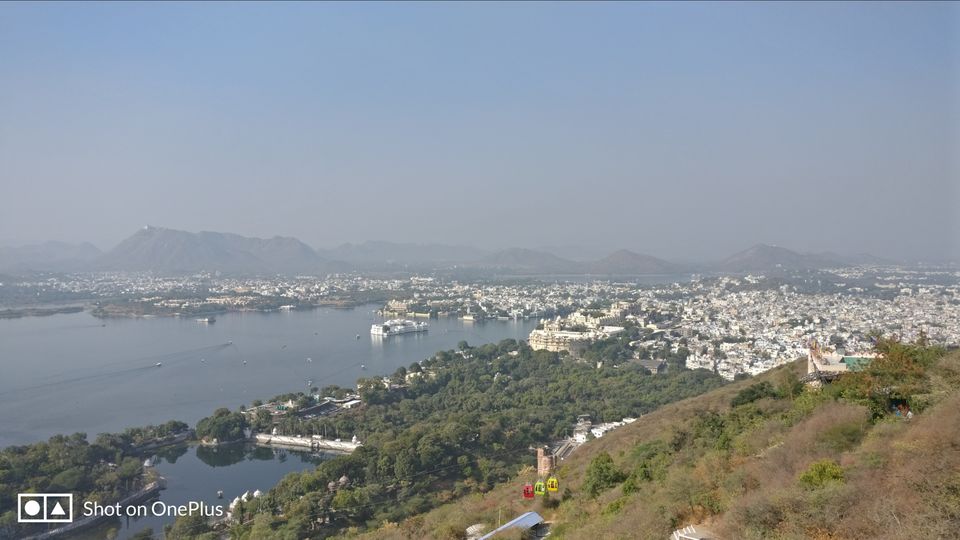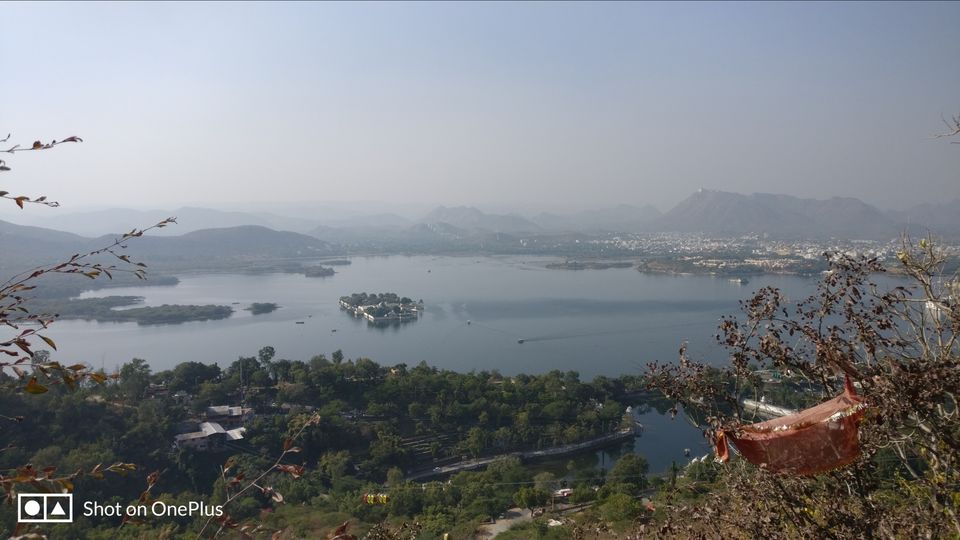 Monsoon Palace:
Entry fee:
10 INR for Indians
80 INR for foreigners
Timings: 8:00AM to 6:00 PM
Monsoon Palace is also known as Sajjan Garh Palace named after the Maharana Sajjan Singh. It was built in the 18th Century to watch the monsoon clouds. The palace building is 9 stories tall. Sun setting behind the Aravalli hills from this place is beautiful to watch. To reach the palace there are shared cabs from the base of the hill. If you are going to drive your own vehicle you need to pay around 300INR at the ticket counter.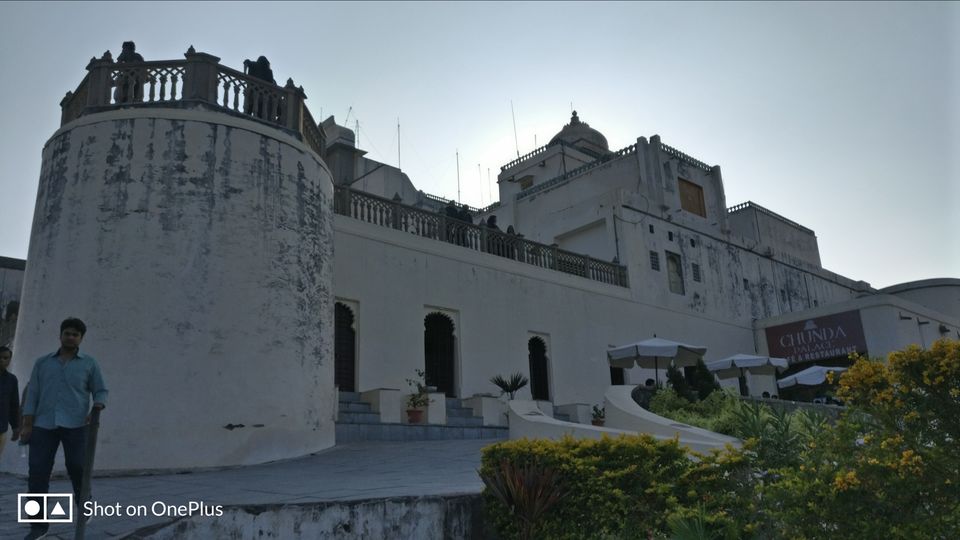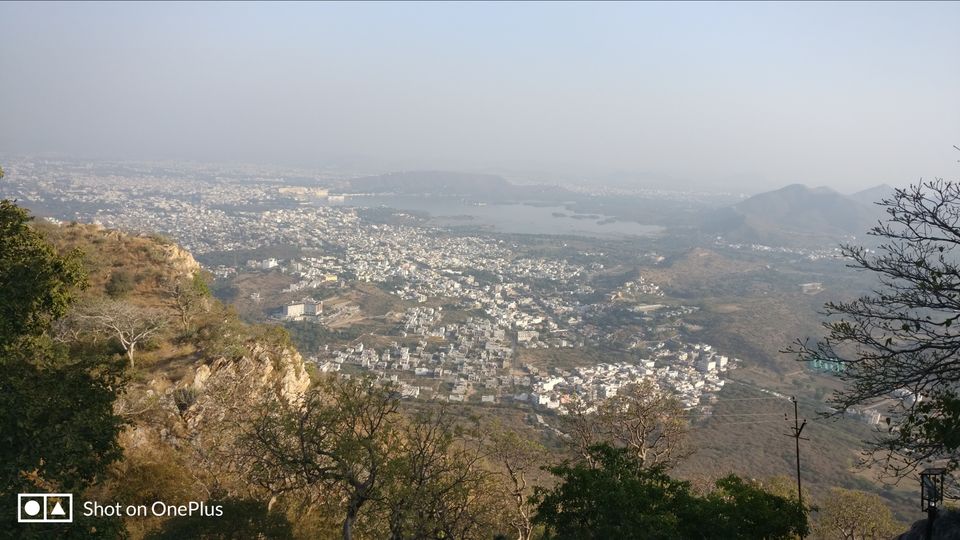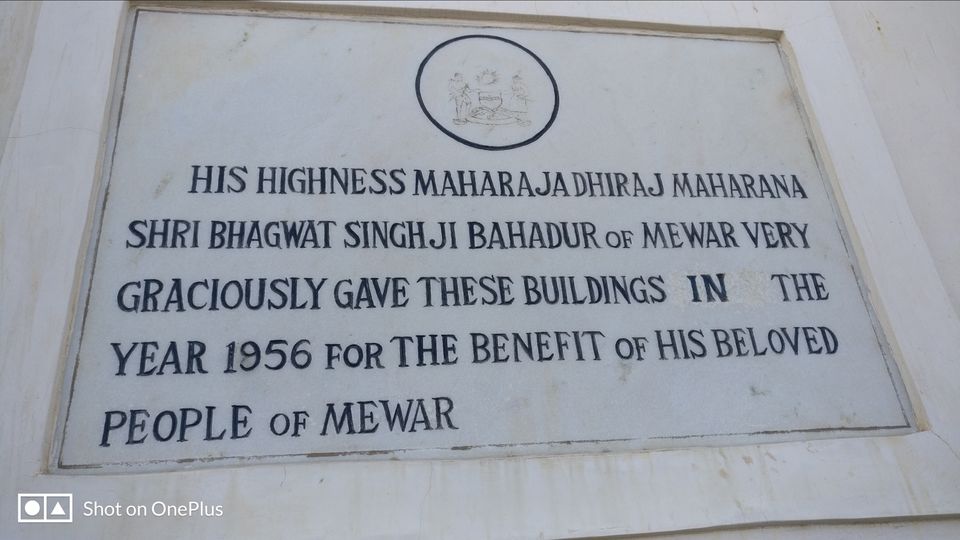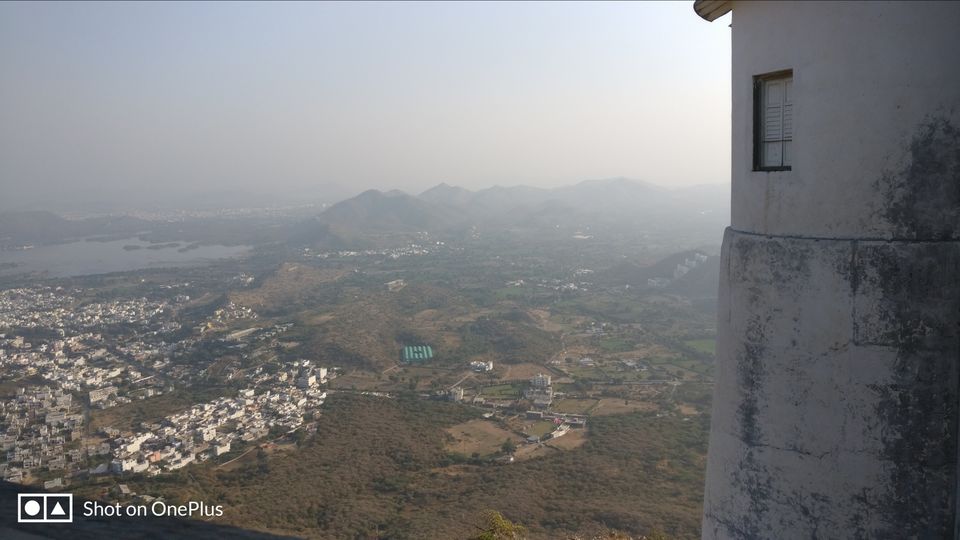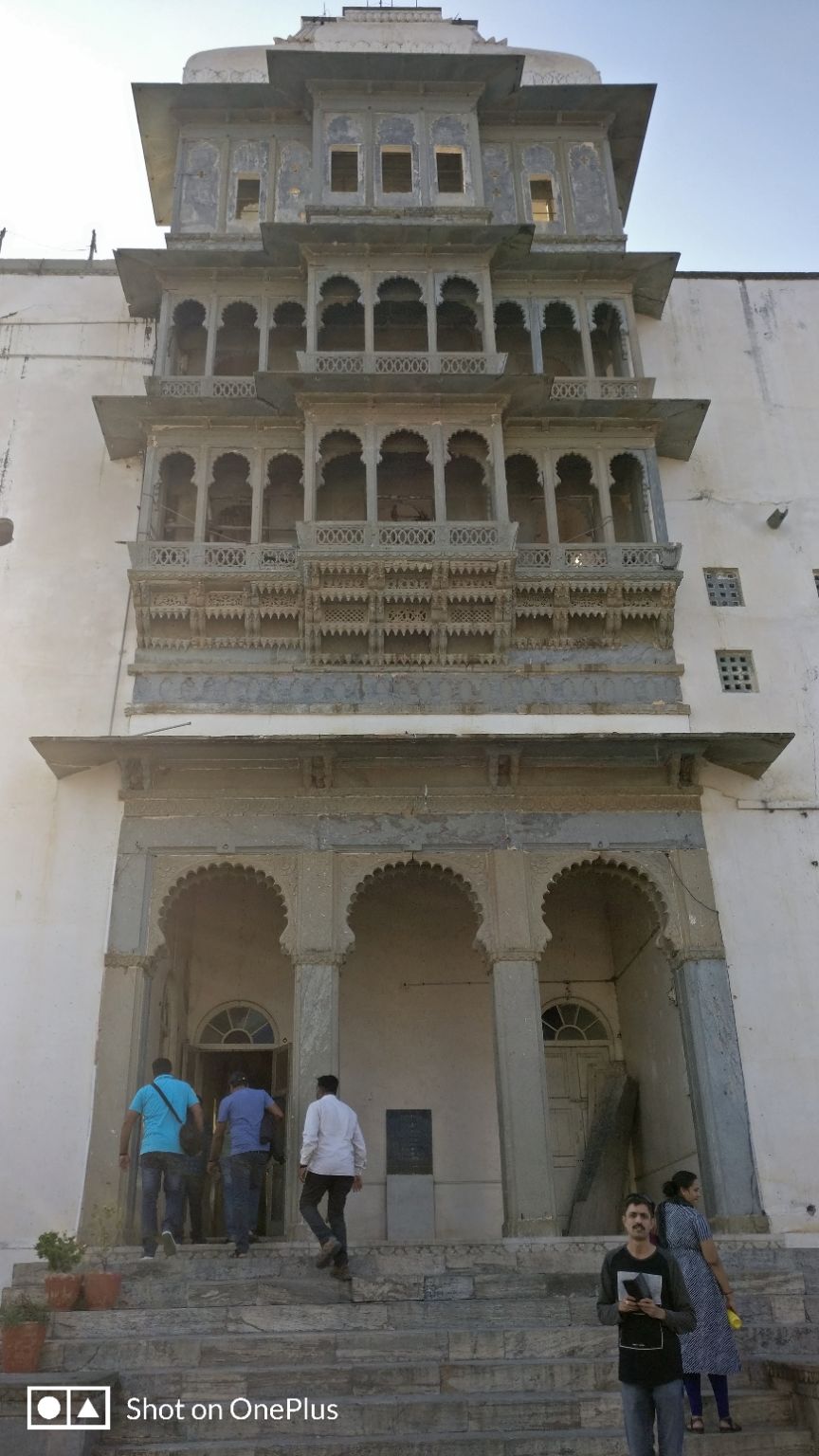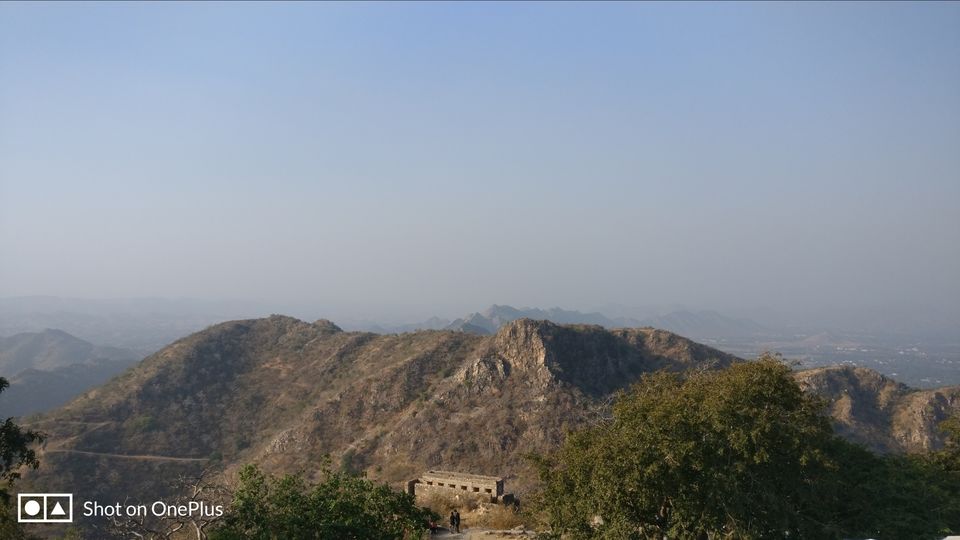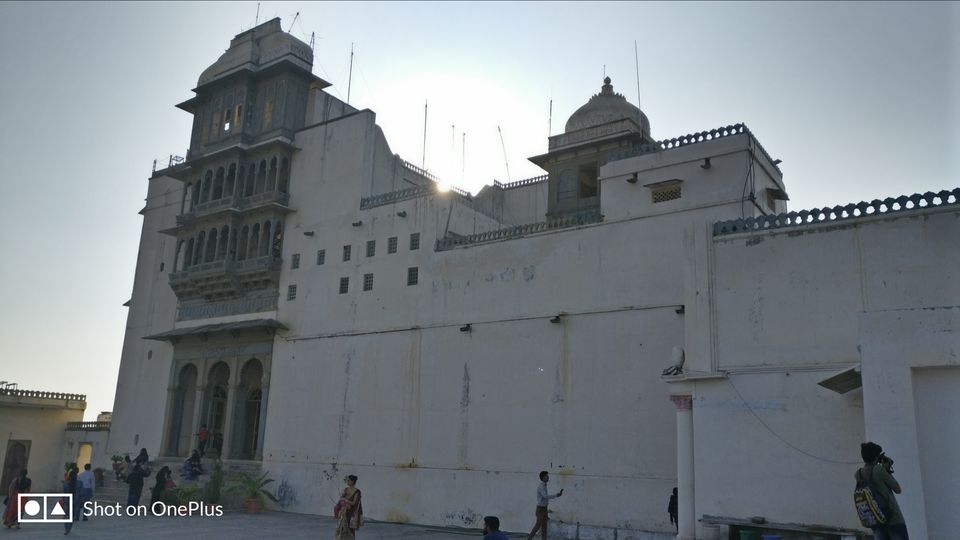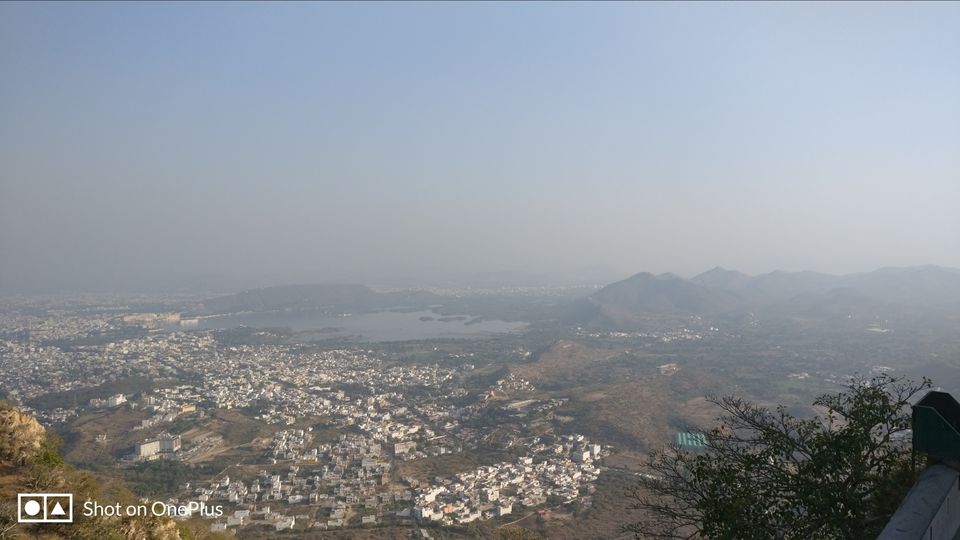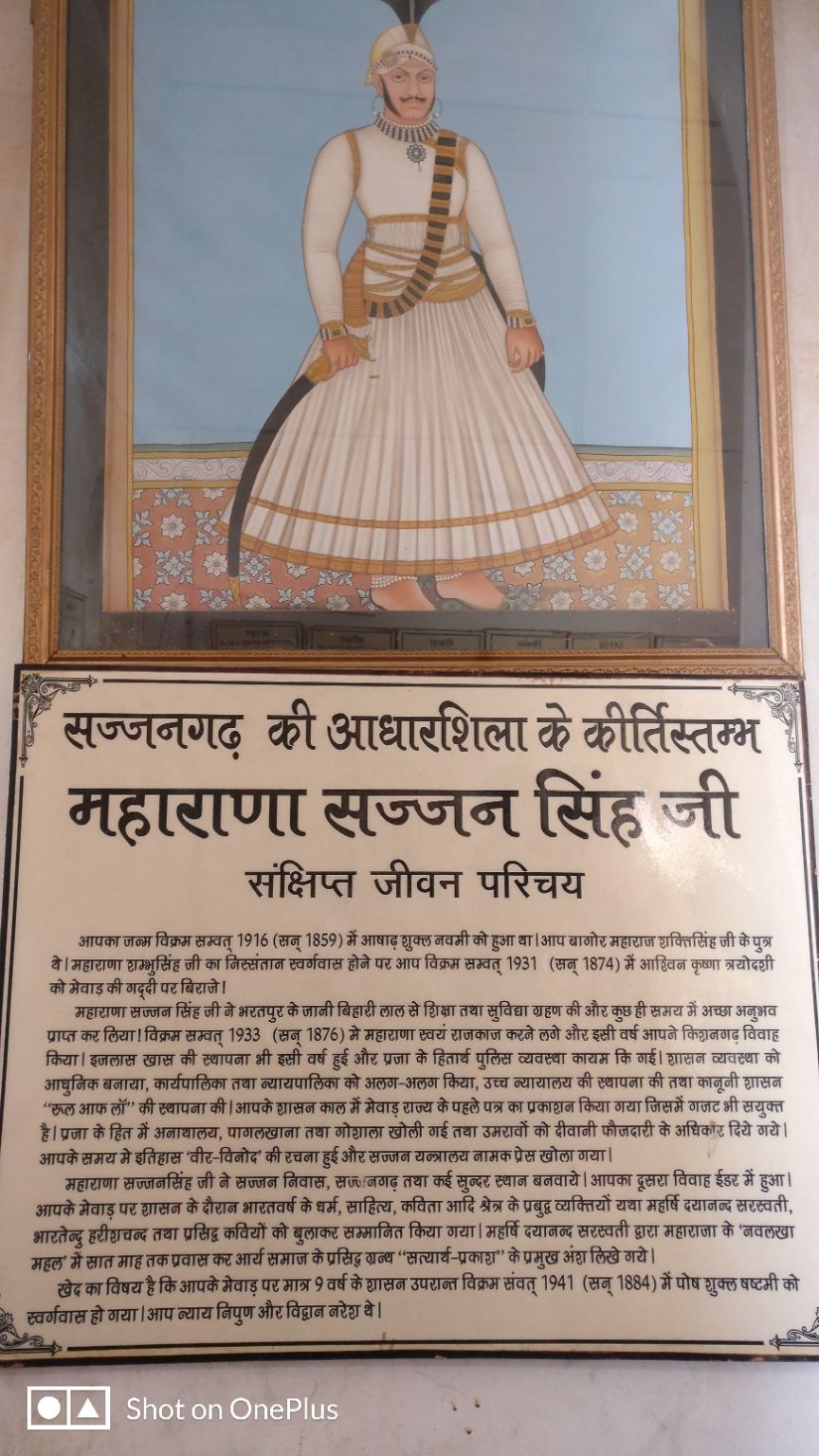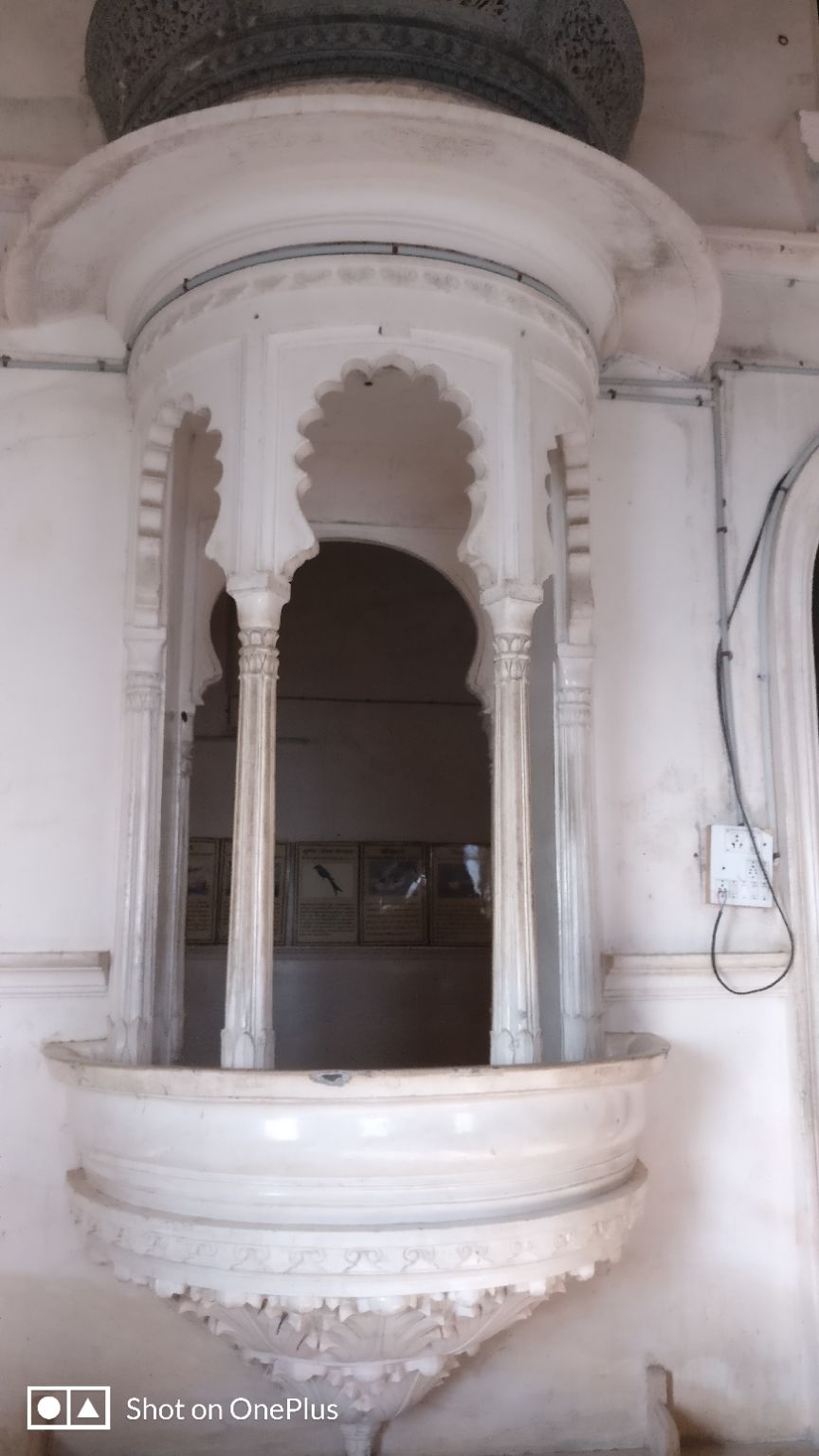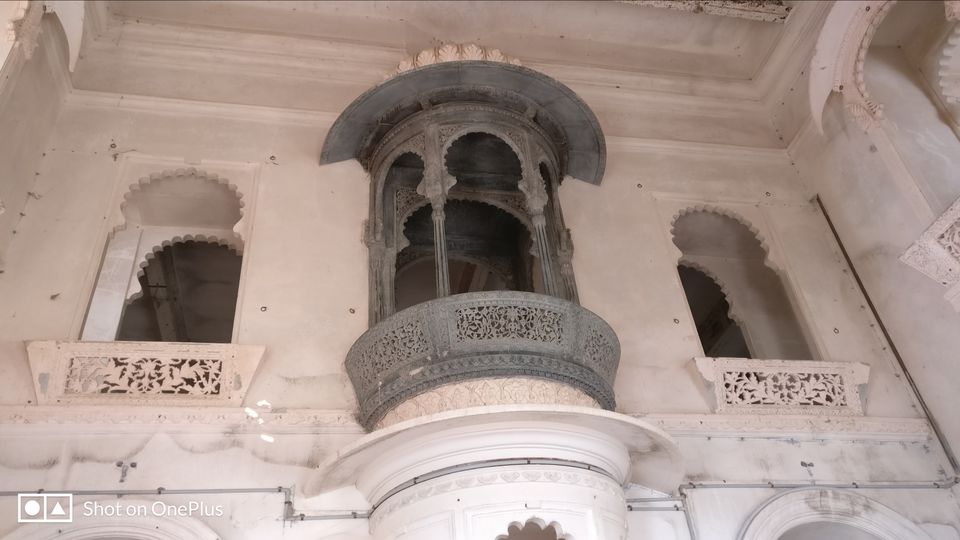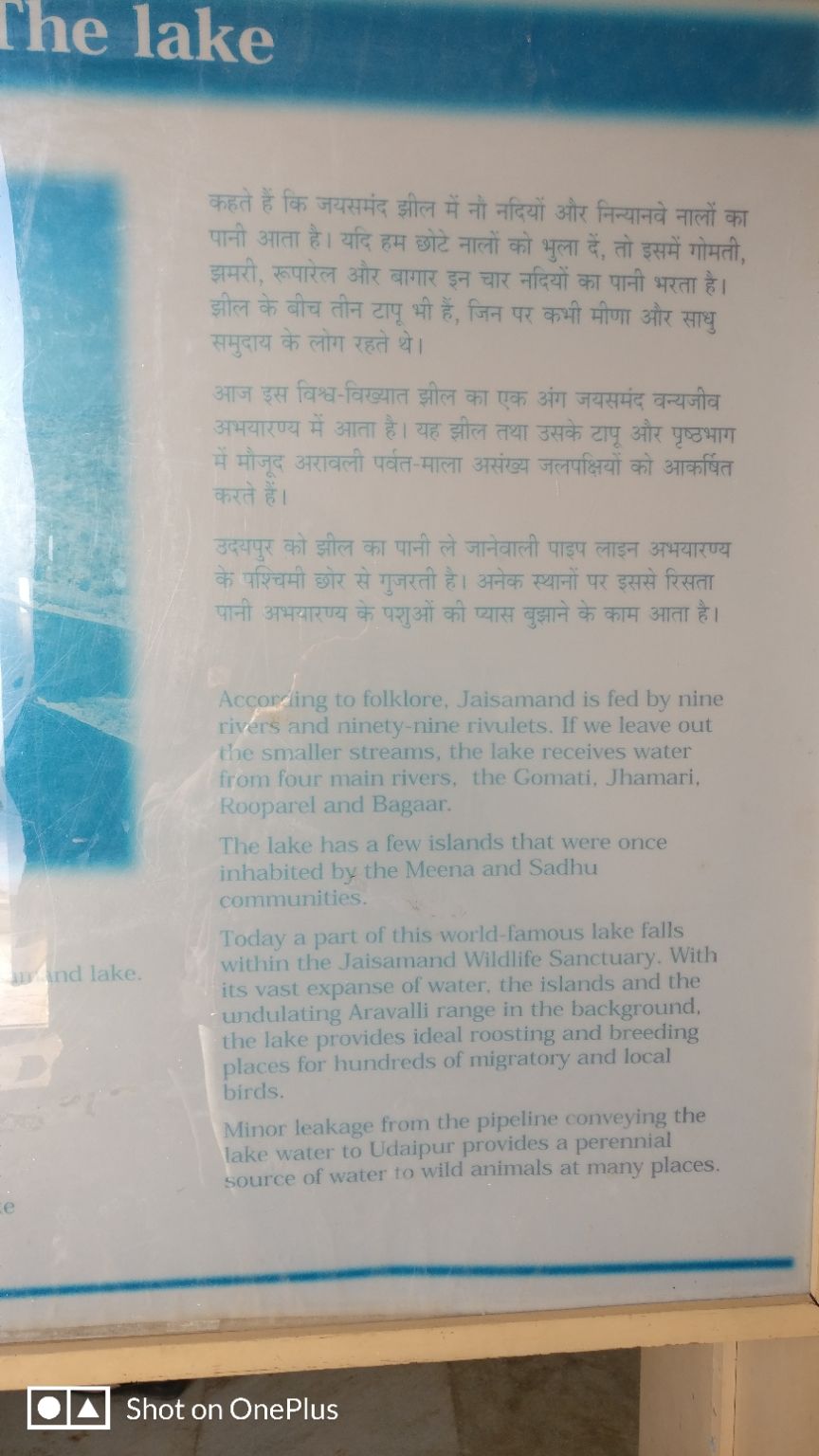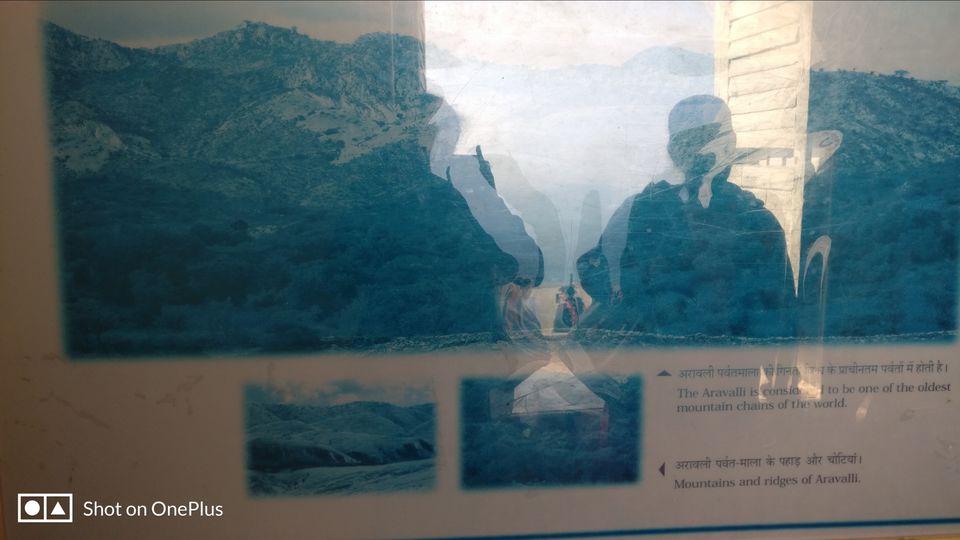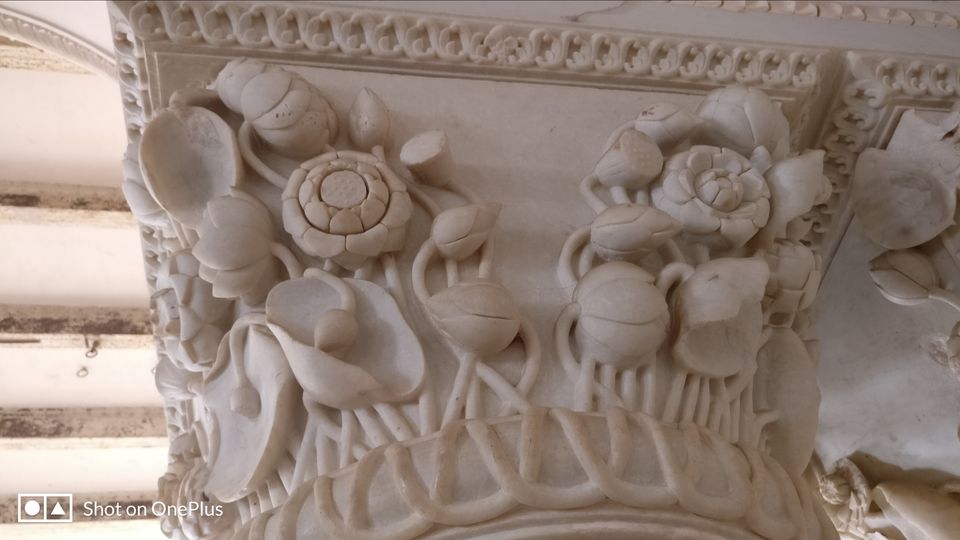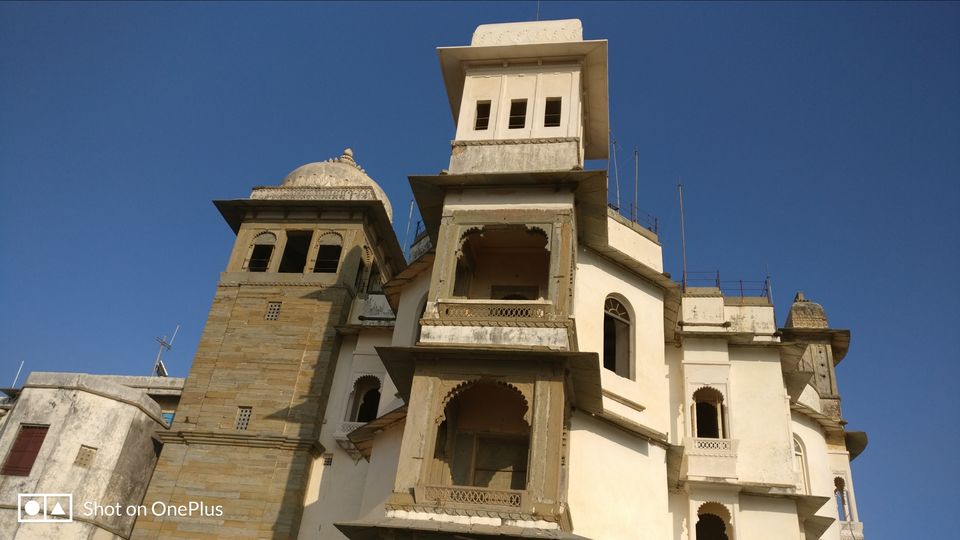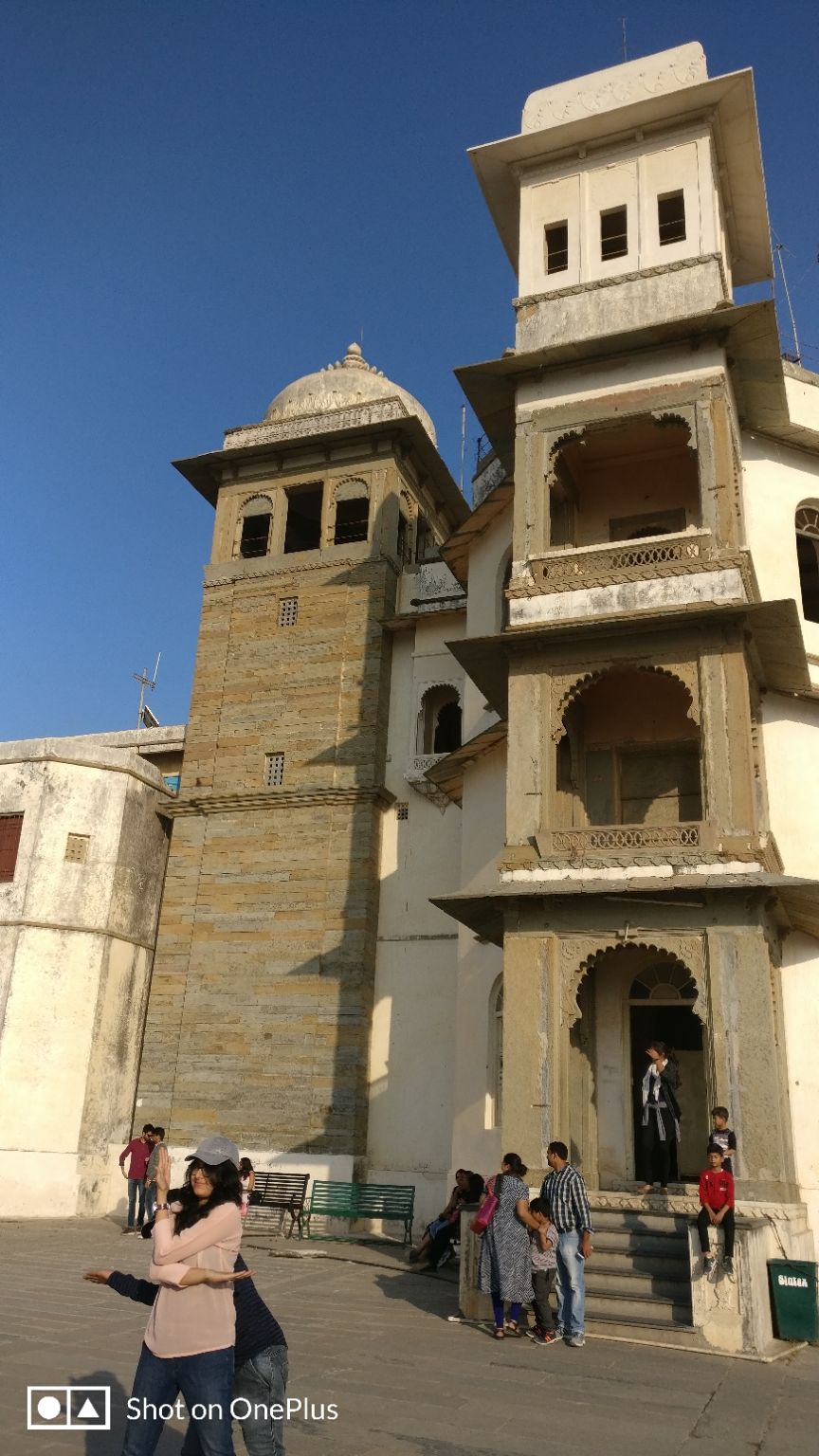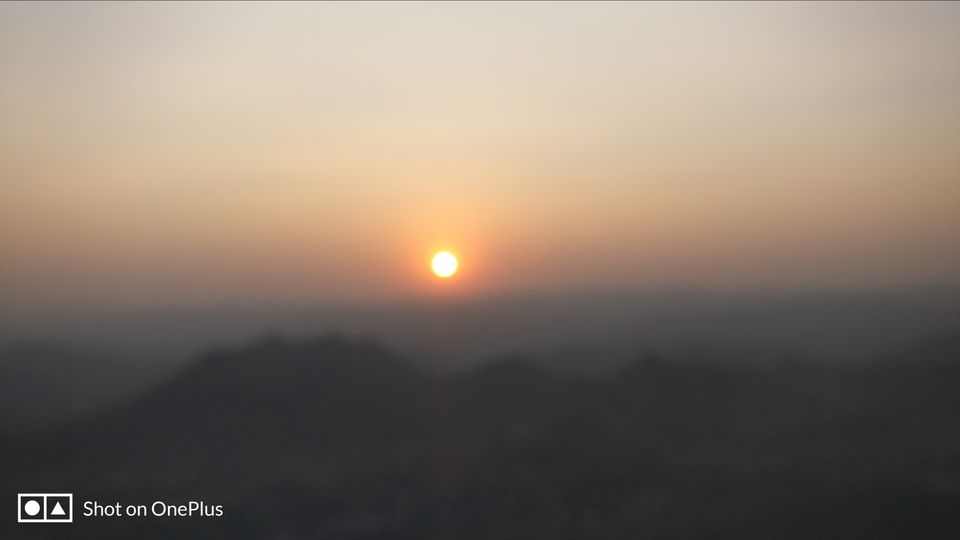 With this, our Udaipur tour came to an end and we were back in Mumbai with cherishing memories. Good Bye Rajasthan until next time.