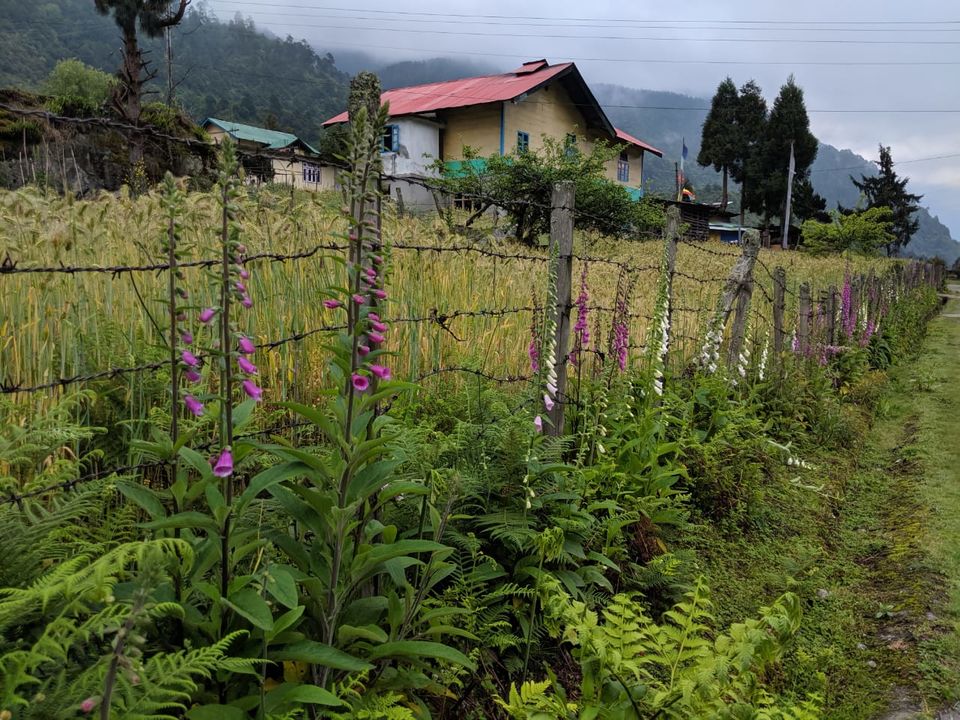 Wish to know about India's best secrets and hidden gems? Explore 'Mera Shandar Bharat, Safar Anokhey India Ka' to plan your next holiday!
I love experiencing the local culture while travelling. It's far more memorable when you get to step outside your comfort zone and learn from your travels.
This particular blog is dedicated to a lovely couple who run the Tsomola Guest House in Lachung, Sikkim, who contributed to one of the highlights of my trip to Sikkim.
Lachung in Sikkim gets very cold. If you're planning on visiting Zero Point and Yumthang Valley, this is the best place to rest for the night. You'll need to plan for nearly a day of bumpy rides (over 7 hours!) from Gangtok to Lachung.
Keep your fingers crossed that your car doesn't break down or you need to overcome landslides. These parts have winding roads with some of the most beautiful views. Speckled with waterfalls, you'll forget your backside is in pain, when you come across the little huts and that dot parts of rural Sikkim.
After such a long commute, you'll definitely want a comfortable place to rest at for the night. We were fortunate to come across Mr. & Mrs. Bhutia who run the guest house that feels like home.
We arrived and it was raining and extremely cold (for the summer we thought it might be). But no matter, their warm smiles immediately thawed what seemed like icicles sliding down my skin.
We quickly made it to our rooms while the kind hosts enquired about what we would like to eat. They set off to make us a hot dinner that we were looking forward to! After being ushered to our respective bedrooms, with thick carpeting and soft beds with multi-layered quilts (so glad for this!). We decided to get warm with a little whiskey for company. It somehow tastes better in these cold temperatures. Don't forget to have it neat with warm water instead of with ice.
Dinner seemed to have been prepared in a jiffy. The inviting smell of delicious, smokey flavours drew us to the little wooden kitchen and dining room. Filled with even more warm smiles from Mrs Bhutia's sister and her family. The food was served buffet style, and with plenty of love! The chicken curry was simply remarkable.
The rain was falling hard outside, but it was masked by the chatter of happy guests with full bellies. We couldn't help but stuff our faces with the food that was generously served without any hesitation. While we ate, Mr. Bhutia surprised us with his ability to speak Kannada! It was so great to hear the 'language of home' so far away. It's always a wonderful feeling to learn that people make the effort to learn a local language. He explained how he spent some time at the Bylakuppe Monastery in Karnataka which led to him speaking Kannada.
After dinner, conversations about the culture in Lachung led to an important question - where does one get Chang? We had hit the jackpot - Tsomola Guest House has a little shop attached to it which not only sells snacks but also serves up Chang! The bonus? A lesson in making the lovely local drink.
The delicious drink is topped with warm water - quite apt for the weather. It's a great representation of community, with everyone taking a sip from the same container. This quantity can be topped up to three times - enough for a whole night of conversations!
It's not just the drink but the hall that the Bhutias have built to house these lovely experiences - filled with authentic carpeting, Yak tails and trinkets, it's a great way to unfold the culture and traditions of Sikkim too!
After dinner we tucked in to get an early start to the next day. Of course surrounded by the picturesque place, we were up at sunrise to get a head start on the views.
As you step outside the Tsomola Guest House, you will be greeted by a large waterfall.
As you get lured by the magnificent sight with the mist for company, you will discover a river flowing happily as if on a mission.
With the smoke from the recently lit incense swerving away in the sky, you will be led to little houses surrounded by what can only be described as paradise.
If you're not on a tight schedule, you can even walk around further and try to count the various hues the wild flowers flaunt.
Ideally, you should keep one day aside to just walk around in the surroundings and take it easy. The 'rocky road' with the waterfalls were so alluring, I wanted to climb across the pathways from the guest house to discover what the 'otherside' had in store. But if you have to make it to Zero Point and Yumthang Valley, you have to leave as soon as you can because seeking permits and avoiding the crowds take a certain skill that only the locals have!
If you'd like to experience the wonder of the Tsomola Guest House, here are their details. They also offer guided tours and car services across Sikkim, with permits included. They can also arrange for a visit to the Nathula Pass.
Mr. L.T Bhutia
Tsomola Guest House,
Lachung, Sharchok, North Sikkim.
M: 8972270801 | 7063656207 | 9734229301
All pictures are the property of the writer
Had fun reading? Find like-minded explorers, learn from expert travellers or be one yourself and help others on Tripoto's Travel Forum!