Stingy, thrifty, frugal, tight-fisted…whatever you call it, there will always be times in life, while traveling or not, where we either can't or don't want to part with our hard-earned cash. Luckily, we've found that there are plenty of simple sacrifices that can be made to save a dollar or two, with comfort, quality, and convenience likely being the most common (and most likely to leave you wishing you'd just shelled out the extra dough). Although not for everyone, a little sacrifice can go a long way when every penny counts. However when these options are severely limited, like when you decide to visit Europe's eighth most expensive country, staying on budget becomes all the more difficult.
Being overly budget conscious, Travis and I almost choked when we saw the cost to visit some of Bled's world class attractions. Not wanting to hand over an amount equal to our total daily budget for a few hours of enjoyment, we did the only thing we could – we found an alternative and made some sacrifices.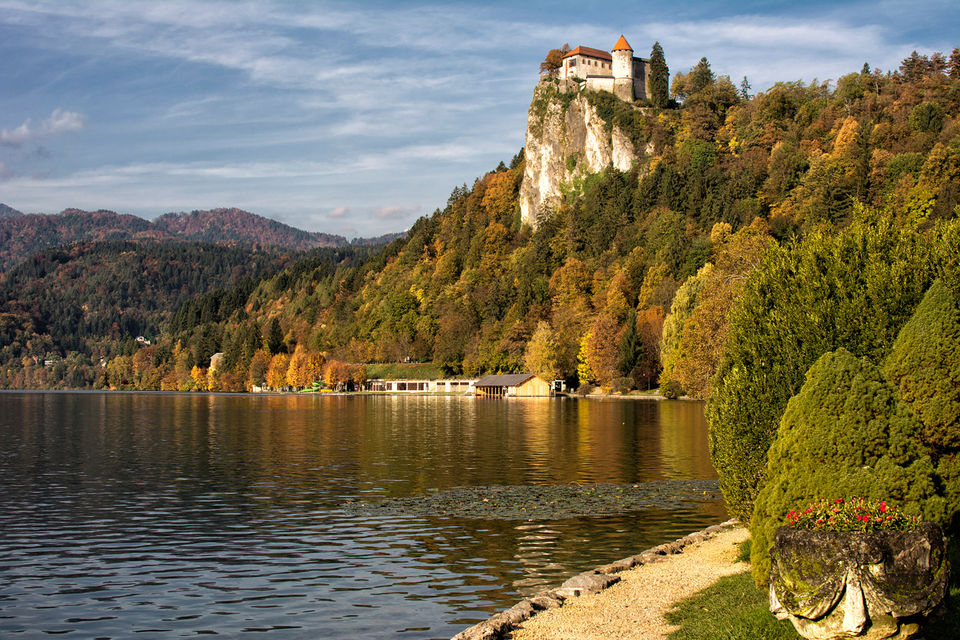 Bled castle perched high above the lake.

Bled: Getting There
There are plenty of tour agencies willing to take visitors on full-day guided tours of Lake Bled and the Bohinj Valley. While extremely convenient (they pick up and drop off at your hotel) and relaxing (simply sit back and allow the guide and driver to take you around) these tours are also the most expensive way to get to Lake Bled. We found prices ranging from 59-75 Euros per person for a full day on a group tour, or up to 350 Euros for a private tour (total for 1-2 people).
Seeking more freedom in our visit as Travis and I aren't good at "following" for an extended period of time, we decided to use public transportation between Ljubljana and Bled. Although we had to sacrifice a bit of convenience, the bus schedule had us up bright and early and we had to walk to and from the main bus station (a thirty minute round trip), we spent a measly 6.30 Euro per person each way.

Sight Seeing for Cheap
As we weren't part of an all-inclusive tour, where all entry fees are normally included in the price, Travis and I were able to be even more selective with how we spent both our time and money. When visiting Bled, there are many wonderful free activities (mainly walking related) that would keep any tourist busy for most of a day. After partially wandering around the lake (there is an easy to find paved path that circles the entire lake) and snapping way to many photos, we found a sunny bench and watched the swans gliding by, fisherman clearly ignoring the "no fishing" signs (and dressed in full camo), and rowers training on the lake – a delightful morning, for free.
The Church on the Island
Bled is also home to some incredibly expensive activities, the main one being a visit to the Church on the Island. While the traditional way to access the island is by Pletna boat at a cost of 12 Euros per person (the trip takes 90 minutes, including sixty minutes of rowing and thirty minutes to explore the island), visitors also have the option to rent rowboats by the hour for 10-15 Euros. Unfortunately, we didn't see any rentals during our visit in the off-season. In addition to transportation to the island, the Church charges an entry fee of 3 Euro per person (I am not sure if this is strictly enforced or a recommended donation). After a quick discussion of our priorities and what we wanted from this visit (to simply take in the views and snap some photos), Travis and I decided that a visit to the Island was neither in our budget nor something we were really that interested in. However, for others not wanting to forgo this experience, renting a rowboat to see the island while choosing not to visit the church could be a budget friendly compromise. Or perhaps in the summer one can simply swim to the Island from the nearest beach?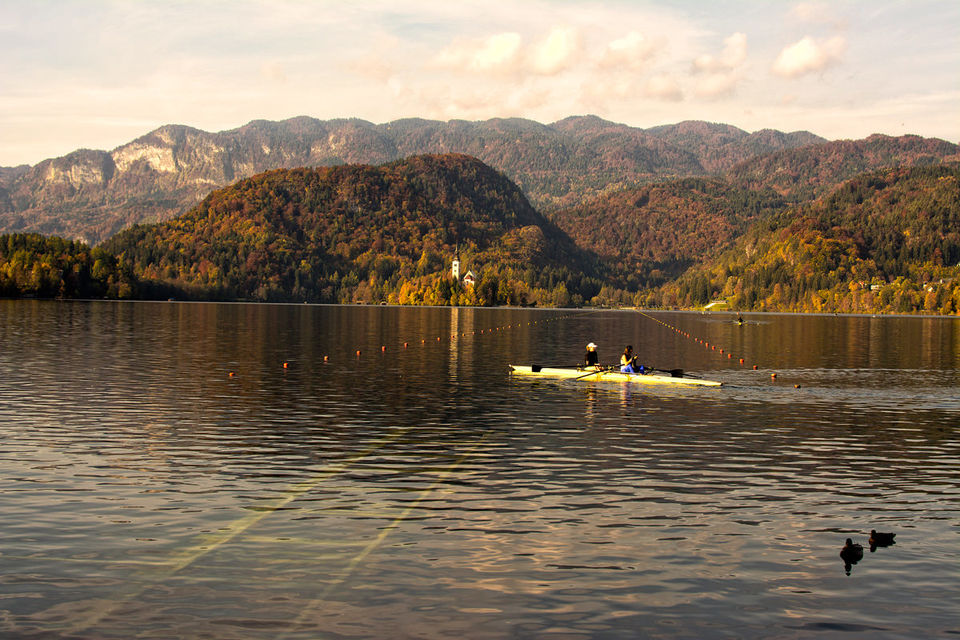 The Church on the Island
Bled Castle
After fully exploring Lake Bled, we turned our attention to the surrounding hills. Wanting to see Bled Castle up close, if just for the views of the magnificent lake below, we climbed the hill by foot, where we only then realized that admission to the castle is 8 Euros per person. After a quick conversion (8 Euros = approx $11.50 CAD), and realizing all we wanted to see was the view, we agreed not to visit the interior of the Castle*. However, we were unwilling to give up on seeing said view, and after wandering around for a few moments we managed to find a path that led around the base of the castle and revealed some of the most spectacular scenery we've ever seen – for free! Had we not been able to find a good viewpoint would we have paid the entrance fee? Perhaps. However we DID find a viewpoint and we've got directions so everyone else can too!
*While some people may think this decision was too harsh, to put the entry fee into perspective, we averaged 18 Euros per day on food during our time in Slovenia.
Getting to Bled Castle
When it came time to hike up to Bled Castle, we made the mistake of looking at a map. Why is this a mistake you might ask? Unfortunately most maps only show the main road leading from the town to the castle, not the dozens of twisting, intersecting, walking paths that weave around the entire hillside.
In our opinion, the best way to walk to Bled Castle is to approach from the walking path along the water, directly below the castle. Here there are numerous dirt walking paths that disappear into the thick underbrush. Although all these walking paths seem to take off in different directions, we found that in the end they seemed to meet up at the bottom of a large set of stairs and switchbacks that cover the last few hundred feet to the castle. When in doubt, use common sense and keep making your way towards where the castle is perched on the hillside above. A hike up one of the walking paths will take about 30 minutes, or longer if you stop for photos more than we did (impossible!).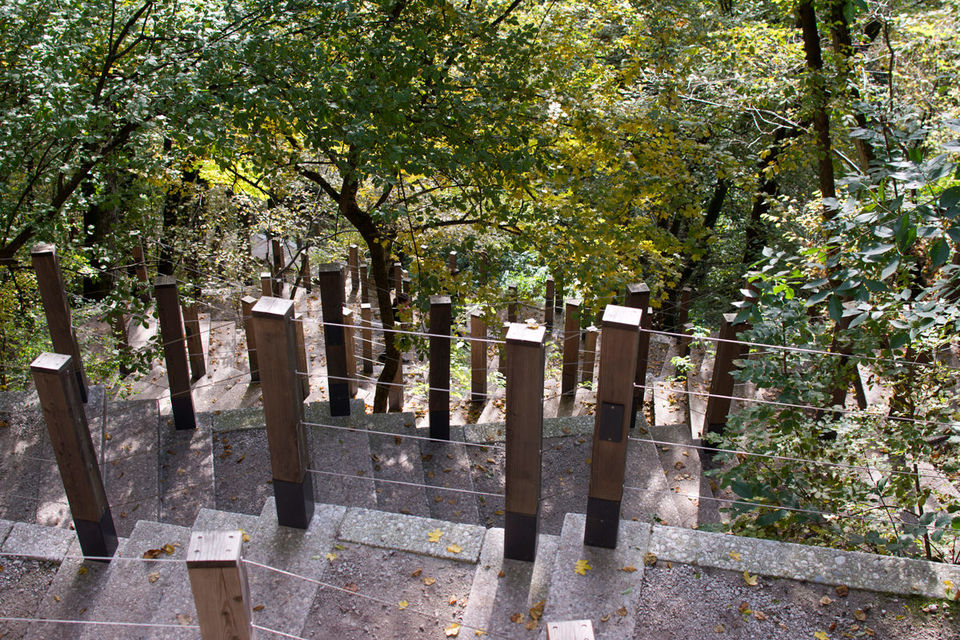 The stairway connecting the lake and castle
The View Without the Entrance Fee
After reaching the hilltop and gazing onto the Castle in awe, you may be inclined to walk through it's large gates and up a very steep cobblestone entrance. Don't do this, unless you want to pay to enter the castle. We did and immediately found ourselves wedged between two very large tour groups only to have to turn around and walk back down.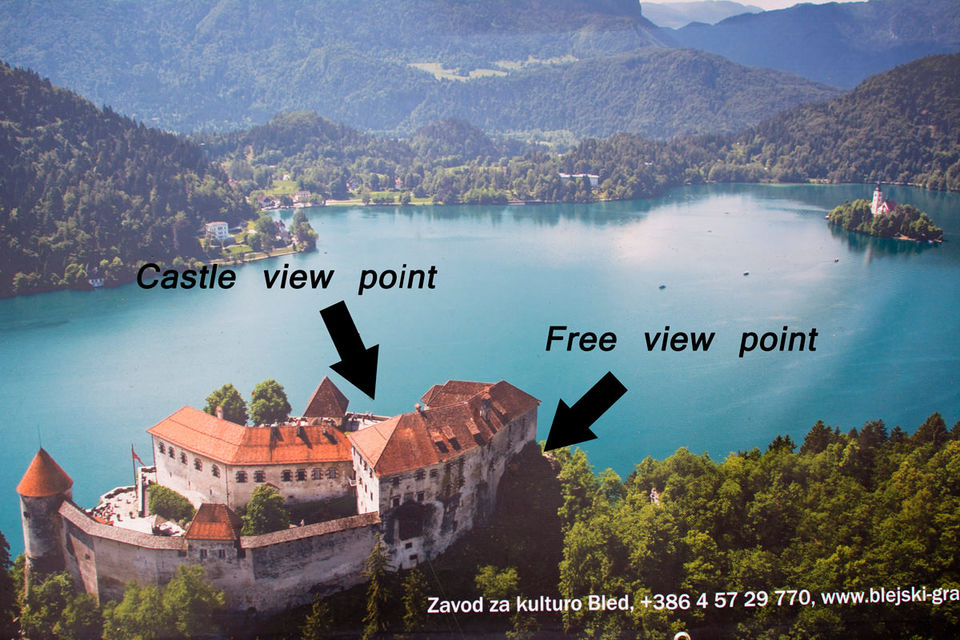 For a wonderful free view of Bled Lake and the Castle of the Island, make your way around the castle to the right, to the end of the parking lot. Here you will find an awkward looking cave to your left and to your right, a lovely little walking path. Follow this path as it leads you around the castle and after climbing up slightly you will be greeted with a stunning view. Now while I can't say for sure that this view is better than that from the castle, I can say it is free and absolutely beautiful.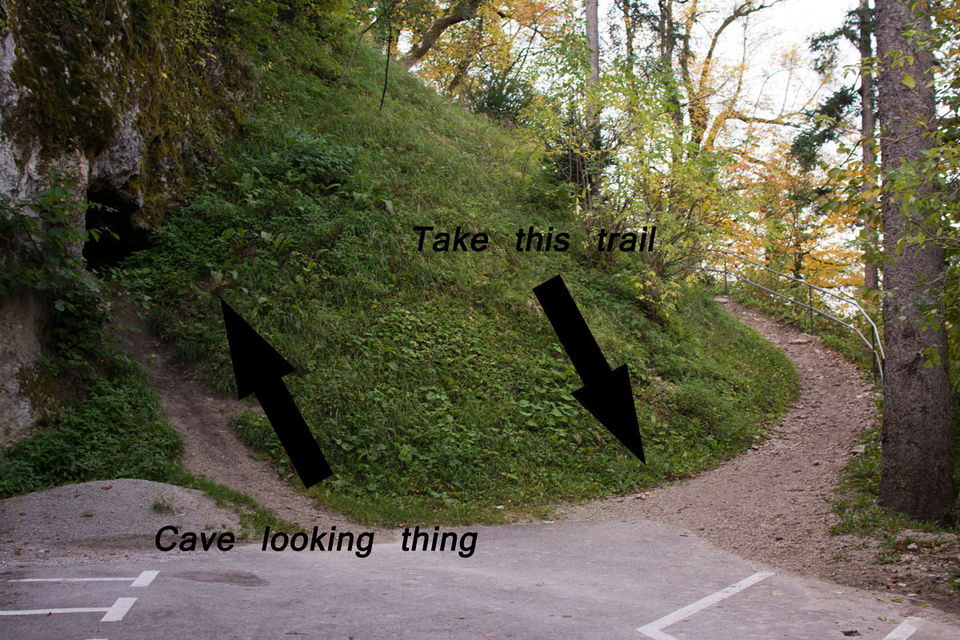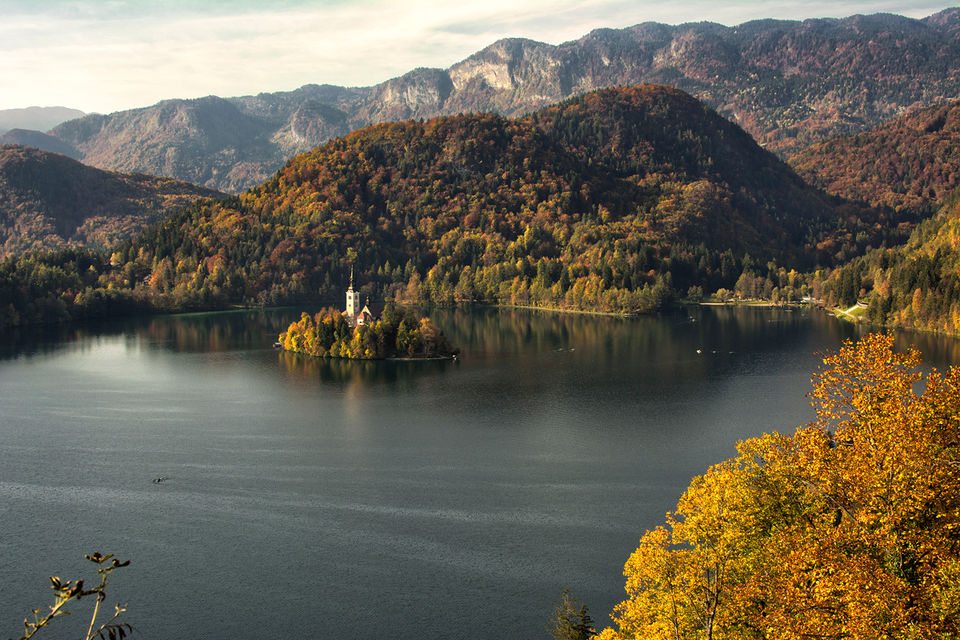 The view that awaits you!
**One note about this walking path, it doesn't include hand railings and can be quite steep at the end. Therefore, likely not the best choice for small children or those with accessibility issues!
Vintar Gorge: Getting There
After exploring Bled fully, we decided to visit the neighbouring Vintar Gorge, a beautiful nature park with wooden walking paths and bridges, steep rock cliffs, and bright turquoise water. Although many people don't make it to this beautiful park, we consider it a must see and the perfect side trip to a visit to Bled. Check out their website here.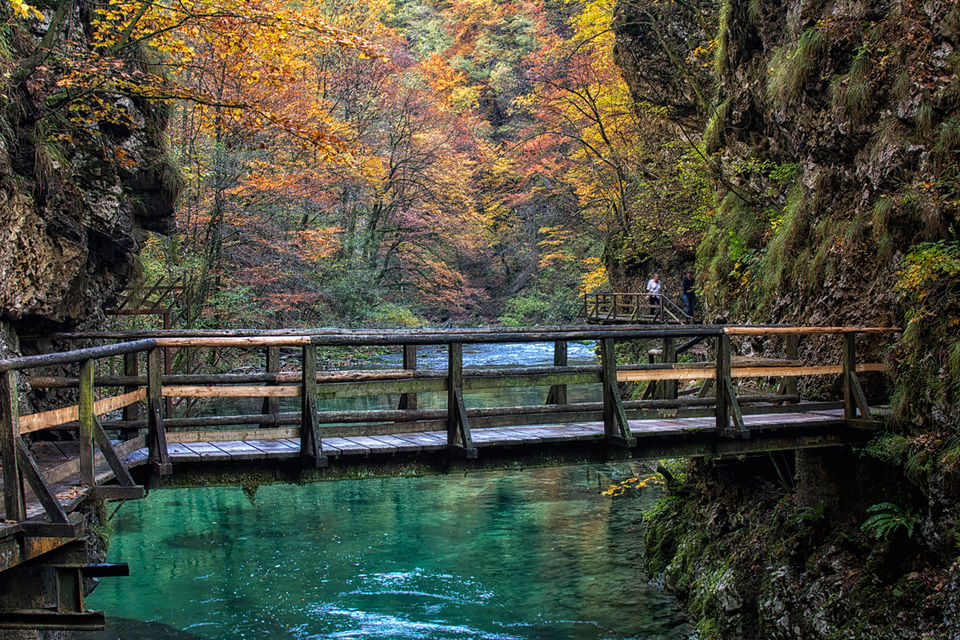 The beautiful Vintgar Gorge

Being only 5 km from Bled, one would think a visit to the Vintgar Gorge could be easily accomplished – if only that were true. The truth is that getting to Vintar Gorge IS incredibly easy, for those with a rental car, by taxi (approx 3.50 Euro per person), or as part of a guided tour (we saw some tours that included it and some that didn't). Many people opt to simply walk the full distance, a trek that takes about forty minutes to an hour – a time that could definitely be sped up with a rental bike perhaps? If you are not up for walking, and you want to get there via public transportation you have to get a little creative. As our feet were already a bit tired we decided do just this and take the public bus as far as we could before walking the last little bit. It was a bit tricky to determine which bus we needed to catch (we eventually figured it out – Bled to Krnica); However, just to be sure, we showed the driver the stop we wanted written on a piece of paper (Spodnje Gorje) and he assured us that he would get us there. The bus fare was 1.30 Euro per person, one way.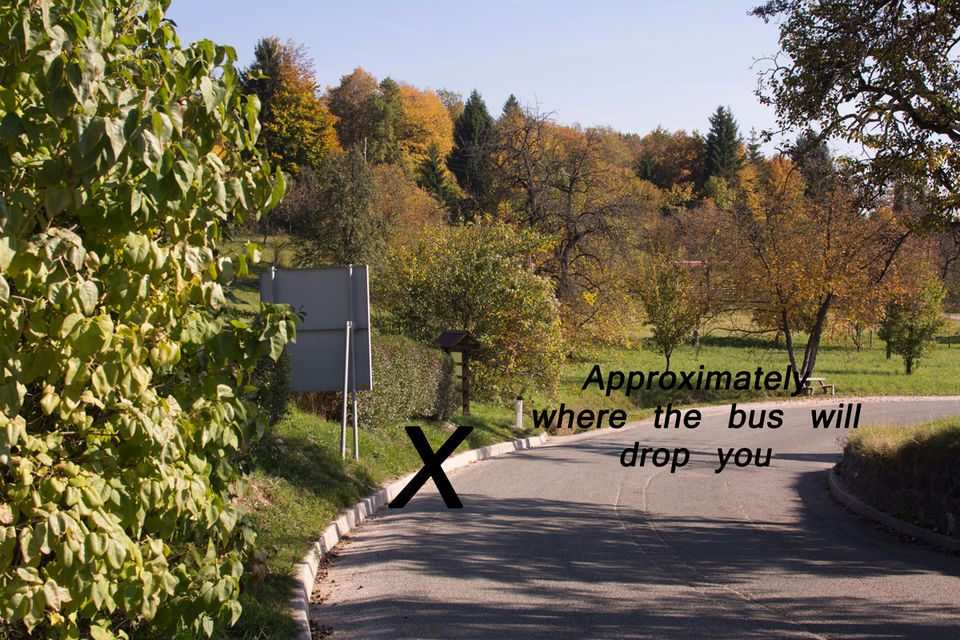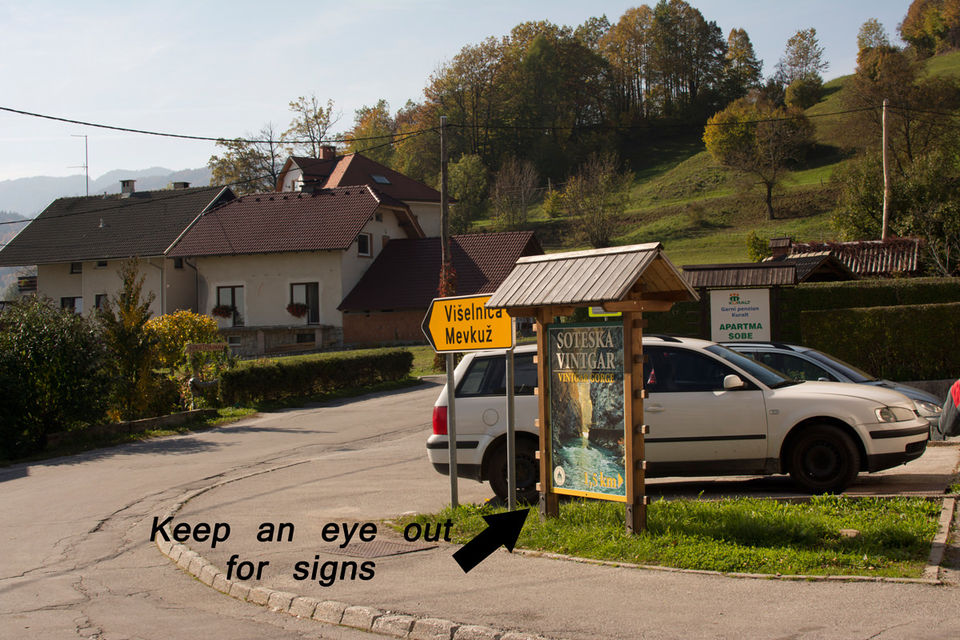 Stepping off the bus, it felt as though we were in the middle of nowhere. Luckily, after making our way towards the houses, in the same direction we were traveling on the bus, we spotted a sign pointing the way to the Vintgar Gorge. After this initial sign, there were a few more, however for the most part you simply follow the road as it weaves through a residential neighbourhood, past a Mercator grocery store where you could stock up on picnic supplies if it's open, and into more rural farm houses. Eventually you can spot the transparent looking river below. Finally, the road dips down towards the river and you walk alongside the riverbank until reaching a small cabin at the park entrance. The walk took us about 15 minutes and was relatively easy except for one section where it is a bit steep.
There is a small entrance fee to visit the Vintgar Gorge of 4 Euros/person.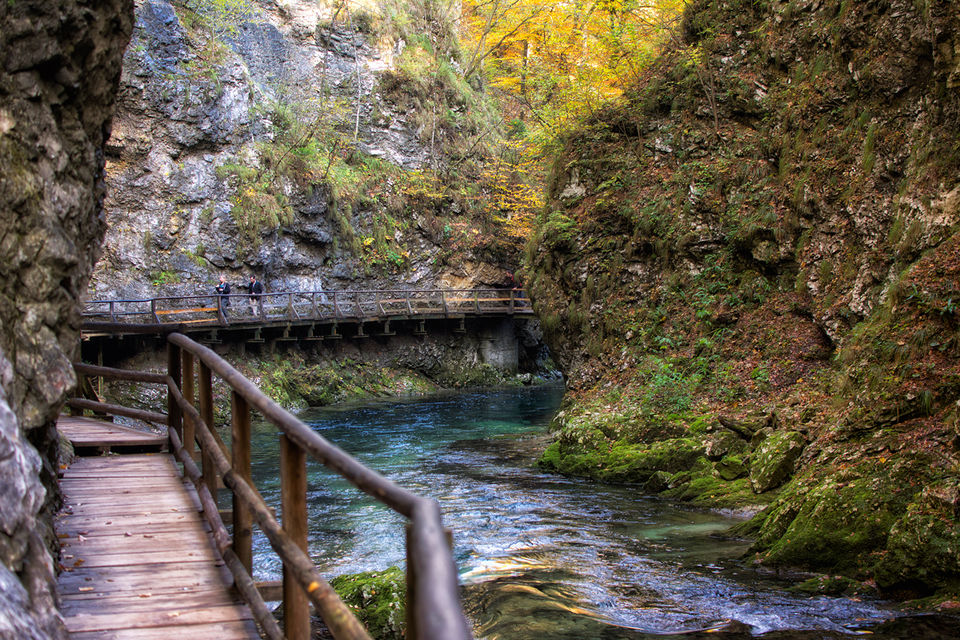 A 4 Euro entrance fee is a bargain if you ask us
After babbling on for so long, here is a little roundup of what we could have spent and what our actual costs were for the day.
Option 1: Full Guided Tour
Half Day Alpine Fairytale Tour: Includes roundtrip transportation to Bled Castle and option to either visit the Castle on the Island via pletna boat or continue on to the Vintgar Gorge. Cost: 39 Euros per person + entry fees (castle = 8; pletna = 10; Vintgar = 4). (Full day tour, with the addition of Lake Bohinj for 46 Euro per person + entry fees)
*We have not taken the Alpine Fairytale Tour (which has a 5/5 on TripAdvisor), we are only using it for comparison purposes.
Option 2: Public Transport with Attractions
Roundtrip bus fare from Ljubljana to Bled, Entrance to Bled Castle, plenta boat and entrance to the Castle on the Island, bus to and from Vintgar Gorge, entry to the Gorge. Cost: 42 Euros per person.
Option 3: Our Visit
Roundtrip bus fare from Ljubljana to Bled, free view from Bled Castle, bus to and from Vintgar Gorge, entry to the Gorge. Cost: 19 Euros per person ( a huge savings over the other two options!)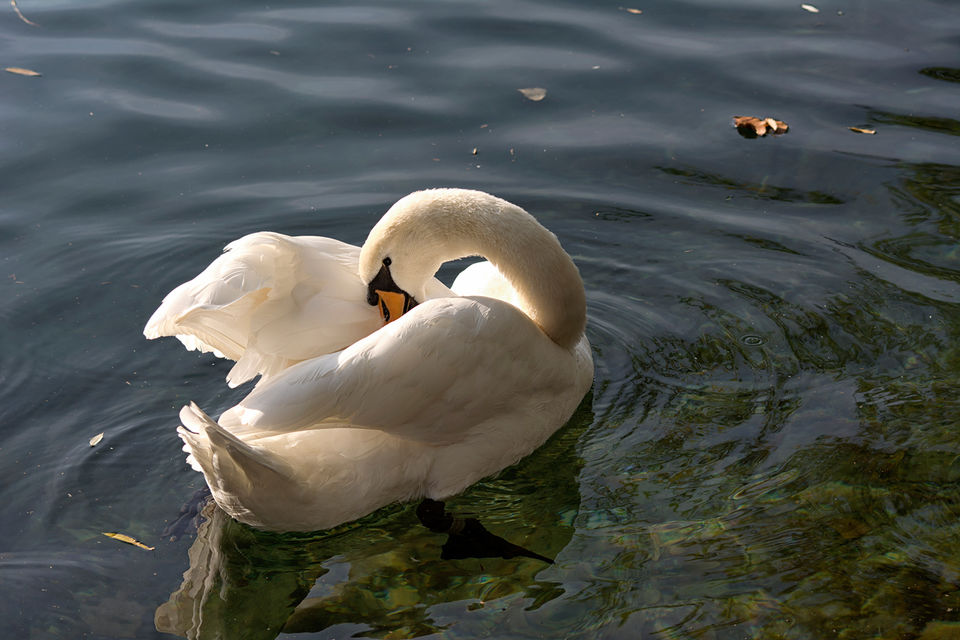 All this and wildlife too – just a short ride from Ljubljana
For most, a visit to Slovenia is a once in a lifetime opportunity, one that we would never want to spoil by suggesting you skip or miss out on an attraction. If you have your heart set on ringing the bell at the Church on the Island, or gliding across the blue waters of Lake Bled by boat, we are one hundred percent behind you. This post was simply meant to provide less expensive options to those that either don't want to or can't afford the many different entrance fees, as well as some logistical information about getting around in this area. While we don't regret skipping the interior of the castle or boating out to the island, many others may not feel the same way. If you simply cannot afford to do everything in Bled, the best option may be to compromise, pay to visit one attraction and appreciate the others from afar, or take the cheaper public transport and save you money for entrance fees.
This trip was first published on Have Blog, Will Travel.