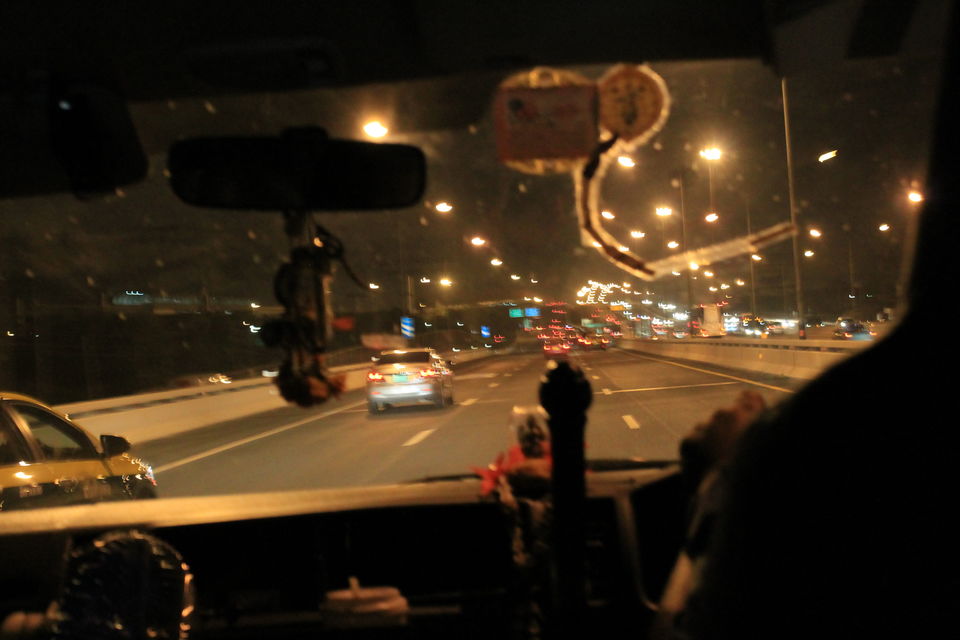 It had been a long anticipated wish of ours and we were uncertain it would take place, but a tongue-in-cheek suggestion one day on Whatsapp turned into a serious discussion and a few months later, there we were at Kolkata airport, all set for our trip of a lifetime.
Day 1, Jan 4th, 2017: As we landed at Bangkok's Suvarnabhumi airport, we almost forgot the weariness of the journey from Guwahati the previous evening, the long wait at Kolkata airport, and the almost lack of sleep on the flight due to excitement (or was it too much coffee). Visa on arrival was done quickly enough and hassle free as we excitedly took pics from inside the car as our car sped through early morning Bangkok traffic to Don Muang airport for our flight to Phuket.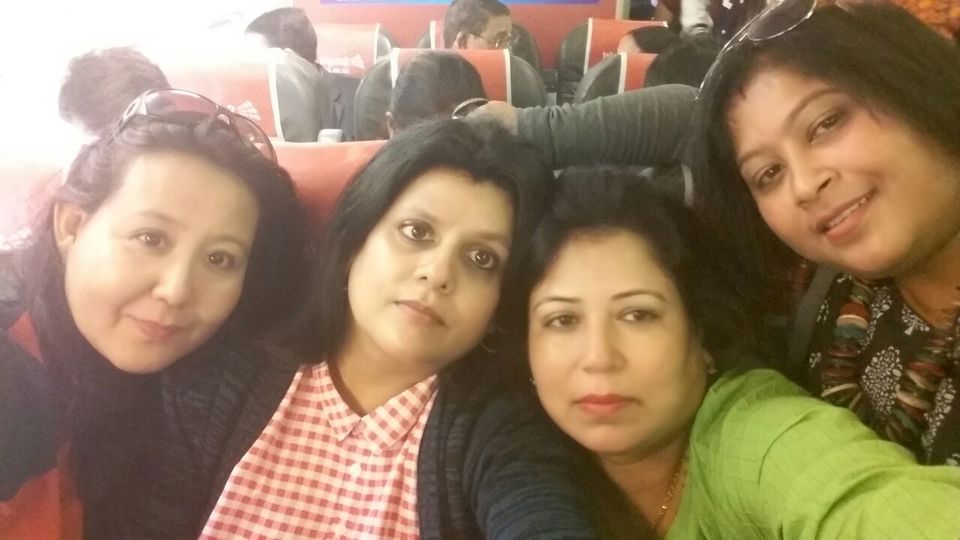 The flight was an hour long journey and after a major delay due to a miscommunication between the driver who was supposed to pick us up and the travel agent, we were on our way to the hotel. The four of us had debated quite a while about Phuket being on our itinerary, but we will all agree that it was by far the best of the three places we visited in Thailand. As our car sped through to the hotel, we caught glimpses of acres and acres of pristine, green countryside with thatched houses amidst rice fields. We were undecided on whether it was more like Kerala or Assam or Goa.
The Patong Heritage was a beautiful hotel, with equally welcoming and friendly staff, a bevy of beautiful young ladies and cute boys. The wet towel and scented coconut water we received on arrival were invigorating. The hotel was in a prime location with shops of every kind, restaurants, massage parlors, street vendors lined up on either side. We were shown into our rooms and hardly had time to freshen up before lunch at Hotel Kohinoor, which was an Indian restaurant just a few steps from our hotel. Most of our meals had been prearranged at Indian restaurants to accommodate our palates. Unless you have a really strong palate, I would advise everyone to do the same as the Thai food served in India is far from original Thai food. We did savor a few things, but the pungent odor of their food was something we found literally hard to swallow.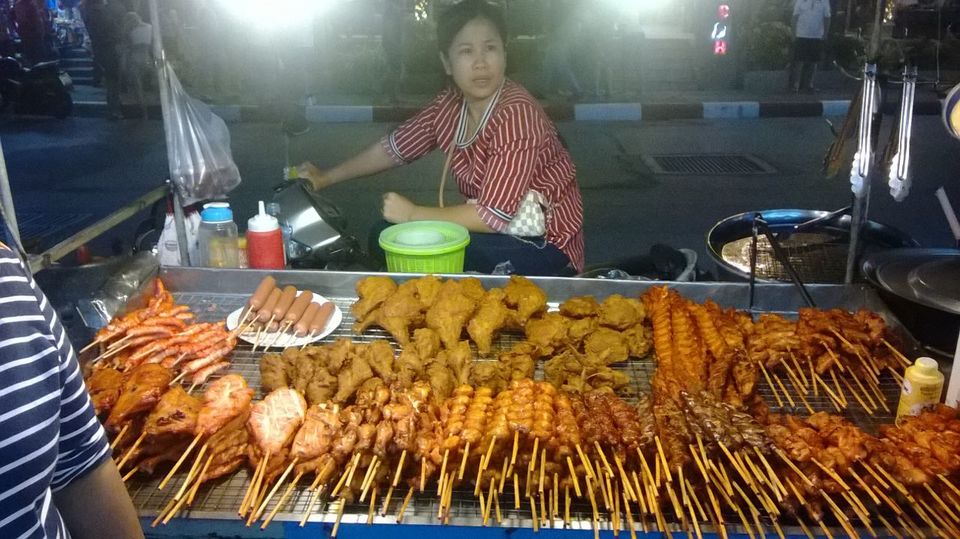 A visit to the souvenir shop in the evening took up most of our time, women cannot resist the temptation of shopping and we went berserk buying anything we saw. Later we discovered the street side shops near our hotel selling the same wares at much cheaper rates. We had been conned by a guide who we trusted blindly.
Nightlife is what we wanted to experience while in Phuket and a short walk down the pavement took us to Bangla Road in Patong. It is a road that awakens only in the evening and is the liveliest place I have seen in my lifetime. It is closed to traffic and walking down the street you get to see pubs, bars, clubs, parlors, eateries, street shows, lady boys, beautiful girls, pole dancers. We got bold enough to visit a club for an adult show. To all women travelling without a guy, it is perfectly safe. We roamed the streets of Phuket that night until 2 a.m. and felt liberated, happy that no one bothered us and at peace that the world is still a safe place for women.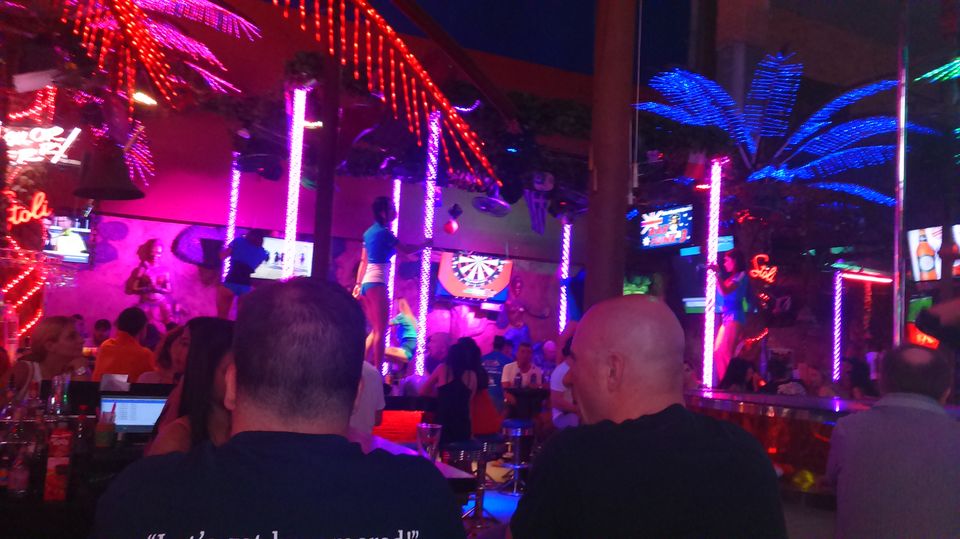 Day 2, Jan 5th, 2017: Phi Phi Island was perhaps the most picturesque place we visited during our trip. We awoke the next morning to total chaos, somehow all of us had missed the alarm and the car was downstairs waiting for us and we hadn't gotten out of bed yet. OUr travel agent gave us 15 mins to get dressed and be downstairs. I don't know how we managed it but there we were within 15-20 minutes, suffering the glares from our co-passengers as we boarded the Traveller. The car took us to the Phi Phi Pier, from where we boarded a yacht to Phi Phi Island. In all the rush, I forgot to bring my camera and rue it to this day.
The ferry we traveled on was named the Asean Cruise, and it is the most popular means to travel to Phi Phi. The journey is around 3 hours by ferry, but the ride is exquisite. The ferry had an upper deck which had a roof with the sides open so it presented a better view and below was the air-conditioned sitting area but as the sides were closed, we could not get a good view from below. Of course, the deck was there for pictures and to enjoy the amazing scenery. The journey itself was wonderfully scenic and as the ferry approached the huge rocks that announce the arrival of the Islands, everyone rushed out to take pics or catch a glimpse of the splendid beauty of the Islands. It was a typical tropical getaway, sun, sand, and sea. A day well spent. We managed to scour the shops near the beach for trinkets and gifts to take back. The Thai lunch we had there was sumptuous too. We were ferried back after lunch and were in Patong by evening. We decided to take a foot massage in one of the numerous massage parlors in Patong and I tell you, we were not disappointed. We hit Bangla road again that night, sitting on high stools in a bar and drinking beer, amazed by the moves of the pole dancers. We got back to bed late that night, feeling happy that we had decided to come to Phuket after all, even though it entailed that extra bit of travel.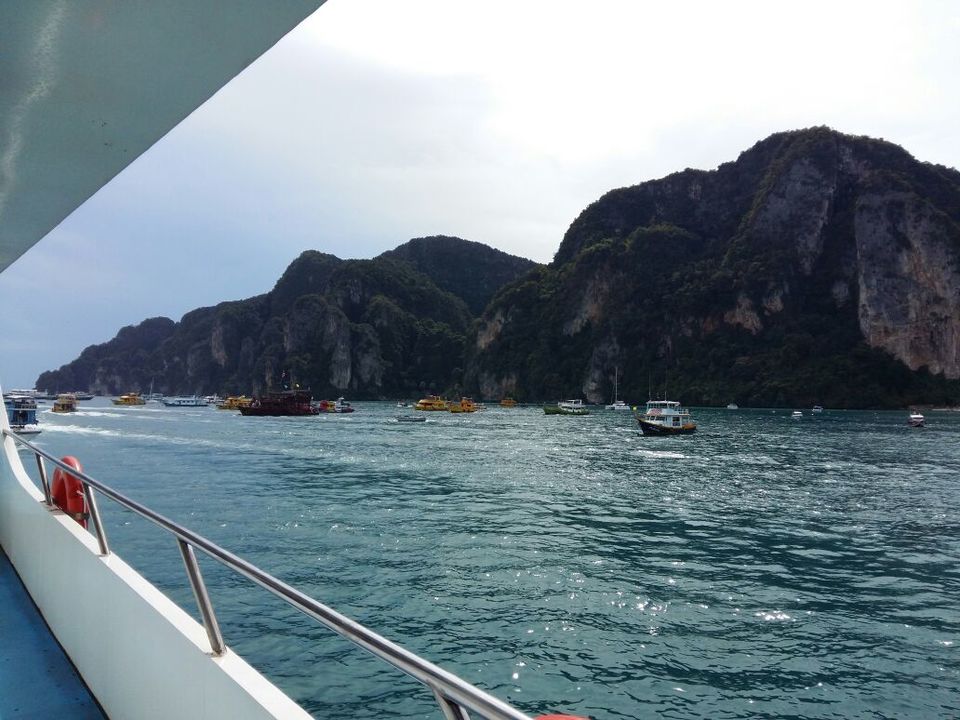 Day 3, Jan 6th, 2017: Waking up fresh, we were ready to explore our next destination, Pattaya. An early morning flight saw us in Bangkok and then by car a two-hour journey to Pattaya, in time for lunch. The Golden Beach hotel was good, but it did not have the exclusivity of the Heritage Patong. The lobby and reception was crowded by Indians from all over. We were on the 11th floor and getting the lift was a major hassle. We freshened up and did some window shopping before we went for the Alcazar show.
This is a show by the famous lady boys of Thailand and is renowned for its magnificence and that is what it was, a musical cabaret that we enjoyed watching, the costumes, the sets, the music, everything. And we even paid extra after the show to take some pics with the lady boys.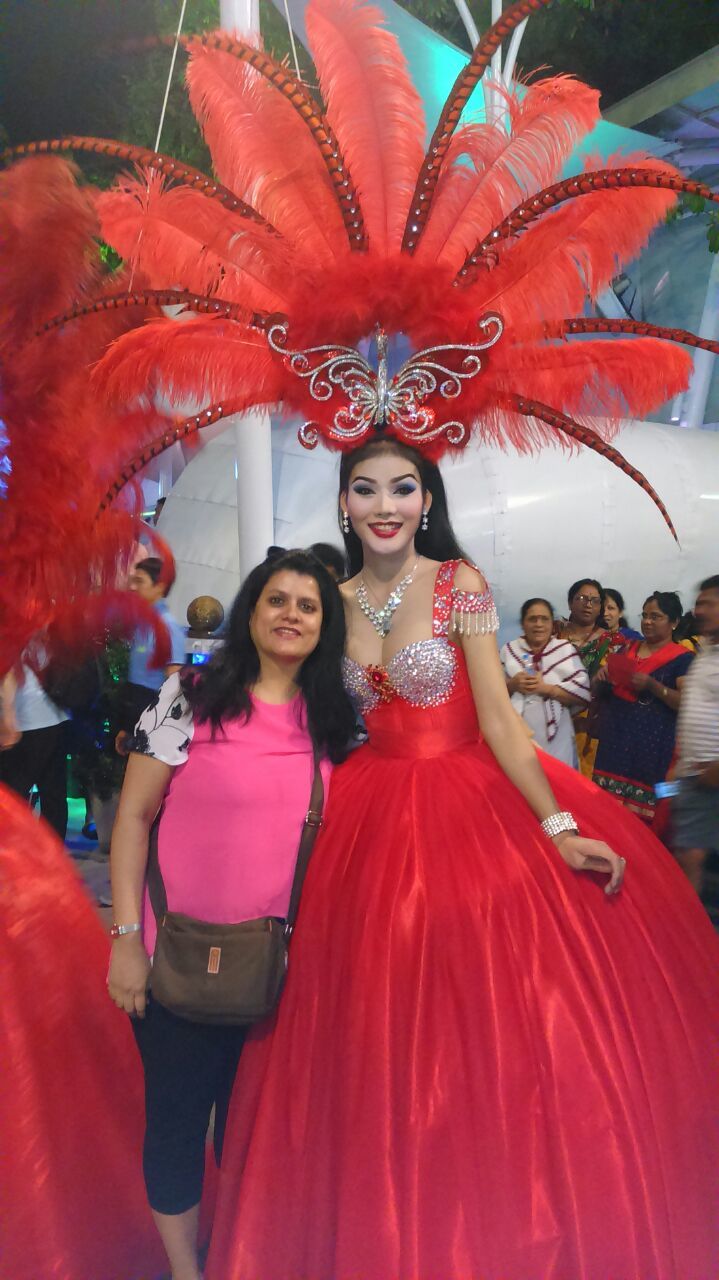 Day 4, Jan 7th, 2017: This was my second visit to the Coral Islands in Pattaya. These are small group of islands a few miles away from Pattaya. The ride in a speedboat takes about 45 minutes but can be quite rough and it is wiser not to sit out in the front. There is a brief stop in between for paragliding and under water walking for the more adventurous tourist. I had already done the paragliding on my last visit to the Coral Islands and underwater was something none of us wanted to try.
This is a nice place for relaxing on the beach chairs, you can rent one for the whole day or by the hour and take in the view if you don't want to wade into the waters. The other options would be a banana boat or a water scooter for some fun in the waters. There are stalls lined up selling every kind of sea-food, fruits, juices, the complete beach fare. We had opted for a half-day tour but it felt like the time passed too soon. We returned back to Pattaya for lunch and then had time to ourselves.
Evening we hit Walking Street in Pattaya, whiling away the evening in one of the restaurants overlooking the street, sipping on my Sun, Sand and Sea cocktail, of course aptly named. It tasted delicious and the neon-lit street made me feel heady. Later on, we hit an Indian discoteque cum club called Nasha, there is nothing like Bollywood music to pep you up. This was an evening well spent with us walking back to our hotel at 2 a.m.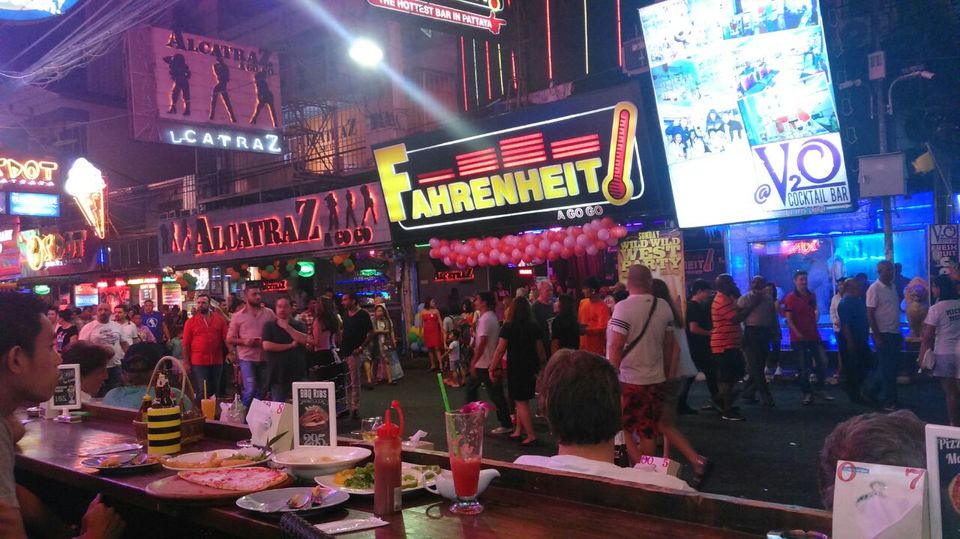 Day 5, Jan 8th, 2017: After a leisurely breakfast, we set out for Bangkok. Our stay was at the Ecotel Hotel, which was the least favorite of the three hotels we stayed in during our trip. We had relegated all our shopping to Bangkok since we had heard it was the most appropriate place to shop for cheap and trendy items. It was noon by the time we arrived at Bangkok and I skipped the day tour as I had been to Bangkok earlier, and decided to concentrate on shopping. The Indra mall was where we did all our shopping. There was everything available and at very reasonable rates, need I mention you need to barter well. The evening was spent shopping and then we visited the massage parlor for a leisurely massage before retiring for the night.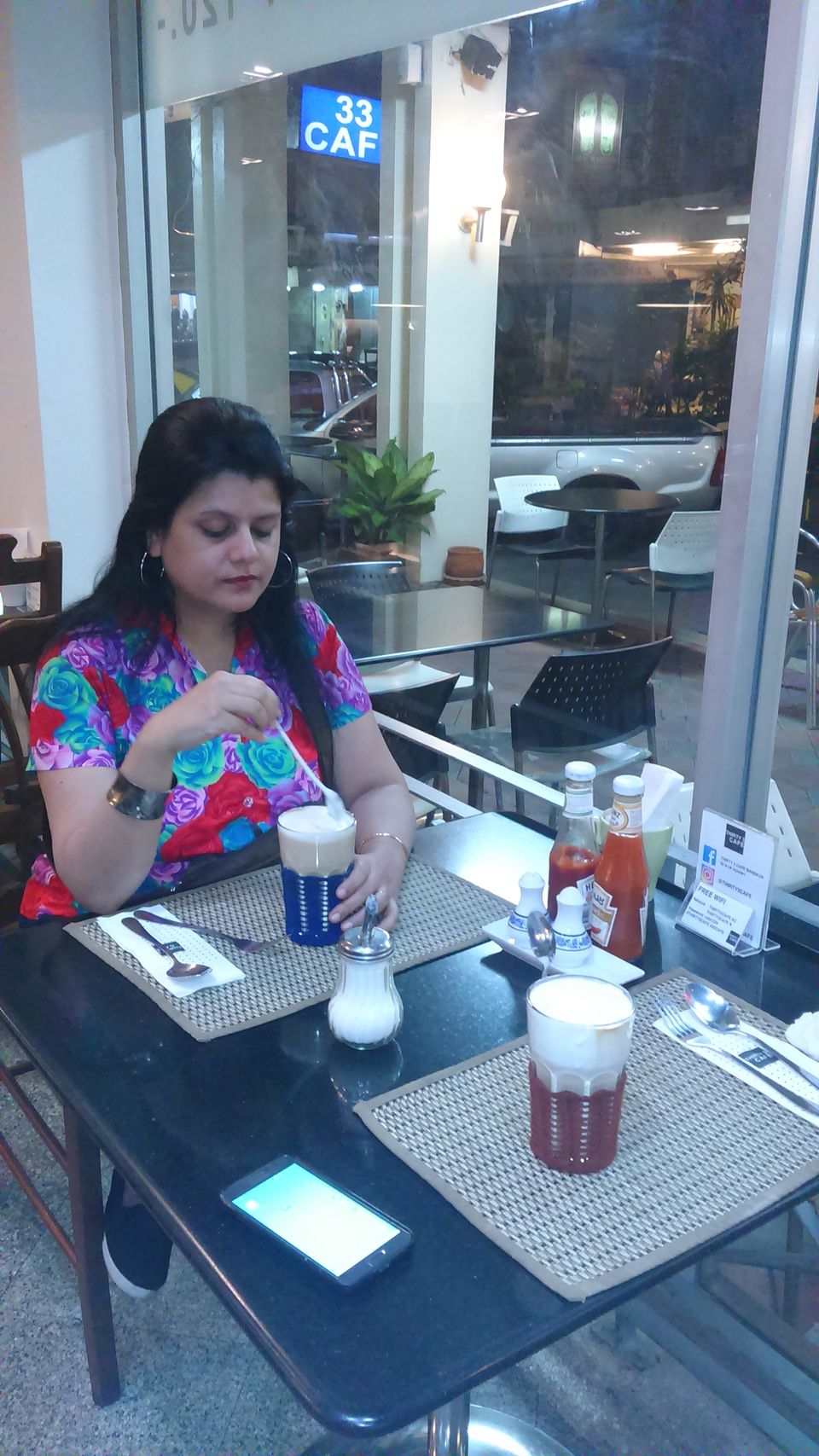 Day 6, Jan 9th, 2017: Our travel agent had left us to our own devices for this day, so we decided to visit the floating market, another unique thing to Thailand. There are a few floating markets around Bangkok, and we were taken to the Damnoen Saduek Floating Market. We rented a taxi from the hotel to take us there as it is an hour's drive from Bangkok. We crossed lush countryside as we headed for the market. The tickets for an hour long ride on the long-tailed boat along the canals was pretty expensive, 1000 Baht. The roar of the engine sounded loud as we chugged along the narrow canals. We were met by a burst of color and sound as we reached the main area of the market. You can disembark from the boat to stroll the shops in the marketplace or u can choose to browse by boat. Houses on stilts on the banks can be seen in some places. The floating market is colorful and fun at the same time. Each time you want to inspect something from a shop or buy something, the boat rider slows down to make it convenient. The shops sell everything from bags, wallets, belts, beautiful scarves, Thailand t-shirts, dragon printed shirts, coconut shell artifacts. It is an unique experience. We made a stop at a coconut factory and shop, it is strange how every part of the coconut is used for making something. I got some tasty fresh coconut treats to take back home, the lady at the counter even let me taste one.
My friends visited the Golden Buddha Temple after we returned back from the floating market and then were taken to a gem factory. We spent our evening shopping again at Indra Mall and nearby areas. This was officially our last day in Thailand as we would be leaving the next day, although we did actually have another day since our flight was late night.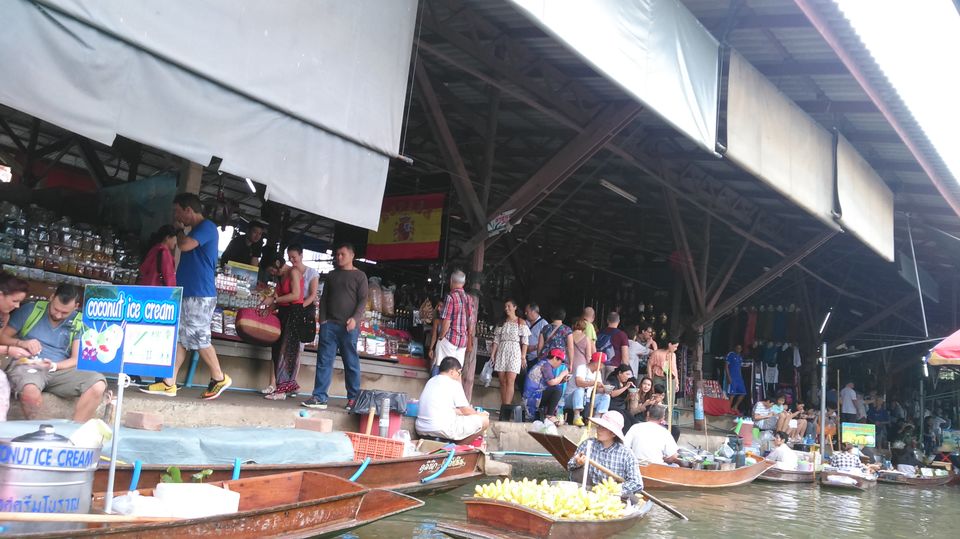 Day 7, Jan 10th, 2017: The last day of our trip and we were busy packing and adjusting to avoid excess baggage charges. But women being women, we managed to sneak in for a few hours to the market to pick up some more items. Our flight from Bangkok was through Kolkata and then next morning we were back in Guwahati. The end of a beautiful experience, a much-needed break, a bonding we needed to consolidate our friendship and a wonderful bouquet of memories we will treasure for a lifetime.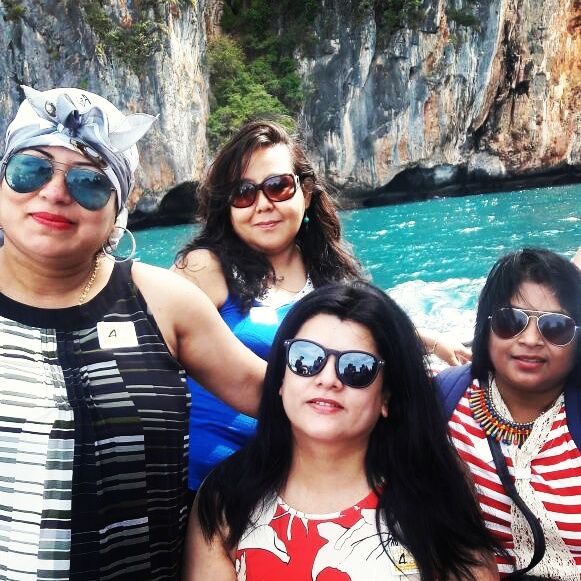 Frequent searches leading to this page:-
Thailand tour package from Mumbai, Thailand tour packages from Ahmadabad, Thailand tour packages from Amritsar, Thailand tour packages from Surat, Thailand tour packages from Kerala, Thailand tour packages without airfare