Saare Jahan se accha Hindustan Humara !! Find out more on Interesting Indian Locations which do not require Passport to Travel and gives you Foreign Destinations Feelings
India , our homeland has many incredible places which resemble other famous places . Check out the places which are lookalikes like international of popular international destinations every traveler has on his bucket list.
1 Devghali Beach and Railay Beach
Devghali beach at Ratnagiri Maharashtra is one of the secluded and unexplored beaches. You will find gorgeous white sand beaches, crystal blue water, rising limestone cliffs, table viewpoints, caves inside the cliffs. The Beach is covered from three sides by the Cliffs. Now, this reminds you of Railay beach at Krabi, Thailand it also has the same exact features.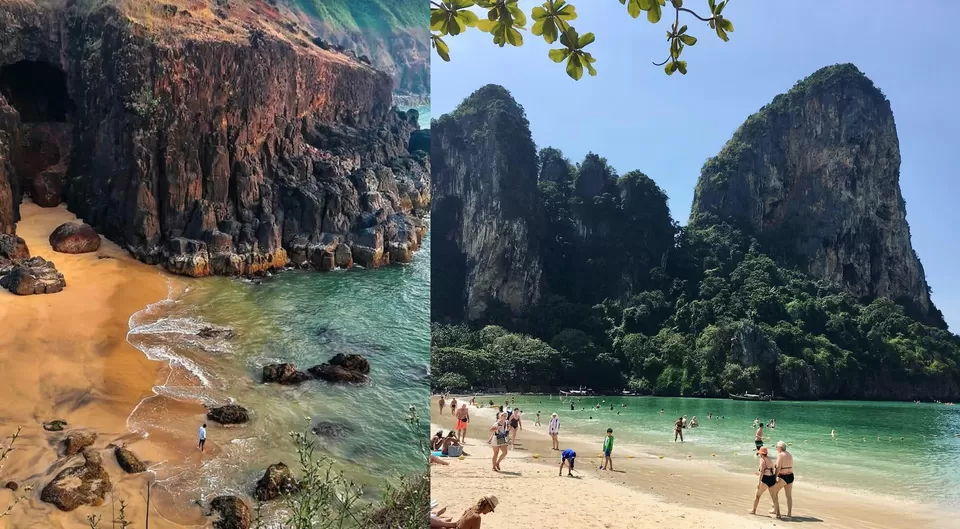 2 Gurudongmar Lake — Jökulsárlón Lake
Gurudongmar Lake in Sikkim, at around 17000 feet is one of the highest lakes in the world. The amazing fact is that the part of the lake never freezes in winters also. It is a spectacular lake that mirrors the iced mountains enclosing it from all sides. This will remind you of Jökulsárlón lake in Iceland.

3 Jal Mahal — Trakai Castle
One of the must-visit attractions of Jaipur Is Jal Mahal, The Water Palace. The palace was built on the lake Man Sagar for the King as a lodge and hunt ducks. It's few floors are underwater and only 1 above the surface. When it is lit up in the evening it's a worth experience. The one is compared to Trakai Castle in Lithuania which is built in the middle of the lake on the top of a small island called Lake Galve.

4 Dodital Lake – Lake District
Dodital lake is also called The Emerald Lake of Uttarakhand. In amidst the snow-capped mountains along with the tall and majestic oak, deodar and rhododendron trees, Dodital lake is a trekking paradise. Lake District in England is similar view a lake in midst of mountains, valleys, and the village is a popular destination in England.

5 Kumbhalgarh Fort — Great Wall of China
Kumbalgarh Fort in Udaipur with 38 Kms Masonry Walls is the second largest wall in the world after the Great Wall of China are fortified towers, Curve and twisty path, surrounded with hills, temples, small palaces, and massive gates is definitely a must-visit in Udaipur

6 Thar Desert — Sahara Desert
The Thar Desert is popularly known as the Great Indian Desert located in Rajasthan. It is famous for its Sand dunes, Camel Safari, traditional camps, Food, a colourful culture which includes traditional dresses and Jewellery and can be seen in folk music/dance of tribes, Why go to Dubai when you get all the dessert charm out here

7 Gulmarg — Swiss Alps
Gulmarg in Kashmir will at once take you to the Swiss Alps, with its snow-clad mountains, emerald green meadows, a carpet of wild colourful flowers, waterfall and streams, skiing, boats, tiny wooden houses, snow activities and many more.

8 Chitrakoot Falls — Niagara Falls
The Chitrakoot Falls, Chhattisgarh, is the largest waterfall in India also popularly known as the Niagara Falls of India. The overflowing waterfalls, gushing streams, lots of greenery undoubtedly make it more picturesque. If you see the pictures of both the falls you will understand why Chitrakoot falls are compared to Niagara Falls which are one of the most visited natural wonders in the world

9 Rann of Kutch —Salt Flats of Bonneville
Rann of Kutch the White Desert of India in Gujarat is an endless wonder to discover. It is home to Pink Flamingos. It is the world's largest salt desert. It is equally beautiful as Bonneville Salt Flats which is considered a natural wonder in the US and traveling to this wonder is not added to US travel tours.

10 Alappuzha — Venice
If you like the canals and gondola rides of Venice, then you will absolutely love the backwaters and boat tours of Alappuzha A.k.a Alleppey. It is one of the most loved destinations in India. famous for its boat races, serene beaches, Swaying palms, marine products, and coir industry, is a world-renowned backwater tourist destination of India which makes you want to stay forever. Don't forget to stay on a houseboat.
11 Srinagar Tulip Garden — Keukenhof Tulip Garden
Amsterdam's Keukenhof Garden and Srinagar's India Gandhi Memorial Garden; both of these are popular for gardens of a variety of tulips. Srinagar's Tulip Garden is the biggest in Asia a seven-terraced garden is known for its 48 varieties of tulip flowers which create an unforgettable rainbow. In 2020 world's Biggest Tulip garden has been open up in Uttarakhand.

12 Floating Market on Dal Lake —Thailand Floating Markets
Srinagar owns one more international tourist spot the floating market on Dal Lake, which is similar to the authentic floating markets in Bangkok, Thailand. Morning routine vegetable and fruit sellers from Srinagar sell their fresh produce also colorful flowers on shikaras i.e boat

13 Valley of Flowers — Antelope Valley
The Valley of Flowers, Uttarakhand, is covered with flowers of every hue and color does indeed give it a magical quality. Around 600 species of flowers which included auspicious Brahmakamal, can be seen. As per the locals, it is believed that it is the same place from where Lord Hanuman brought the Sanjeevani -a magical herb to save Lakshman, Lord Rama's brother in the Hindu epic Ramayan. The awe-inspiring Valley of Flowers starts to look a lot like the Antelope Valley in California, US, in spring.

14 Ruins of Hampi – Ruins Of Rome
The ruins of Hampi in Karnataka are not only strikingly similar to the ruins of Rome but also much more stunning and Spectacular. It is indeed happy to know that Hampi has bagged 2nd place on the New York Times 'list of places to go in 2019. Built along the banks of the Tungabhadra river, Hampi is like 2 sides of the coin, the UNESCO World Heritage Site on one side, and the hippie island on the other.

15 India Gate — Arch de Triomphe
India Gate located in the capital of India, Delhi has this unqiue structure that is considered equal to the Arch de Triomphe in Paris. India Gate is considered as homage to the Indian soldiers who died in World War I.

16 Qutub Minar — Leaning Tower
The Iconic Qutub Minar in Delhi slightly resembles the world-famous Leaning Tower of Pisa. Both of them have six stories, and the construction for both of them started in the 1100s and ended in the 1300s, and both are awarded as Unesco World Heritage Sites. Adding to it both are adjacent to another historical structure i.e Qutub Minar is adjacent to Alai Darwaza, whereas the Leaning Tower stands next to Pisa Cathedral.

17 Gandikota Hills — Grand Canyon
We all know the mighty Colorado River carving the Grand Canyon, but how many know a similar place exists in India? The Gandikota Hills in Andra Pradesh located near Pennar River, which flows through a canyon, cutting and carving astounding shapes on the hillsides thru its way. You can witness this spectacular sight from above the gorge.

18 Andaman and Nicobar — Mauritius / Maldives
Andaman's Untouched beaches, particularly Radhanagar, Corbyn's Cove, and Laxmanpur, and individual islets, such as Havelock, Little Andaman, Neil, and Viper are more serene and beautiful when you want to relax in its white, sandy beaches, play in its crystal-clear seawaters, and see marine life from up close. Andamans equally beautiful in comparison with Mauritius and Maldives for its seashore and marine life

19 Pondicherry — Burano
Pondicherry our Union Territory is known for its French Quarter and has similarities to the island of Burano in Italy. In comparison, both places have brightly painted houses with typical French-style houses and French Cuisine. It has long sandy beaches, colonial-era churches, Parisian cafes, and French culture to explore which will take you to France at the instant.

20 Kass Valley – France's Lavender Fields Of Provence
We always wish to have a romantic walk with our partner in the gorgeous lavender fields of Provence in France. The same experience you can have when you travel to the Kaas Valley Plateau of Satara in Maharashtra. During the months of September and October, the plateau is laden with wildflowers in sheets of lavender, yellow, pink, purple, and even white. More than 300 varieties of wildflowers, herbs, orchids, shrubs, and insectivorous plants can be seen here This resembles a carpet of millions of colors. Also declared as part of the UNESCO World Natural Heritage Site in 2012.
21 Munnar — Cameron Highlands
The Malaysian resort town of Cameron Highlands is renowned for its lush hills, endless tea plantations, misty mornings, but Munnar is no less It also offers lush green hills, wildlife, series of waterfalls, lakes, and Curvy roads along with tiny houses on the hills.
22 Coorg or Shillong — Scotland
While Shillong in Meghalaya is called the Scotland of the East, Coorg is known as the Scotland of India! Both the cities boast shimmering waterfalls and lakes, and Their mountains, misty climate, and picturesque landscape resemble Scotland. You have to visit Coorg and Shillong to witness Scotland

23 Khajjiar — Summertime Switzerland
Khajjiar, Himachal Pradesh is surrounded by lush green meadows, grassland, high peaks, a lake, and tall tree forest and wooden houses and horse rides, Khajjiar is called Mini Switzerland. Khajjiar always reminds me of the summertime pastures of Switzerland shown in many movies.
So here are the top 23 international travel experiences you must have in India. Let's feel proud that we live in Incredible India. Planning for the next travel don't forget to add this to your bucket list. Let's go #Vocalforlocal.
Do tell me in case you think I have missed adding something or if you have any other questions. Will be happy to help! Will be looking forward to hearing about your travel experience.
Most of the Images taken from Internet
That's a wrap!
Sharing is always effective as many travelers are benefited. If you have loved my post I would request you to share it with your friends and family.
https://www.facebook.com/sheetal.vibhuti
Cheers , Sheetal Vibhuti (Escapingsoul)