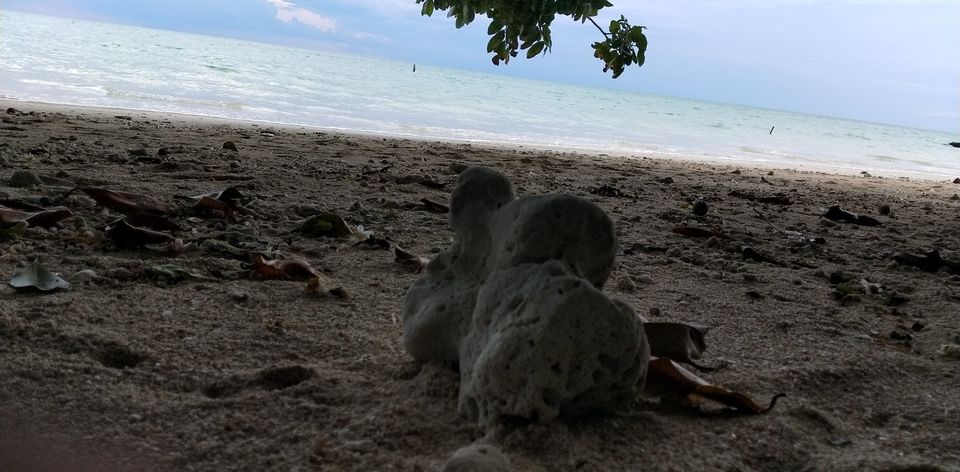 It started with planning in Jan for this trip , when we ended up booking the flights to Andaman(Port Blair). 4 of us planned this me , mother and my sister and her husband.It costed around 30k per head overall.We had pre booked the hotels in Teal House [27th and 30th],in port blair. Also booked the Dolphin resort in Havelock Island[28th, 29th].
Me and my mother started our trip from bangalore on 26th 11pm .We reached airport around 12am and waited till 4.15 in the lounge.
After this we took and auto headed towards DSS office to book Jetty to Havelock. You can book one day in advance of your travel and locals get preference for this booking. You need to have everyones ID as softcopy / hardcopy as you need to add these details, without these no booking is provided.But when you board the jetty you need to prodcue the original ID.We got the afternoon booking, 5o0 per head seater booking.
Then we headed towards another museum Anthropology mueseum. This has Jarwa the tribal lifestyle and weapons and other items used by them.If you have time you can spend 30minutes here.
Lunch time, there are very few restaurants and are located in one place.We asked autowala he took us to famous Annapurna hotel[ veg] .We wanted to go to a non vegetarian hotel , we went to a hotel beside it.After having some good lunch we headed towards the main attraction
Cellular Jail.
Again we took an auto to cellular jail, it took us around 10mins to reach.We took tickets to the Cellular jail and started our walk in cellular jail.This museum is a must visit place and shows the life and misery of the people in Jail and cruelty they faced by the British governors and Japanese Invasion.Veer Savarkar was one of the famous prisoners and revolutionist in this jail.View from the top of the cellular jail is good.But the jail shows the dark memories of the people.Some of the glimpses of the cellular Jail is as below: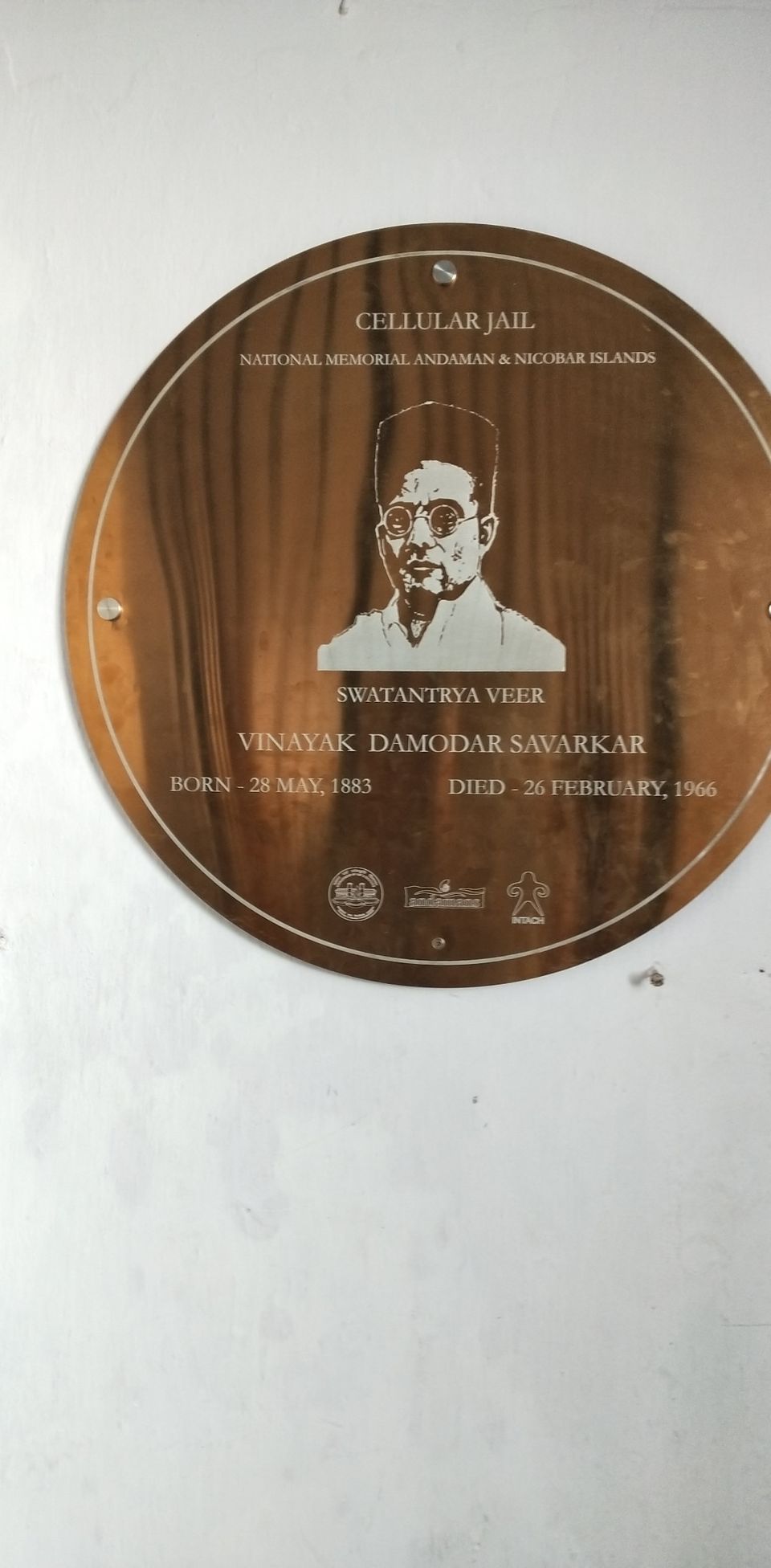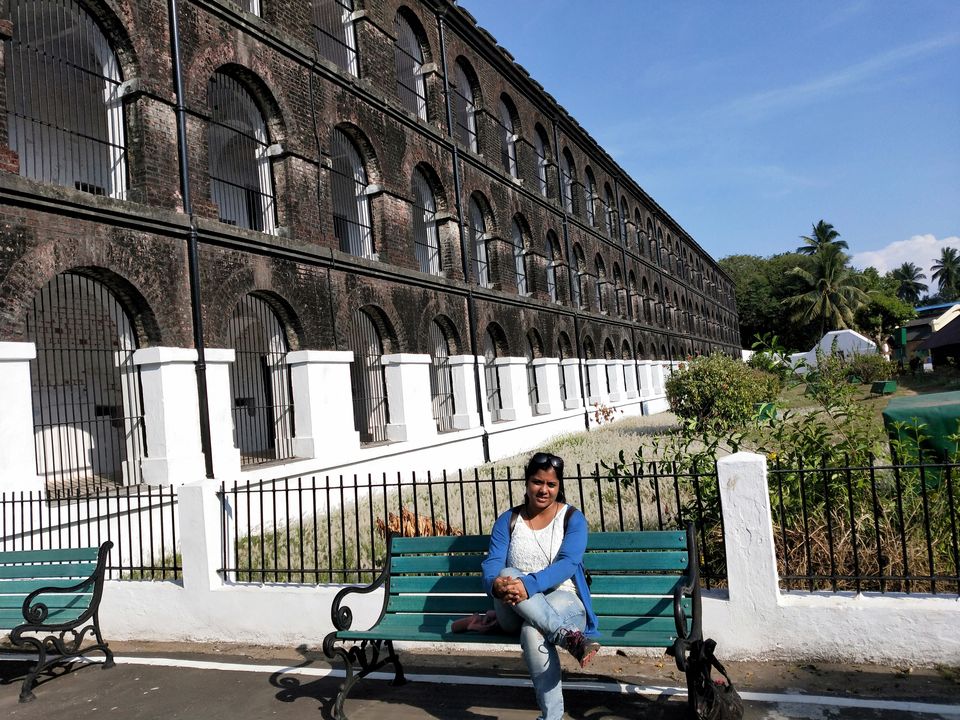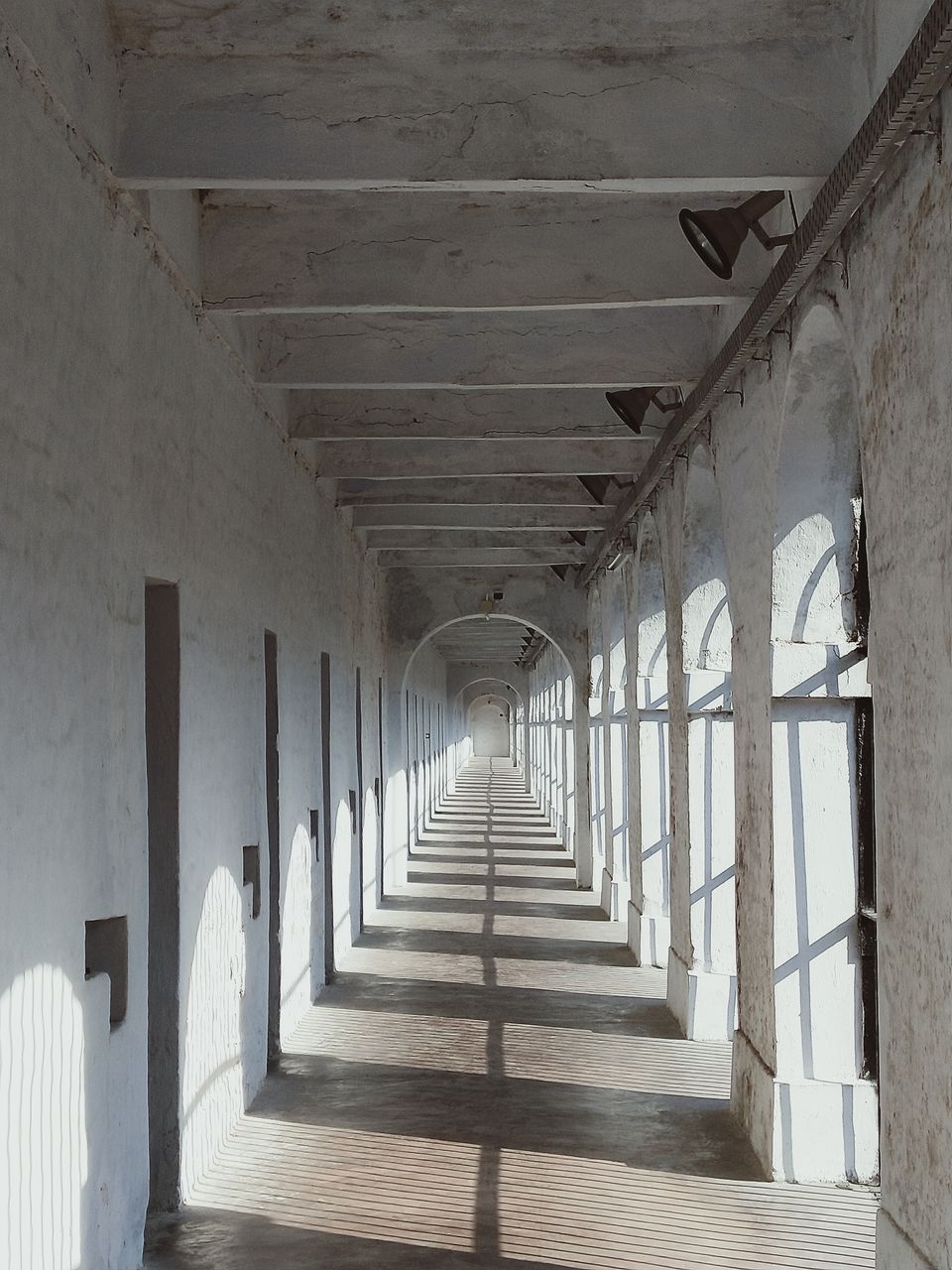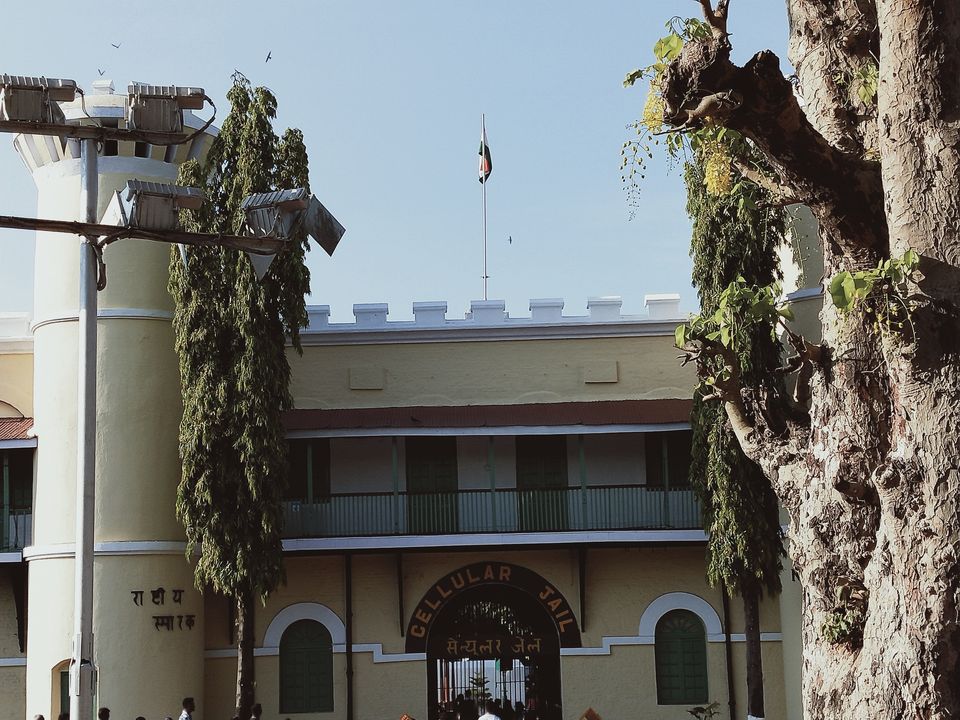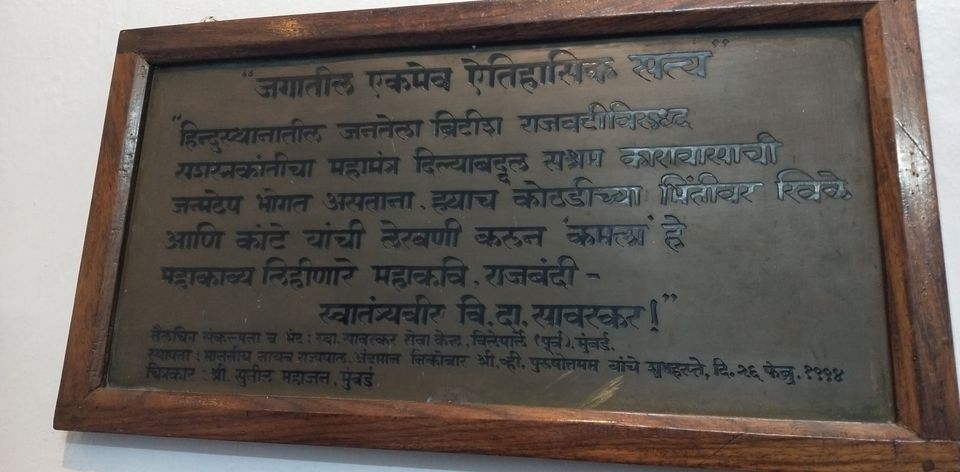 My sister and her Husband Yogesh came around 5 , by this time cellular Jail visit gets closed.They had delayed flight.There is one more attraction in this place is the light show which happensin the evening , where the Peepal tree narrates the story of the life of the prisoners in Andaman.We bought ticket for this for 7.15 pm show and headed towards Corbyn Cove Beach.
Corbyn Cove Beach is a beautiful beach, we just roamed around and watched the beautiful evening .Some of the glimpses of the beach:
While returning we talk to the autowala and got the early morning tickets for the Ross Island.This you can get it at the Rajeev Gandhi sports complex also , whenever you are travelling.It costed us around 350 per head, as agreed we wanted to start early and reach back before 12.30 as we had to board a Jetty around 2 pm.
Next day we started early , had breakfast in our hotel and reached Rajeev Gandhi water sports place to board our boat for Ross Island.Ross Island is a very beautiful Island with Deers and peacock.You can rent a vehicle which takes you around and shows all the place.Some of the pictures are as below: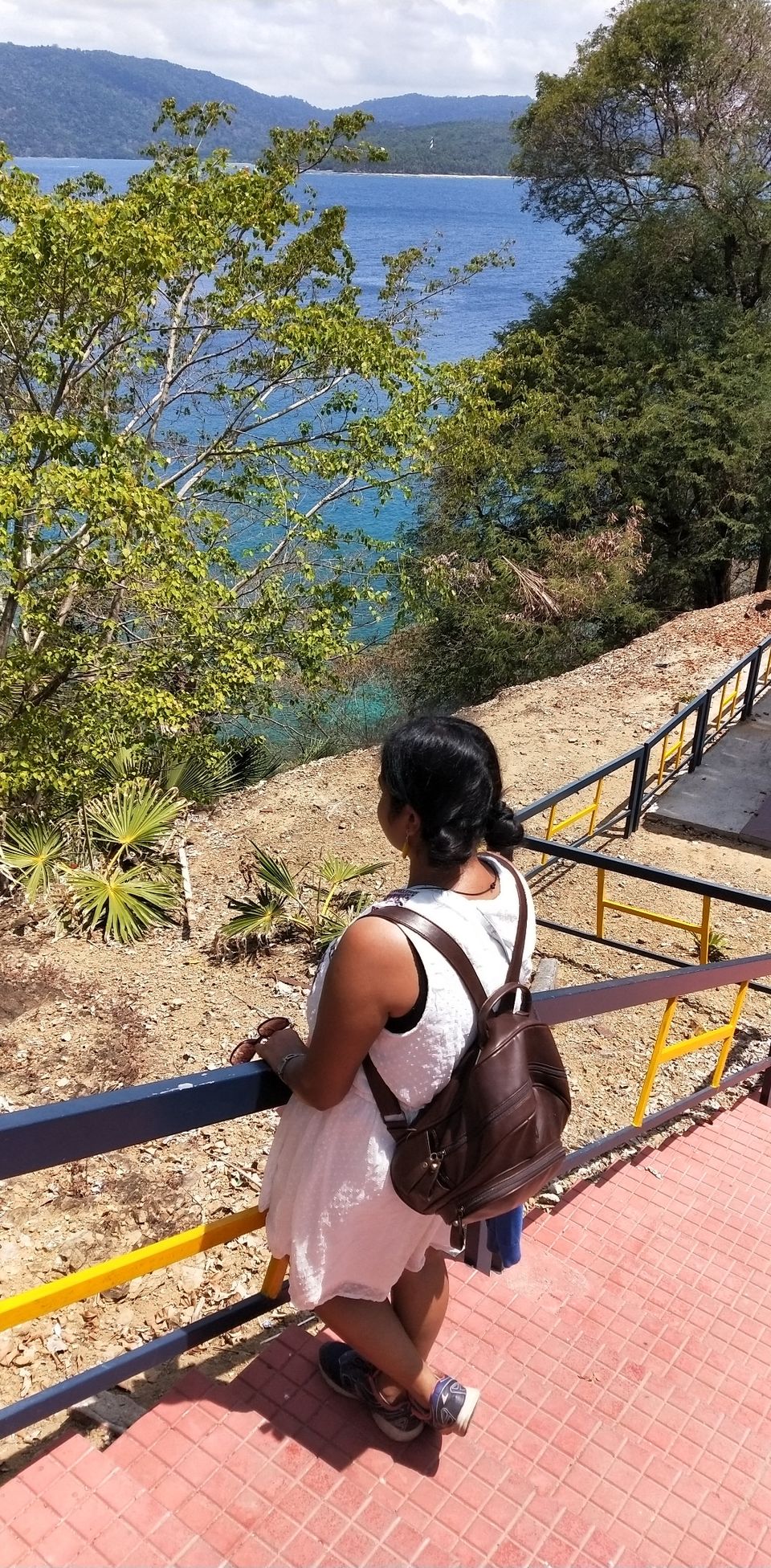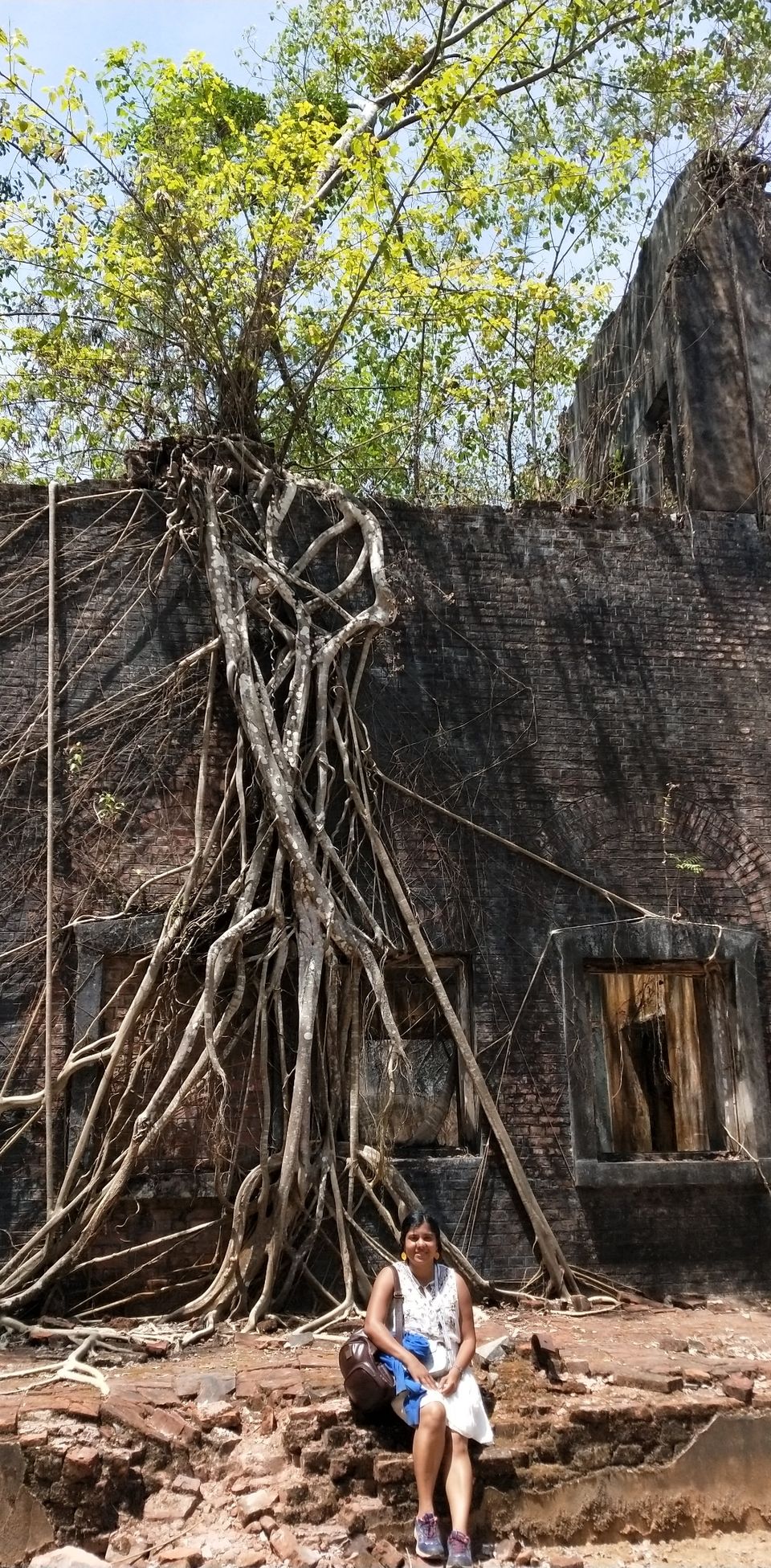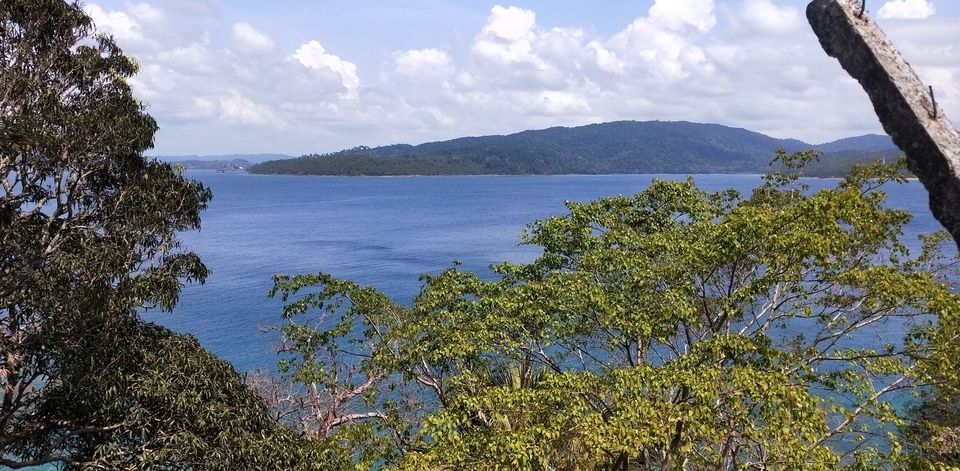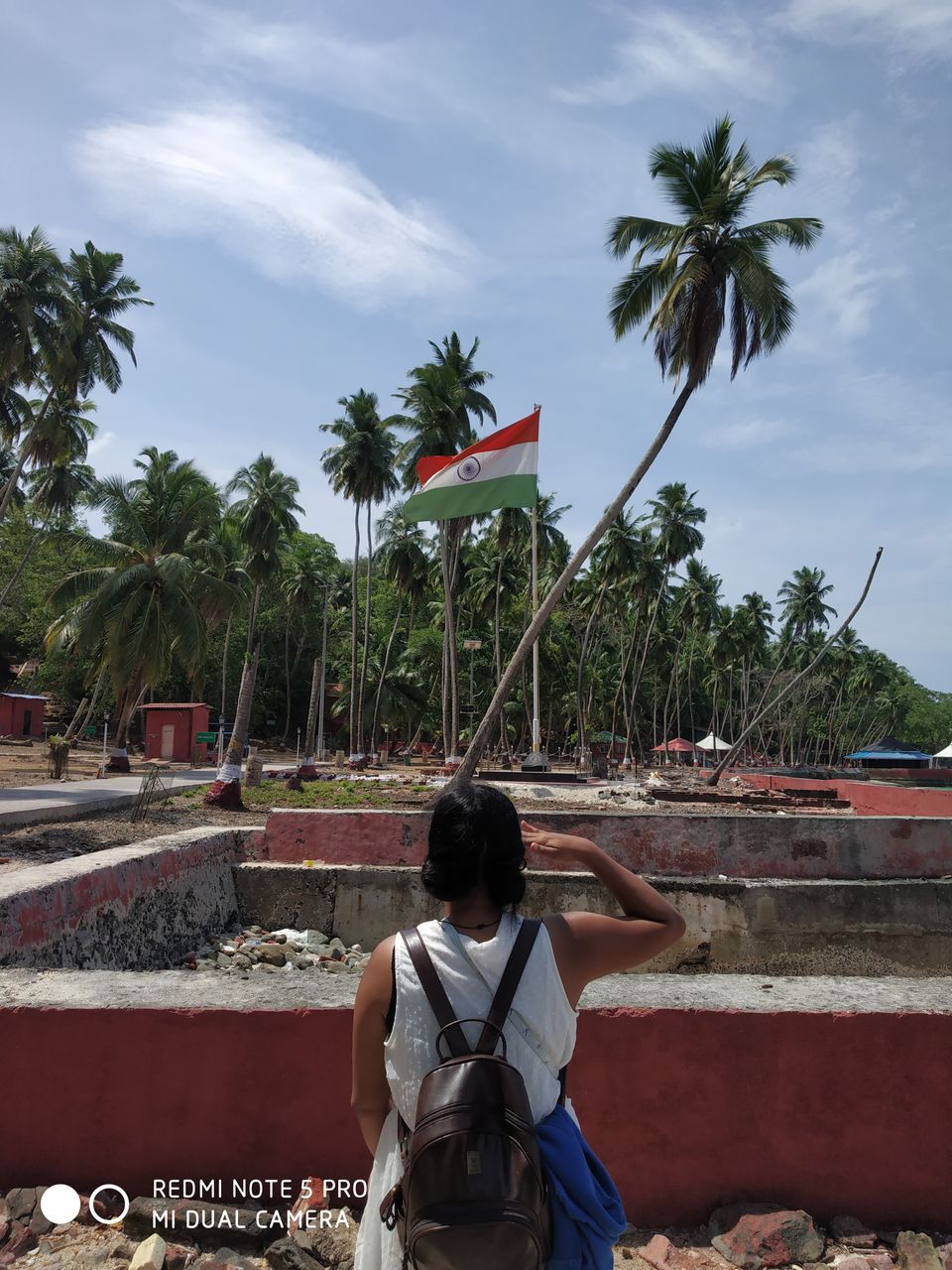 Next we had lunch and headed towards the DSS to board our boat to havelock at 2.This boats name was bambooka. Its a big boat , which has small windows inside.This cruise had good music and the luckily the captain was cool enough and took has to the deckand we spent most of our time standing near deck, watching the blue sea .Some of the glimpses on the way is as below: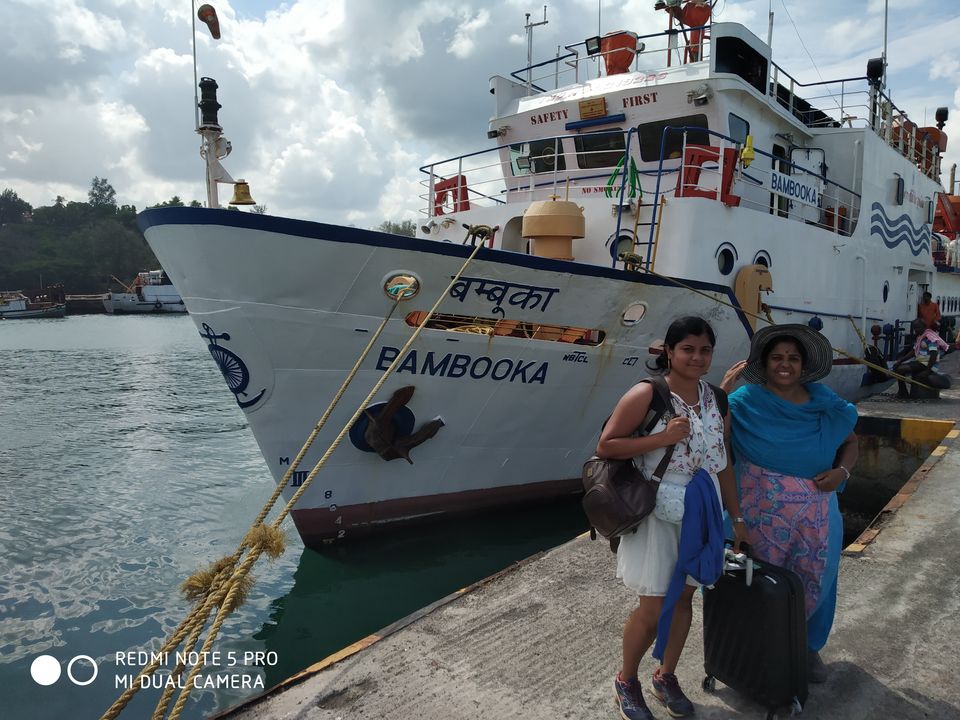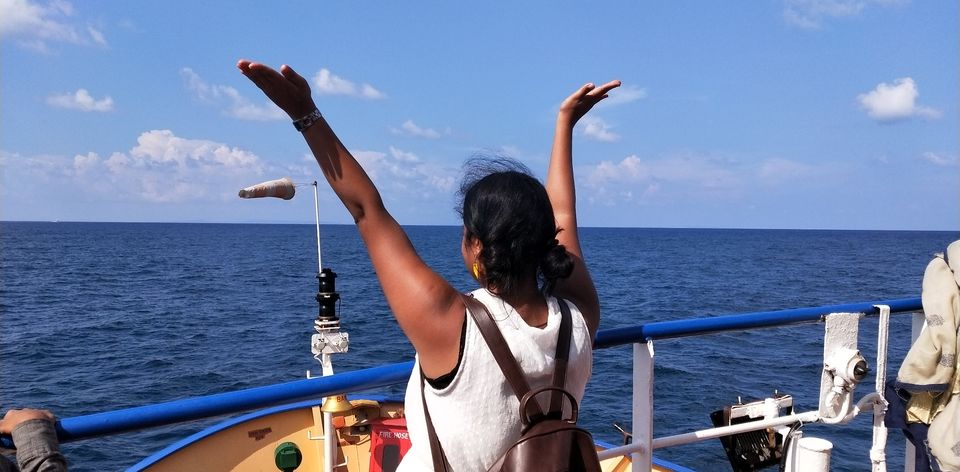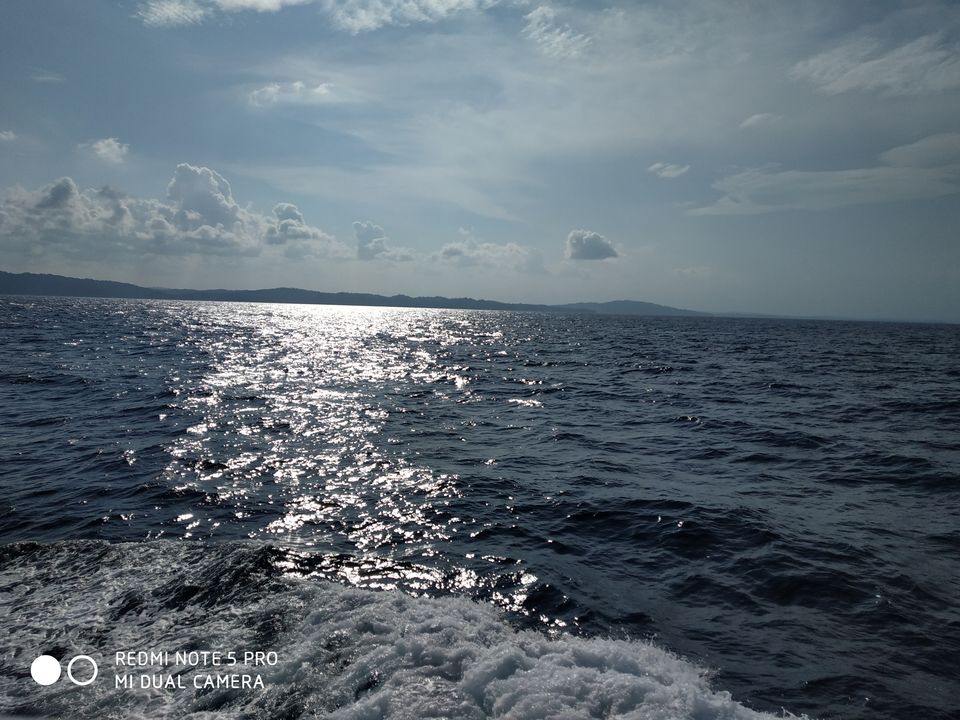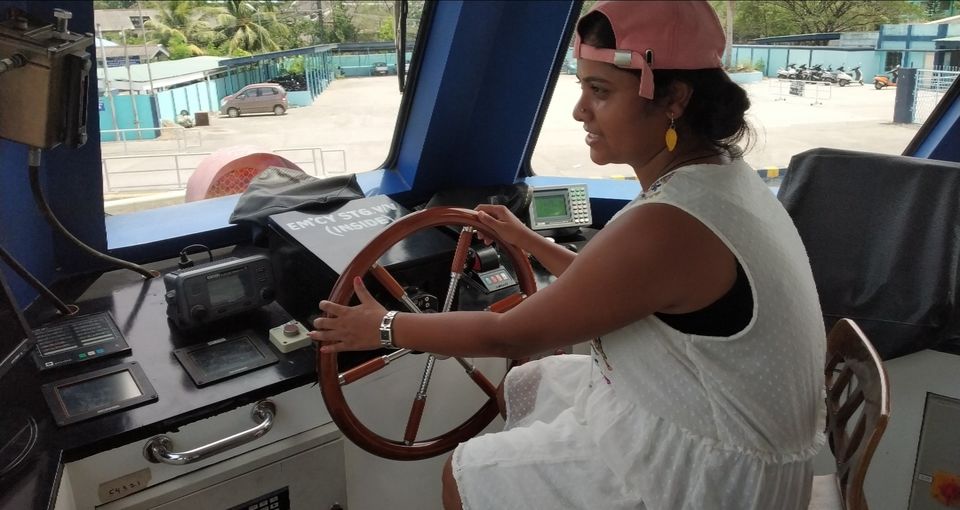 It took us around 2.hrs 30mins to reach Havelock. Reaching Havelock the view you meet has no words. From here took a cab to hotel .Our hotel had the beach behind and hotel is too beautiful with the view.Take a look: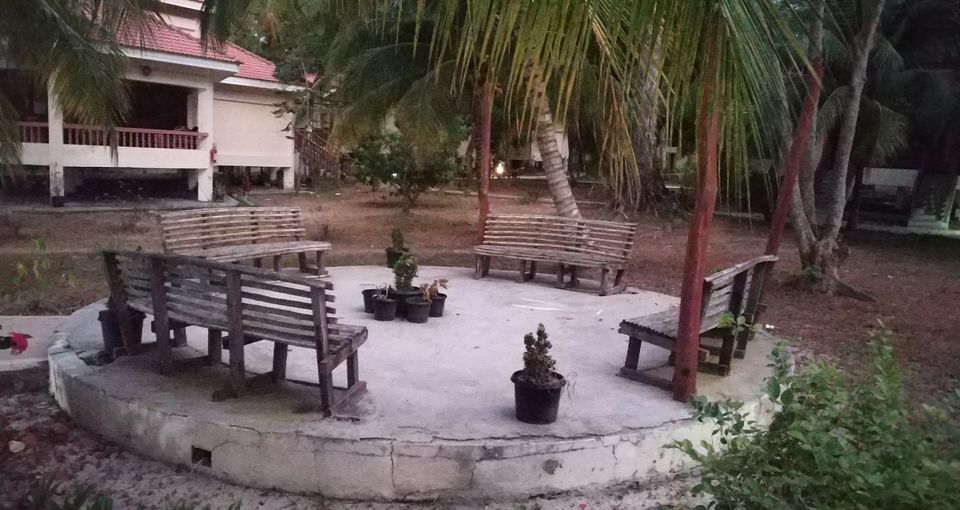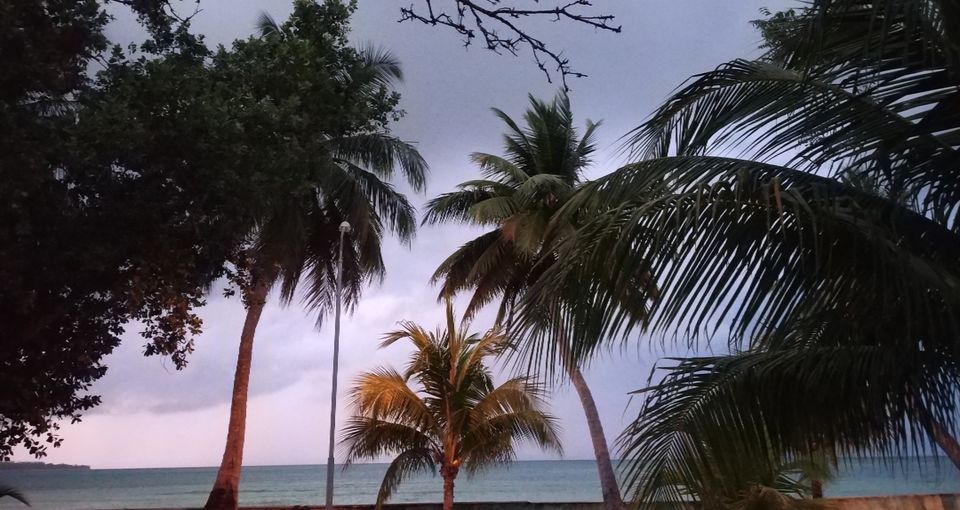 We checked in and dropped our luggage and headed towards the beach. I really went crazy seeing the beach. Have a look on the below pictures: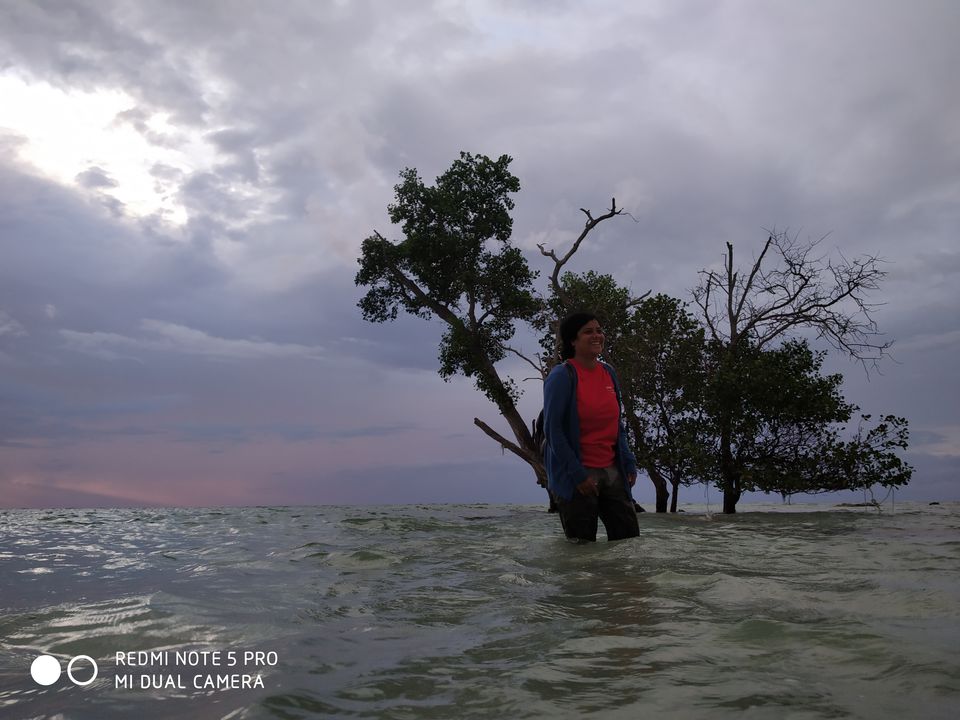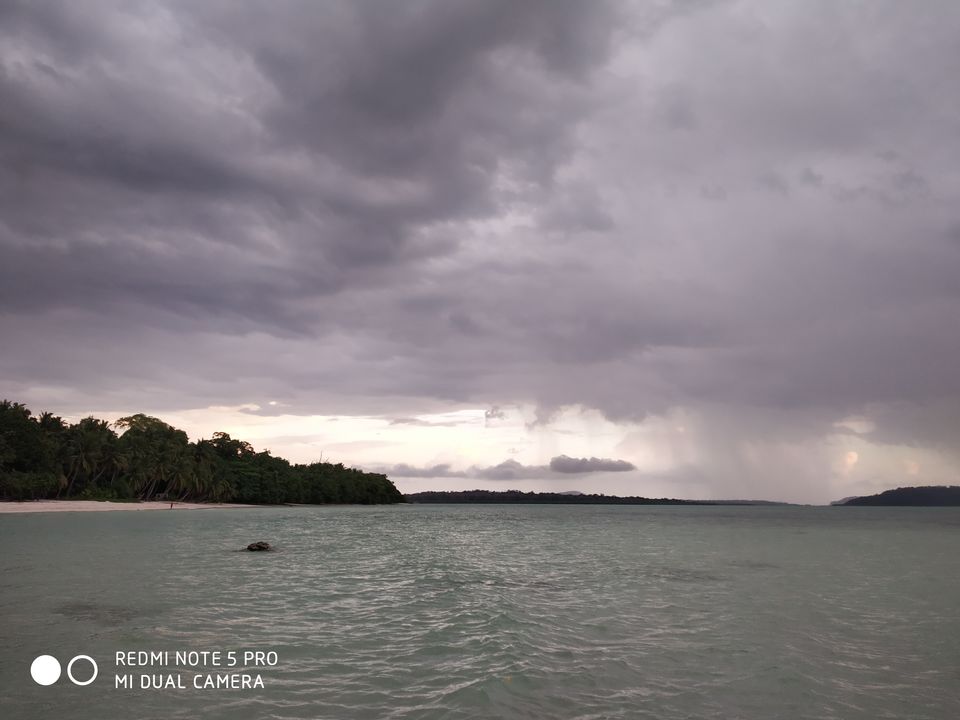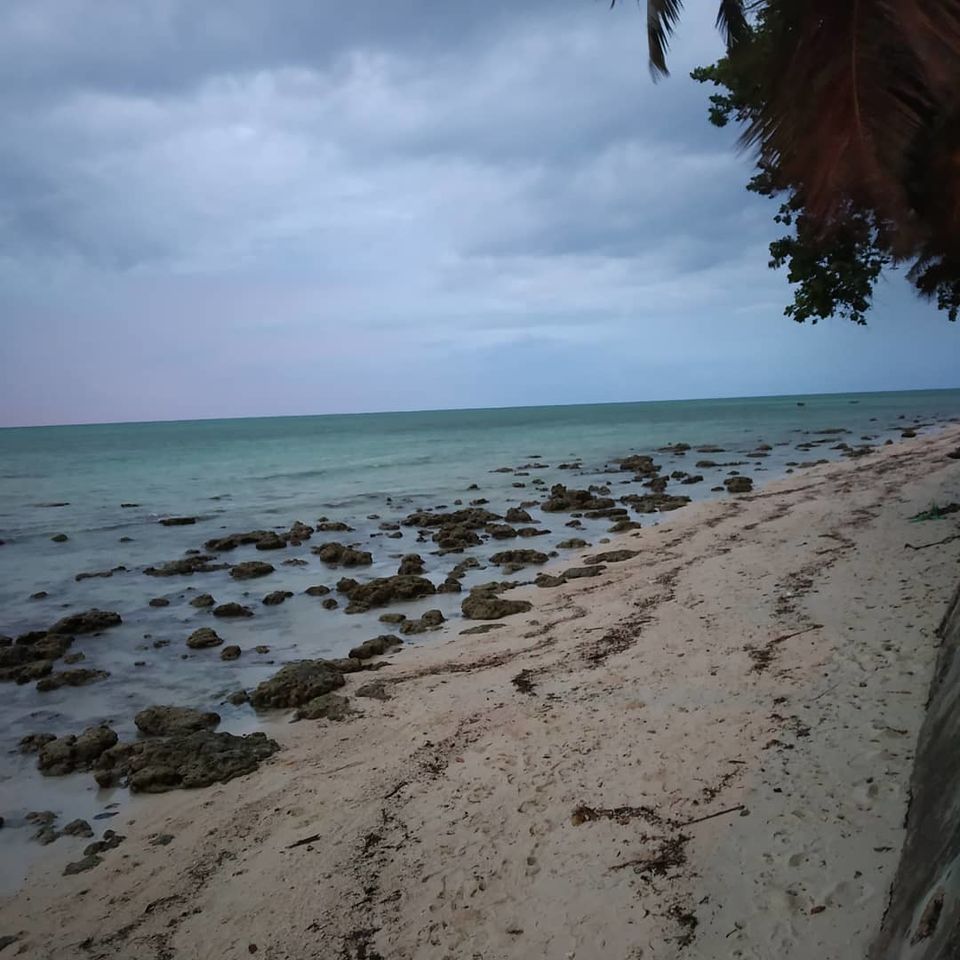 Evening we had dinner in the hotel , where we got buffet and outside our hotel there was bike hiring shop, so we rented two bikes bargained for 400 each and [ 2000 each deposit] for the next day. They rent it for 24 hours.It was drizzling now and then , so we dropped scuba idea.If the weather is pleasant go for it.
Sunrises around 4.45 am here we woke up and enjoyed the beautiful weather and had awesome time in beach .Pictures of the serene morning were as below: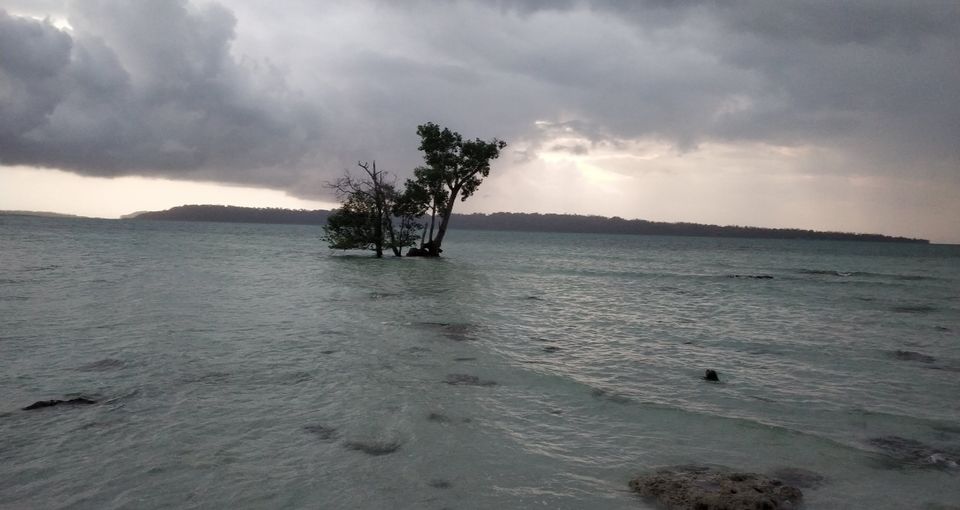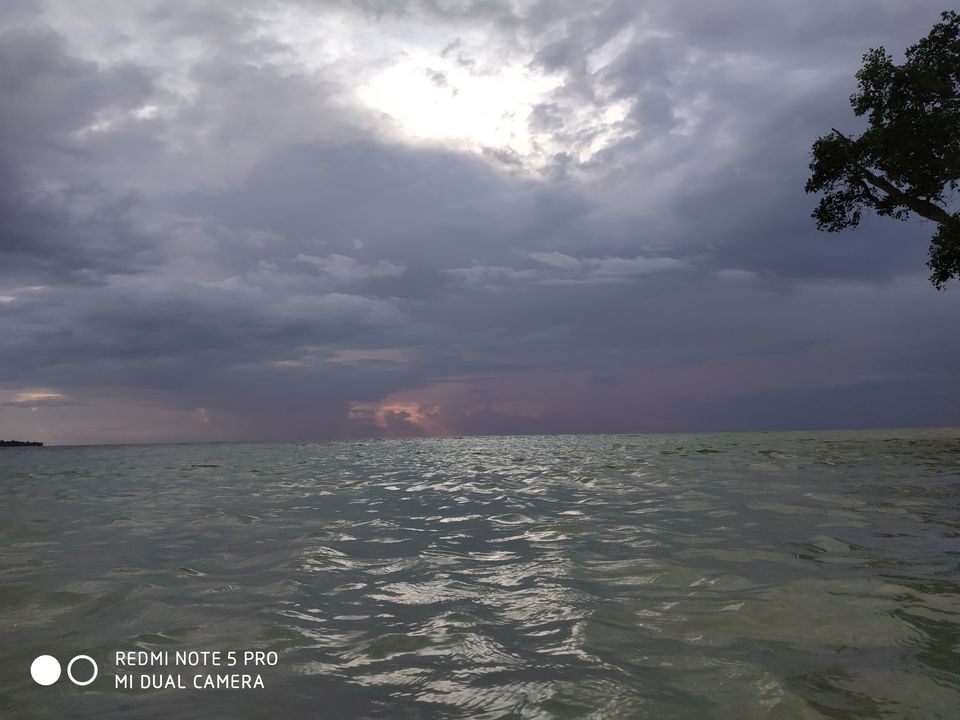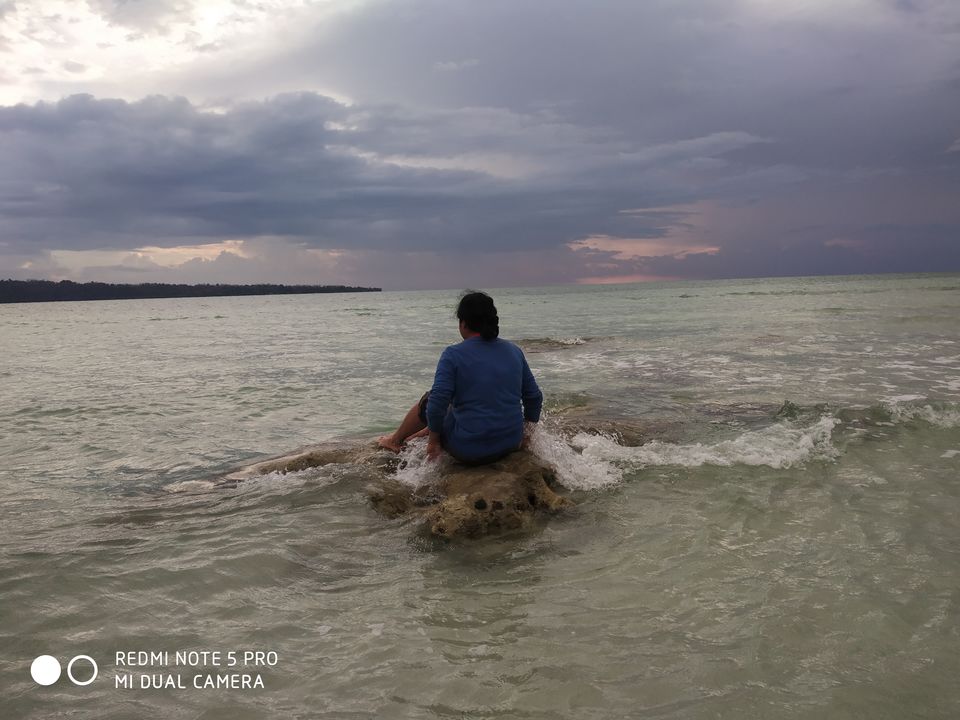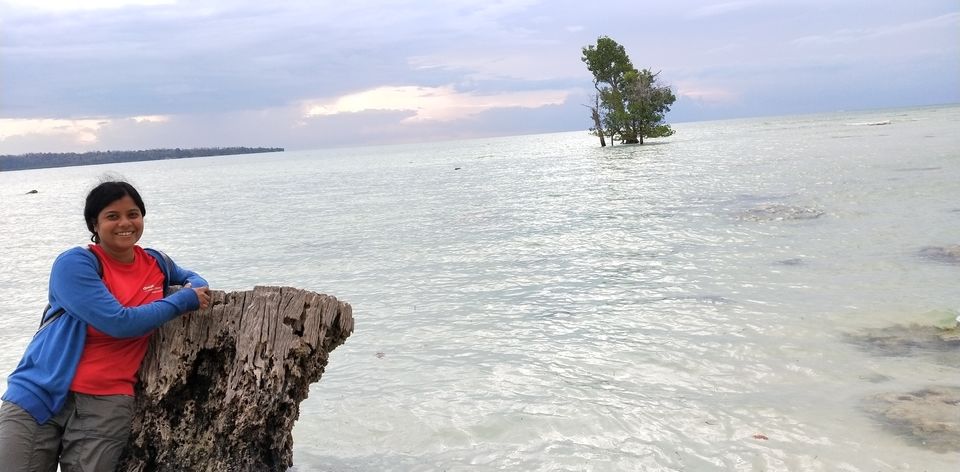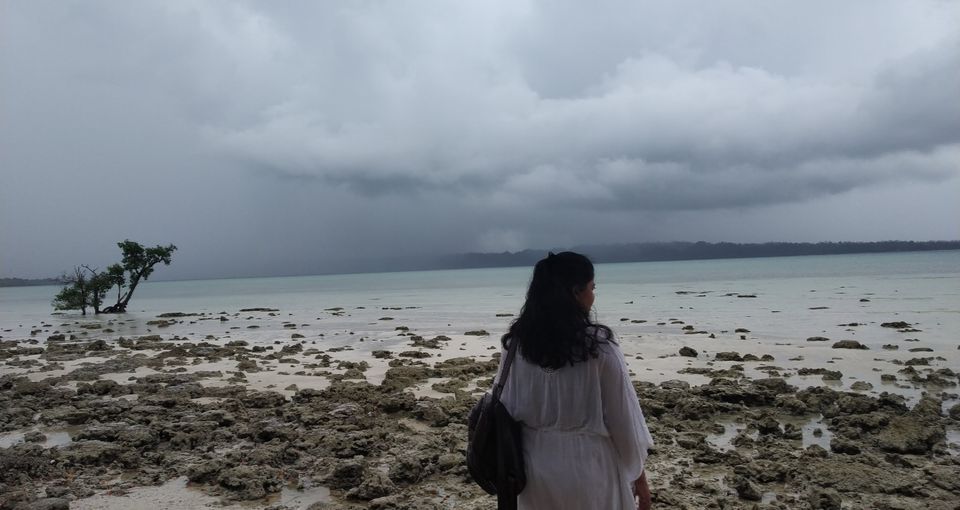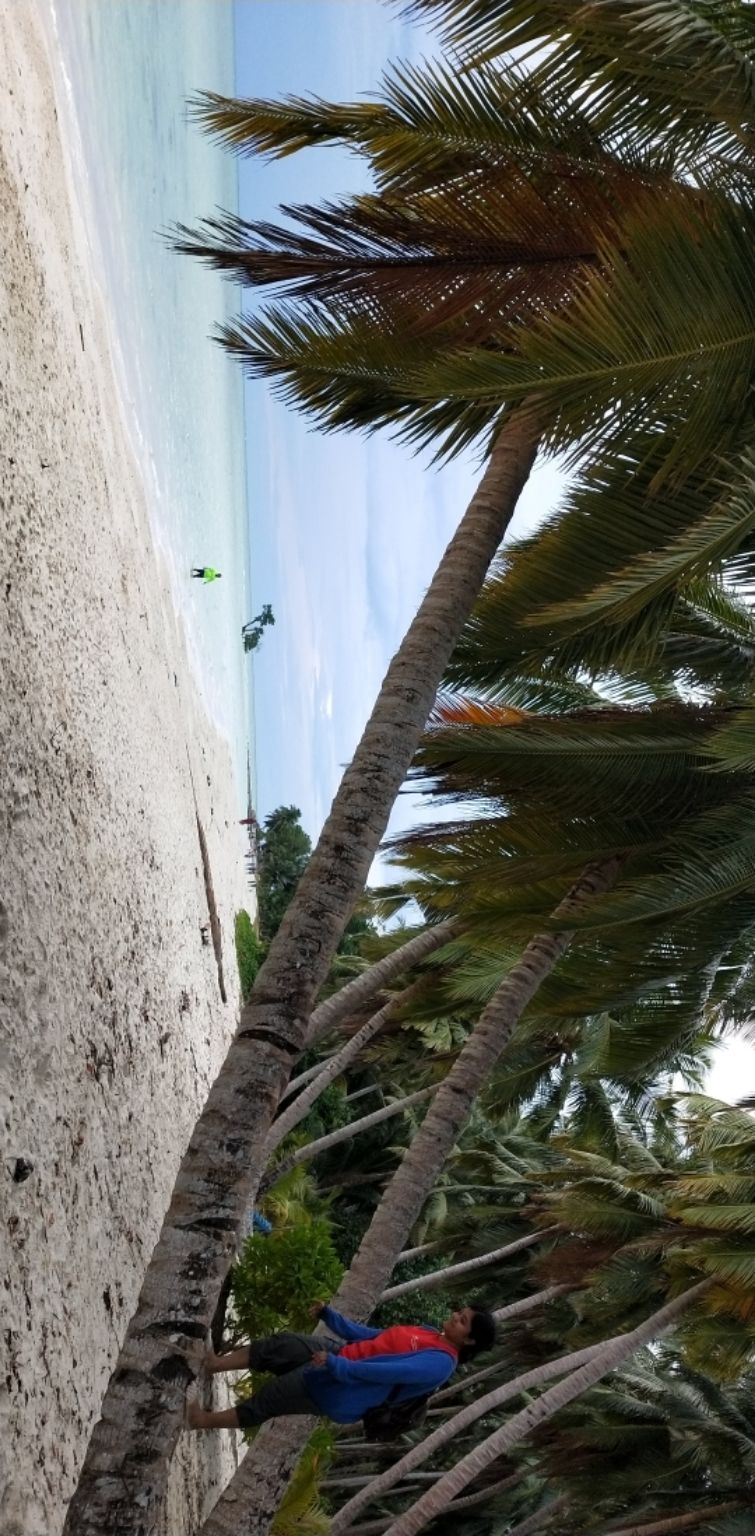 Hotel had complimentary breakfast buffet, had good breakfast.Took our rental bikes and headed towards our Jetty booking which started at around 9am .As we had to book our return Jetty back to Havelock. We got ticket for next day around 11.30 am.
Then we headed towards Kalapathar beach , this is around 3 kms from the hotel.This beach is as usual clean , beautiful and with some medium waves.Have a look: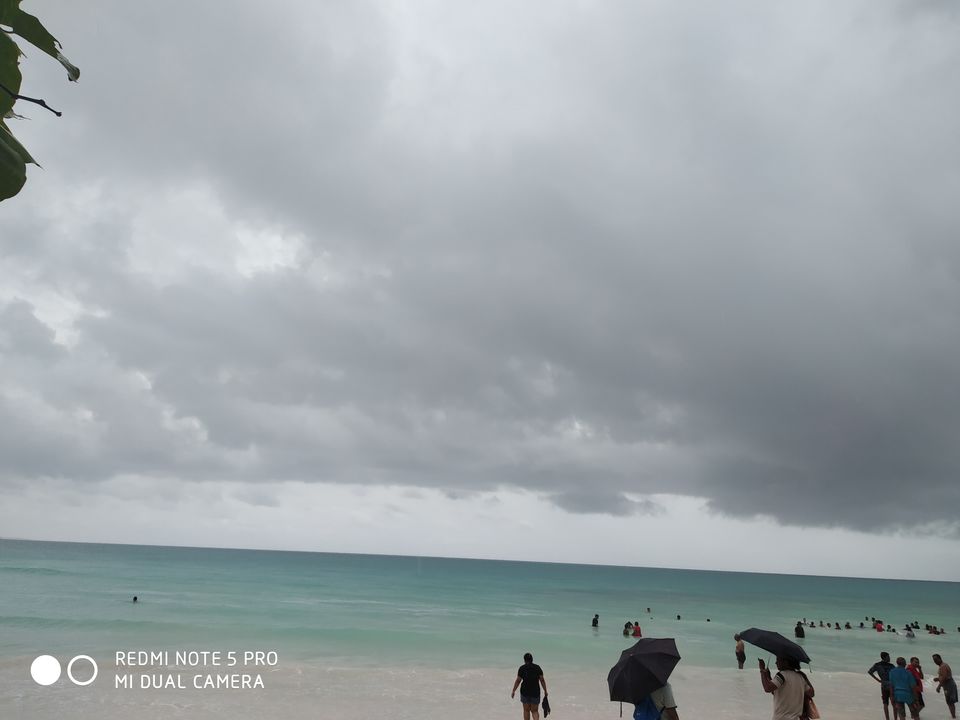 You get here some special kind of big coconuts for around 40rs. Its really big.One coconut is enough for two people, who bhi malai wala.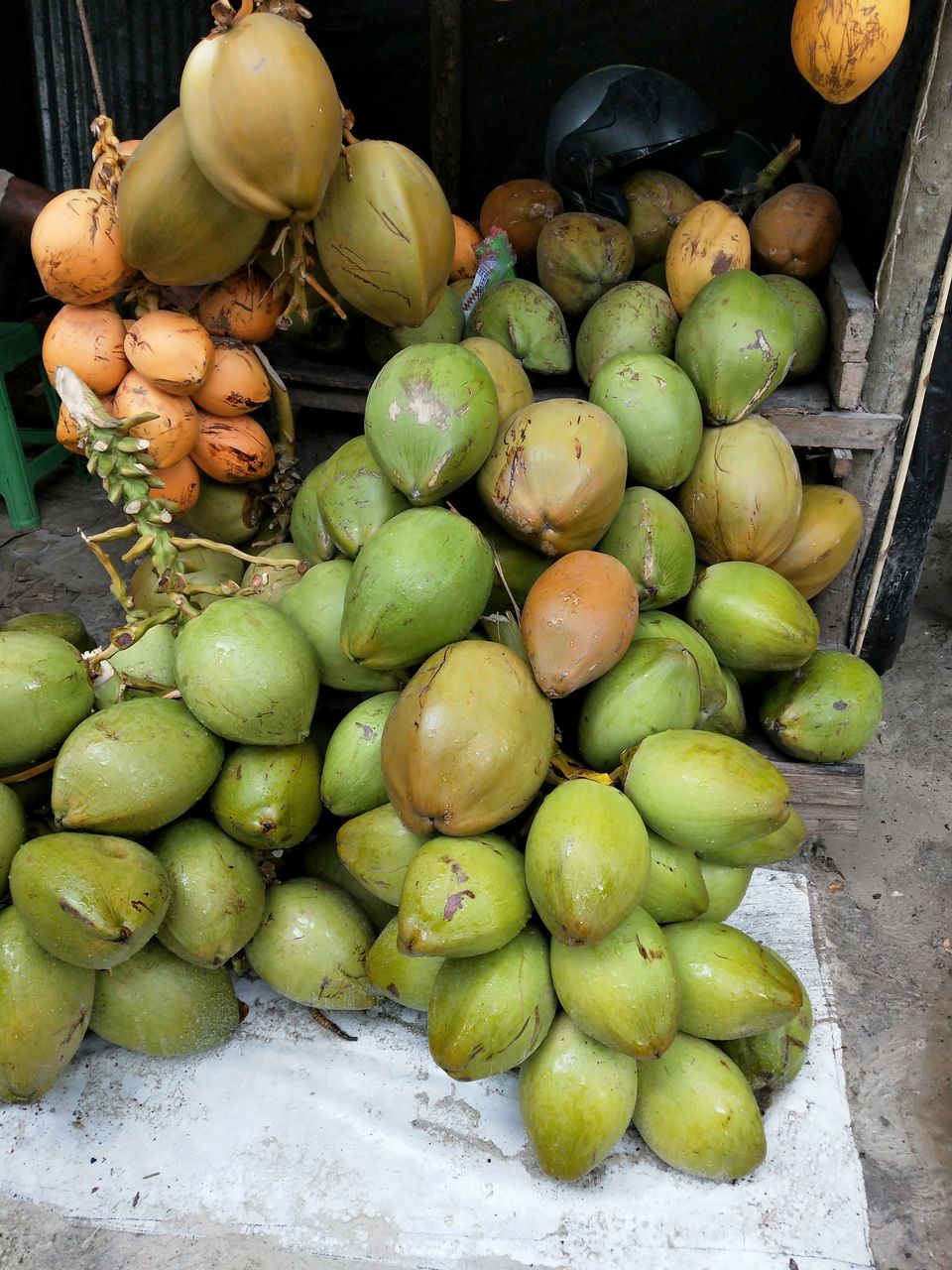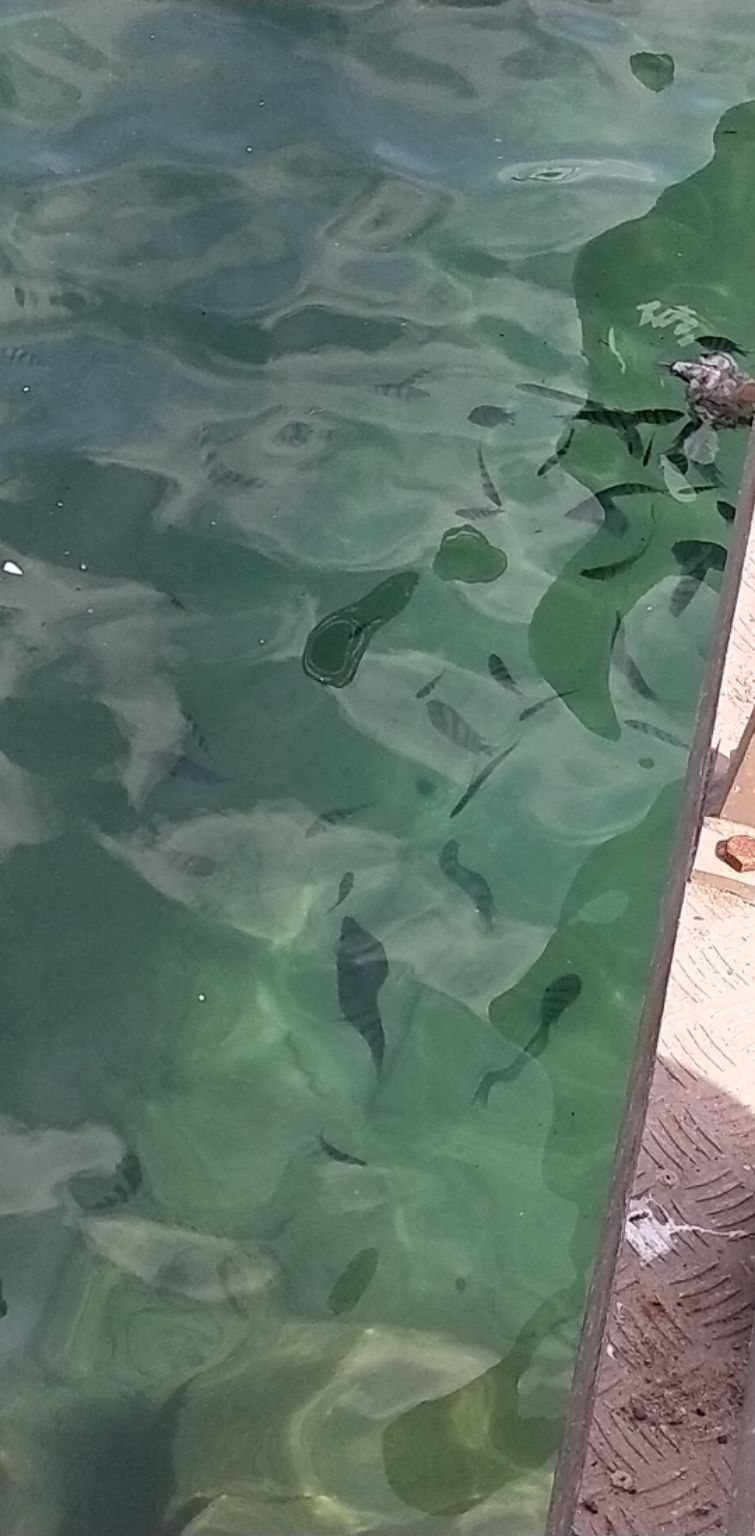 People here understand hindi , so I had no issues for communication. After this we had lunch and went towards,Radhanagar beach. This is around 7kms from hotel.This beach has some big tides which make your beach more enjoyable. Some pictures of this beach is as below: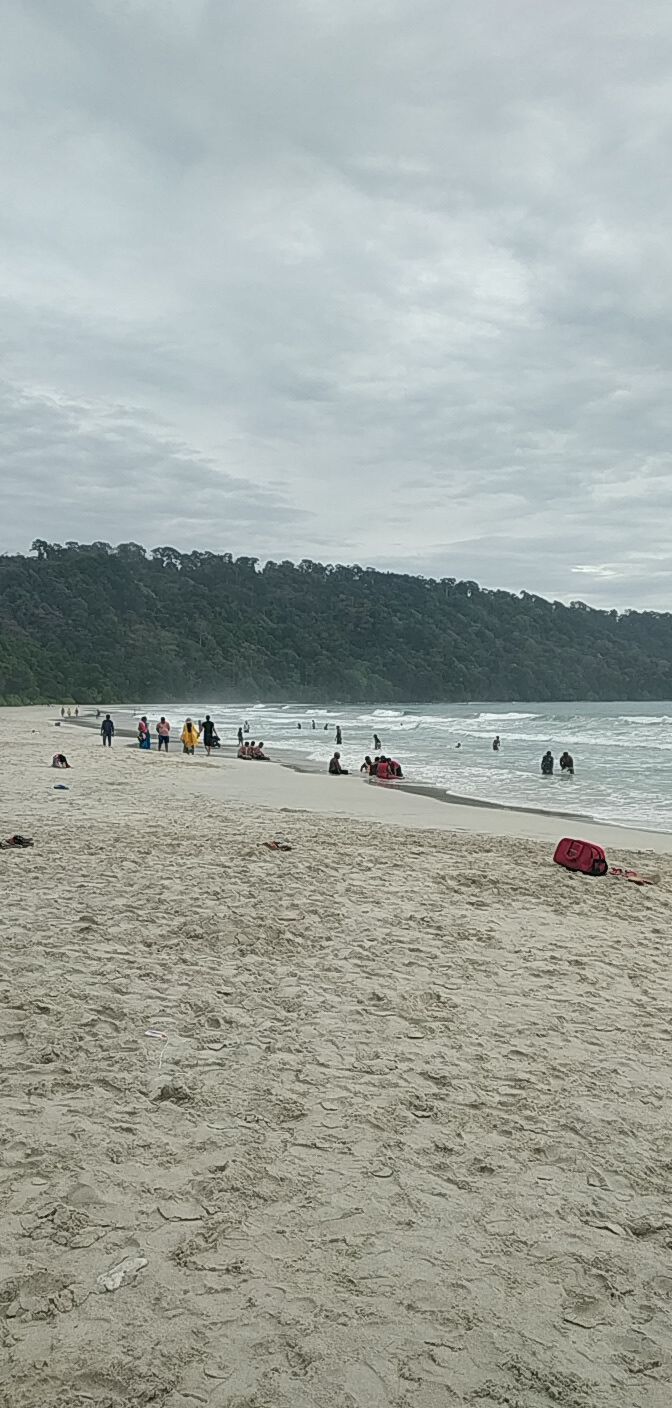 After this we returned to hotel and again spent the rest of the day in the beach behind our hotel.Next day enjoyed our walk near the beach and some serene moments are as below: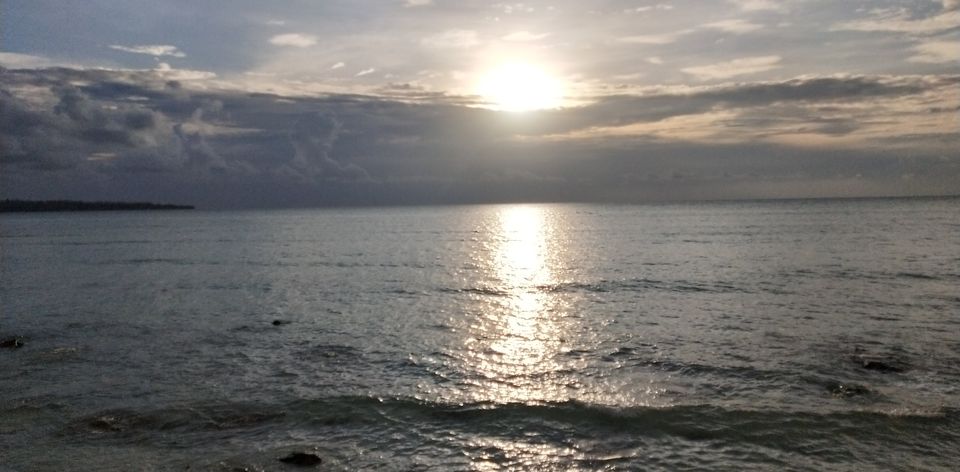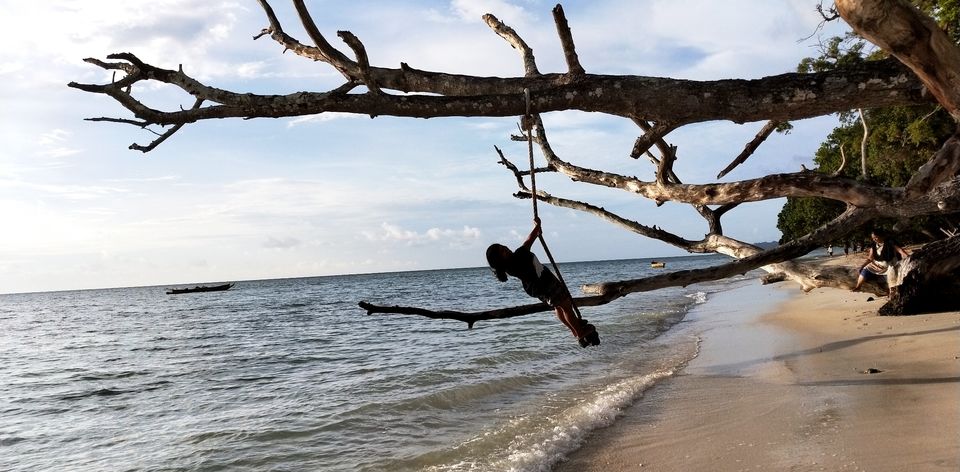 Had our breakfast , returned the bikes and checkout from the hotel .Rented auto and headed towards the Jetty boarding point. Reached Port blair .As our Jetty reached around 2 , our plan to visit North Bay island got cancelled. Later we checked into Teal house and had good lunch at Annapurna hotel.
It started raining so we dropped most plans and reached cellular Jail as my sister wanted to see it.From here we went shopping from the sagarika center.We found Sagarika center which the autowala suggested as expensive , there are many shops lined back to back there you get pretty good stuff for reasonable rates.Things to shop pearl earrings, necklace,Jarwa souvenirs etc.
Next day early morning headed towards the airport with a Beachy memory to Bangalore.Thanks Mumy, Reshi and Yogesha for a fun filled trip .Also credits to my friend Kiran who helped me plan my iternary to Andaman.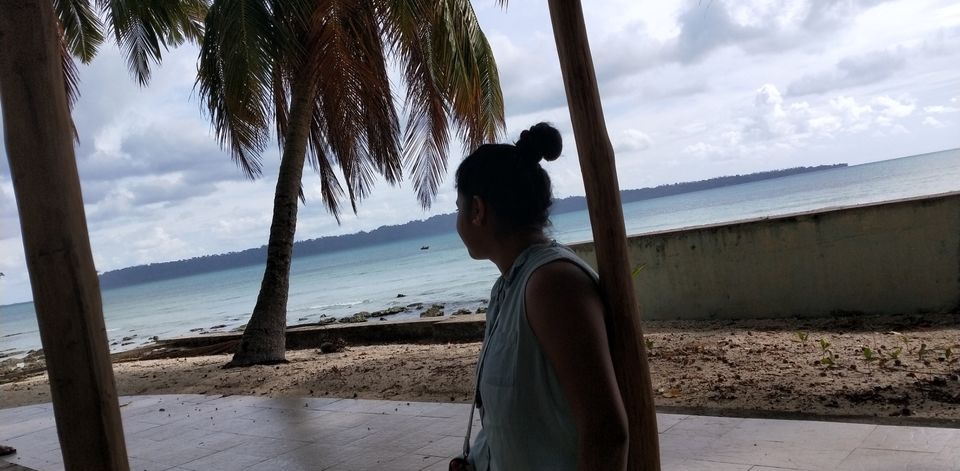 And yeah on 27th morning we reached Port Blair around 7.30am in the morning.Since its summer you can imagine how hot it would be in coastal areas, No surprises :)
As my sister would reach around afternoon , plan was to do the Jetty booking for our travel to Havelock island.Airport is very small , and we just went out and had our breakfast in a small restuarant idly vada and chai. One issue in Andaman is no network .Here only bsnl and vodaphone works.Airtel network is very weak. So talk to people to get most of the information.I had downloaded an App called Andaman and Nicobar island, which tells me theattractions in the city and distance from airport.Port blair is small city and you can get auto to any place fare ranging from 30-50-100.
As we had time we decided to go to Samudrika museum first and took an auto from airport.The auto wala gave us most of the information on where to book Govt jetty and private ones .
We reached Samudrika museum and found out our Hotel is right in front of it , we decided to checkin in the hotel and then roam around as we had luggage as well. Samudrika museum starts at 9am .We got fresh and went to this museum.It is nice museum has few beautiful corals and fishes in the museum. Also it has the tribal Jarwas incarnations of their lifestyle.Some pictures are as below: