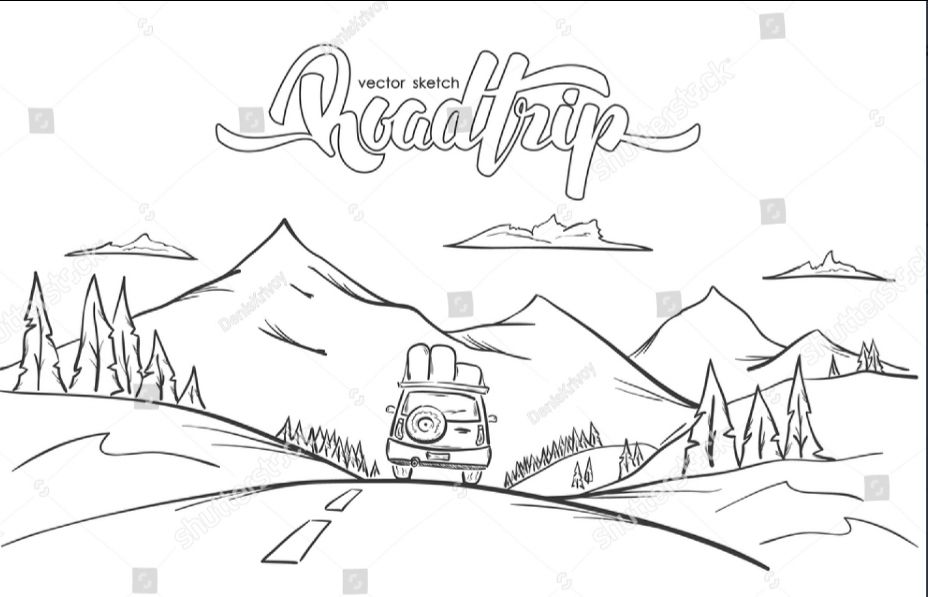 This is 'just another' travel blog like many other in the market. Except, if those boasted about a trip having three not so familiar people with a relationship that of a cousin, a friend and a stranger and oh, the genders! Well, this is a travel blog of one girl and two guys. Typical enough these days, yeah?
We shall see.
Also, a fun fact: This was my eternal escape after preparing and giving a never-ending era of exams as I'm an aspiring CA, LOL. If anyone reading this can feel my pain, thanks for empathizing, you have my heart! <3)
Honestly though, we thought Himachal has places for which one could go gaga about instantly! And we were so damn right! I'll get upon the deets of that later. So now introducing people i travelled with, my cousin Himanshu and his friend Gaurav, who I met at a wedding and ended up along in our 'instantly planned trip'.
Trust me; all this was as instant as Thanos snap of fingers! No second thoughts, no figuring out things like how, what and when, nothing! Just a plain sight of having the most happy and memorable trip with people I thought I'll grow with along the journey. And I am so, so proud of my decision. Kuddos to me! :D
Also, this isn't my first long trip, I have had many in the past and I can say that I love travelling . My planning for the trip went well in cooperation with the two. Okay that was it for the story; the itinerary with a twist begins now.
(We wanted a trip that would be lavish and meagre, both at the same time. So yeah, a leisure budget friendly trip with luxury was in our minds.)
Day 1: JAIPUR TO CHANDIGARH
As Himanshu and Gaurav were from Jodhpur and I, a Mumbaikar, we decided to meet at Jaipur since the flights from Mumbai to Jodhpur were expensive than to Jaipur (had to save somewhere).
From there began our, "Oh so amazing road trip" to our first destination, Chandigarh. Okay, before you call me a dumb, I know Chandigarh nowhere lies in Himachal. But since we were driving from Jaipur (Almost 9hrs long journey), we had to stop and give a night to the spark that Chandigarh holds.
To our surprise, we attended some crazy parties there and had a ball of a night! So, if you're one of those whose only notion about Chandigarh is being all about, "Makki di roti and Sarso da saag", let me tell you, the place is not just about the Saag, but a lot of Swag as well. :D
CHANDIGARH TO KASAULI
The next morning, we parked our vehicle at the resort we stayed and headed over to the most charming hill station of Himachal, Kasauli, in the taxi that we booked.
Kasauli was just 2.5 hours from our resort at Chandigarh. So now you know why it was sensible to experience a night at Chandigarh instead of straight away heading to Kasauli at a rush.
Sticking to our 'lavish and meagre trip' plan, post a lot of searching, we came across this place called 'Meadows on the ridge' by 'Vista Rooms' which is in the outskirts of Kasauli. The first picture that popped up at their site was enough for us to lock it for booking. And OMG!! what a perfect decision to stay there!
Out of all, this place and accommodation has my heart.
'Meadows on the ridge' is a beautiful Victorian style villa built in 1960s on the edge of a hill. We stayed in this cute vintage style room 'Mountain Breeze'. The room along with the attic space upstairs (fulfilling my childhood wish to stay in such attic space) and bathroom boasted of beautiful English designs. Also staff at this property from helper to chef all were the sweetest and the most polite people we met in our whole trip.
This property , added to the excitement and charm that the hill station naturally carried. The sunset was to live for! We had an amazing time filled with peace and serenity, perfect to get into the vibe of the trip.
This place can also be a perfect get away for a weekend for people staying in Chandigarh or Delhi .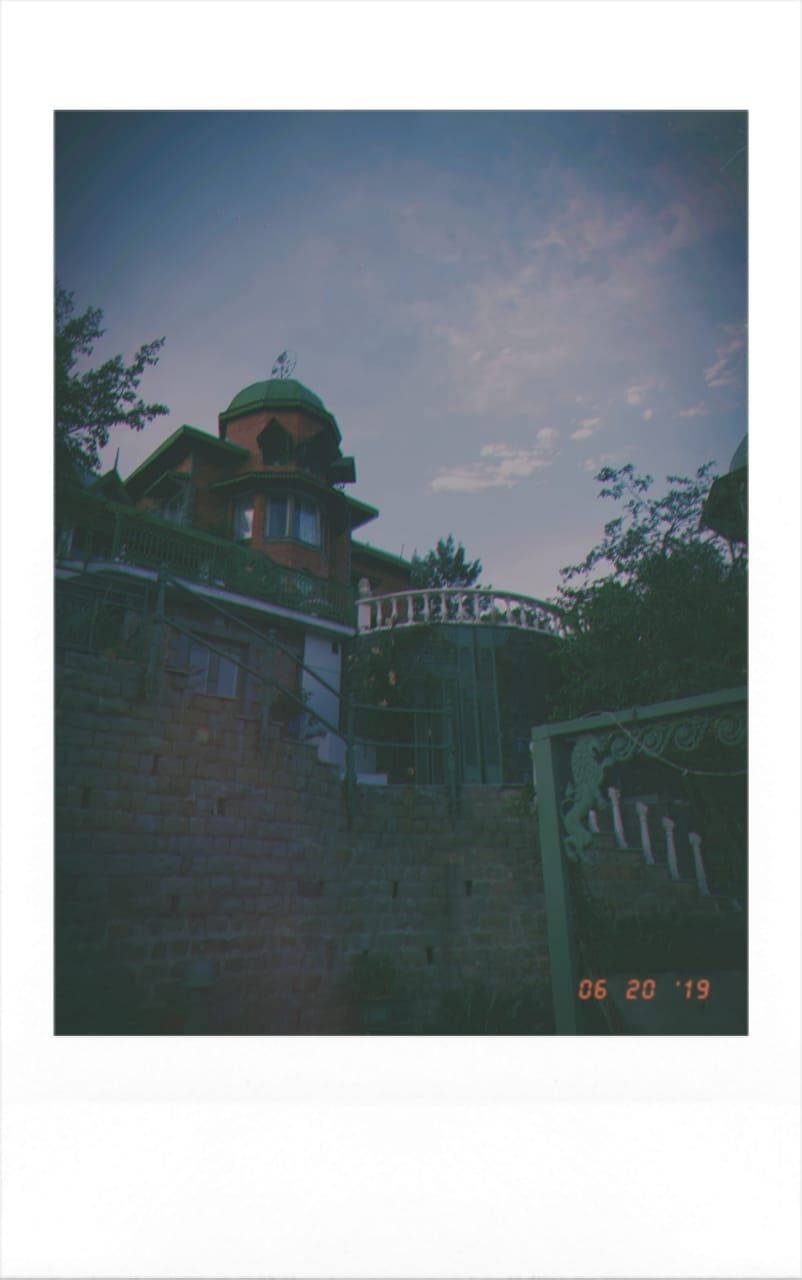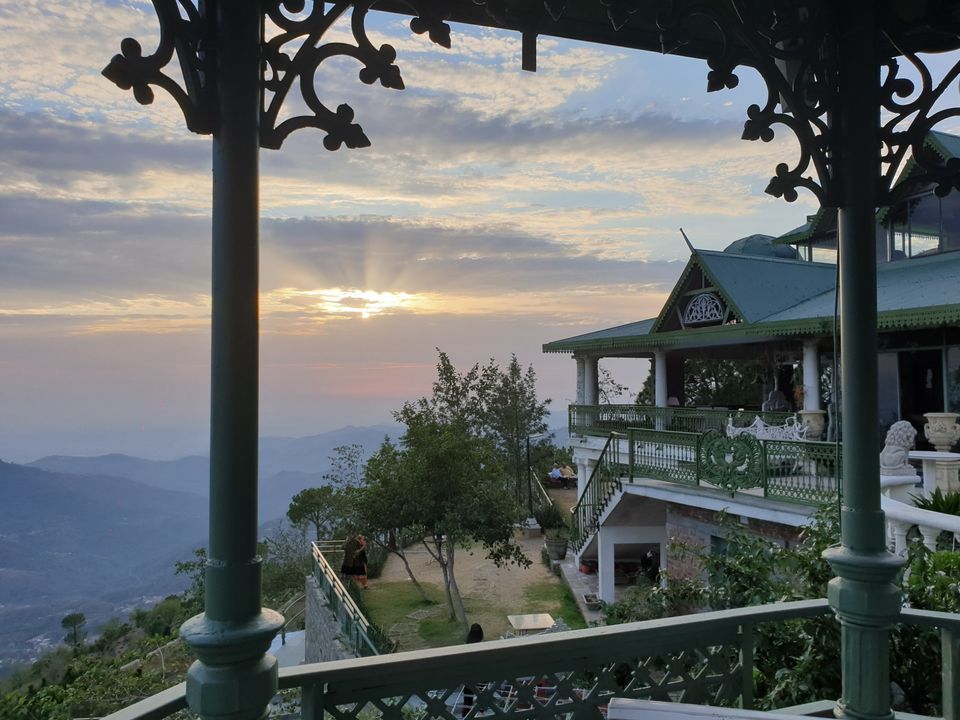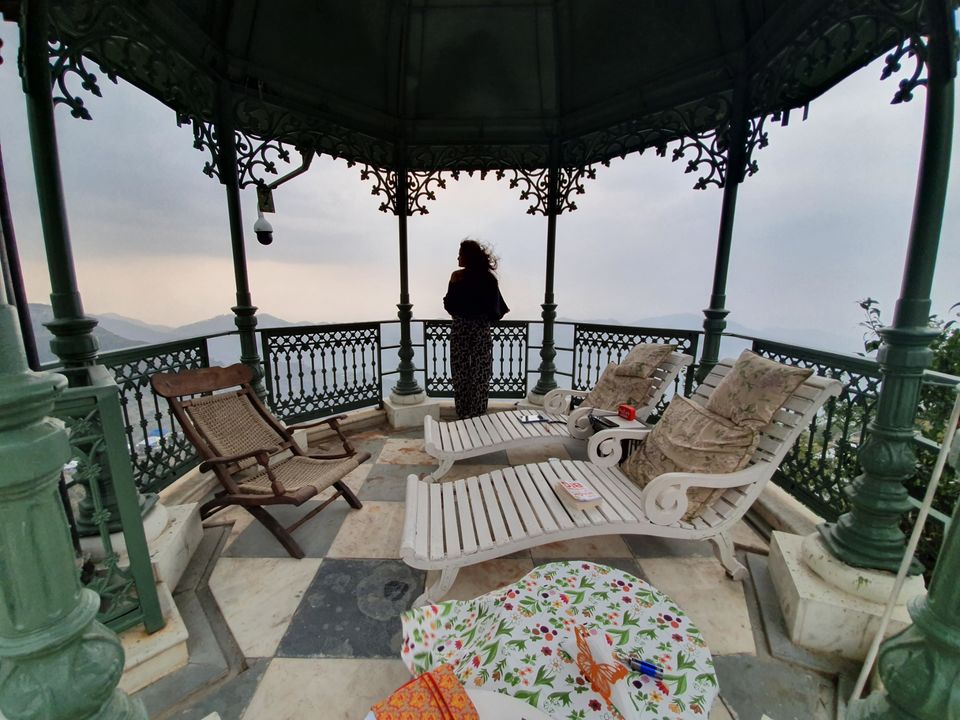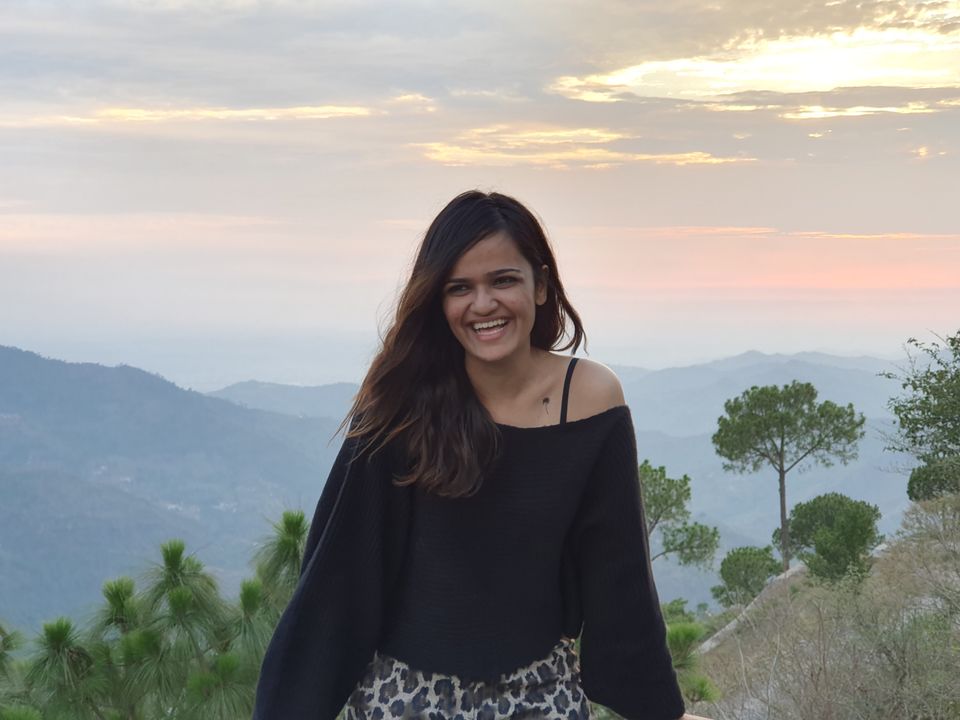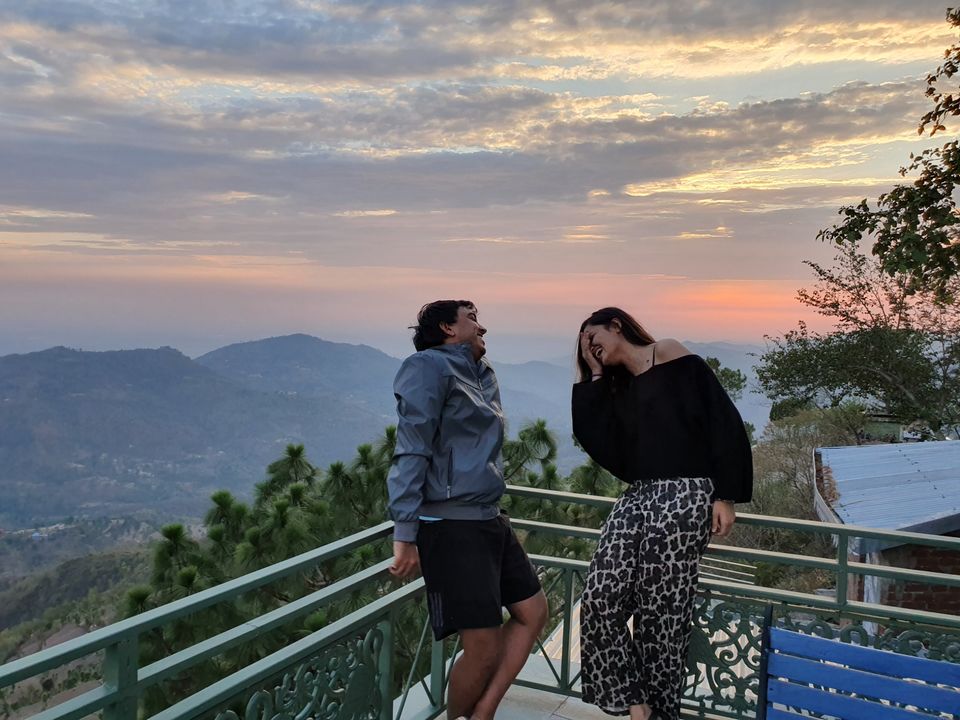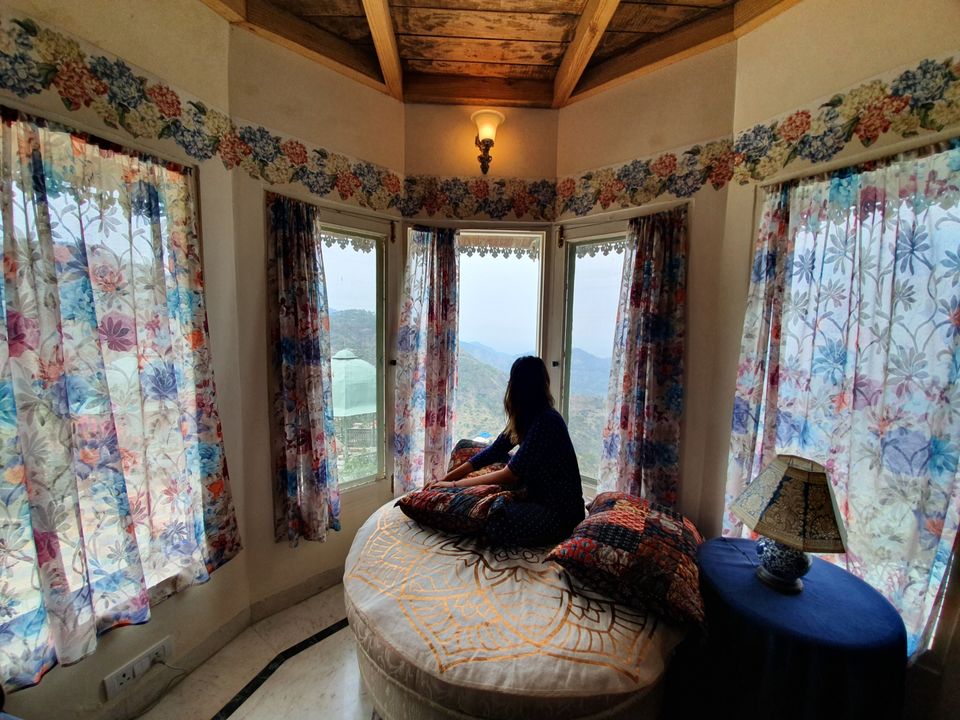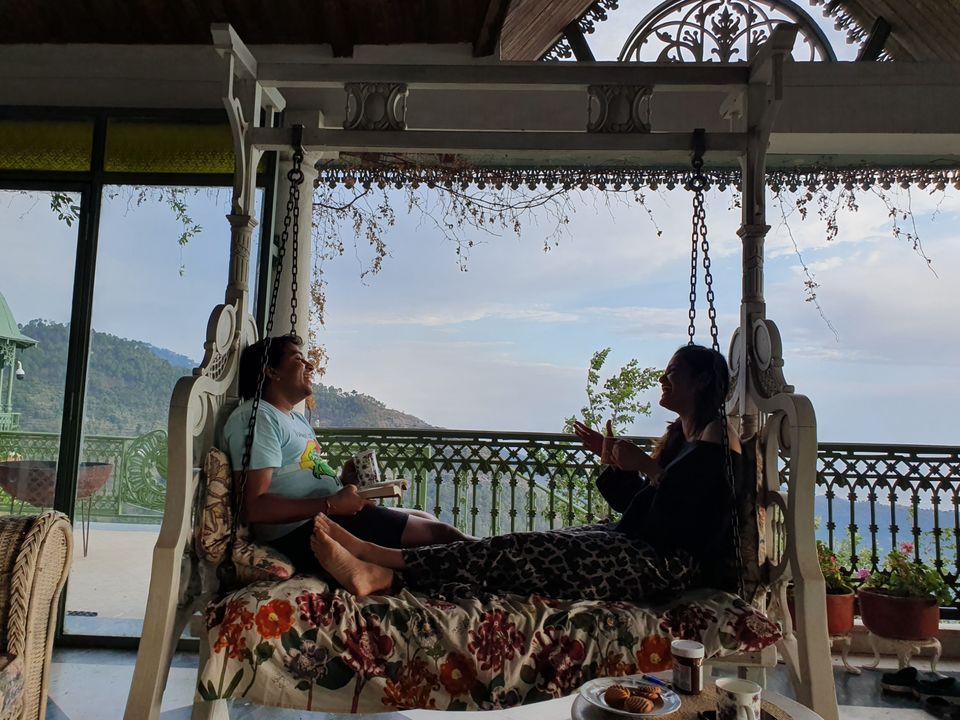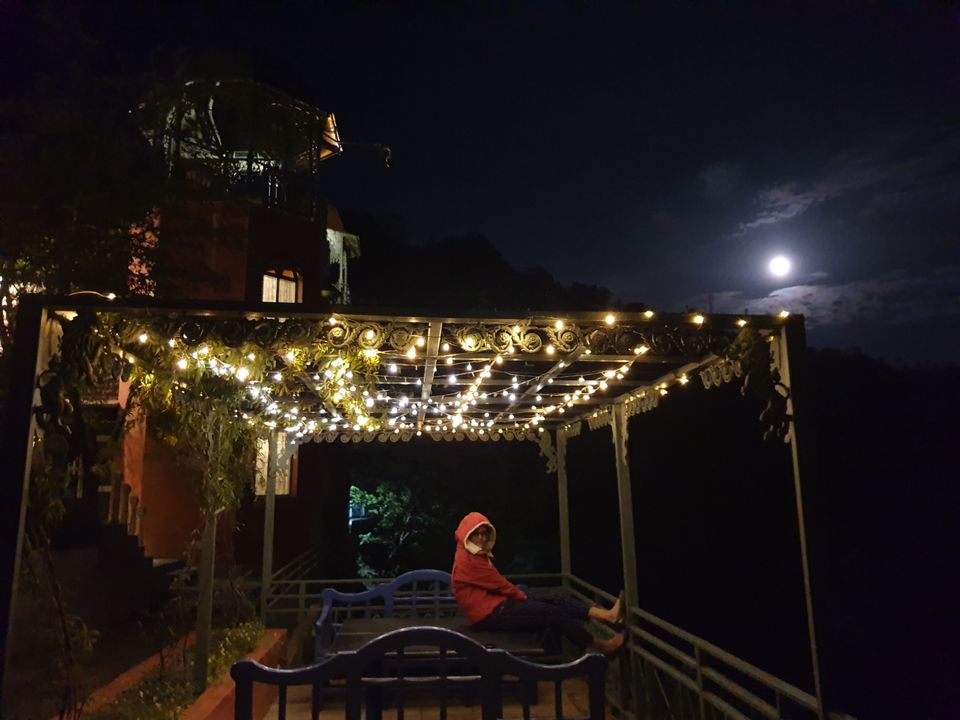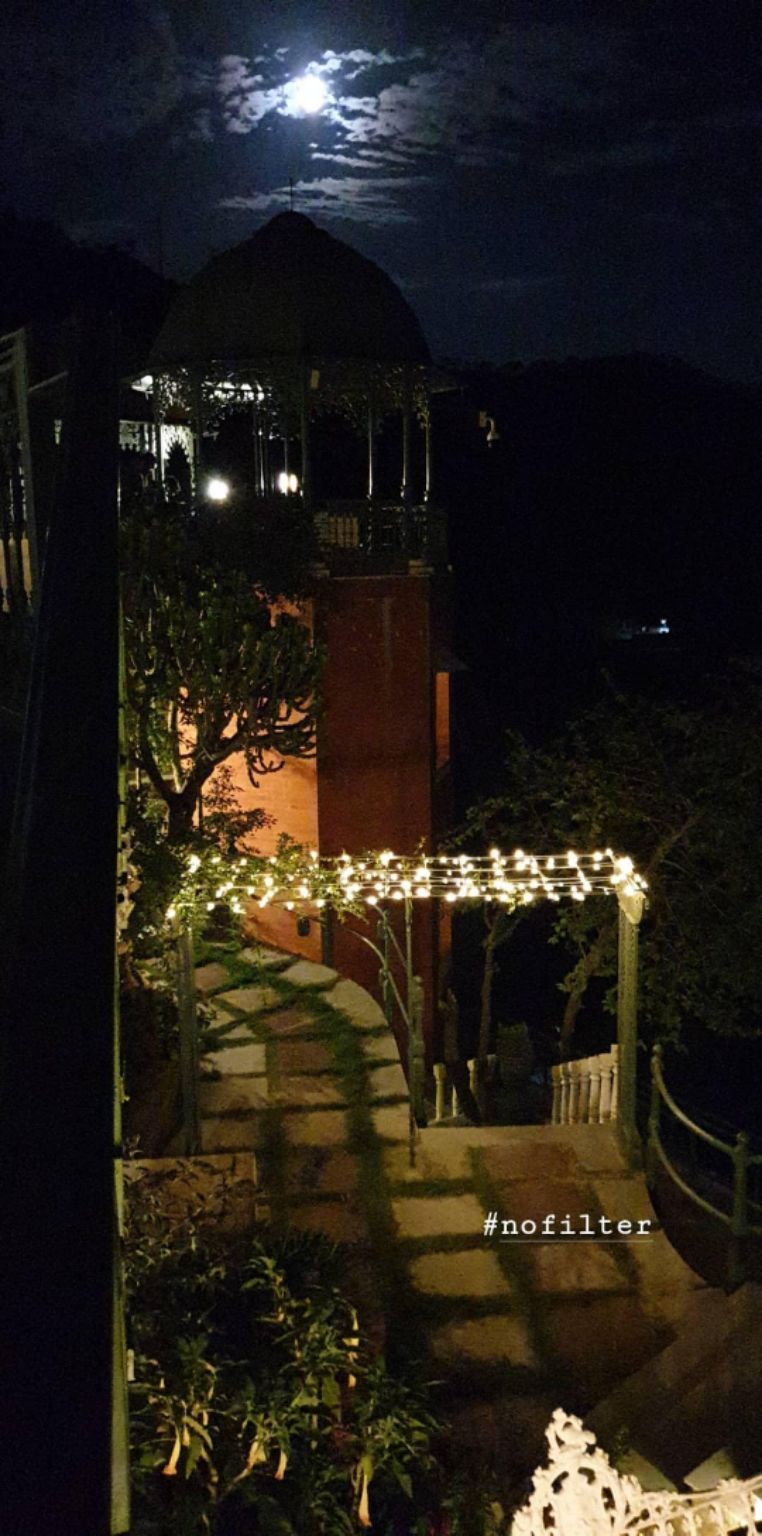 KASAULI TO KOTGARH
We left Kasauli with a heavy heart and a huge smile to head over to Kotgarh Village which is around 5 hours from both Kasauli and Chitkul, lying in between. Yes, Chitkul, a famous village in Himachal, was our next ultimate destination, but due to a good 10 hours distance between Kasauli and Chitkul, Gaurav, came up with this idea of relaxing at the village instead of spending all the hours, travelling.
Tip: (If you are someone who wants to avoid night travelling or someone who believes that, 'Journey is more beautiful than the destination' try breaking the journey and halting at some unexplored villages and enjoy the nature to its fullest.)
Getting back to itinerary: Being a travel bug, I came across this network of luxury home stays called Zostel X that has home stays in some offbeat locations and so we booked one for our stay at Kotgarh.
The hosts of Zostel Kotagarh warmly welcomed us with big smiles. They were a family of six, actually eight because they owned a cat and a dog. But we could only meet the Grandma, her son, his twins and their cat, Snowy from the family. Grandma owned an ageless beauty while her son owned a great knowledge about travel and always willed to help us.
The room was luxurious having wooden floors and walls with a beautiful balcony. Kotgarh got us experience a yet another beautiful sunset, apple orchards, moon rise and star gazing late at night, all of which were perfect for a view straight from our balcony! It was an off season for apples so we couldn't relish eating them but walking amidst the orchards where trees were covered in white nets (to prevent birds from nesting in hedgerows). Other attraction near Kotgarh is hike to Hatu peak (but we preferred laying back and enjoying the beauty of our property and the surrounding).
I made sure to not miss the sunrise at 5 in the morning as we know how often do, we 'busy people' underestimate the chances to admire this natural cycle.
And oh! How can I forget the food? The best part was that Zostel being a homestay, we got our 'Ghar ka khana' feels as grandma served us with some delicious Himachali cuisine with fresh fruits plucked out straight from their farms which we had with them in their dining space. I mean far away from home, how awesome is that, one can simply imagine!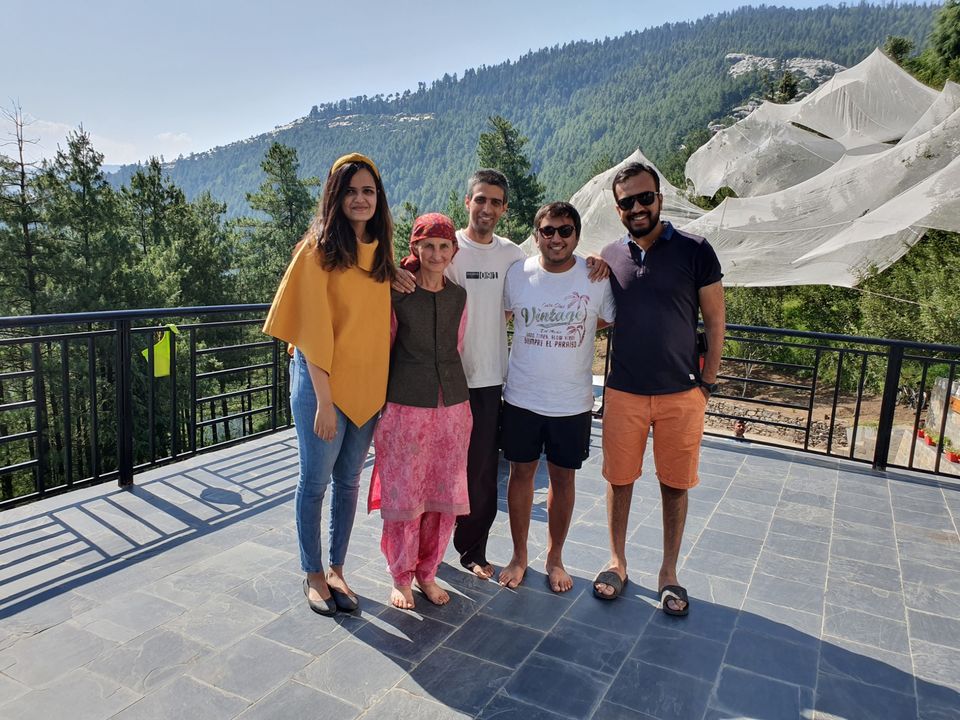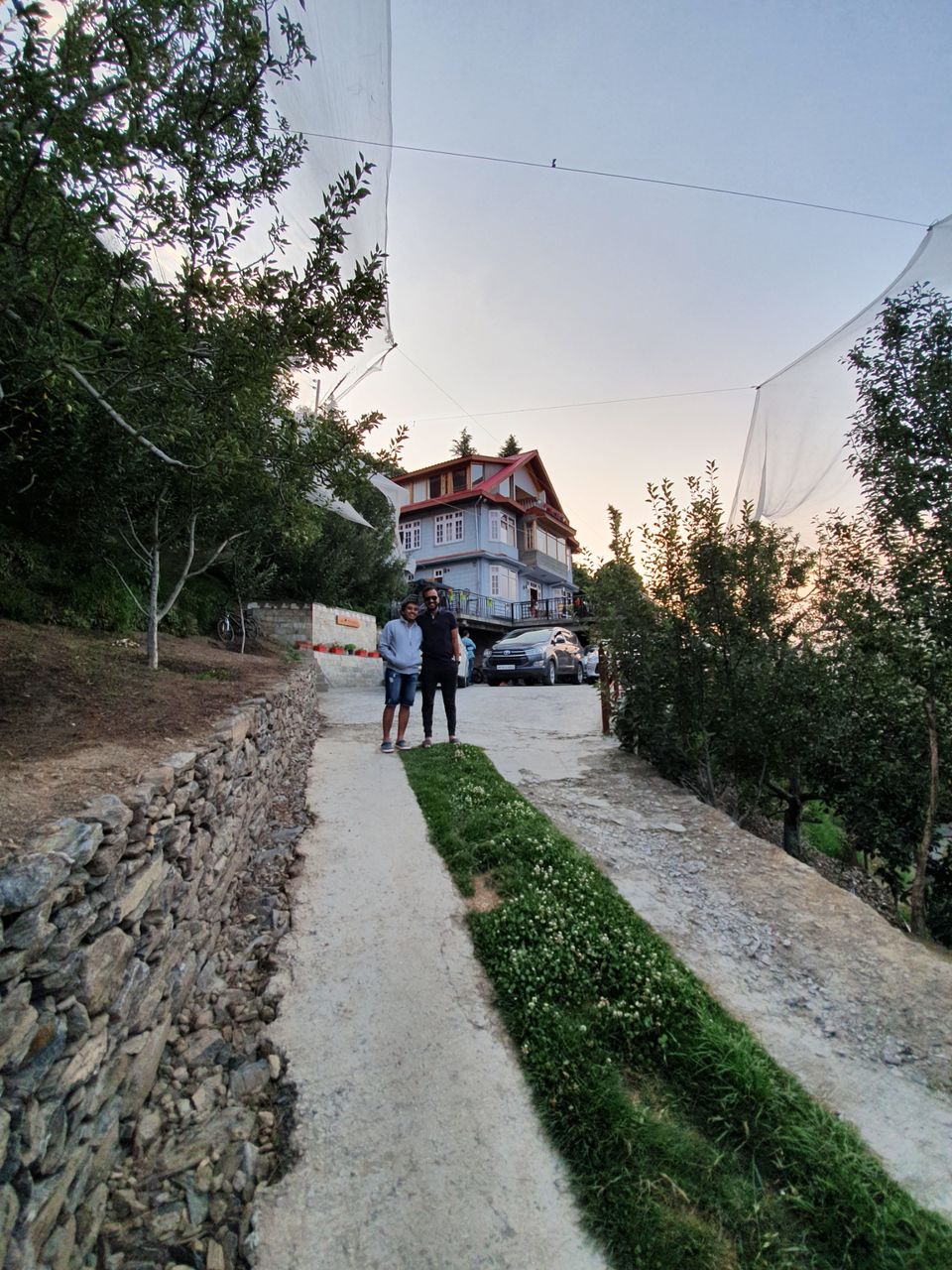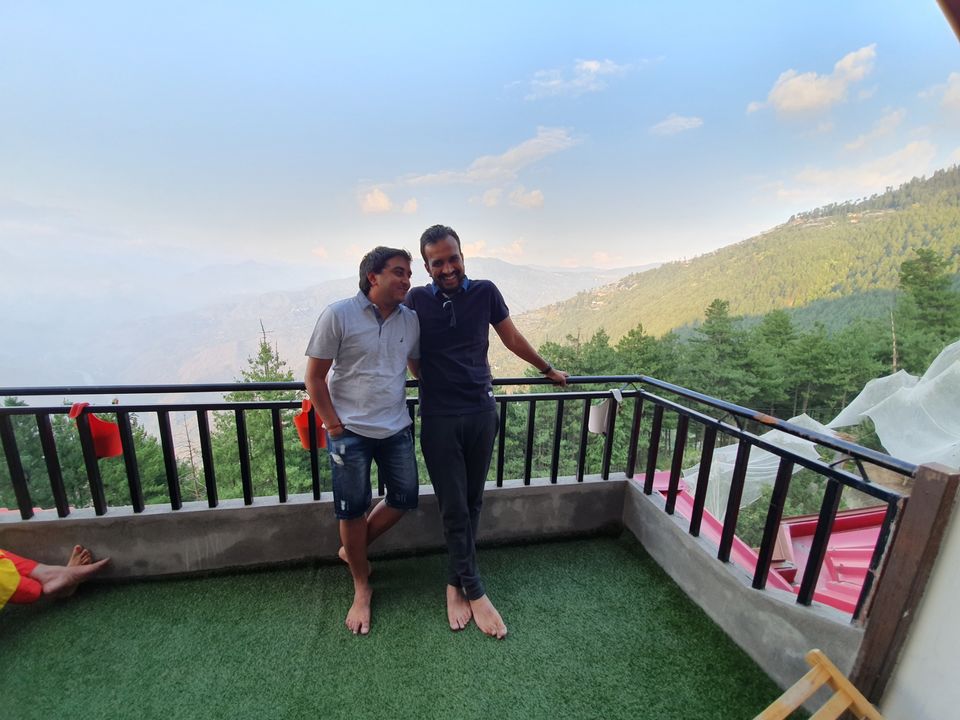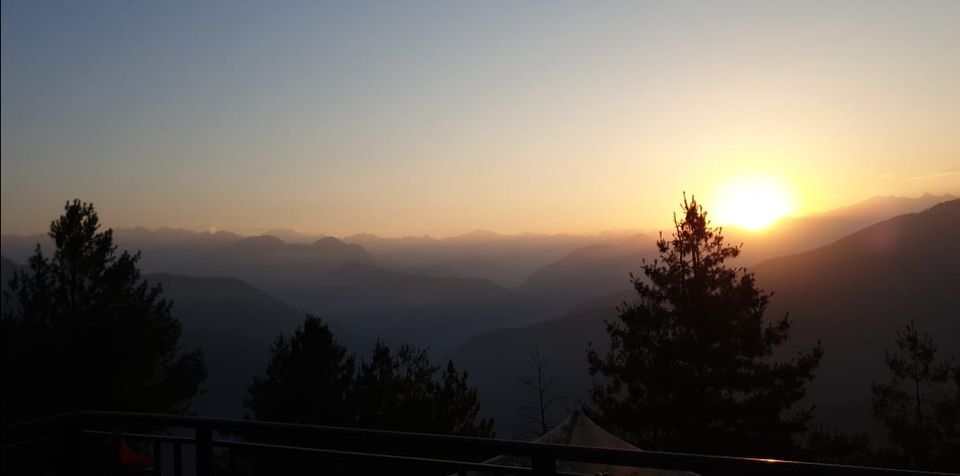 KOTGARH-RAMPUR-SANGLA-CHITKUL
Here begins the day of our most awaited journey to Chitkul. Our journey began right from passing through the luscious apple orchards to entering thin roads with huge mountains that allowed the great Sutlej river flow out of their bellies. As I write this, I get into a major nostalgia feel of the fresh air, breeze and soulful sound of the river that I experienced there.
We took a halt for lunch at Rampur, town in Shimla district along the way and left for the famous Sangla Valley lying in the district of Kinnaur. Honestly, the roads along the valley were too rocky and full of hurdles, but the driver of the car that we'd hired was experienced enough to make sure that our ride was more about the beautiful views with refreshing breeze and less about the obstacles along the way (will be mentioning the details of our travel agent at the end of the blog).
We entered Sangla to visit the Kamru fort, the sacred place of Sangla which required hiking for 20-25 mins through Kamru village.
Tip: Carry your water bottle (avoid plastic bottles though) we being in a hurry to get out of our car and go for hike forgot to carry our bottle but I must say, the Pahadis are heaven yeah, the sweetest people you'll come across! Seeing us exhausted due to sudden rise in altitude, they offered us water with big welcoming smile.
Post hiking for 10-15 mins was a temple and the next 10 mins got us to the fort. A fort with a different tradition: no leather belts or wallets were allowed, we were given holy belts for our waists and Kinnauri hats for our heads. While talking to the guards of the fort we came to know that no one is allowed to enter the fort except the Pandits for Puja once a year.
Our next destination was finally, Chitkul. The route to Chitkul was the best in the entire trip! We passed through Rakcham village and as it was almost sunset, The sky view guys! It had that perfect blend of orange pink and faded yellow color reflecting on the mountains and mesmerizing us to the core of our hearts! (Oh, this reminds me of owning a dress of that color blend. Designer here, anyone? :p )
Also, Chitkul is at an altitude of a good 11320 feet! Thus, people with Acute Mountain Sickness (AMS) must carry their medications along. Nearing Chitkul gave us that instant satisfying sensation. For our stay, we again had chosen Zostel and my pre-booking idea got us a room there which otherwise would've been impossible due to the peak travel season. Okay so for the first night, we stayed in dorms which was a bit of an unpleasant experience. Now dorms are decent for a stay, but my major cuss at this dorm were the bathrooms. Pretty unclean!
Nevertheless, the music of the river flowing by the side of Zostel and fresh air taught us to neglect the flaws and cherish the beauty of the moment instead (which also is a major life tip.)
The cafe at Zostel had these pretty fairy lighting and benches to just sit, relax or have a talk and chill for hours. The common room is the most interesting part here and my favorite too. :p It has all the colors of the world and everything else to keep you entertained throughout the stay.
Meeting strangers from different places, with different careers, chit chatting with them while drinking our favorite hot chocolate, playing games, listening to their stories and what not, one can hardly miss any of this! Also, this was a world cup season and voila! We witnessed a match where India was to play and people from different parts of the world were all cheering for our national team. Another sight and experience to behold! Humans are beautiful, too, after all! ????
Coming to my disappointment again were unclean kitchens and their timings. The food was good but the kitchen and pantry, so not good! Choosing a chain of luxury hostels, this stay was a bit of a spoil sport in terms of cleanliness for me. (FYI, I am also a cleanliness freak, but still.)
The staff was sweet and cooperative though, must say. The beauty of nature and people got us well distracted from this mess, so I was good.
Also don't forget to carry a sweater or a jacket and if you are a Mumbaikar like me then carry gloves, monkey cap, thermals because this place gets pretty cold in nights even in June.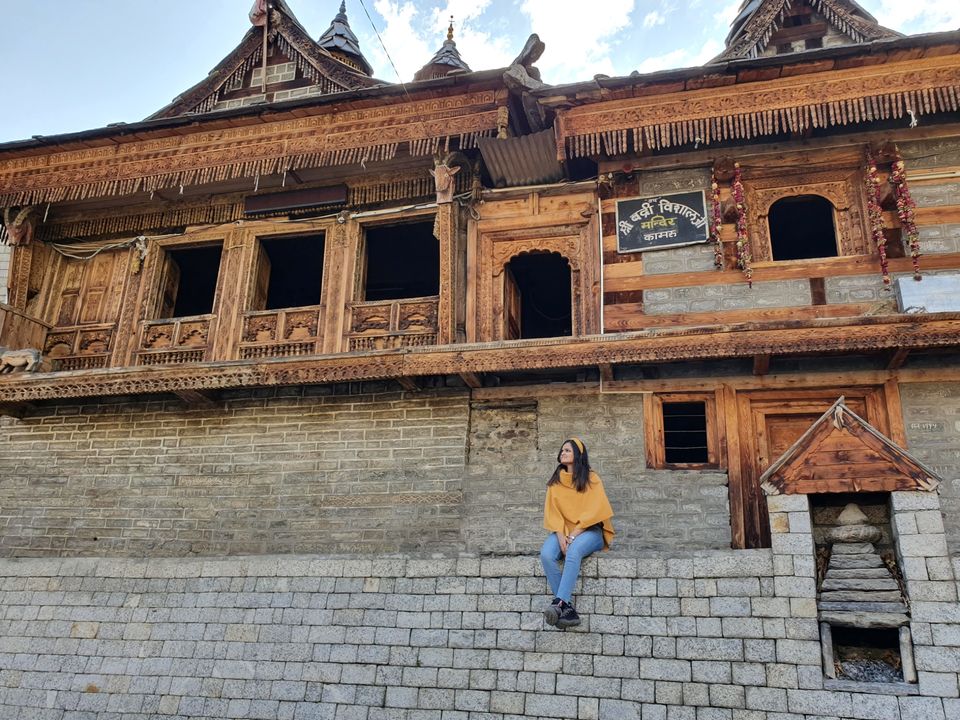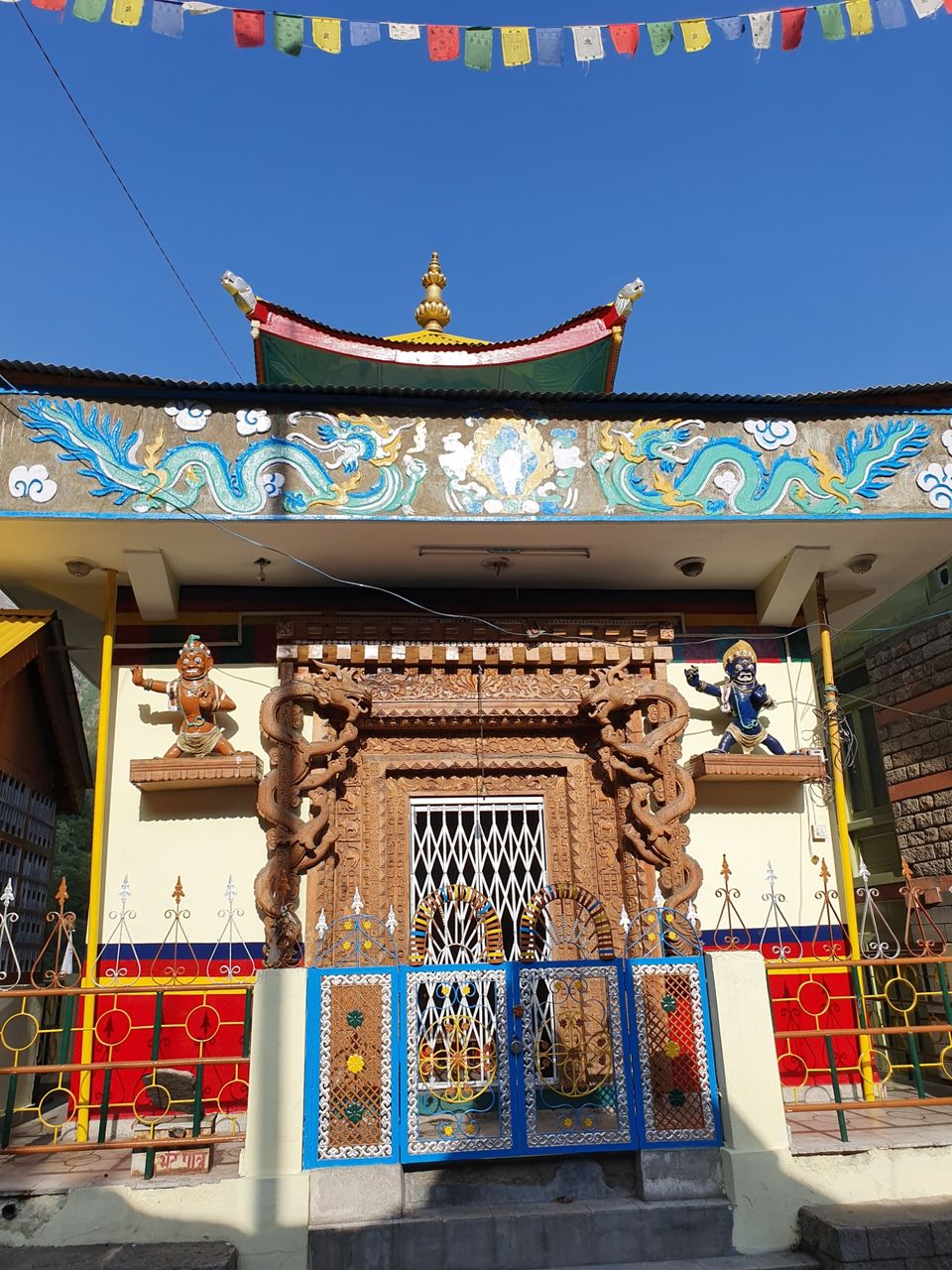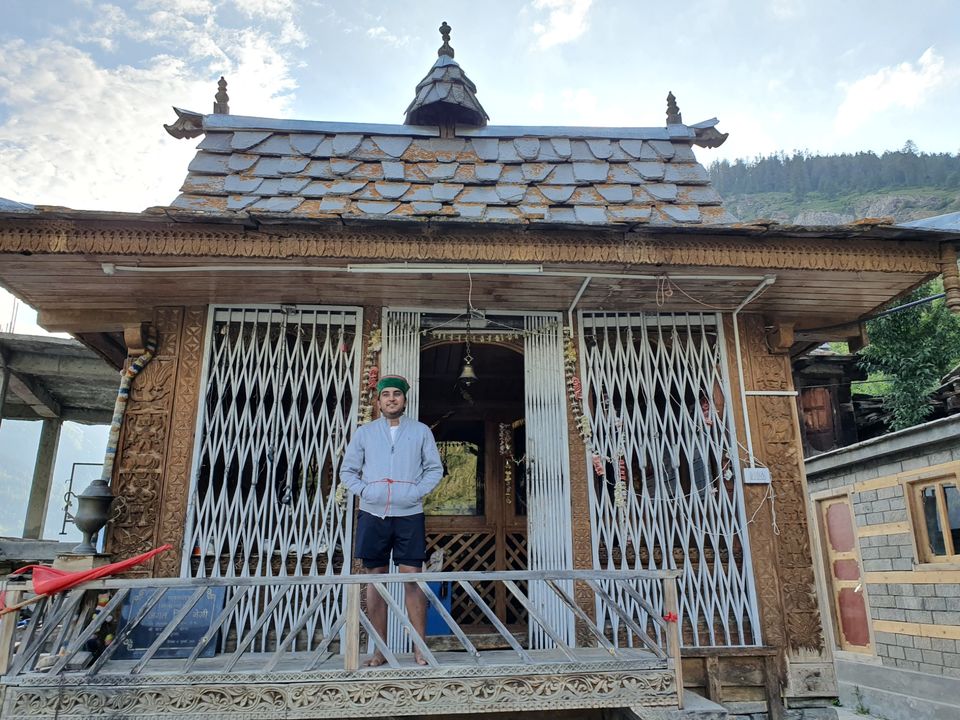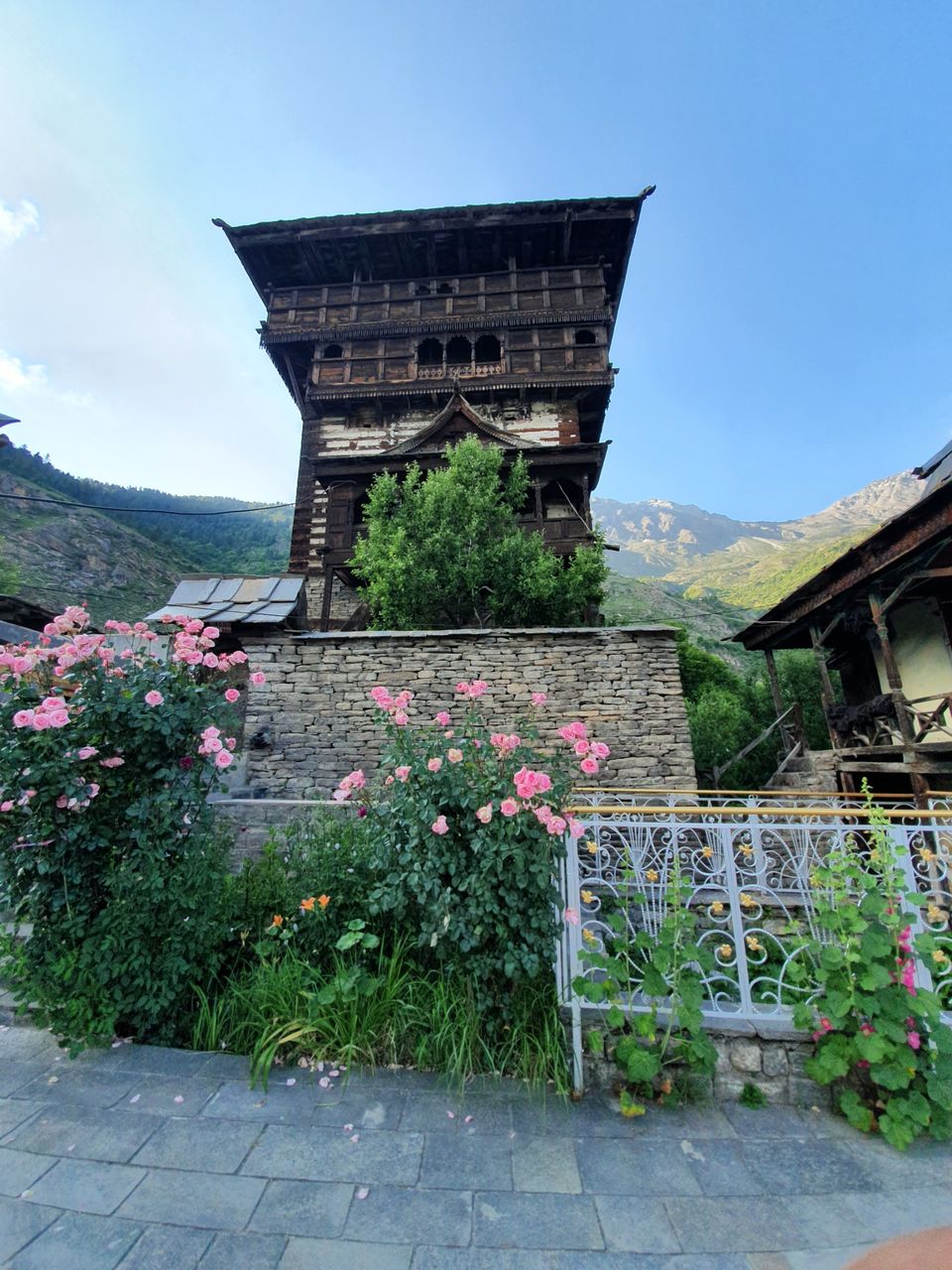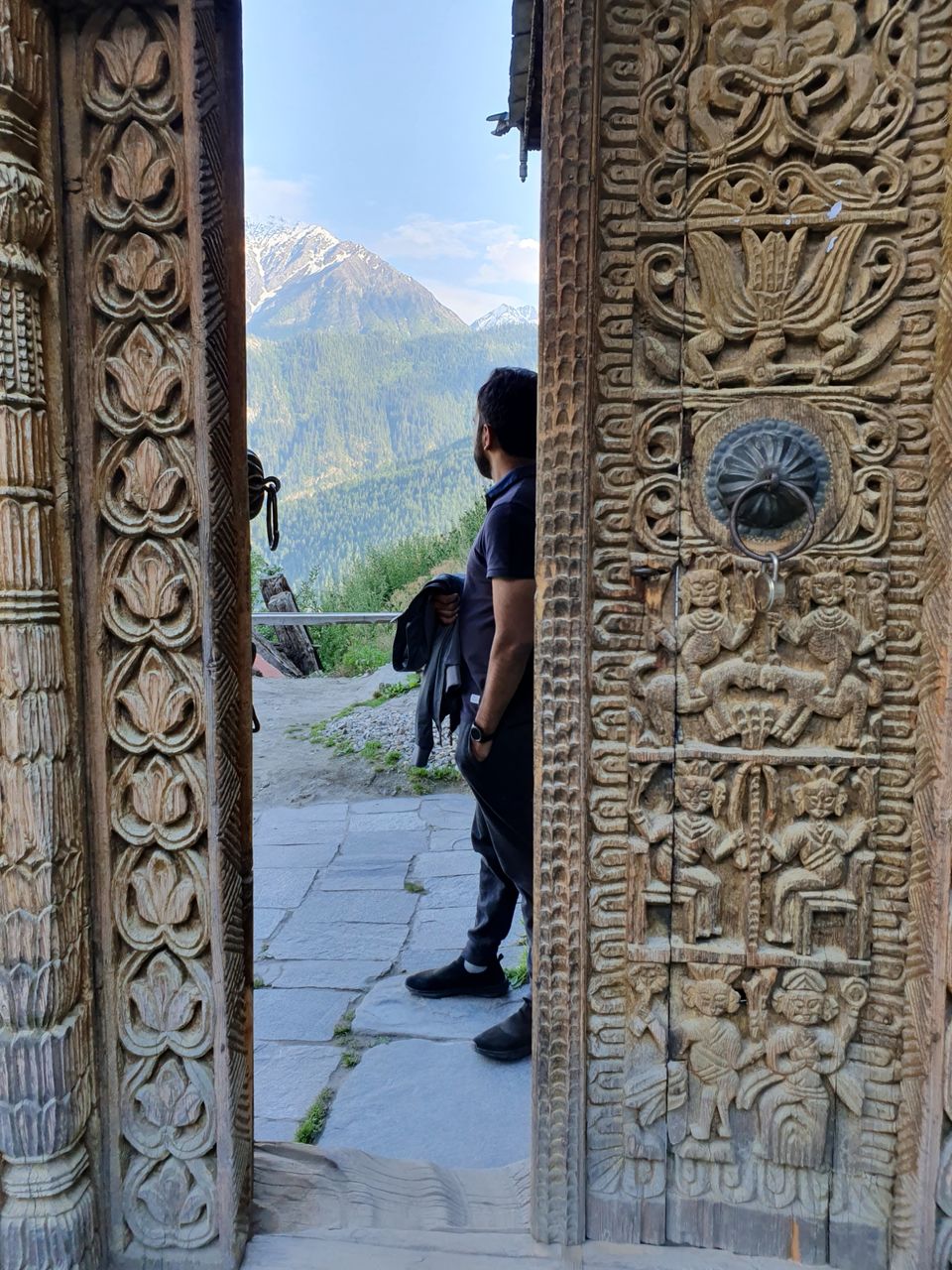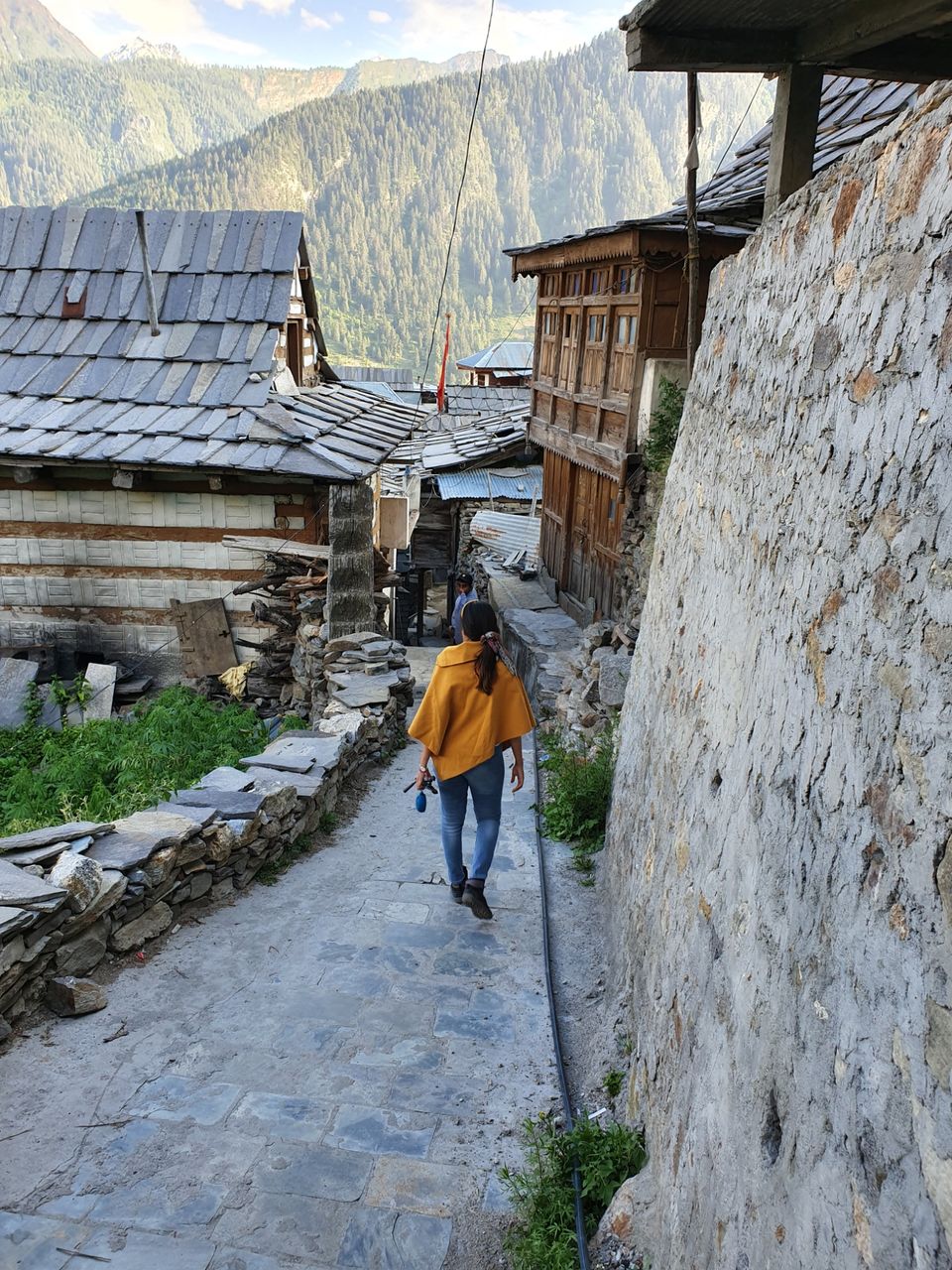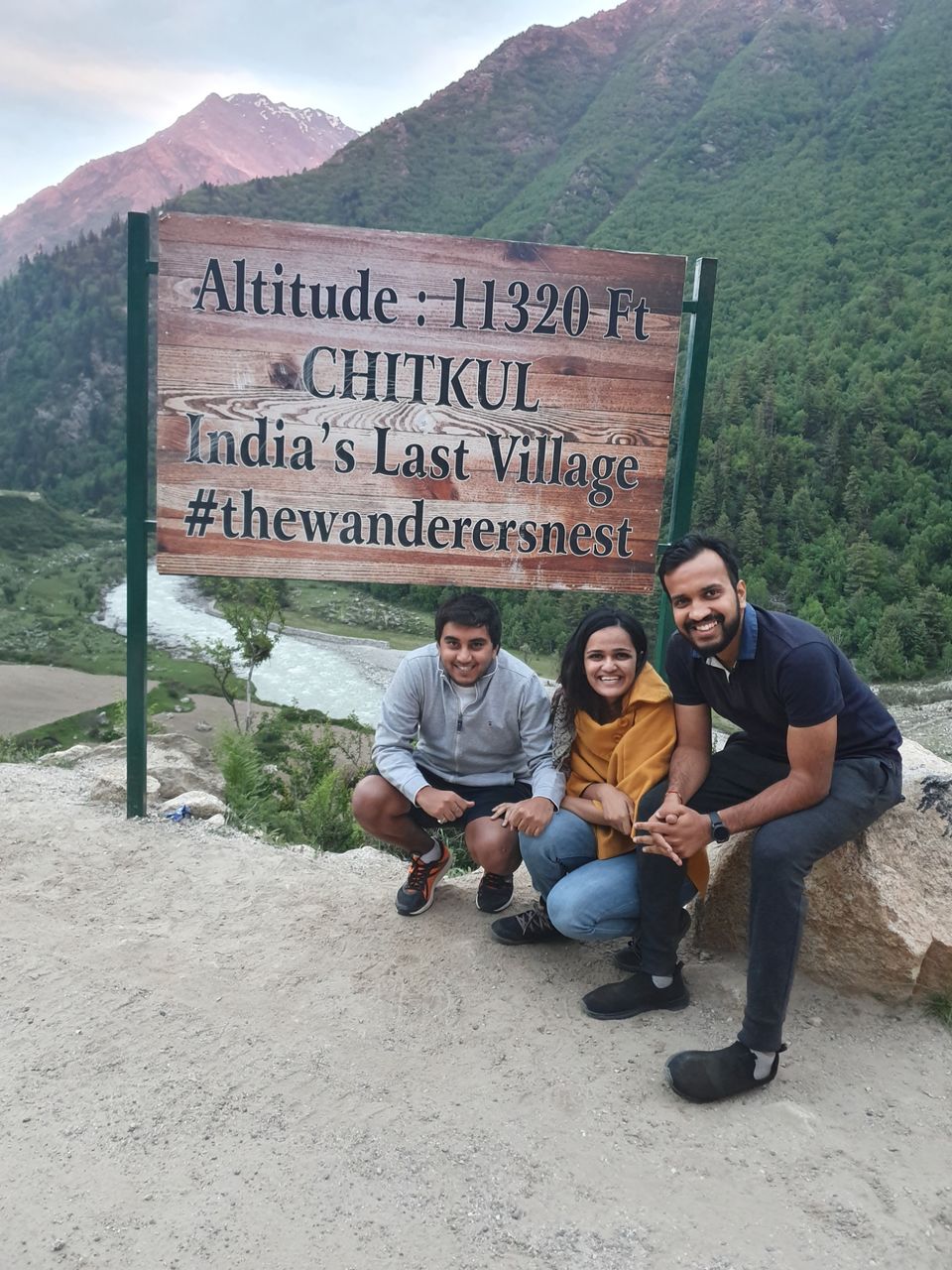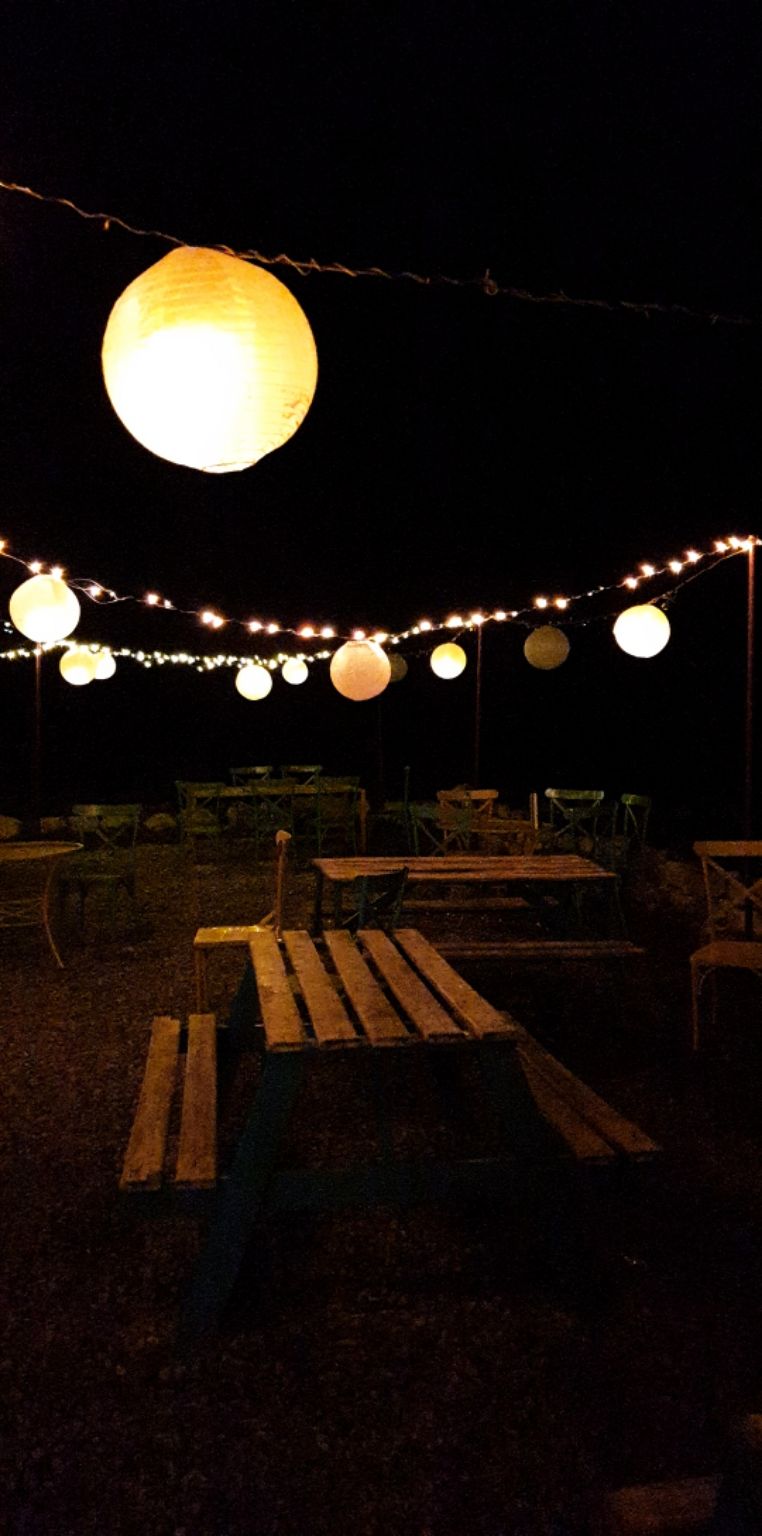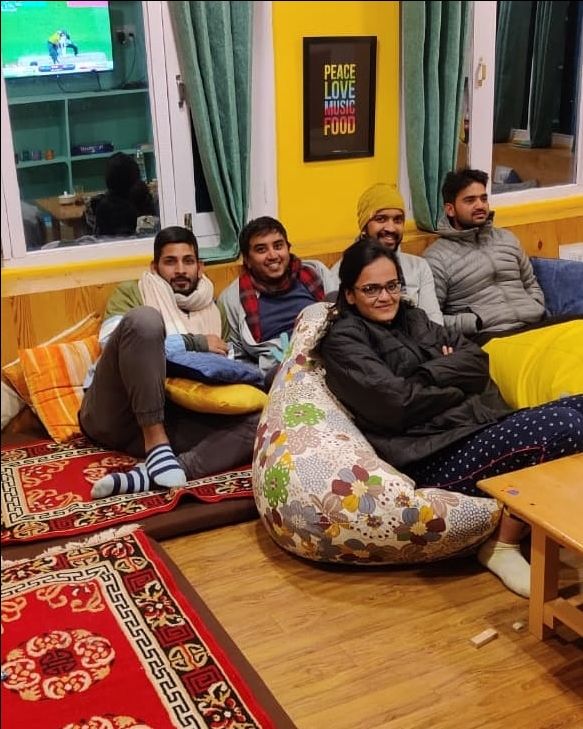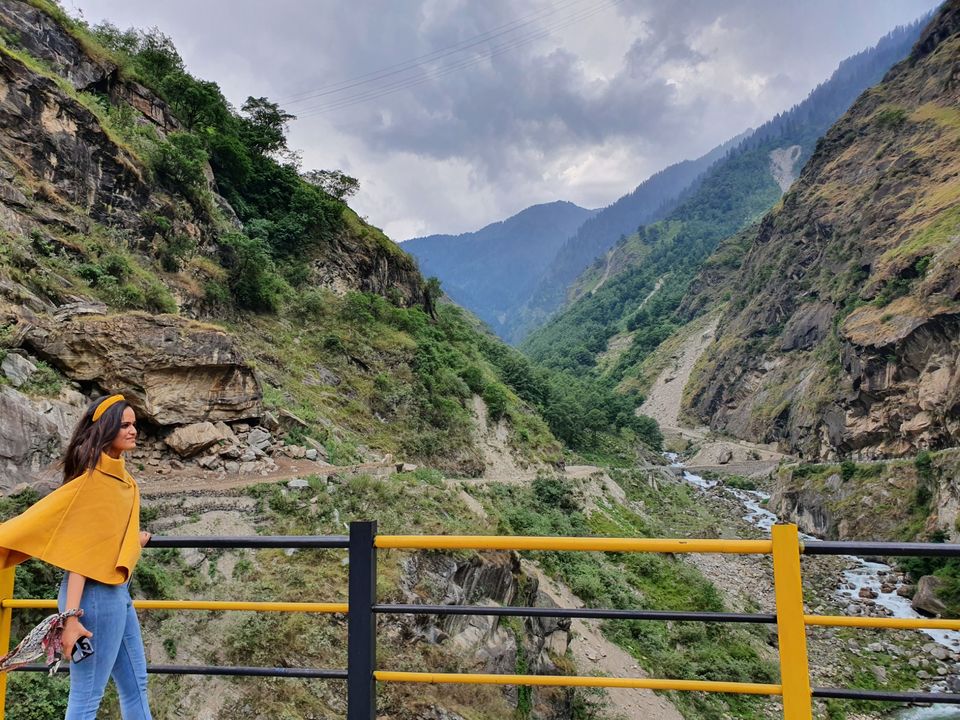 EXPLORING CHITKUL IN OUR WAY
As it was high time to get rid of our hangover of just sitting and chilling at a place, we decided to add some thrill and started our day early in the morning for a forest trek at Chitkul.
Okay yeah, the Flag point trek and Glacier trek were out of our energy capacities, so a forest trek along a river was perfect for a beautiful yet thrilling experience for us. We reached a bridge where we could either take a right and accompany other travelers for the trek or instead, take a left and explore the place all by ourselves. And obviously, owning to the best decision ever, we took a left, duh!
Walking through the aisle made by the farmers towards a never-ending route, we took short breaks, stepped down to sit on the stones near the river, feeling the cold and clean water and breathing pure air. Looking at the lush green and snow caped mountains which made us realize the incredible diversity of nature at the same time , we passed 4-5 hours and how! We were the only three people around with literally no other human in plain sight. And the experience was indeed, unforgettable!
(Tip: Do apply a good amount of sunscreen to your whole body as the sun rising there, might give you a heavy sunburn/ tanning.)
Returning, we had lunch at the famous dhabha in chitkul called 'Hindustan ka Aakhri Dhaba' which had a good view but a limited menu to choose from.
Today we were to stay at a private room instead of a dorm at the same Zostel, which was much cleaner and better for our experience. We met few more travelers and while the other two decided to just chill by, I tried sketching few of the amazing views in my book (Couldn't control the passionate sketcher in me.) After that we went for a walk at a village nearby and spent the night waiting for a moon or star gazing event, but the cloudy weather ruined it for us both nights, but also giving us the reason to visit Chitkul again...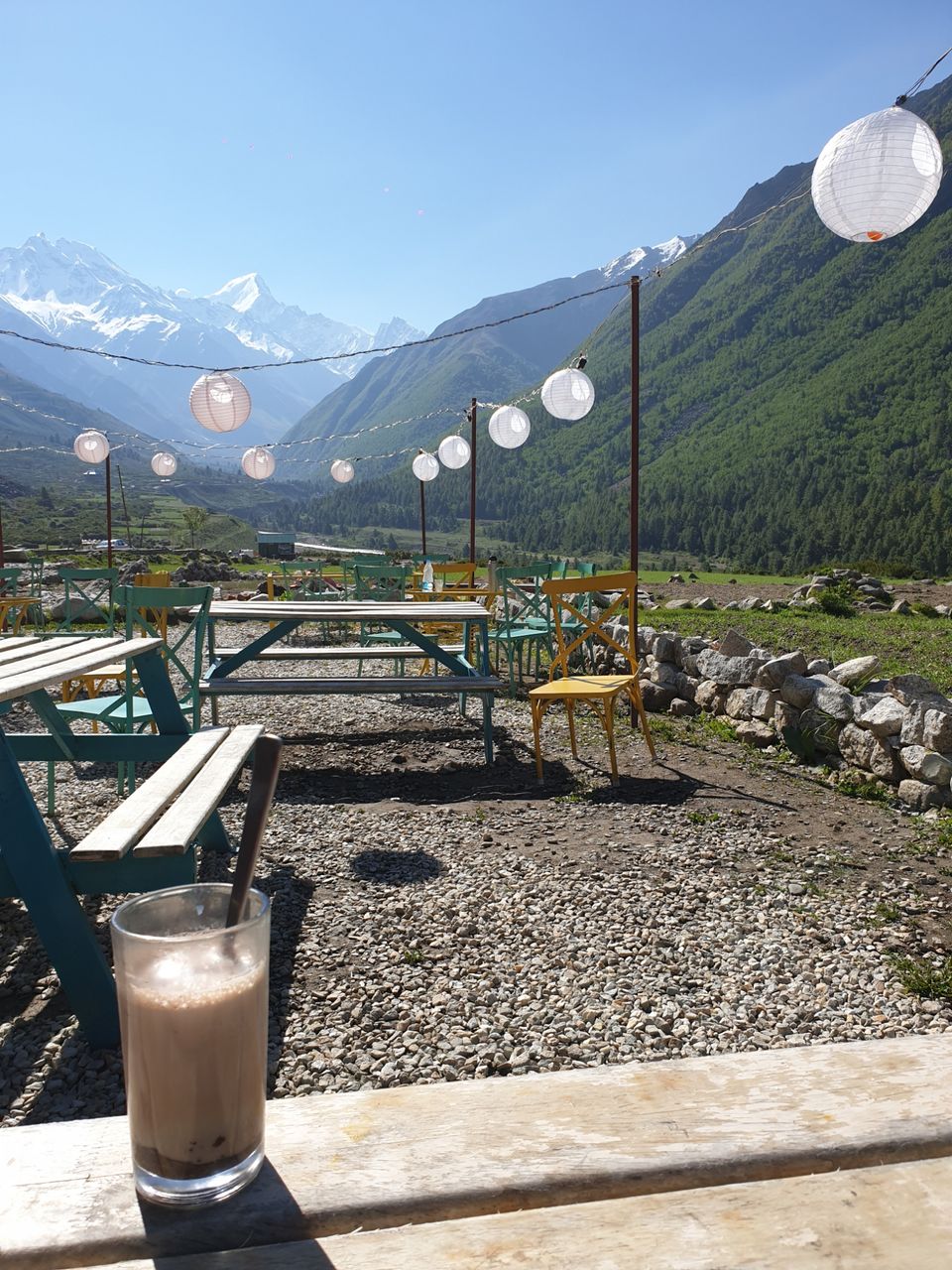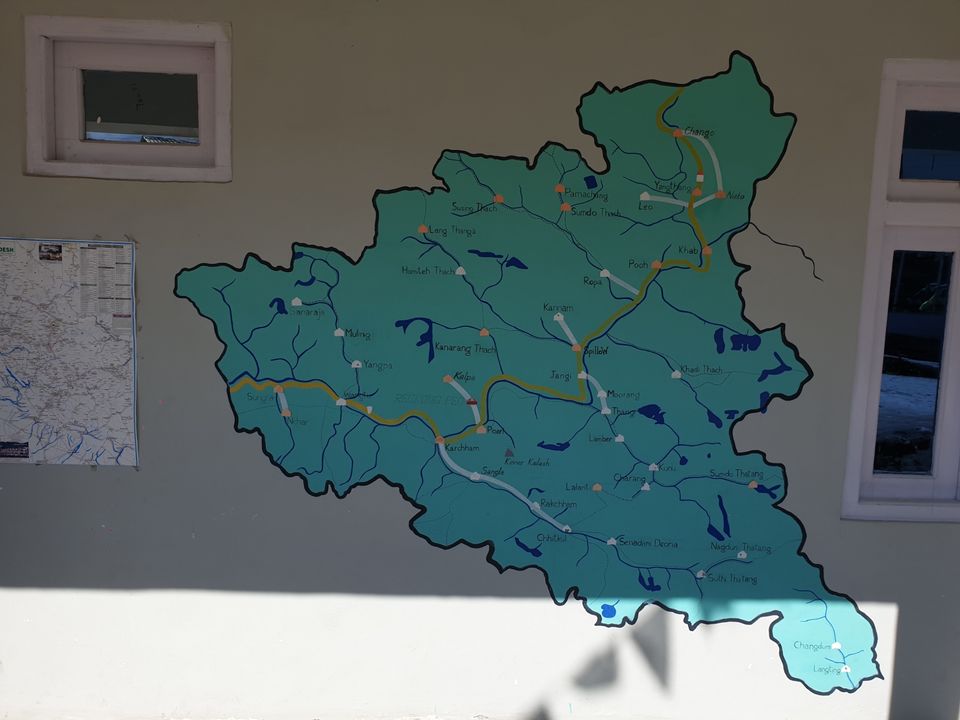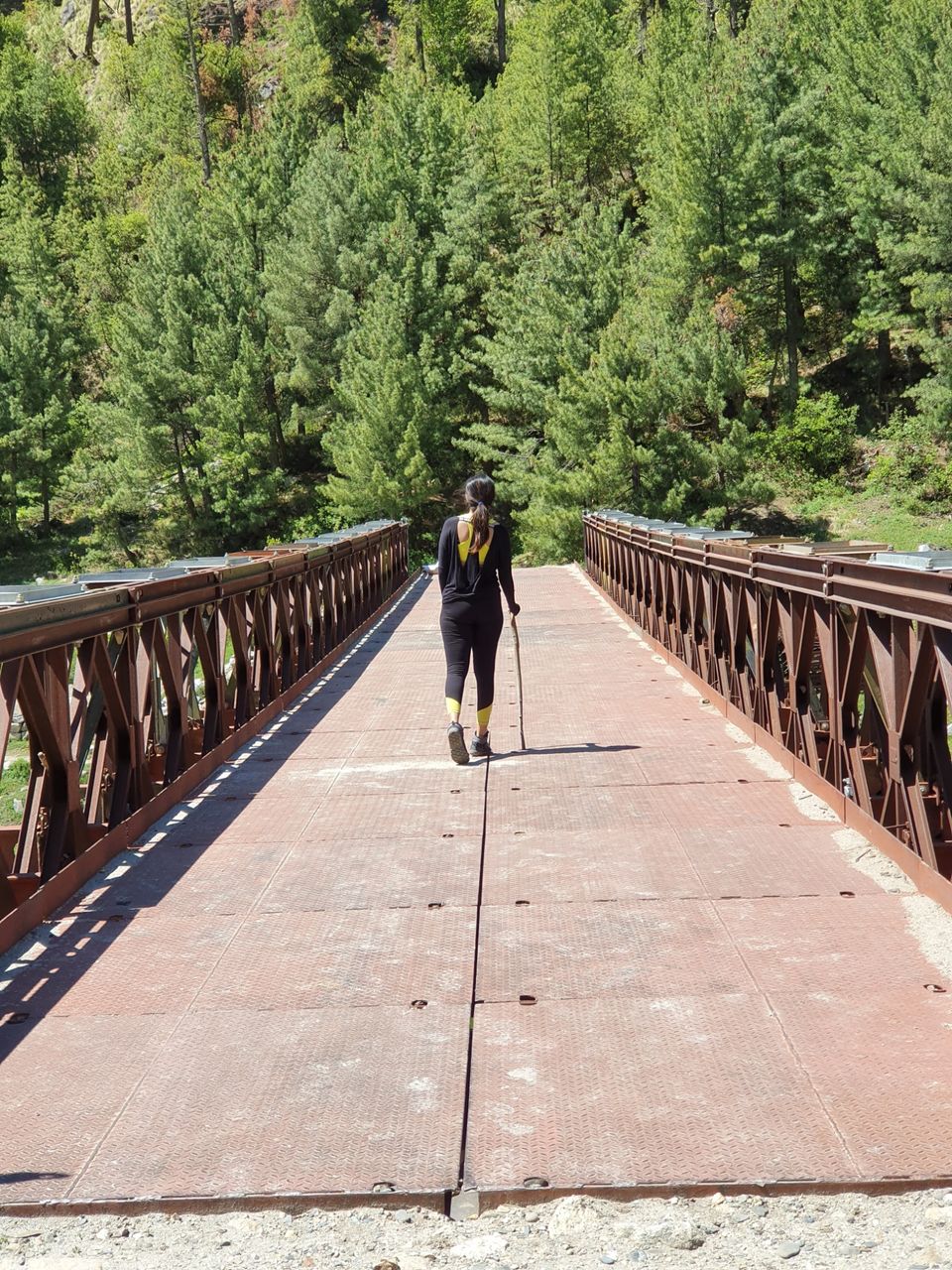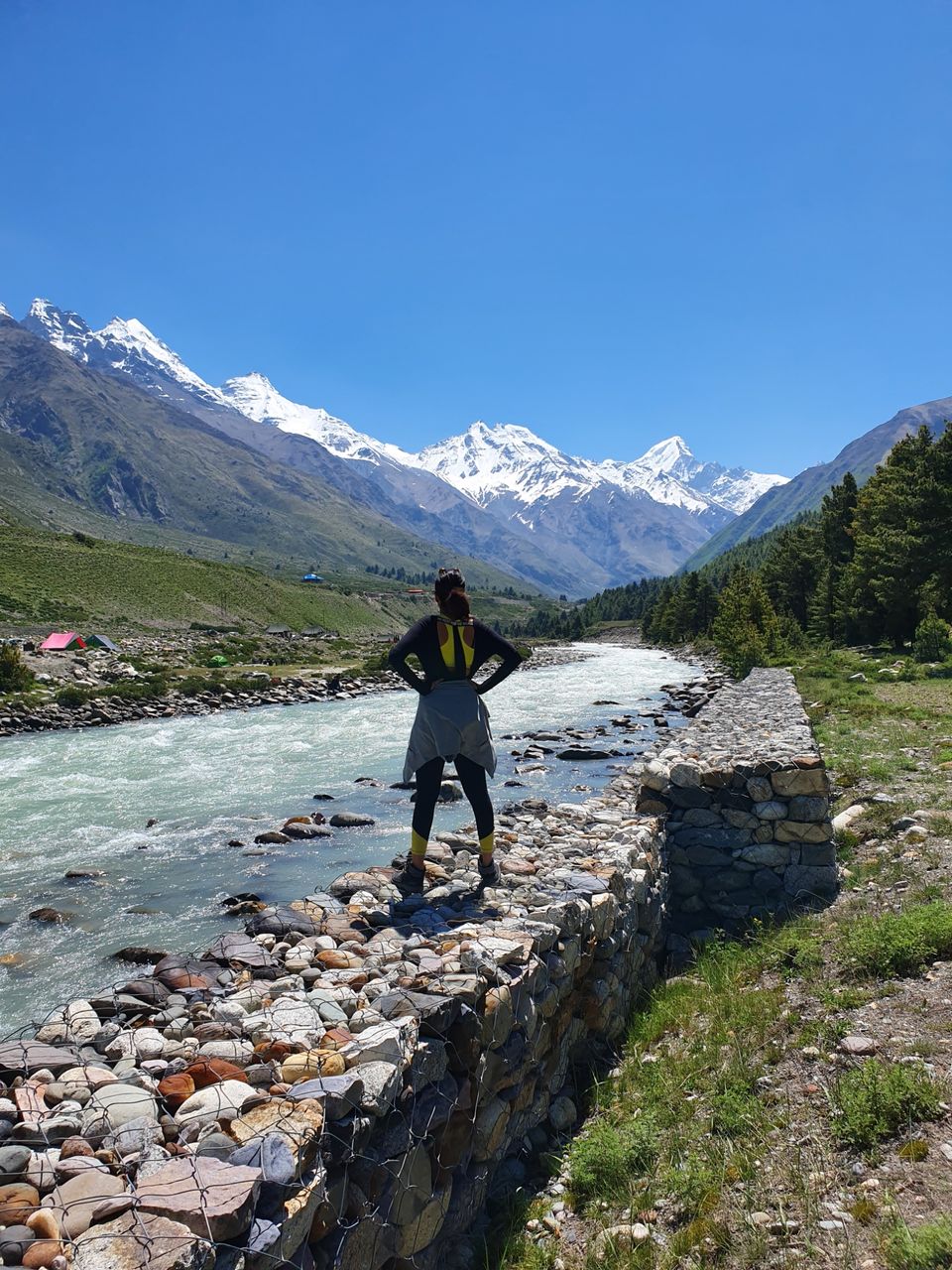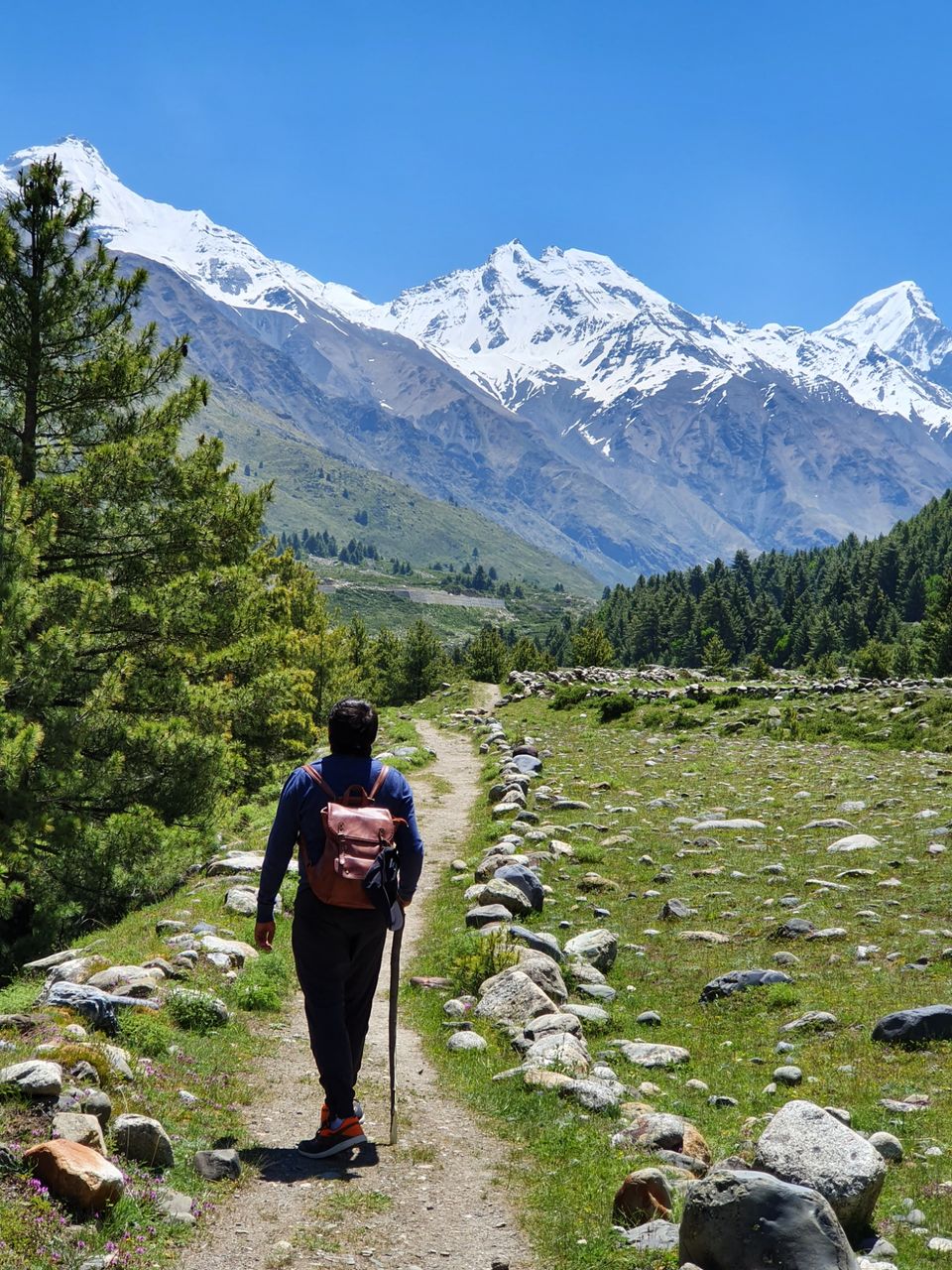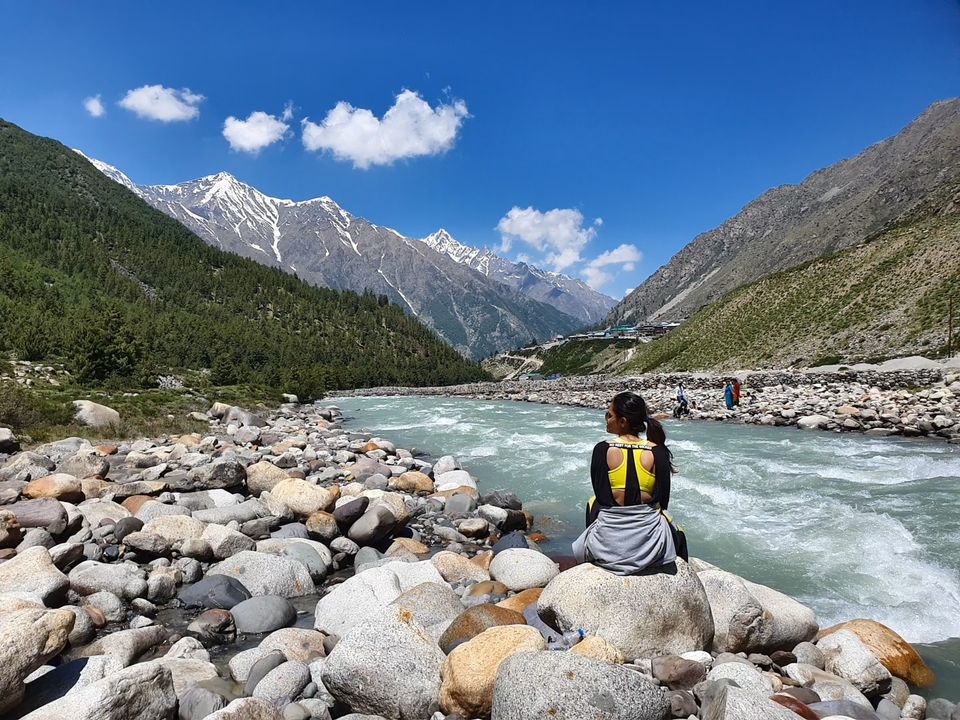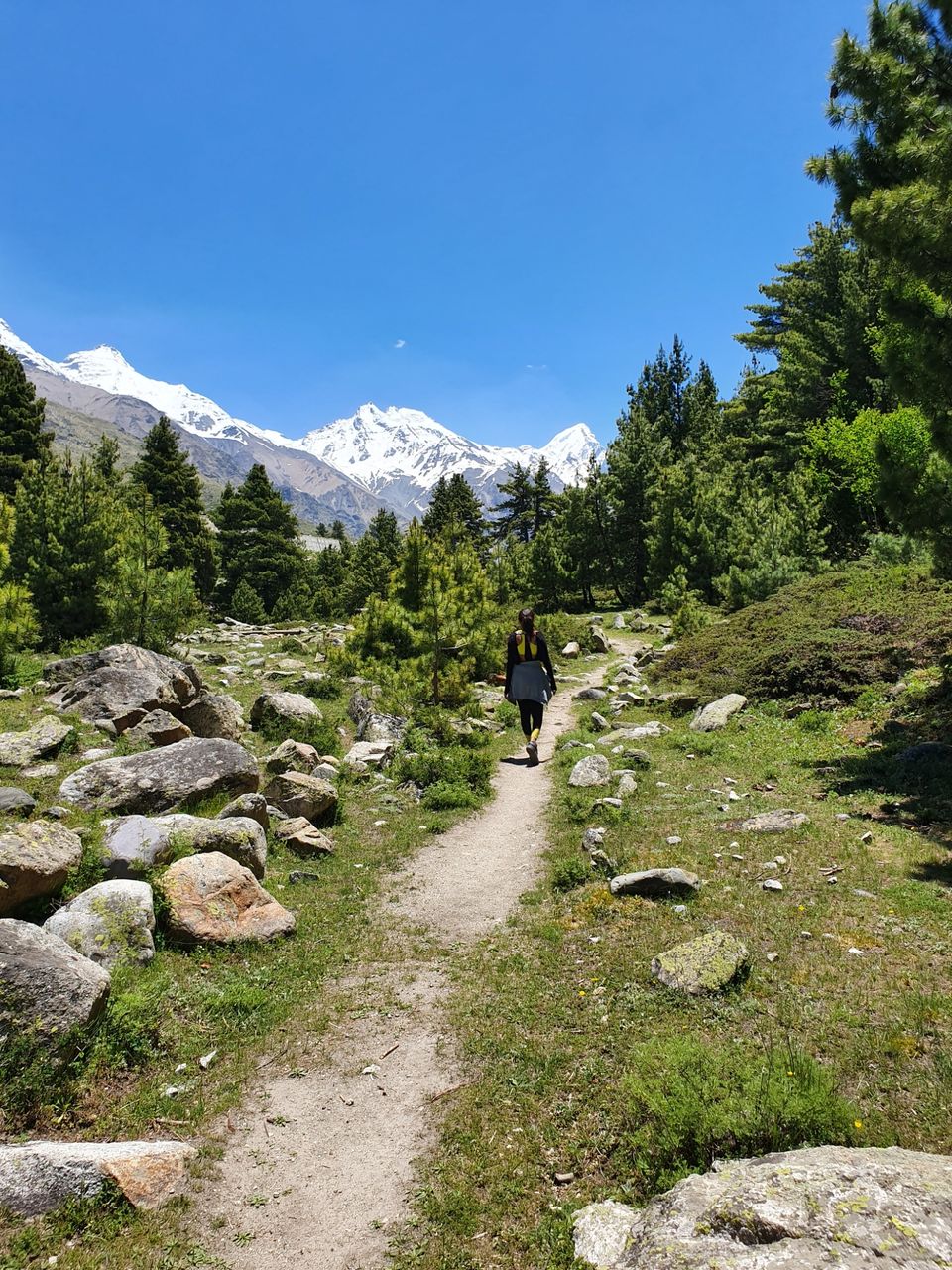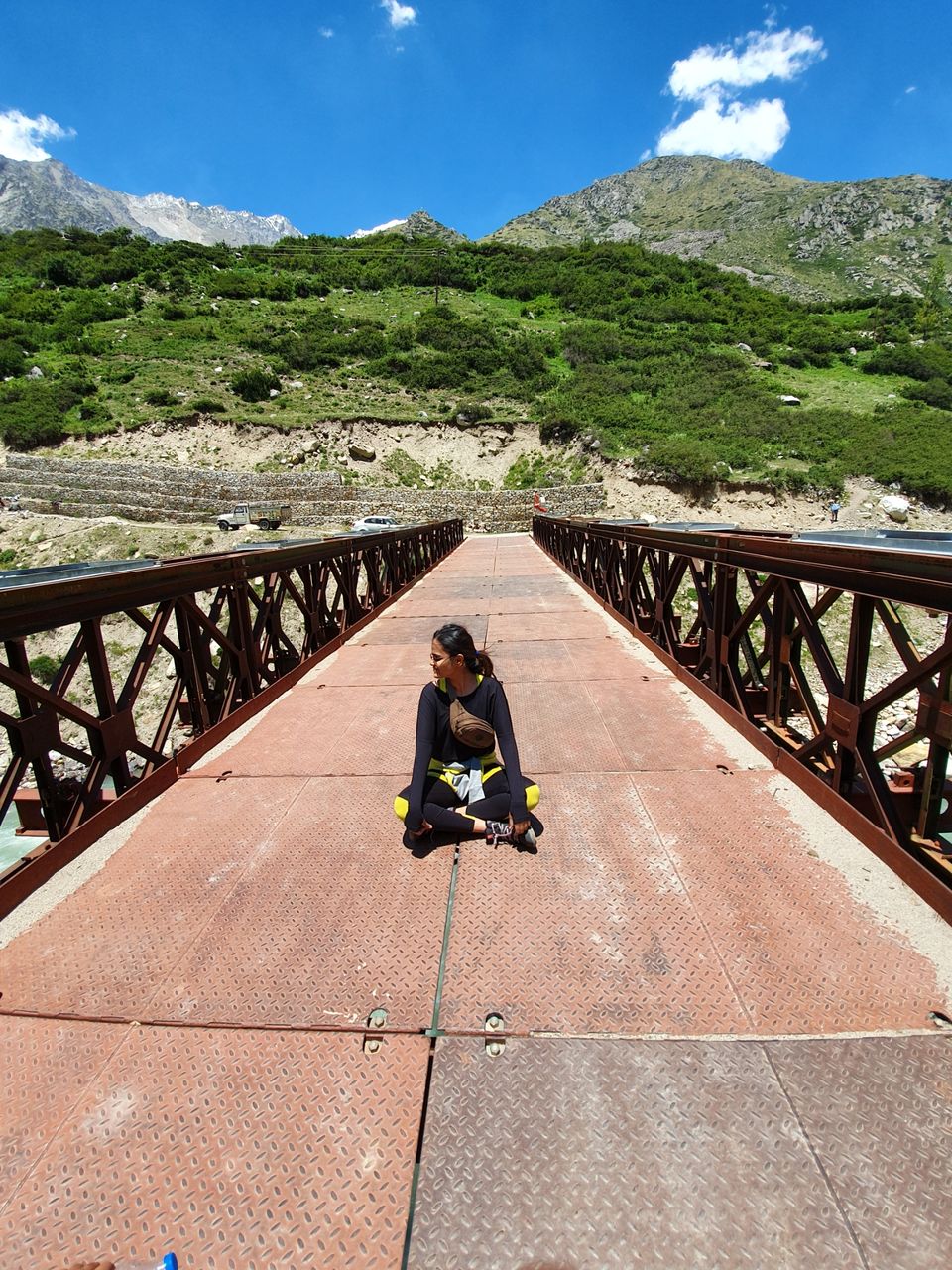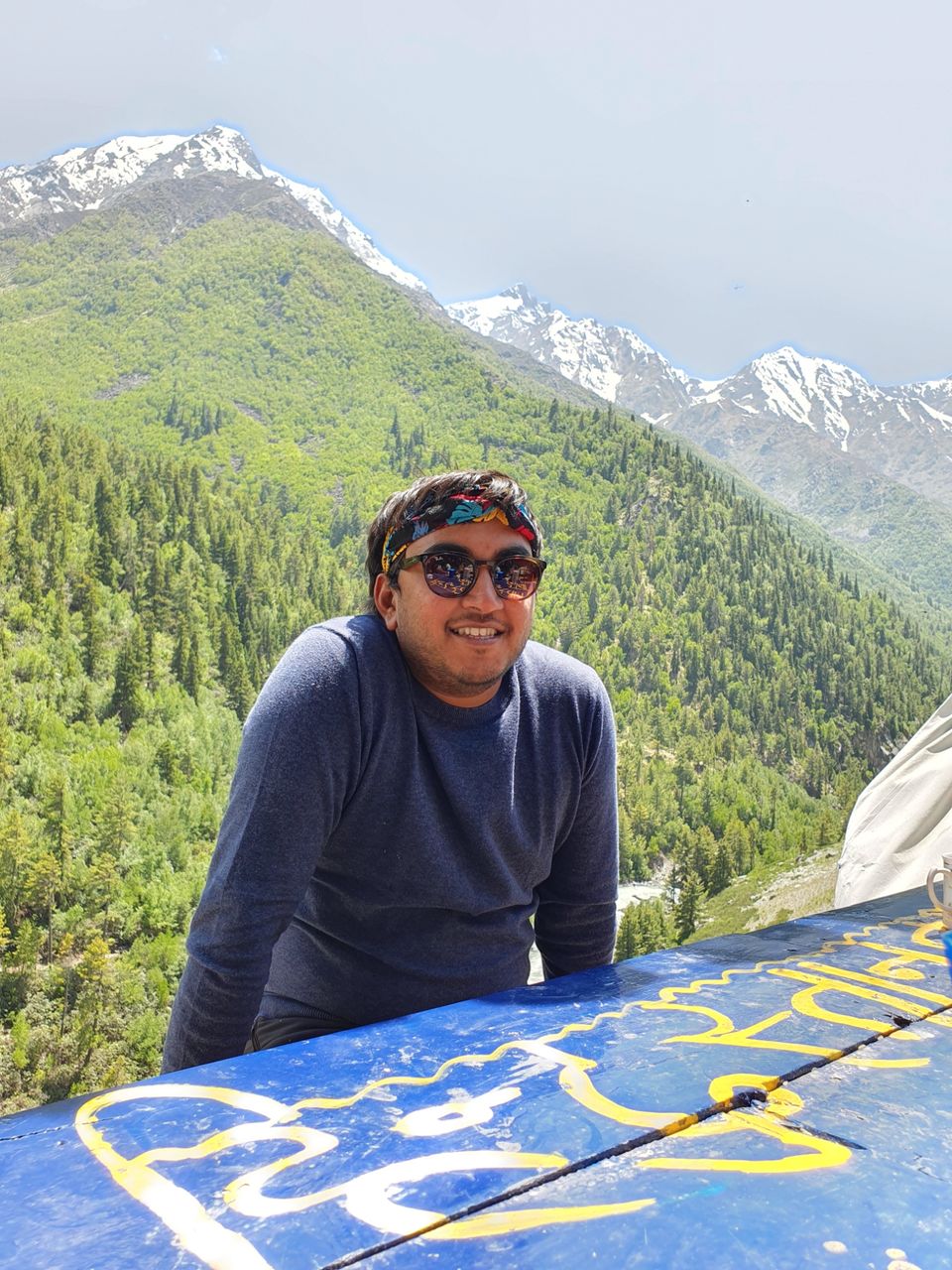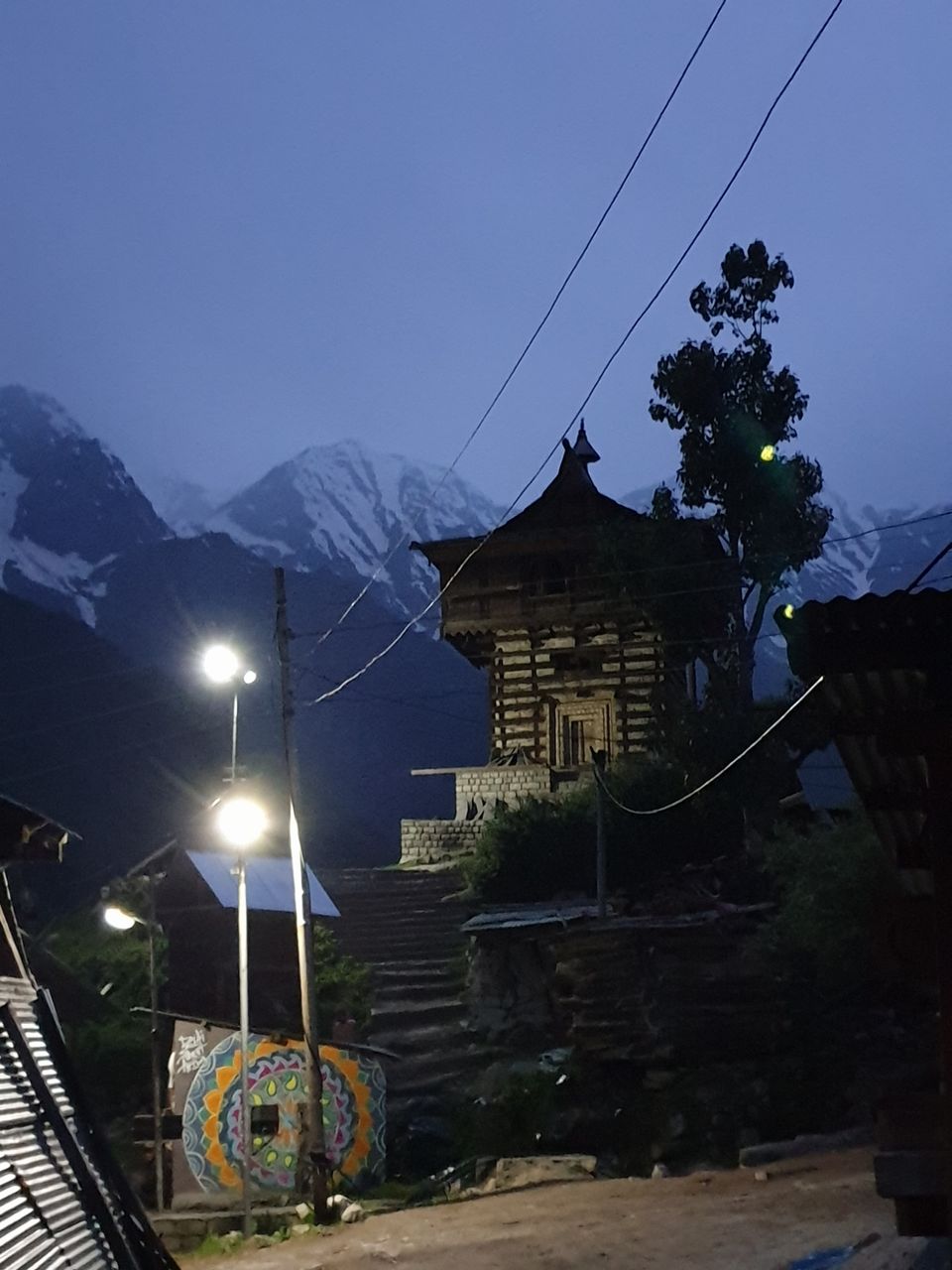 CHITKUL TO KALPA
The next morning, boys decided to go for cycling to ITBP post, by the cycles available at Zostel. But they had to return halfway through as the curves of the road were sharp for regular cyclists.
Also, this place had no network, no Wi-Fi, all in all, zero digital connectivity to the world, except for BSNL users. Well, this makes the place even more special because you actually live every bit of your time there by meeting and talking to the people who are visibly around you and not just virtually. Truly, a must have experience for our technology driven generation.
We now left for Kalpa, a small town in the Sutlej river valley, back in Kinnaur, around 2 hours, 40 minutes from Chitkul. But in between we decided to halt at Rakcham, a completely unexplored village. While chatting with one of the local from this village who was 82 yrs old and owned not only a stationery shop but also the sweetest smile, gave me the details of this place with a population of just 845 people but famous for the most expensive variety of potatoes, Kinnaur Aloo which are widely exported.
I came to know a little about this place while researching about Chitkul. (Yes, I believe in researching about places of the trip and advisably, everyone else should, too. :p) but couldn't find as many details as I did for the other places, So we decided to explore this village by ourselves.
Getting there we did a small hike through the farms and visited a school having 18 kids studying in different classes but having similar cuteness. Also had the Kinnaur Aloos at Rakcham café.
Oh, what a wonderful experience spending time there! Also it was so peaceful sitting on the rock at the top, felt like we are so small in front of these mountains and still cry on countless issues.
And people living in such villages live a simple and sorted life.
This place has my heart. I can say that it is a must stop while visiting Chitkul. Highly recommended!
Moving towards Kalpa now, that is known for its beautiful Kinnaur Kailash sunrise and sunset views, we crossed the Reckong Peo town which also comes along the way to Spiti Valley. Unfortunately, due to the clouds, we couldn't see the sunset and its lights dazzling on the snow caped mountains but we went for a village walk and visit their school monastery, temple and fort had Momos from the small blue local restauraunt.
Walking through thin roads, we got back to our hotel Kalpa Deshnag (roads to the hotel is too thin, be careful if you have big cars) , again the staff was very polite and guess what they made us Bhajias(pakode) ,we sat in our balcony and enjoyed the light drizzling and the view of Kinner Kailash covered with clouds along with Pakodas and Chai.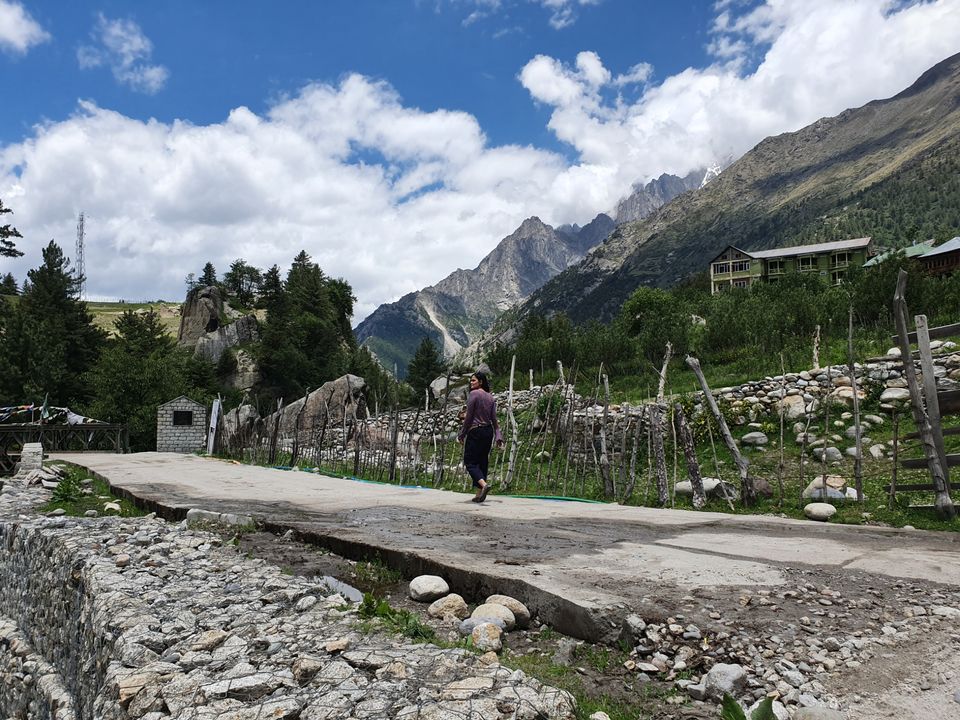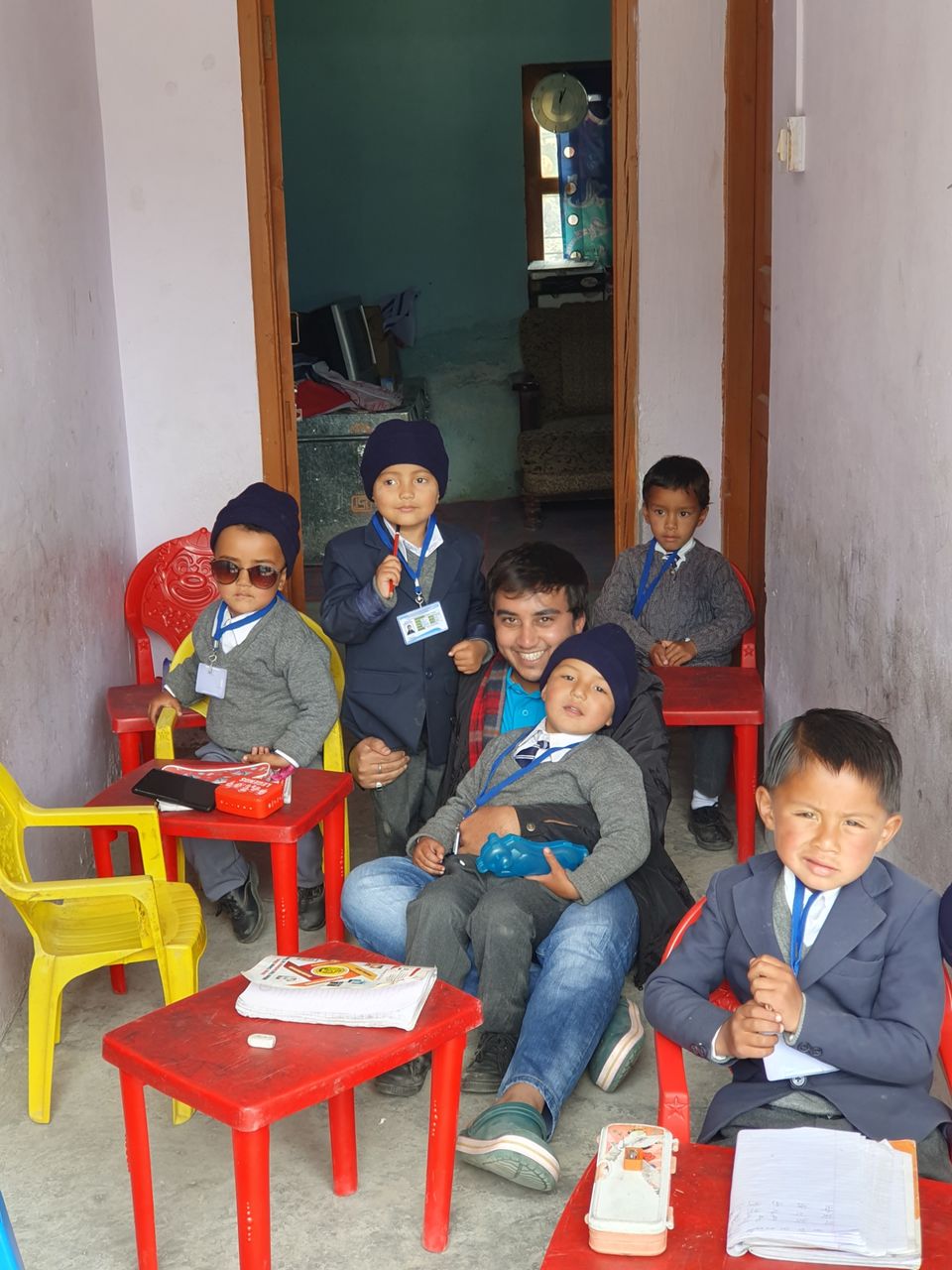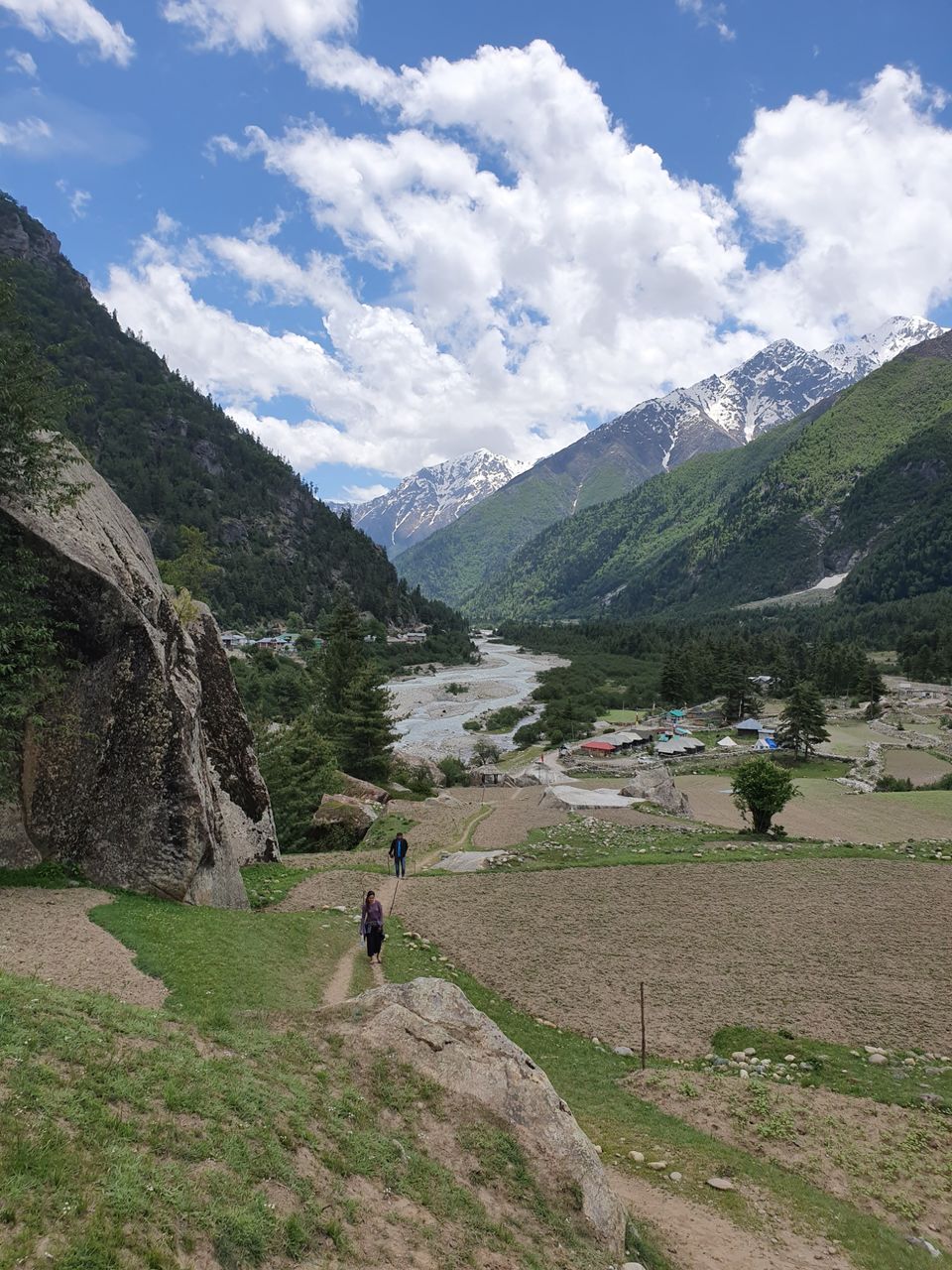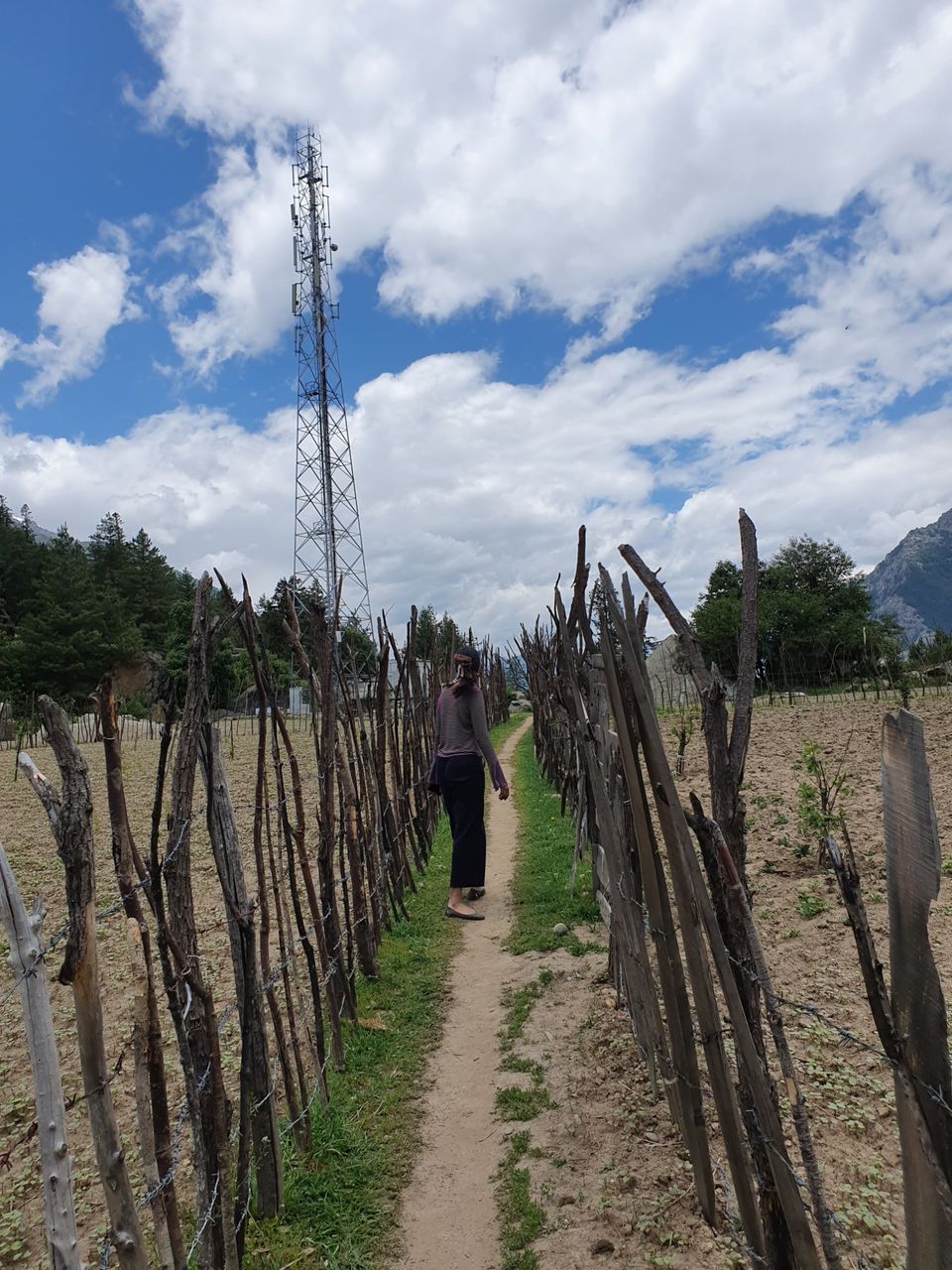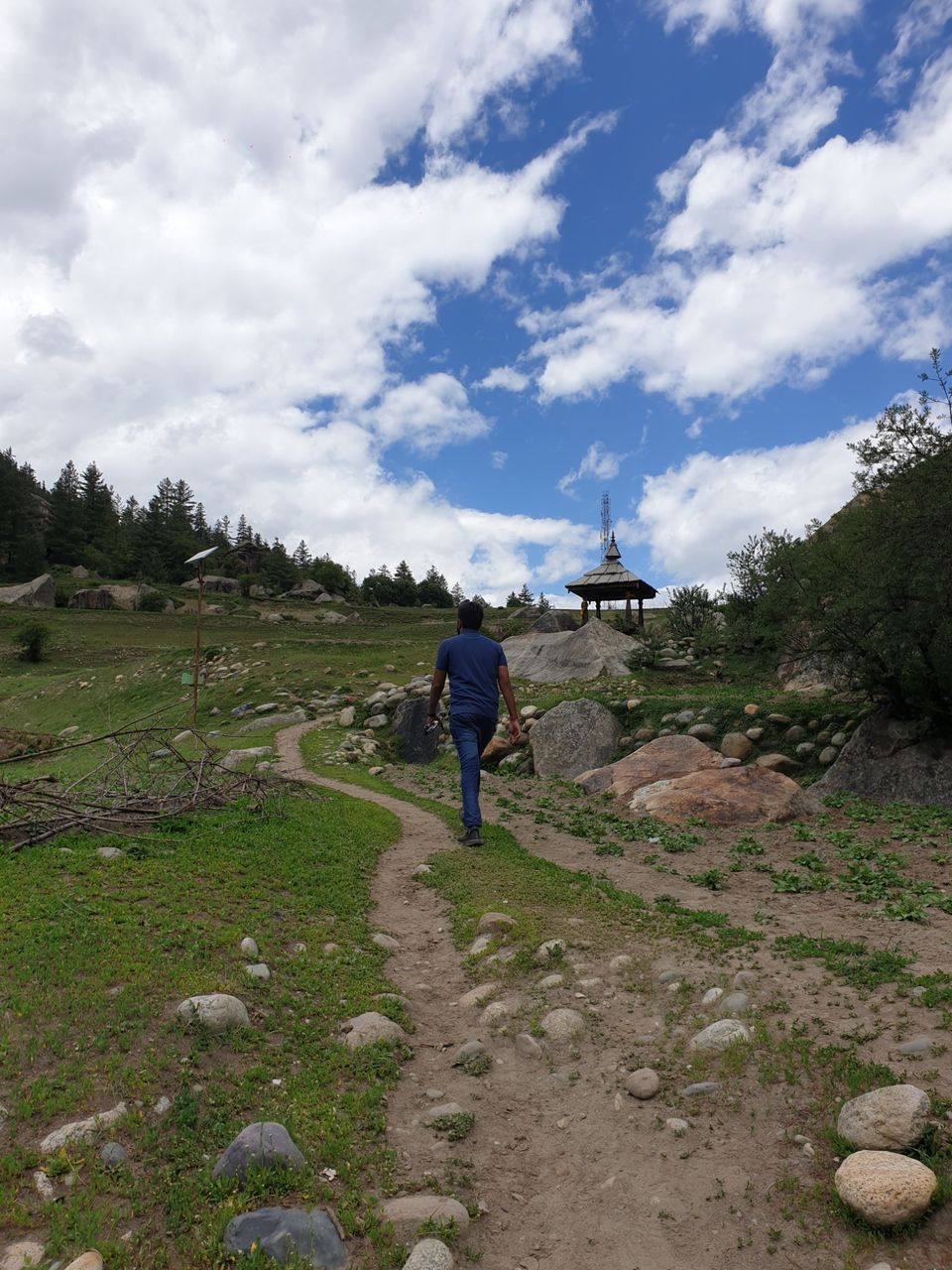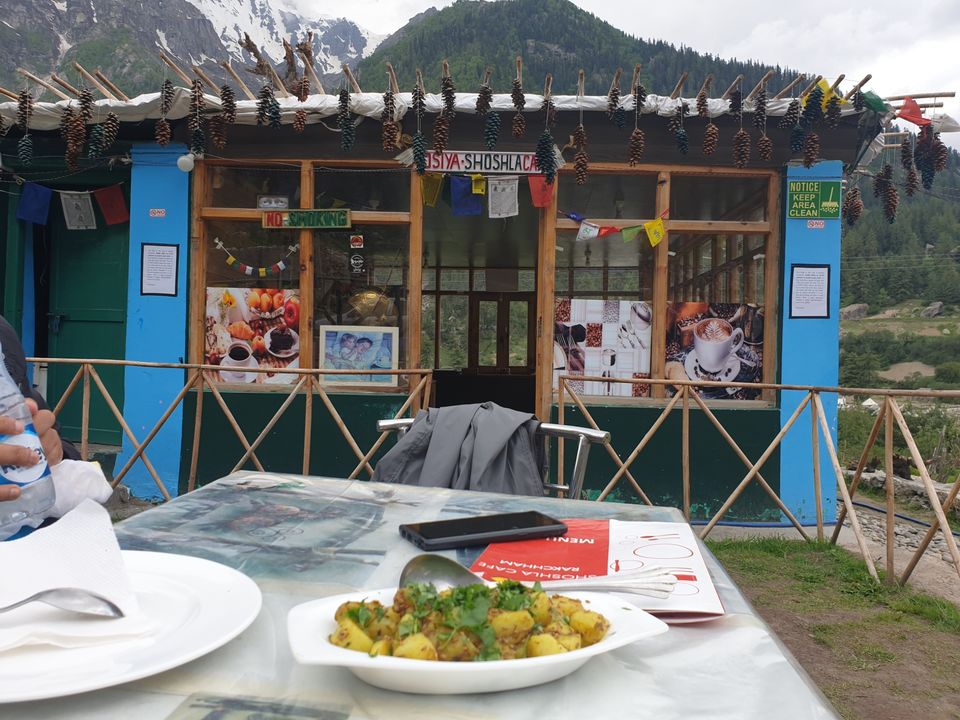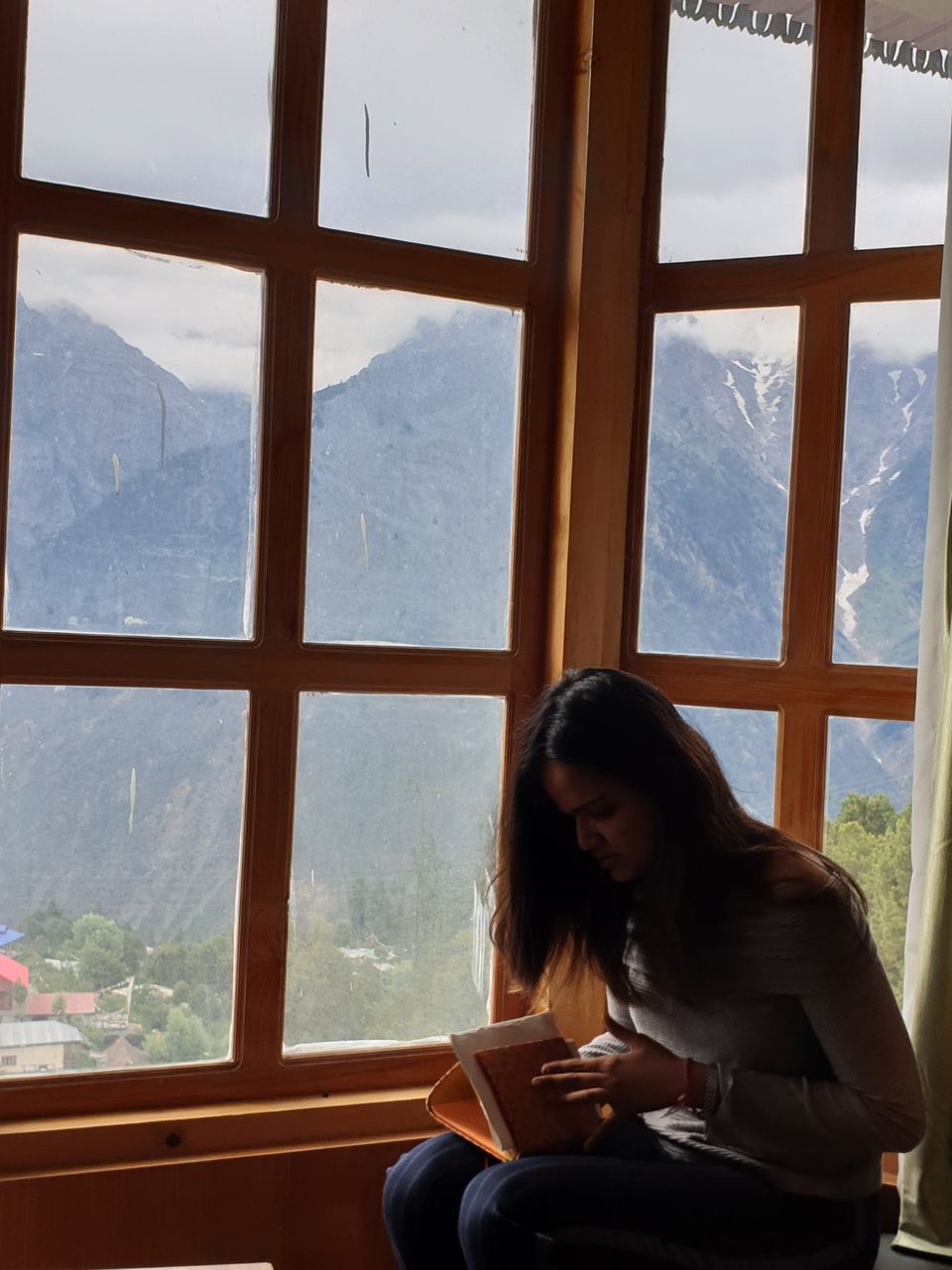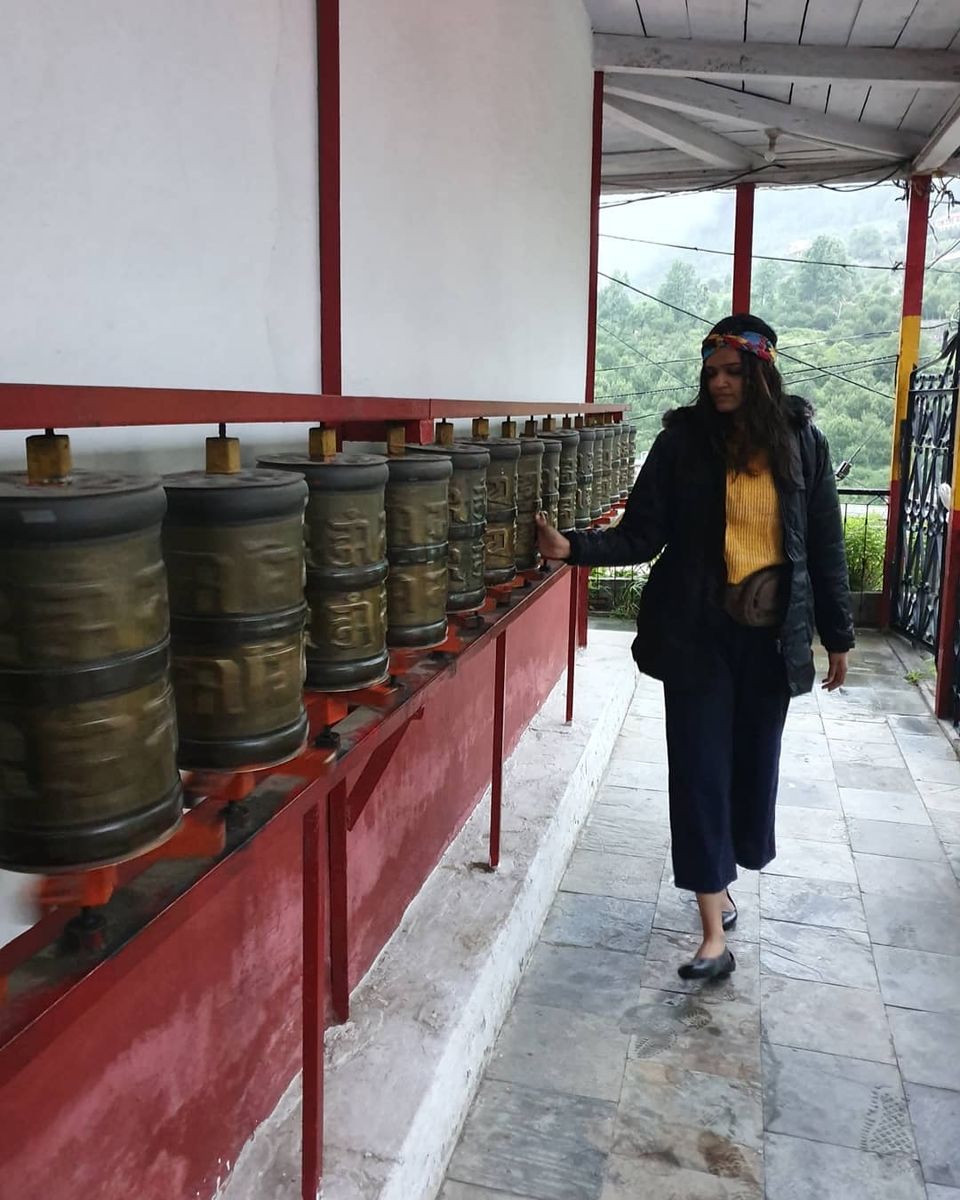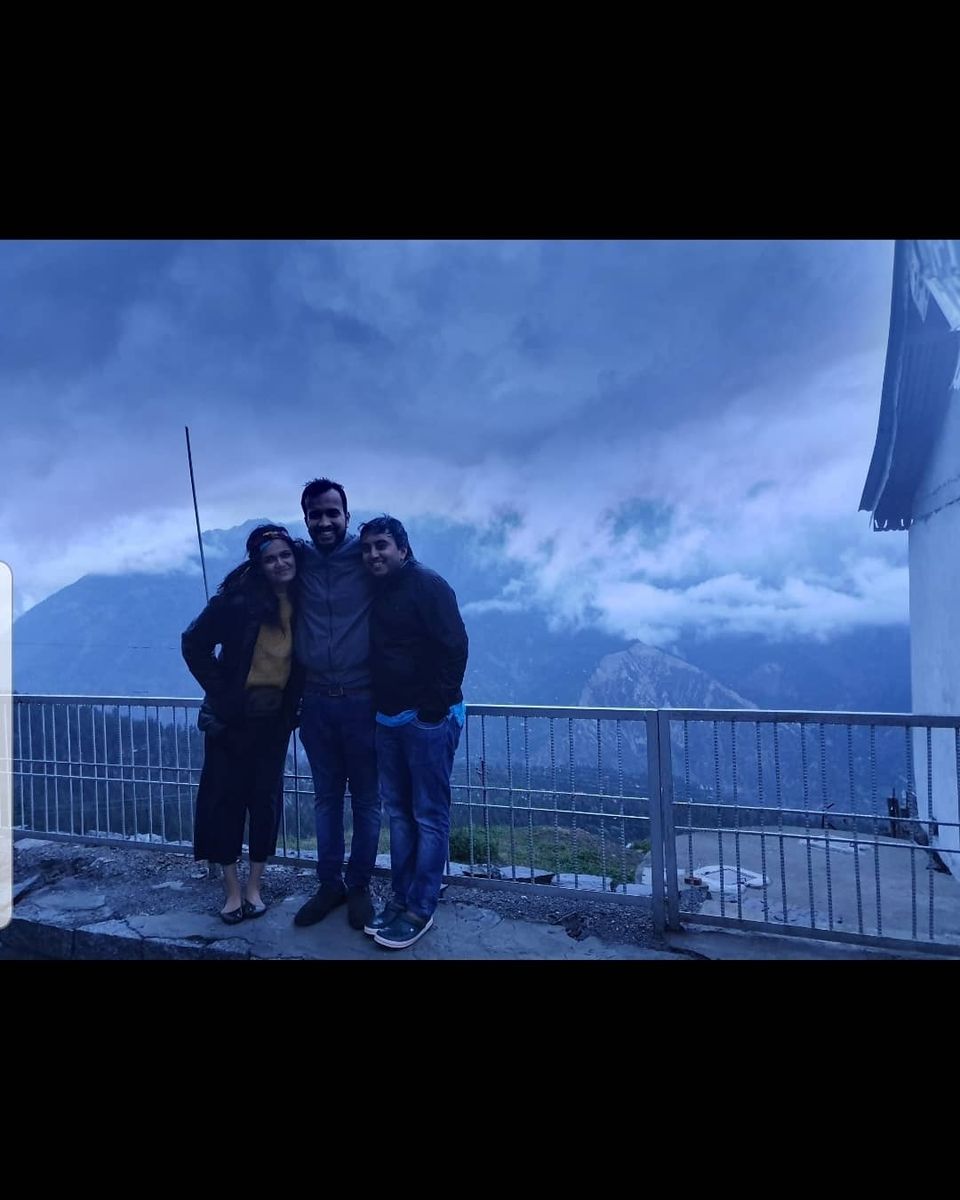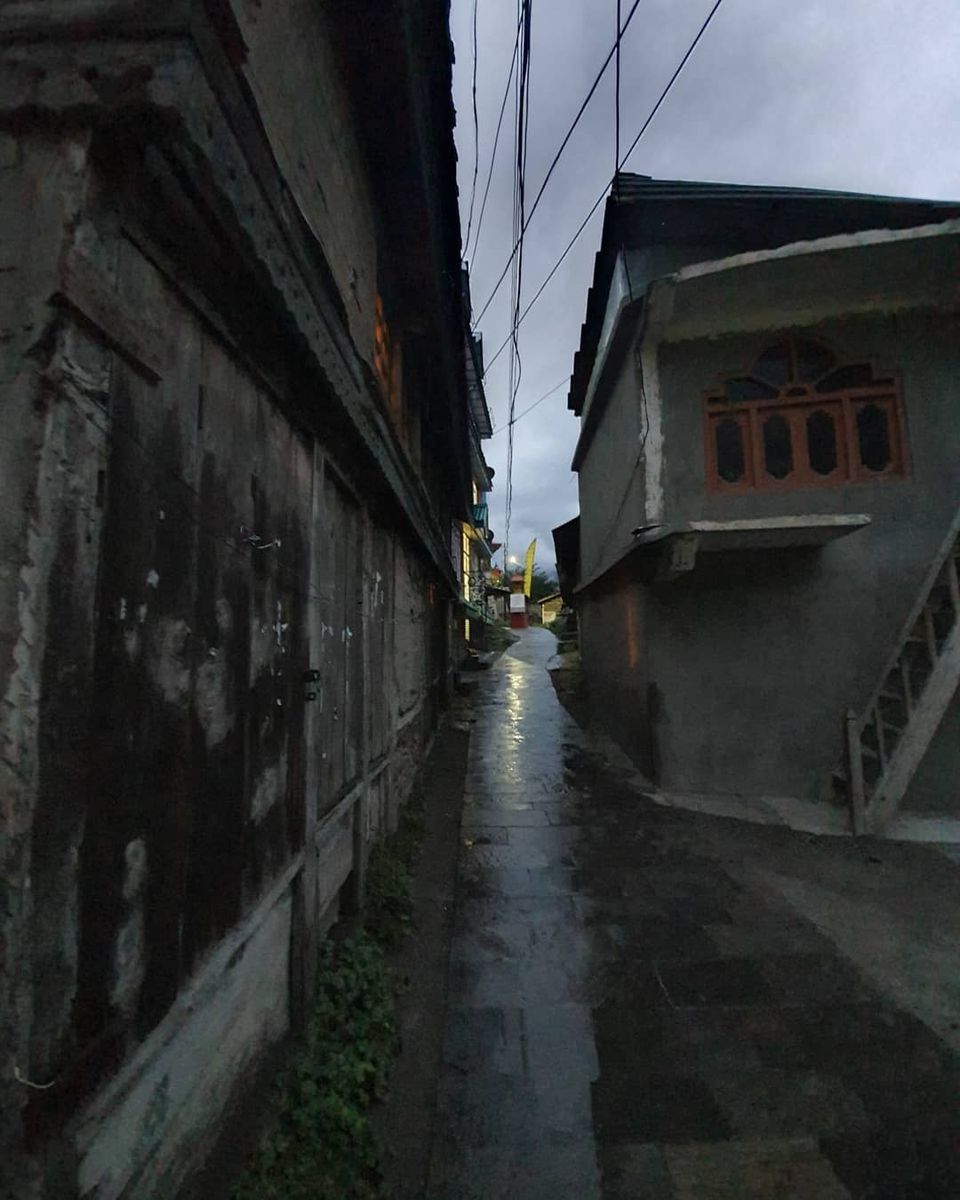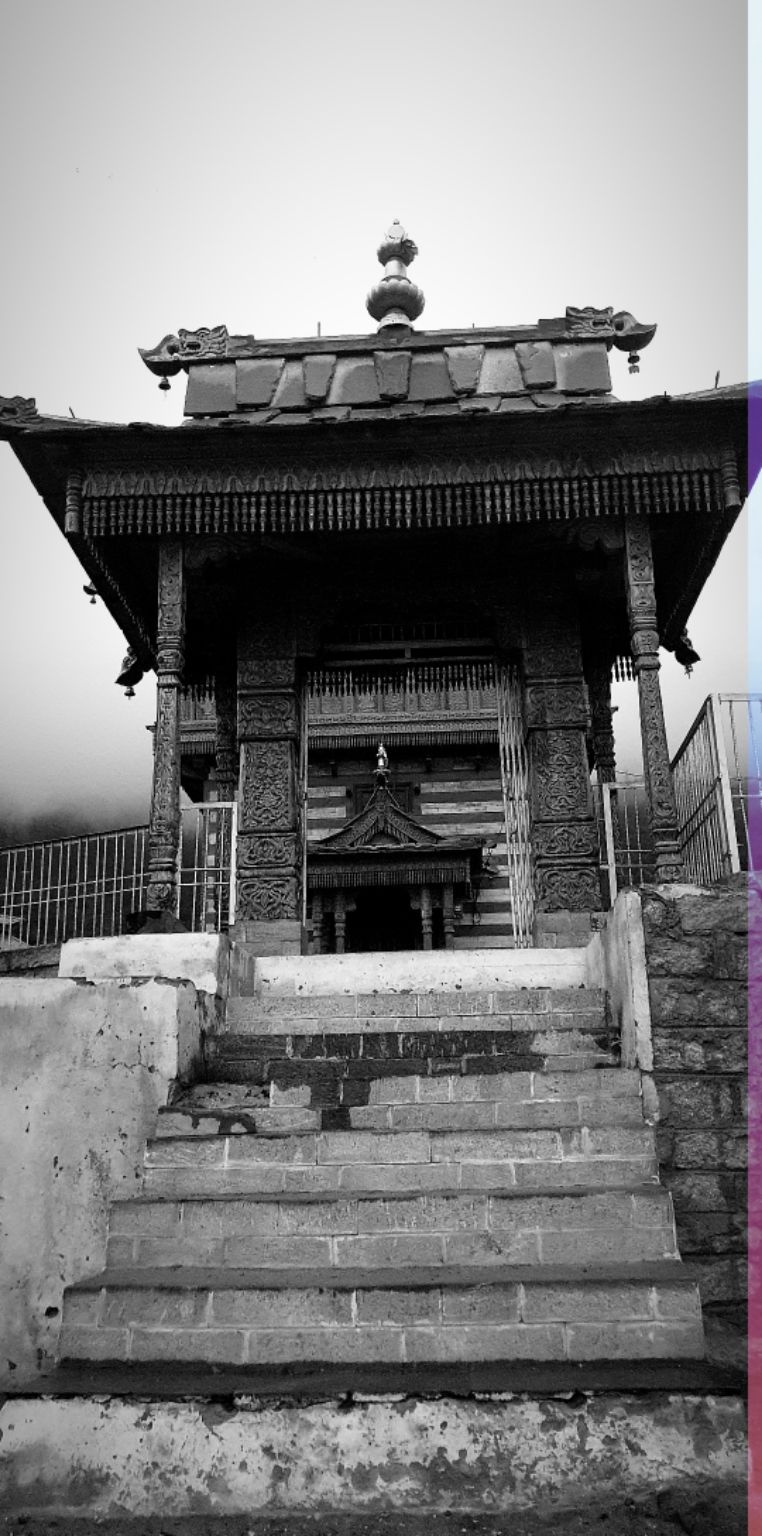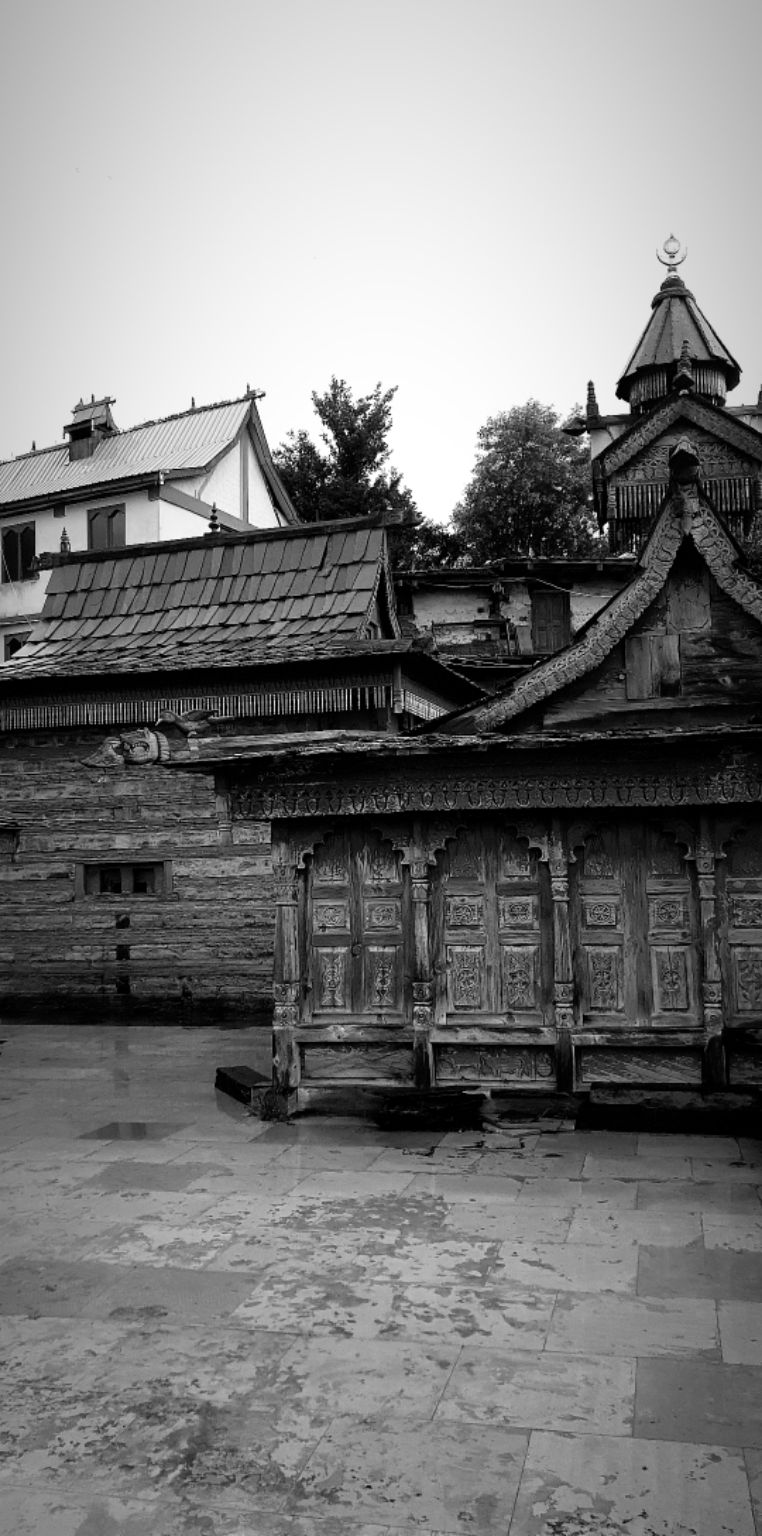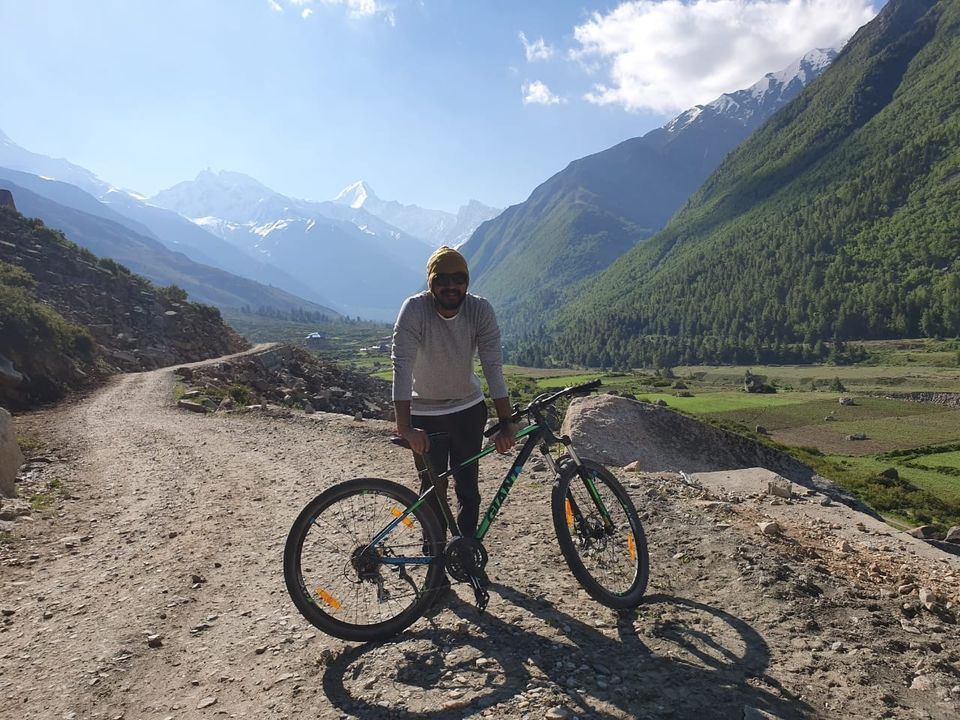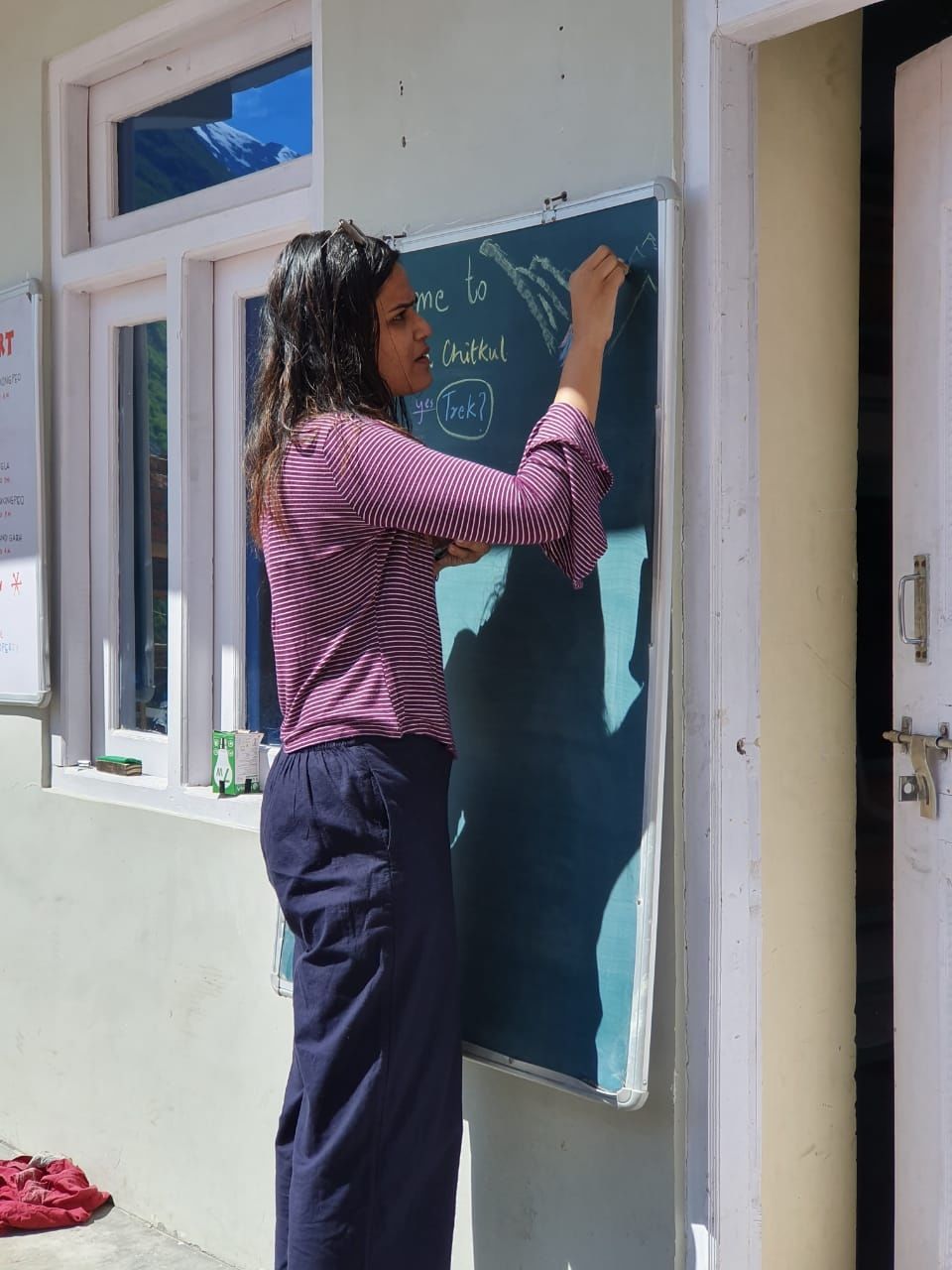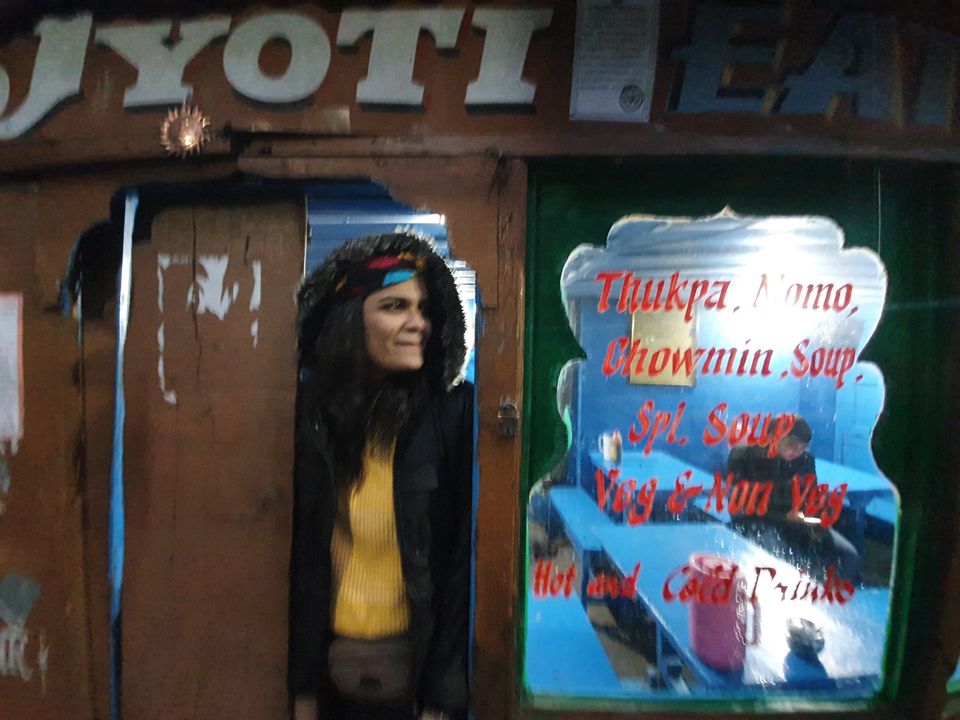 KALPA TO THEOG
As Kalpa to Chandigarh is again 10 hours long journey so we decided to break it and stayed in Theog for a night which was 6 hours from Kalpa, the route from Kalpa to Theog was straight out of a postcard with wide roads surrounded with luscious green trees. Again there is not much to do in Theog ,but we did hear about an amusement park in Kufri which is just 30 mins from Theog.
Coming to the stay, we booked De Exotica Crest (the most unpleasant stay), no doubt the property's location was great but when it came to maintenance it was very poor (unclean pool water) . We were highly disappointed as this was our last stay in Himachal .
Nevertheless the views kept us happy.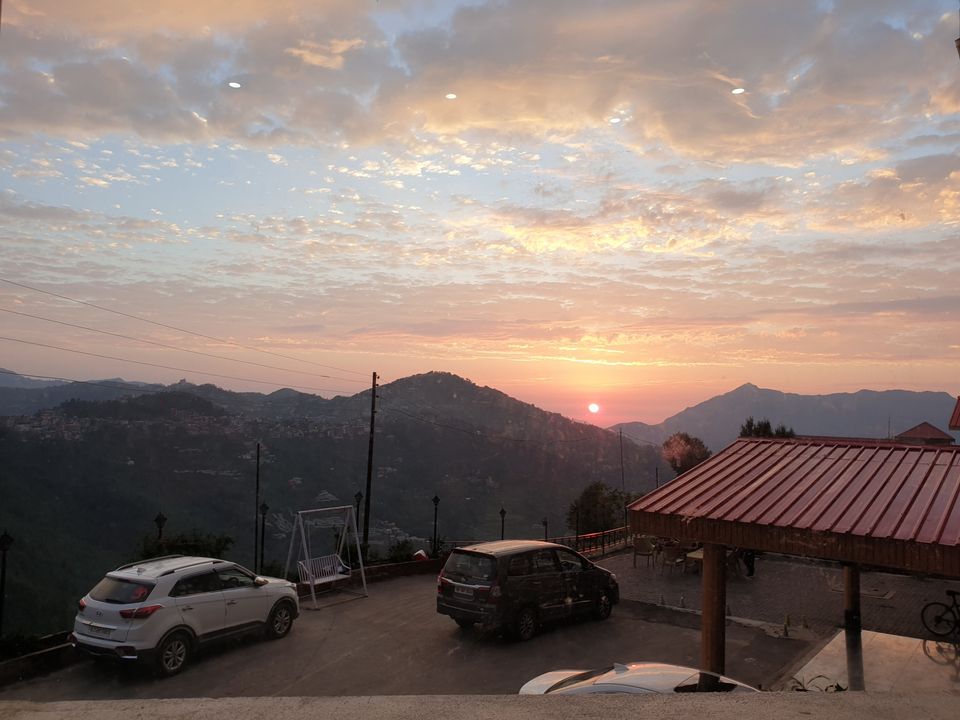 Day 8: LEFT HIMACHAL PRADESH
"Veni, Vidi, Amavi" .
We came .We saw .We loved.
As we left Himachal Pradesh our hearts were heavy but full of happy memories.
We reached Chandigarh in 4 hours and repeated our first 2 days of the road trip i.e Stayed in Chandigarh for a night then spent another day Jaipur did some shopping and club hopping, later next day we halted at Ajmer to visit the famous Ajmer Sharif Dargah also had the famous Kadhi kachori and then straight ended our road trip in Jodhpur.
Also roads from Chandigarh to Jodhpur were the best, just loved the drive!!!!!
Ending my blog with a small request to all the travelers,
'Please take only memories and leave only footprints'.
#DONOTLITTER
Keep travelling, Keep exploring!!!
Details of our Travel Agent:
Mr. Sanjeev – 9459106600/9218606600
(We booked Toyota Etios)
For pictures we used Samsung S10+
Lastly a big shout out to my talented friend Mansi Sharma, who helped me in completing my first travel blog……………