We travelled to Meghalaya between the 27th and 30th of December 2019. It is difficult to get to. The Shillong airport has direct flights only to Kolkata, whereas Guwahati, in Assam is better connected with the rest of India. Even for trains, Guwahati is where you must alight. However, NH6 that connects the two cities is in excellent shape and in no time, we had reached Shillong from Guwahati, though Shillong itself was very crowded with long traffic snarls, which we were informed is a regular day in Shillong.
With its meandering hilly lanes, grassy parks and busy bazaars, Shillong is a destination in itself. On account of the limited time on our hands and because of the fact that not all sights are documented, we were unable to do everything we would have liked once we reached Shillong, but even then, we did manage quite a few sights in and around Shillong.
Shillong Peak. With its viewing towers and the telescopes mounted inside those towers and photographers trying to convince you to have your photos taken in traditional Khasi wear, it is the typical hill station viewing point. Viewed through the blue mist, the city spread out across the valleys, looks pretty.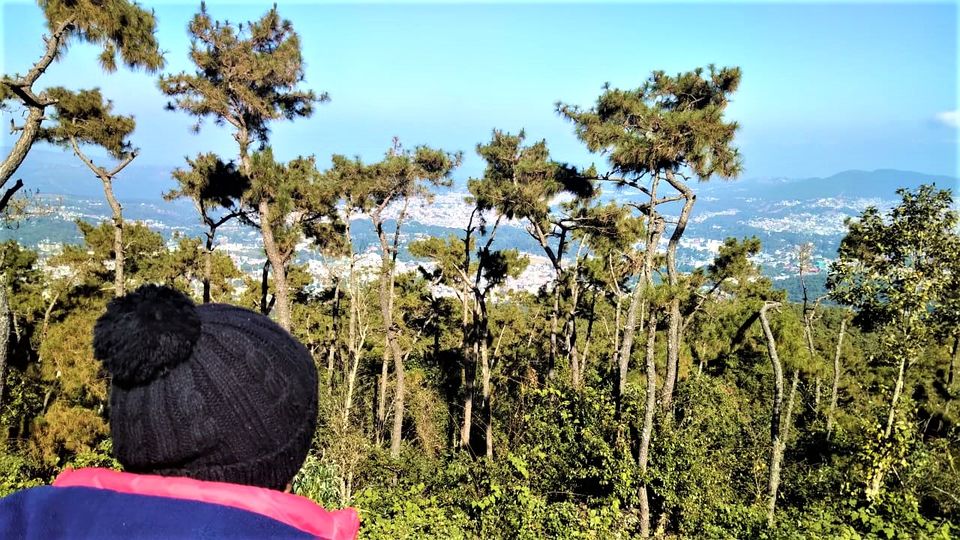 Getting there, however, involves a little wait time, since it is situated inside an IAF Station and ID proof etc. is checked before being allowed entry. It is pretty and we did have a good time, but if you're in a hurry, it's ok to give it a miss.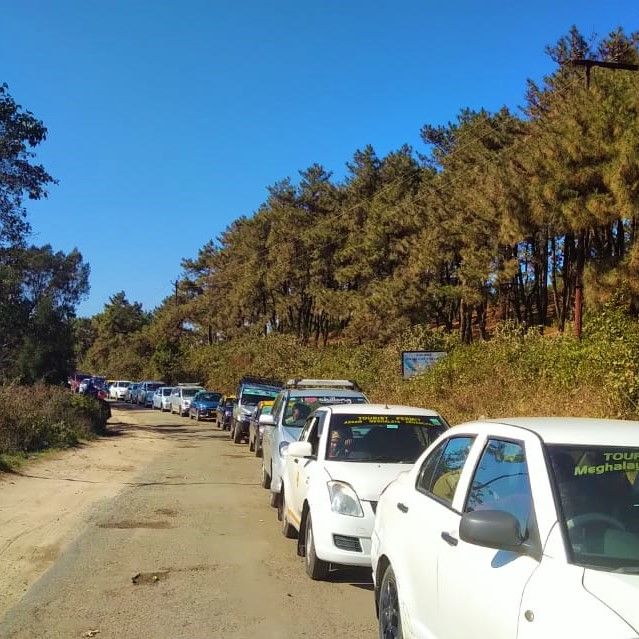 Airforce Museum. The most interesting exhibits in this museum were the short accounts of the deeds of bravery of our defence force awardees. Then there were the scaled models of planes and helicopters, guns and missiles. And then there was the display of IAF uniforms, ceremonial, semi ceremonial, work, and mess uniforms and each in a summer, winter and light winter variety and a distinct set for airmen and for officers. ("The Ceremonial Summer Suit was a sample of sartorial splendour" – feel free to quote me when someone asks what's an alliteration) Though not strictly Air Force related, there is also a room showcasing the traditional dress of several tribes of the north-east.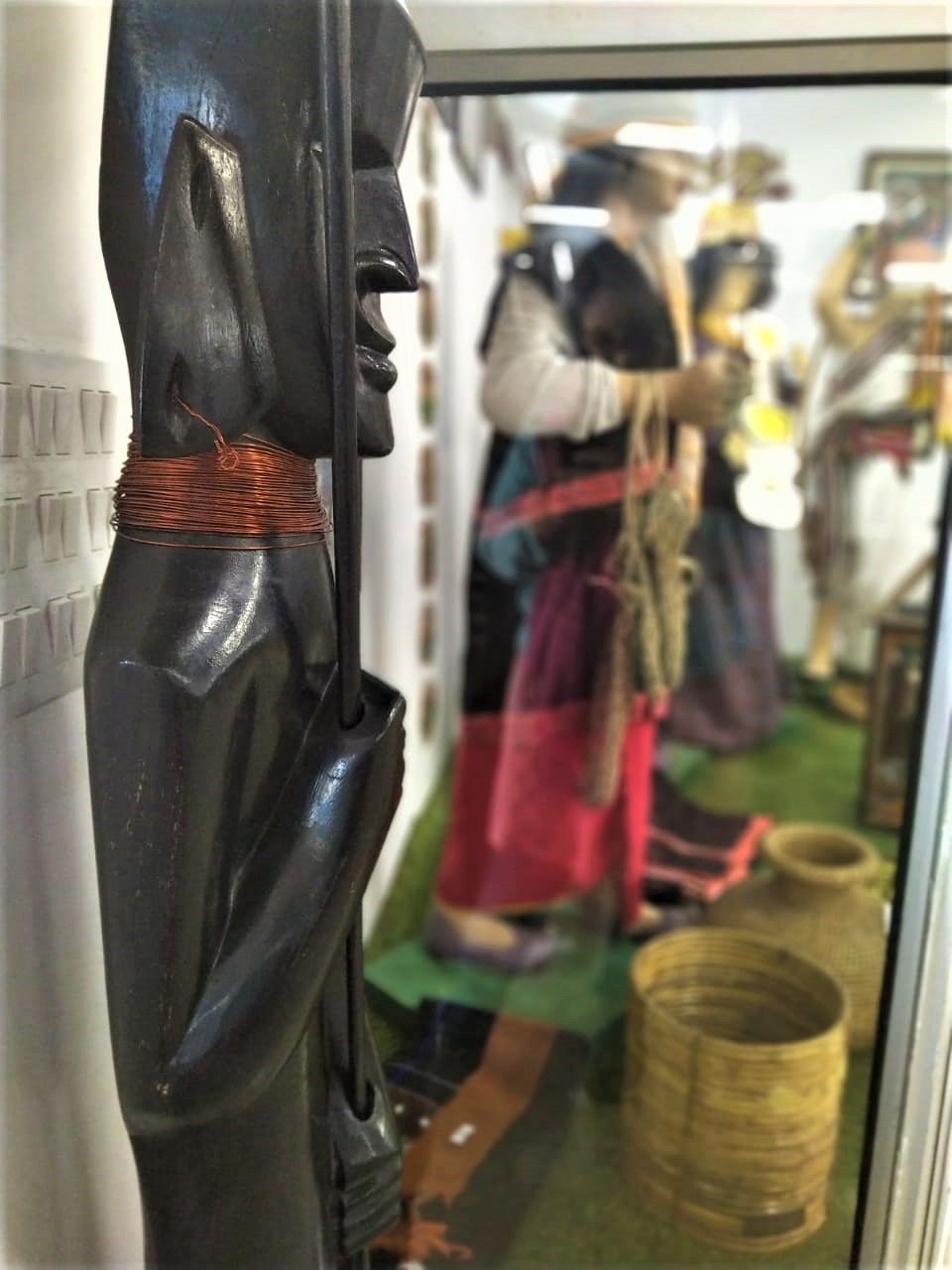 Outside the museum there is a Maggi stall, which was just as big a draw as the museum itself. Both, the museum and the Maggi stall, are highly recommended.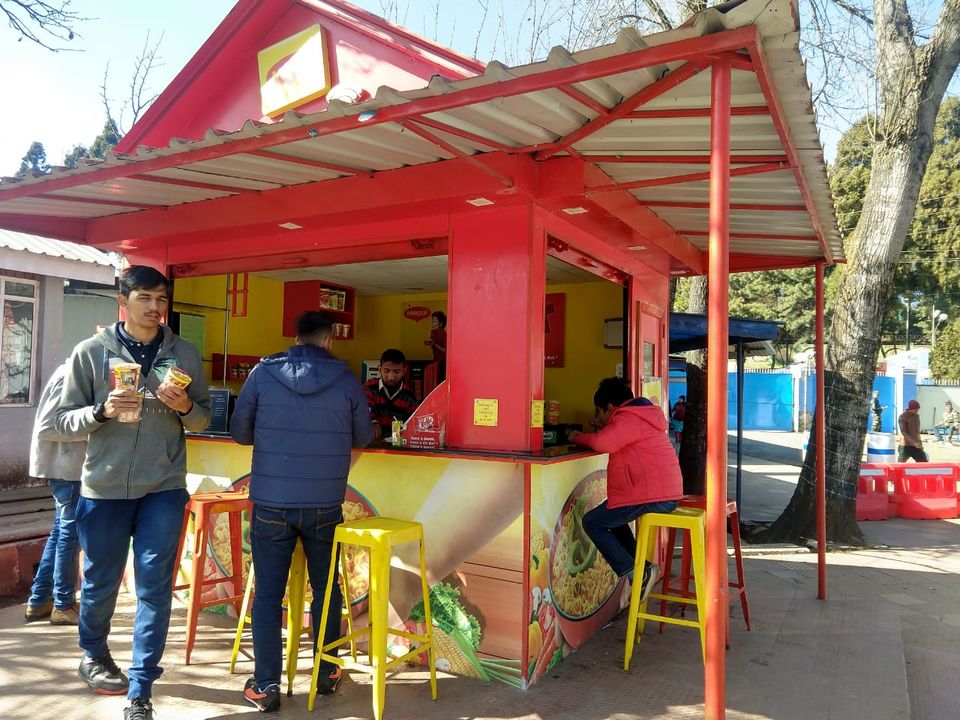 The Elephant Falls. Just about half a kilometre from the Airforce Museum is the Elephant Falls. Stairs, and some of them rather steep, take you down to where the water cascades down three steps to form the Ka Kshaid Lai Pateng Khohsiew or the Three Steps Falls. No, even I don't know how to say it aloud. No wonder then that the British, the moment they found a vaguely elephant looking rock in the vicinity, renamed it to Elephant Falls, and did not bother reverting to the old name, even when the namesake rock was destroyed in an earthquake in 1897. History aside, do go there for the stunning visuals.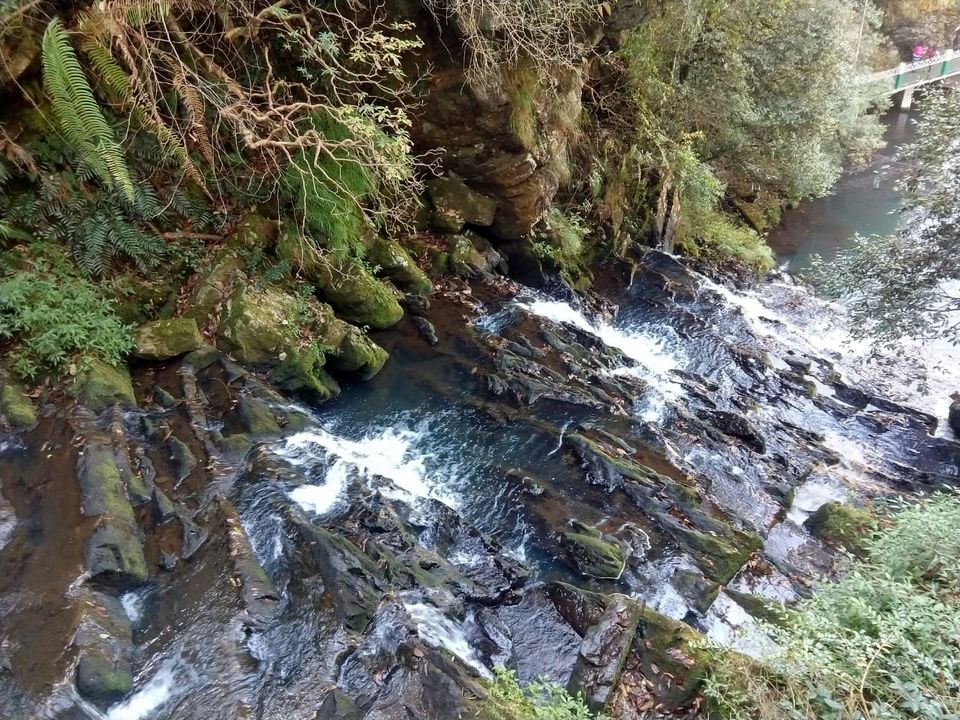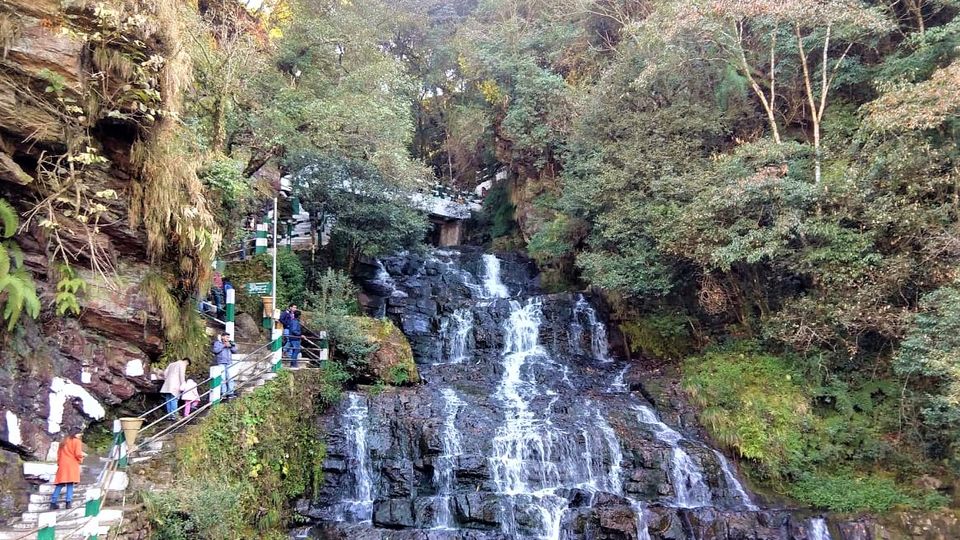 Lady Hydari Park. Named after Lady Sigrid Westling Hydari, (not to be confused with her mother-in-law, the other Lady Hydari of the erstwhile Lady Hydari Club of Hyderabad) who was the Swedish wife of the first Governor of Assam, Sir Muhammad Saleh Akbar Hydari (yes, Aditi Rao Hydari also belongs to the same family) to honour her love for animals, Lady Hydari Park, with its manicured lawns, trees and fountains, children's play area and a small one-roomed museum (with reasonably well preserved taxidermized specimens, animal hides, charts, skeletons etc.) is a nice place to visit. However, there is a zoo too on the premises and it is a sorry sight the animals housed in the tiny cages. The zoo is better avoided.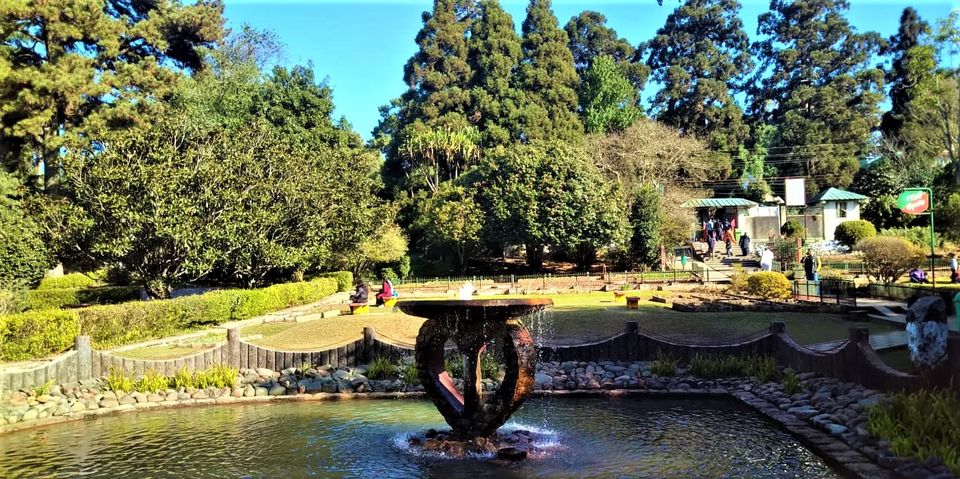 Lunch was at the Red Rice Khasi Restaurant and it took us an awful lot of time to be served. The food however was very good, especially the doh sniang nei-iong (yeah don't ask, I call it pork in sesame paste). From the tables around us it appeared that they had reasonable expertise in Chinese and Tandoori cuisine also.
Shillong is also home to many churches, though we managed to visit only one. The very blue and obviously Catholic "Mary Help of Christians Cathedral" is technically fifty years old. However, it is situated at the very site which had a church built by German Missionaries in 1913 (and destroyed in the Good Friday Fire of 1936). Thus, don't dispute if someone claims the current church is over a hundred years old. Without a guide to walk us through the Church, we loitered aimlessly about the large grounds, taking pictures and pausing to, admire a stained glass window here, a nativity scene there.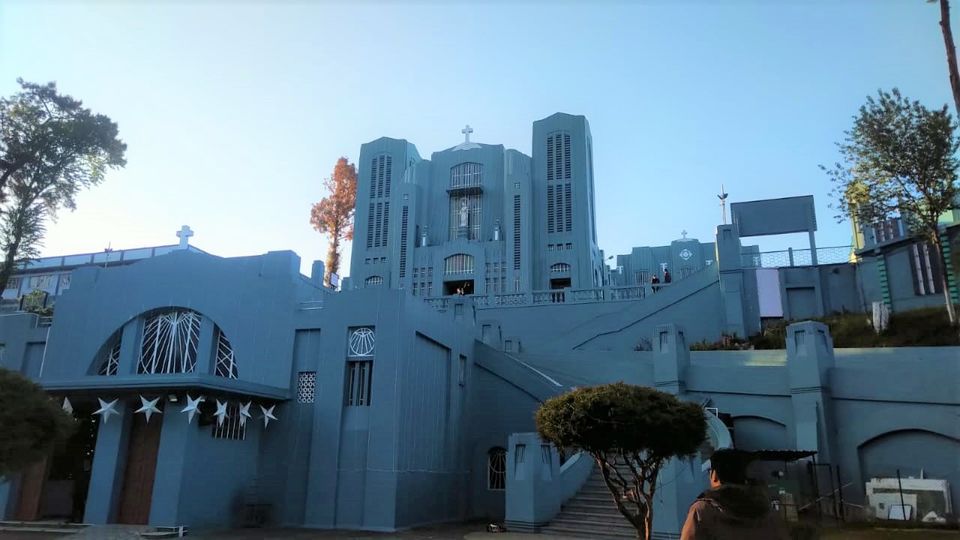 Ward's Lake. Named after Sir William Erskine Ward, who served as the Chief Commissioner of Assam between 1885 and 1887 and who had conceived the idea of this lake, the Ward's Lake is a pretty lake with facilities for boating. There were a gaggle of geese swimming about, dipping their heads and quacking gaily. I was also privy to a wedding happening at one end of the Lake and even though there was a chill in the air, it seemed to not affect the wedding guests as ladies in their gorgeous "dharas" and the smart tuxedoed men, all talked and laughed and basked in the last sunshine of the day, untouched by the wind and the chill, happiness bouncing off them like raindrops off a roof.
Police Bazar: Even though it was not on our initial itinerary, the car having broken down on the day of our return to Guwahati, we were forced to roam the lanes and bylanes of Shillong and Police Bazar seemed to be a good place to be at. Not just the stores, even the roads of Police Bazar are chockful of vendors, selling all kinds of colourful wares, food to footwear and clothing to cakes and everything in between. We had lunch at this amazing place, Elza Jadoh Stall. The unique thing about this place is it is a tiny place, from the outside doesn't look like the place you'll go for a family lunch, but on the inside it is a place buzzing with hungry clients, busy staff and the smell of heavenly food. We also visited the RB Store, which is supposedly one of the best bakeries in town. If you are a mall rat, Police Bazar isn't for you, because it is disorderly and loud and chaotic. If you want to gather the scent of a place the feel of a season, then you love bazars and you will love Police Bazar too.
Without the customary Mall Road, Shillong seems to be the lonely kid in the class of Hill Town Biggies like Darjeeling, Shimla, Manali, Mussoorie and everyone else. But it still has large parks and lakes and viewing peaks, so maybe not that much of a loner after all. And then there is the culture that is unique to Shillong, in the Khublei Shibun that you hear from everyone, the Dhara that the women wear everyday, the pork fry that is sold everywhere. It is like a place you have read about and you think you know everything about it and yet, if and when you get there, you realize it's so much more.