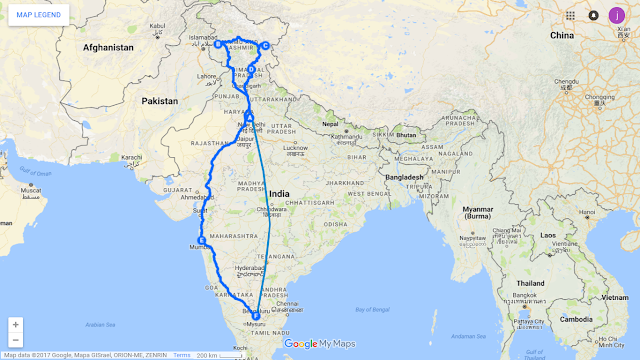 The Himalayan Adventure

An Epic Journey of 25 days covering 5175kms on my Bike. It was definitely, 'The Journey of a Lifetime'.
The Struggles, Learnings, a few tough Choices and Decisions, the Challenges, the People, Mind blowing Landscapes and Nature at its Best!! Memories to Cherish for a Lifetime.. The Solo Bike Ride from Manali to Bangalore was a Dream come true and a Life Changing experience. All I can say is - "Chase Your Dreams and Conquer your Fears. Cheers!!"
Riders: Vinay B M and Nitesh Chandra
Bikes: Karizma ZMR and Pulsar 200NS
Other Riders we met on the Trip: Vinod (ThunderBird), Sheshu, Prashanth, Deepak and Co.
Watch the Videos below:-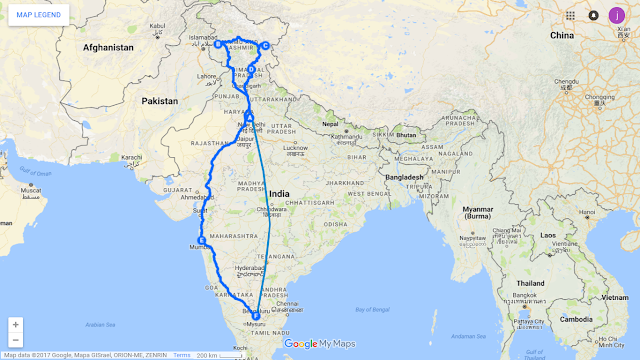 ===========================================
Group Ride Map: https://goo.gl/xKSAKN
Solo Ride Map: https://goo.gl/ShBqkN
===========================================
TripLog
===========================================
Day1: Banglaore to Delhi- Flight
Collect Bikes from VRL. Halt at Karolbagh.
Day2: The Ride Begins with my Ride Partner 'Nitesh'.
Delhi to Ludhiana, Punjab
Day3: Ludhiana to Patnitop, J&K
Day4: Patnitop to Dal Lake, Srinagar
Day5: Srinagar to Gulmarg to Srinagar
Day6: Srinagar to Kargil
Day7: Kargil to Leh
Day8: Getting Permits at Leh- Rest and Halt
Day9: Leh- Khardung La- Leh
Day10: Leh- Pangong Lake(Halfway)- Leh
Day11: Leh to Pangong Lake-SightSeeing to Leh
Day12: Leh to Shanti Stupa to Leh- Rest
Day13: Leh to Sarchu
Day14: Sarchu to Manali
Day15: Manali Sight Seeing and Halt
Day16: Bike Fog Lamps Repair. Rest and Halt at Manali. 'Nitesh' leaves for Delhi.
Day 17: Solo Ride Begins.. :)
Manali to Mianpur Bandalian, Punjab
Day 18: Rain Ride Begins.. :)
Mianpur Bandalian to Bawal- Rewari, Haryana
Day 19: Rewari, Haryana to Amratpuri, Rajasthan
Day 20: Amratpuri, Rajasthan to Udaipur, Rajasthan
Day 21: Udaipur- SightSeeing, Bike Service - Rest and Halt at Udaipur
Day 22: Udaipur, Rajasthan to Vadodara, Gujrat
Day 23: Baroda(Vadodara) to Thane West Mumbai, Maharashtra
Day 24: Mumbai to Pune
Day 25: Pune to Home (Bangalore, Karnataka)
================================================
Subscribe to my Youtube Channel 'TrailBlazer'
================================================
Some Pics..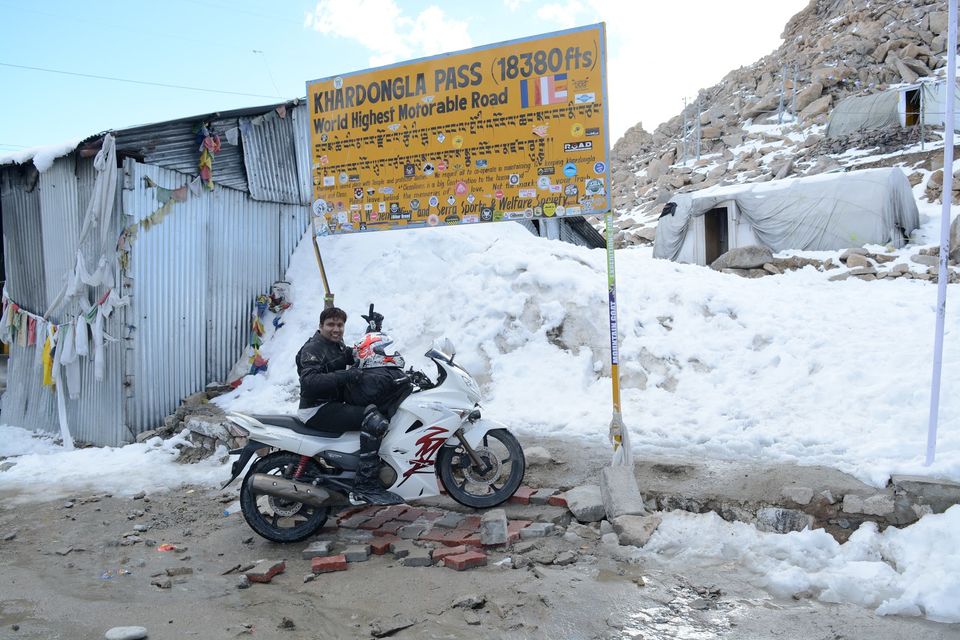 Bangalore-Delhi: We traveled by Flight and Bikes were shipped through VRL.
Ride Started from Delhi. Took Srinagar route while going and Manali route while returning since the elevation is gradual and that minimizes AMS(Acute Mountain Sickness). While returning, I Rode Solo from Manali to Bangalore. My other friend took a flight from Delhi to Bangalore and shipped the bike through Train.
VRL Bike Shipping Cost from Blore-Delhi: Rs. 7400
Bike Transit time: 10 days, So we had to leave our bikes at VRL warehouse, 10-15 days in advance.
Other options to Ship the bike: Train, VRL, Ghati and others. Train is the Cheapest option.
But VRL is safer and convinient, since they provide a palette(cage) for the Bike and our Riding gear, Helmet and luggage can be sent along with the Bike.
***Before you go to give the Bikes at the VRL Godown, call them and check if the palettes(cages) are available.
***Carry all documents: DL, Passport, RC and Insurance.
***Carry enough empty bottles and a petrol draining pipe.
===========================================
Preparation
===========================================
Things to Carry: Excel Document Check the list of medicines as well in the second sheet. As bare minimum, carry at-least the commonly used medicine for Cold, Cough, Fever, Headache, Gasteric, Diarrohea, Stomach Ache etc. Carry Pain Killer tablets, Gels and Sprays. Bandage, Band-Aid, Dettol and Anti-Septic Cream. Carry mosquito repellants like coil or Odomos.
Keep in mind that Medical stores will not be available at all the places you visit. Power and network may not be available at few places.
================================================
Route we took:
Delhi - Ludhiana(Punjab) - Patnitop(Jammu Kashmir) - Srinagar - Gulmarg
Sonmarg - Zoji La Pass(11,575 Ft) - Drass - Kargil - Mulbek
Namika La(12,139 Ft) – Fotu La(13,478 Ft)- Lamayuru Monastery- Leh
Khardung La Pass(17582 Ft)- Chang La Pass (17,590ft) - Pangong Lake(14270 Ft)
Karu - Upshi - TanglangLa(17,480 ft)- MorePlains- Pang
Lachulung La(16,598 ft)- Nakeela La(15,647 ft)- Gata Loops - Sarchu
Baralacha La(16,040 ft) -Zingzingbar -Darcha -Jispa
Keylong -Tandi -Koksar- Rohtang Pass(13,050 ft) - Manali
===================================================
Solo Ride Route from Manali to Bangalore:
Manali - Kurukshetra- Panipat
Rohtak - Rewari- Jaipur
Ajmer - Udaipur - Vadodara(Gujrat)
Surat - Mumbai - Lonavala
Pune - Kolhapur - Belgaum - Hubli - Bangalore
===============================================
2 ways to Reach Leh from Kargil
Kargil – Mulbekh – Lamayuru- Alchi – Leh = usual route
Kargil– Batalik – Dah – Skurbuchan – Leh = more scenic.(need permit from Kargil DC office)
==================================================
Regarding Permits:
1) From 2014 onwards, Indian Tourists don't need permit to visit Khardung La, Pangong Tso, Tso Moriri, Turtuk etc. But we still need to take permits to visit Hanle, Chusul, Tsaga, beyond Loma bend, Chumur, Marsimik La, Batalik sectors.
2) Inner line permits are issued from DC office in Leh (10am to 3pm).
Closed on Sundays.Getting Permit may take 1hour to half a day.
Need to carry few attested copies of Permits with Photo-IDs (Passport, Driving License, Voters ID, PAN card etc.) and submit that in check posts. Good to carry a Self Declaration form mentioning the Details like Name, Age, ID No., Vehicle details, Places and Dates etc but its not necessary. But the attested permit application form along with valid ID proof need to be carried for checking at the checkposts without which entry will be denied.
You will get the application form in the DC office itself. No need to write the place names. It will already be mentioned. We just need to underline or tick the places we will be visiting.
This is the latest format of application form taken in July 2017. Take a look: Permit Application Form Latest
Getting Permit took us around 30 minutes overall. If you go early it'll take 10 minutes only. The crowd will be more as the day progresses. If you do not want to go the DC office yourself you can ask your hotel/lodge guys to get you the permit by providing your ID proof. Of course they will charge a nominal fee for this. You can even email the Lodge guys your ID proof and details before going to Leh (in case you've booked your stay in prior) so that they keep the permit ready for you when you go there.
3) If we are going to Leh from Manali, need to take permits to cross Rohtang pass from SDM office at Manali (10am-5pm closed on Sunday and Second Saturday). Need to submit DL, Vehicle RC, pollution certificate. Again might take half a day.
*Rohtang pass permit is mainly for our vehicle, to prove its fitness & validity of registration, whereas Leh Inner Line permit is to prove our identity that we are Indian citizens visiting the places as tourists.
4) The good thing is Rohtang pass Permit is not needed if we coming to Manali from other side(Leh-Rohtang-Manali). All the more reason to take the route: Chandigarh-Srinagar-Leh-Manali-Chandigarh
===================================================
Our CheckList:
1) Flight Tickets
2) Riding Gear: Helmet, Jacket, Gloves, Knee Guard
3) Bike Service and Extra cable fitting
4) Tyre Change, Engine Oil Change
5) VRL Booking
6) Saddle Bag, Tank Bag
7) Puncture Kit and Foot pump
8) Mobile mount and USB charger for Bike
9) BSNL and Airtel Post Paid Sims
10) Rain Cover for Shoes
11) DSLR n Action cam
12) Final Bike, Luggage and Documents check
13) Route map, documents, ID Proof and permit Application forms
14) Bookings for Hotel/Stay if any.
15) Fog Lamps for Bike
16) Toolkit, First Aid Kit and Medicine
17) Rain Coat and RuckSack
18) Water proof Gloves
19) Windproof Gloves
20) Tarpaulin and Rain cover for bags
21) Tripod, GorilloPod and Mounts
22) Memory Cards
Read my Blog post about the Trip here.
Check the Complete TRAVELOGUE here.
============
Camera Gear
===========
GoPro Hero 3+ Silver: https://amzn.to/2sZ861f
Spare Batteries: https://amzn.to/2lbGEJ9
Nikon 5300 DSLR: https://amzn.to/2sZiCp3
Suction Cup Mount: https://amzn.to/2yeClWR
MonoPod: https://amzn.to/2thyrXR
Gorillapod: https://amzn.to/2JOFTRc
Lavalier Mic: https://amzn.to/2HRhMzm
Memory Card: https://amzn.to/2tcJRMp
Accessories
Car Charger (23W Dual USB 4.8 A) : https://amzn.to/2tbSWor
20800mAH Power Bank: https://amzn.to/2ynV0Qr
WD Elements 2TB Portable Hard Disk: https://amzn.to/2LSBddx
TubeLess Tyre Puncture Kit: https://amzn.to/2JWUbSW
Frequent Searches Leading To This Page:-
Leh Ladakh Tour Packages Itinerary, Places to Visit in Leh, Best Tour Packages for Leh, Leh Ladakh Bike Trip from Bangalore Tour Packages, Budget Trip Packages for Group to Leh, Things to do in Leh, Leh Holiday Tour Packages, weekend getaways from bangalore